From north to south, as well as in the archipelagos of Madeira and the Azores, Portugal's natural beauty and historical richness make it so that there are infinite places you cannot miss when visiting. To help you build a solid itinerary for your next visit, we have selected the 99 places you cannot miss in Portugal. Let's get started!
1. Jerónimos Monastery
Jerónimos Monastery, a Manueline architectural masterpiece, stands as a symbol of Portugal's Age of Discoveries. Constructed in the 16th century, it's a UNESCO World Heritage site, teeming with ornate sculptures and grand arches. Inside, visitors find the tomb of Vasco da Gama, the famed explorer. This sprawling complex is a must-visit, reflecting Portugal's rich maritime heritage.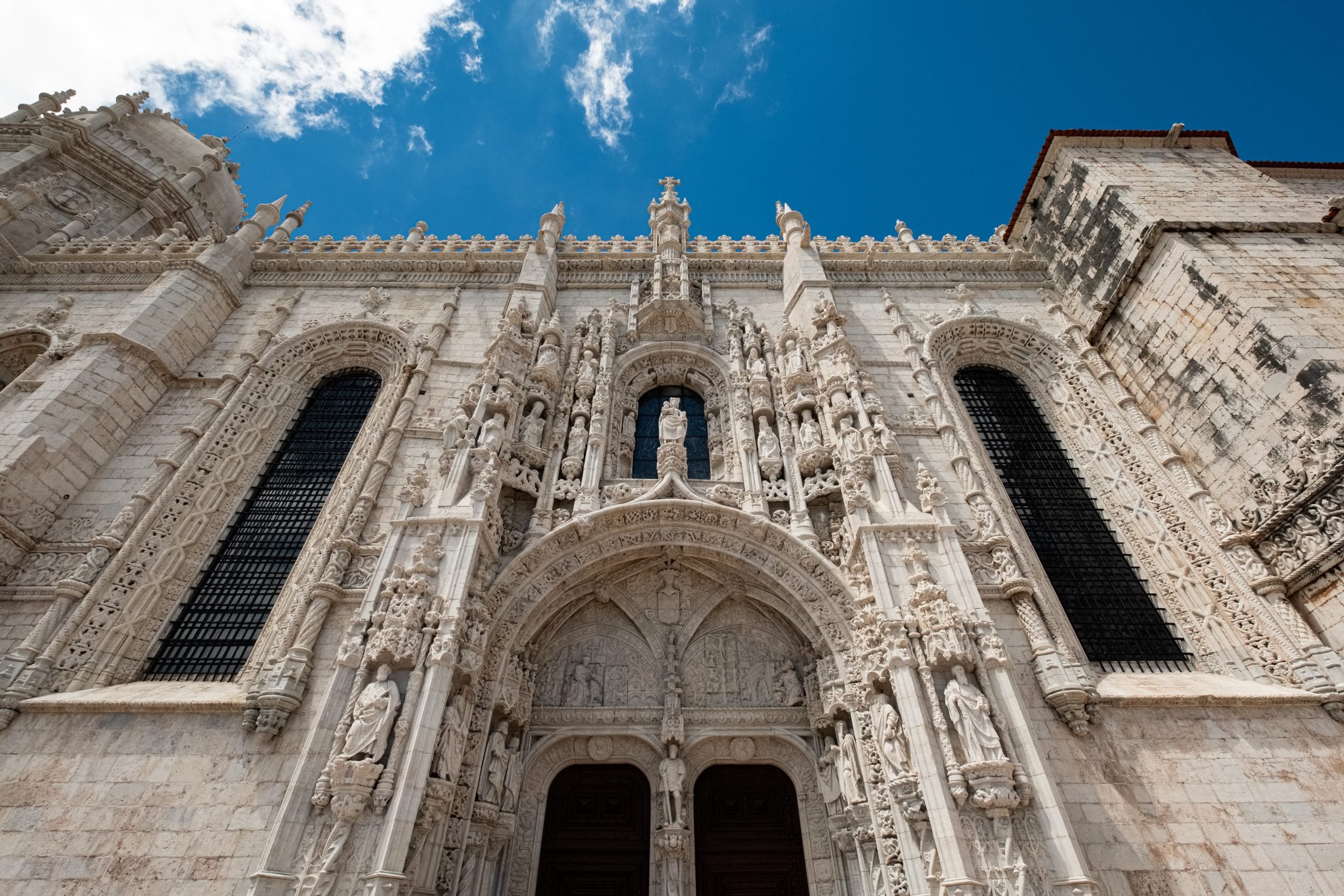 2. Coimbra University
Coimbra University is one of Europe's oldest universities and the oldest in Portugal. Along with Alta (the uptown), the University of Coimbra was made a UNESCO World Heritage Site in 2013 due to its historical significance. When exploring the Harry Potter-like university, do not miss the Royal Palace, St. Michel's Chapel, and Joanine Library.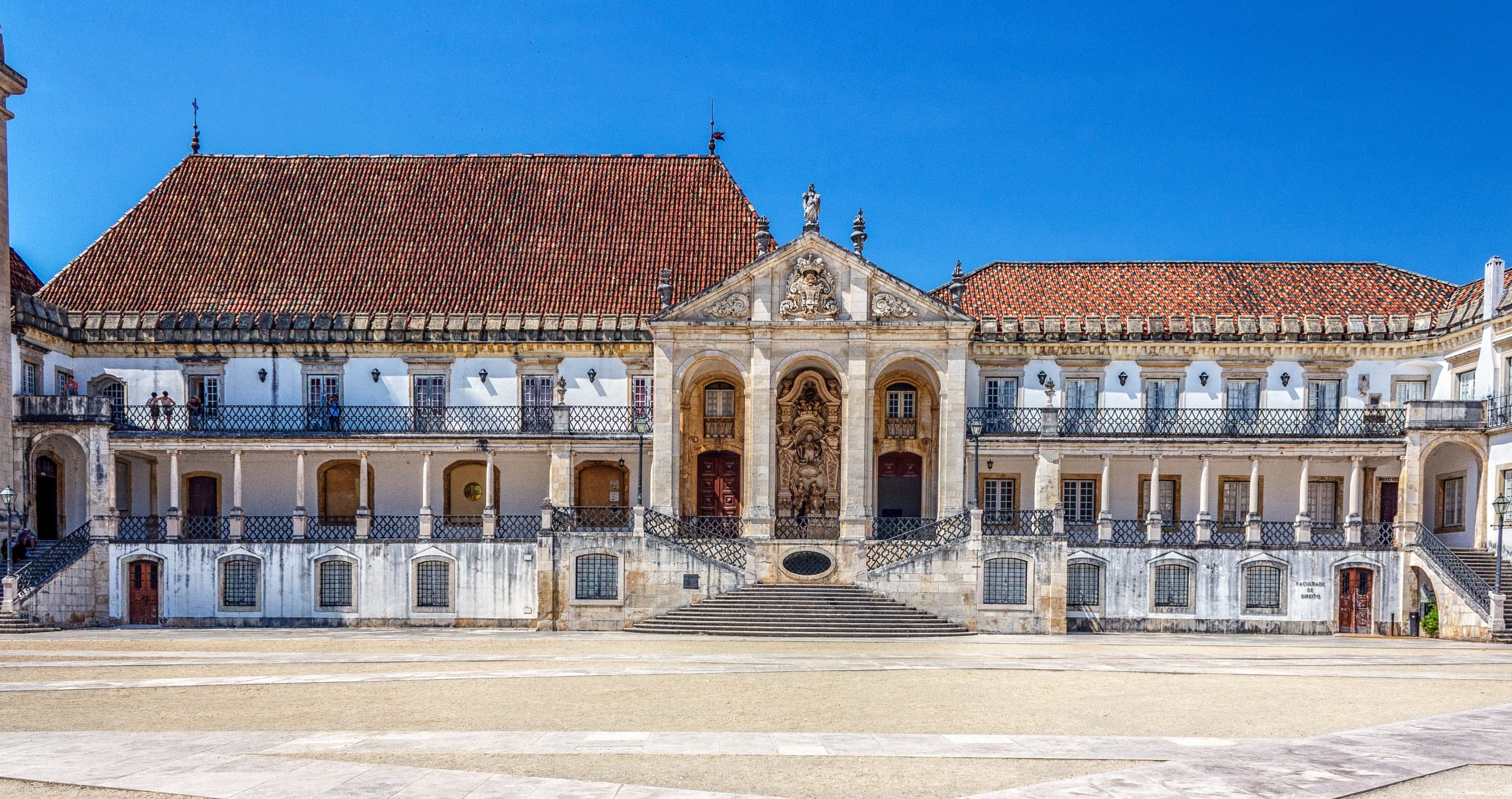 3. Quinta da Regaleira, Sintra
Quinta da Regaleira in Sintra is a mesmerizing blend of gothic, Renaissance, and Manueline architectural styles. Its enchanting gardens, filled with grottos, wells, and statues, invite exploration. The Initiation Well, a spiraled underground tower, is a standout and tourist favorite, symbolizing a journey to the unknown. The estate, with its mystical allure, is a testament to Portugal's rich cultural tapestry.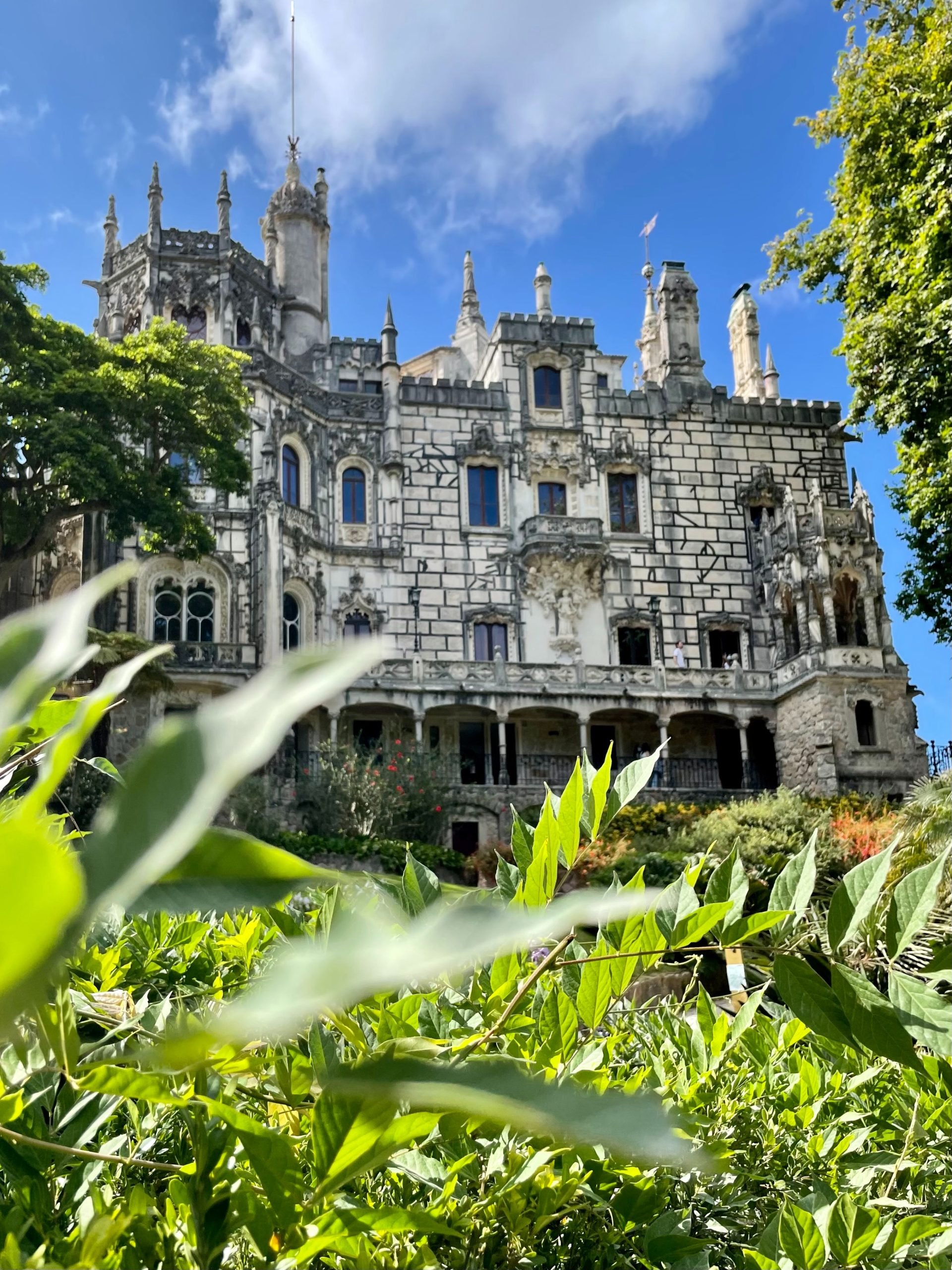 4. Douro Valley
Breathtaking reaches a new level in the Douro Valley. A UNESCO World Heritage site, the Douro Valley is Portugal's wine country heartland. Terraced vineyards hug the winding Douro River, creating a mesmerizing landscape. Famed for its port wine, visitors can tour ancient cellars, indulge in wine tastings, or cruise the river. The region's beauty, combined with its rich viticultural tradition, offers an unparalleled experience.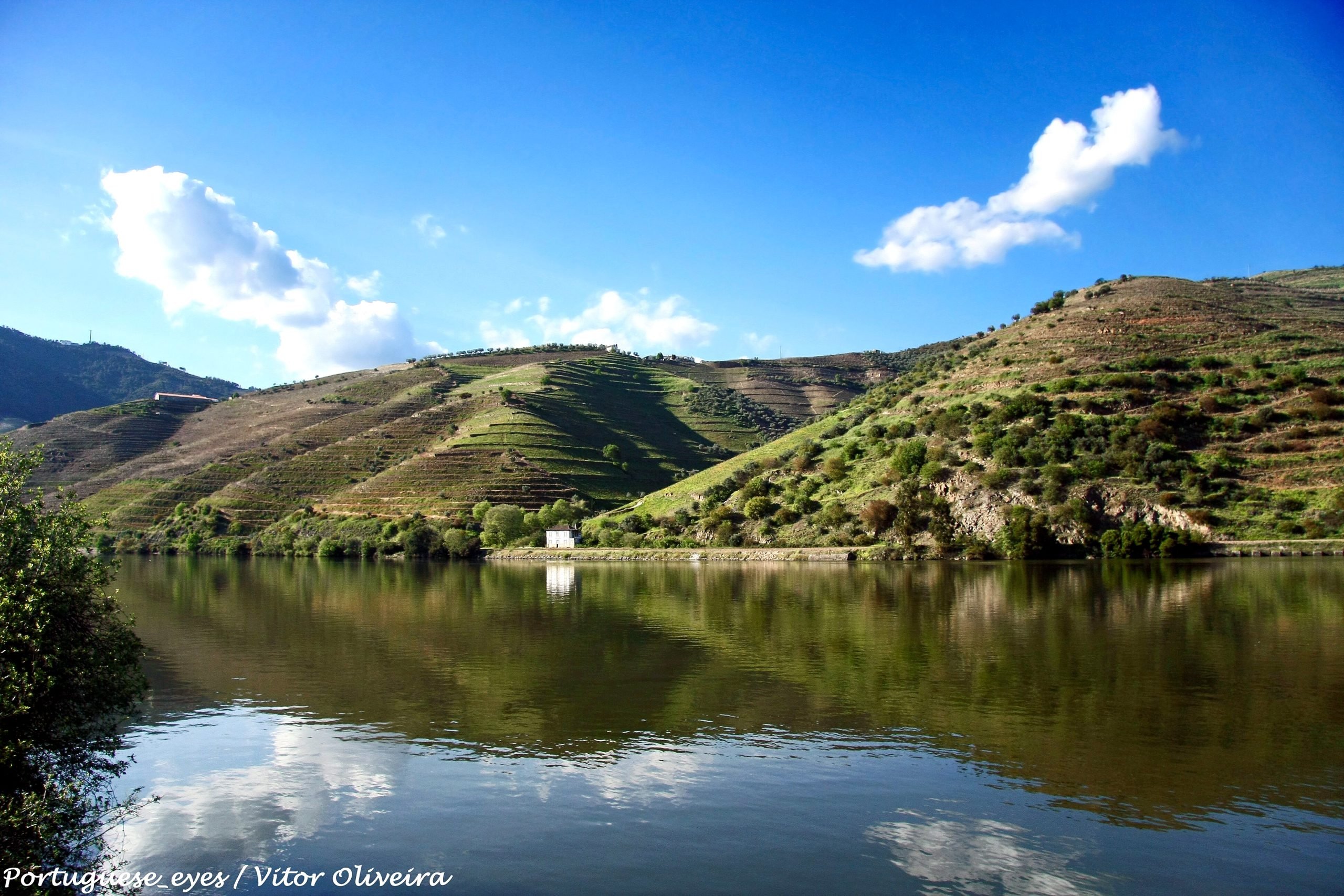 5. Benagil Cave
Instagrammers of the world unite! Accessible only by sea, Benagil Cave is one of the Algarve's most popular gems. Sunlight filters through its open ceiling, illuminating azure waters below. Popular for boat trips and kayak tours, visitors marvel at its limestone pillars, cavernous space, and unique shape. For the best experience, visit during the morning hours to capture its ethereal beauty.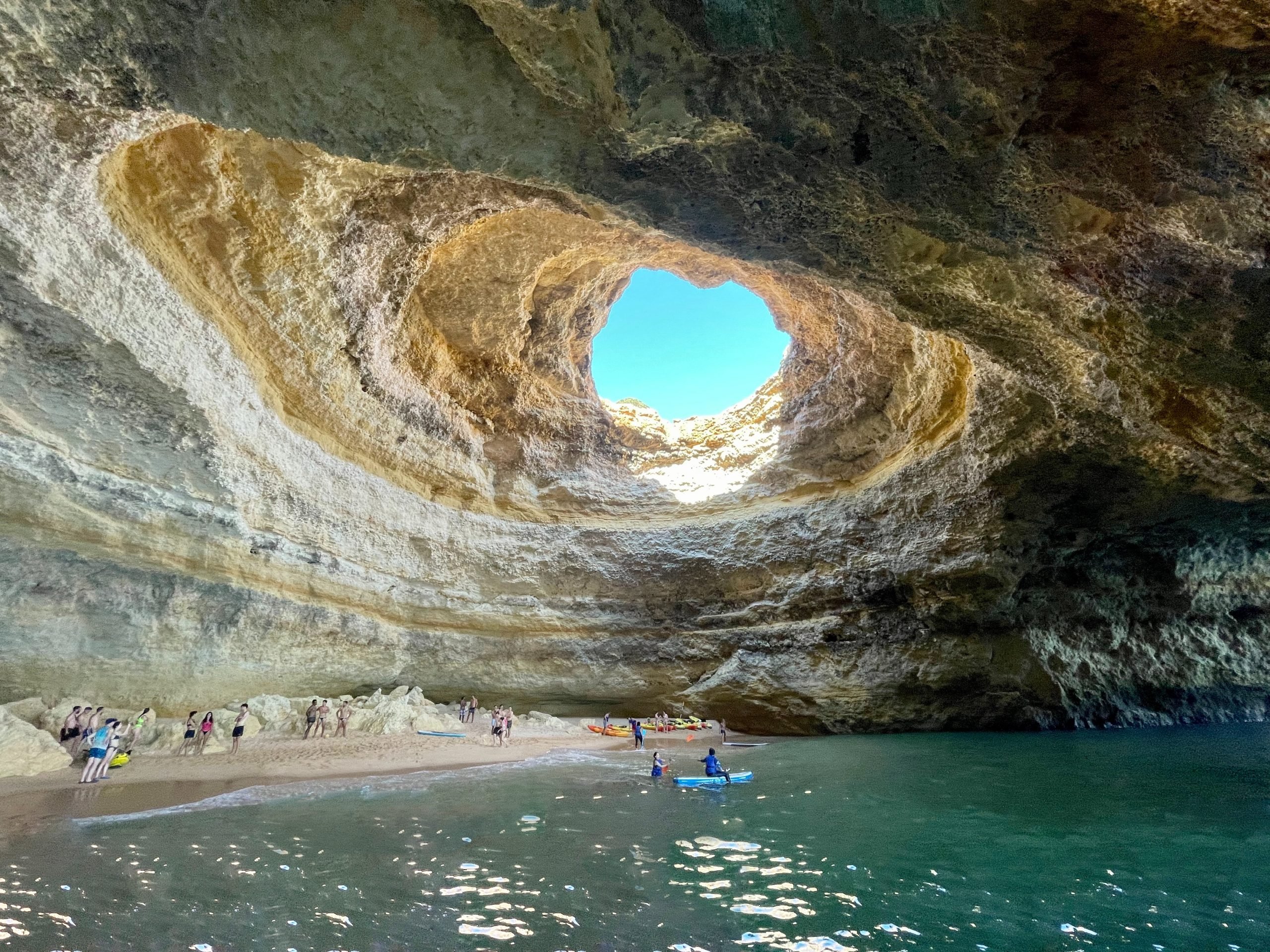 6. Pico Mount
The highest mountain in Portugal, Pico Mount is a stratovolcano located on Pico island, in the Azores. If you're brave enough to climb it to the top, you'll reach 2,351 meters of altitude, above the clouds. On a lucky day, you might be able to spot the surrounding islands and snap one of the best shots of your life. Keep in mind you need to book a hike with a licensed guide due to safety concerns.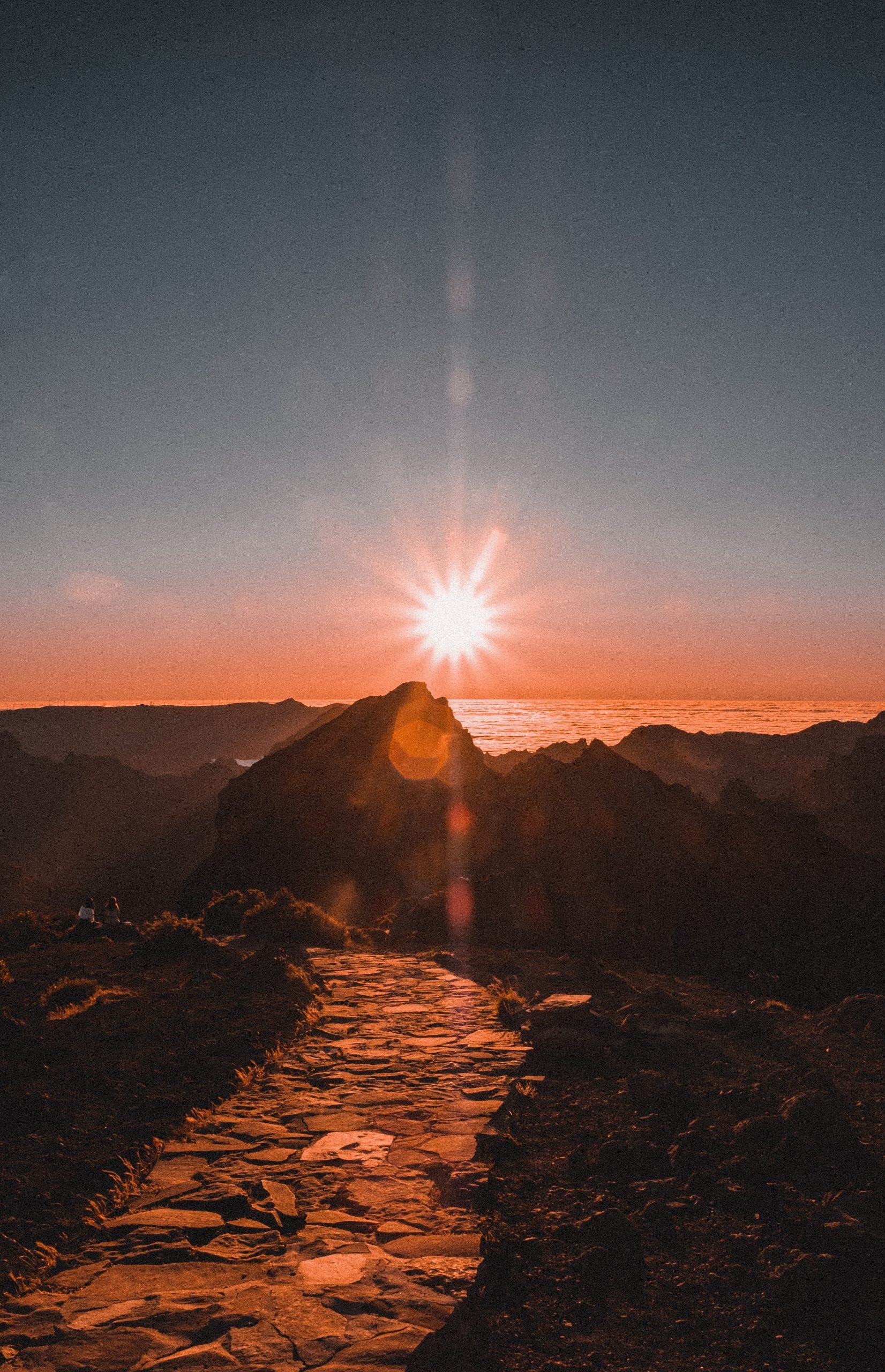 7. Furnas Sāo Miguel
One of the most unique experiences in the Azores is a visit to Sāo Miguel's Furnas. The Furnas are a volcanic crater that erupted in the 17th century, making it an area with thermal pools and hot springs. Don't worry, although there's volcanic activity, it is safe!
Try out the unique cozido das furnas, a Portuguese meat stew cooked by a volcano. This dish is placed in a metal pot and buried in volcanic soil to be slow-cooked by the natural heat of the caldeiras (geysers).
8. Sete Cidades Lagoon
Seen an incredible photo of the Azores? If so, chances are you have seen the Sete Cidades Lagoon in Sāo Miguel. Translating to the Seven Cities, this lagoon is located on the West of the island and features a bridge in the middle, dividing it into two: a green and a blue side. The best place to see this beauty of nature is in the Vista do Rei viewpoint.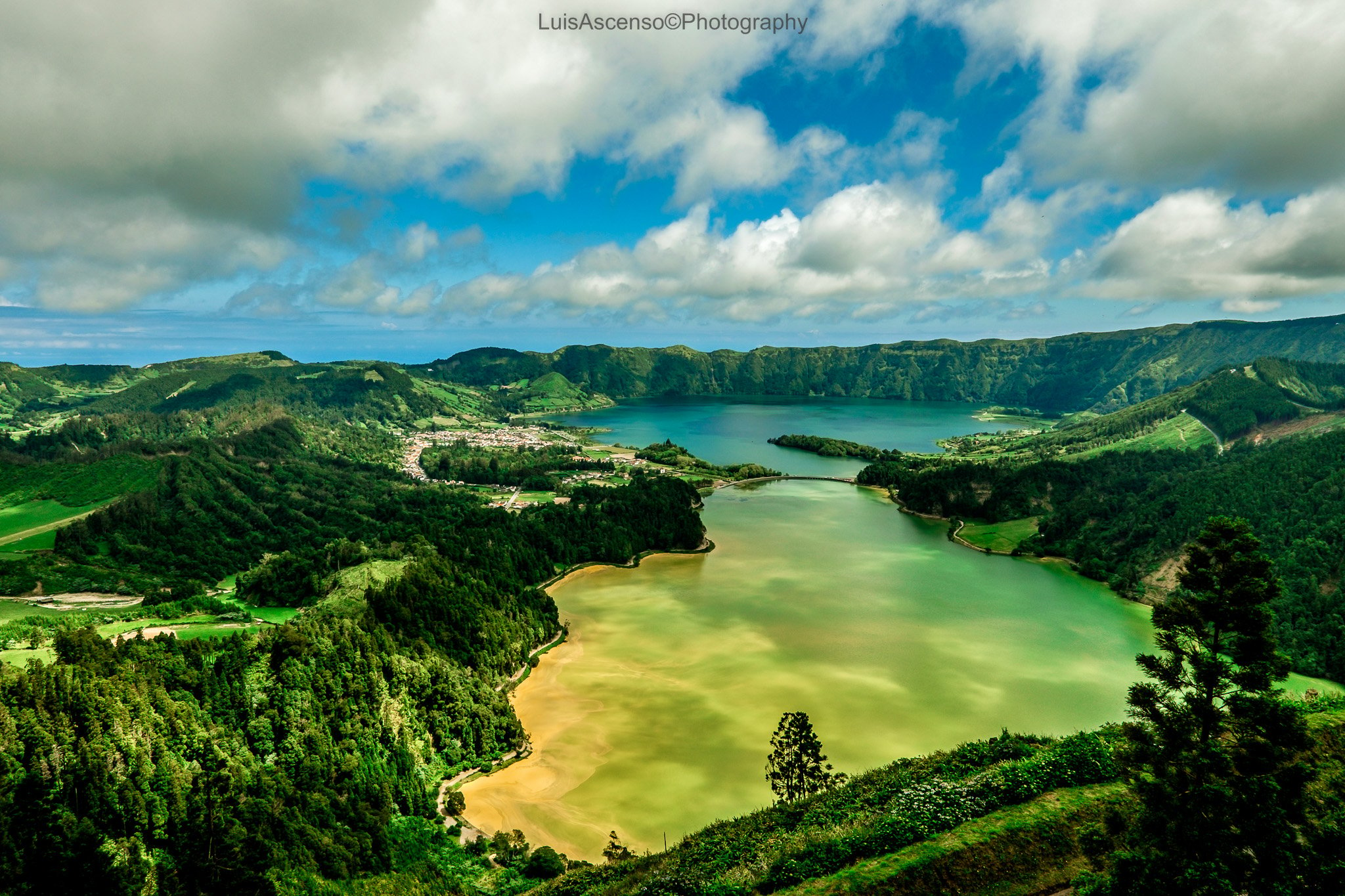 9. Miradouro Pico dos Barcelos
The best way to see Funchal – miradouros. These are viewpoints, spread across the island. The most famous one is called Pico dos Barcelos, created in 1950. This viewpoint is 355 meters above the ocean and allows you to see the Funchal Bay and the Ilhas Desertas on the horizon.
10. Funchal Cable Car
I know we just said the miradouros provide the best views of Madeira, but maybe the cable cars top it. The best cable car is the one in Funchal, a 20-minute ride that goes up to 560 meters high. It takes you to Monte for 15 minutes, providing views of the mountains in Monte and a 360-degree view of Funchal on the way up.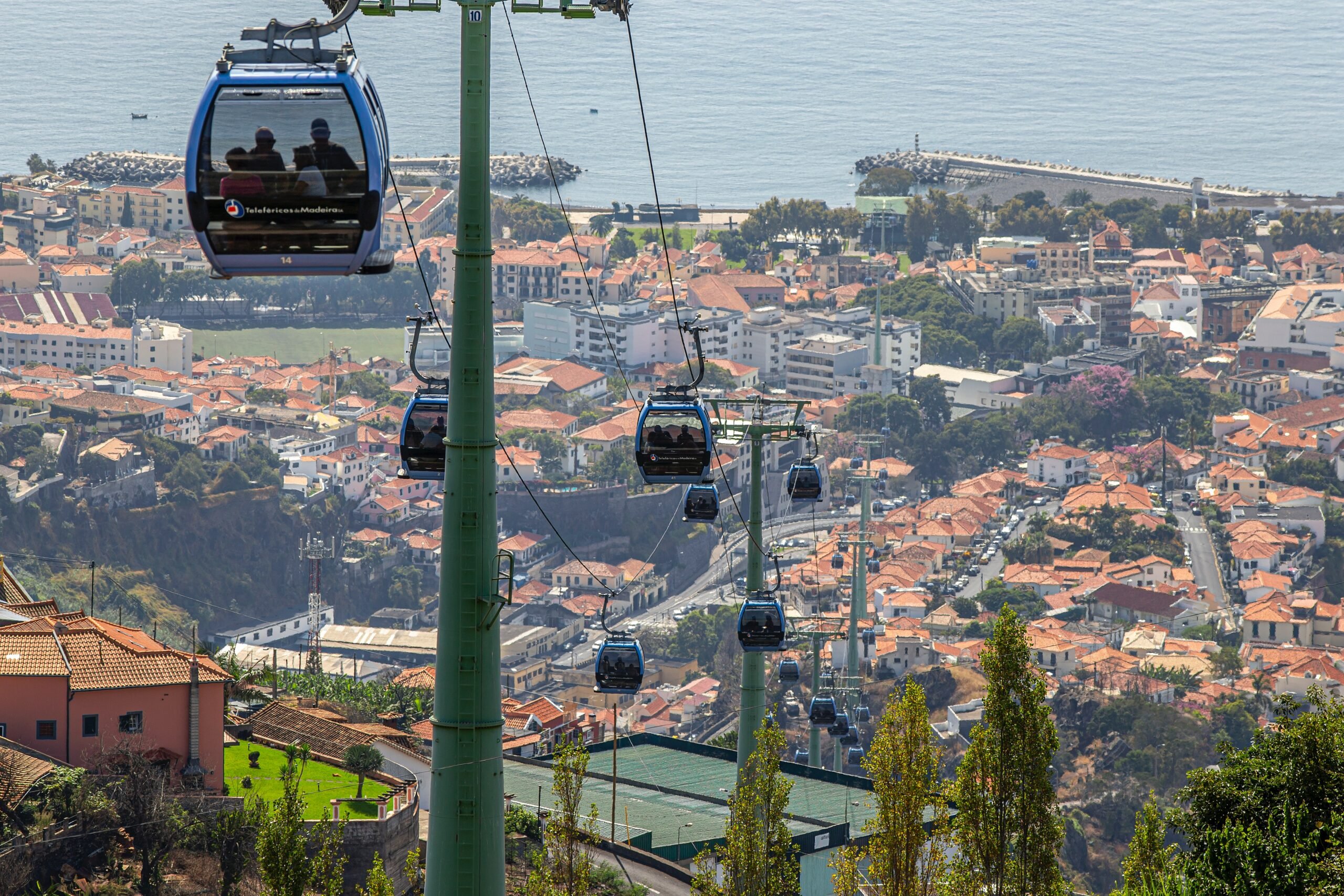 11. Monte Palace Tropical Garden
Straight out of a fantasy book, Monte Palace Tropical Garden is a magical place, occupying 70,000 square meters with an exotic plant collection and both black and white swans. Along with the outdoor garden that leads to the old palace, the museum features exhibitions including a collection of contemporary Zimbabwean sculptures and one with a private collection of minerals.
12. Pico Ruivo
Nature lovers, this one's for you. Pico Ruivo is the highest peak on Madeira island, at 1,861 meters. You can reach the top by hiking from Pico do Arieiro, a harder hike, or from Achada do Teixeira, a more relaxed trail. While the panoramic view of Madeira is worth it, it's recommended that you book a tour with an experienced guide for safety reasons.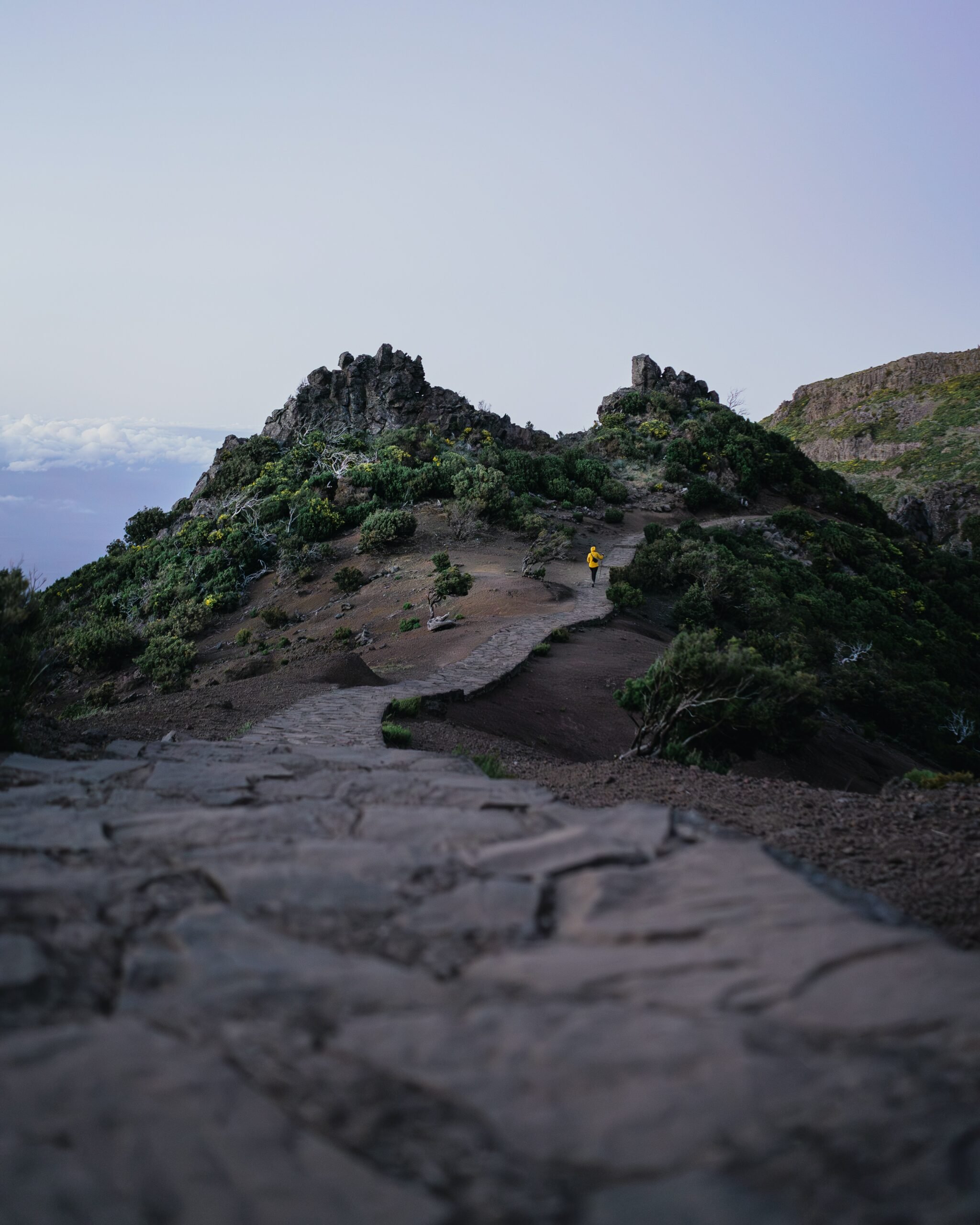 13. Restaurante Azenhas do Mar
Often listed as one of the top restaurants in Portugal, Restaurante Azenhas do Mar is located in Colares near Sintra. Located on top of the ocean, the restaurant opened in 1968 and is known for its delicious seafood. From fresh fish sold by the kilo to shellfish of all kinds, do not miss this place if you are in the area.
14. Dom Luis I Bridge
The Porto brother of the Eiffel Tower, the Dom Luis I Bridge is an iconic symbol of Porto above the Douro river. Not only is it an important transportation link between Porto and Vila Nova de Gaia, but it also stands as a part of history. The bridge was designed by Théophile Seyrig, a student of Gustave Eiffel in 1886.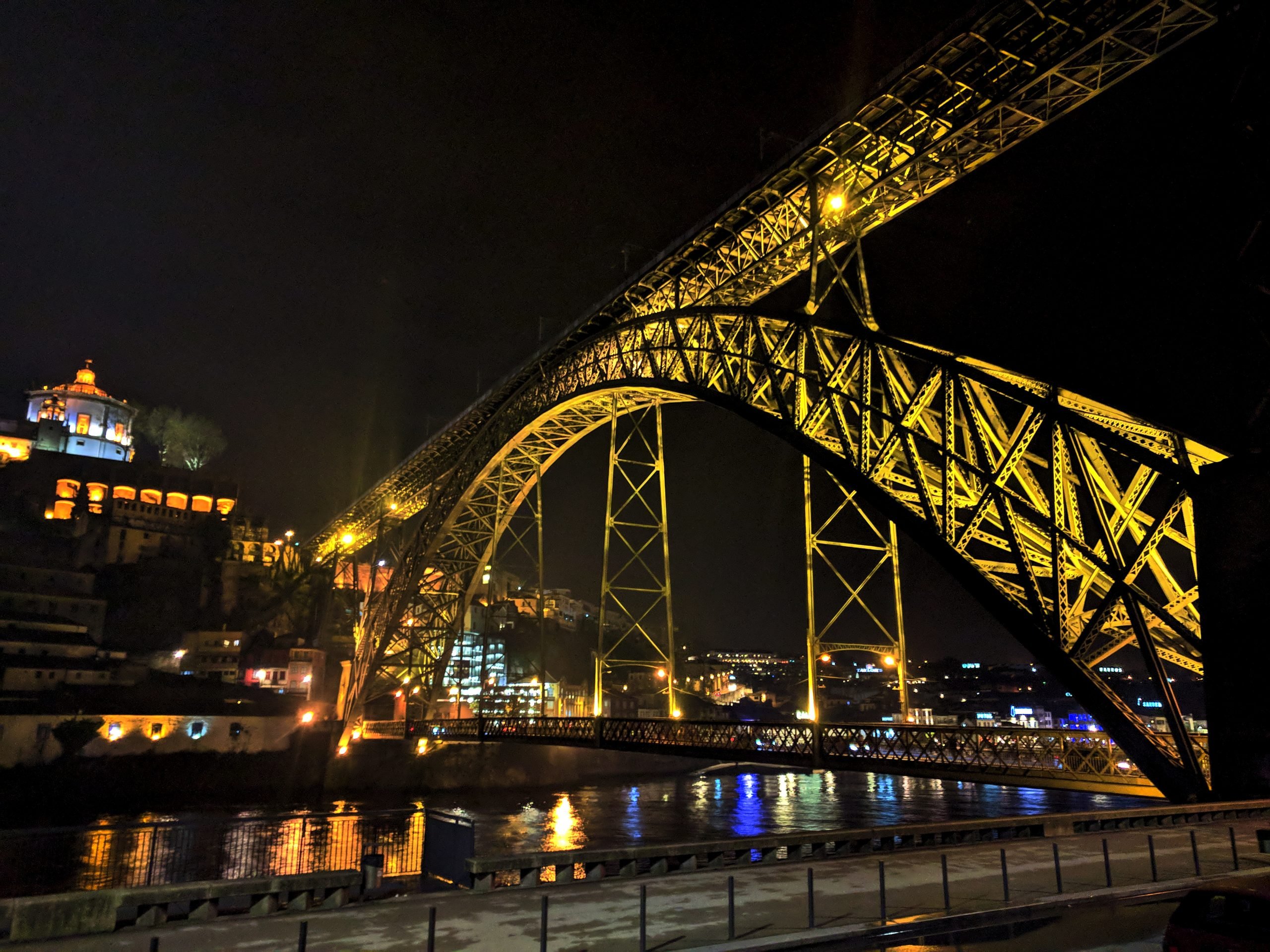 15. Serralves Museum
A sanctuary for art and architecture lovers, the Serralves Museum of Contemporary Art opened in 1999 in Porto. The museum's collection features paintings, sculptures, photography, multimedia installations, and more. The museum is also known for its unique architecture and the countless activities and events taking place there.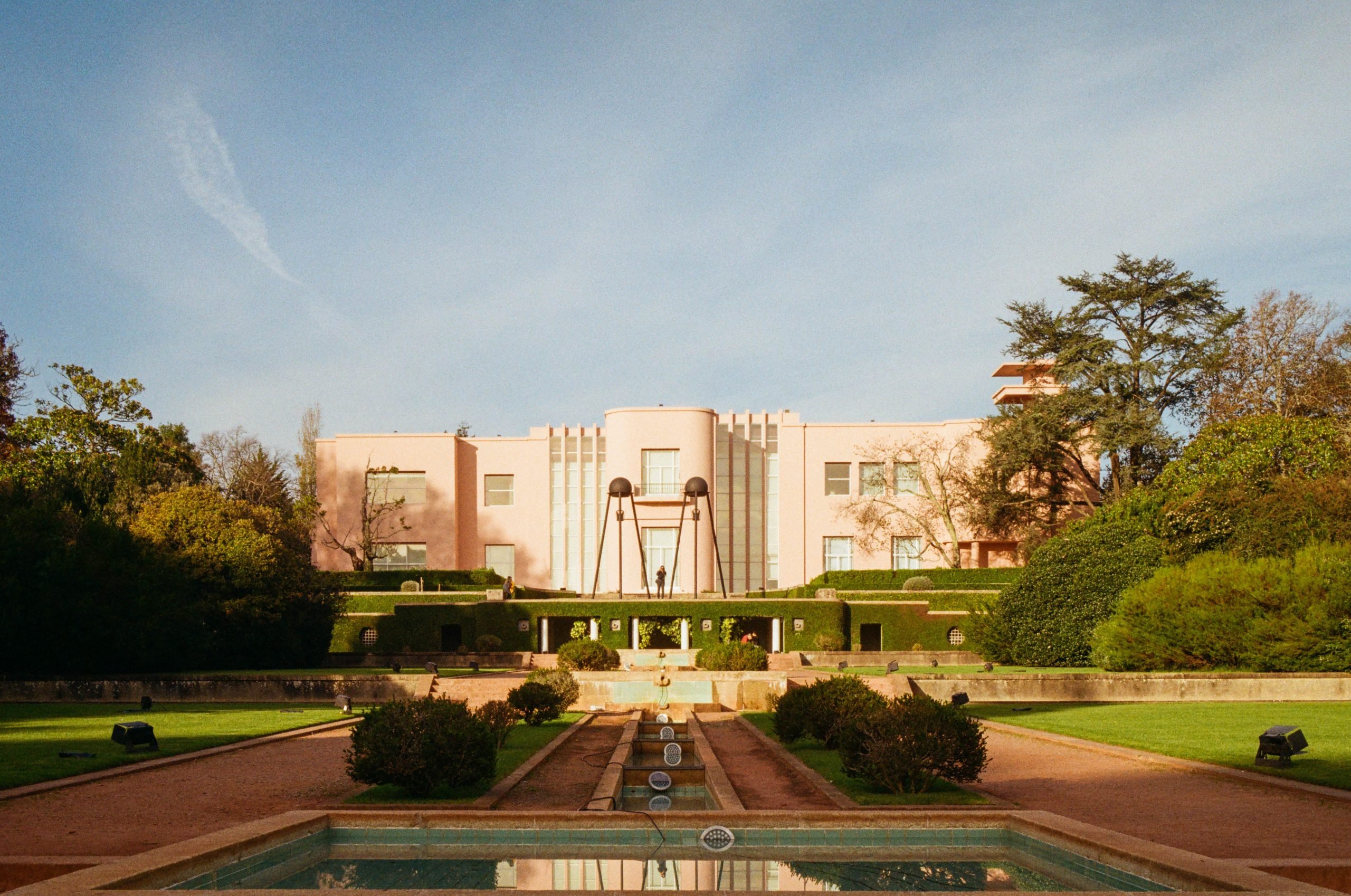 16. Monsanto Castle
Fun fact – Monsanto and its castle were the backdrop for the Game of Thrones prequel House of the Dragon. Located at the top of the hill, this strong castle, built in 1165 by Gualdim Pais, the leader of the Knights Templar, was originally under Moorish control. Today, it provides views that stretch as far as Serra da Estrela and Spain!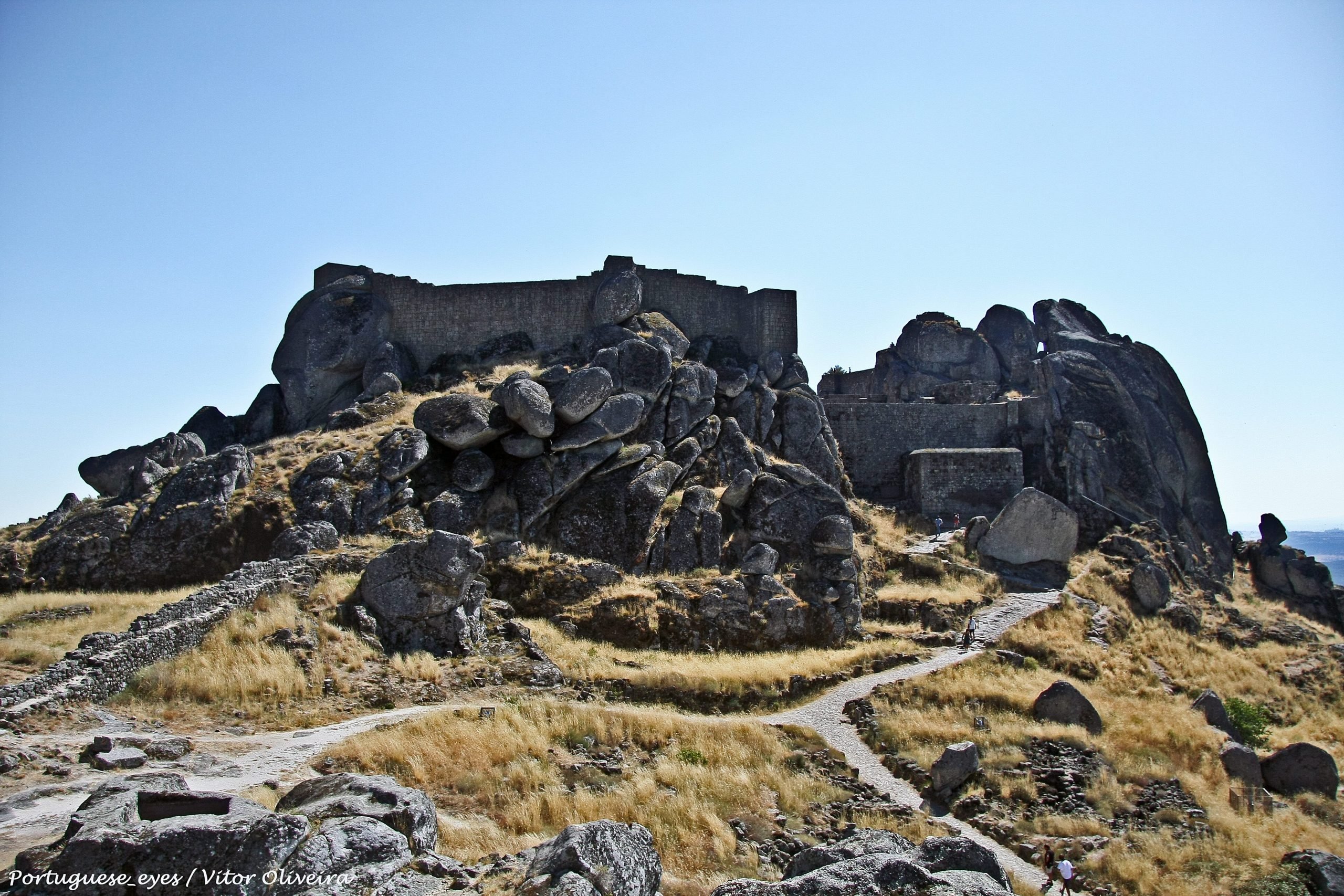 17. Convent of Christ
A UNESCO World Heritage Site since 1983, the Convent of Christ is a striking former Catholic convent in Tomar from the 12th century. It was originally designed as a monument to represent the Reconquest, but during the Manueline period, it symbolized the opposite, Portugal opening up to other civilizations.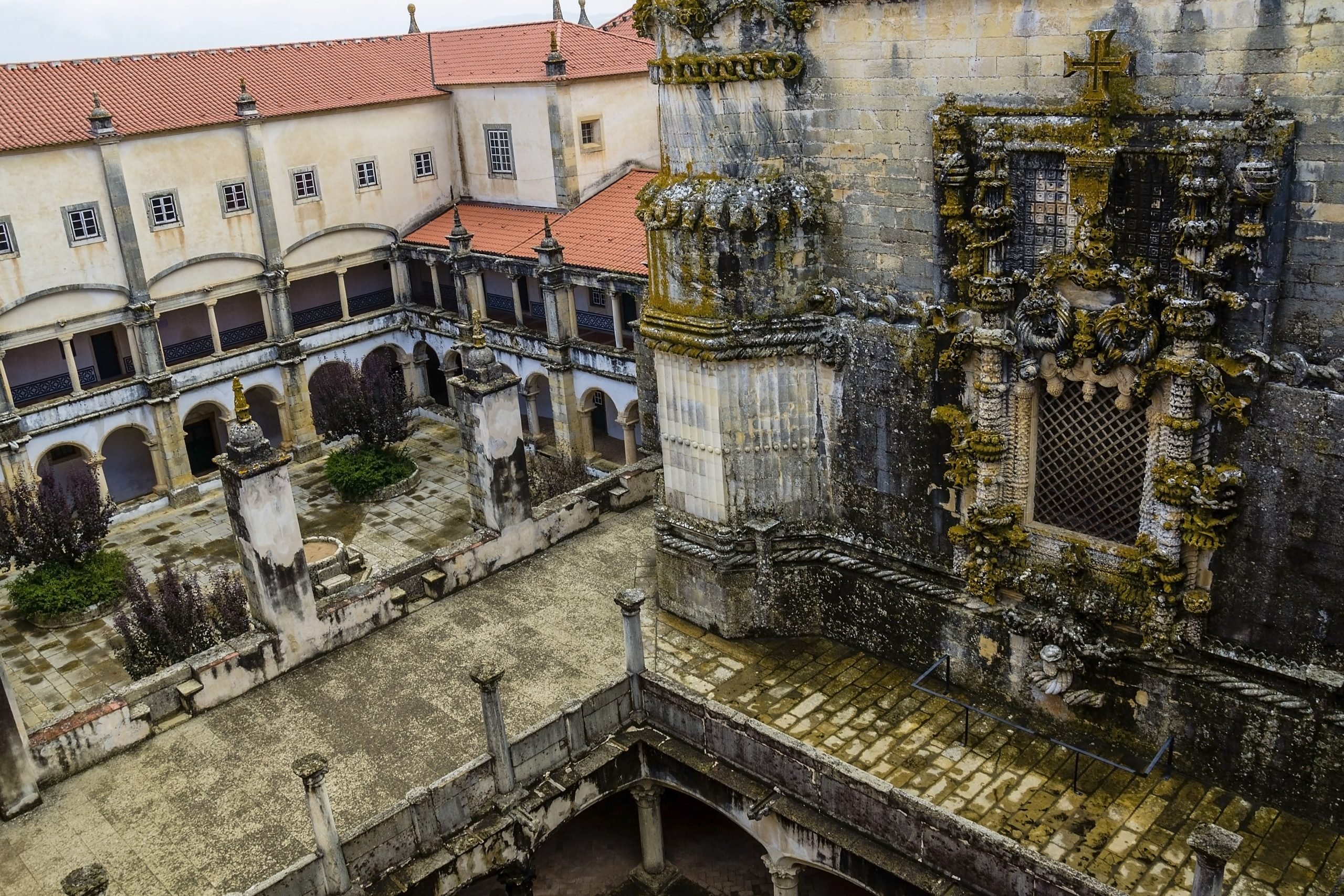 18. Almourol Castle
A castle that you need to paddle or canoe to makes for a unique experience! Almourol Castle is located on a small island in the Tagus River. Built in the 12th century during the Moorish era this medieval fortress once protected the region from invaders. You can do the work yourself and paddle onto the island, or book a boat tour.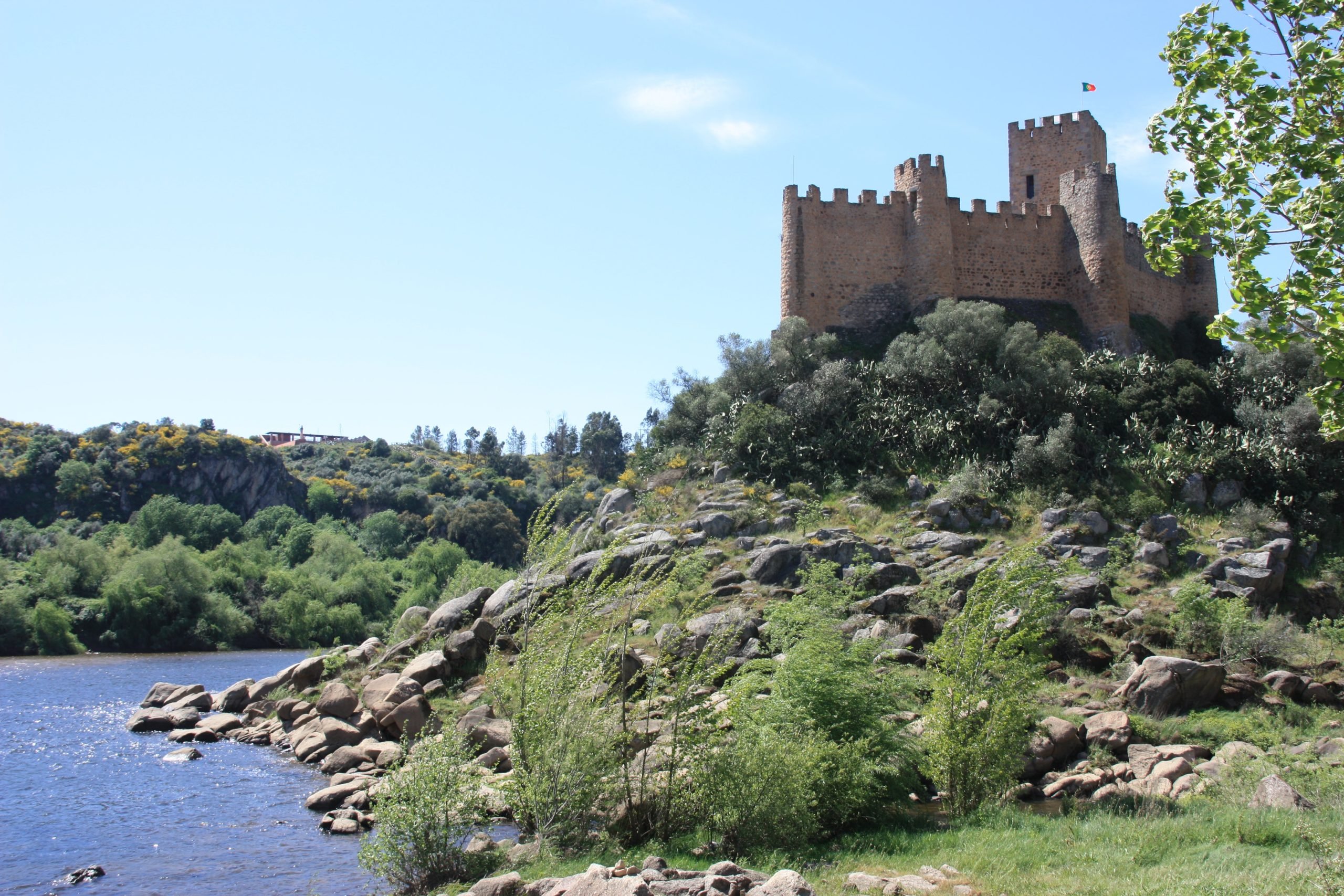 19. National Pantheon
Known as Lisbon's Panteāo Nacional, iconic individuals of Portugal have been laid to rest here, namely Amália Rodrigues and Luis de Camōes. It was erected in the 17th century as a church, but in 1916 it was formally designated as the National Pantheon. It was no longer just a place of worship, but one to celebrate Portugal's most important people.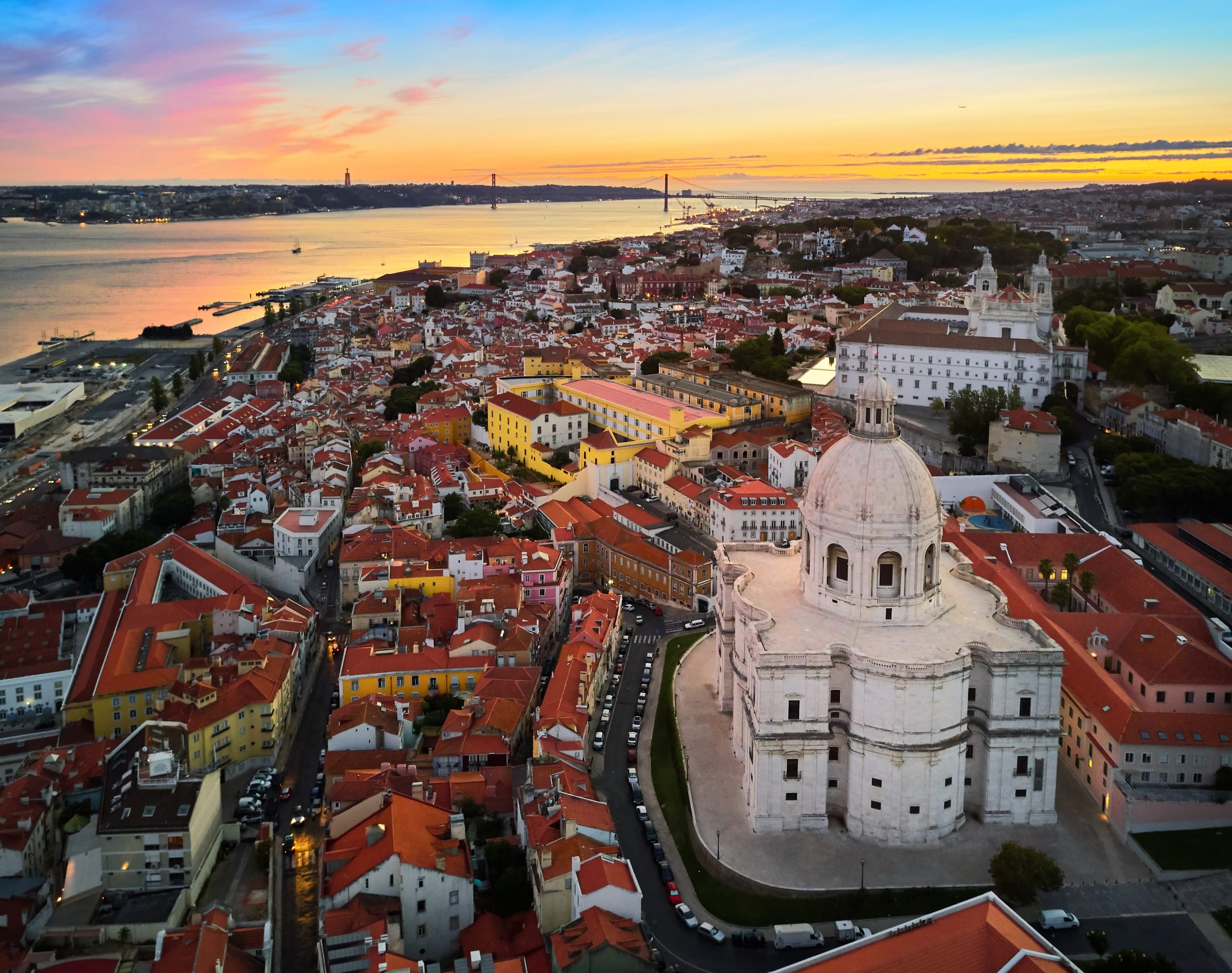 20. MAAT
Founded in 2016, the MAAT combines art, architecture, and technology in one of the most innovative buildings in Lisbon. With its "spaceship" like design and incredible exhibitions in various fields, this museum attracts visitors globally.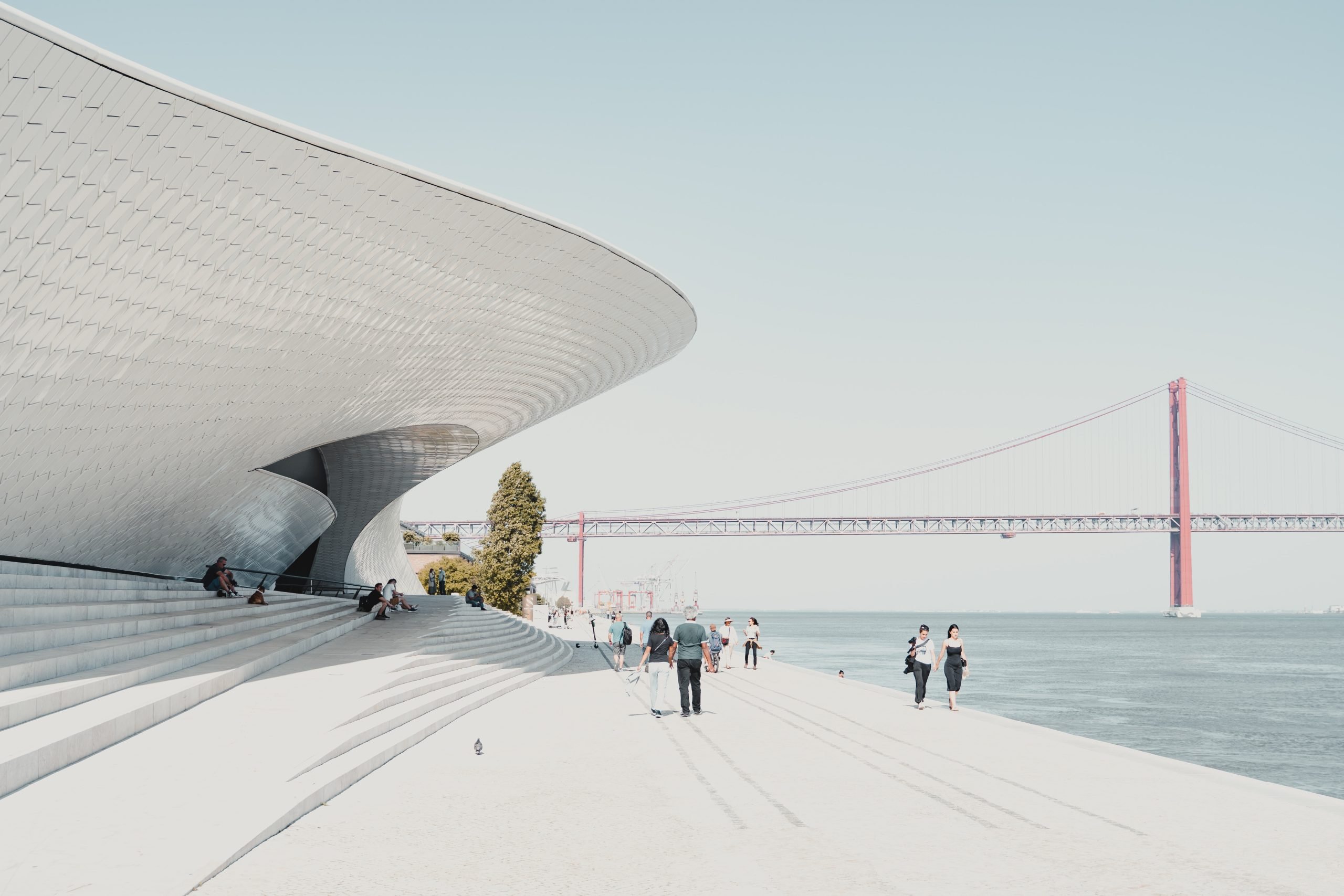 21. Lisbon Oceanarium
One of the largest aquariums in Europe, the Lisbon Oceanarium is a place for sea lovers and marine conservationists. Established in 1998 and designed by the American architect Peter Chermayeff, it is situated within the Parque das Nações, originally constructed for Expo '98. From adorable sea otters and penguins to a diversity of fish, amphibians, and plants, this is the perfect place for everyone.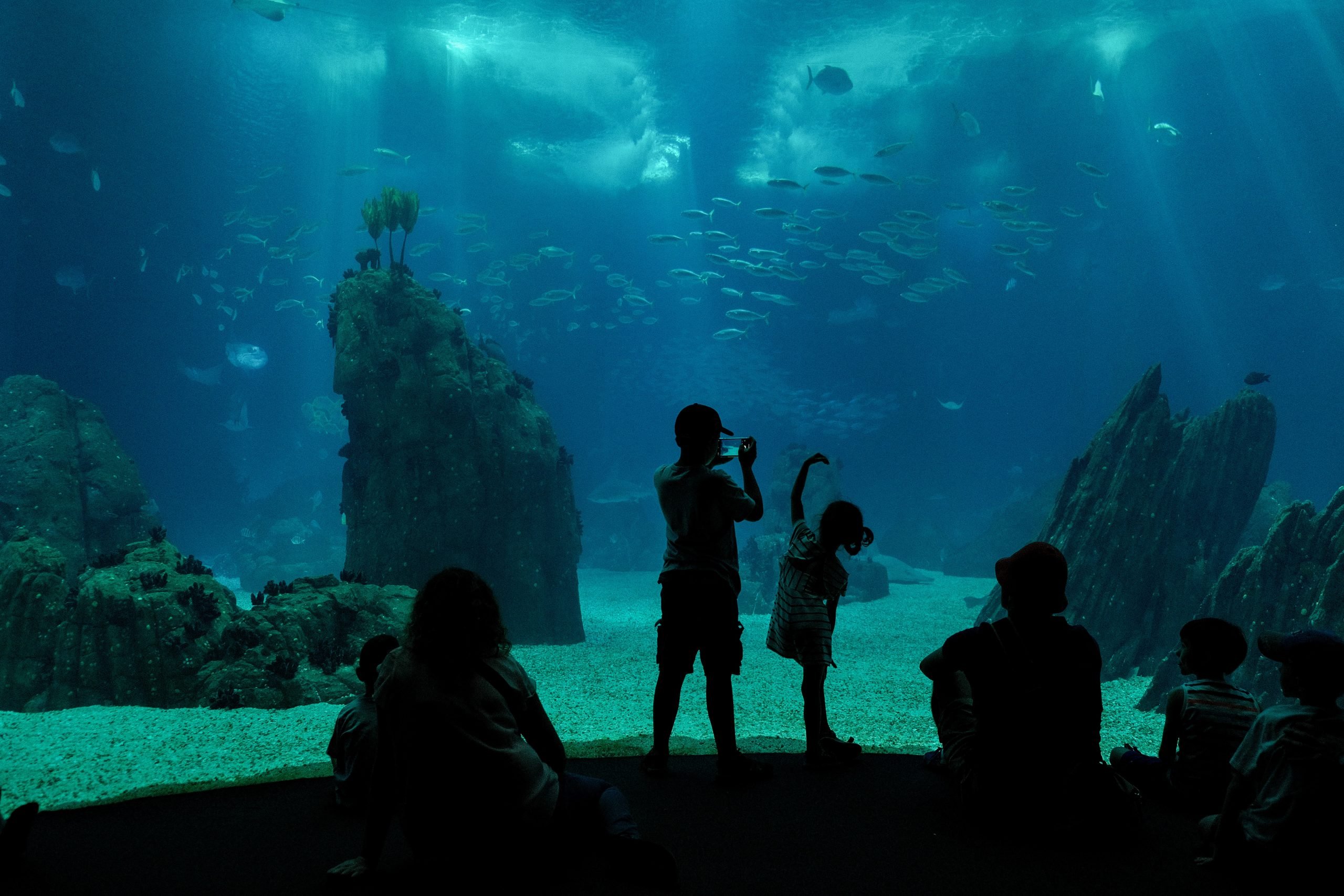 22. Carmo Convent
Most are unaware that in the middle of Portugal's busiest city in Chiado, stands the Carmo Convent. Traced back to the 14th century, the convent was once the headquarters of the Carmelite Order in Lisbon. Unfortunately, the Lisbon Earthquake of 1755, left it in ruins. However, these are worth a visit due to the impressive architecture.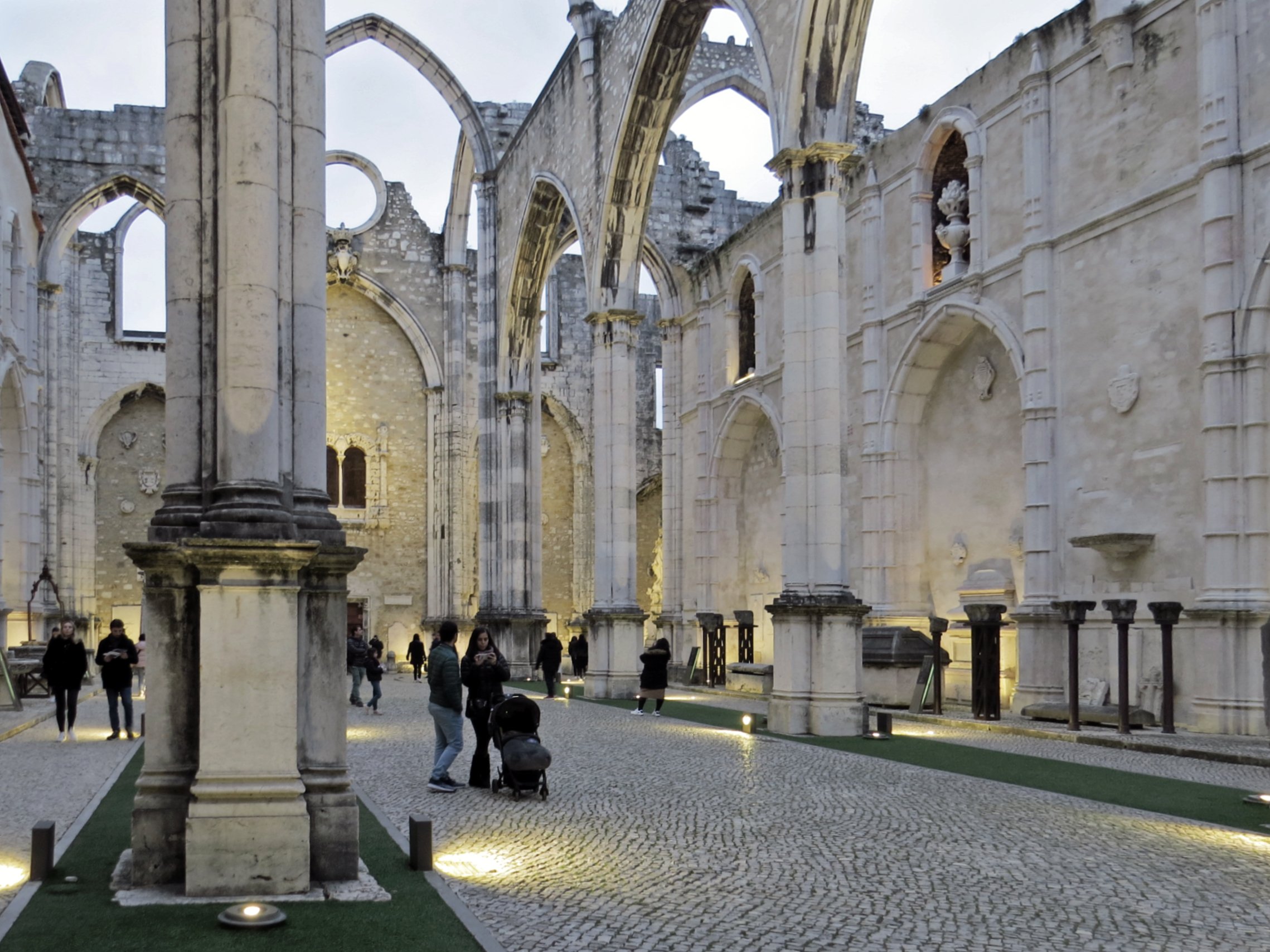 23. Pasteis de Belem
The Pastel de Belem is the original Pastel de Nata, unlike any other. Pasteis de Belem welcomes hundreds of thousands of visitors annually, a short walk from the Jeronimos Monastery, selling over 20,000 tarts daily. This place has the original monk recipe which is kept secret in a hidden room.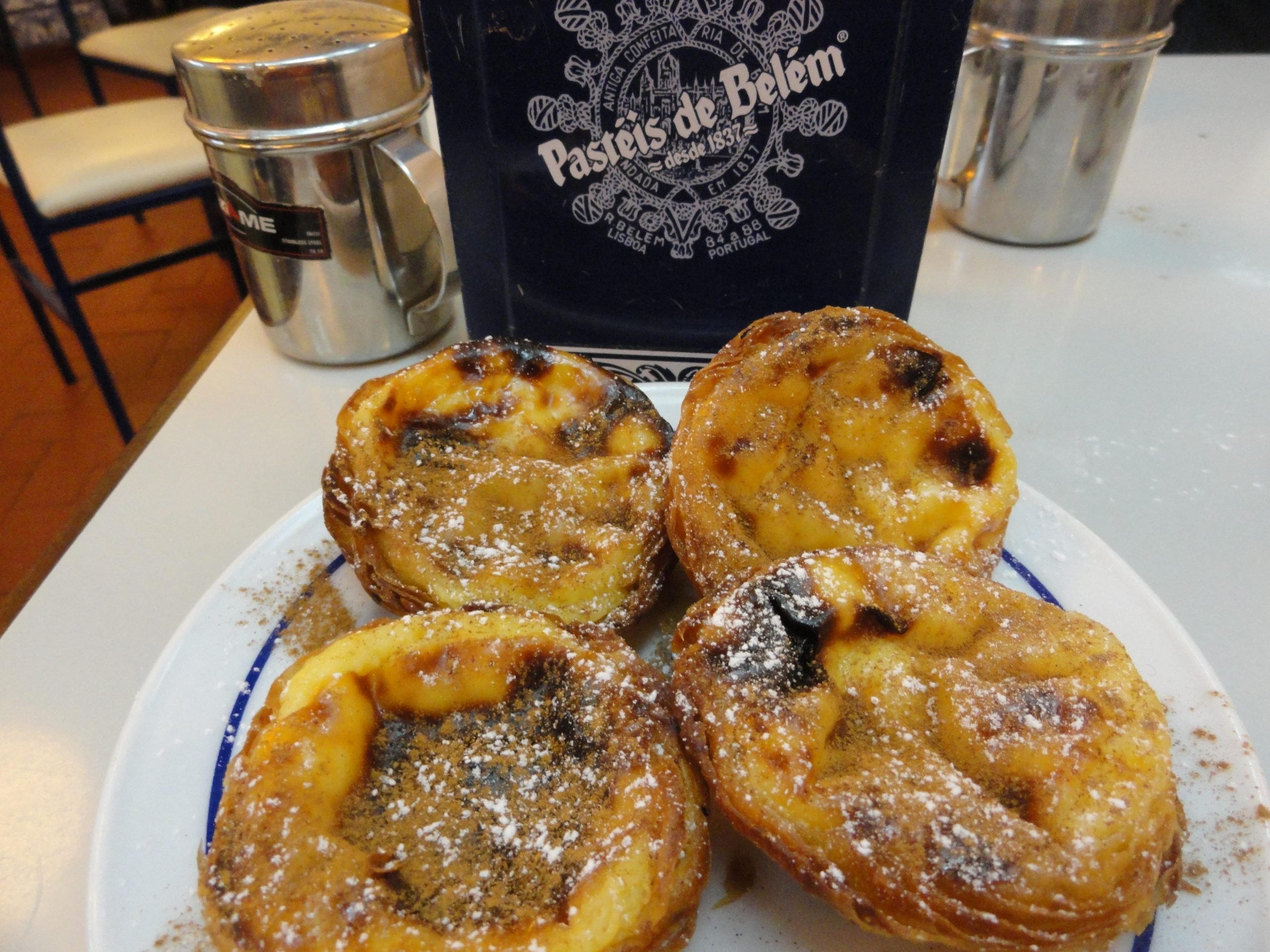 24. Lisbon Cathedral
Known as "Sé," this cathedral, situated in the Baixa district, was constructed in 1147 and is the oldest cathedral in Lisbon. Over time, it has undergone various modifications, particularly in the aftermath of the 1755 earthquake, thanks to Marquês de Pombal's efforts. You can take some photos of the Cathedral's neoclassical and Rococo facade, as well as visit the inside if you purchase a ticket.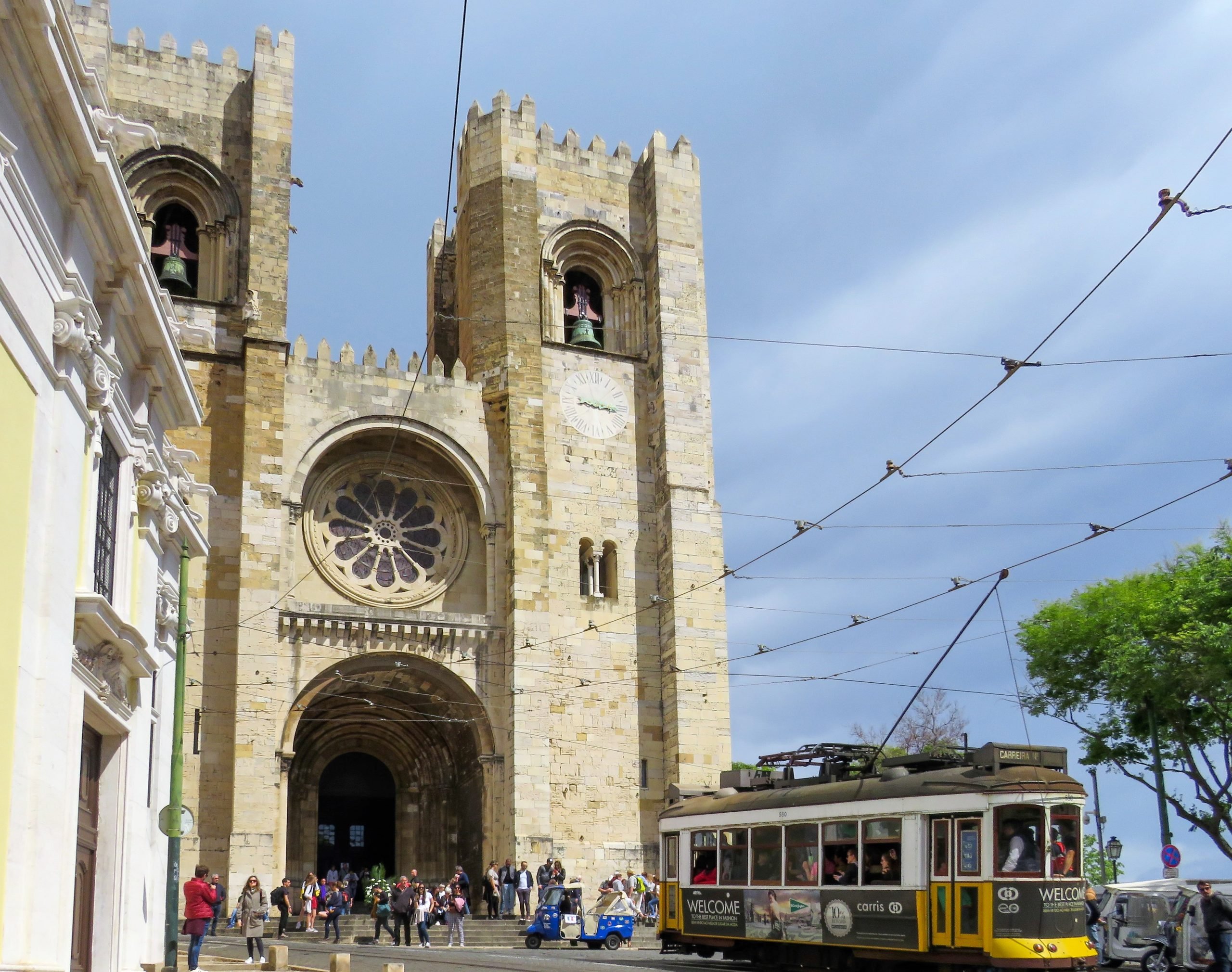 25. Santa Justa Lift
Travel back in time with a visit to the Santa Justa Lift, a 45-meter-tall elevator located in Lisbon's city center. Designed by Raoul Mesnier du Ponsard, a student of the architect responsible for the Eiffel Tower, this elevator resembles the Paris Tower.
Originally built as a transportation link to connect the lower streets of Baixa with the elevated Carmo Square, the Santa Justa Lift has become one of Lisbon's top tourist spots. You can buy a ticket to ride to the top for a view of the Baixa Pombalina.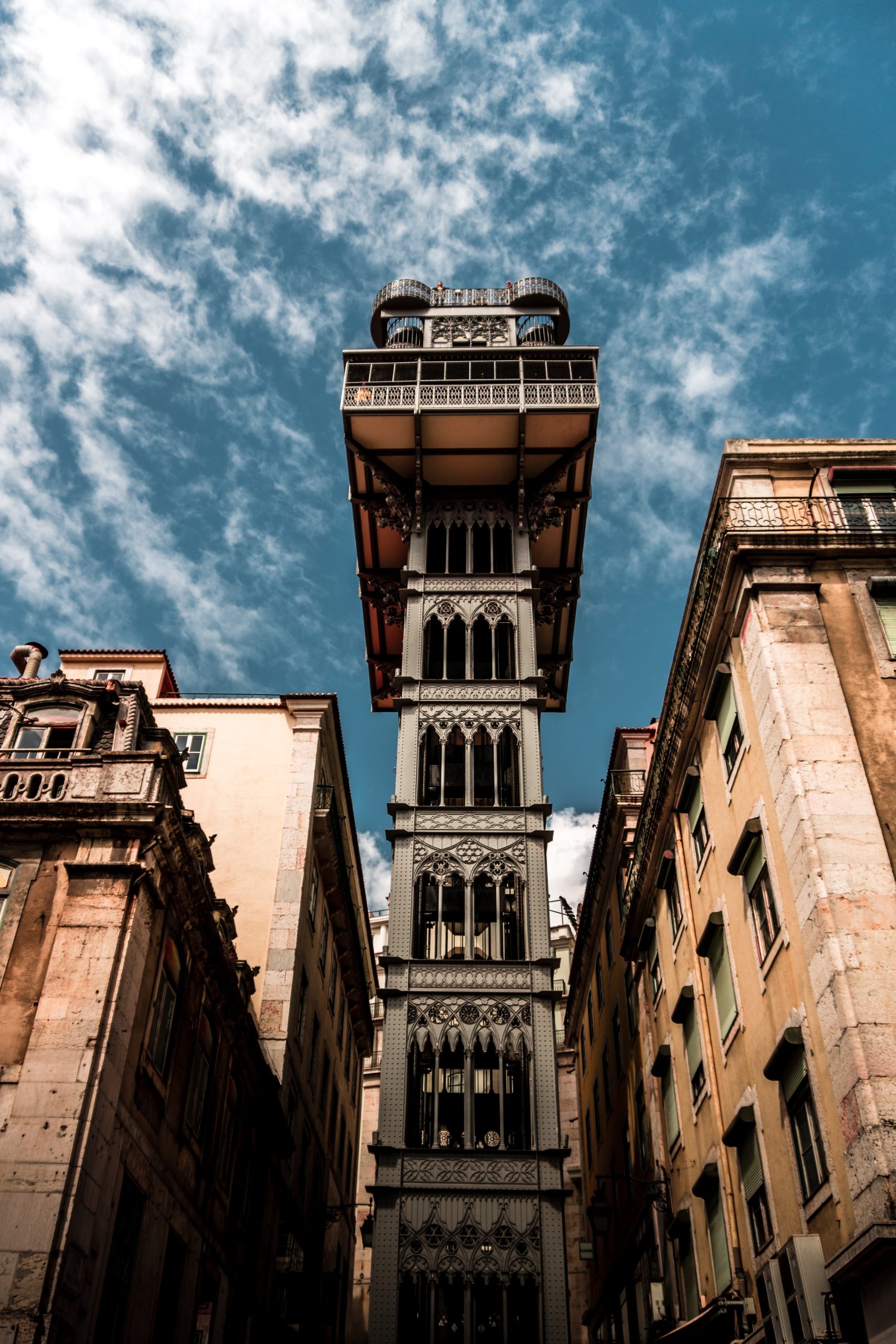 26. Monserrate Palace
Sintra is known for its fairytale palaces and Monserrate Palace is up there on the list. Originally a hermitage from 1540, Monserrate became a breathtaking masterpiece under the passionate stewardship of British industrialist Francis Cook in the 19th century. Its romantic architecture and lush, exotic gardens have rightfully earned it the title of a World Heritage Site since 1995.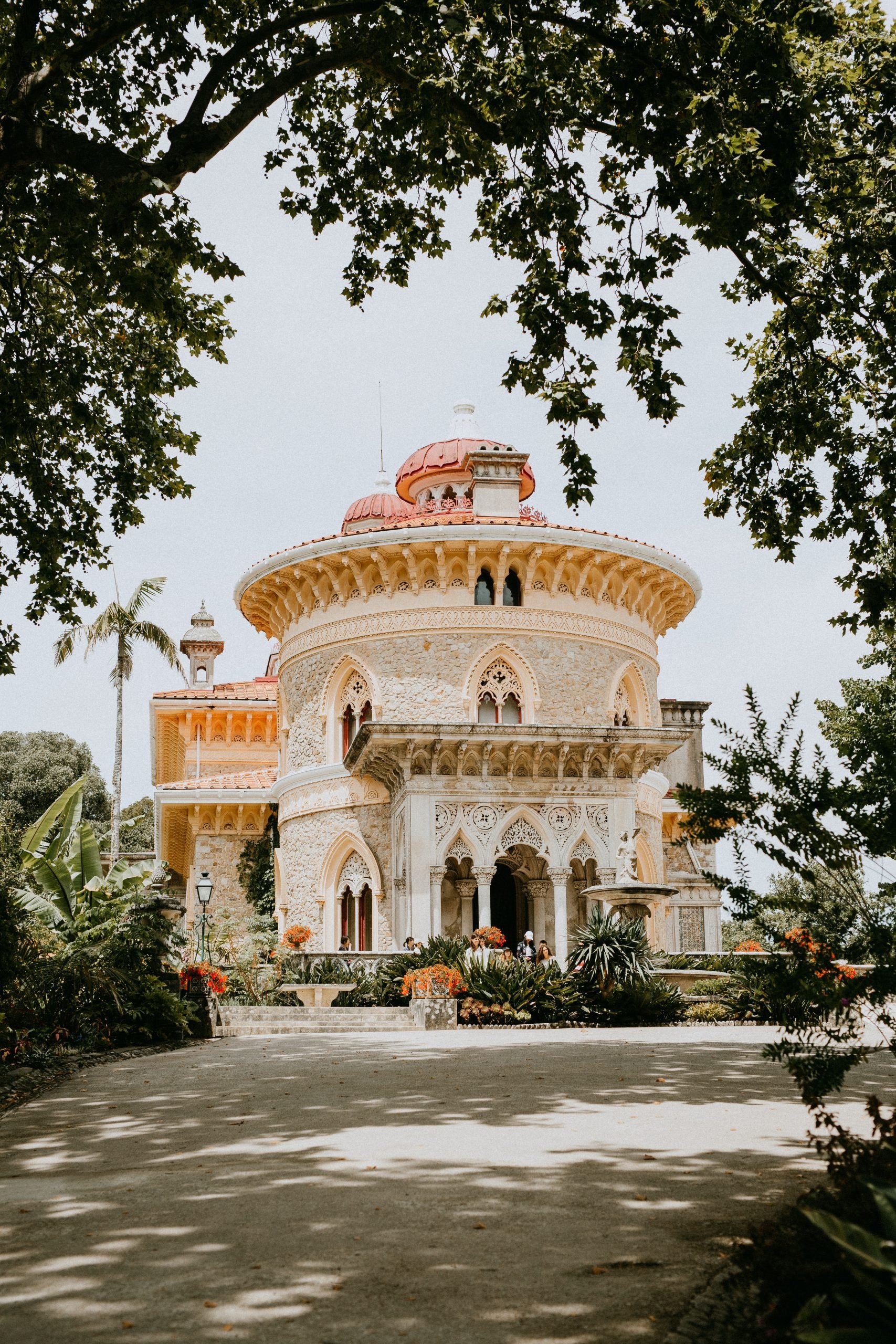 27. Moors Castle
The Moors castle is another Sintra masterpiece. Located on top of a hill, this castle was built during the 8th and 9th centuries, serving as a vital strategic outpost in the Reconquista. From the castle, you get one of the best views of Sintra, being able to see as far as Mafra and Ericeira.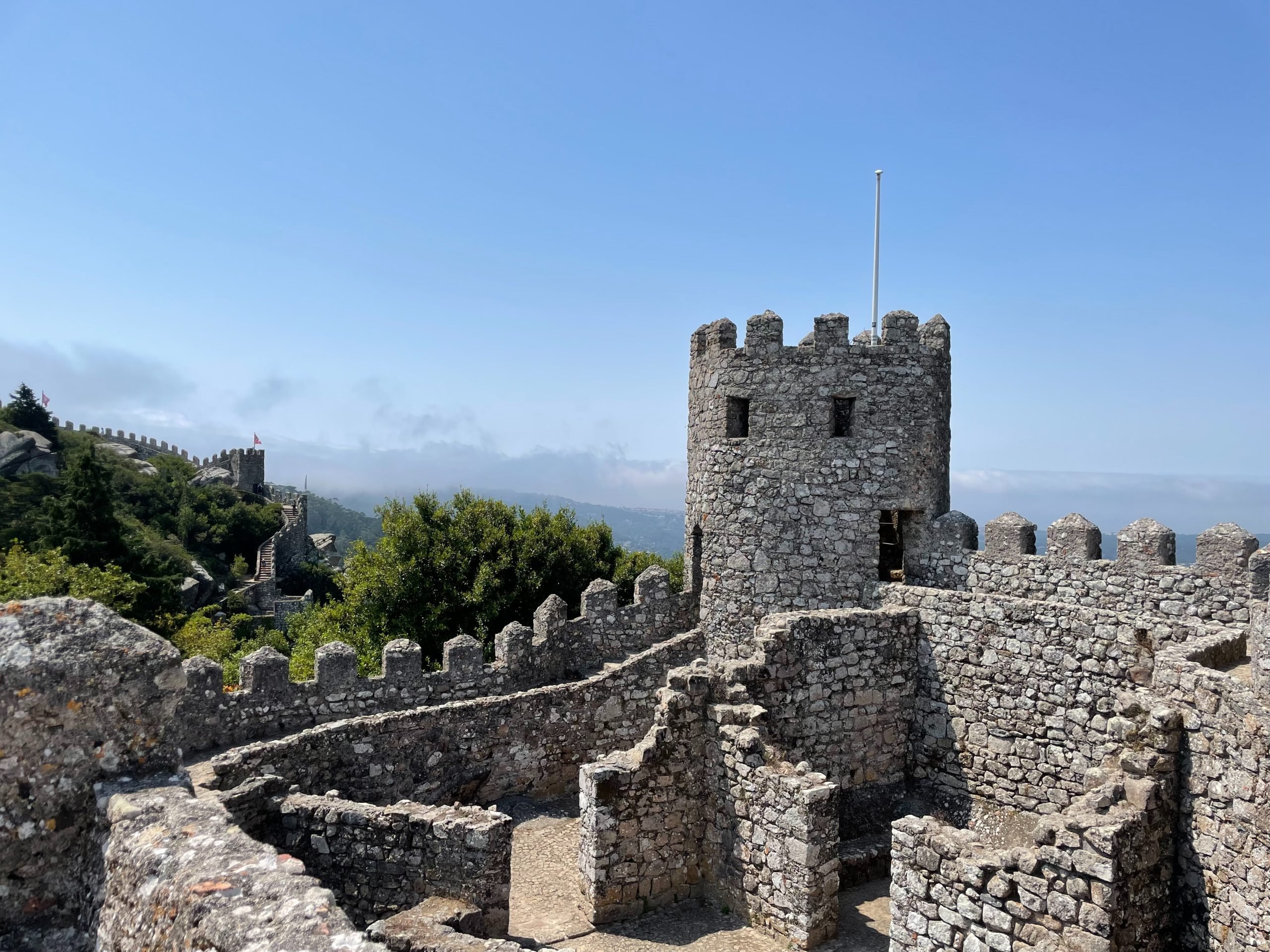 28. Martinho da Arcada
The oldest restaurant in Lisbon, Martinho da Arcada is one of the capital's relics from the 18th century. Located beneath the arches of Commerce Square, this restaurant has been a favorite of iconic Portuguese figures throughout the years including poets and politicians. The interior is decorated with Portuguese tiles and the cuisine is traditional Portuguese.
29. Vilamoura Marina
For those who travel to the Algarve regularly, the Vilamoura Marina has always been a staple of the region. A place to shop, grab dinner, indulge in some ice cream, or look at the over 1000 boats and mega yachts docked in the marina. The marina has its charm during the day but comes alive at night, filled with lights and a vibrant atmosphere.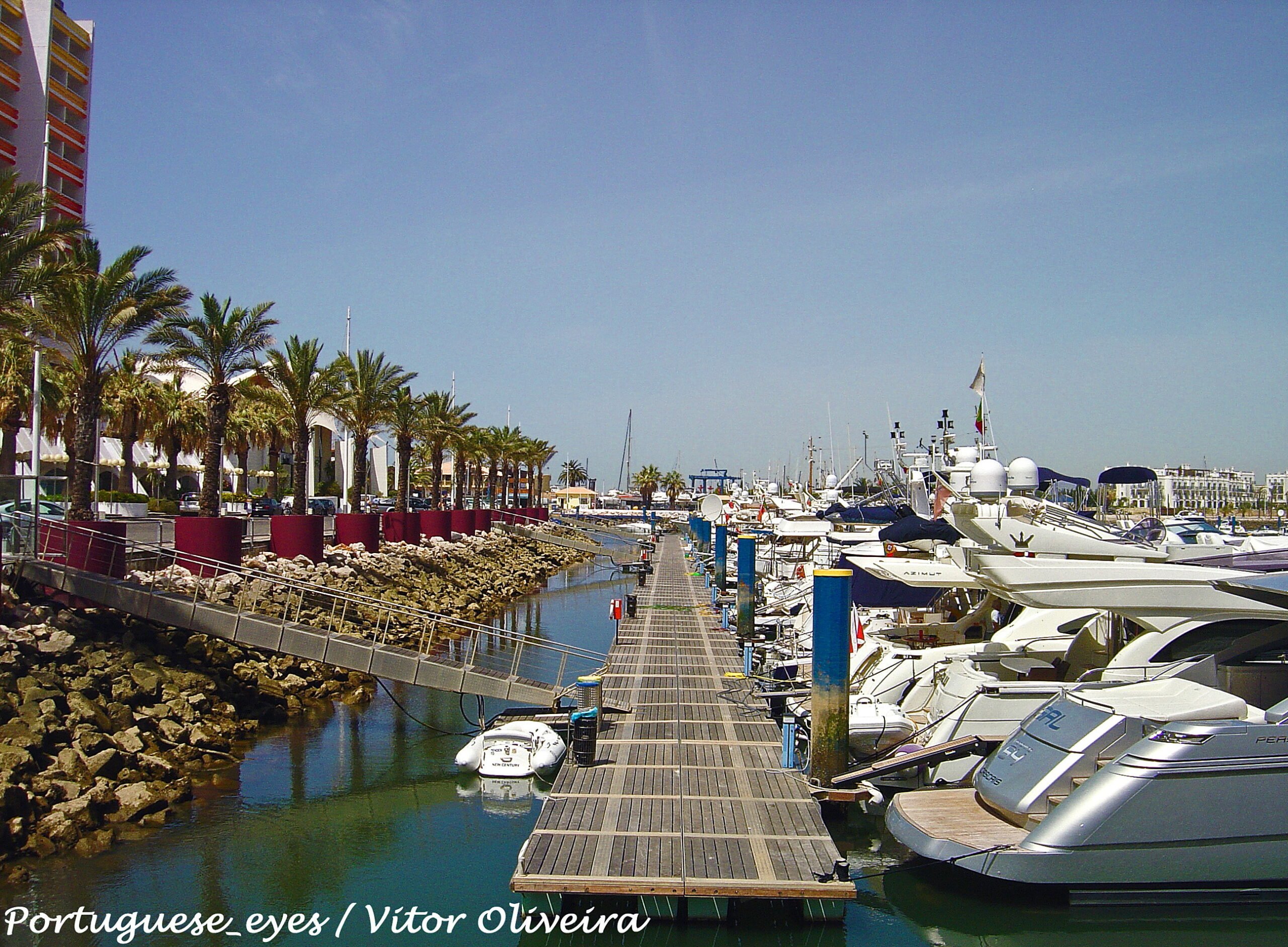 30. Lello Bookstore
It was once said that J.K Rowling wrote the Harry Potter series at the Lello Bookstore in Porto. Sorry to disappoint the fans, but this is untrue. However, it is clear where this myth comes from as when you walk into this bookstore, you are transported into Hogwarts. One of the oldest in the world, Lello opened in 1906 and today features thousands of books and a captivating blend of neo-gothic and art nouveau architecture styles.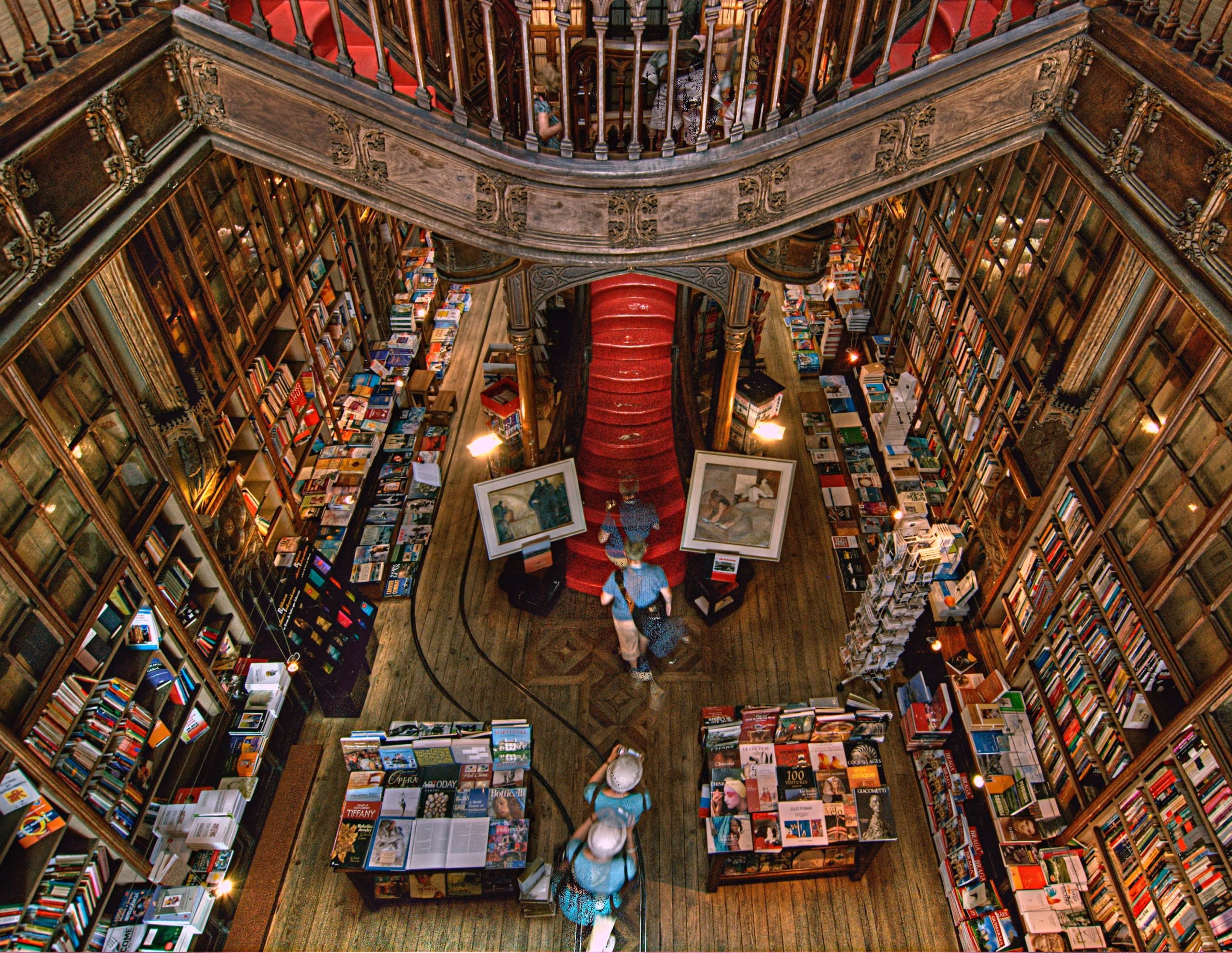 31. Monument of the Discoveries
You can't help but notice the Monument of the Discoveries, as it stands tall next to the Tagus River. However, most visit it while missing its history and the reality of a dark legacy. It was designed by architect Cottinelli Telmo and sculptor Leopoldo de Almeida during the fascist Estado Novo dictatorship to celebrate Portugal's maritime discoveries. Many have criticized the romanticization of this monument as a symbol of colonialism.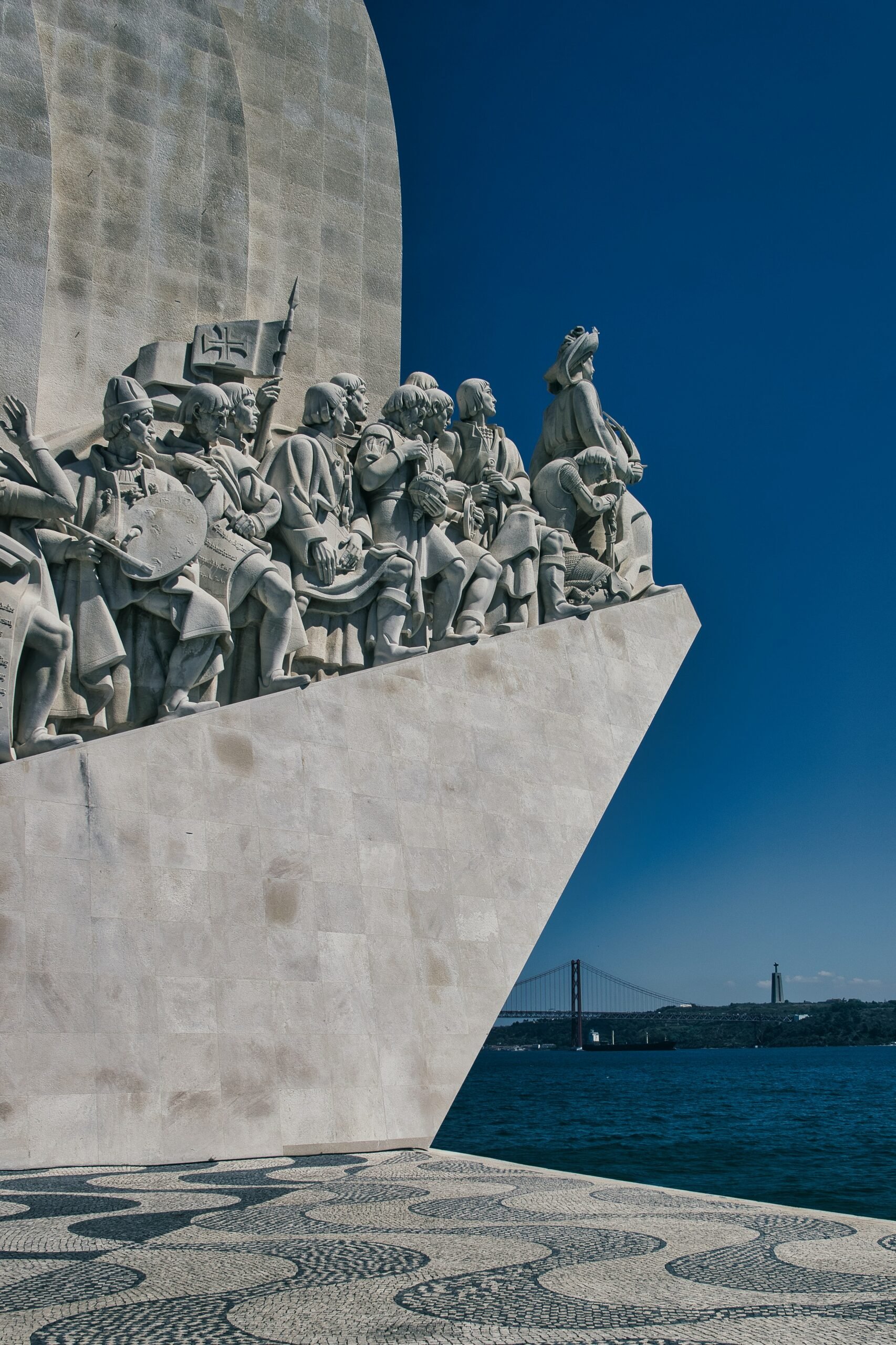 32. National Tile Museum
Blue and white Portuguese tiles decorate the facades of buildings, churches, and monuments across the country. If you, like many, have been captivated by their beauty, don't miss a chance to learn all about their history at the National Tile Museum in Lisbon. The museum features a collection of tiles from the second half of the 15th century to the present day, as well as ceramics and porcelain items.
33. Basilica of the Most Holy Trinity, Fatima
Located in the Sanctuary of Fatima, the Basilica of the Holy Trinity is the most recent basilica built on the large catholic complex. It was built in 2007 to accommodate the large crowds that visit the site. The basilica is a modern structure with a circular shape and a soaring concrete dome that can hold up to 9,000 people, making it a unique sight to behold.
34. Basilica of Our Lady of the Rosary of Fatima
The star of the Sanctuary of Fatima is the Basilica of Our Lady of the Rosary of Fatima. The iconic facade makes it the building most remember when visiting the sanctuary. This basilica is a Marian shrine dedicated to Our Lady of Fatima, decorated in white with a tall tower in the center.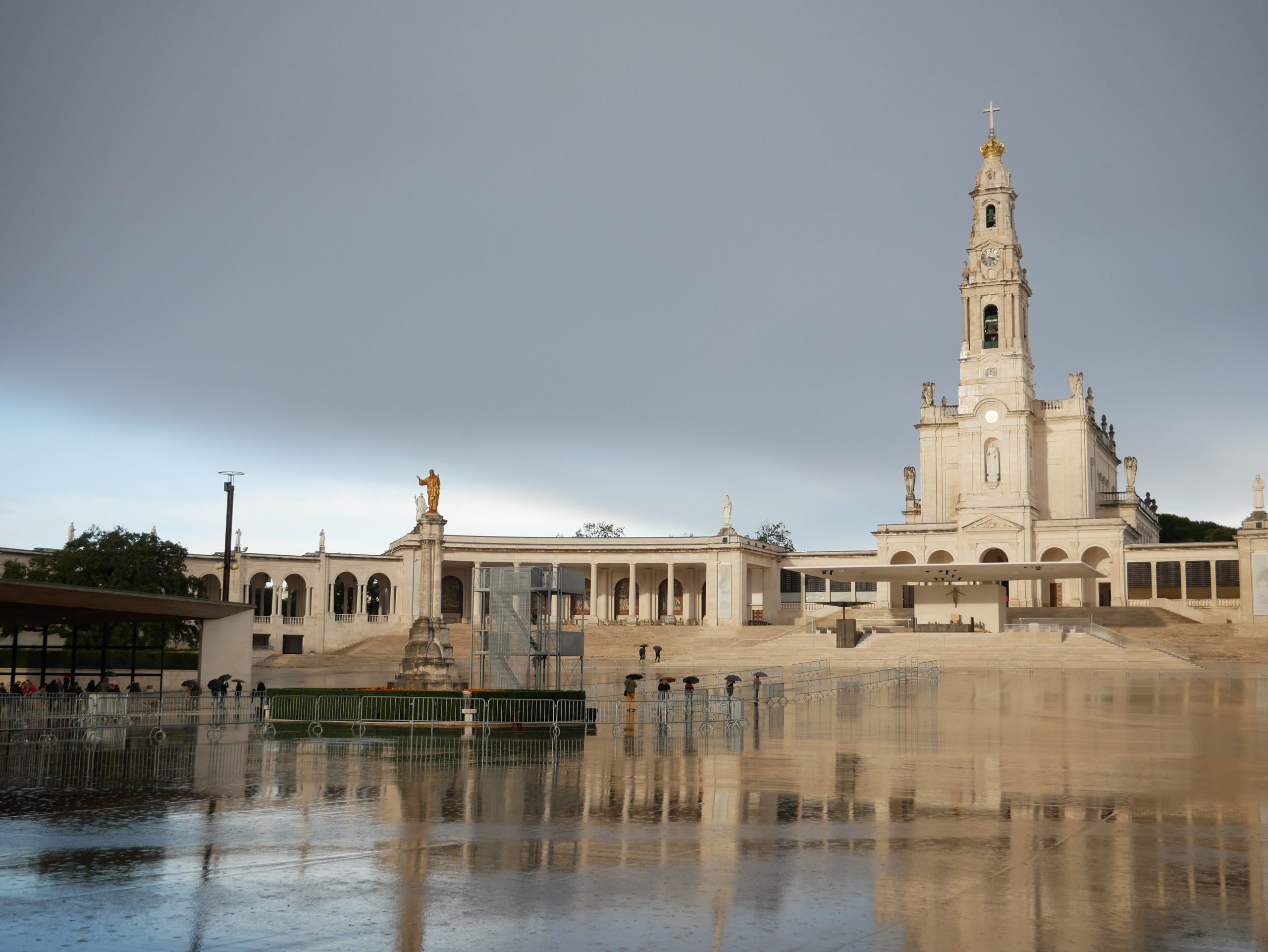 35. Francisco and Jacinta's House & Lucia's House
Most visit Fatima for the sanctuary, without knowing that there is more to explore, especially for religious pilgrims. The Fatima miracle was witnessed by the three shepherd children back in 1917. You can actually visit the houses of these children. There are two houses in the tiny village of Aljustrel, a kilometer away from the sanctuary: the "Casa de Jacinta e Francisco Marto" and the "Casa da Lucia". The houses are the originals and staged to the time, making you travel back in time to the days of the miracle.
36. Parque Terra Nostra
If you're both a nature and spa lover, this one's for you. Parque Terra Nostra is a 200-year-old botanical park located in Vale das Furnas in Sāo Miguel. Not only is it one of the world's largest collections of camellias, but it is also a natural thermal spa due to the volcanic activity. You can swim in a cozy geothermal pool at 35ºC.
37. Costa da Caparica
Costa da Caparica is the perfect day trip location from Lisbon. Across the 25th of April bridge, you will find this small city in the municipality of Almada, known to the locals as "Costa". Costa is where the "Lisboetas" head to for some of the best beaches in the country such as Praia da Fonte da Telha and Praia da Mata. It is also known for its surfing and seafood, so don't miss out.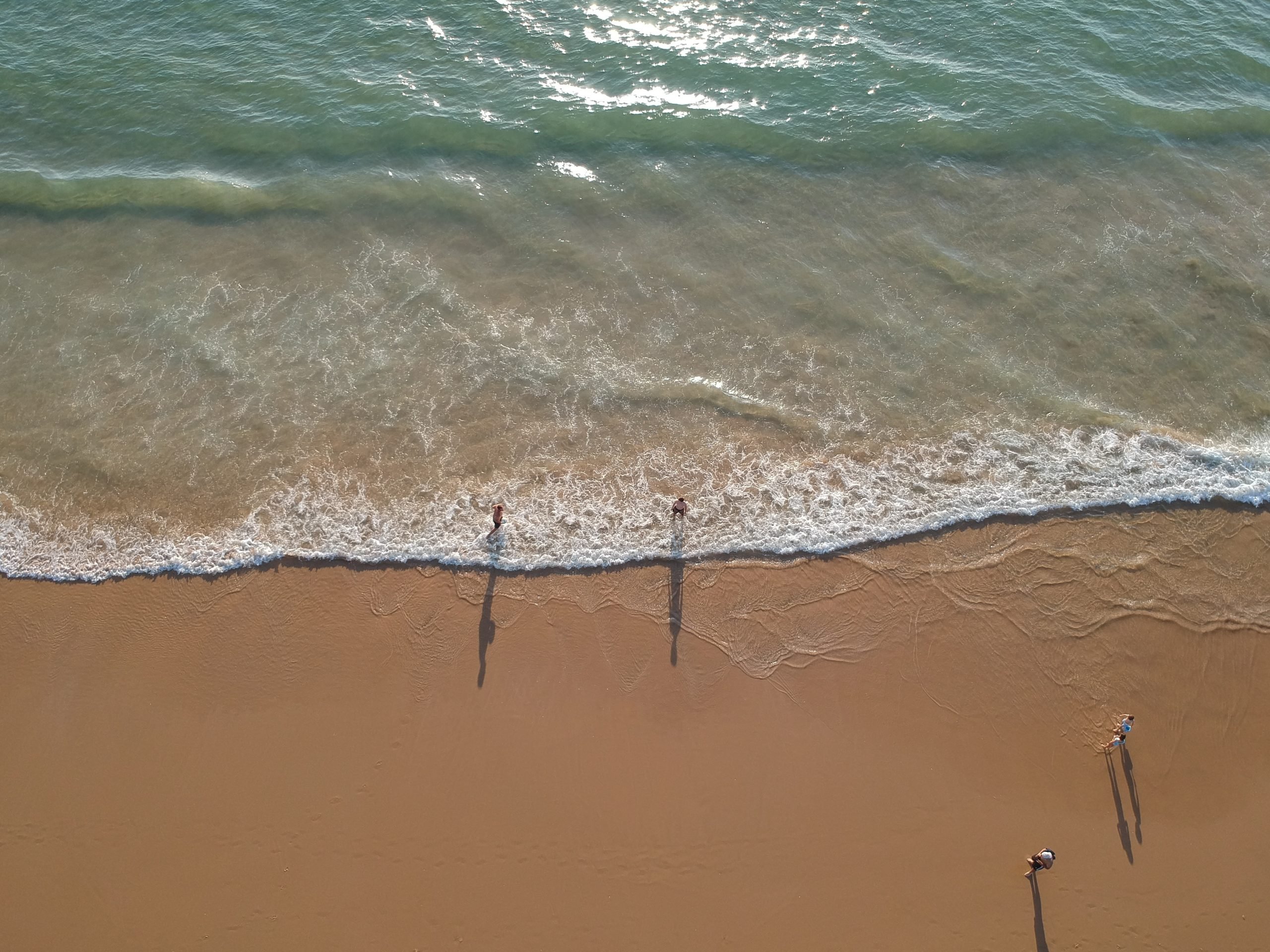 38. Museum of Sacred Art, Funchal
Funchal is mostly known for its nature attractions. However, the city's cultural side does not disappoint. The Museum of Sacred Art is located within the historic walls of Sāo Tiago Fortress and pays homage to the island's religious and artistic heritage of the 15th and 16th centuries. From the Flemish and Portuguese paintings depicting biblical scenes to statutes of saints and crucifixes, this place is a treasure trove of religious art.
39. Lagoa do Fogo, Sāo Miguel
One of the most stunning lagoons in the Azores, Lagoa do Fogo in Sāo Miguel makes for a popular hike with natural lovers. The lagoon can be walked around the margins for around 10 kilometers. The lagoon was a fire volcano formed over the last 300,000 years, giving it its name "Fire Lagoon".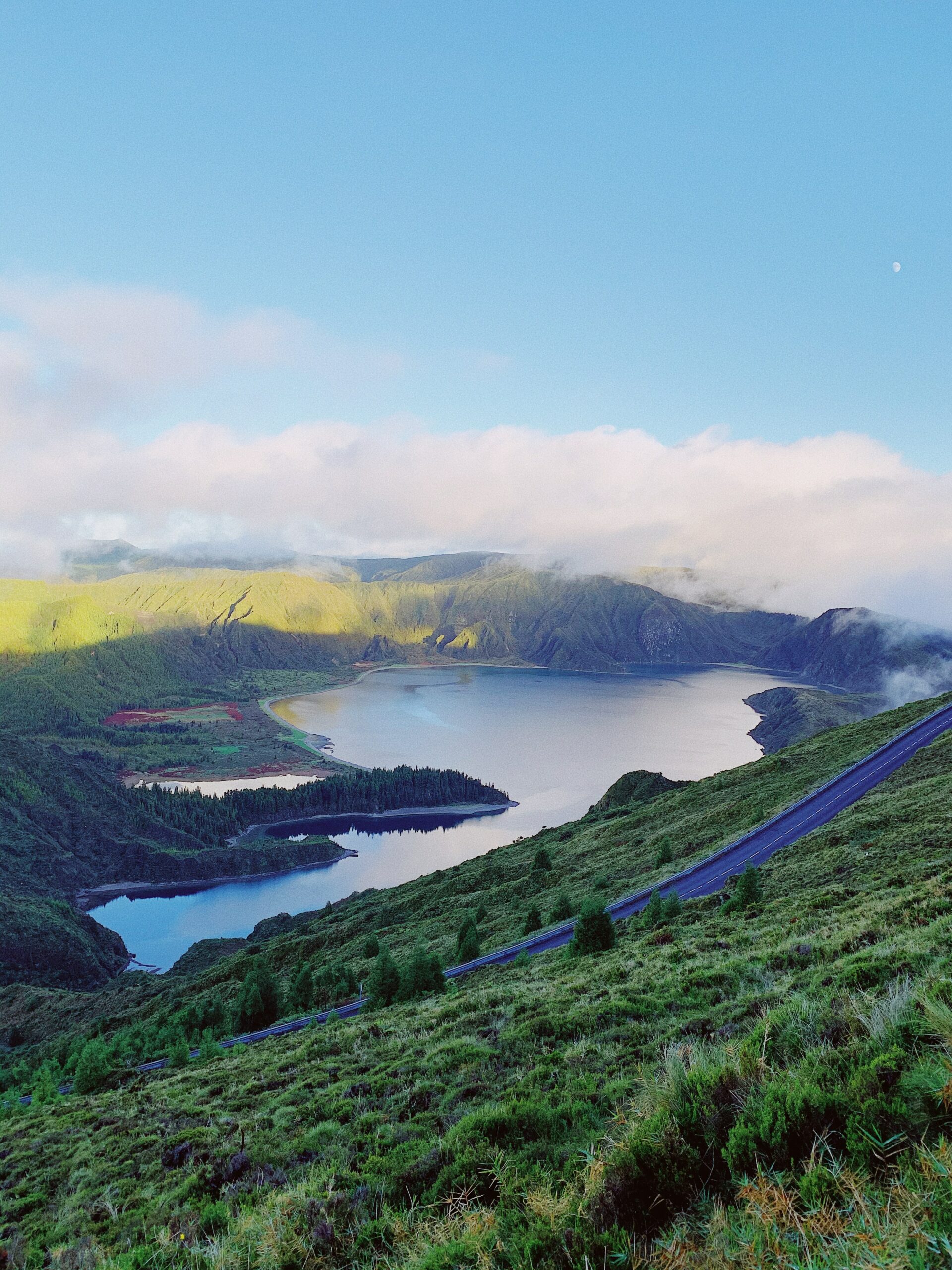 40. Praia do Guincho
Praia do Guincho is perhaps the most famous beach in the Portuguese Riviera region, one that has served generations of Cascais locals. This beach is particularly a must-visit for surf lovers, due to its Atlantic waves that are incredible even during the winter. The shoreline covers around 1 kilometer, providing you space to sunbathe comfortably. Head to Bar do Guincho for a drink or some food, particularly at sunset.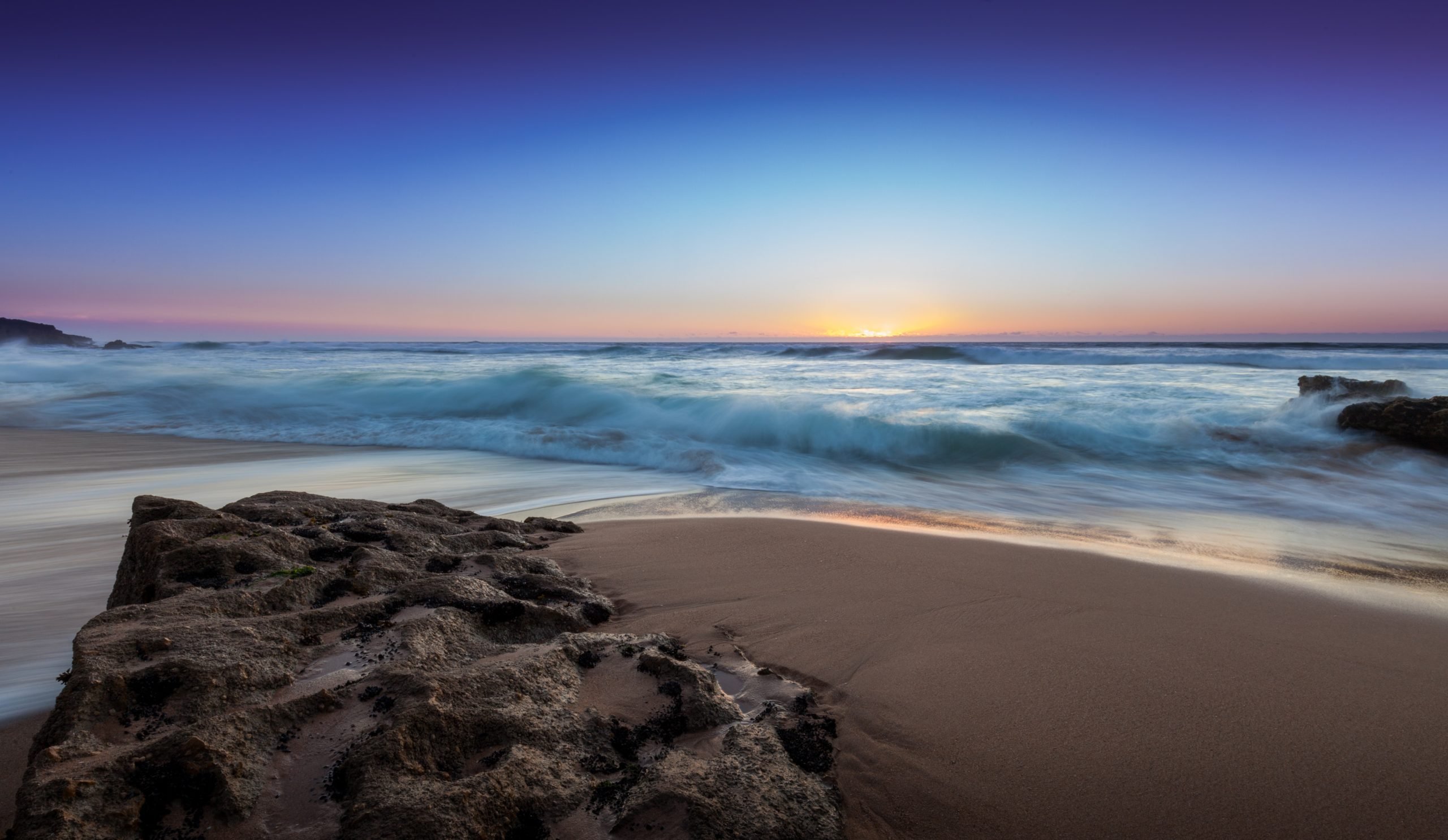 41. Belem Tower
Designed by Francisco de Arruda, the Belem Tower stands as a staple of Belem along the Tagus River. The 16th-century tower is a key historic landmark that once served as a starting point for the Portuguese discoveries. Due to its historical significance and architectural beauty, the tower was made a UNESCO World Heritage Site in 1983. Visitors can walk up to the top of the tower to enjoy a view of Belem and the river.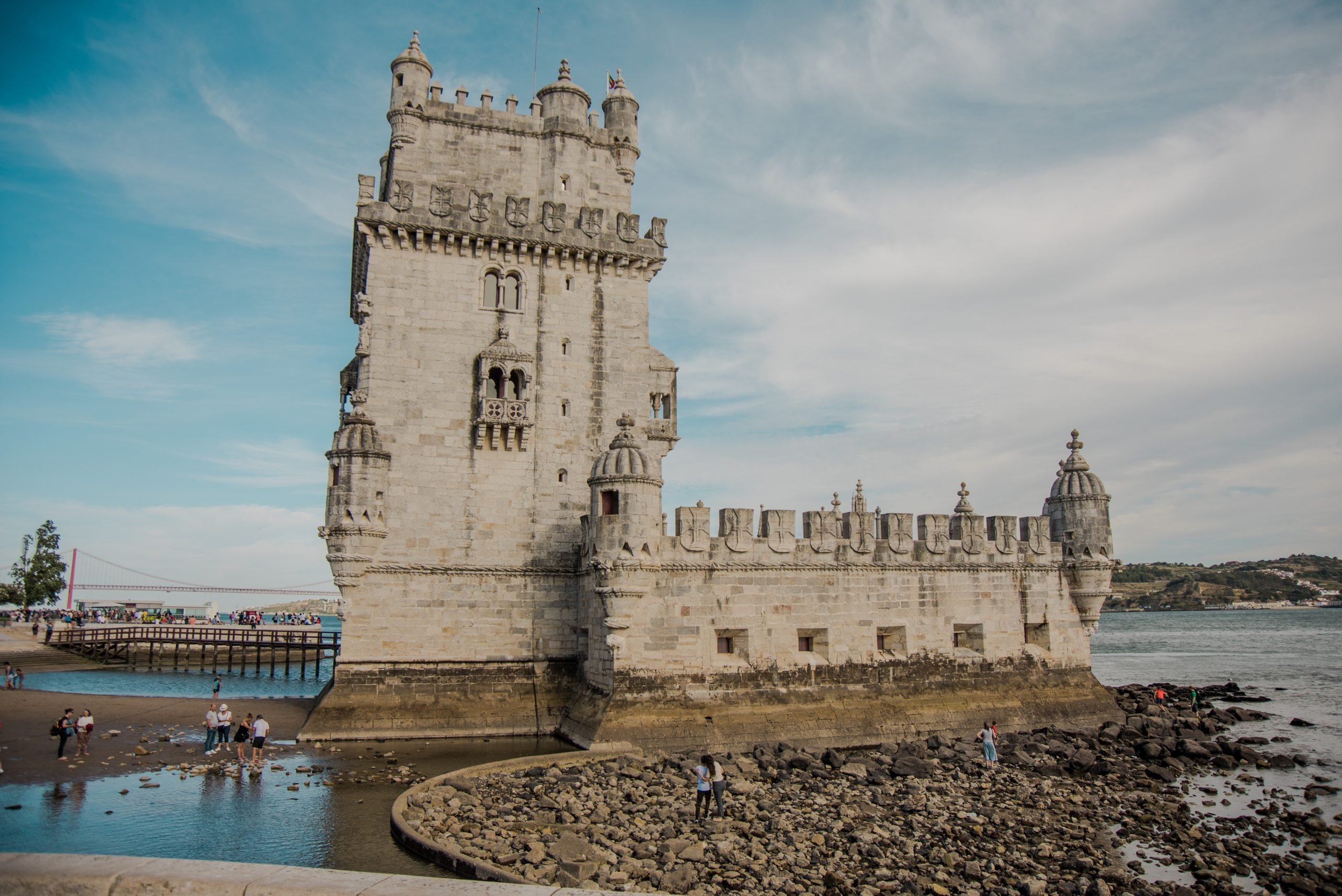 42. Fado Museum
"Saudade", love, and longing are just some of the complex emotions fado represents. This traditional Portuguese music genre was born out of the neighborhood of Alfama in Lisbon, making icons such as the late Amália Rodrigues. To truly experience all that fado has to offer, head to the Fado Museum which makes tribute to fado, tracing its roots back to the early 19th century.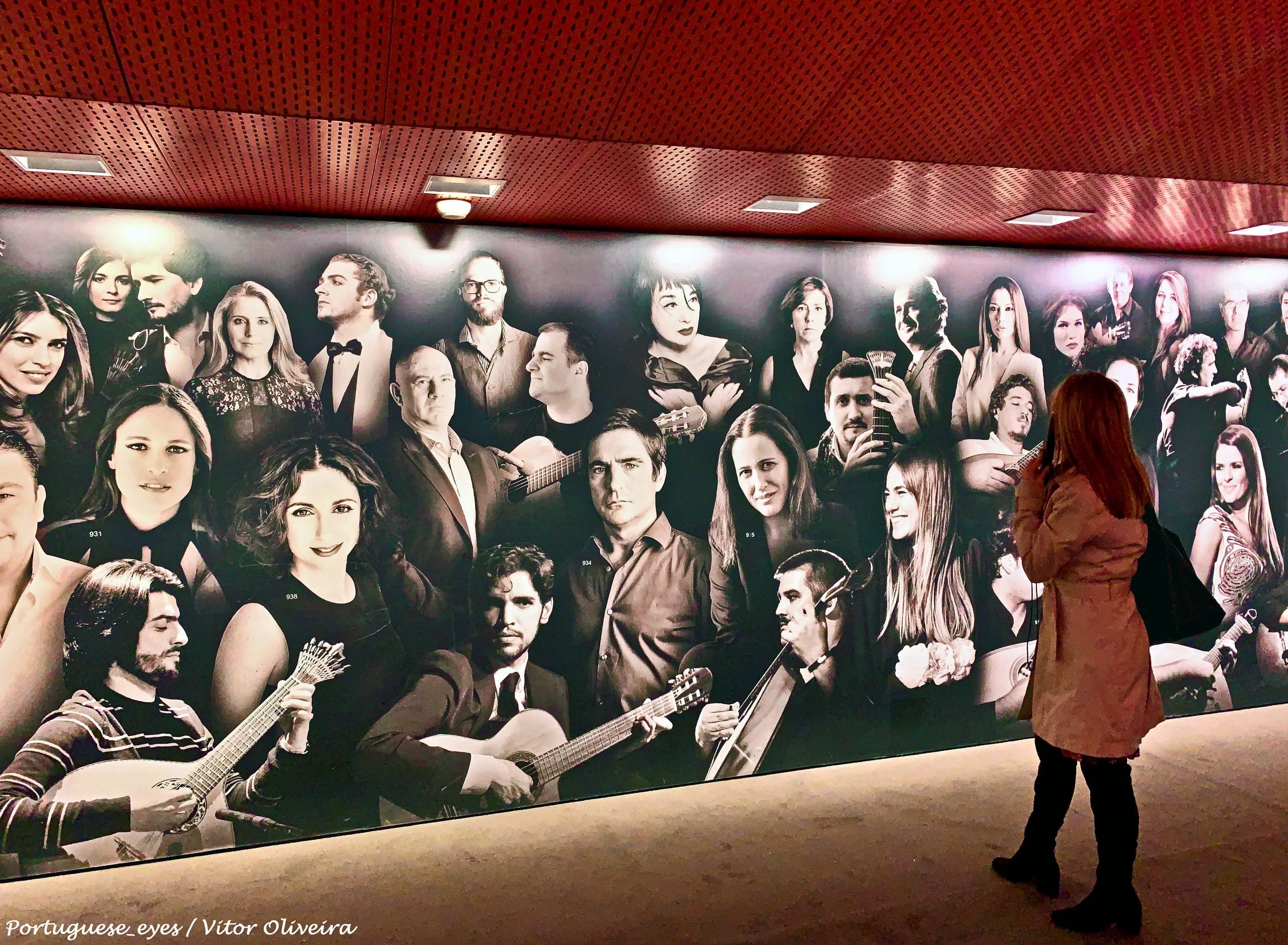 43. Sintra National Palace
Many know the Pena Palace, but end up sadly missing out on a visit to the Sintra National Palace. Dating back to the 10th century, the Sintra National Palace went through various periods of Portuguese history, later becoming a summer vacation destination for royalty. The palace features iconic chimneys which have become a symbol of Sintra, as well as luxurious rooms decorated with colorful tiles.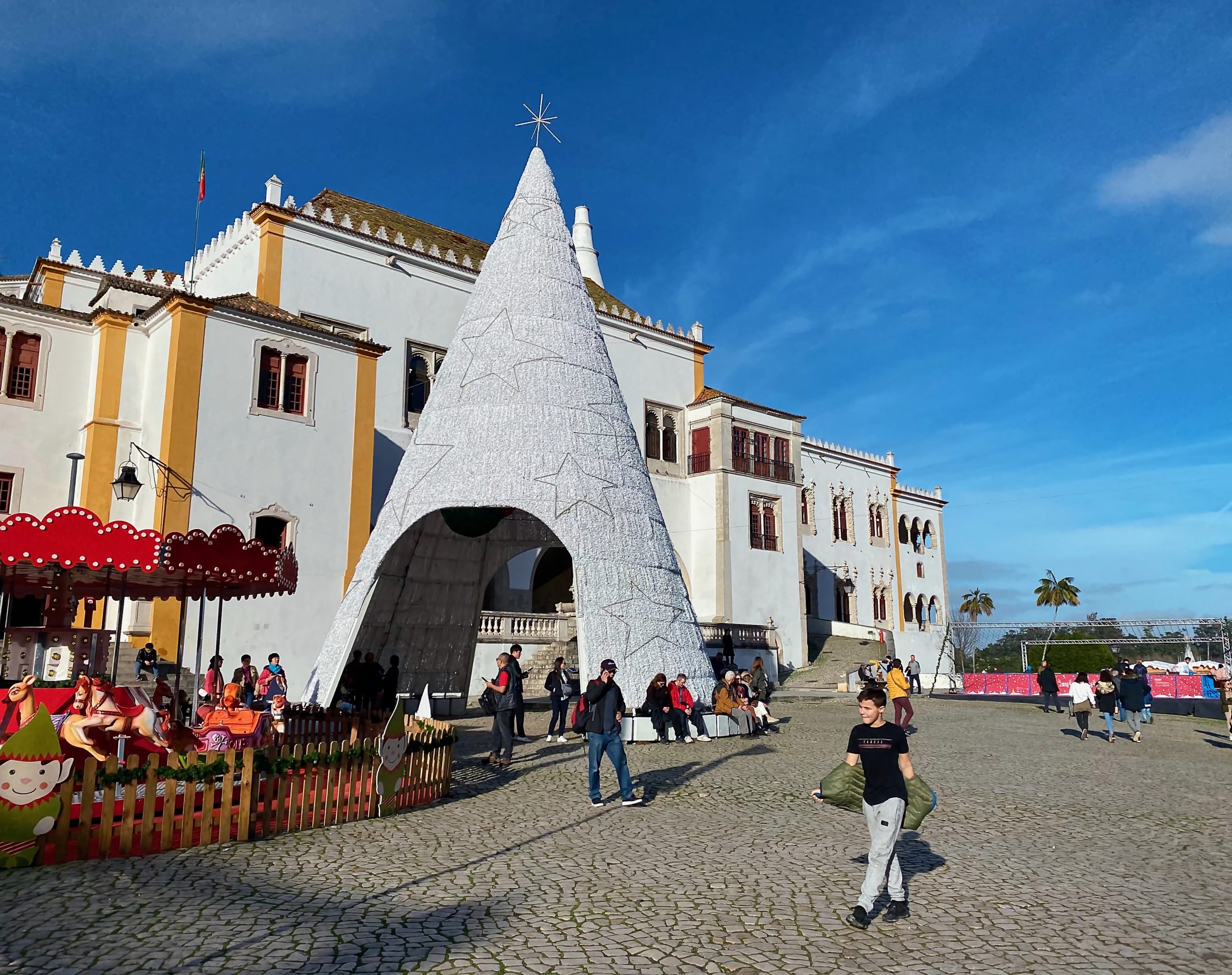 44. Roman Temple of Evora
Evora is a hotspot for all things Roman history. The historic center is a UNESCO World Heritage Site, including the Roman Temple of Evora, built in the first century A.D. Also known as Diana's temple, its columns have survived over 2,000 years and are a testament to the quality masonry of the time.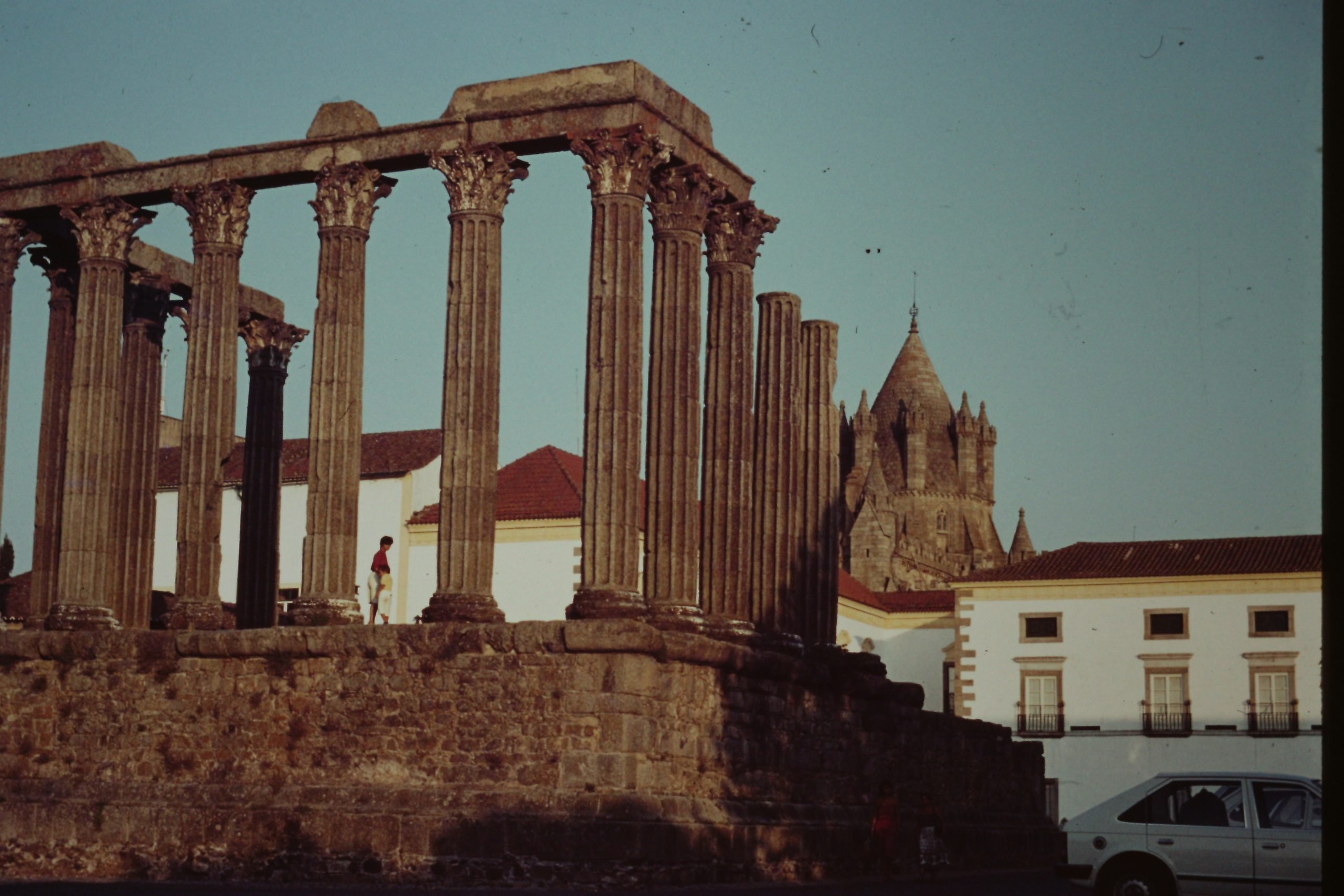 45. Guimarāes Castle
The highlight of the city, Guimarāes Castle represents the birth of Portugal and is a must-see if you are in the region. Located in the city where the first King of Portugal was born, this castle dates back to the 10th century and features Romanesque and Gothic architecture. Tickets are incredibly affordable and although the facade is stunning on its own, we recommend exploring the inside.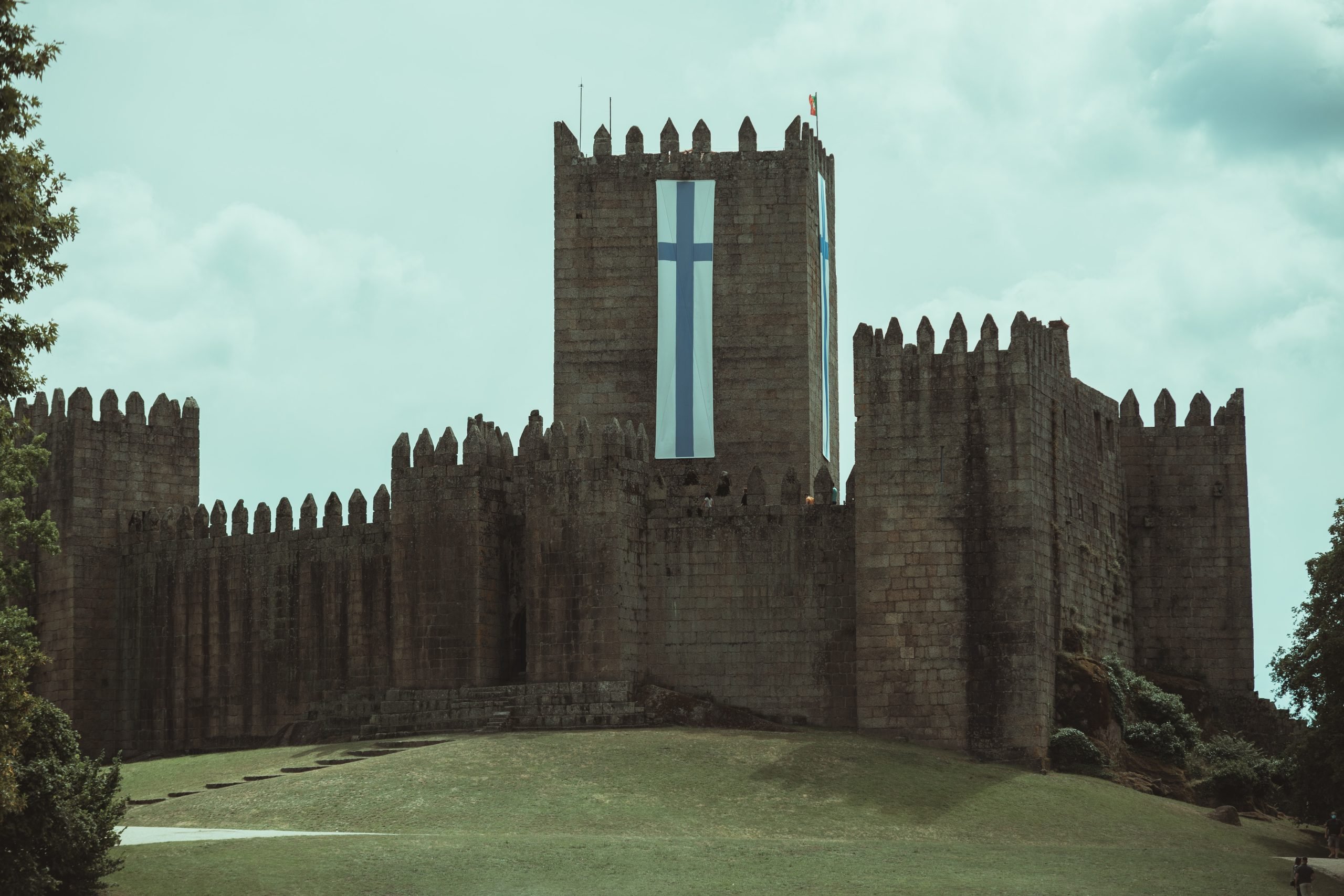 46. Palácio da Bolsa
Known as the Stock Exchange Palace, this remarkable building was once Porto's stock exchange building in the 19th century. It later on became a place to host important historical figures such as Queen Elizabeth II in 1957 and was proclaimed a UNESCO World Heritage Site, along with the rest of the historical center. If you plan on visiting, book a tour so you can get all the historical fun facts!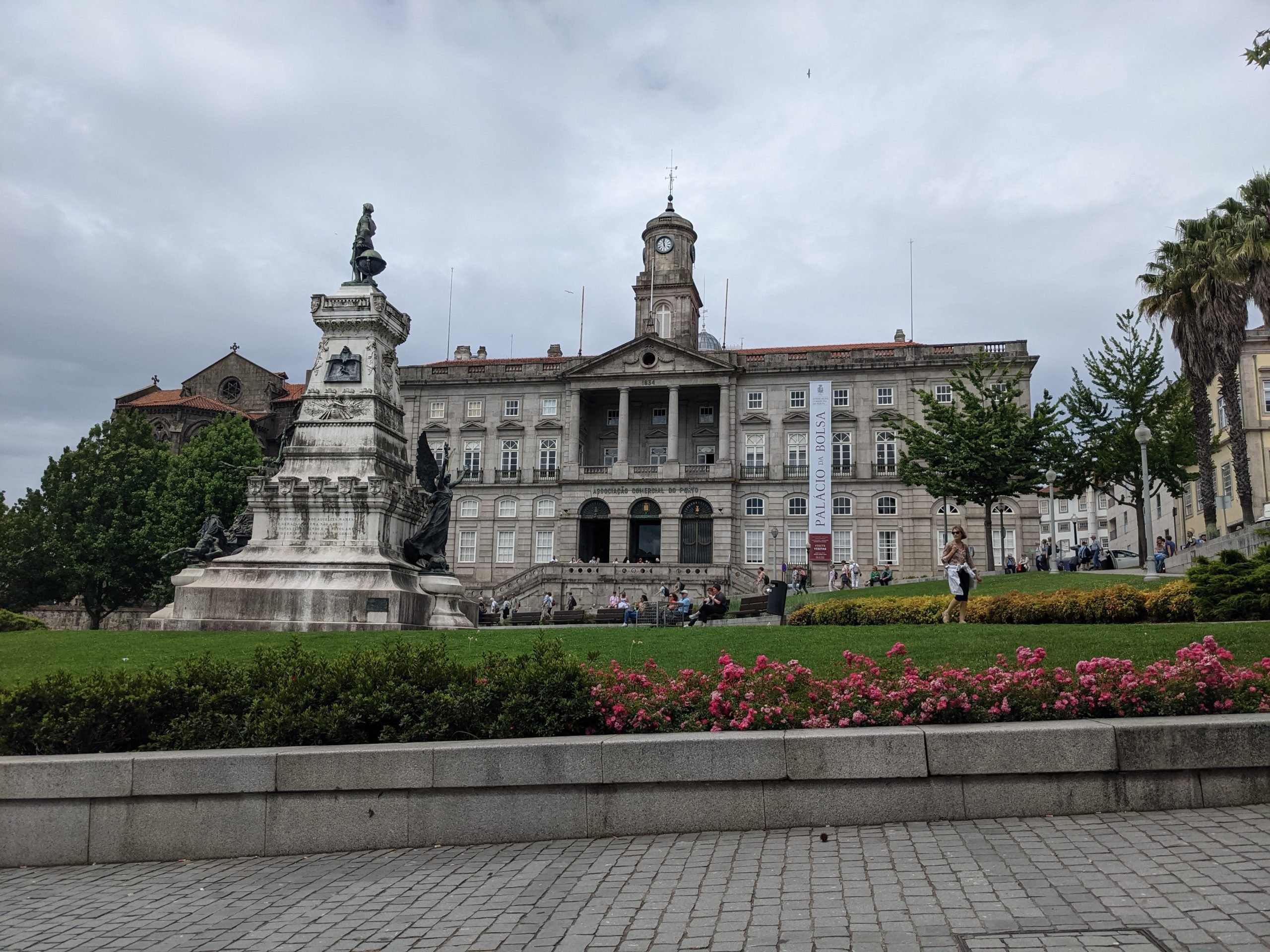 47. Cascais
From the historical center to Casa da Guia, Cascais is a beach town on the Portuguese Riviera that has a unique charm. Only a 30-minute train ride from Lisbon, this town is perfect for a day trip, whether you want to spend the day discovering seafood restaurants and sights or lying on the beach all day. Make sure to walk through the quaint Rua Frederico Arouca and stop at Santini for some ice cream and at sunset, head to Praia da Rainha for an unforgettable view.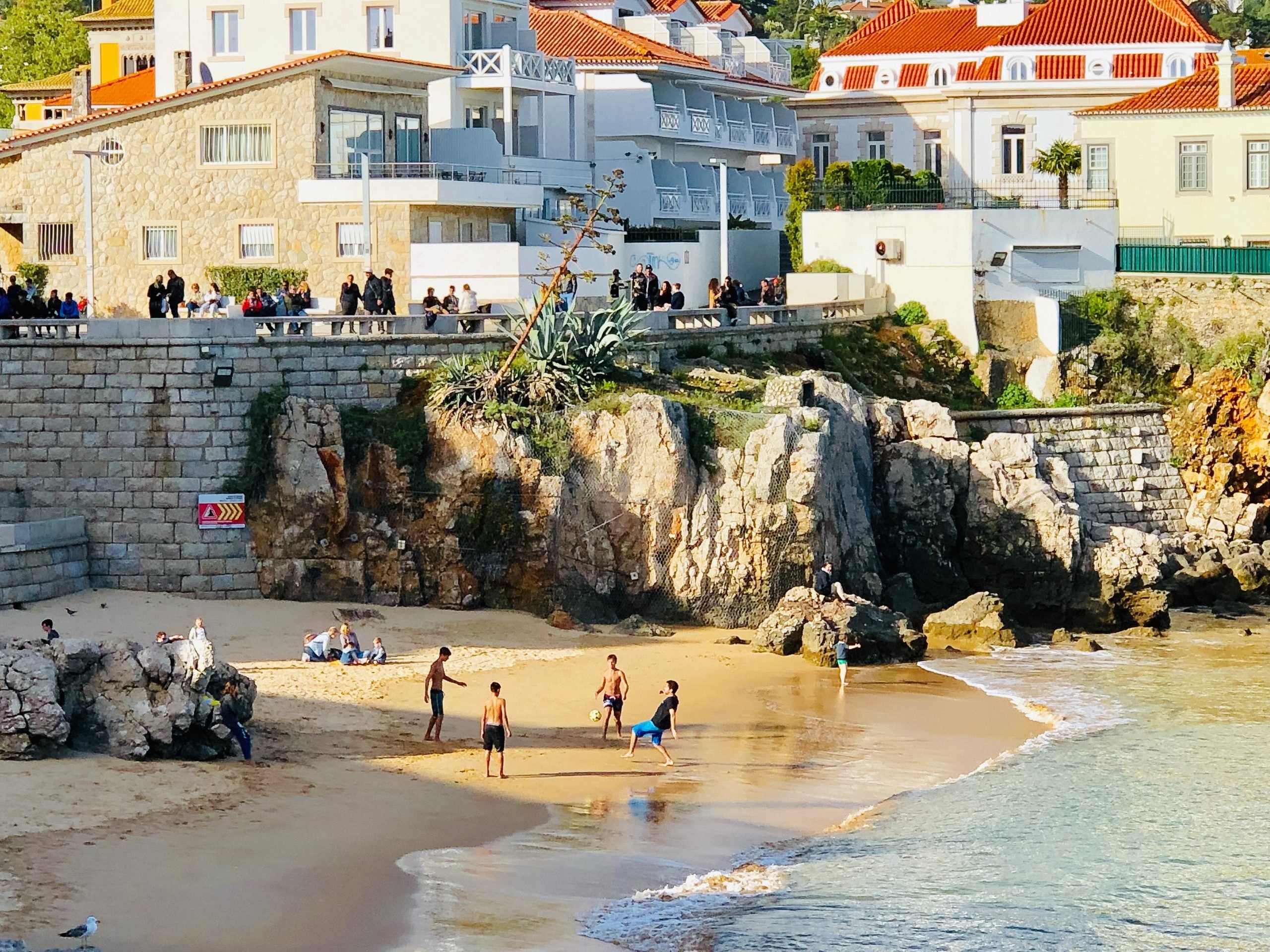 48. Lx Factory
A trendy creative hub in Alcantara, Lx Factory is located within an old industrial factory complex which has been converted into a cultural space featuring shops, restaurants, art galleries, and studios. On the weekends, Lx Factory offers a lively environment with a diverse crowd. From art exhibitions to incredible food, this place is a must-visit for all ages.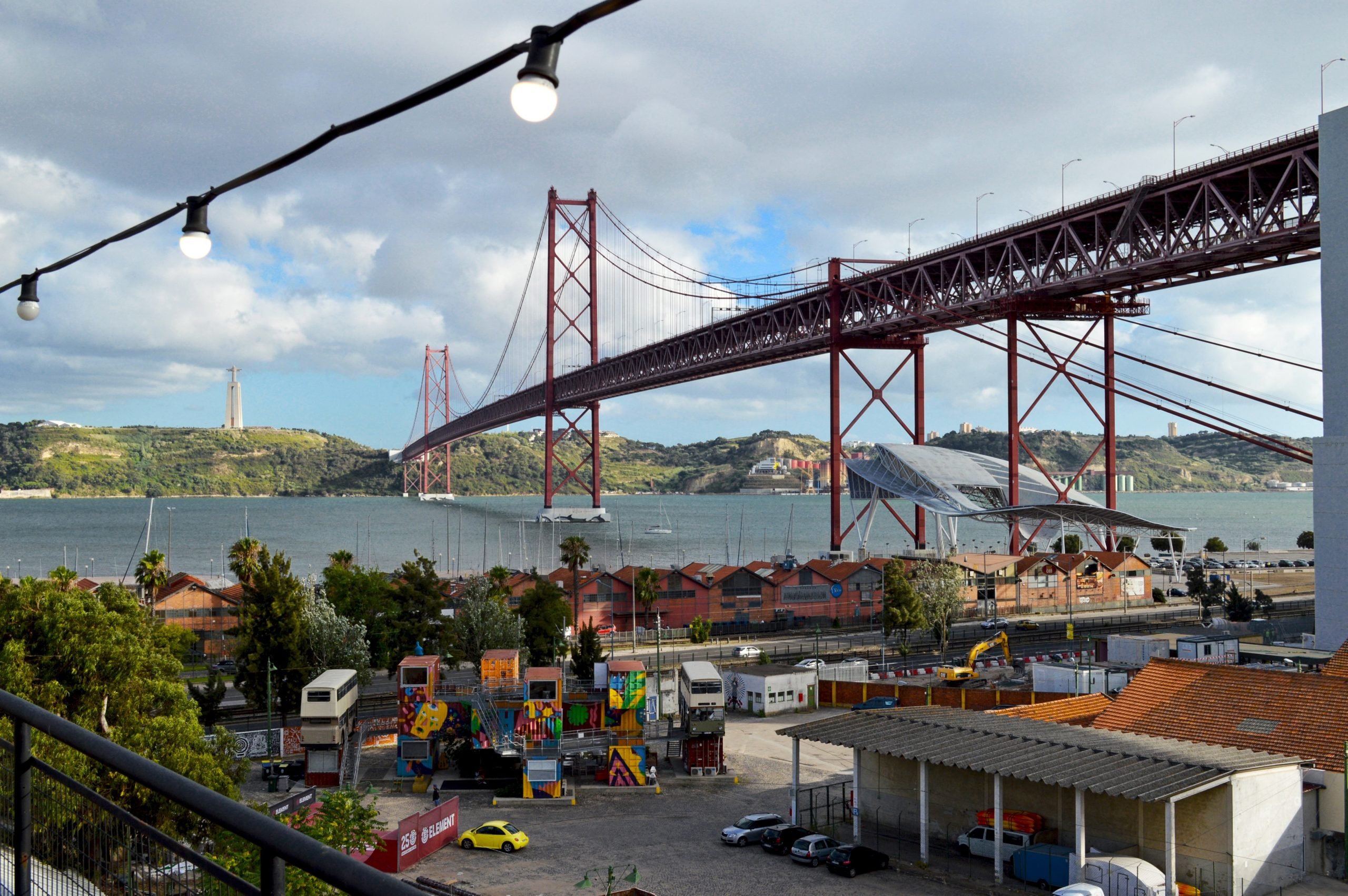 49. Sāo Bento Station
Most that walk through Sāo Bento railway station's doors do so for transportation, many in a rush and distracted by its beauty. This Porto station is often described as one of the most beautiful in the world, particularly due to the Portuguese azulejo tiles that decorate the walls. This station has an atrium covered in 22,000 azulejos, created by artist Jorge Colaço that depict iconic episodes of Portuguese history.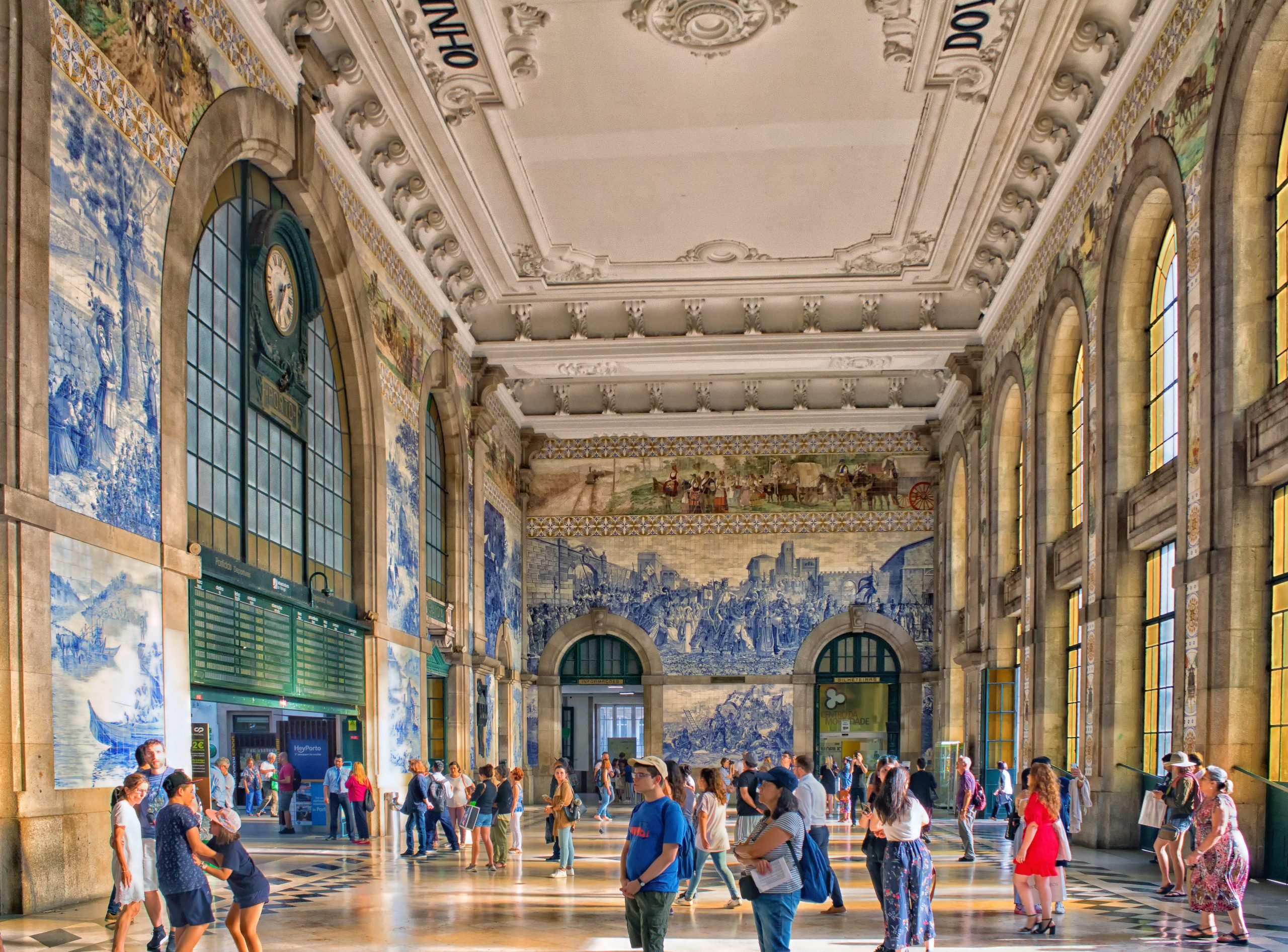 50. Óbidos
Located in the district of Leiria, Óbidos is a small town, named after an Ancient Roman area. Visiting this town, known for its literature and medieval architecture, is a beautiful experience at any time of the year. However, it is most special during the Christmas season where the castle is the backdrop of for the yearly Óbidos Christmas Village, featuring shows, exhibitions, ice skating, and much more.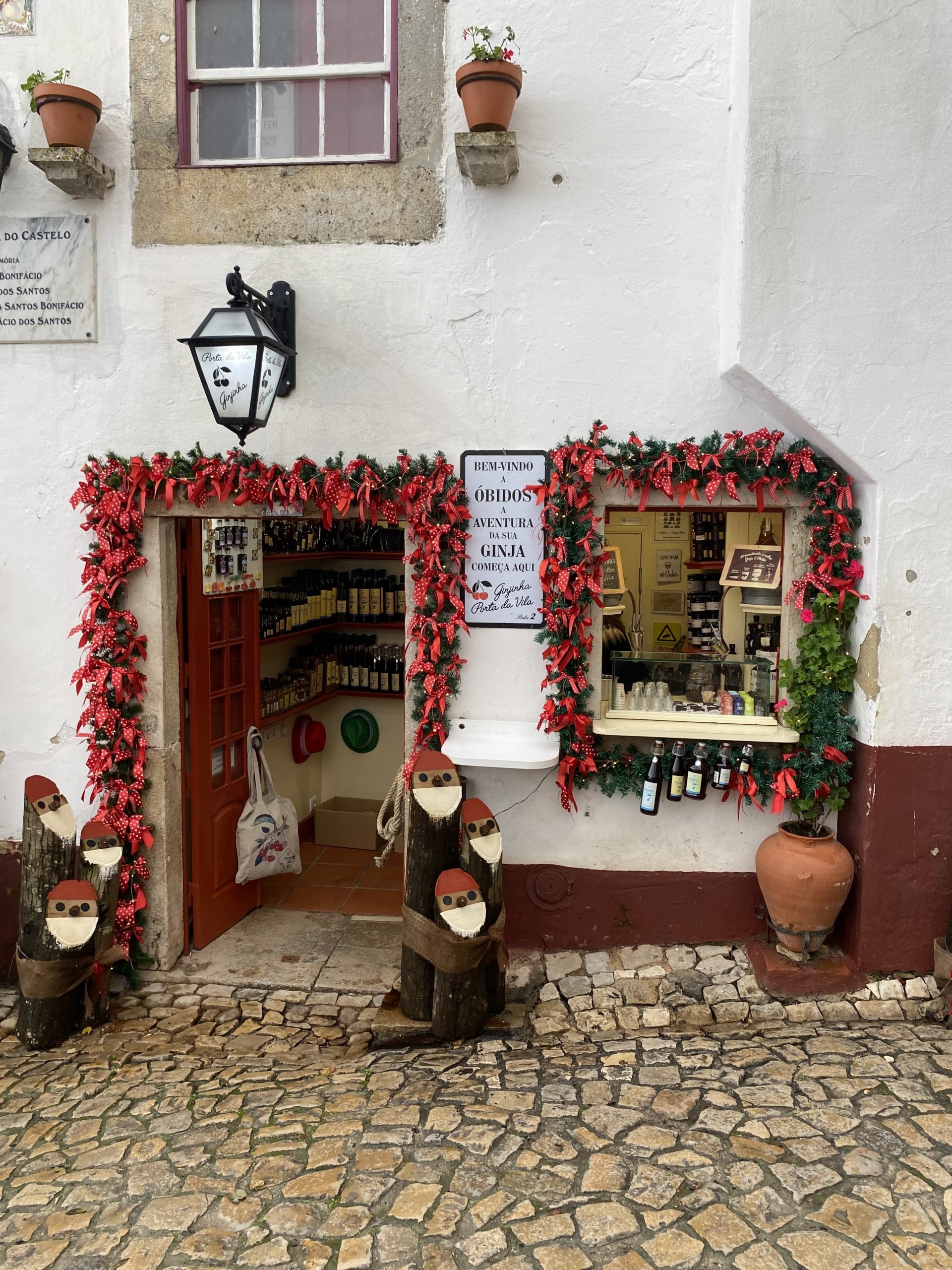 51. Livraria de Santiago
Óbidos is known as the village of literature, featuring quaint bookstores along its medieval streets. One of the most iconic is the Livraria de Santiago, now a bookstore located within a 17th-century church within the walls of the village. Along with a variety of books for sale, this bookstore hosts book launches, debates, and even film screenings, making it a cultural highlight of the village.
52. Village of Monsanto
Once awarded "the most authentic Portuguese village of all" during the Estado Novo, Monsanto dates back to the country's foundation. However, this village was not known to many outside of Portugal. Then, in 2022, it was announced that the House of the Dragon would be filmed in the village, with the Monsanto castle playing an important role in the show. Despite this, the village remains authentic and has not become a tourist trap so it is worth a visit.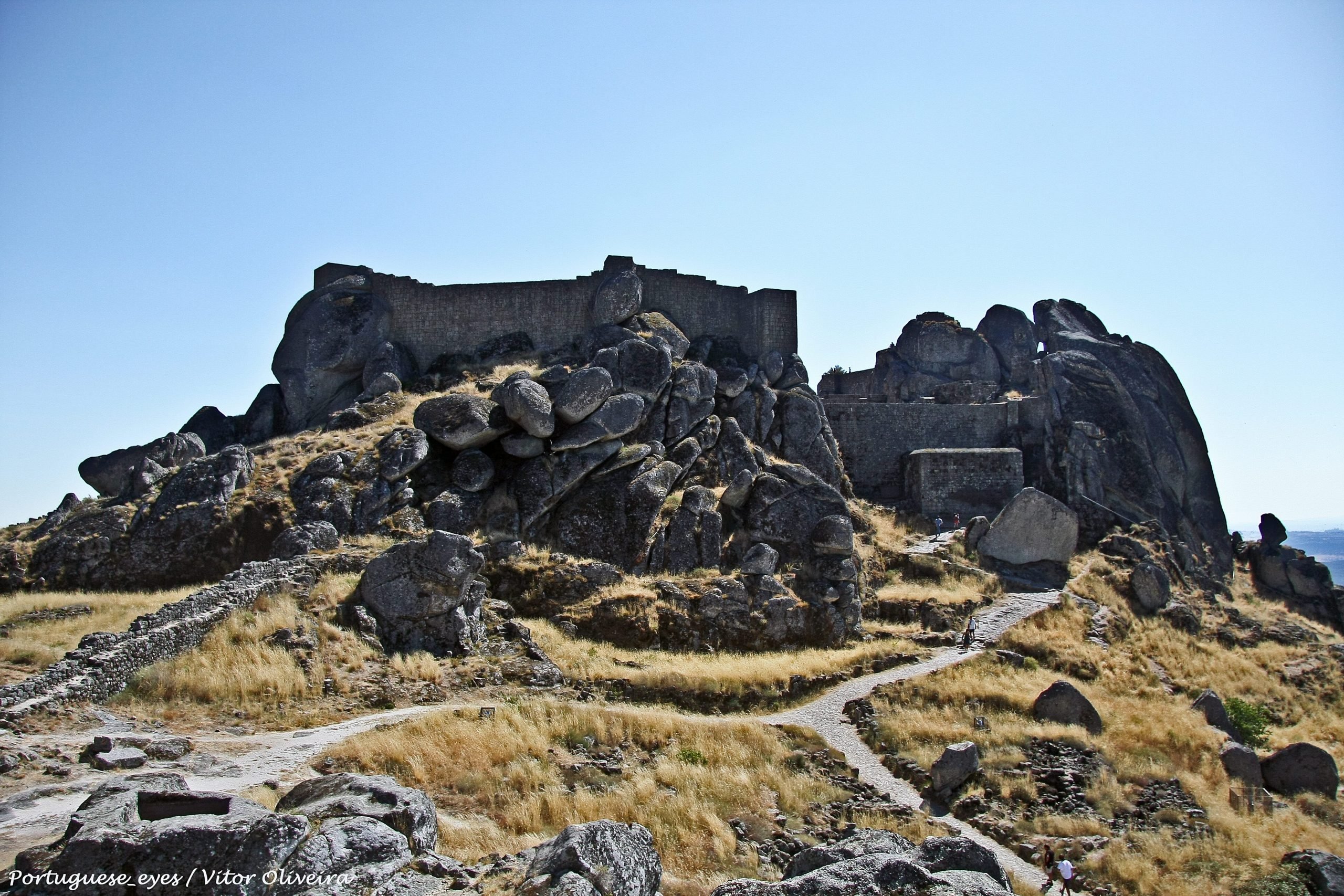 53. Estufa Fria
A botanical garden located in the large Parque Eduardo VII, Estufa Fria features over 1.5 hectares of diverse plants that are open to the public. Inaugurated in 1933 by architect Raul Carapinha, the original Estufa Fria (Cold Greenhouse) included plants that survived without heat. A few decades later, the garden opened two new sections called Estufa Quente (Warm Greenhouse) and Estufa Doce (Sweet Greenhouse) that include tropical species.
54. Farol da Nazaré
Perched on Nazaré's rugged coastline, this lighthouse sits on top of the much older São Miguel Arcanjo Fort and witnesses the world's biggest waves. Surfers and enthusiasts flock here, especially in winter, when waves crest to astonishing heights. The fort is home to a small surf museum showcasing surf history, celebrating those who dare to ride these giants. A visit promises unparalleled views of the most unbelievable waves.
55. Praia da Marinha
Renowned as one of the Algarve's most picturesque beaches, Praia da Marinha boasts golden sands, turquoise waters, and iconic limestone cliffs. Its intricate rock formations, including arches and sea caves, captivate visitors and photographers alike. Accessible by a cliff-top path, this beach offers a serene escape from the bustle, making it an emblematic spot for sunbathing, snorkeling, and appreciating the region's stunning coastal beauty.
56. Aveiro
Dubbed the "Venice of Portugal," Aveiro's charm lies in its colorful gondola-like "moliceiros" boats and winding canals. Explore its Art Nouveau buildings, visit the São Gonçalinho Chapel, or indulge in the local sweet, "ovos moles." The nearby Costa Nova boasts striped houses and sandy beaches. Aveiro's unique blend of tradition and modernity offers visitors a memorable experience.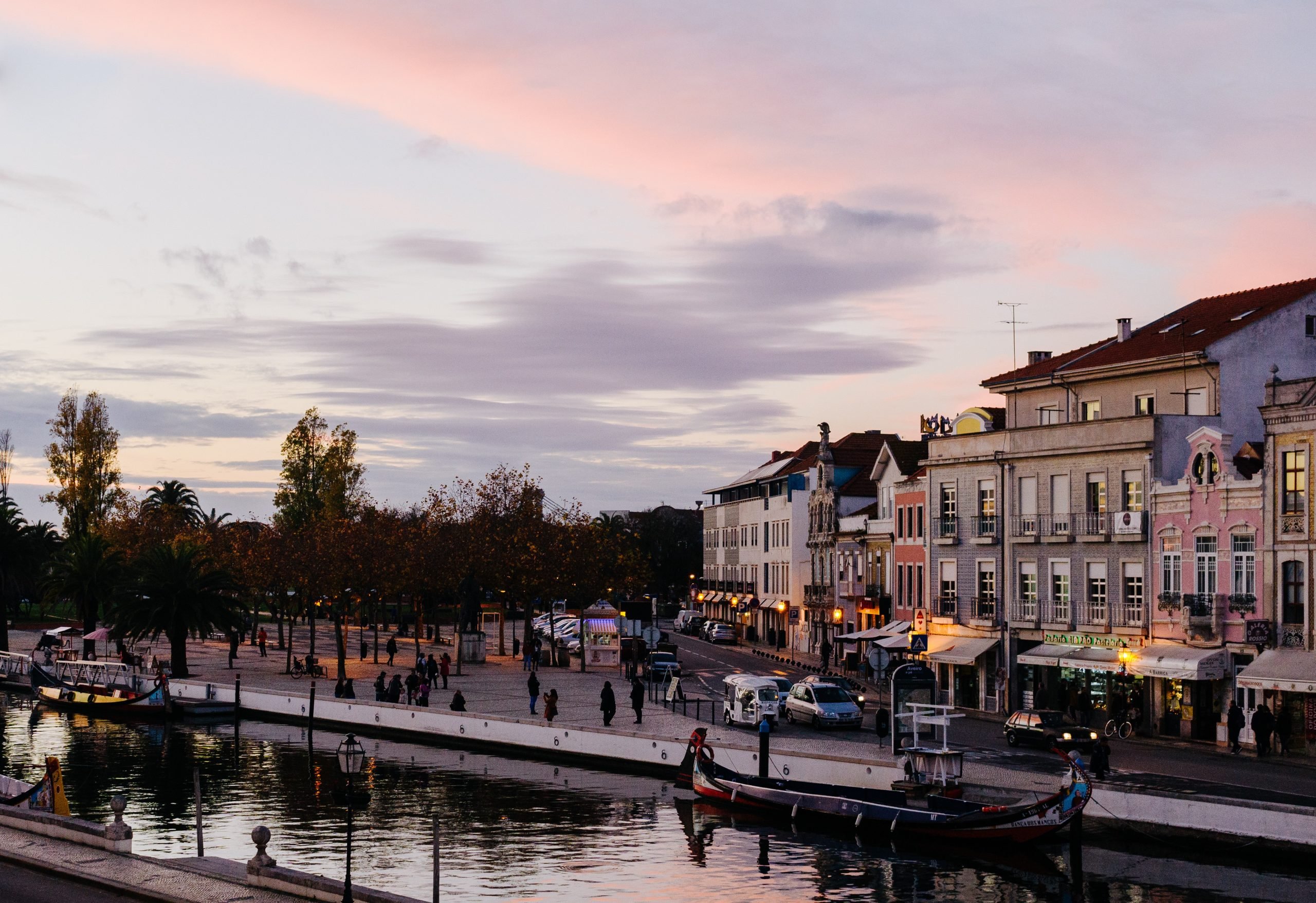 57. Pena Palace
High up in the Sintra hills lies Pena Palace, a 19th-century Romanticist marvel and tourist magnet. Bursting with vibrant colors and eclectic styles, it epitomizes European architectural exuberance. The surrounding park, with exotic plants and winding paths, enhances its fairy-tale allure. A UNESCO World Heritage site, the palace provides panoramic vistas of Sintra and, on clear days, distant Lisbon. Pro tip: get this palace done first on your first time to Sintra and then make your way down to the other palaces.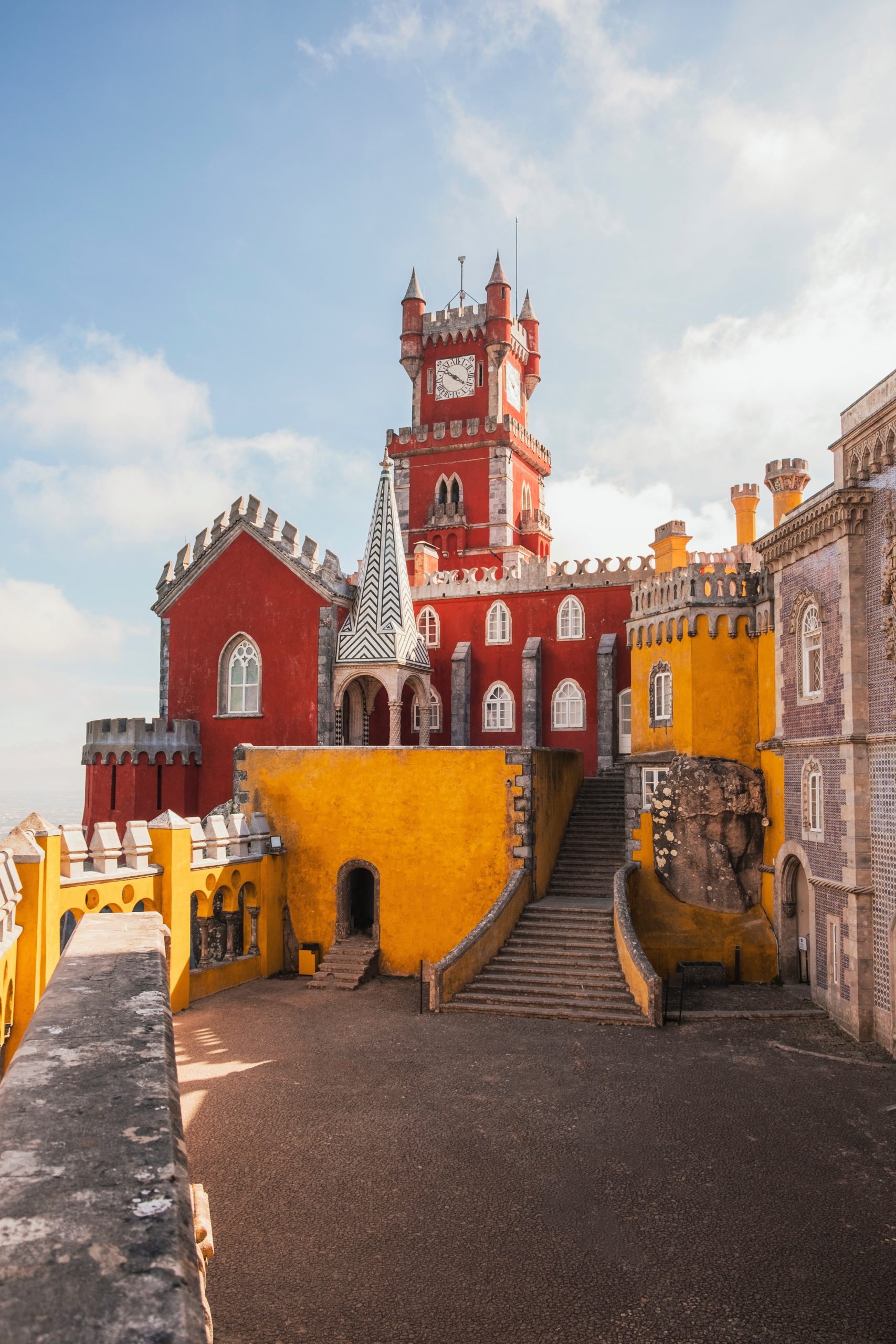 58. Sāo Jorge Castle
Overlooking Lisbon, Sāo Jorge Castle stands as a sentinel to history. Moorish rulers constructed it in the mid-11th century; today, its stone walls and watchtowers offer panoramic city views. Exploring its battlements, you'll discover gardens, archaeological sites, and even peacocks. It's a testament to Portugal's layered past, providing a blend of tranquility and historical insight.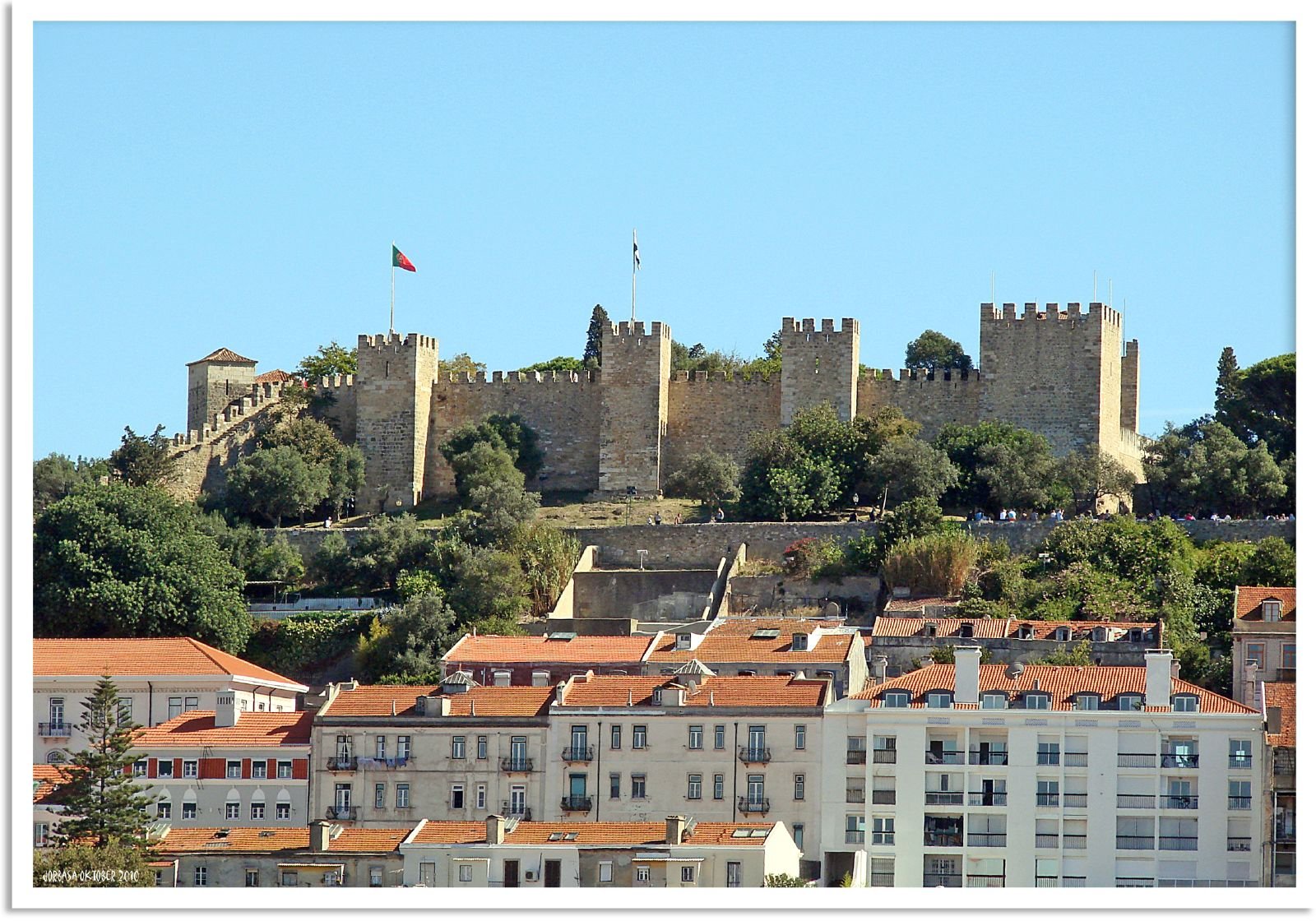 59. Pink Street
Once Lisbon's red-light district, Pink Street on Rua Nova do Carvalho is now the city's nightlife hub. People may wonder where the street gets its nickname until they look down and literally see that the street is painted pink. The area pulsates with bars, clubs, and music. By day, artists and vendors claim the area, making it a cultural epicenter. It's a vivid representation of Lisbon's evolution, mixing history with modern hedonism.
60. Time Out Market
Lisbon's Time Out Market, located in the historic Mercado da Ribeira, is a foodie's dream. Here, Portugal's best dishes, wines, and cultural events converge. With over 40 restaurants and kiosks, it curates high-quality experiences, ensuring visitors savor only the finest. Live music, cooking workshops, and other events often animate this gastronomic haven. If you're in town with a group and can't agree on one place for dinner, this is a great option.
61. Lourinhã Dino Park
Portugal's largest open-air museum, Lourinhã Dino Park offers a journey back to the Jurassic age. Wander among life-size dinosaur replicas, discover genuine fossils, and learn about these ancient giants. The park, in the "dinosaur capital" of Portugal, offers interactive exhibits and guided tours, making it a perfect educational and adventurous outing for families. Don't miss the dinosaur-themed roundabout as you drive into town.
62. Belcanto
Situated right in Lisbon's historic heart, Belcanto is a gastronomic delight. With two Michelin stars, Chef José Avillez masterfully fuses traditional Portuguese flavors with innovative techniques. Guests are transported on a culinary journey in an ambiance reflecting Lisbon's elegance. Every dish tells a story, enhanced by impeccable service, making it an unforgettable dining experience. Reservations, of course, are required.
63. Fanal Forest, Madeira
Fanal Forest on the island of Madeira is a remnant of ancient laurel forests, cloaked in mist and magic. Giant centennial trees, moss-covered paths, and a peaceful silence create an enchanting atmosphere. Often enveloped in fog, the forest offers a mystical experience, reminiscent of fairy tales. Nature lovers cherish its tranquil trails, capturing Madeira's pristine beauty.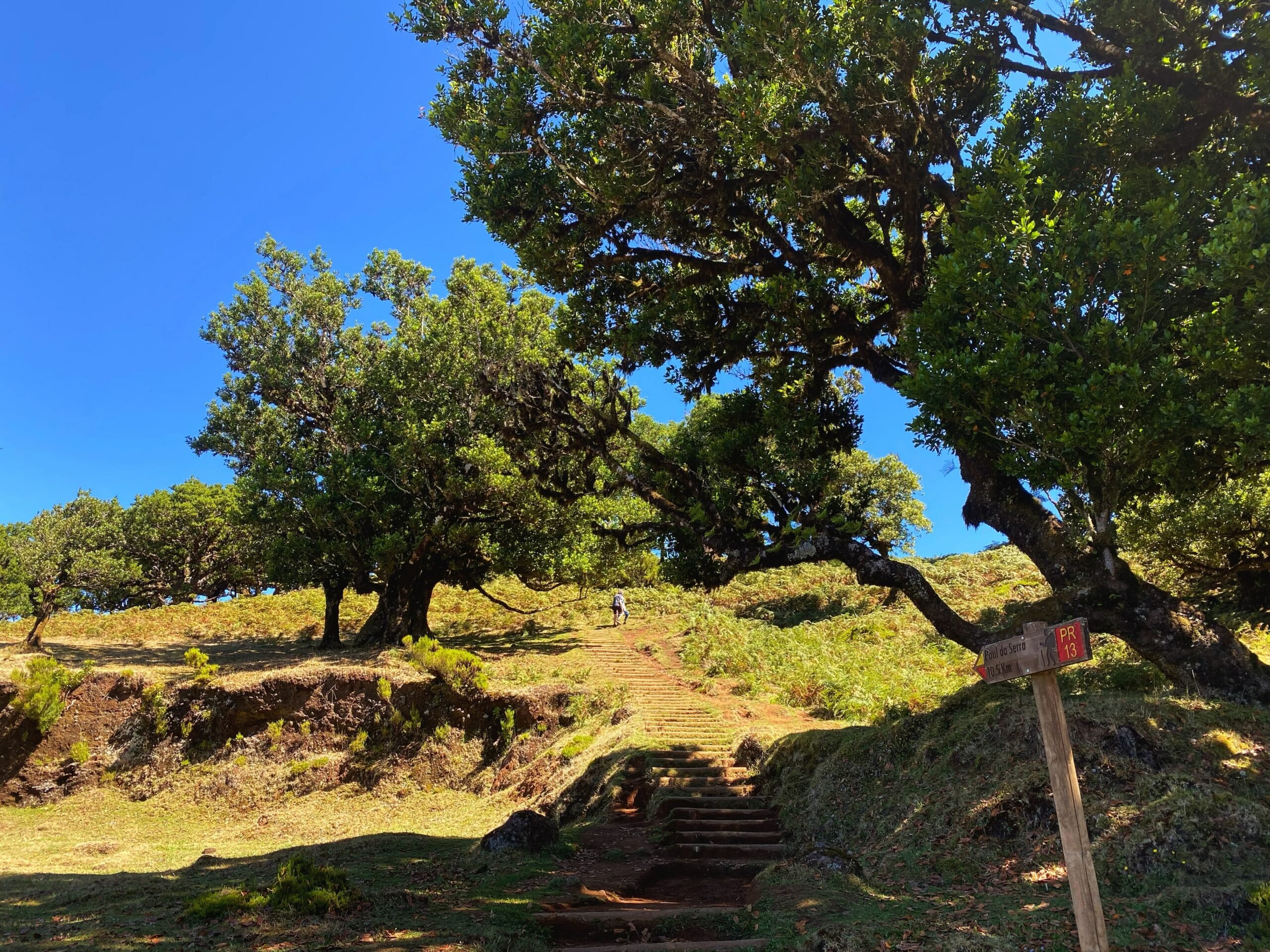 64. Parque Dom Carlos I, Caldas da Rainha
One of the most beautiful city parks in Portugal, Parque Dom Carlos I is a beautifully landscaped garden with meandering paths, lakes, and statues in the city of Caldas da Rainha. The park, dotted with centuries-old trees, offers a welcome respite. Highlights include the romantic bandstand, the now-abandoned pavilions, and the José Malhoa Museum.
65. Bussaco Palace, Luso
Bussaco Palace near the town of Luso in central Portugal is a fairy-tale Neo-Gothic marvel amidst the ancient Bussaco Forest. Once a royal retreat, this luxurious hotel boasts ornate interiors, historical artifacts, and stained-glass windows. The surrounding gardens, filled with a collection of exotic flora and fauna, provide a tranquil backdrop. The palace, steeped in history, offers a regal experience, blending natural beauty with architectural grandeur.
66. Casa Relvas Winery, Alentejo
Casa Relvas, set in the rolling Alentejo landscape, embodies Portugal's winemaking tradition. Visitors embark on an olfactory journey, exploring vineyards, cellars, and tasting rooms. The winery emphasizes sustainable practices and reverence for nature. With each glass, one savors the essence of Alentejo's terroir, making it a must-visit for wine aficionados.
67. Cabo da Roca
Cabo da Roca is the westernmost point of mainland Europe, where land meets the vast Atlantic. Windswept cliffs provide breathtaking views, with a lighthouse standing as a sentinel. The inscription on its monument reminds visitors of its geographical significance. This rugged coastline offers a raw experience of nature's power.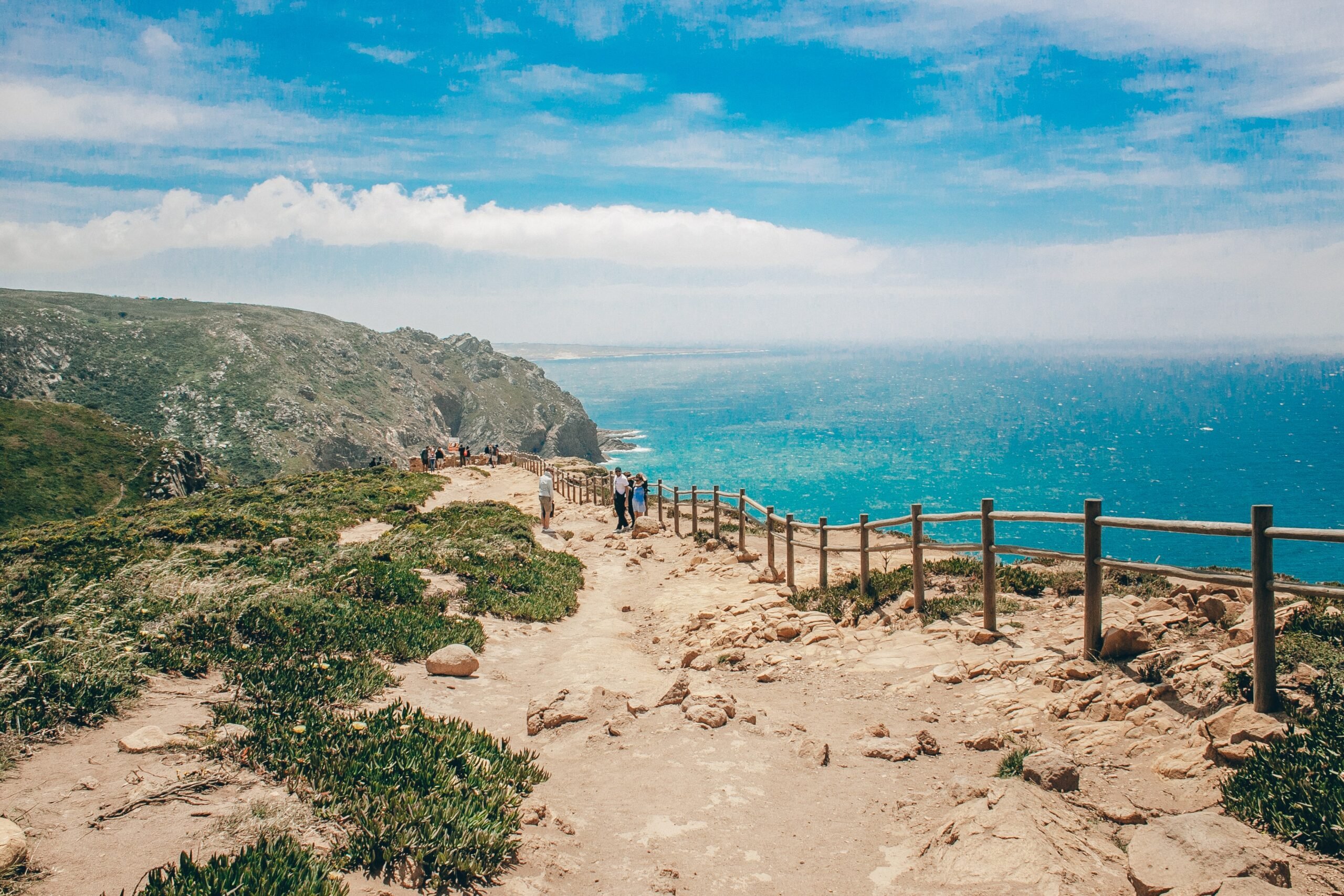 68. Casa de Chá da Boa Nova
Built atop the rocky Atlantic shore, Casa de Chá da Boa Nova is more than a tea house—it's an architectural gem. Designed by Álvaro Siza Vieira, its modernist structure melds seamlessly with nature. Guests are treated to panoramic ocean views with waves crashing beneath them and exquisite gastronomy on their plates. It's a harmonious fusion of nature, architecture, and culinary art.
69. Estoril Casino
Europe's largest casino, Casino Estoril is a glittering realm of entertainment. Located in the coastal town of Estoril, it was famously the inspiration for Ian Fleming's first James Bond novel, Casino Royale, and has entertained royalty and celebrities. Beyond gambling, it offers vibrant shows, restaurants, and bars. Its grandeur, combined with its storied past, ensures an opulent and memorable experience for every visitor.
70. Capela dos Ossos
Évora is home to the eerie yet fascinating Capela dos Ossos or "Chapel of Bones". Constructed in the 16th century by Franciscan monks, its walls and columns are adorned with thousands of human bones. A poignant reminder of life's transience, the chapel bears the inscription: "We, the bones that are here, await yours." It's a thought-provoking testament to human existence and impermanence.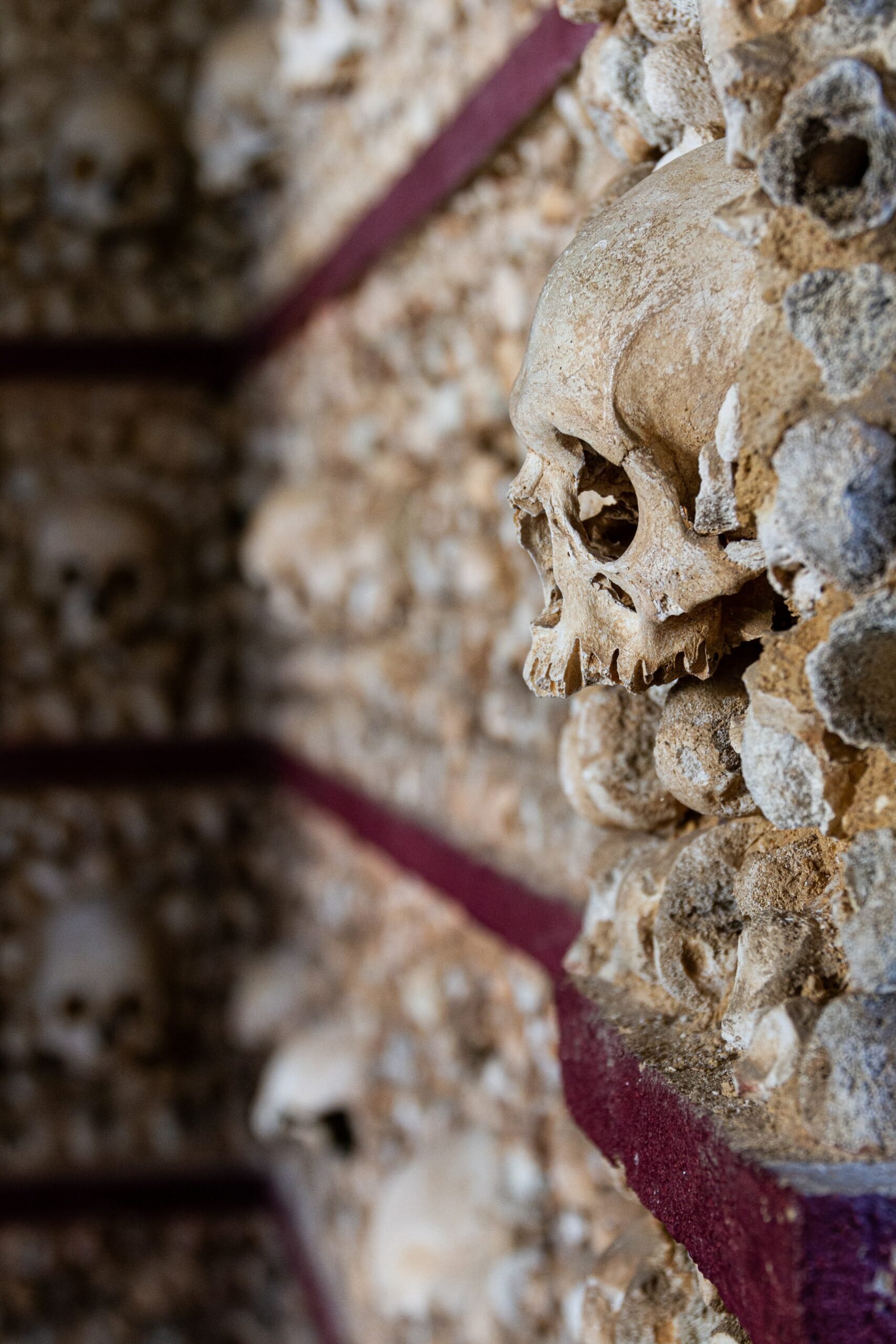 71. Lagoa da Serra da Estrela
Serra da Estrela's gem, Lagoa da Serra, is a serene glacial lake cradled in Portugal's highest mountain range. Its clear waters mirror the majestic peaks, and the surrounding landscape is adorned with endemic flora and fauna, making it a haven for nature enthusiasts. The lagoon is an emblem of the region's tranquil beauty in all seasons, inviting all to bask in its peaceful atmosphere.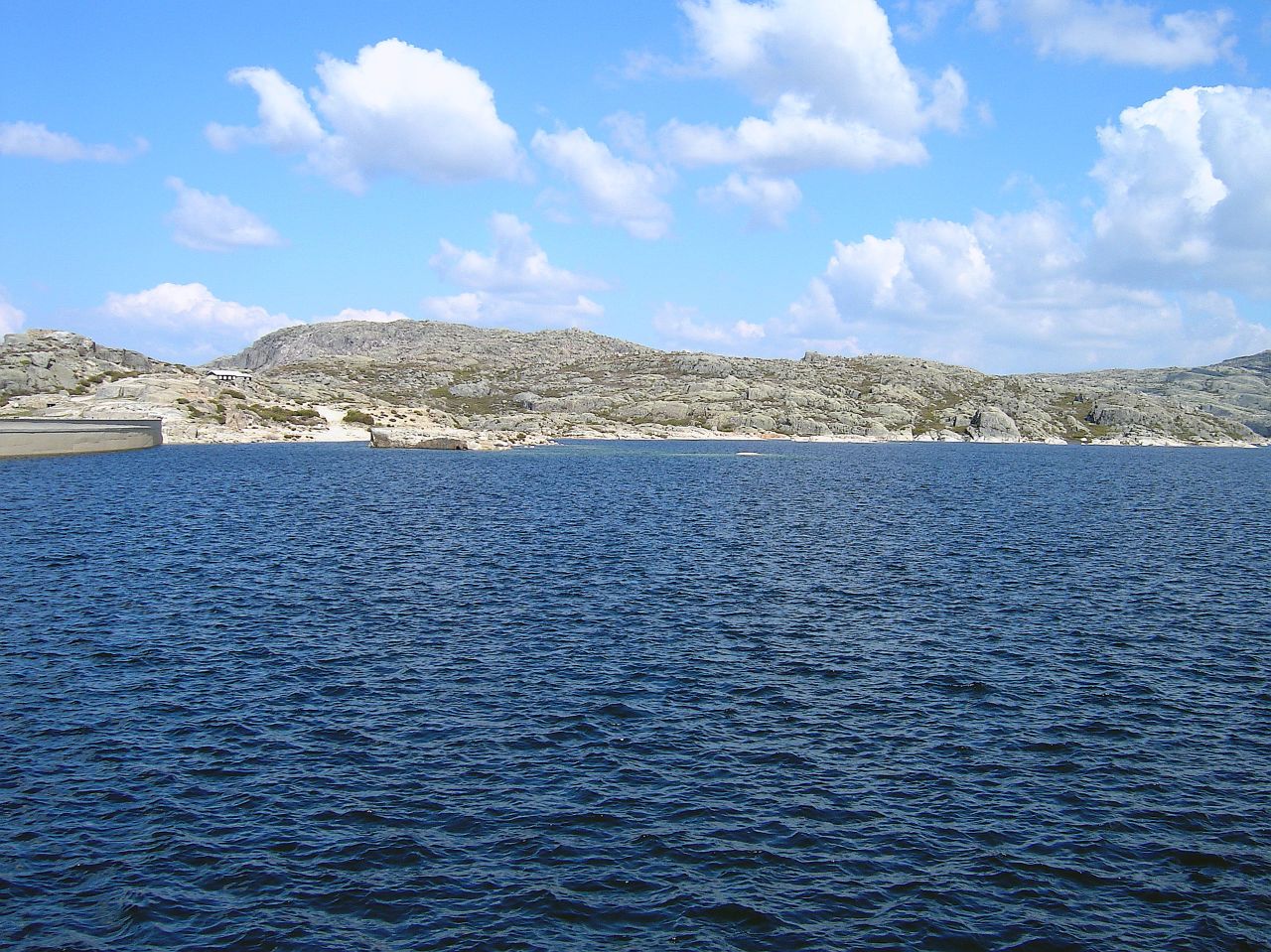 72. Leça da Palmeira
Leça da Palmeira, located north of Porto, is a delightful coastal town known for its unique juxtaposition of nature and architecture. Here, Álvaro Siza's modernist structures, like the Piscinas das Marés (sea pools), integrate seamlessly with the rugged coastline. The town's sandy beaches, fresh seafood restaurants, and the historic Leça Lighthouse blend tradition with modernity, giving visitors a multifaceted experience.
73. Bom Jesus do Monte
Located in Braga, Bom Jesus do Monte is a revered pilgrimage site with an impressive baroque staircase that symbolizes the spiritual ascent to salvation. As one climbs, each landing offers chapels depicting the Stations of the Cross. At its summit, the sanctuary provides panoramic views of Braga. Combining devotion with breathtaking landscape, it's a testament to art, nature, and spirituality intertwined.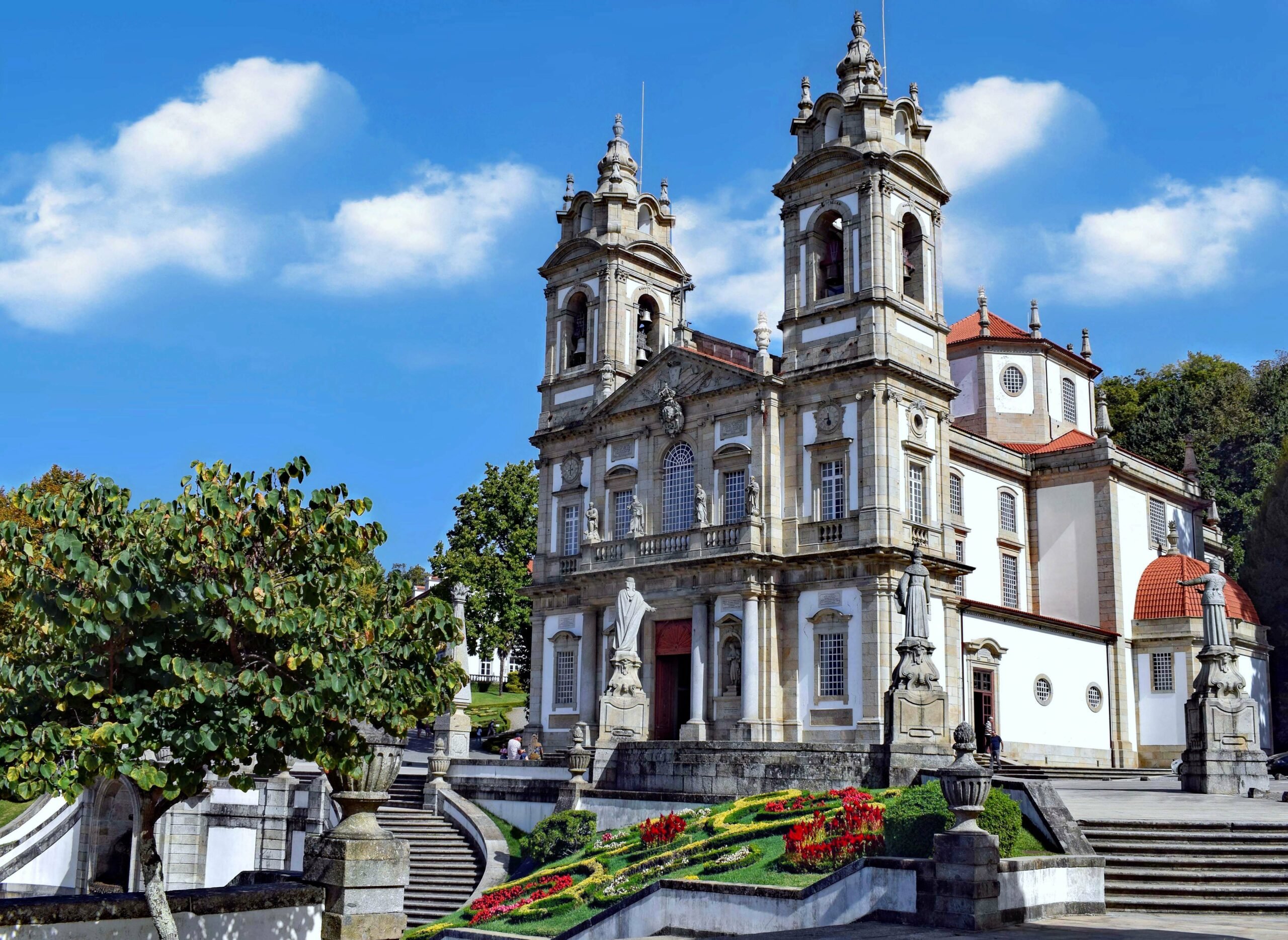 74. Green Street (Lisbon)
Green Street in Lisbon is not just a road but an experience. Dotted with cafes, boutiques, and art installations, it captures the essence of contemporary Lisbon. As visitors stroll, they encounter a blend of modern urban culture and hints of historic charm. Known for its vibrant street art, eco-conscious establishments, and lively ambiance, Green Street represents the city's pulsating heart of creativity.
75. Lisbon Waterfront
Stretching along the Tagus River, Lisbon's waterfront is a vibrant mix of history, culture, and leisure. Modern promenades meet historic landmarks like the Belém Tower. Joggers, cyclists, and families enjoy the long riverside paths while trendy eateries and bars offer river views. The waterfront, with its maritime legacy, now stands as a symbol of Lisbon's fusion of tradition and modern revitalization.
76. Miradouros of Lisbon
Lisbon, the city of seven hills, boasts numerous "miradouros" or viewpoints. These panoramic spots, like Miradouro da Graça or Miradouro de Santa Luzia, offer breathtaking vistas of the city's terracotta roofs, historic neighborhoods, and the shimmering Tagus River. Often covered with azulejo tiles and surrounded by gardens, these viewpoints are places of reflection, romance, and respite, capturing the city's soul.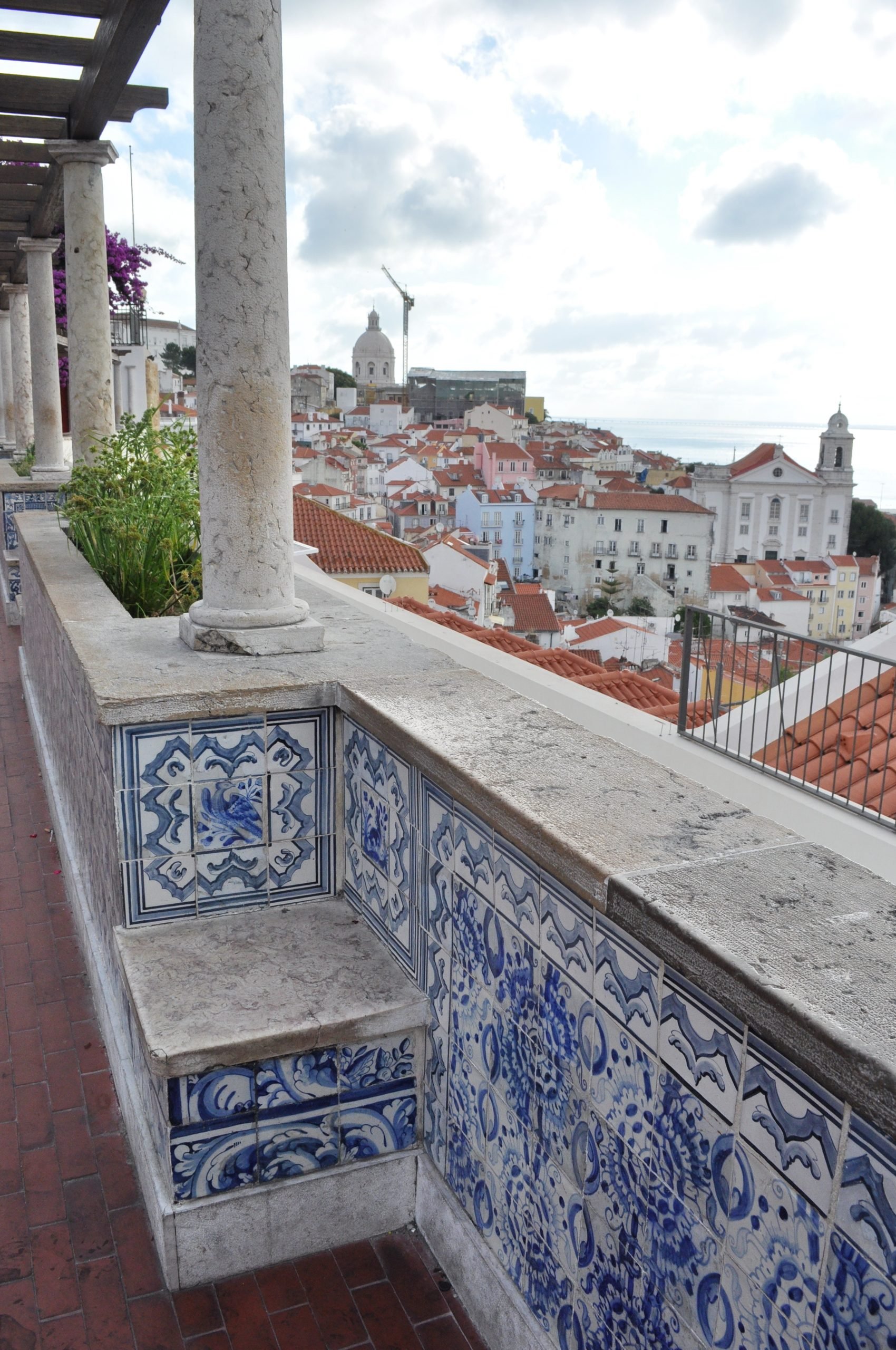 77. Praia de Odeceixe
Situated where the Seixe River meets the Atlantic, Praia de Odeceixe is a stunning crescent-shaped beach in the Algarve. Its unique geography, with one side freshwater and the other ocean, provides diverse experiences. Ideal for surfing, sunbathing, or exploring the surrounding cliffs, this beach is a slice of coastal paradise, embodying the Algarve's natural allure.
78. Praia de Galapinhos
Praia de Galapinhos, located in the Arrábida Natural Park, is often lauded as one of Portugal's most beautiful beaches. Its turquoise waters, golden sands, and enveloping limestone cliffs create a secluded paradise. With its rich marine life, it's also a snorkeler's paradise. A testament to the untouched beauty of nature, Galapinhos offers a serene escape from the bustling world.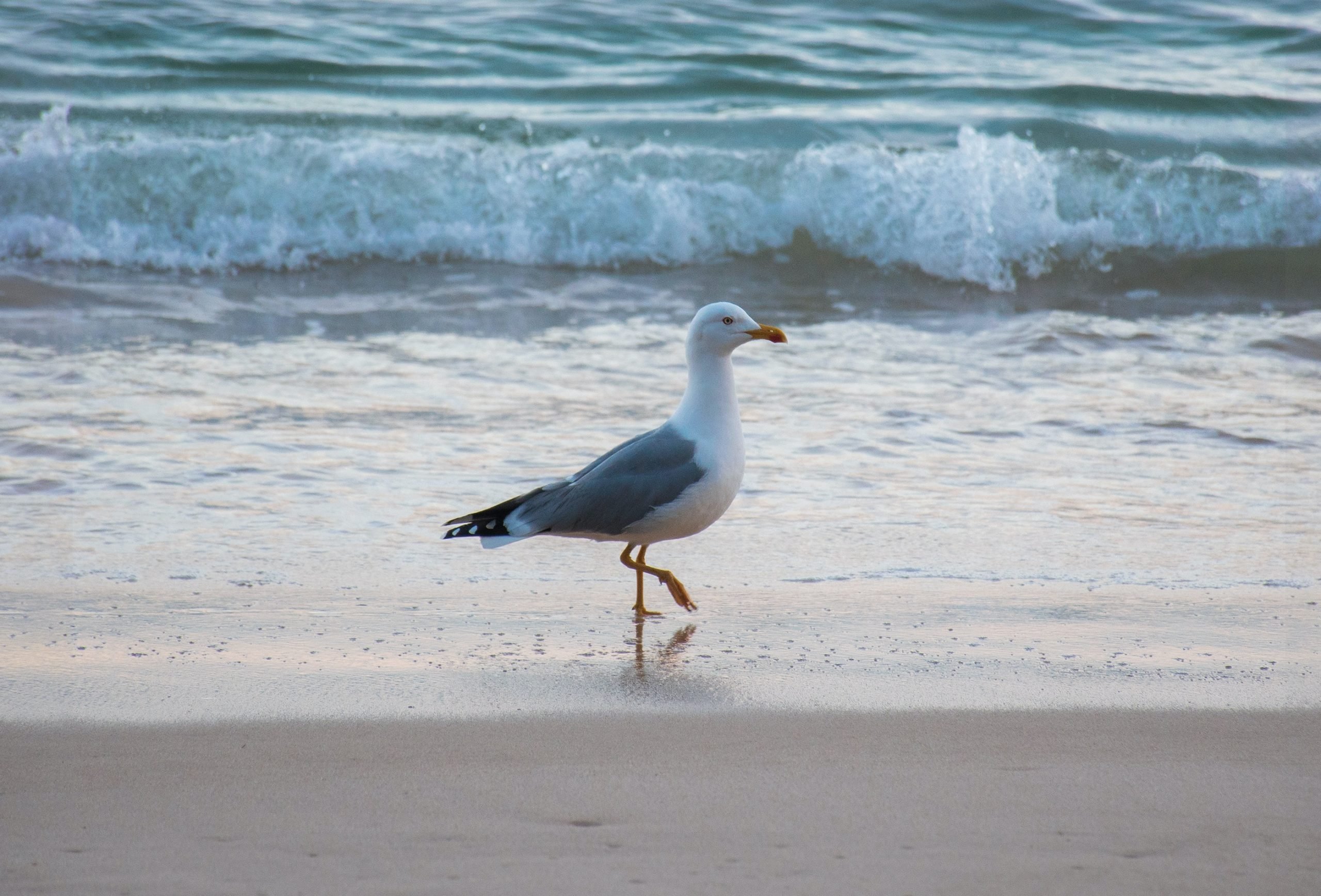 79. Schist Villages of Portugal
The Schist Villages, 27 in total, are a collection of ancient villages nestled in central Portugal's mountainous region. Crafted from schist stone, these villages blend seamlessly into the rocky landscape. Each village, with its unique character and traditions, beckons travelers to step back in time. From winding alleys to rustic houses, they embody Portugal's rich history.
80. Gardens and National Palace of Queluz
Queluz National Palace, often dubbed the "Versailles of Portugal", is an 18th-century rococo masterpiece surrounded by lush gardens. The palace interiors, with ornate ceilings and azulejo panels, reflect royal opulence. The gardens are home to fountains, statues, and intricately designed pathways. Together, they paint a picture of regal grandeur, history, and artistry, making Queluz a must-visit for history and architecture enthusiasts.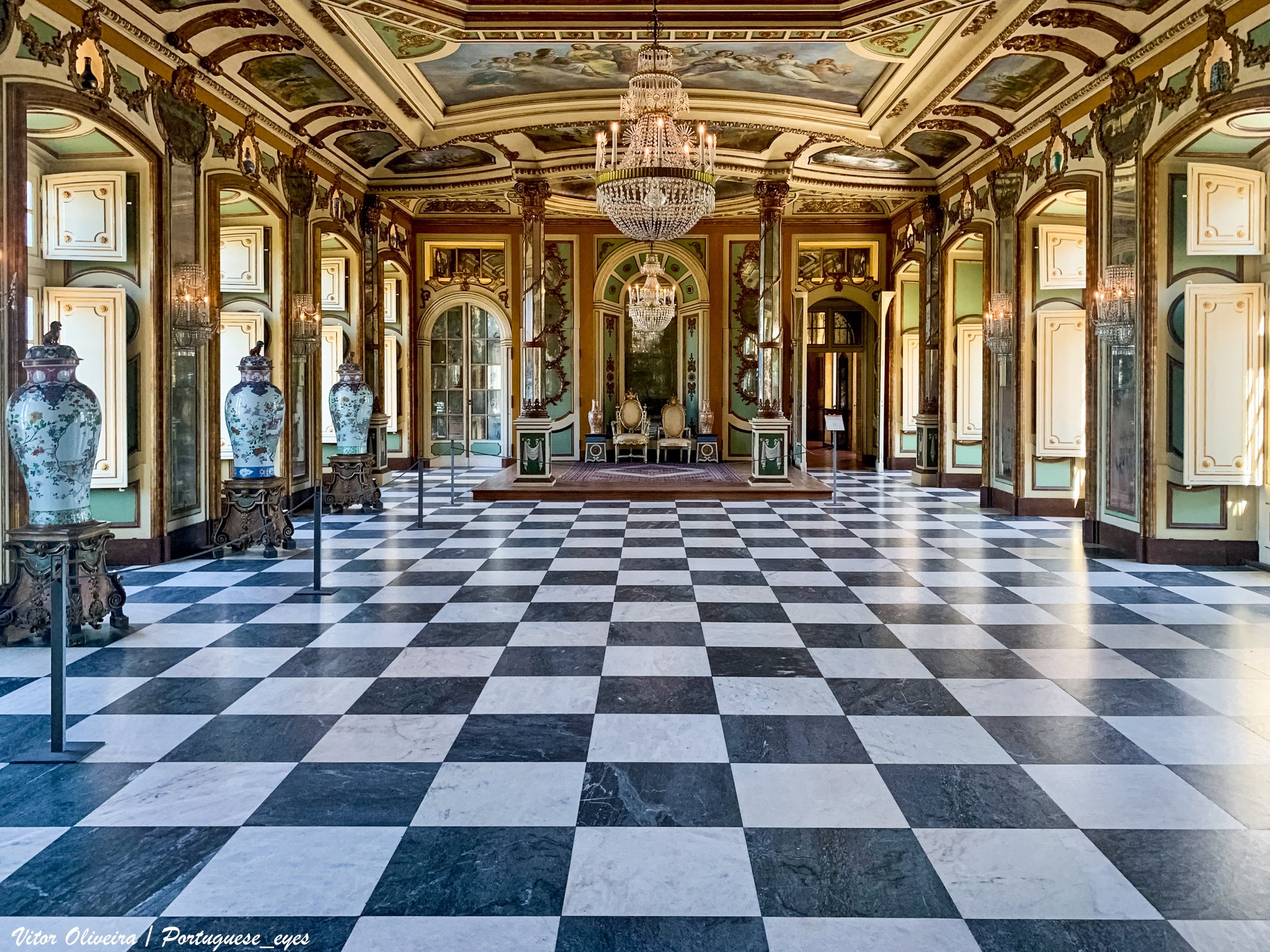 81. Casa Fernando Pessoa
Located in Lisbon, Casa Fernando Pessoa is a tribute to Portugal's iconic poet. Formerly his residence, the house-turned-museum chronicles Pessoa's life and works. Original manuscripts, personal items, and an extensive library paint an intimate portrait of the literary genius. Interactive exhibits and events bring his legacy to life, which provides visitors with a deep dive into the world of one of Portugal's most celebrated literary figures.
82. Calouste Gulbenkian Museum
Lisbon's Calouste Gulbenkian Museum houses the private art collection of Armenian-British oil magnate Calouste Gulbenkian, the world's wealthiest man at the time of his death. The museum showcases a diverse range of artworks from Egyptian antiques to jewelry designed by René Lalique in the 20th century. The museum, surrounded by gorgeous gardens, offers an eclectic mix of art from various eras and regions. It's a hub of cultural enrichment, a place where history, art, music, and nature converge.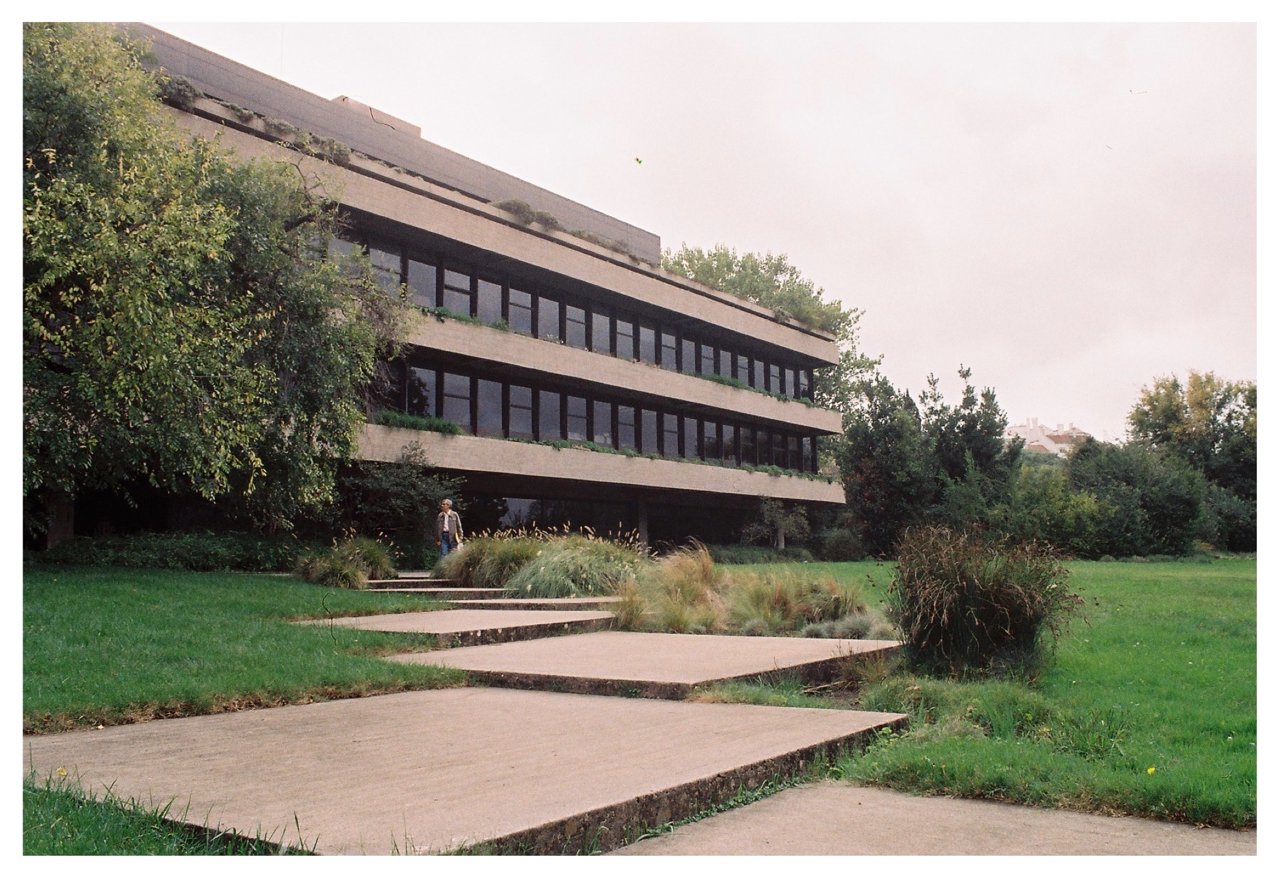 83. Fonte de São João, Luso
Fonte de São João in Luso is famed for its therapeutic mineral water. Historically sought-after for its health benefits, the water from this natural spring continues to draw visitors all day long. The elegant fountain stands as a symbol of Luso's rich cultural heritage. The people-watching here is next level. Sit down in a nearby cafe and enjoy the constant flow of people…and water.
84. Torre de Palma Winery
Nestled in the heart of Alentejo, Torre de Palma Winery stands as a tribute to Portuguese winemaking traditions. The estate, dating back to the 14th century, seamlessly blends history with modern luxury. Visitors can relish the region's renowned wines, explore vineyards on horseback, and indulge in exquisite local cuisine. Combining heritage, wine, and stunning vistas, it encapsulates the heart and soul of Alentejo's wine culture.
85. Vila Joya Hotel, Albufeira
Overlooking the Algarve coast, Vila Joya is a luxury sanctuary in Albufeira. Its Moorish architecture, combined with contemporary elegance, offers an unparalleled stay. Home to a Michelin-starred restaurant, it serves gourmet dishes that capture the essence of Portuguese cuisine. With panoramic sea views, lush gardens, and impeccable service, Vila Joya is the epitome of luxury and tranquility. Put this on your bucket list.
86. Vila Vita Parc Resort & Spa
Located on Portugal's scenic Algarve coast, Vila Vita Parc provides a luxurious retreat to get away from it all. This 5-star resort boasts lush gardens, panoramic ocean views, and an array of accommodations from standard rooms to villas. Guests can savor gourmet dishes at its Michelin-starred restaurant, unwind at the world-class spa, or indulge in watersports on its private beach. A blend of elegance and Algarvian charm, it's an oasis of relaxation and indulgence.
87. Ilha da Tavira
Ilha da Tavira is an enchanting barrier island, part of the Ria Formosa Natural Park, and located off of Portugal's southern coast near the town of Tavira. Boasting pristine golden-sand beaches and tranquil azure waters, this lovely retreat offers visitors an idyllic retreat from the bustle. Accessible by boat, the island has a very calm environment, making it perfect for sunbathing, swimming, and beachcombing. Its untouched natural beauty and picturesque landscapes ensure an unforgettable coastal experience in the Algarve.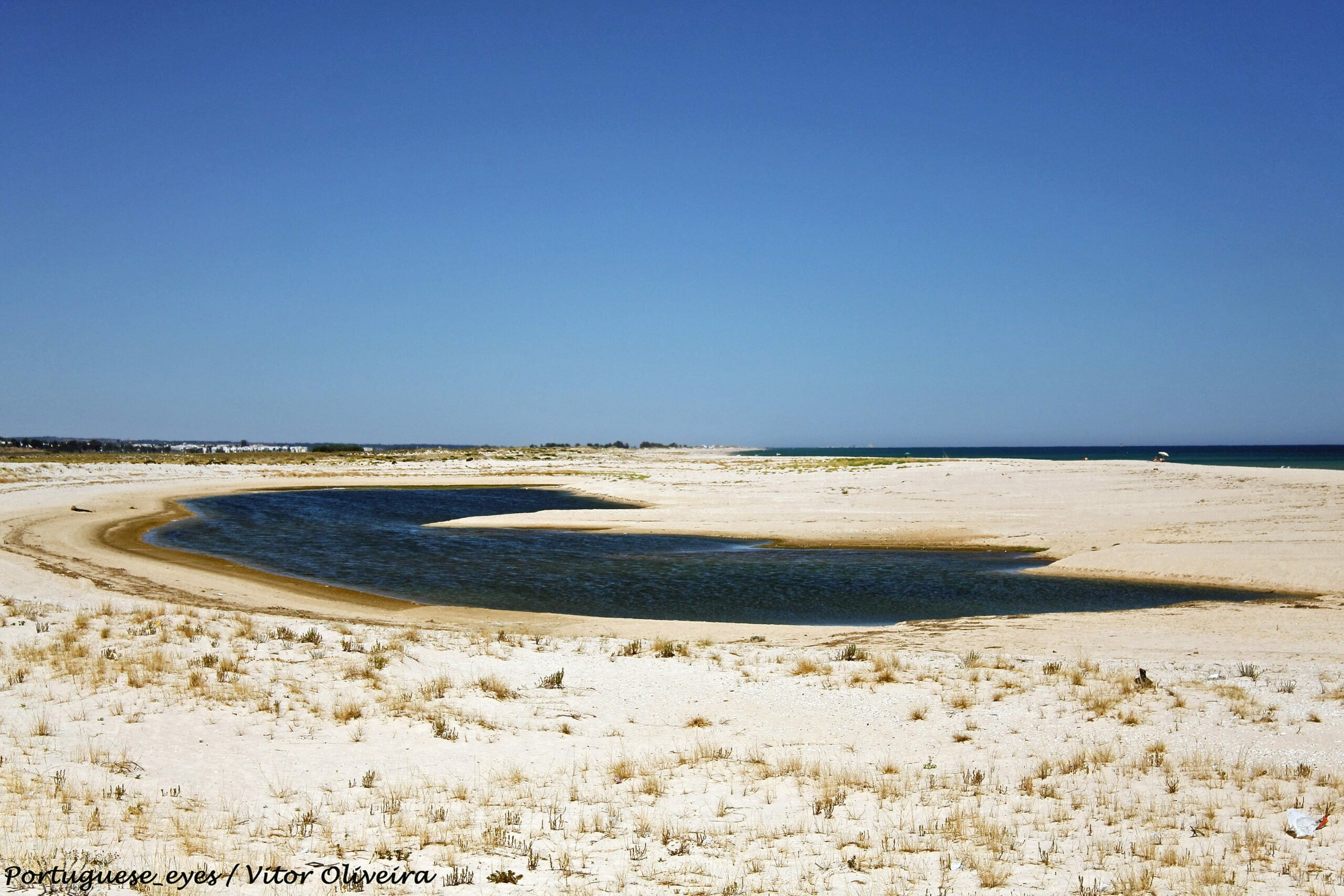 88. Pavilhão Chinês
Pavilhão Chinês in Lisbon is more than just a bar; it's a museum of curiosities. Its five rooms are adorned with an eclectic collection of artifacts, from model airplanes to antique porcelain. With its red interiors, dim lighting, and vintage charm, the venue offers a unique ambiance for a drink or two. It's a surreal journey into another era, making every visit memorable. Look for the red door and ring the doorbell to be let inside the bar.
89. CR7 Museum
Ronaldo super fans, look no further. If you find yourself in Madeira, the CR7 Museum is a must-visit. From all the trophies Ronaldo has won, including five UEFA Champions League to his five Ballon d'Or, this place is filled with CR7 relics. Tickets cost €5, and the museum is open from 10 am to 5 pm Monday to Friday.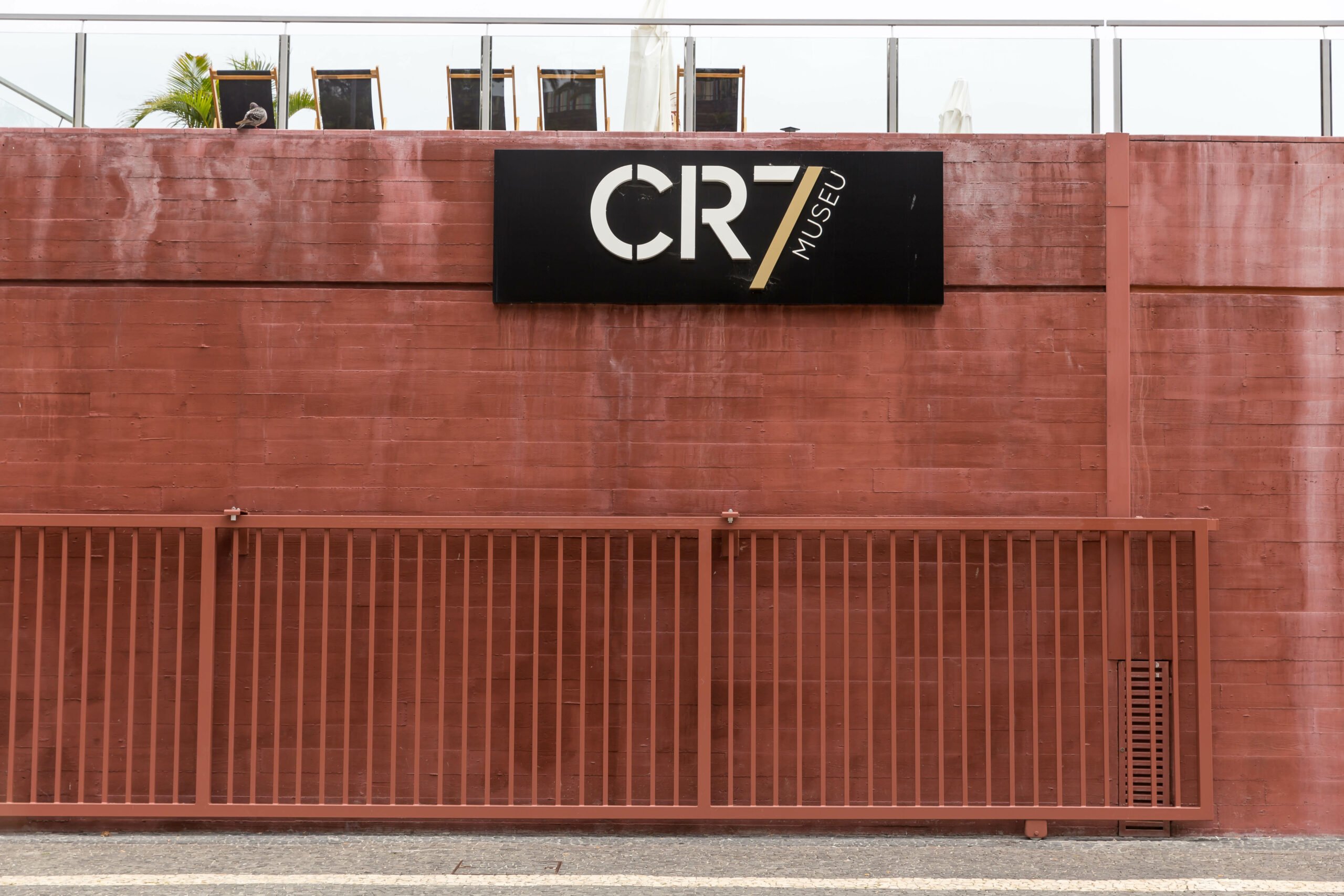 90. Algar do Carvão (Terceira Island, Azores)
Algar do Carvão, located on Terceira Island in the Azores, is a rare accessible volcanic chimney. Visitors descend into a subterranean world of remarkable geological formations, including stalactites and stalagmites. Rainwater has formed a clear lake at its base. This natural wonder, with its unique ecosystem, offers a peek into the island's volcanic history, making it a must-visit for nature enthusiasts and geology aficionados alike.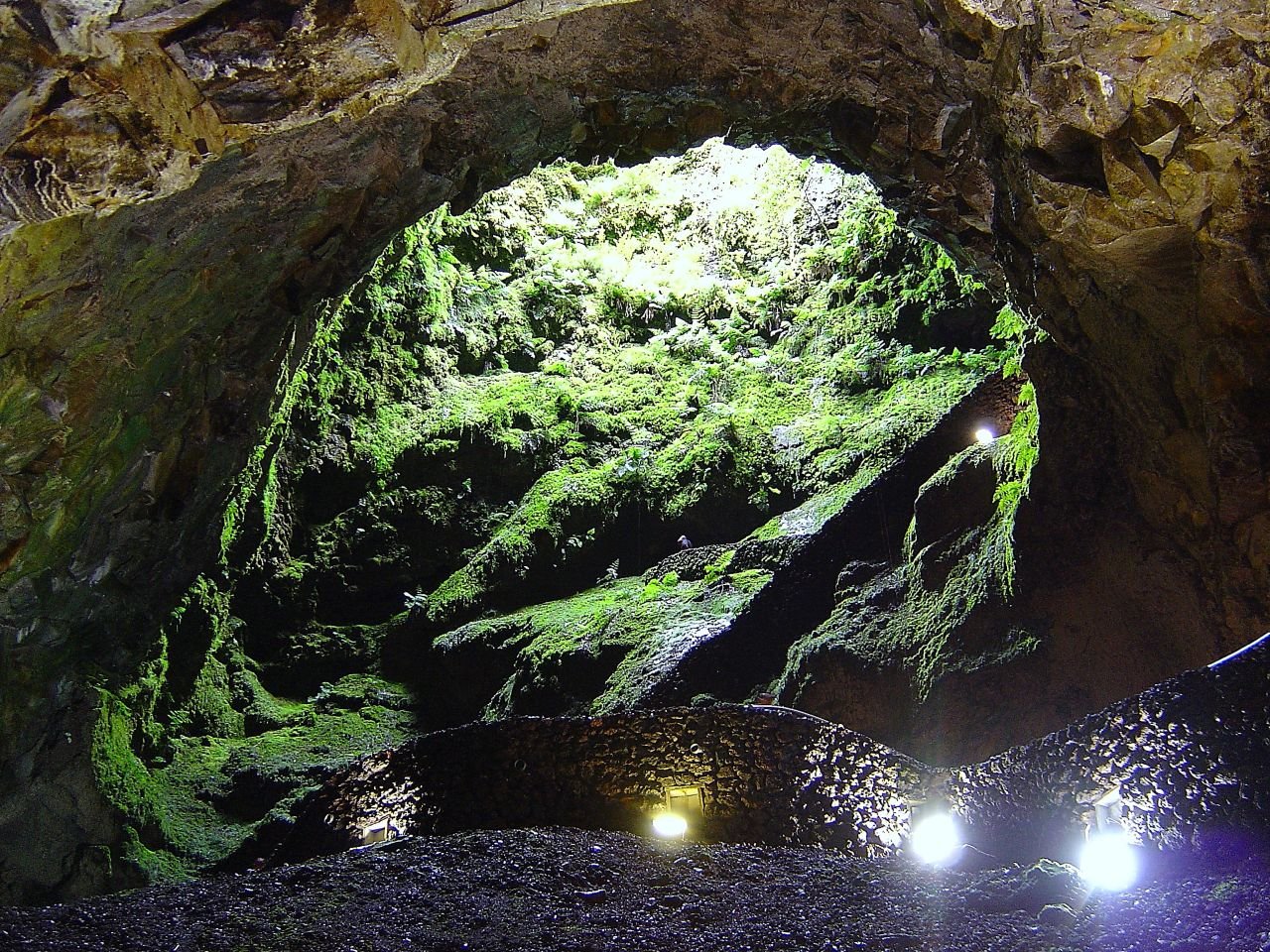 91. Achadas da Cruz, Madeira
Achadas da Cruz in Madeira is a remote coastal village known for its unique cable car journey. Descending steep cliffs, the cable car offers panoramic views of terraced fields, the Atlantic, and rugged landscapes. Once you reach the bottom of the cliffs, a path through an interesting collection of abandoned houses combined with rustic accommodation awaits. The powerful waves crashing onto a calm pebble beach add to the feeling that you are at the edge of the world.
92. Aldeia Artística (Artistic Village), Barrenta, Portugal
The artistic village of Aldeia Artística in Barrenta stands as a vibrant testament to Portugal's rich artistic heritage. This village bursts with color and creativity, housing numerous artists and craftsmen. As visitors wander its charming streets, they can witness artisans at work, from pottery to painting, and acquire unique, handmade souvenirs. The village not only preserves traditional arts but also fosters innovation, making it a living canvas of Portugal's evolving artistic spirit.
93. Ponte 515 Arouca
Spanning the Paiva River Gorge, the Ponte 515 Arouca is one of the world's longest pedestrian suspension bridges. This architectural marvel stretches 515 meters, suspended 175 meters above the river. Walking its length, visitors are treated to breathtaking views of cascading waterfalls, lush vegetation, and rugged landscapes. The bridge is not just a feat of engineering but also an adrenaline-pumping adventure, offering a unique perspective of Arouca's stunning natural beauty.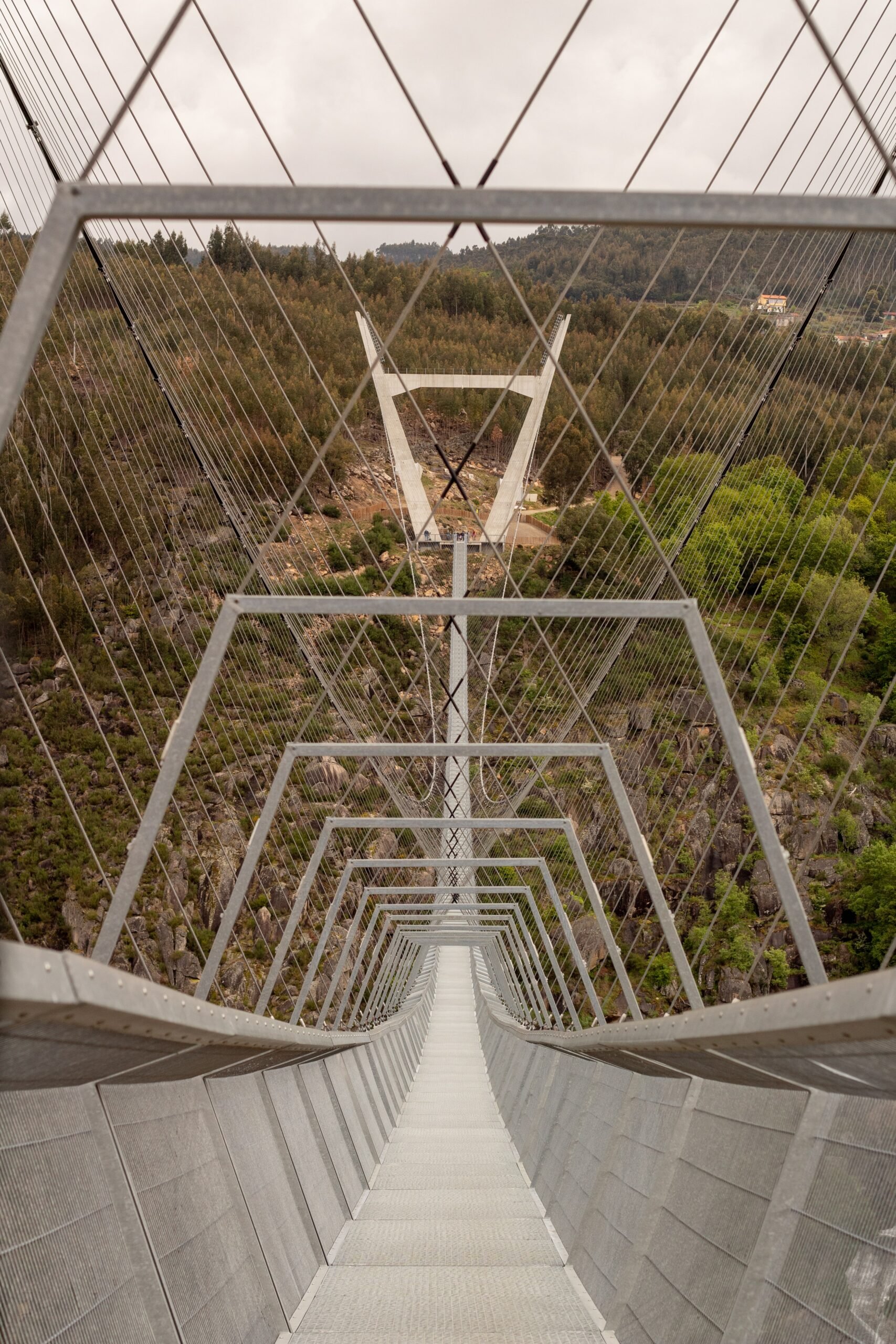 94. Gil Eannes (Viana do Castelo)
Once a hospital ship navigating the icy waters of Newfoundland, the Gil Eannes is now moored at Viana do Castelo as a floating museum. Visitors can explore its restored interiors, gaining insights into its medical operations and the life of its crew. The ship serves as a tribute to Portugal's maritime history and the challenging life at sea. With its intriguing exhibits, the Gil Eannes offers a voyage into the past, anchored in the present.
95. Solar Branco Gin Library (São Miguel, Azores)
On São Miguel island in the Azores, the Solar Branco Gin Library is a must-see for gin enthusiasts. Housed in a beautifully restored 19th-century mansion, it has built up one of the world's most extensive collections of gin. Visitors can indulge in curated tastings, explore the history of gin production, and even craft their own blends. Surrounded by lush gardens and panoramic views, the library offers a sensory journey, blending the spirit's rich history with Azorean elegance.
96. Palace of Estoi (Faro, Portugal)
The Palace of Estoi, located in Faro, is a hidden gem of the Algarve region. This Rococo-style palace, with its pastel facades and intricate stonework, exudes elegance. Its gardens, full of statues, fountains, and tiles, offer a beautiful escape from regular city life. Originally a private residence, the palace now functions as a luxury hotel, preserving its historical charm while offering modern comforts. It's a slice of Portugal's opulent past in the tranquility of Estoi.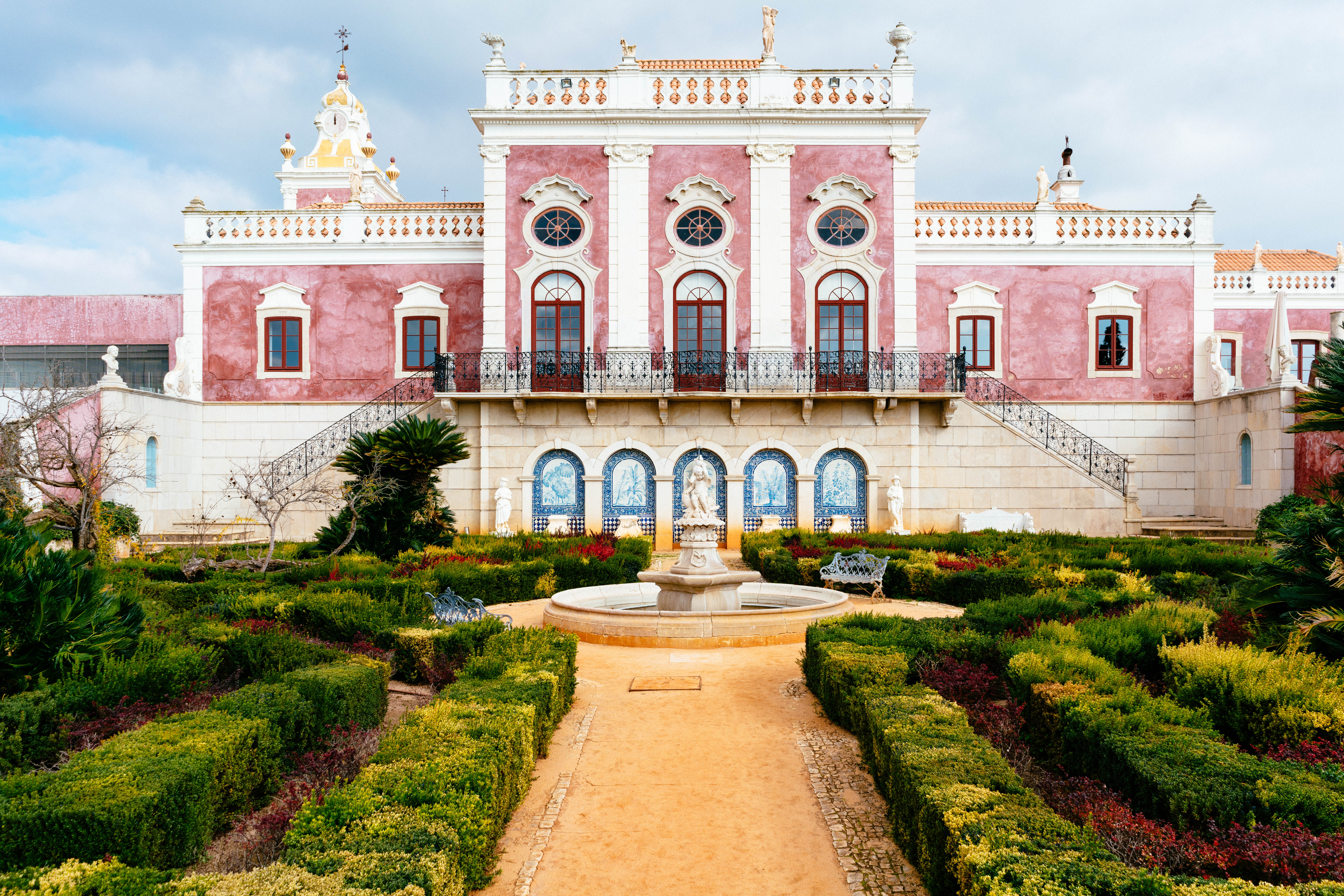 97. Fort of São João Baptista (Peniche)
São João is back, this time in the form of a fort. Guarding the Peniche coastline, the Fort of São João Baptista stands as a sentinel of Portugal's tumultuous past. Initially built as a fortress in the 16th century, it later served as a political prison during the Estado Novo regime. Its robust walls, ramparts, and dungeons tell tales of battles and bravery, resistance and resilience. Overlooking the vast Atlantic, the fort is not just a historic monument but also a symbol of Portugal's enduring spirit.
98. Ponte de Lima
Tucked away in northern Portugal, 30 minutes from Viana do Castelo, Ponte de Lima proudly claims the title of Portugal's oldest town. Steeped in more than 900 years of history, its iconic medieval bridge spans the Lima River. Five of the bridge's thirteen stone arches date back to Roman times. Cobblestone streets, centuries-old mansions, and lush gardens dot the town, while the annual Horse Fair and rich Vinho Verde vineyards showcase its cultural and agricultural prominence.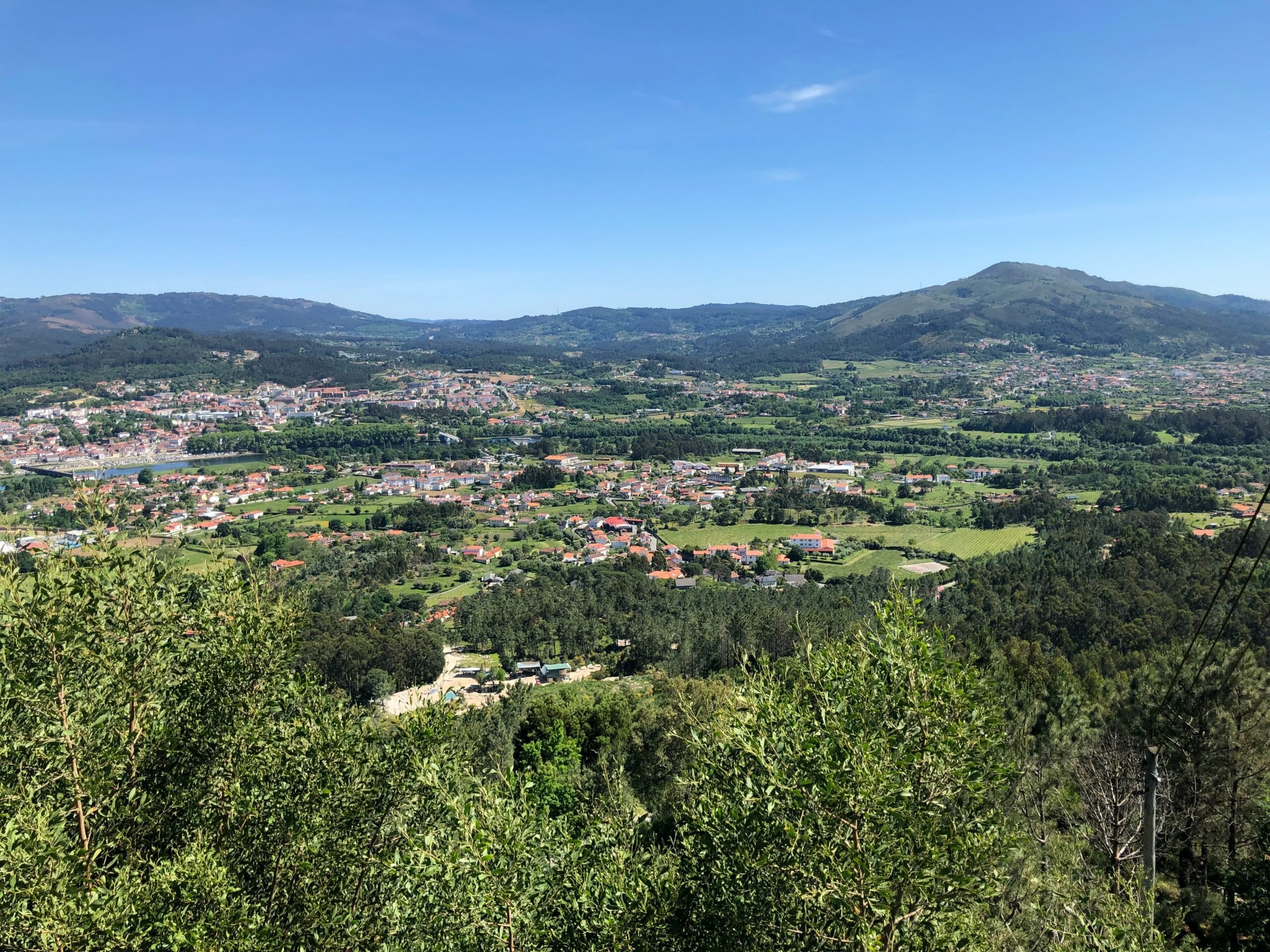 99. Misarela Bridge (Gerês)
Are you ready to cross the Devil's Bridge? Amidst the rugged landscapes of Gerês, the medieval Misarela Bridge arches gracefully over the Rabagão River. Enveloped by myths and legends, it's often referred to as the "Devil's Bridge" due to local folklore. Its ancient stone structure contrasts strikingly against the wild, verdant backdrop of the region. Beyond its historical significance, the bridge is a great example of the stunning beauty of northern Portugal.