The Blue Island of the Azores is named Faial because of the large number of beech trees which are called faias in Portuguese. It is nicknamed the Blue Island because of the hydrangeas in different shades of blue that span the landscapes of the island. 15,000 people live on this island of 67 square miles, making it a cosmopolitan island that still features activities for nature lovers.
Faial was initially discovered in 1427 and later colonized by Flemish settlers in 1432. The island is of volcanic origin and is located near the tectonic divide between the European and North American Plates. The island is the westernmost point of Europe! The island is located 4.5 miles from Pico and 11 miles from Sao Jorge.
Like Terceira, Faial is known for its festivals. The most important one is Sea Week, a week-long festival to celebrate the sea with music, dance, and exhibitions at the end of July. At the end of the week, a traditional ceremony occurs and fireworks fill the skies. Faial is also the site of religious festivals like the feasts of the Holy Spirits from Ascension day to August where there is a procession from the local church and a traditional mass.
What to do in Faial?
1. Hike the Caldeira
The Caldeira in Faial offers one of the best views of the Azores. This volcanic crater is 400 meters deep and you can actually walk to the mouth of the Caldeira. Do not do this alone. We recommend booking this hike with a professional to do so for €65. You can also walk around the crater which will take around 2 hours. In fact, Faial has a lot of beautiful trails to hike such as this 10 Volcano trail that you can book here.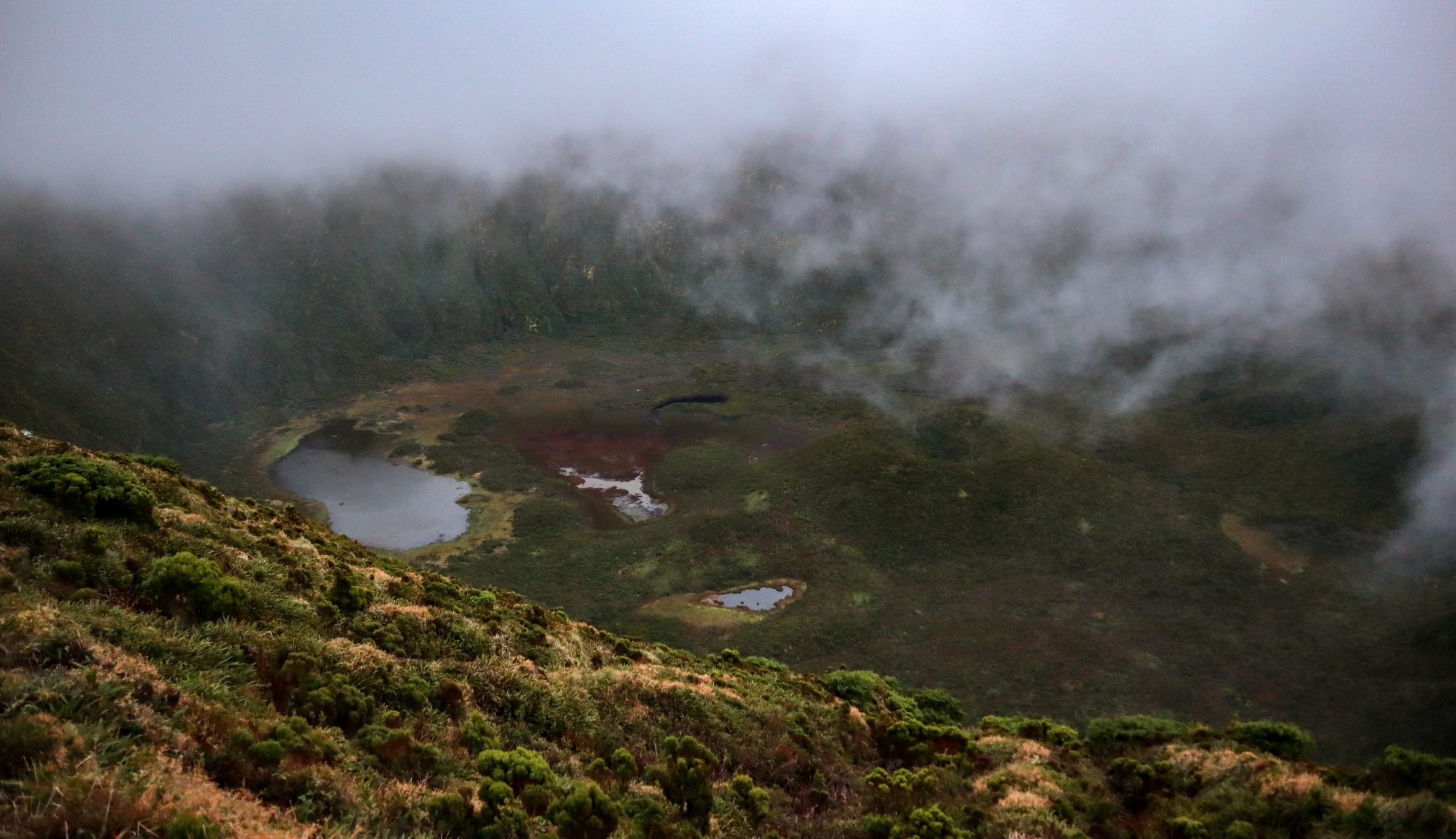 2. Explore Horta
Horta is the city center of Faial and the perfect place for some exploring, with quaint churches everywhere. The Horta marina is known all over the world.  It has a large mural where sailors from around the world paint a section to symbolize their voyage. Near the marina, you must visit Peter Cafe Sport, an emblematic cafe on the island that thousands have passed through. This place is known as the meeting point for sailors who are sailing the Atlantic Ocean.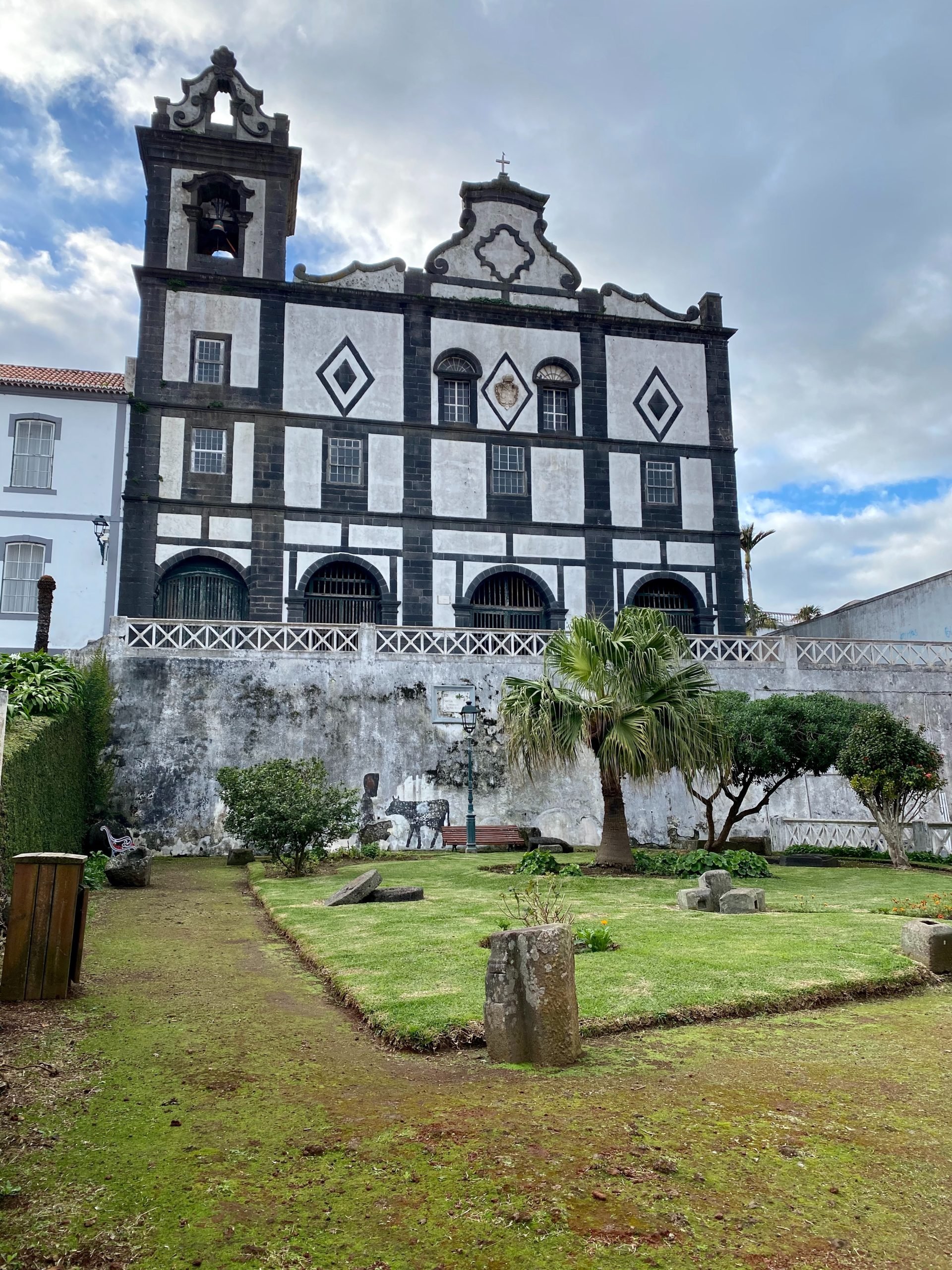 3. Capelinhos
Located in the most westernmost point of Europe, the Capelinhos is a volcano that erupted in 1958 on the western side of the island. This section of the island was only created 60 years ago after the eruption. The volcano and the floor are the color of the black volcanic rock, making this an interesting and beautiful site. Here you can also visit the Capelinhos Volcano Interpretation Center that has a set of exhibitions about the eruption and the formation of the archipelago. You'll also get to see the volcanic rocks and crystals discovered from the eruption.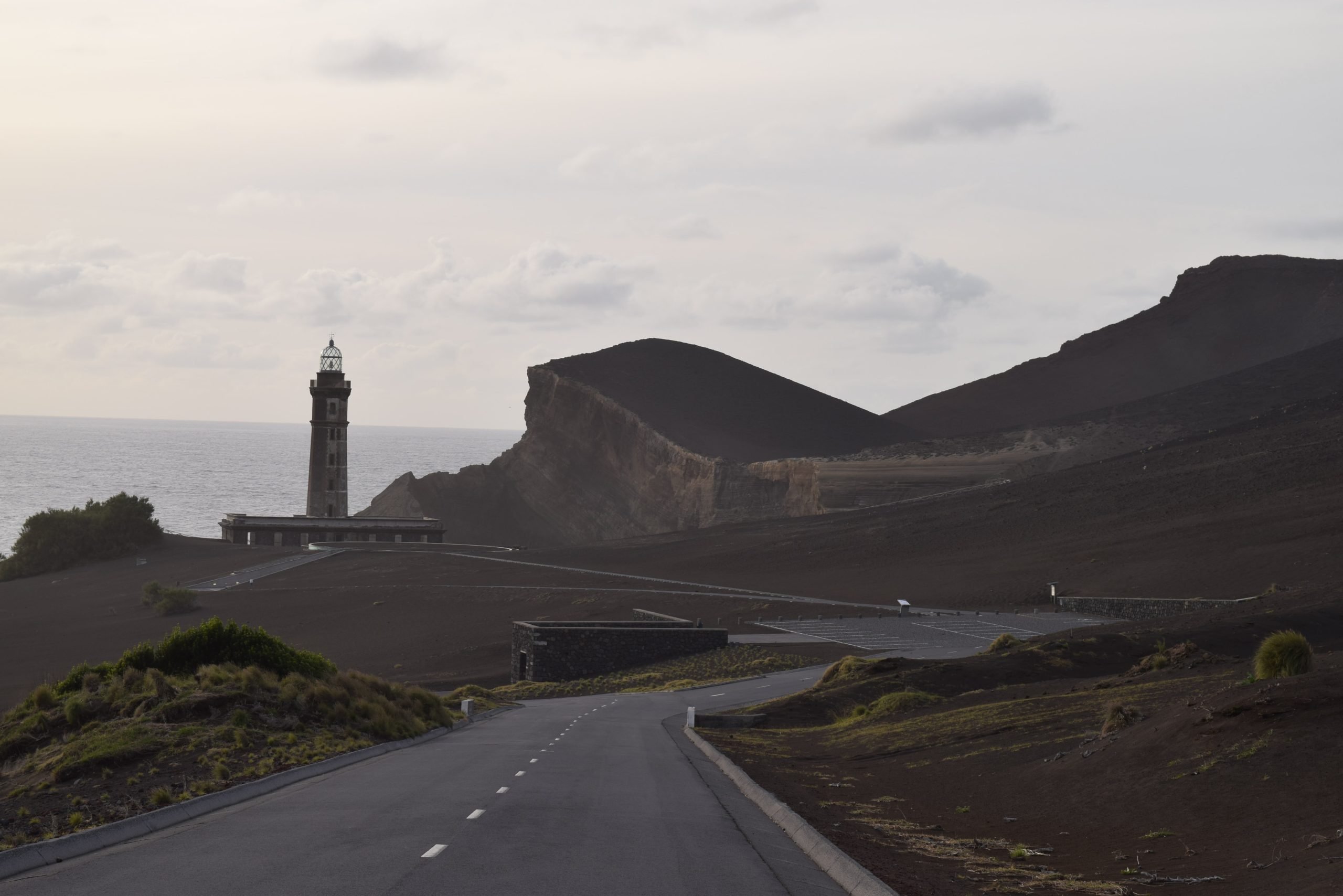 4. Whale and Dolphin Watching
Whale and Dolphin watching is a classic activity in the Azores, but particularly in Faial. The great thing about this activity in the Azores is that guides make sure not to disturb the wildlife and are environmentally conscious. The best seasons to spot some whales and dolphins are between April and October. If you're lucky, you'll get to see a sperm whale at around 20 meters long. For a full experience, book this tour where you'll get to spot some whales and dolphins, as well as learn about the whaling history of the island and visit the whaler's museum. This tour also takes you to Capelinhos!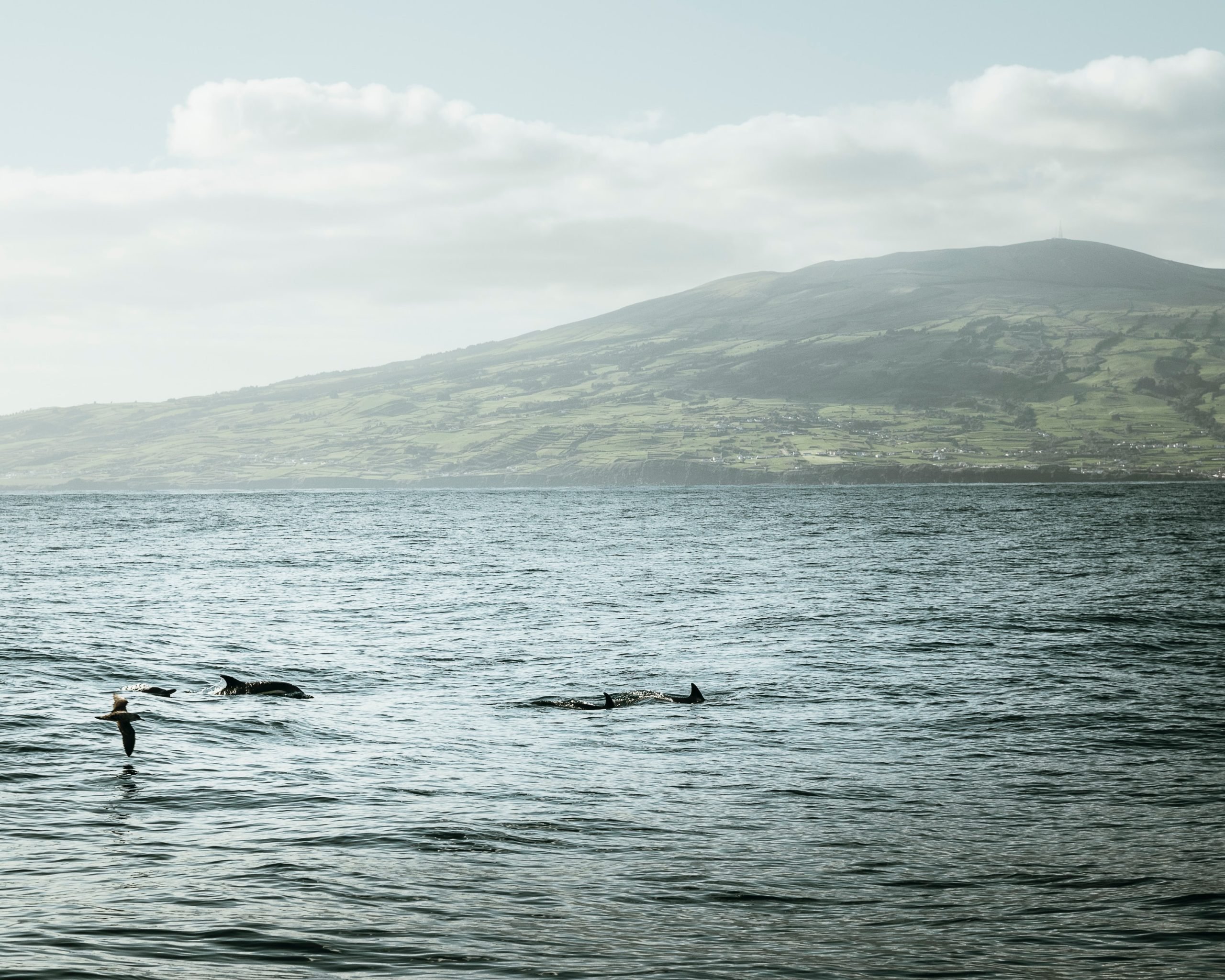 5. Beaches and Natural Pools
Faial has some of the best beaches in the Azores. The primary beach is actually called Praia (Beach), original right? This is a sandy beach that is dark in color due to the volcanic nature of the island. The beach also has changing rooms and showers! Other beautiful black sandy beaches are the Praia da Conceição and Porto Pim, which provide a gorgeous view of Mount Pico.
Day trips from Faial
Faial is part of the "Triangle Islands" with Pico and São Jorge. You're so close so make sure to cross the sea to visit these two neighboring islands. These three islands are completely different from one another and each one has a unique culture.
How to travel between the triangle islands of Faial, Pico, and São Jorge? Atlanticoline has a ferry service that functions all year. These ferries are an easy way to travel between the islands, and you can even take your car. You also get to witness the islands from the ocean with amazing views. The ferry from Faial (Horta) to Pico (Madalena) only takes 30 minutes and costs around €5. The ferry from Faial (Horta) to São Jorge (Calheta) takes around 2h30m and costs around €20.
We have selected a list of the best things to do on your day trips to Pico and São Jorge. We also suggest renting a car to be able to travel freely around the islands.
Pico
Swim in a natural pool: Pico has some of the nicest seawater natural pools. We recommend the Poço da Maré do Verdugo, Ponta do Admoiro, as well as the classic Lajes do Pico Natural and São Roque do Pico pools.
Whale-watching: Pico island is famous for whale watching. You can book a dolphin and whale guided tour with a biologist here.
Visit the whaler's museum: Known as Museu dos Baleeiros in Portuguese, the Whalers Museum is a must-see, close to Lajes Port. The museum is situated in three boathouses from the 19th century.
Go on a hike: The best hiking trails in Pico are Caminho das Lagoas (22 KM, 7 hours), Calheta do Nesquim (8.6 KM, 2h30), and Prainha do Norte (7.8 KM, 2h30). We also recommend hiking up Mount Pico, the highest mountain in all of Portugal, if you are up for it. You can book a guided hike here where you will also learn about the geology, fauna, and flora of the mount.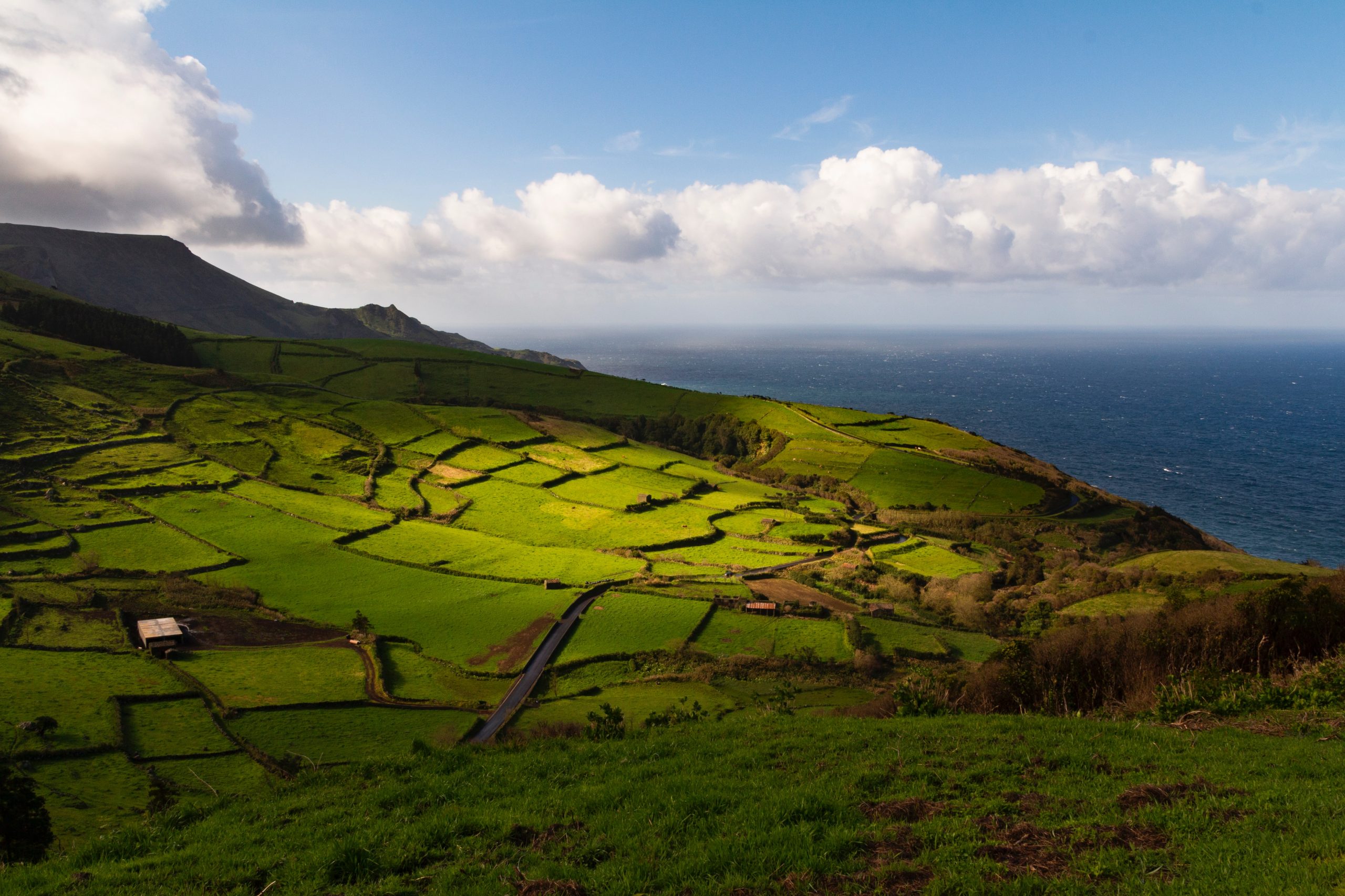 São Jorge
Explore the fajãs:

São Jorge has over 40, more than any other island!

Fajãs

are small plains located at sea level which were once created by lava flows.

 

Our favorite f

ajã is Fajã do Ouvidor, 

one that the locals go to the most. It's home to the 

Poça Simão Dias

, the most amazing swimming hole on the island. The water is clear and you can even jump from low rocks.

Visit the coffee plantation: You must visit the coffee plantation in Fajã dos Vimes. You can try the locally grown coffee at Cafe Nunes, owned by a family who opened the cafe at the plantation in 1997. But fun fact, coffee beans did not grow in the Azores originally. The story goes that coffee beans were brought in by someone in the late 18th century from Brazil to the island.
Book a guided tour of the island: Perfect if you have not rented a car, book this van tour that takes you to the coffee plantations, to a cheese tasting, a 16th-century church, as well as the Poça Simão Dias. The tour costs €110 and includes lunch.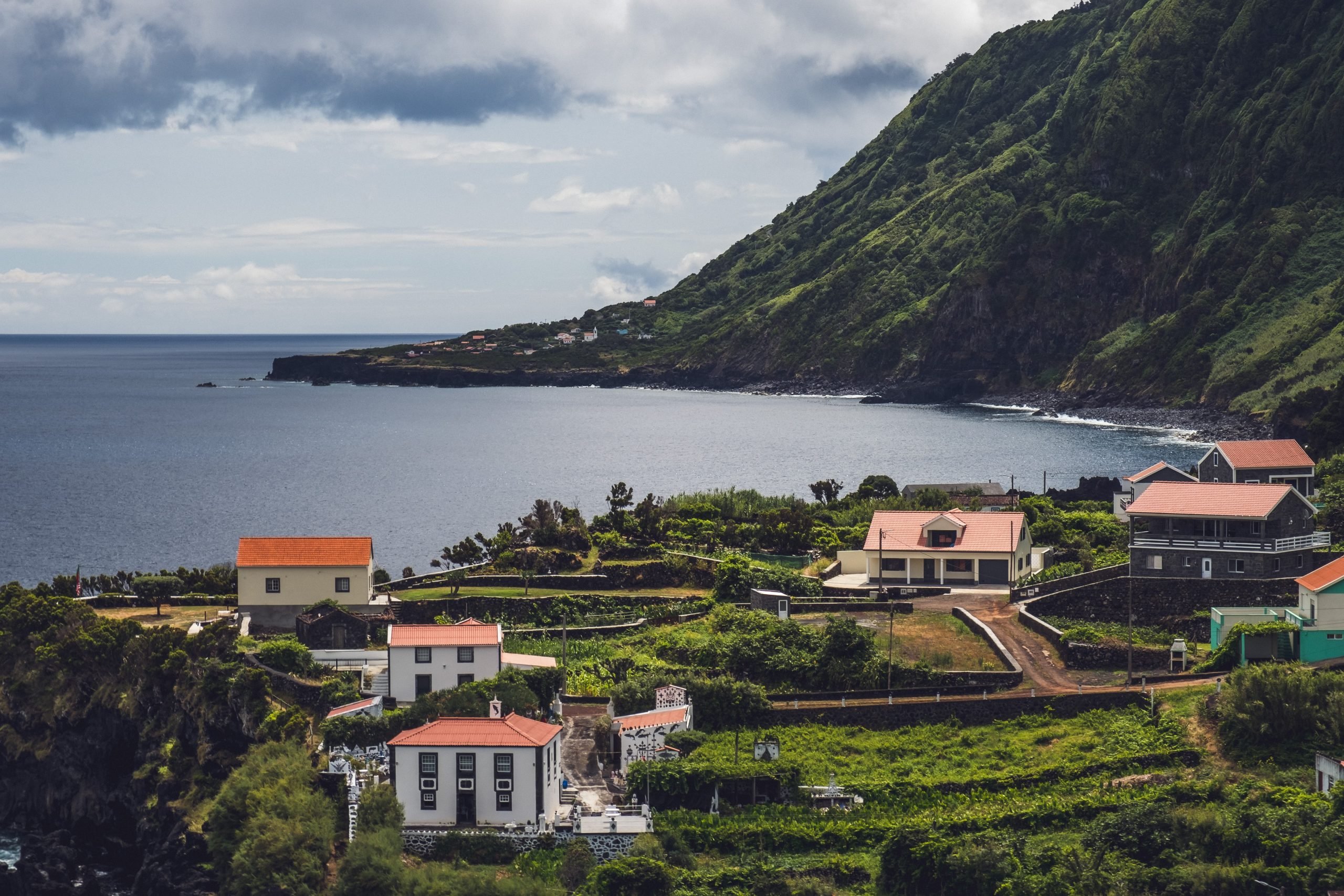 5 Best Restaurants in Faial: Where to eat in Faial?
Genuino is one of the most famous restaurants in Faial. Located a few steps from Porto Pim beach, this place offers quality seafood. The restaurant has photos and memorabilia of the sailor Genuino Madruga's trips around the world. Genuino has a beautiful view of the ocean and a terrace, perfect for a sunset dinner. We recommend trying their codfish and octopus. A meal here will cost you around €20 to €30.
O Esconderijo offers both Azorean food and international cuisine. It's located in an old rustic home and was founded by a German family. All dishes are made from organic products and they have several vegan options, which are uncommon in the Azores. A meal here will cost you around €10.
Canto da Doca is decorated in a nautical theme to pay homage to the islander's love of the ocean. This is a large restaurant with two floors that serves many of their dishes on hot lava stone, a unique experience. You can even choose what sauces you want on many dishes, particularly their steaks. We recommend trying their cookie pudding and seafood. They also have a few vegetarian alternatives. A meal here will cost you around €18.
Ah! Boca Santa is all about home-cooked comforting food that showcases local products. They have the best artisanal burgers on the island made of 100% Azorean meat and served on bolo lêvedo (sweet bread from the Azores). They also have many vegetarian options, salads, toasties, and sandwiches. Their fries are to die for! A meal here will cost you less than €10.
A Horta classic, Peter's Cafe Sport is where sailors meet while traveling. Open for over 100 years, this place is not just a restaurant, but a tourist and currency exchange port, yachting club, and post office. They are known for their brand of gin, steaks, and seafood. You can have a meal here for €15.
Transportation: How can you get around the island of Faial?
If you visit any island in the Azores, you know that finding public transportation is difficult. The bus systems are not designed to get to the best tourist spots and are made for the locals.
If you can, definitely rent a car. You can pick up a rental car from the airport and return it when you are flying back. We recommend renting a car in advance because especially in the summer months, these run out fast. You can rent a manual car starting at €60 a day.
5 Best Places to Stay in Faial: Where to stay in Faial?
This place feels like a tropical oasis. Azul Singular offers a sustainable tented experience. You will sleep in your own little wooden hut or yurt tent, in the middle of gorgeous palm trees. This is truly a one of a kind experience. Every unit comes with an equipped chicken, a dining table, and a gorgeous bathroom. You get a continental or vegetarian breakfast, brought to your unit every morning. A yurt tent costs €70 a night and a superior wooden tent costs €75 a night.
Monte da Guia is a guesthouse located in Horta, a 30-minute walk from Praia da Conceição. The guesthouse has a gorgeous beachfront view and garden. The property offers a large communal kitchen and a shared living room. Each room comes with a desk, flat-screen TV, and a private bedroom. A double bedroom costs €30 to €40 a night.
Casas da Faja offers holiday homes with panoramic views of the sea and the mountains. The homes have exposed stone walls and have central heating, a kitchen, a dining area, and a private bathroom. The property also has a garden with a barbecue area. You can arrange a shuttle to pick you up from the airport. A one-bedroom house costs €65 a night.
Pátio Lodge, located in the Natural Park of the island in the village of Cedros is a 4-star boutique nature lodge. This place offers views of green landscapes, the ocean, and the islands of São Jorge, Graciosa, and Pico. This lodge even has 20 horses on-site that you can ride with the help of professional staff. The property features a garden, a barbecue, and an outdoor fireplace. Their restaurant serves regional dinners and a continental breakfast. You can a room with a sea view for €80 a night.
Largo Bispo Boutique Hotel is located in Horta and a 5-minute walk from Praia da Conceição. This hostel is an adults-only accommodation that offers a lounge and garden, as well as a communal garden. A continental breakfast is available at the property. You can get a twin room with a private bathroom for 85 or a bed in a dormitory for €35.
Porto Pim Guesthouse is an affordable place, perfect for the whole family. They offer rooms at a good price that have a beach view and come with a private bathroom. Guests can enjoy the shared lounge, kitchen, garden, and outdoor barbecue. You can get a double bedroom for €40 and a family room (four people) for €65.
Final Thoughts
It is no surprise that the Blue Island of the Azores is one of the most visited by tourists, as well as a hotspot for sailors. 15,000 people live on this island, making Faial both a cosmopolitan and traditional Azorean island filled with gorgeous nature to be discovered. Its location makes it an amazing island to visit, as well as its efficient access to the islands of Pico and São Jorge. From whale watching to exploring Horta, Faial has an activity for all and does not disappoint.