Graciosa, The White Island of the Azores is classified by UNESCO as a World Biosphere Reserve. This island has a unique landscape and a strong architectural heritage that makes it a top Azorean island to discover. Graciosa is 12.5 KM in length and has around 4,000 inhabitants. Part of the Central Groups of the Azores Archipelago, its closest neighbor is São Jorge, making it a great spot for island hopping. The nickname for this island, the White Island, comes from the white characteristics of Graciosa seen in Pedras Brancas (White Stones) and Serra Branca (White Hills).
It is clear when the island of Graciosa was discovered. Many point out to May 2, 1450, as the date of the island's discovery, but there is no evidence to back this up. However, we do know that in 1440, ten years before, Prince Henry the Navigator sent cattle to settle the island so that it could be lived one. Therefore, it does not make sense to argue that the island was only discovered in 1450.
What to do in Graciosa?
Fun fact, Graciosa actually has the shortest hiking trail in all of the Azores. Perfect for a quick stroll, the trail starts in the center of the village of Luz and ends at the gorgeous Baia da Folga. This hike is around 2 KM and only takes one hour. Graciosas has three more hiking trails that are worth a shot: Great Route of Graciosa (40 KM, 14h), Serra Branca – Praia (8.7 KM, 2h30m), and Volta à Caldeira – Furna do Enxofre (10.8 KM, 3h).
For your own safety, make sure to hike on "official" trails that are taken care of by the Azores Tourism Broad. These are properly maintained and signed with hiking markers throughout so people do not get lost. You can look up the official hike trails in Graciosa here.
2. Swim in the Thermal Baths
Graciosa's most famous spot is the Carpacho Spa. These natural swimming pools give you a view of the ocean and neighboring islands. This area also has thermal baths, a pool with warm water at 40ºC that is rich in bicarbonate and magnesium salts. These have been used by the locals since the 1700s to treat diseases. The baths now function as a spa and have jet showers and jacuzzies. The spa is open between May and September and costs €1 for 30 minutes.
3. Water Sports
Graciosa is one of the highest-rated islands for water sports such as diving, sailing, and kayaking, as well as fishing. The main water sport is definitely diving as the island is known as one of the best locations for diving in Europe, with waters that have over 25 meters of visibility. The water temperatures are also quite warm, in comparison to other islands at around 20 degrees Celsius. There are a lot of diverse fauna and sealife species on the island from sharks, tunas, and shrimps. You can also see the black coral that is only found in some locations on the island. Find some of the best diving spots on the island here. You can also do some windsurfing, the best places being the bays of Santa Cruz and Praia.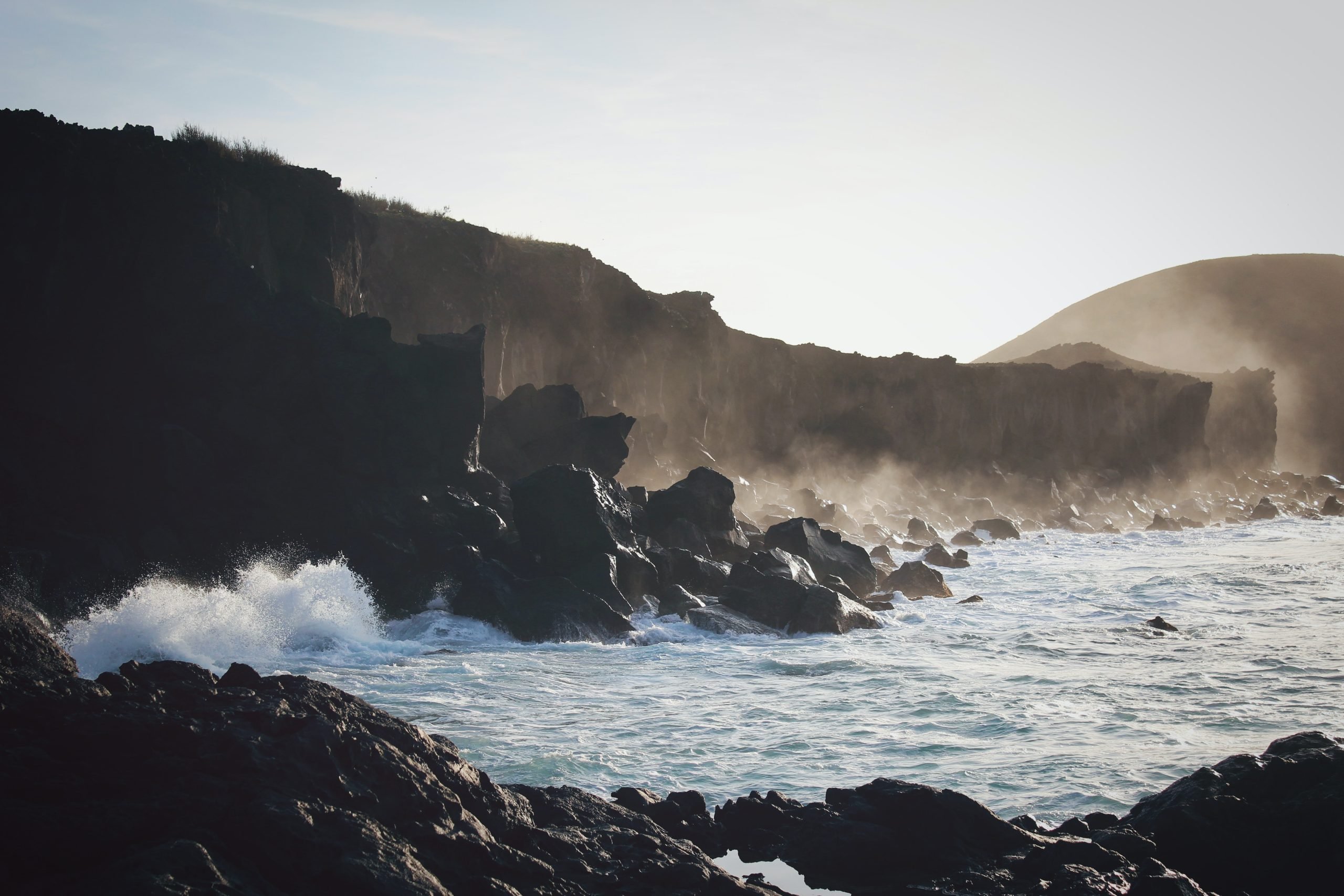 4. Visit the Caldeira da Graciosa
The Caldeira da Graciosa is a large crater that is classified as a Regional Natural Monument. This crater has a unique volcanic formation in one of the second-largest forest areas in Graciosa. Its diameter is 4.4 kilometers and it reaches an altitude of 405 meters. This crater includes caves that are tourist attractions such as the Furna da Maria Encantada (Cave of Enchanted Mary) and the Furna do Enxofre (Sulphur Cave).
Day trips from Graciosa
São Jorge
You can get to the island of São Jorge with a 2h30m ferry that costs around €10.
Explore the fajãs: São Jorge has over 40, more than any other island! Fajãs are small plains located at sea level which were once created by lava flows. Our favorite fajã is Fajã do Ouvidor, one that the locals go to the most. It's home to the Poça Simão Dias, the most amazing swimming hole on the island. The water is clear and you can even jump from low rocks.
Visit the coffee plantation: You must visit the coffee plantation in Fajã dos Vimes. You can try the locally grown coffee at Cafe Nunes, owned by a family who opened the cafe at the plantation in 1997. But fun fact, coffee beans did not grow in the Azores originally. The story goes that coffee beans were brought in by someone in the late 18th century from Brazil to the island.
Book a guided tour of the island: Perfect if you have not rented a car, book this van tour that takes you to the coffee plantations, to a cheese tasting, a 16th-century church, as well as the Poça Simão Dias. The tour costs €110 and includes lunch.
Terceira
You can get to Terceira from Graciosa on a 3h30 ferry that costs around €15.
5 Best Restaurants in Graciosa: Where to eat in Graciosa?
We'll get into the best 5 restaurants in Graciosa, but before let's go through what you should order. The best foods in Graciosa are:
Queijadas (Typical pastry)
Graciosa wine
Fried mackerel
Seafood and fish
Sweet Azorean bread
Now that you know what to order, here are the best 5 restaurants to try in Graciosa.
Restaurant Costa do Sol is one of the best restaurants in Graciosa. This place is highly rated by the locals and provides a relaxing environment. We recommend trying the monkfish, seafood, and steaks. You can get a meal here for €15.
Casa De Pasto O Leão is an Azorean restaurant that is a local favorite. The inside of the restaurant has wooden laws and relaxed furniture. The staff at this place will make you feel welcome like you are coming to their home for dinner. We recommend the steak and shrimp. You can have a meal here for €15.
O Restaurante Estrela do Mar, which translates into Sea Star Restaurant has one of the best sea views on the island. Located near Porto da Folga in Santa Cruz da Graciosa this restaurant specialized in seafood, particularly the fish stew and they even make their own fish sauce. A meal here costs around €20.
Located in Fonte do Mato, Green Light has a terrace of one of the best sea views on the island. This family-run restaurant offers regional dishes of the Azores. Their menu is even written in handwriting. In the Azores, this is a good sign. You know you are at an authentic Azorean restaurant. We recommend trying their seafood starters and dishes, as well as their bitoque, a classic Portuguese think steak. You can get a meal here for €10.
If you're looking to try some local Graciosa delicacies, Snack Bar Jale is the restaurant to visit. Situated in Santa Cruz da Graciosa, this place has excellent customer service and is one of the highest-rated restaurants on the island. Enjoy Azorean dishes while listening to some live music, available during dinner service. We recommend their Cozido À Portuguesa, a Portuguese meat stew with sausage and vegetables. Snack Bar Jale is also a great breakfast spot, where you can get a toasted sandwich and a latte for €2.50. A meal here will cost you under €10.
Transportation: How can you get around the island of Graciosa?
Public transportation in Graciosa is built for the locals, not the tourists. The bus systems in Azorean island are not designed to get to the best tourist spots so do not rely on public transportation.
If you can, definitely rent a car. You can pick up a rental car from the airport and return it when you are flying back. We recommend renting a car in advance because especially in the summer months, these run out fast. You can rent a manual car starting at €60 a day.
5 Best Places to Stay in Graciosa: Where to stay in Graciosa?
Casa da Barra, located in Santa Cruz da Graciosa is a large holiday hope surrounded by green landscapes. The three-bedroom home sleeps up to five people, has a living room and two bathrooms. The home has a large garden and a barbecue, great for a sunset dinner. You can also rent a car at the property to get around the island. This home costs €100 a night.
This 50 m² one-bedroom house located in a large Azorean farm is located in Santa Cruz da Graciosa. Quinta Perpetua has a romantic patio with diverse flora and a garden to enjoy where you can get views of São Jorge, Faial, and Pico. The farm is built in Azorean natural stone and provides a serene getaway. The one-bedroom here costs €80 a night.
A large holiday home, Casa do Paúl is located in Santa Cruz da Graciosa and has a gorgeous view of the historic center. On the oceanfront, the outdoor terrace features a dining area and barbecue. The holiday home is 200 m² and has 4 bedrooms, 2 bathrooms, a dining area, and a kitchen. This home only costs €80 a night.
Located in Santa Cruz da Graciosa, Quinta do Bairro – Casa do Pomar is a holiday home with two bedrooms and one bathroom that sleeps 7 people (4 adults and 3 kids). One of the rooms has a double bedroom and the other has two twin beds. Two extra beds are available at request. The 139 m² home features a flat-screen TV, a dining area, a kitchen, and a terrace with views of the garden. This holiday home costs around €90 a night.
Looking over the Calheta pier, Boa Nova Hostel is located in a restored 18th-century home, a 10-minute walk from the center. This hostel is the ideal refuge to stay at with a high-quality service for an affordable price. Depending on your needs and budget, they have private rooms and beds in shared rooms. A single bed in a shared room is less than €10 and a private double bedroom with a balcony and sea view costs €55.
Final Thoughts
From swimming in the 40ºC thermal baths to hiking gorgeous trails, the island of Graciosa is a hotspot for tourists from all over the world. The White Island offers affordable family-run restaurants that will allow you to have a taste of local products. Unlike smaller islands, Graciosa has a wide variety of hotels and holiday homes to rent that offer incredible views of the ocean and the neighboring islands of Terceira and São Jorge. Due to its location, you are quite close to these two islands, making each the perfect island-hopping day trip. Make sure to put the island of Graciosa, one of UNESCO's World Biosphere Reserves on your Azorean bucket list.