Have you ever dreamed of reaching the end of the world? If so, head to Nazare, a seaside town in Portugal. Located on Portugal's Silver Coast in Central Portugal, red-tiled Nazare is one of the most popular resort towns in Portugal, located at Europe's western extremity.
But it is not just its edge-of-the-world location, stunning beaches, pretty townscape, and great food & drink options that make it so attractive. It is also the one-of-its-kind surf that lures the most intrepid of surfers to try their luck. Nazare's Praia do Norte boasts some of the world's largest waves and is a true challenge for even the most experienced surf rider.
What to Do in Nazare
Surfing in Nazare
Nazare became the stuff of surfing legend in 2011 when Garret McNamara conquered the world's biggest wave at Nazare's Praia do Norte. Since then it has become a place of pilgrimage for the world's most dauntless surf riders, with Brazilian surfer Rodrigo Koxa outdoing McNamara and setting the world's Guinness record for surfing the world's largest, 24.4m, wave in 2017.
The reason why the waves are so huge is a deep underwater gorge which, along with the site's unique water current, enlarges the wave heights and results in the humongous swell.
Even if the waves are too gigantic for most surfing aficionados, there are a number of competitions for you to watch as a spectator. Head to Fort of Sao Miguel Arcanjo lighthouse perched on a rock right above the monstrous kahunas.
But it is not all year round that Nazare waves should inspire awe. In summer the surf can be much tamer and at times it is just regular rollers that break over the beach. During the summertime, you can not only ride the less threatening boomer but take pleasure in kite surfing, profit from the site's unique currents of wind, and even do belly boarding, windsurfing and jet-skiing on its tamer stretches of water.
The Best Nazare Surfing Locales
Has surfing in Nazare been giving you goosebumps? It is all not that clear-cut…
Nazare can be divided into three parts: one is Praia do Nazare, where the visitors of Nazare, the seaside resort, spend their time at amiable chit-chat at the seaside cafes and restaurants. It boasts a wide fine-grained sand beach and a beautiful vast horseshoe inlet of water in front of it.
During the summer months, you can find sun-basking couples stretching on loungers and jet-ski lovers speeding past each other with belly boarders and windsurfers also present.
Nevertheless, it is still Nazare so the waves are still punchy and zippy all year round. As you surf towards the foreland brace for classier rides where you can surf inside a barrel.
The other part is the ferocious surfing Mecca, Praia do Norte, where the do-it-or-die surfing season starts in late September and lasts till April. Even afterward, the waves appear daunting so it is still possible to hunt for your own monster wave even in summer, with fewer surfers meaning more room for maneuver.
The town's southern beach is by far less popular with surfers but still offers some great high-speed tubes coming in from the underwater canyon. Note it is still for experts only.
Where to Study Surfing in Nazare
It is not just the most courageous and proficient surfers that come to Nazare. There are many places in Nazare where you can learn surfing from some of Portugal's best surfing instructors.
Some of the best Nazare locales to study surfing and windsurfing are the following: Surf4 You; Nazare Surf School, Zulla Surf & Bodyboard School, and Nazare Canyon Wave Club.
Where to Stay in Nazare: 5 Best Hotels in Nazare
Nazare offers a great choice of accommodation and is one of the best places to put up to go surfing at Nazare Praia do Norte. Here you can find not only private lodgings for rent that are hawked by women in motley local dresses on its streets, but also hostels, camping grounds, motels, and even chic seaside hotels.
Note that one of the best places to stay in Nazare is its cliff-perched old town where you can stay at good-value places to take profit from close access to the historical landmarks such as the city's main cathedral and an abundance of local food options.
The area close to Praia do Nazare suits best those who have arrived in Nazare to enjoy sunbaths and spend time on its splendid beach. For those who are willing to lodge further away from civilization head to Pederneira, with few accommodation options, but a unique village-like ambiance.
To save you some time, here are the 5 best hotels in Nazare.
A 4-star hotel, Miramar Sul offers a modern design in the heart of Nazare, providing beautiful views of the ocean. The hotel features 3 swimming pools including an infinity pool, a mini-golf area, and an indoor kids' play area. The hotel rooms feature a flat-screen TV, a private balcony with a bathtub, and a minibar. The Atlantic View Restaurant serves local and international dishes with a view of the ocean.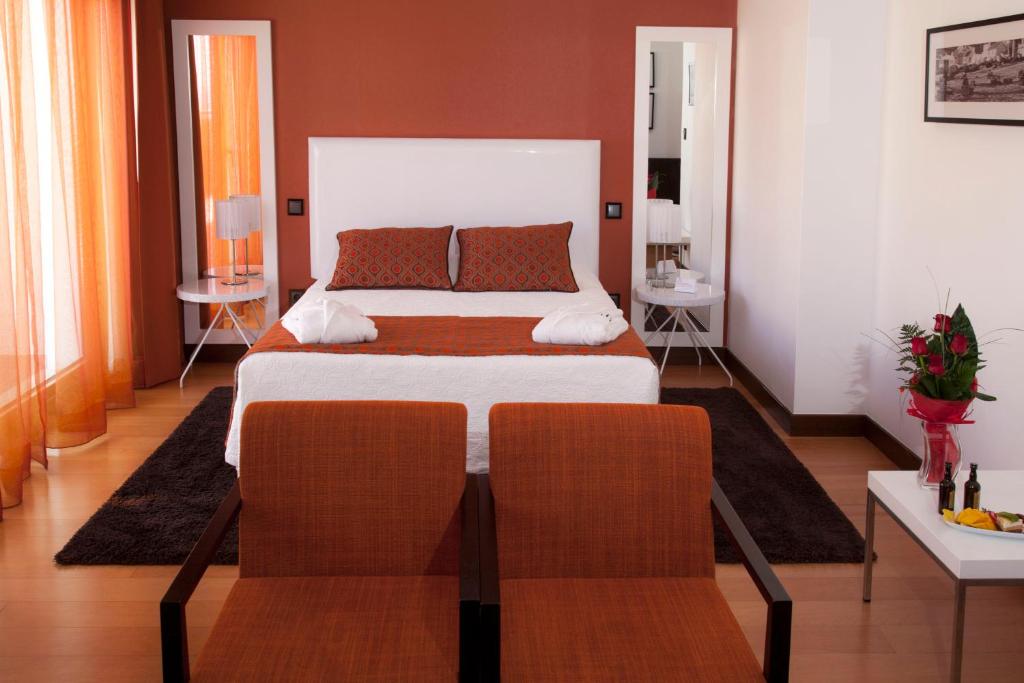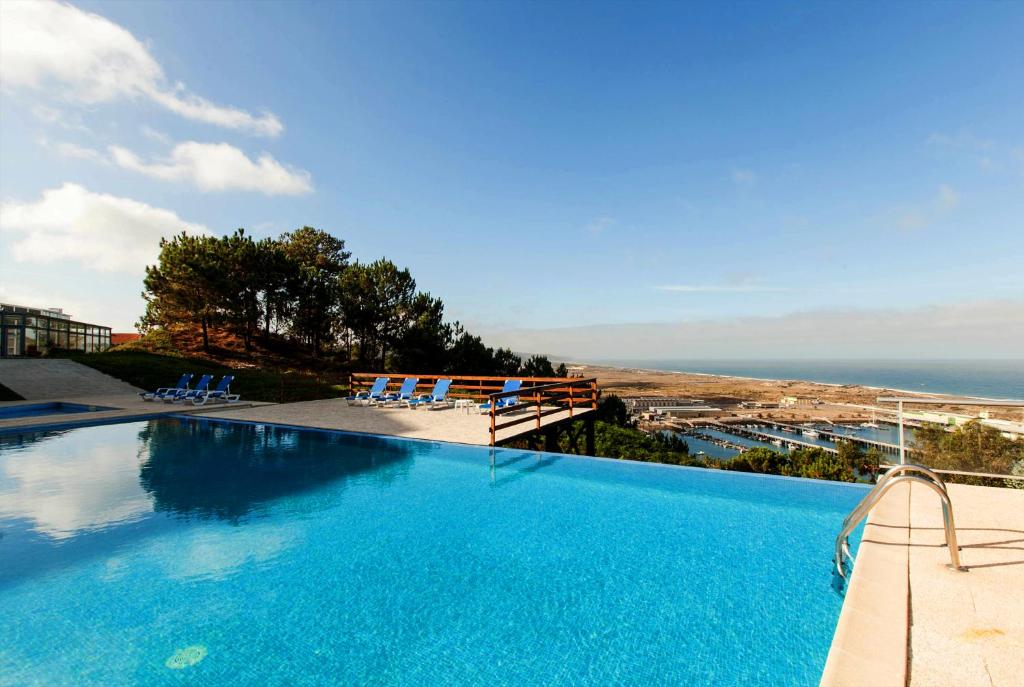 A 1-minute walk from the beach, Hotel Mar Bravo is a 3-star hotel with a beachfront location, as well as views of Nazare's main avenue. The hotel features a seafood restaurant, a covered outdoor terrace, and a 24-hour front service. The rooms are equipped with air-conditioning, flat-screen TVs, and private balconies with views of the beach and ocean.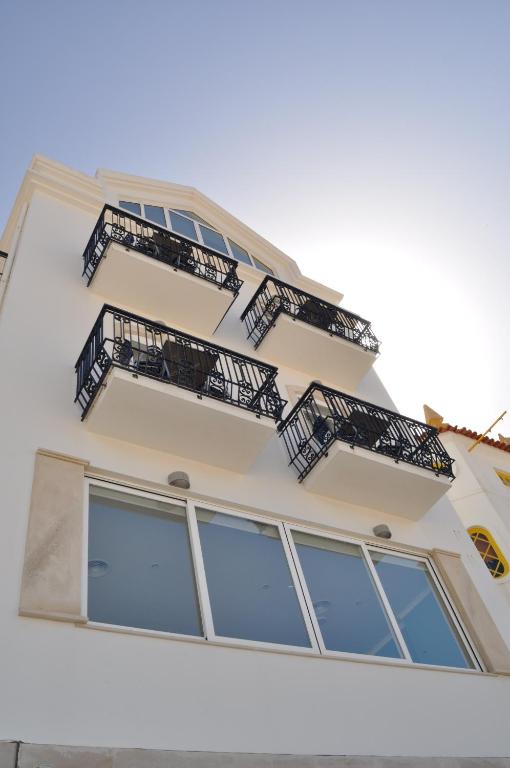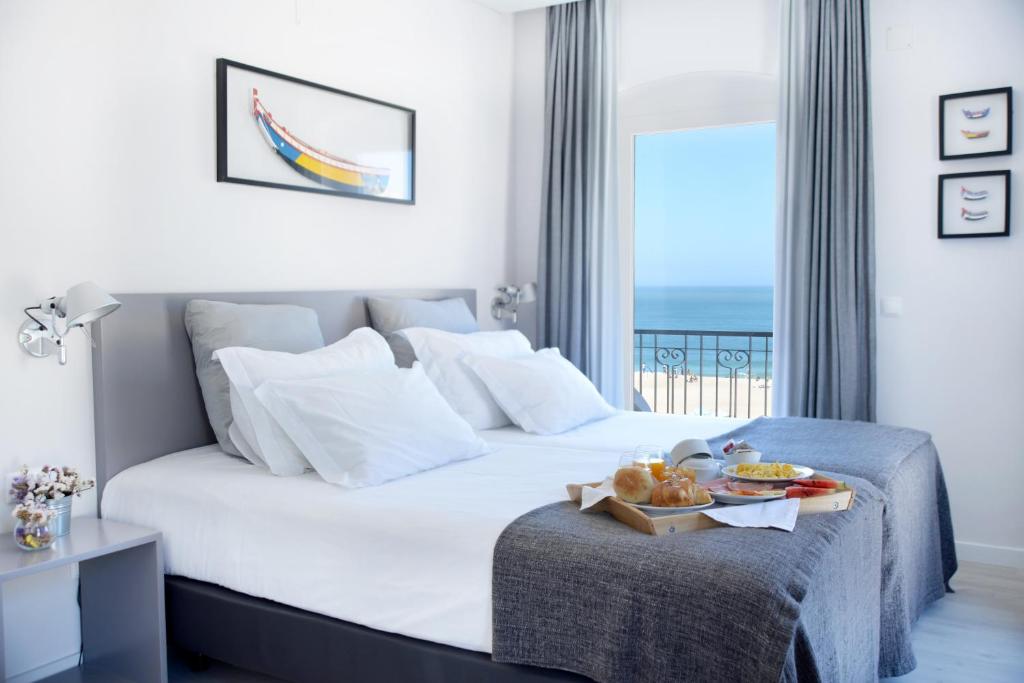 A three-bedroom home, Zulla House is the perfect family home for a Nazare getaway. This place features a large garden with an outdoor pool with views of the ocean. Sleeping up to 7 people, the holiday home includes 2 bedrooms, a kitchen, a terrace, a flat-screen TV, and free parking. A continental breakfast is available every morning at the aparthotel.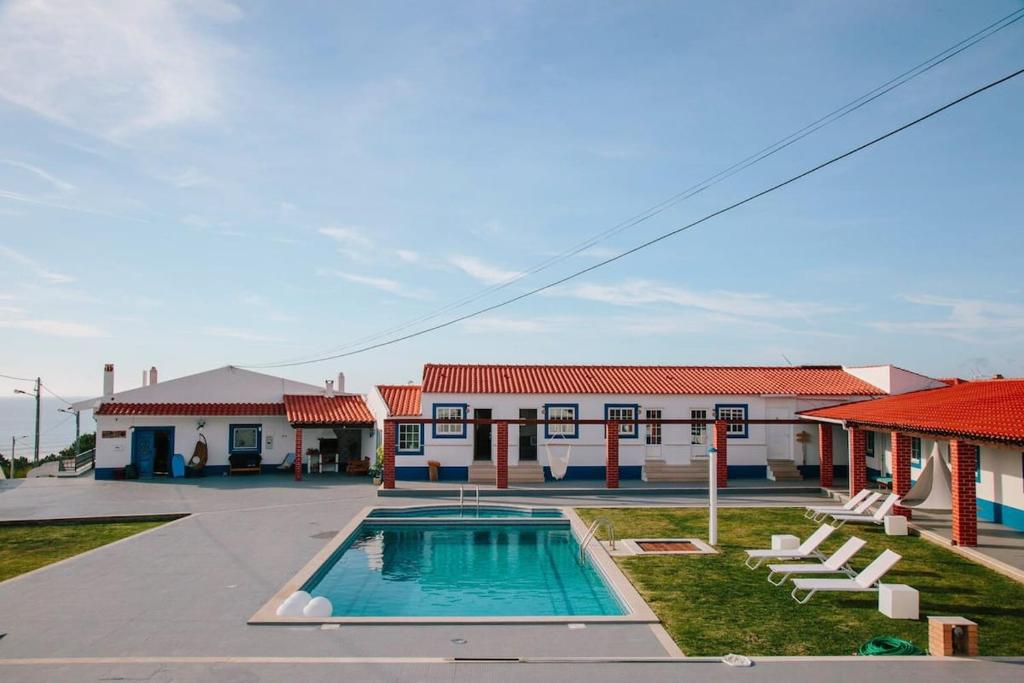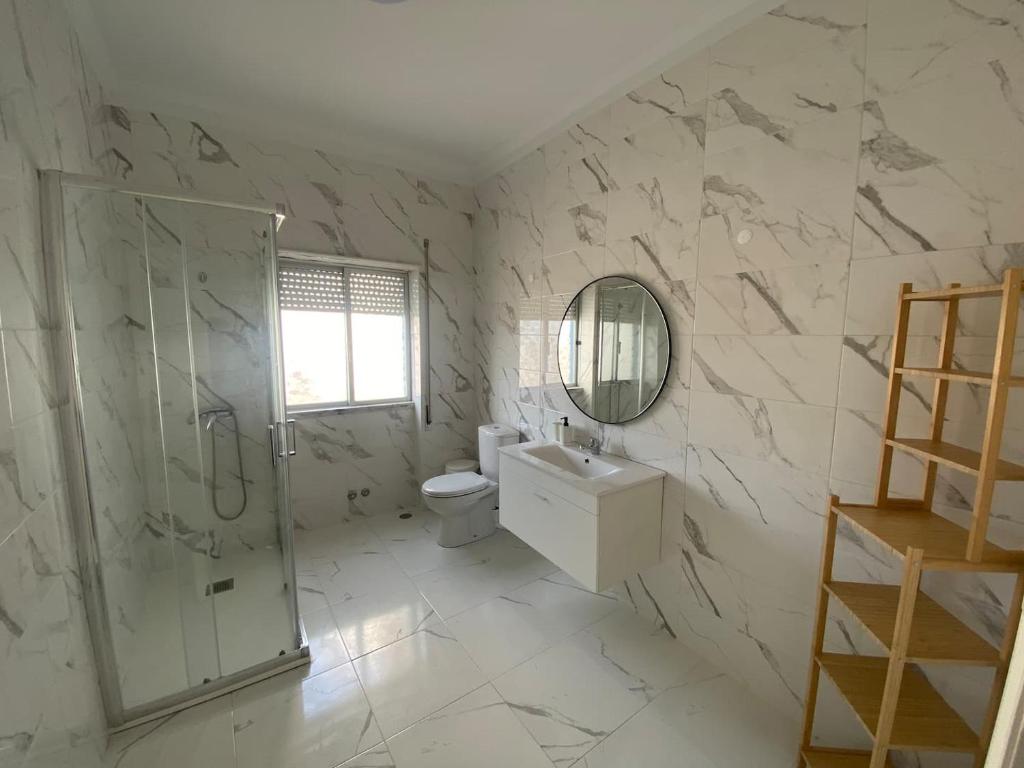 A 3-star hotel, Hotel Mare is located one minute away from the beach, in the heart of Nazare. The hotel features rooms with balconies overlooking the ocean, a flat-screen TV, air conditioning, and a private bathroom. Guests can book many activities at the hotel, such as snorkeling, windsurfing, and fishing, as well as rent a car at the hotel.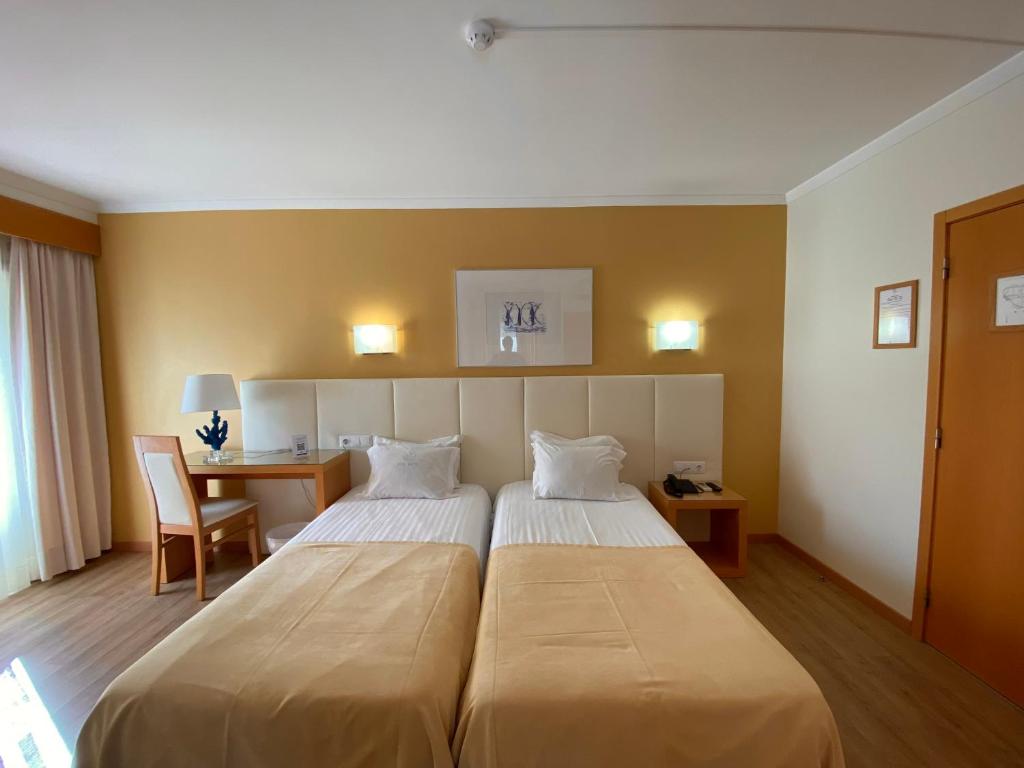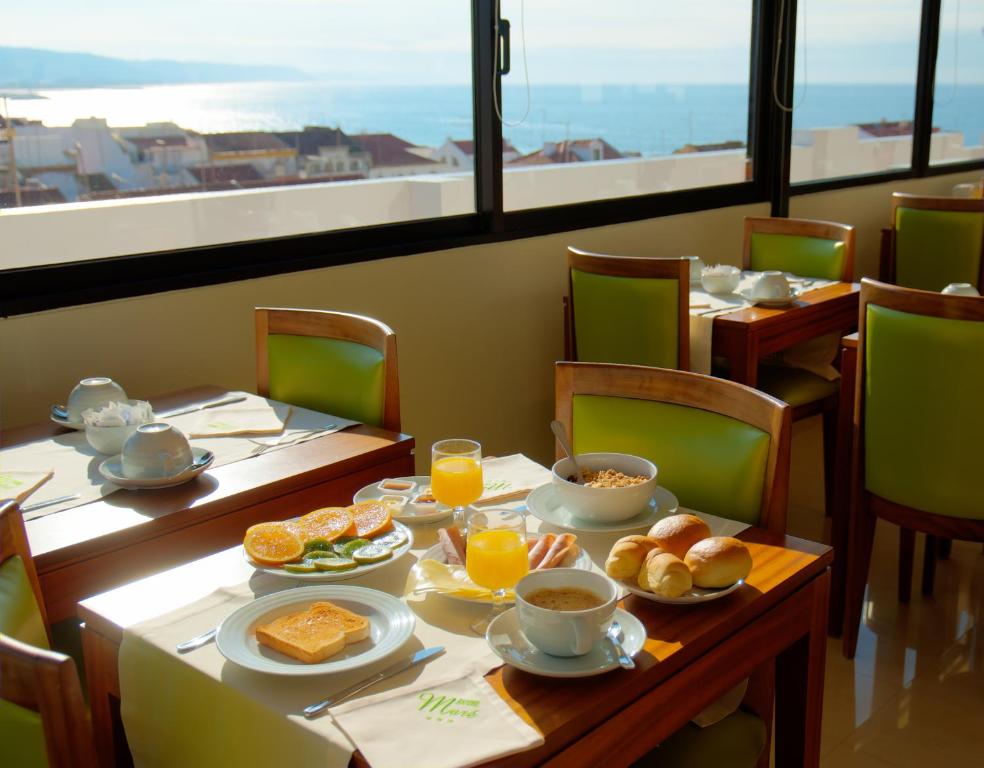 A 4-star hotel, Hotel Praia is located in the center of town, only a one-minute walk from the beach. The hotel features a rooftop-covered pool that is perfect for a sunset dip, as well as a bar with a sea-facing terrace. The rooms are equipped with a flat-screen TV, desk, colorful bathrooms, and a kitchenette. The hotel also features a modern gym.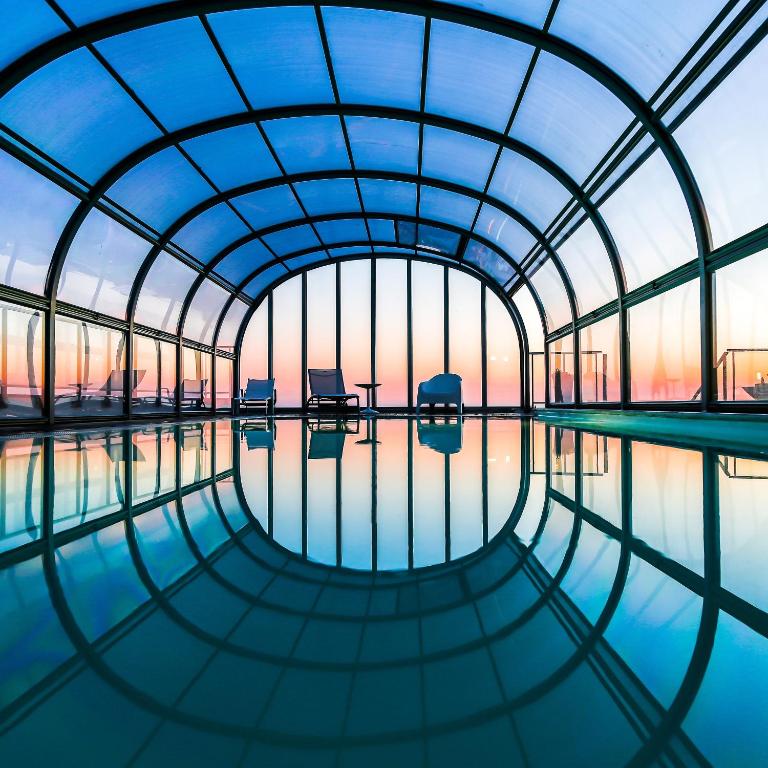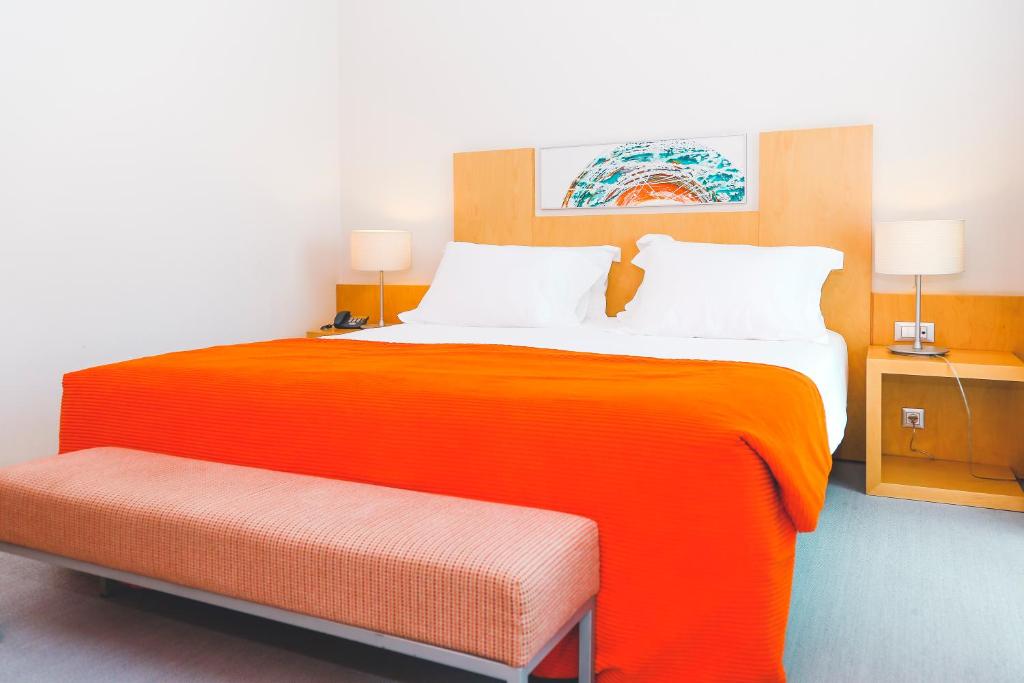 Where to Eat & Chill in Nazare
One of the best things to do in Nazare, Portugal after a surf ride is to go to a bar. One of the coolest places in Nazare is Sunset Boulevard Bar with chilled reggae bits and a great laid-back feel. Other nice places to kick back include Bla-Bla and Zulla Terrace Bar.
To add to this there are a number of wine bars, such as Tapas Wine Bar, Paris Latino, or Restaurante O Vicente, where you can sample the world-renowned heady Portuguese wine.
If you are looking for local cuisine, head to the old town with its quaint restaurants and cafes. Nazare is one of the best places to try out Portuguese fare. For this, go a couple of blocks from the seaside esplanade to Restaurante A.Tasquinha, to taste the local seafood cooked in the local manner, one of the best things to do in Nazare, Portugal. If there, don't miss out on grilled tiger prawns and rice seafood soup.
Other places to eat local food include eateries in the old town like Sitiado, with its juicy roasts, and downtown-based Restaurante Maria do Mar and Esmeraldo Restaurante, located further inland from the downtown. Those who are searching for something more exotic should pay a visit to Little India, one of the best places to eat Indian food on the Silver Coast.
Also, note that you can buy dried sardines from the vendors at the esplanade (don't forget to re-hydrate them before eating), one of the local staples.
When to visit Nazare
The surfing season at Nazare do Norte opens up in late September and lasts till April. It is then that the most indomitable surfing spirits head to Nazare to test their luck.
In summer, it is still possible to chase amazing waves but the town starts receiving vast inflows of tourists coming to taste its delicious seafood, enjoy its pretty townscape and laze in the sun on its picture-perfect Praia do Nazare.
Note that it is worth visiting Nazare during the ten-day-long Festival of Our Lady of Nazare, starting on the 8th of September. There you can see bullfights, fairs, fireworks and folk dancing, all making the festival really worth attending.
Also keep in mind that Nazare is home to a unique yearly Carnival, beginning on the 3rd of February, and great Christmas celebrations. The Carnival and Christmas celebrations are renowned for their joviality and great costumes.
What to take along
Don't forget to take a good warm surfing wetsuit and keep in mind that you can rent all the necessary sports gear on the spot.
Other things to do in Nazare
The town of Nazare proper is made up of three parts: Praia, the large district close to the beach, and two old districts, Pederneira and Sitio, lying above the town.
One of the musts to do in Nazare is to ride a funicular to Sitio, perched atop the hill. It is not only a great way to take in the stunning vistas of the sea and town, but it is also a chance to discover Nazare's old town. On top of the hill, in Sitio, you can find the centuries-old Cathedral, housing the statue of the Virgin Mary of Nazareth, after whom the town was named. Also to be found are souvenir stalls, and buildings with pretty facades, along with many choice eateries and lodging houses.
Once the old town is discovered you can succumb to the charm of the district off Praia do Nazare. One of the best things to do there is to go to its Town Market, Mercado Municipal Nazare, and then get lost in the maze of its narrow white alleys, where each corner harbors a secret. Also don't miss out on Pederneira, a quite wholesome village located some distance away from the main areas of town and a great aquapark, a short distance away from Praia do Norte, Norpark.
If already somewhat sated with surfing, and willing to do some "ground" sports go cycling around Nazare, one of the best towns in Portugal to cycle around.
One of the nicest bike routes is a 33km track from Sao Martinho to Nazare. Even if challenging, having to go across hilly terrain is offset by mind-blowing vistas along the way. Most of the ride is through the scenic Serra de Pescaria from Sao Martinho do Porto to Nazare. If heading back to Sao Martinho prepare for meandering paths through beautiful dense forest on your way back.
You can also cycle between Nazare's beaches and even venture further inland and uncover the picture-perfect region of Leiria. There are also 4×4 buggy tours that take you on- and off-roading, giving you spectacular views.
Note that you can rent a bike at E-Motion Nazare, at R. da Caridade 9; or at Bikes & Boards at Av. dos Bombeiros Voluntários Lote 2,
Conclusion
Nazare is one of the best towns to visit in Portugal. It is known for its awe-inspiring surf but it is not just that. It has arguably Portugal's best seafood, eye-pleasing architecture, and a lot of stunning sandy beaches in its environs. What is more, it is where one of Europe's most colorful carnivals takes place with the locals' love for color and feasting felt throughout the year. Head to Nazare to uncover the one-of-its-kind atmosphere of the town and if brave enough jump on a surfboard and tame the savage rollers.
⬇️Please share your favorite activities and things to do in Nazare in the comments⬇️