Santa Maria, the Sunshine Island of the Azores got its name for being one of the warmest and driest islands in the archipelago, as this island is the most southern of the Azores. This island was the first to be discovered by explorers and was the first to be formed, making it incredibly special. Along with São Miguel 81 KM away, Santa Maria is part of the Eastern Group of the Azores. Santa Maria is unique from the other islands, with yellow beaches and even a "red desert". From exploring the town center Vila do Porto and swimming in some of the best natural pools in the Azores, Santa Maria is an island to not miss. The island of Santa Maria is the home of 6,000 Azoreans and is around 96.87 km².
What to do in Santa Maria?
1. Water Sports
Santa Maria has a lot of water sports for adventure seekers. The best way to experience water sports in Santa Maria is to book a tour with a professional. For example, book this half-day diving activity with certified divers where you'll get to see the best dive spots on the island for €80. The island has a lot more to offer, from sailing to surfing and water skiing.
2. Natural Pools & Beaches
Santa Maria has some of the best swimming spots in all of the Azores. Made of volcanic rock, the Baía dos Anjos (Angel Bay) is located in Vila do Porto and is a well-known swimming spot for locals and tourists alike. This spot also has a wide variety of bird species that you will get to observe. Santa Maria also has the largest waterfall in all of Portugal, Cascata do Aveiro. The waterfall is over 100 meters long and is located in Maia. You can access it through a hiking trail. Other great swimming spots in Santa Maria to visit are Piscinas Naturais da Maia and Praia Formosa, the latter being a white sandy beach.
3. Discover the "Red Desert" of Barreiro da Faneca
Barreiro da Faneca is a semi-desert that is red. This area is around 8.35 square KM and covered the Bays of Raposo, Tagarete, and Cré. This area is a protected landscape of the Azores since 2008. The red desert is part of the geological formation called the Feteiras Formation, the last volcanic eruptions in Santa Maria. You can discover the red desert by walking the signed paths.
4. Explore Vila do Porto
The main town of Santa Maria, Vila do Porto is where most locals live. This village has old houses in Manueline style from when the island was initially settled. Vila do Porto has some gorgeous buildings for you to explore. One of the oldest churches in the Azores, the Parish Church of Nossa Senhora da Assunção is a must-see, as well as the Church of Nossa Senhora da Purificação. Make sure to visit the São Brás Fort designed by the Italian Tomaso Benedetti that now is where the Military Museum is located.
Day trips from Santa Maria
São Miguel
The closest island to Santa Maria is São Miguel, a 4-hour ferry ride away of around €20. 80 KM away, São Miguel is the perfect spot for those who want to experience the classic Azorean life, as well as a larger city. You can't find this combination on any other Azorean island. Here are the best things to do in São Miguel:
Visit Sete Cidades: On the West side of the island, Sete Cidades is a municipality in São Miguel and probably the most famous place to visit on the island. Here you can visit the Lagoa das Sete Cidades, a large lake divided by a bridge into two parts: one green and one blue. Head to the Vista do Rei viewpoint where you can enjoy the best view of the lagoon.
Explore Ponta Delgada, the capital: The capital since 1546, Ponta Delgada is a cosmopolitan town that is full of historic flavor. Around 70,000 people live in the capital, around half of the whole island population. The best part is that you can walk around the city on foot and that it has the best restaurants on the island.
Discover Furnas: In the eastern part of São Miguel, you have Furnas, the thermal hotspot of the Azores. There are over thirty geysers around the Furnas village. These are essentially bubbling, steaming caldeiras that smell of sulfur. Temperatures range from 70ºC to 100ºC.
Hike the trails: São Miguel has the most hiking trails in the Azores with over 20 to explore. The best hiking trails in São Miguel are Lagoa do Fogo (11 KM, 4h00), Sete Cidades (7.7 KM, 2h00), and Lagoa das Furnas (9.5 KM, 3h00).
Try some pineapples: There are many pineapple plantations but the most popular is Arruda Plantation. You can walk through where these pineapples grow and learn about the time-consuming plantation methods used to produce them. The plantation has a cafe where you can buy pineapple cakes and ice cream.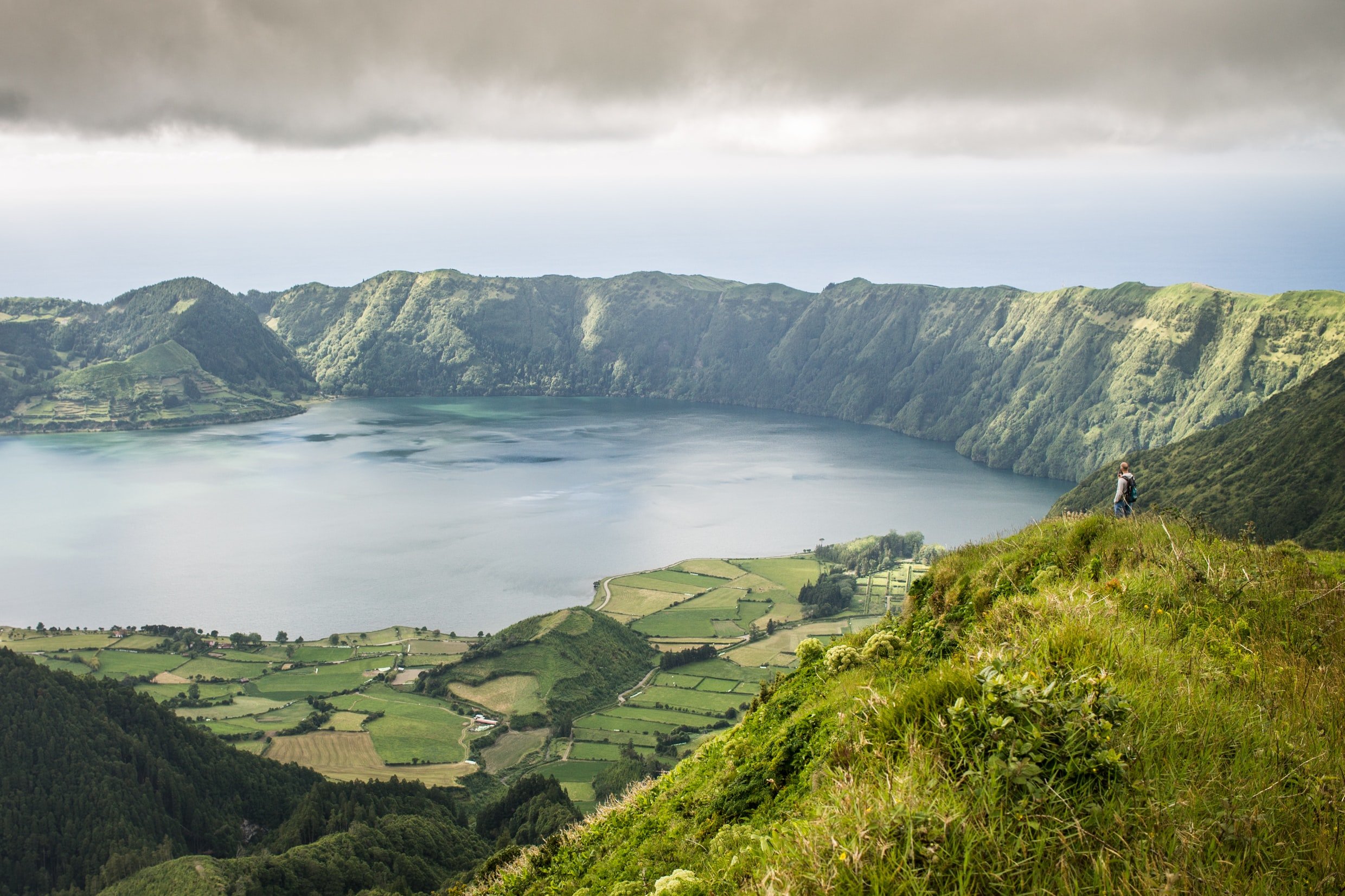 5 Best Restaurants in Santa Maria: Where to eat in Santa Maria?
Looking to try out some local Azorean dishes? Before we get into the 5 best restaurants in Santa Maria, here are the best foods to start in Santa Maria.
Santa Maria Cantaloupe
Alheira (Fried meat pastry)
Lapas (Limpets)
Local cheese
Fried mackerel
Meat dishes
Now that you're ready to order, where should you go to try some of these typical Santa Maria foods? We have selected the 5 best restaurants in Santa Maria.
Located in the São Lourenço Bay, Ponta Negra has a gorgeous terrace where you can enjoy authentic Portuguese dishes, prepared by well-renowned Azorean chefs. This place even has a kid's corner where children can play. Perfect for the whole family, even pets are allowed. We recommend trying the fish soup, fish stew, and fried prawns. A meal here costs €25.
A Travessa Cafe Snack Bar in Vila do Porto is a top-rated restaurant in Santa Maria, known for its quality customer service and its artisanal beer. This quaint little place is a great place to try some regional dishes. We recommend the steak with fries and the octopus. Their burgers are also delicious with Azorean bread. You can get a meal here for €15.
Located in the hotel Charming Blue, Mesa d'Oito offers a luxurious dining experience, one that you can also enjoy on the terrace by the pool. The interior of the restaurant is decorated in modern decor that provides a stunning contrast with the traditional stone of the walls. They even have vegan and vegetarian dishes. You can have a meal here for €25.
O Grota is located in Santo Espírito, Vila do Porto. This family-run restaurant serves local dishes at an affordable price and offers a gorgeous sea view. Presented in ceramic dishes, the food at O Grota is served in an authentic Azorean manner so that you get the full local experience. We recommend the fish stew and lapas (limpets). You can get a meal here for €10.
Located in the local Naval Club in Vila do Porto, Clube Naval Bar Restaurante offers exceptional dishes. At this place, you can enjoy some fresh seafood with a view of the ocean. Customers call this the perfect post-diving spot for a meal after you've explored the sea life. We recommend the lapas (limpets) and seabass. You can get a meal here for €15 to €20.
Transportation: How can you get around the island of Santa Maria?
Public transportation in Santa Maria is not a great travel option for tourists. The bus systems in Azorean island are not designed to get to the best tourist spots and are made to fit the daily lives of the locals.
If you can, definitely rent a car. You can pick up a rental car from the airport and return it when you are flying back. We recommend renting a car in advance because especially in the summer months, these run out fast. You can rent a manual car starting at €60 a day.
5 Best Places to Stay in Santa Maria: Where to stay in Santa Maria?
Charming Blue is a modern hotel that has 15 rooms in Vila do Porto, Santa Maria. Each room is elegantly decorated and comes with a view of the sea or pool, a TV, and a luxurious bathroom. The hotel has a large pool for guests to enjoy as well as its own restaurant called Mesa d'Oito where you can enjoy delicious dishes. You can also enjoy a highly rated breakfast at this place. You can get large rooms here for €80 a night.
Quinta do Falcão is an 8-hectare farm with townhouses in Almagreira that has everything you need for a luxurious stay. The farm has sea views from the garden which guests can enjoy. Every unit comes with a kitchen equipped with a dishwasher and a private bathroom, as well as a patio. This property is also pet-friendly so you can bring your dog with you! You can get a one-bedroom apartment here for €85 a night.
Why not rent out a typical Azorean home? Casa da Bisa is a holiday home with two bedrooms, one bathroom, a dining area, a kitchen, and a gorgeous patio with landscape views. This 97 m² place is located in Santa Barbara, close to many places for hiking, diving, and fishing. The owners have also taken steps to make this property more sustainable. You can rent this whole place for €75 a night.
A holiday home, Casa Eira Alta is a 1 bedroom and has a balcony with gorgeous mountain views. Located in Santa Bárbara, this white and blue house can sleep up to 3 people with two double beds. You can rent this full house for only €50 a night.
A cheap option in Santa Maria, Azores Youth Hostels is located in Vila do Porto, a few minutes away from the Port. This place features an outdoor swimming pool for guests to enjoy and an outdoor terrace. The hostel has communal bathroom facilities and a shared lounge, as well as individual lockers to keep your belongings safe. You can also enjoy a buffet breakfast in the dining room every morning. A bed in a dormitory costs €19 and a private room for two people costs €40.
Final Thoughts
Santa Maria, the Island of Sunshine is one of the best islands to visit in the Azores. Not only does it have some of the best weather in the Azores due to its location, but it is also the oldest island in the archipelago. This Azorean island has an activity for everyone, from water sports to discovering the "red desert", you won't forget this gorgeous island. It is also an affordable island where you can find luxurious farmhouses and high-quality restaurants at cheap prices. Santa Maria has everything you need for your island getaway, it's a real bargain.