A hot stop of religious tourism, Fátima, a city in Santarém receives around 8 million pilgrims a year. This romantic city is located one hour drive from Lisbon and is surrounded by mountainous parks and villages with stoned houses. But most tourists flock to the spiritual city as it is known for its miracles in the iconic Sanctuary of Fátima. The sanctuary even sparks the curiosity of atheists and is welcoming to all religions, not just Catholicism.
In 1917, three shepherd children witnessed the apparition of Mary, the Mother of Jesus, six times over six months. The children said that Mary, also known as Fátima told the children the "Three Secrets of Fátima". These were apocalyptic prophecies that according to Catholic interpretations mentioned events such as World War II, the rise and fall of communism, and the assassination attempt of Pope John Paul II. Fátima allegedly told the children to spread these secrets and that sinners would need to be converted as their evil behavior was the main cause for these issues.
These three apparitions and the spread of the messages throughout the city culminated in the Miracle of the Sun, allegedly witnessed by over 70,000 people. There are many accounts of what this miracle consisted of but most say that after a period of rain, the skies cleared and the sun appeared as a spinning disc in the sky with radiant colors.
These events were later declared as miracles by the Catholic Church in 1930 and religious buildings were built at the site to honor them. The Sanctuary of Fátima, the reason millions visit the city yearly, is a group of Catholic religious buildings including the Basilica of Our Lady of the Rosary and the Chapel of the Apparitions which was built in the place where the three shepherd children were visited by Mary.
The most popular times to visit Fátima are on the 13th of the month between May and October when the apparitions occurred. Many Portuguese walk hundreds of kilometers to get there on these days, over 140 km from Lisbon and over 350 from Valença. Many that travel to the sanctuary are facing terminal illnesses or bereavement and looking for religious guidance. Therefore, be respectful. Do not take selfies and dress modestly.
What happened at the Miracle of Fátima?
Where is Fátima in Portugal?
Fátima is a city located in the district of Santarem in the Central Region of Portugal. Fátima is situated 130 kilometers away from Lisbon (1.30 hour drive) and less than 200 kilometers away from Porto (2 hour drive). The nearest airport to Fátima is Lisbon airport, around 100 kilometers away. However, if you find it more convenient and affordable to fly to Portugal, it is around 180 kilometers away.
What to do in Fátima
Fátima is not only known as a religious site but the city is also filled with cultural activities. From lighting a candle at the sanctuary for a loved one to visiting local villages, the city has a lot to offer. Here are our favorite things to do in Fátima.
3 Best Tours & Experiences in Fátima
This day trip from Poro takes you to the holy site of Fatima and the university town of Coimbra. You will get to learn about the Sanctuary of Our Lady of the Rosary, as well as the miracles that happened there. In Coimbra, you will get to experience a walking tour conducted by university students.
Book Porto: Fatima and Coimbra Day Trip
This full-day tour takes you from Lisbon to the Sanctuary of Fatima for a personalized experience. You will also get to visit the beach resort of Nazare and the quaint medieval town of Obidos.
Book Lisbon: Fatima, Nazare, and Obidos
Another great tour from Lisbon, this day trip takes you to Fatima, Obidos, and Nazare. You will learn about the children's apparition of the Virgin Mary, as well as visit the town of Obidos. Finally, you'll get a glimpse of the fishermen's life in the seaside village of Nazare. This is a small group tour up to 8 people.
Book Lisbon: Fatima, Nazare, and Obidos
Things to do in the Sanctuary of Fátima
1. Stand in the main square
The main square of the Sanctuary of Fátima is huge! The perfect place to start. It's larger than the square of the Vatican and can hold thousands of people. You can gauge the beautiful Basilica of Our Lady of the Rosary and enjoy how enormous, but yet peaceful the whole religious site feels.
2. Basilica of Our Lady of the Rosary
This Basilica, known as "Basilica da Nossa Senhora do Rosário" in Portuguese, is a limestone church built between the 1920s and 50s. It has a 65-meter bell tower and a statue of Our Lady of Fátima. at the entrance to the church. The church is decorated in Baroque style. Inside, the church has a 12,000 piece organ, 14 altars, and incredible stained glass windows.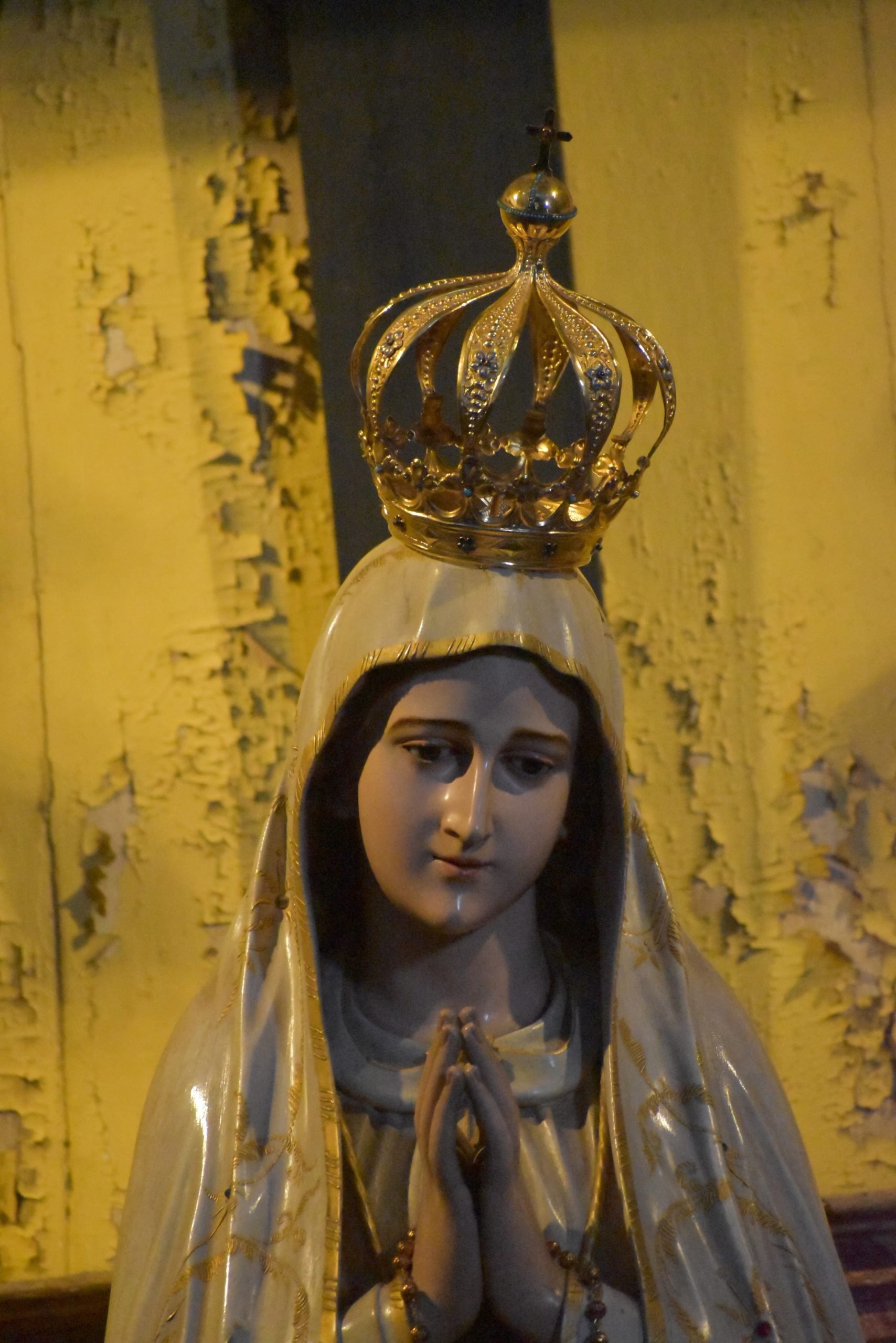 3. Chapel of Apparitions
This chapel was built on the site where the three children reported seeing Mary. It was completed two years after the sightings, in 1919. Mary allegedly told the children she wanted a chapel made there in her honor.
4. Light a candle
A religious highlight in Fátima is lighting a candle. You can purchase a candle near the Chapel of Apparitions from €0.80 to €2.70. Use it to pray or set an intention, as well as honor someone who has passed.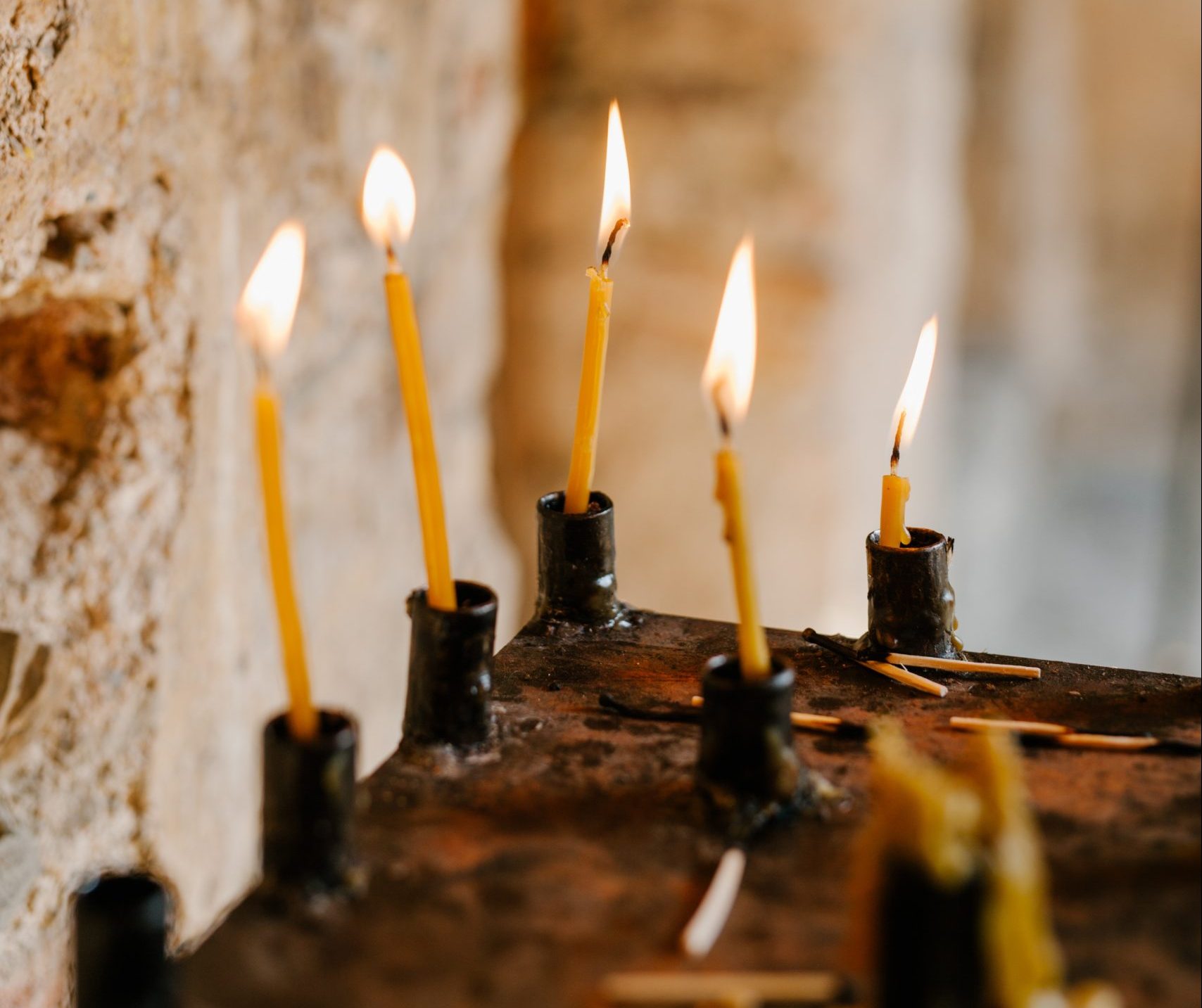 Things to do in Fátima outside the sanctuary
1. The Shepherd's Houses
Remember the three shepherd children that started the whole thing? You can actually visit the houses where the children that saw Mary back in 1917 lived. There are two houses in the tiny village of Aljustrel, a kilometer away from the sanctuary: the "Casa de Jacinta e Francisco Marto" and the "Casa da Lucia". The first house was where both Francisco and Jacinta died after the First World War of the flu epidemic. They lived here with their parents and three other siblings. The second house was Lucia's house, who was the cousin of Jacinta and Francisco. Lucia survived the flu epidemic, became a nun, and lived until 2005, dying at the old age of 97.
Also known as "Gruta de Moinhos Velhos", this cave is over 9 kilometers in extension and a 20-minute drive from the sanctuary. It is the biggest cave found in Portugal. The cave was first entered by humans in 1947. The caves are located in the Limestone Mountains, which form the Estremadura Limestone Massif.
Tickets cost €7 for visitors above the age of 12. Children under five years old can visit for free and children from 5 to 11 years old pay €4.20.
This dinosaur track site was discovered in 1994 by João Carvalho, a member of the local archeology association. Its located around 10 kilometers from Fátima in the heart of the Serras d'Aire e Candeeiros Natural Park. The footprints are over 175 million years old and were created by sauropods, dinosaurs with small heads and long tails and necks. This place has some of the longest dinosaur tracks in the world, with the longest footprint measuring 147 meters long.
The entry fee is around €3.
This museum narrates the story of the 1917 apparitions of Mary with life-like wax figures in approximately 20 minutes. 32 scenes and 120 figures report the main episodes of these events spanning a 34 year period.
Children under 6 do not pay. Adults pay €7.75. University students and families of four minimum get a 20% discount.
Where to eat in Fátima
Fátima might be known for its faith pilgrimage, but it also has a variety of quality restaurants. Keep in mind that inside the sacred grounds there is no food available. But a few minutes away, the city of Fátima is filled with affordable local food. Before we get into listing our favorites, you'll need to know what to order. Here are some typical Portuguese dishes and desserts to try in Fátima.
"Bacalhau" (codfish)
"Polvo à la lagareiro" (octopus)
"Bitoque" (thin steak)
"Arroz de Pato" (duck rice)
"Caldo verde" (green soup)
"Cozido à portuguesa) (meat stew)
"Pastel de nata" (custard tart)
"Baba de camelo" (camel drool or condensed milk mousse)
"Arroz doce" (rice pudding)
Now that you know what to order, here are our 5 favorite restaurants in Fátima.
Our favorite restaurant in Fátima is Tia Alice. This family-run restaurant is a 5-minute drive from the sanctuary and is a Michelin selection. We recommend their duck, roasted lamb, and codfish. This rustic restaurant with stone walls feels like home. This is probably the most famous restaurant in Fátima so book ahead.
The bill for two people will set you back around €50, but it is totally worth it.
This restaurant is only 200 meters away from the sanctuary. Although the interior is modern, they serve traditional Portuguese food. Try their "porco preto" (roasted pig) or their "Bife Cerveja Preta", a steak cooked in a dark beer. They also have vegetarian options which are quite uncommon in Fátima.
A meal for two here is around €40.
This typical restaurant uses local products and old recipes to produce classic Portuguese dishes. From "bacalhau à brás", a typical codfish dish with egg to roasted lamb, Arcos de Fátima has a large range of affordable dishes.
A meal for two here will cost you €20 – €30.
4. Restaurante O Leque
This "tasca" (tavern) is perfect for those who want to eat a lot without spending too much, the Portuguese way. From the classic "bitoque" (thin steak) to "frango no churrasco" (barbequed chicken), you'll find authentic Portuguese flavors.
A meal for two here will cost you around €20.
Wondering where to eat vegan food in Fátima? There are only a few restaurants in the city that are fully plant-based. Our favorite is certainly Kansha. They usually have a vegan buffet (closed because of COVID) and also offer a menu with daily specials. Kansha also has delicious vegan cakes that will make your mouth water.
A meal for two here will cost you less than €20.
Getting around in Fátima
Fátima is a small city, unlike Lisbon or Porto. Don't expect efficient transportation here. There is a large Bus Station in the city, where buses arrive from cities like Lisbon and Porto, as well as a railway station 20 kilometers east of the city. The bus station is very close to the sanctuary.
If you are planning on traveling throughout Fátima, either rent a car or book a guided trip with transportation. Walking is feasible if you are on a budget and are looking to stay close to the sanctuary, but not recommended if you want to explore the whole city. There are also affordable taxi services everywhere.
If you are flying into Lisbon airport, the closest to Fátima, then you can book this tour for €155 where you visit the sanctuary and other attractions with private transportation included. There are also packages from Porto for €95.
Final Thoughts
From its romantic villages with stone houses to the mesmerizing Sanctuary of Fátima, this city is a special place to visit. Even if you are not religious and think the whole miracle story is a sham, you won't regret traveling to Fátima. You can enjoy both spiritual and non-religious activities at differing price points. Just remember, avoid the 13th of the month between May and October when the apparitions occurred to flee the crowds. And be respectful of this holy site and those around you!
Fátima Mass Times
If you are heading to a mass at the Sanctuary of Our Lady of Fátima, make sure to check the mass times here. Mass times depend on the day of the week and are something altered. On Sundays, the mass times at the Fátima Sanctuary are the following:
7:30 AM
9 AM
10 AM
11 AM
12:30 AM
2 PM
3 PM
4 PM
5:30 PM
6:30 PM
9:30 PM
⬇️Please share your favorite activities and things to do in Fatima in the comments below ⬇️