Terceira is an active volcanic island in the Azores that also has many extinct volcanoes. The name Terceira means "third", as this island was the third to be discovered in the Azores in the 15th century. It is the second most inhabited island of the Azores, with around 60,000 people living there. The nearest island to Terceira is São Jorge island, around 38 km away.
The island's beauty is a consequence of the contrast between the natural landscapes of the volcanic island and the human-built historic center. The historic center and capital of the island is called Angra do Heroísmo. It was founded in 1534 and was the first place in the Azores to be classified as a city. It was made a World Heritage Site by UNESCO in 1983.
Terceira is also home to Lajes Field, also called Air Base no 4. This is home to the 65th Air Base group, a group of the United States Air Forces. They provide support to the US Department of Defense and NATO.
Terceira island is nicknamed "the festive island" because it's known for its local festivals that are full of life and represent Azorean culture. Carnival dances take place every year around Shrove Tuesday where for three days, the locals dance on the streets and perform shows. Another famous celebration is the Feasts of the Divine Holy Spirit, where for two months between Pentecost and the end of the summer, festivals around the island occur. There are many other festivals during the year that are worth attending.
What to do in Terceira?
1. Water Sports
The remote island of Terceira is a great spot to enjoy some water sports and discover the North Atlantic Ocean. The best way to explore is to book an experience or guided tour to make sure you are safe, particular as the Azorean sea is often quite wavy. We recommend booking this snorkeling tour where you will be accompanied by a professional and provided all the equipment necessary, for only €20. Another great experience is a jet ski tour where you will ride around the coast until the remote Ilhéus das Cabras (Goats Islets). This experience costs €60 and you will also get to ride between the isles, as well through small caves. A great activity for the whole family is a fishing experience where €127 per person, you get to learn how to fish on a boat and enjoy a nice lunch, as well as unlimited drinks. Last but not least, enjoy some whale and dolphin watching for €61 with a professional guide that can tell you all about these interesting creatures.
Terceira is a hiking hotspot, with 10 amazing trails suitable for any nature lover. Our favorite hike so far is the Mistérios Negros, a 5 km hike of fewer than 3 hours. You can book a professional to accompany you on this hike for €40.
Make sure to hike on "official" trails that are taken care of by the Azores Tourism Broad. These are properly maintained and signed with hiking markers throughout so people do not get lost. You can look up the official hike trails here. You can find the routes on a map, the duration of the hike, as well as the elevation levels, and more. Other great hiking trails in Terceira are Serreta (6.8 KM, 2h30), Passagem das Bestas (4 KM, 2h30), and Relheiras de São Brás (5 KM, 2h).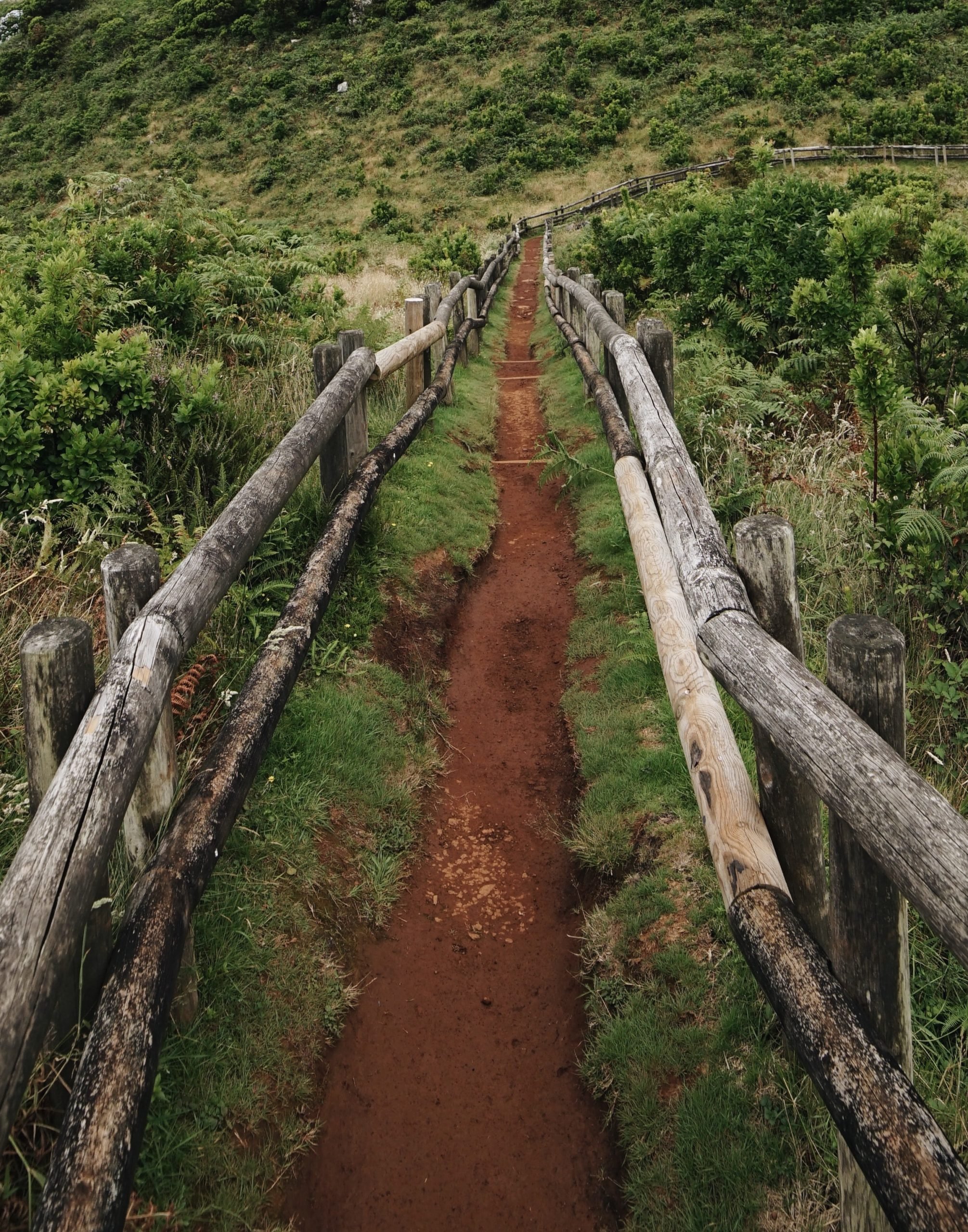 3. Historic Center
The historic center of Angra do Heroísmo is a must-see in Terceira. A UNESCO World Heritage site, this is one of three capitals in the Azores. Most people are not aware of this but the capital was hit by an earthquake in 1980 and many parts of it were restored within four years. This unique and quaint capital is a great spot to spend a day exploring. From the gardens, churches, and the City Hall Theatre, you will get lost in its Azorean beauty. We recommend booking this half day city tour where you will get to see the capital's main attractions with a tour guide for €35.
4. Extinct Volcano
Algar do Carvão is an extinct volcano in Terceira that anyone can visit. A force of nature, it has some of the largest silica stalactites in the world. The volcano is 150 feet deep and its size is remarkable. You need to book in advance to visit and tickets cost between €6 and €9, while children under 12 enter for free. If you would like the full experience book a tour with a guide here for €45.
5. Beaches & Natural Pools
The great thing about Terceira beaches is that many are sandy, instead of made a rock. This makes swimming and enjoying the beach a lot more easy and hassle-free. Terceira has several beaches and natural pools that will make you feel like you are on a tropical volcanic island. Here are our five favorite beaches and natural pools in Terceira: Prainha, Biscoitos, Praia da Angra do Heroísmo, Praia da Vitoria, and Piscinas Naturais de Porto Martins.
5 Best Restaurants in Terceira: Where to eat in Terceira?
Being the second most populated island, Terceira has a large variety of restaurants with Azorean food. Let's first figure out what you should our so you can fully experience Azorean cuisine. Here are the best dishes in Terceira:
Alcatra (Pot roast style beef)
Seabass
Lobster
Shrimp
Queijadas da Dona Amélia (soft pastry)
Terceira cheese
Now that you know what to order, here are the 5 best restaurants in Terceira.
One of the oldest restaurants on the island of Terceira, Boca Negra is a classic. They specialize in fish Alcatra, a local dish that originated on the island in the 15th century. Since  Boca Negra was opened in 1986, it has become an iconic hotspot for tourists and locals alike. Their seafood dishes are of high quality and we recommend also trying their sardines and fish soup. You can have a meal here for €15.
Located in São Sebastião, this restaurant specializes in regional dishes that are typical to the island. Their signature dish is also the Alcatra, but the meat version. This place is located inside an old water mill, making the environment a rustic one, but with modern touches in the decor. You can have a meal here for €17.
Beira Mar has been open for over a decade and serves some of the best seafood dishes on the island. From squid to seabass, every single seafood dish is fished on the island. The restaurant has a view of the fishing port in São Mateus, providing a full seafood experience. You can get a full meal here for €15.
This place initially opened in 1998 as a snack bar and has developed into one of the most famous restaurants on the island of Terceira. Restaurante Caneta has the capacity for over 100 people and is a large family-run restaurant that offers many regional dishes. They even produce their own beef and pork meats! The Bife à Casa (Steak of the house) is one of the best dishes on the menu. You can have a meal here for €16.
Located in the historical center of Angra do Heroísmo, this is one of those restaurants that is always filled with people. They have some of the best regional dishes on the island. From meat and fish Alcatra to codfish, as well as regional desserts like Queijadas da Dona Amélia. You can have a meal here for less than €10.
Transportation: How can you get around the island of Terceira?
Terceira transportation is a bit better than other islands, but renting a car is still the way to go. The bus system is designed for the locals, not tourists looking to get to sights. You can look at the bus routes here and prices are usually less than €1 for a single trip.
If you can, definitely rent a car. You can pick up a rental car from the airport and return it when you are flying back. We recommend renting a car in advance because especially in the summer months, these run out fast. You can rent a manual car starting at €60 a day.
5 Best Places to Stay in Terceira: Where to stay in Terceira?
The Shipyard is located in the historical center, a 10-minute walk from Praiana Beach, one of the best beaches on the island. This place has a restaurant called Oficina da Esquina, a high-end restaurant serving Portuguese food. The property consists of a series of modern studios and apartments, perfect for any kind of tourist, from solo travelers to families. A studio with breakfast included costs €70 and a one-bedroom apartment is €85. They also have larger apartments at a higher price.
Located in Angra do Heroísmo, My Angra Boutique Hotel is the perfect place for traveling on a budget. Aside from private rooms and beds in dorm rooms, this hostel has a bar, a shared lounge, a garden, and a terrace. The shared kitchen is equipped with high-quality appliances and elegantly decorated. A private double room with a private bathroom costs €47 with a free breakfast included. A bed in a shared dorm room costs less than €20.
Located in Cinco Ribeiras, O Antigo Lagar is a 15-minute walk away from the beach. This property has multiple apartments that have a rustic feel to them. This place has everything you need. Each apartment has a patio with sea views, a kitchen, a private bathroom, and a living room. The property has a garden, barbecue, and a 24-hour reception. A one-bedroom apartment for 2 people here costs €50.
This 4-star hotel in Angra do Heroísmo offers a luxurious experience with a salt-water infinity pool, garden, and rooms with balconies overviewing the sea. Terceira Mar Hotel offers breakfast with regional products and the restaurant, Monte Brasil restaurant has delicious typical Azorean dishes. The hotel also has a fitness club and spa with a Turkish steam and indoor pool. A double room with breakfast included costs €60 to €80.
Located in Porto Judeu, this place has trendy bungalows with a relaxed feel. ALLuar Lodge has an outdoor pool for guests to enjoy, a shared lounge, and a sun terrace. Each bungalow comes with a flat-screen TV and a wonderful sea view balcony. A bungalow with a sea view and breakfast included costs €60 to €70.
Final Thoughts
If you are visiting the Azores, do not miss the volcanic island of Terceira. The second most populated island of the Azores, Terceira caters to all kinds of tourists. From those trying to save a buck to those looking for a luxurious experience, this island does not disappoint. Terceira is a unique island that features a volcanic backdrop that contrasts with the classic historical center. From hiking to whale watching, Terceira is full of experiences that you will remember for a lifetime.