Sintra: The Crown Jewel of the Portuguese Riviera
Sitting just 14 miles outside of Lisbon, Sintra is a charming municipality on the Portuguese Riviera. The perfect destination for a winter's escapade, Sintra is known for its beautiful palaces and mansions, 19th-century gardens, and surrounding natural beauty. Visiting tourists can explore both Sintra's beaches and mountains in just one afternoon, but the town is best known for its lavish monuments and unique ambiance.
Once the home of Portugal's wealthiest noble families, Sintra is still a very exclusive location, where real estate prices often reach millions of dollars. But while the town's embedded in luxury, tourists can find many affordable hotels and hostels near the city's center to spend the night. We recommend Sintra to all travelers who enjoy exploring nature, learning about history, and visiting stunning centuries-old landmarks.
Book Tours & Experiences in Sintra
What to Expect When Visiting Sintra
One of the best things about Sintra is that it's filled with little secret locations. From enigmatic patterns on the walls to hidden gardens, it makes for an authentic explorer's galore. But Sintra's charm, unlike its many secrets, it's impossible to miss. Once you enter the historic part of town, you'll feel like you're traveling back in time to the 19th century. Every house is old and royal, every store and restaurant is nice and cozy, and references to the English poet Lord Byron (arguably Sintra's most-famous former resident) can be found virtually everywhere.
Once you arrive at Sintra, we recommend that you take a walk through the town's historic center. There's a magical feel to it, as the surrounding forests and dense gardens make the local mansions look like the set of an old movie. The locals are pleasant and very accustomed to tourists. In addition to a few restaurants and gift shops, you'll find a couple of typical bakeries and cafés where you can try Sintra's best-known delicacies: the "travesseiro de Sintra" and the "queijada de Sintra."
Sintra's Famous Landmarks
Walking around Sintra is an experience in itself, but the town's most impressive once you start exploring its famous landmarks. Sintra's monuments such as the Pena Palace and the Park and Palace of Montserrat shouldn't be missed and have something to offer to all kinds of tourists, from traveling families to couples looking for a romantic experience.
The Pena Palace
The Pena Palace is arguably Sintra's most famous landmark, and it should keep you busy for a whole day. You can choose between paying for a ticket and exploring the site with your friends and family or joining a tourist's tour to get to know more about the palace's history. Either way, you're in for a fun afternoon!
The Pena Palace experience starts miles before the actual palace. The monument makes for a magnum opus of Portugal's Romantic era and is a must-visit for any architecture fan. But the surrounding garden—which is both very large and immensely diverse—is perhaps even more interesting than the palace itself.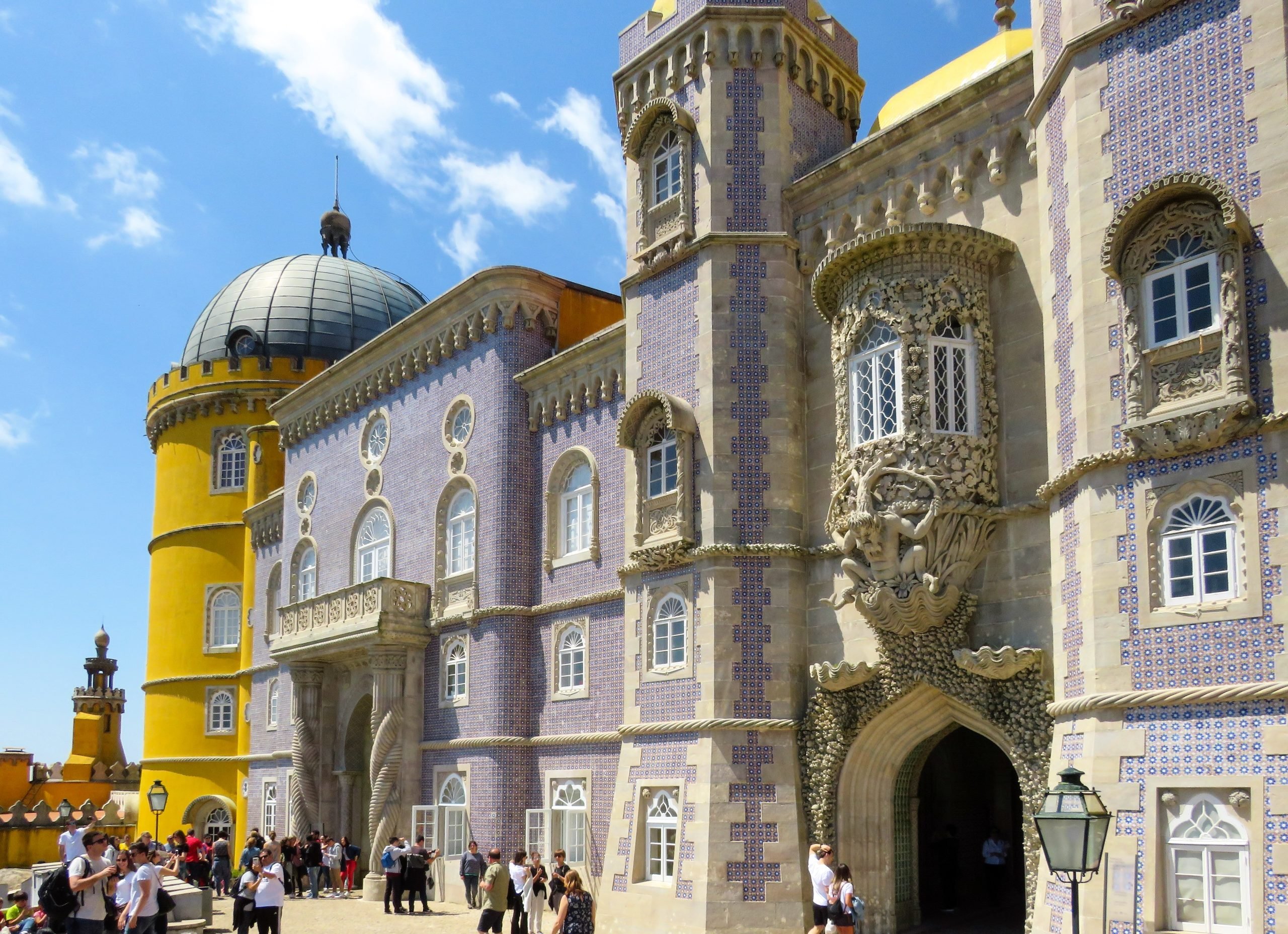 Exploring the entirety of the Pena Palace's garden in just one day is almost impossible, but you should give it a try. The garden is filled with both native and exotic vegetation and features many artificial lakes and fountains that should be worthy of a social media snap.
Book your ticket to the Pena Palace here to skip the line.
Book Pena Palace Tours & Experiences
Quinta da Regaleira
The name of the famous Quinta da Regaleira translates to something like "the farm of the satisfaction," and it's emblematic of what it feels like to visit it. Not a farm per se, the Quinta da Regaleira is a stunning Romantic-period palace and chapel that sits right next to Sintra's town center. That means you'll most likely be able to walk from your hotel or hostel to the landmark in less than half an hour.
Properly exploring the Quinta da Regaleira will take at least a few hours, though. As usual, you can choose between paying for the tourist's tour or buying a ticket and exploring it yourself. In this case, we recommend the latter. While the history of the Quinta da Regaleira is fascinating, we found it particularly satisfying to roam freely through its many gardens, religious sites, and secret tunnels.
From bizarre statues inspired by myths of Ancient Greece to austere Catholic chapels, the Quinta da Regaleira has a lot to offer to its visitors. However, the Initiation Well makes for its most-unmissable attraction. This mysterious ceremonious well features a spiral staircase that leads to Quinta da Regaleira's intricate tunnel system and looks like something you'd read about in a secret-society thriller novel.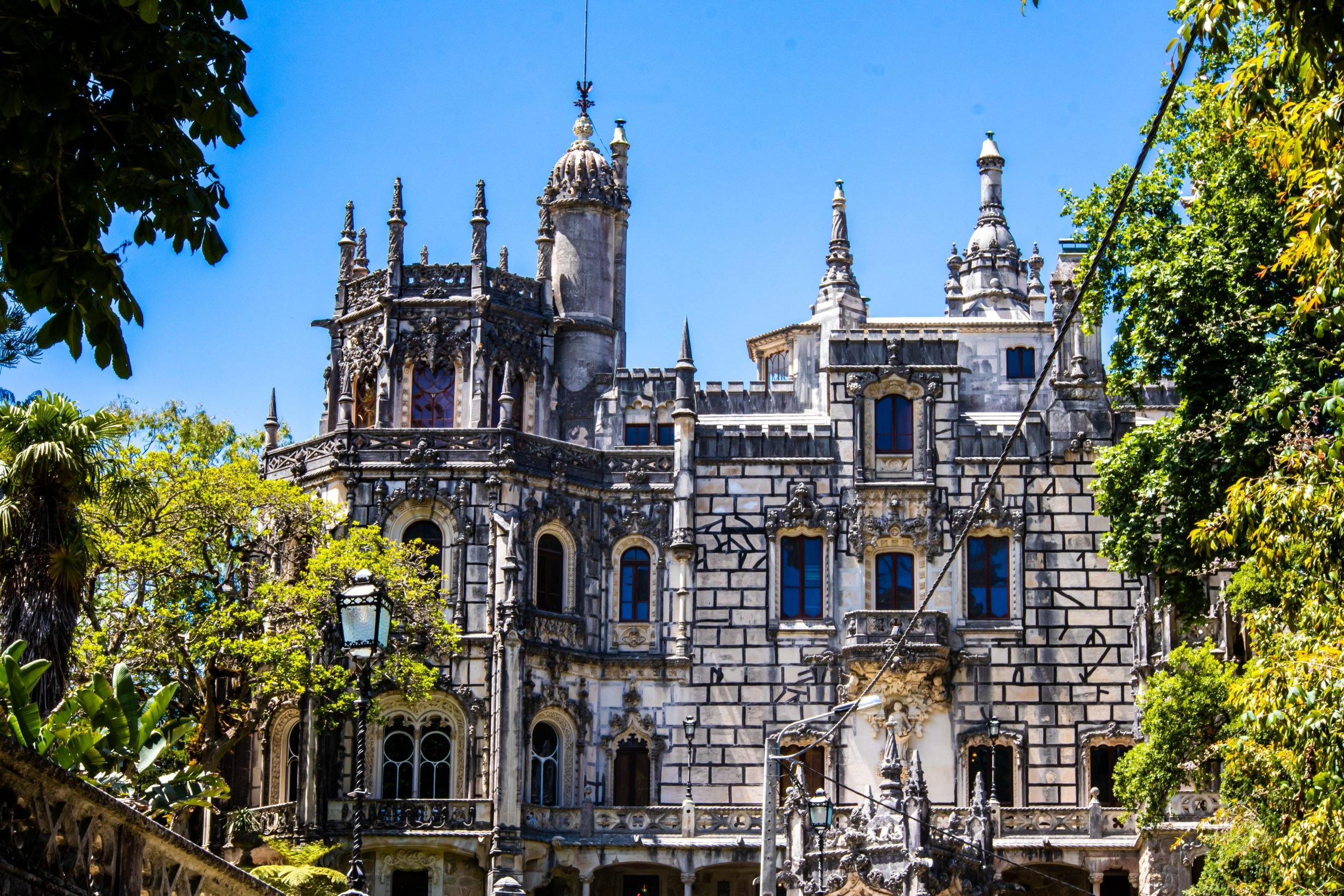 Book Quinta da Regaleira Half-Day Tour
Other Famous Landmarks in Sintra
While at Sintra, you also shouldn't miss the beautiful Sintra-Cascais Nature Park, the medieval-time Moorish Castle, and the sacred Sanctuary of Peninha, which sits right next to the beach. For other highly-commendable Romantic period locations such as the Pena Palace and the Quinta da Regaleira, you should visit the Chalet and Garden of the Countless of Edla, The Gardens and National Palace of Queluz, and the Villa Sassetti. The humble Convent of the Capuchos also makes for a fascinating monument, as does the Portuguese School of Equestrian Art—a mandatory visit to all animal lovers, especially those who are into horses.
Useful Tips for Foreign Tourists in Sintra
The fascinating town of Sintra offers more than enough to keep you busy for a week or two. But nighttime at the municipality can be a bit boring, especially during winter. For that reason, we recommend that you rent a car for your trip to Sintra. This will allow you not only to travel easily from the airport to the hotel or hostel but also to visit Lisbon at night—which is worth it!
The cosmopolitan city of Lisbon sits just 14 miles away and offers many nighttime activities that should be particularly interesting for groups of young friends. Renting a car will also allow you to explore Sintra's surrounding nature to its fullest. This incredibly diverse municipality has both beaches and mountains for you to enjoy, but getting to know them can be a challenge if you're relying only on Sintra's relatively flawed public transportation.
⬇️Please share your favorite activities and things to do in Sintra in the comments below ⬇️
Join our FB group Portugal Travel & Living for all things Portugal and news updates