When people think about visiting Portugal, their first thought is to go to Lisbon, the capital. Porto might be the second-largest city in the country after Lisbon, but it is not the second best! 280 km north of Lisbon, the beautiful city of Porto lies along the Douro river. Home to Port wine, street art, and "francesinhas", Porto is one of the world's top 100 cities with the most international visitors. Over 1 million tourists visit Porto every year, as well as thousands of digital nomads and remote workers looking to make the city a temporary home.
One of the oldest in Europe, Porto's old town in the city center is a UNESCO World Heritage site since 1996! It is no surprise that Porto is a city with a rich history and culture.
Porto has been inhabited by different groups throughout the ages, making it a melting point of heritage and history. The city was first inhabited by Celtic people. Then, during the Roman occupation of the Iberian Peninsula in the fourth century, the city was transformed into a commercial port. They renamed the city "Portus Cale", meaning "Port of Cale" (Cale is the original name for Celtic). Fun fact: this has been referred to as the origin of the name Portugal. The Visigoths then took possession of the city in the sixth century but lost it to Moors in the eighth century. Christian forces won back the city in 997 when Porto became the capital of Portucalense (northern Portugal). The Moors won it back again for a few years but in 1092 it went back into Christian rule.
During the eighteenth and nineteenth centuries, the city center increased dramatically in population size and became an industrial center. It went on to become a major city in the struggle for the end of the monarchy. Writers and poets with progressive views lived in the city during the nineteenth century. In 1820, a liberal revolution started in Porto demanding the end of the monarchy. After Miguel of Portugal became king, Porto rebelled against the ruler and an eighteen-month siege by the King's army occurred in 1832. Porto won and the King abdicated! Republicans revolted again in Porto in 1891 and many say these events led to the creation of the Portuguese Republic in 1910.
Since then, Porto has undergone many changes and improvements, like the construction of the Arrábida bridge over the Douro river in the 70s. Porto was elected Best European Destination in 2010 and 2014 and has seen a boom in tourism ever since, giving other European countries a run for their money. Our Porto city guide has all the Porto travel tips for your next vacation!
What to do in Porto, Portugal: Porto Travel Guide to Tourist Attractions, Activities, and Day Trips
Porto is one of the top cities to visit in Portugal, as well as all of Europe right now. The city offers many tourist attractions and activities that are affordable and will make visiting the city a trip to remember. From traditional Portuguese activities like a Port wine tour to historical attractions, as well as activities to do with children, the city has a lot to offer. Ready to explore Porto?
Book Tours & Activities in Porto
What are some traditional things to do in Porto, Portugal?
Wine tasting in Porto
A traditional thing to do in Porto is definitely a Port wine tasting, even if you are not necessarily a wine lover. Port wine is a Portuguese fortified wine produced in the Douro Valley. This wine is a sweet red wine that often pairs perfectly with dessert. On a wine tour, you can also taste other Portuguese wines including white and red wine. The best wine tastings are in Vila Nova de Gaia, across the Dom Luis Bridge from Porto, over the Douro river.
Caves Ferreira in Vila Nova de Gaia is one of the best places for a port tasting. Founded by a family of winemakers in 1751, Caves Ferreira is the only wine company from Porto that has always remained Portuguese throughout its history. They offer port tastings at different prices but a great option is a Classic visit for €15 per person.
You can also visit Ramos Pinto, an incredible vineyard established in 1880 by Adriano Ramos Pinto. They have over 80 hectares of vineyards across four Quintas (farms). You can enjoy a tour of their port wine cellars (Ramos Pinto Cellars) and a visit to their museum (Adriano Ramos Pinto Museum) that teaches you about the history of the brand for €12. You can do all this and have a port tasting of 5 wines at the end for around €25 in their tasting room.
While you're in Vila Nova de Gaia, make sure to ride the Gaia cable car at sunset to get a view of the Douro river and Porto.
Book Port Wine Tastings & Tours in Porto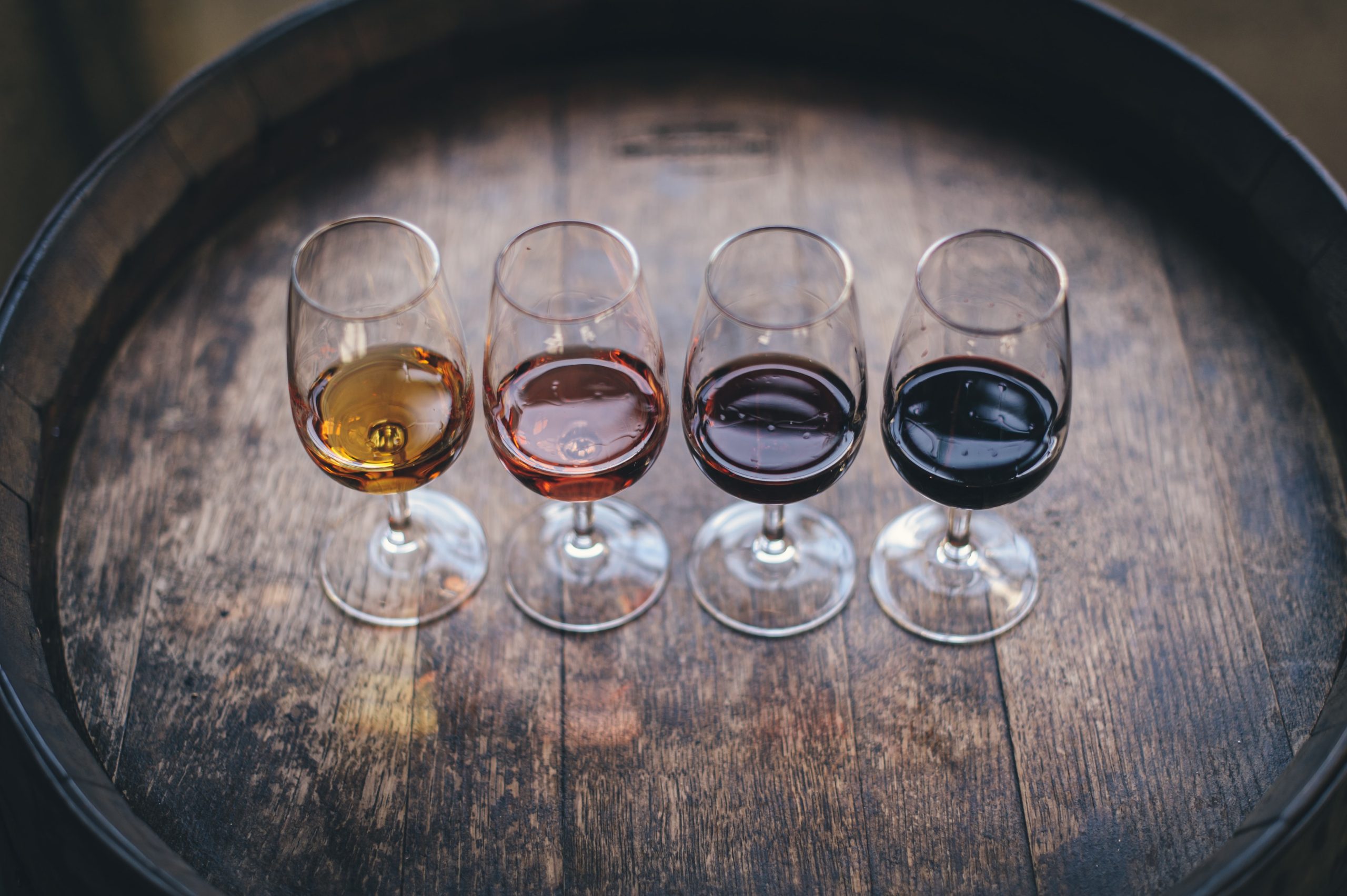 Fado houses in Porto
While many associate fado houses with Lisbon, Porto has many traditional taverns where you can listen to the iconic Portuguese music of fado. However, prices in Lisbon are often more expensive (€50+). In Porto, you can get the full experience of a large set menu and a live music show for a more affordable price, as well as a glass of Port wine.
A great place to go is Casa das Mariquinhas. Established in 1968 and close to S. Bento, all the great names of national fado have passed through its doors, singing fado most authentically, without microphones. You can enjoy a show and a large meal here for under €38.
Most fado houses do not allow you to just sit with a wine glass and enjoy the show. Usually, you need to book a table for a full meal. However, Galeria de Paris allows you to listen to a live fado show for only €15, which includes a glass of Port wine. Located in the old town, they also offer lunch menus for under €6.
What are some famous tourist attractions and monuments in Porto, Portugal?
One of the oldest cities in Europe, Porto has several famous historical attractions and monuments you cannot miss. Better yet – most of them are within walking distance of each other and located in the historic center, proclaimed a UNESCO World Heritage site. Here are our top 6 historical attractions and monuments to visit in Porto.
Want to see the city of Porto at 75 meters high? Located in the city center of Porto, the Clérigos Tower, or the Tower of the Clerics was built in 1763 by Italian architect Nicolau Nasoni. You can climb the 225 steps to reach the top of the tower, where you can enjoy a 360 perspective of the city. This is particularly beautiful at night and the tower is open until 11 PM, making it one of the best places to watch the sunset. The tower is built on a Roman Catholic Baroque church that is decorated with motifs, a style of architecture from the seventeenth century. The monument also offers a museum on the history of the building.
You can get a guided tour of the museum, church, and tower for €6.50 during the day. You can also visit the tower at night for €5.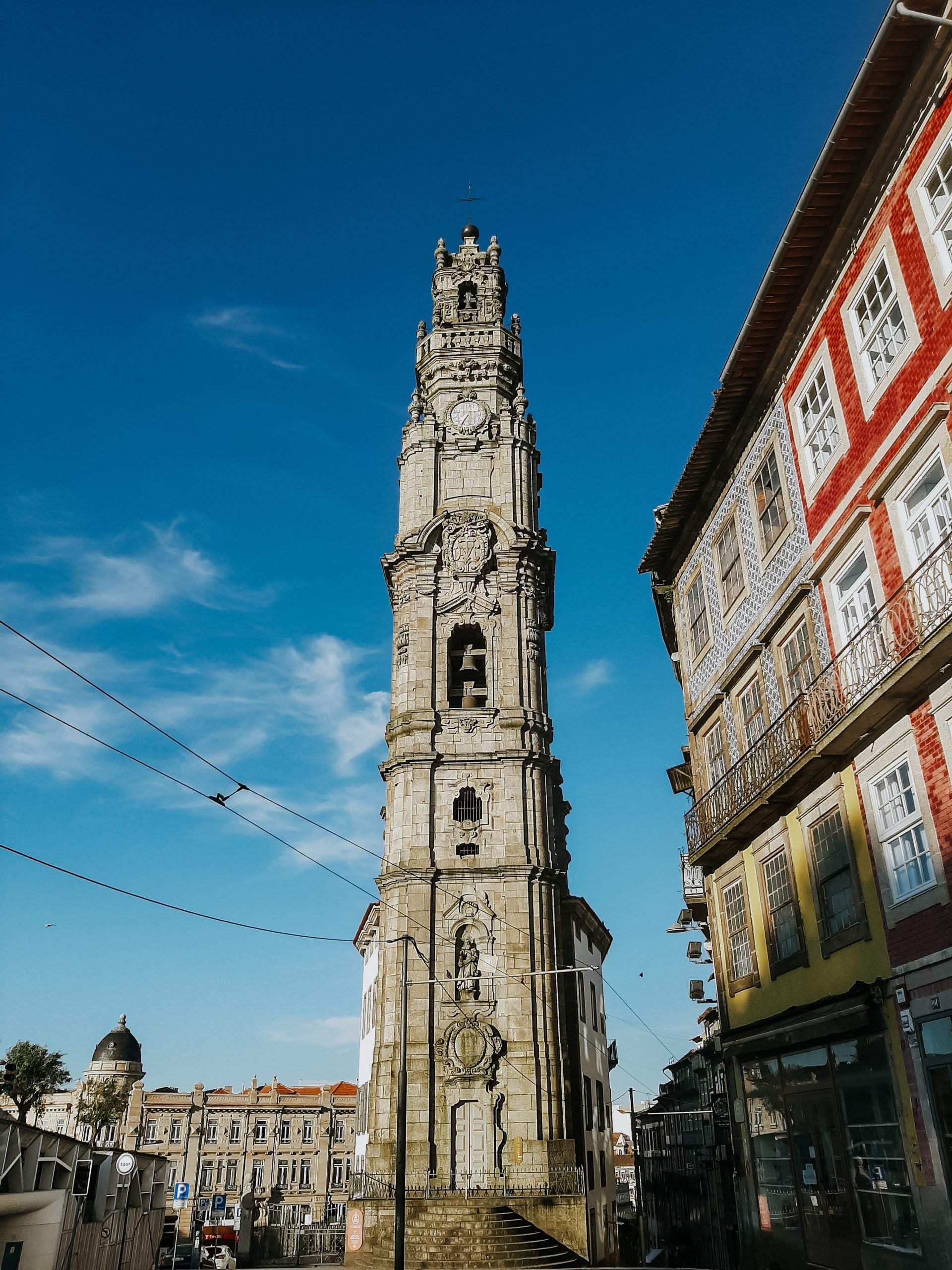 2. Livraria Lello
Livraria Lello is located in the city center of Porto and is one of the oldest bookstores in the country. It's known for being one of the most beautiful bookstores in the world. Founded in 1906, Livraria Lello has been a highlight of cultural life in the city, with many literary figures visiting the place. If you google the place, many argue that JK Rowling, the author of Harry Potter wrote the books at Livraria Lello. Sorry to burst your bubble if you are a Harry Potter fanatic, but this isn't true – JK Rowling has denied these claims and has never visited Livraria Lello.
Entrance to Livraria Lello used to be free, but they were getting 4,000 visits a day with long lines and less than 5% would buy a book. Now the tickets cost €5. Kids under 3 years old have free entrance.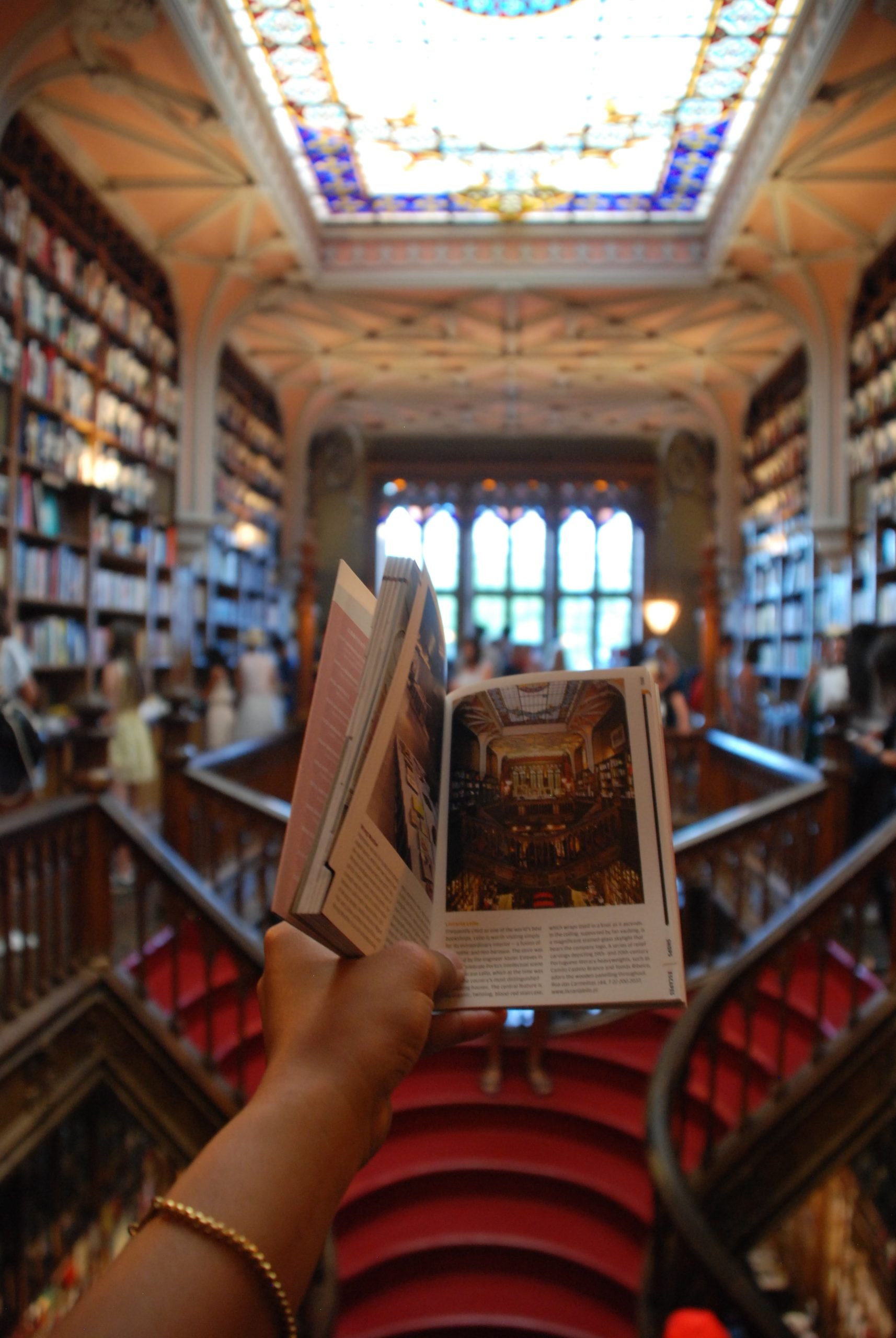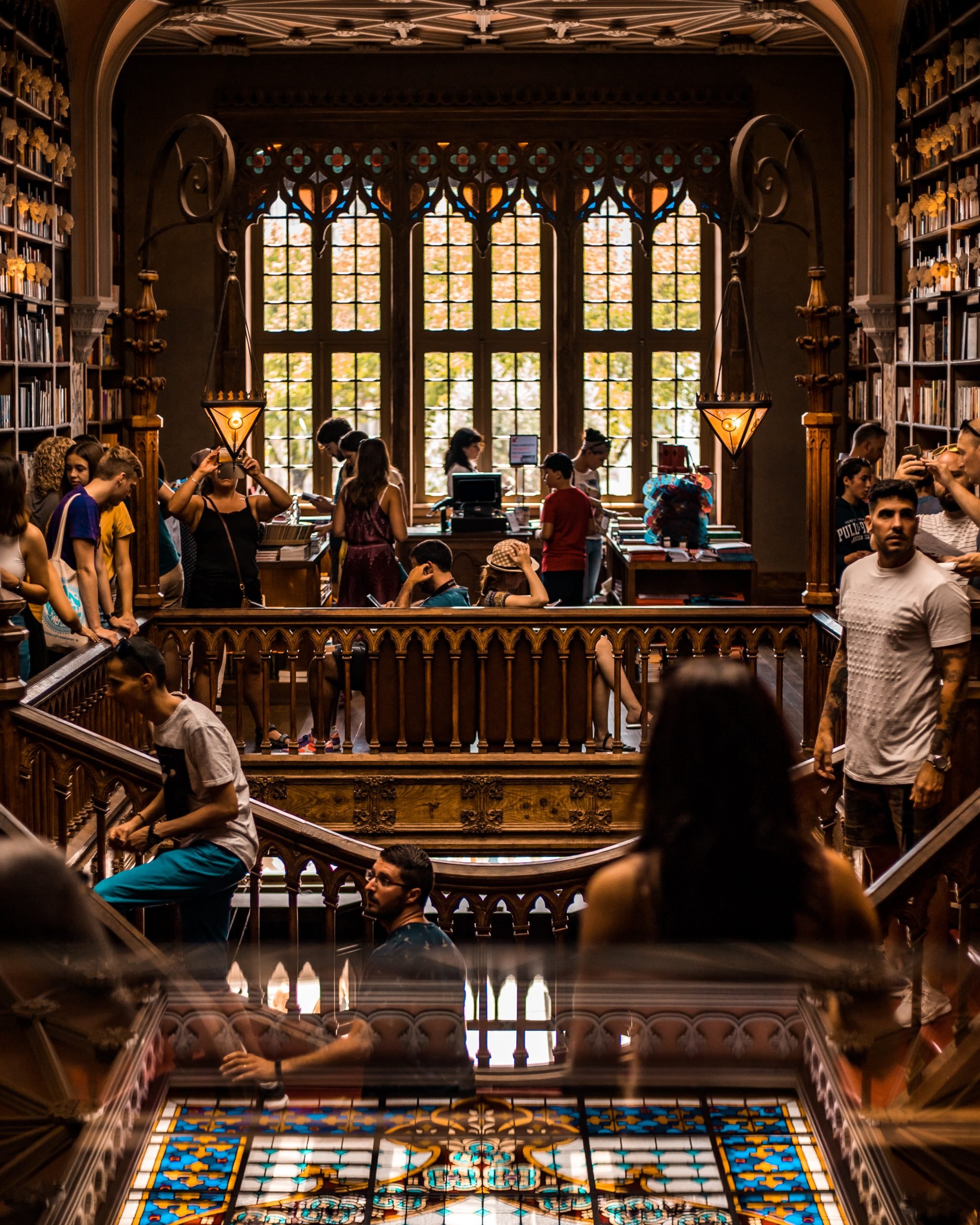 Also known as Igreja do Carmo, this church is a combination of two buildings, one built in the 1600s and one in the 1700s. This monument is therefore one of the oldest in the old town of Porto. The church is built in baroque style, the same as the Clérigos Tower. A part of the church is decorated with Portuguese blue azulejos (tiles) made locally in Vila Nova de Gaia, across the Douro river from Porto. The exterior has two religious statues of the prophets Elijah and Elisha made in Italy.
You can enter the church for free! However, to visit the museum, catacombs, and Casa Escondida there is a fee of €3.50.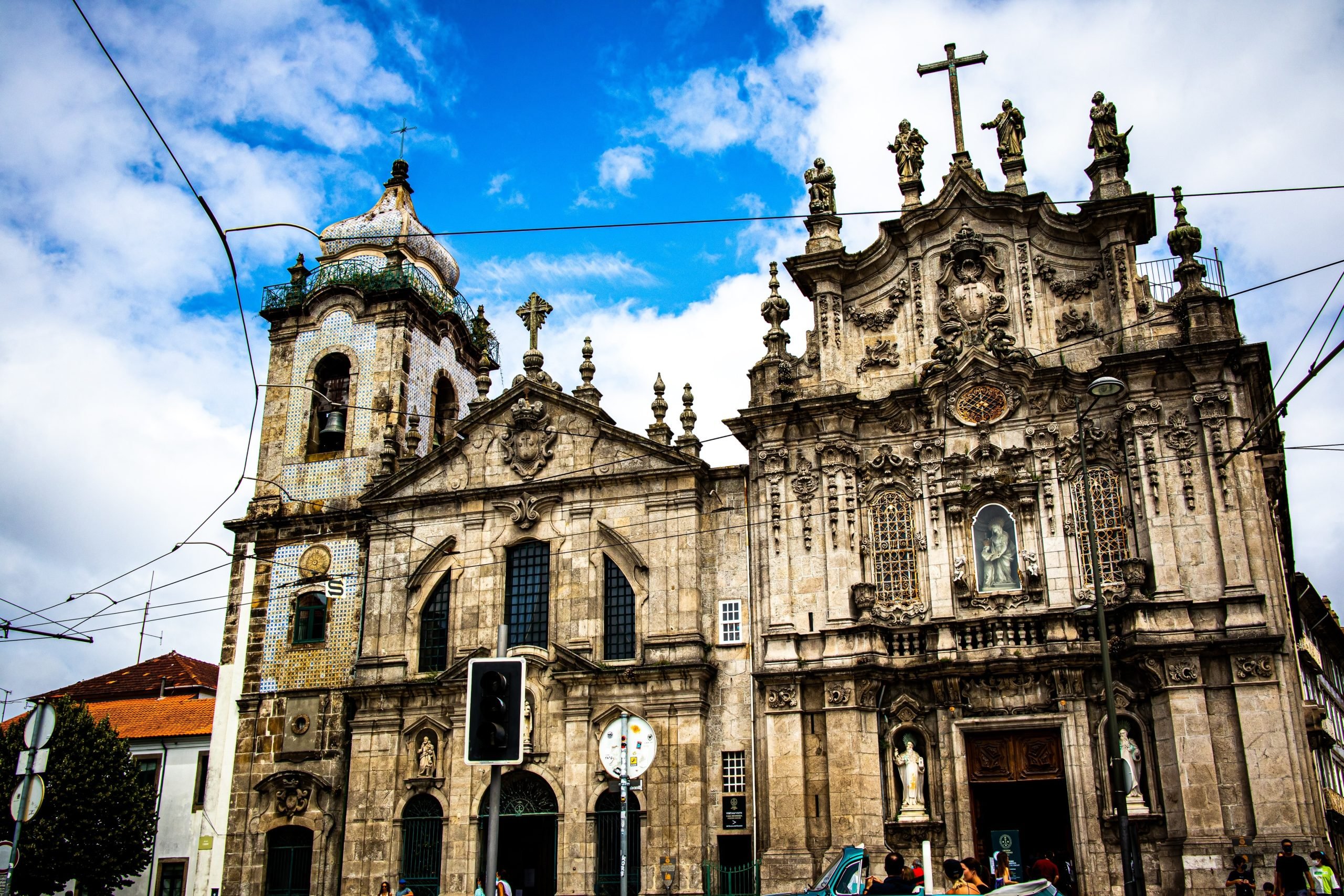 Palacio da Bolsa's construction began in 1842 by the Porto Commercial Association on the ruins of the Saint Francis Convent. The name Palácio da Bolsa translates into "Stock Exchange Palace". It no longer functions as a stock exchange but is still the headquarters of the association and is used for important events like the visit of Queen Elizabeth II in 1957. The Stock Exchange Palace was built in neoclassical style and displays furniture by Portuguese architect José Marques da Silva and sculptures by the famous sculptor Teixeira Lopes. The most famous room is the "Arab Room" built between 1862 and 1880 and decorated in the Moorish Revival style. Today, this room is used as a hall for prestigious visitors to Porto like heads of state.
You can visit the palace for €10 or €6.50 for children, students, and seniors. Children under 12 years old can visit the palace for free.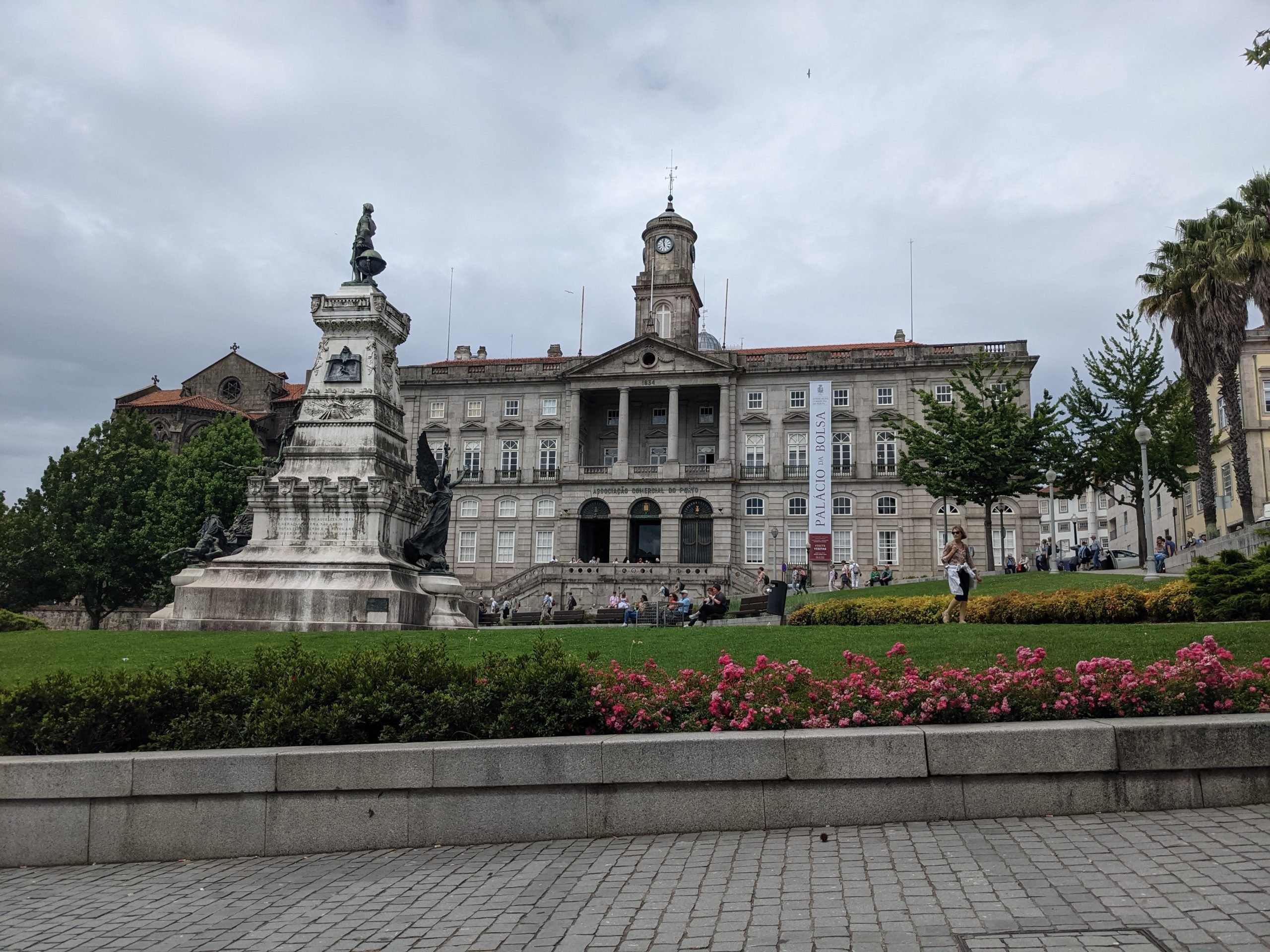 Mostly known as Sé do Porto, this Roman Catholic cathedral is a national monument and the most important religious building in all of Porto. The Porto Cathedral still holds a mass every day at 11 am that you can attend for free. The construction of the cathedral began in the twelfth century and was finally fully built in 1737. It was renovated in many architectural styles throughout the centuries including Gothic and Baroque. Today, it has a beautiful mixture of many styles.
The entrance to the Porto Cathedral is free, but if you want to access the fourteenth-century cloister you pay €3 ticket.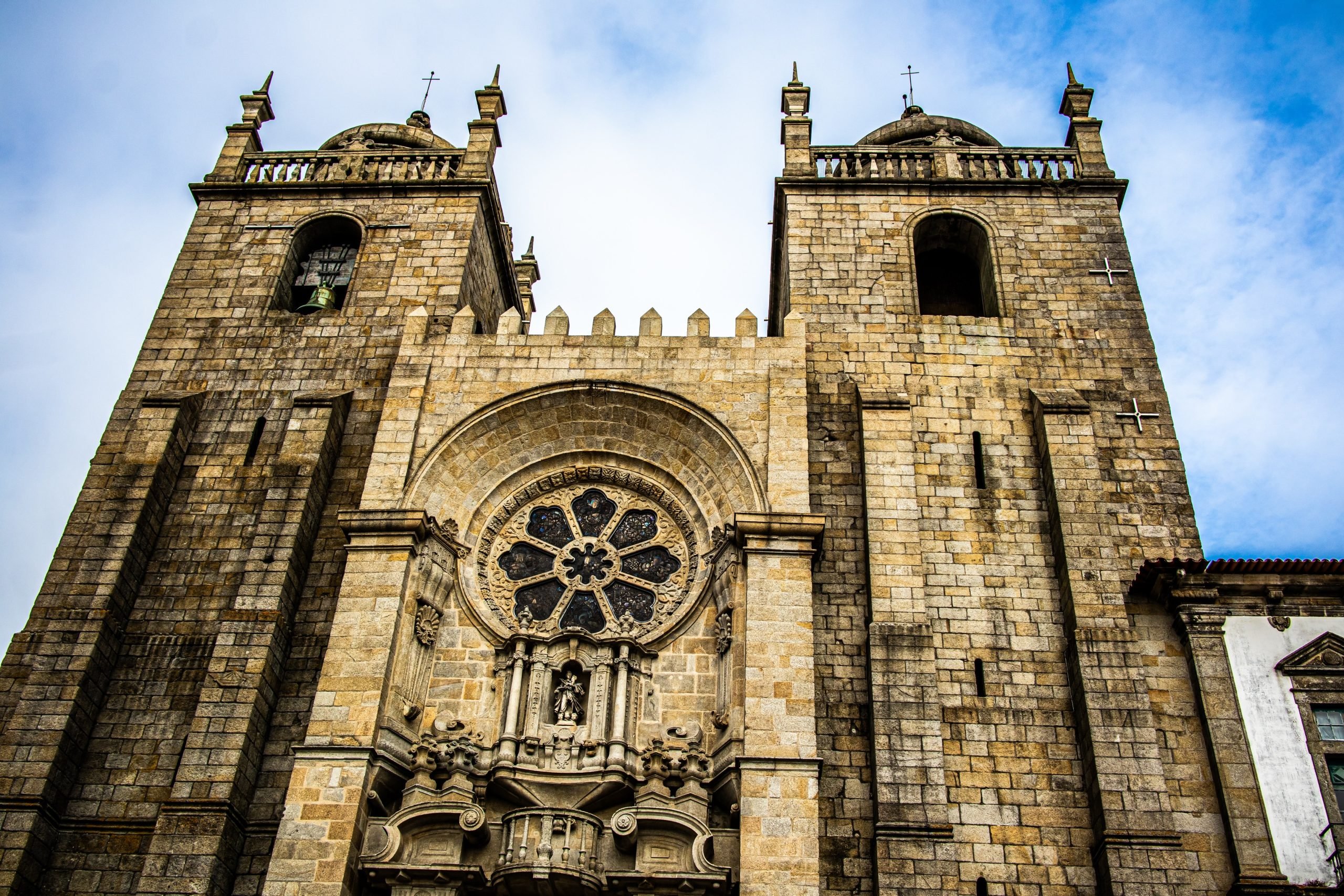 6. Majestic Cafe
Established in 1921, this café is known as one of the most beautiful in Europe and is located in the heart of the city center. This café was first called Elite as it was catered to the finest in society and intellectuals. The name was changed to Majestic Cafe, as Elite alluded to the monarchy and that did not sit well with the republican intellectuals that visited the place. The building was declared a "Public Interest Building" in 1983 and won multiple awards including the Municipal Merit Medal – Grade – Gold" (2011). This is a must-see in Porto but the prices are quite high. The café offers many baked delicacies such as "Pastel de Nata", meals, and an afternoon tea for €25 per person. An expresso costs €5 here, while in other cafés it should not cost you more than €1. But for the experience, it is well worth it.
Day trips from Porto, Portugal
Porto has a lot to offer, but so do the surrounding areas. If you visit Porto, it would be a waste to not take a day trip. Here are our top 3 favorite day trips from Porto you cannot miss. If you are visiting for at least a week, taking all 3 would make it the perfect trip.
1. Douro Valley
Listed as a UNESCO World Heritage site, the Douro Valley should be on the top of your list for a day trip. The Douro Valley is a cultural landscape of vineyards where Douro wines are grown and produced at traditional wine cellars. Departing from Porto, the Douro river flows in the middle of these green hills with vineyards. Beware, visiting the Douro Valley is quite expensive for Portuguese standards, but a once in a lifetime opportunity.
The best way to visit the Douro Valley is by hiring a private car transfer or renting a car as public transportation is scarce in the area, especially if you want to visit multiple vineyards for wine tastings. Alternatively, you can also book a stunning Douro river cruise that stops at vineyards.
The 3 best vineyards to visit in Douro are the following: Quinta da Roêda (Pinhão), Quinta do Crasto (Sabrosa), and Quinta do Seixo (Valença do Douro).
Quinta da Roêda does not just offer Port wine tastings, but also, visits to the vineyards, picnics, workshops, and more. You can explore the gorgeous vineyard with a travel guide and have a tasting of three wines for only €12 per person. Their packages go up to €44 per person for a larger number and variety of wines. For a luxurious and romantic lunch out with wine, you can reserve their picnic package on the shaded terrace, overlooking the vineyards and Douro river. Prices for this range from €30 to €48 per person depending on the basket selected.
Quinta do Crasto is included in the Top 20 of the World's Best Vineyards, winning 16th place in 2021. The wine tasting here lasts around 90 minutes where you get to taste 5 of their wines, visit the port wine cellars, and more for €29 per person.
Quinta do Seixo has over 100 hectares and is one of the most traditional wine-producing estates in the region. The vines are over one hundred years old! The Quinta also has very advanced winemaking technology that is perfectly integrated with the landscape. They have a variety of packages for wine-loving visitors. Their cheapest visit is €15 for a 40-minute tour of the winery and tasting of 2 port wines. Their most luxurious option is a 3-hour picnic in the vineyard where you can taste their wines and enjoy Douro cuisine for €40 per person (only available from March to October).
Alternatively, if you want to enjoy the views of the Douro river rather than spending the day vineyard "hopping", you could travel by bus, train, and boat for the full experience. You can book a day river cruise in the Douro river from Porto and come back by bus or train. This 12-hour day cruise from Porto includes a return ticket so you can travel back to the city through public transportation. It also includes breakfast, lunch, and a wine tasting at the end in Pinhão where you can catch the bus or train back to Porto. The cruise costs €86 per person.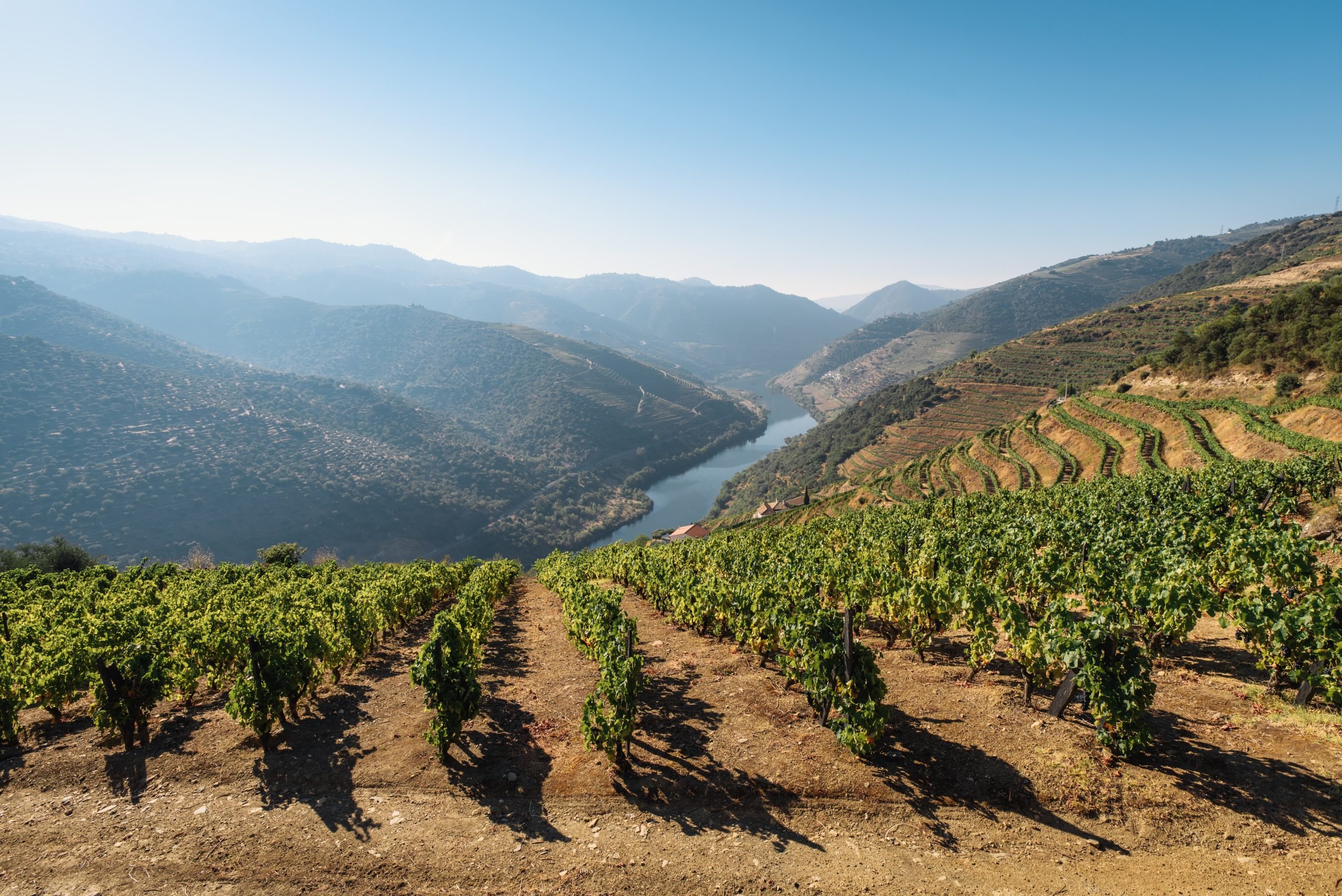 2. Peneda-Gerês National Park
A one-hour drive from Porto, Gerês is the oldest protected area in the country and the only national park in Portugal. The park covers an area of 695.93 km2 and occasionally gets some snow in the winter. This is the perfect day trip for adventure-seeking travelers! There are many hiking trails and "miradouros" (viewpoints) where you can get wonderful views. There are also many lagoons and rivers where you can take a dip in the summer months, perfect for after a hike. You can also spend the day exploring medieval villages that are uninhabited. Make sure to pack some food and a water bottle as some areas are far away from infrastructures.
How do you get to Gerês from Porto? The best way is to book a car rental to drive the 100 kilometers. Public transportation to Gerês is almost nonexistent. The only way to get there is to get a one-hour train to Braga (€5) and then take a 43m taxi (€30) or a 1h30 bus (€2) to the park. This will take up half of your day, considering that the bus and taxis will also probably be late.
However, you can always book a tour, this is a great option for a whole day. This amazing tour picks you up from your accommodation in Porto (round-trip) and takes you to the best hiking and swimming spots in Gerês. You can also venture off the track as you'll be in a 4×4 and so can explore secret places! This 10-hour tour also includes local food and wine at a typical restaurant. The tour costs €85 per person.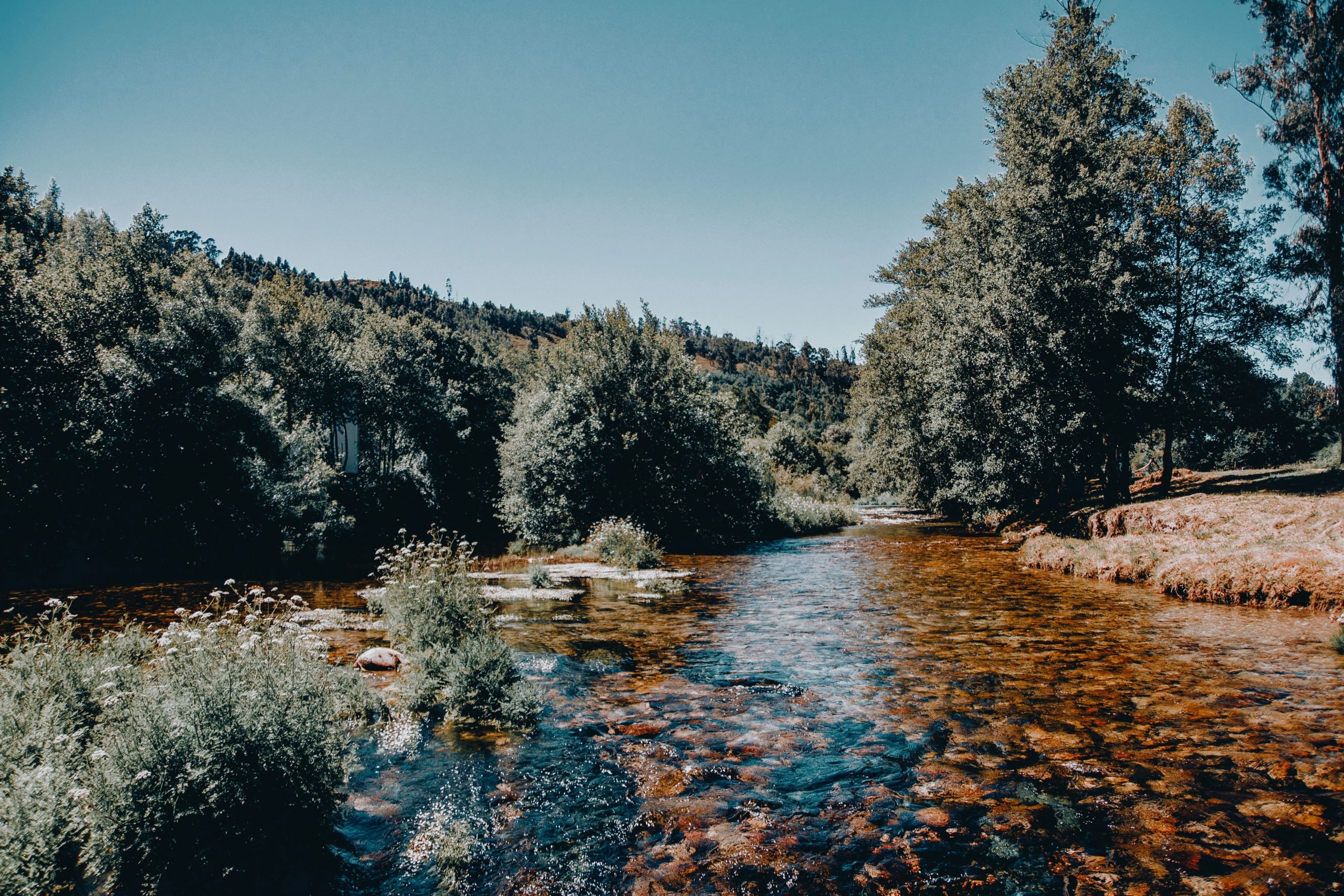 3. Matosinhos
Last but not least, if you are looking for a sunny day at the beach close to Porto, head to Matosinhos. This fishing town is a 20-minute drive or a 40-minute bus ride from Porto. Matosinhos is famous for its beach, Praia de Matosinhos, the largest beach close to Porto. The beach is perfect for a relaxing day away from the city during the summer. The beach has a lot to offer: beach sports like surfing in the wavey Atlantic ocean, lifeguards supervising the area, as well as plenty of cafes and beach bars.
The best time to go is between June and August during the week. Avoid the weekends as Matosinhos beach will be overly crowded during this time.
You can also book a surfing experience here for €40 which is perfect for a family with kids. This surf experience includes a transfer from Porto to Matosinhos. Don't know how to surf? Don't worry! The instructions in this experience will teach you.
You can also choose to visit other beaches, like Praia de Leca da Palmeira which also has saltwater swimming pools that are much warmer than the sea.
You can also visit the Castelo do Queijo (Cheese Castle), a fort constructed in the seventeenth century after Portugal gained independence from Spain. The fort has a small museum that costs €0.50 to enter.
The town is also known for its seafood, allowing you to discover the best of Portuguese culture. The morning fish market sells fresh fish every day at the port and you can also taste the finest fish dishes at many restaurants. Some amazing seafood restaurants overlooking the Atlantic ocean in Matosinhos are TITO 2 (around €40 for two people), A Marisqueira de Matosinhos (around €50 for two people), and Marisqueria A Antiga (around €70 for two people).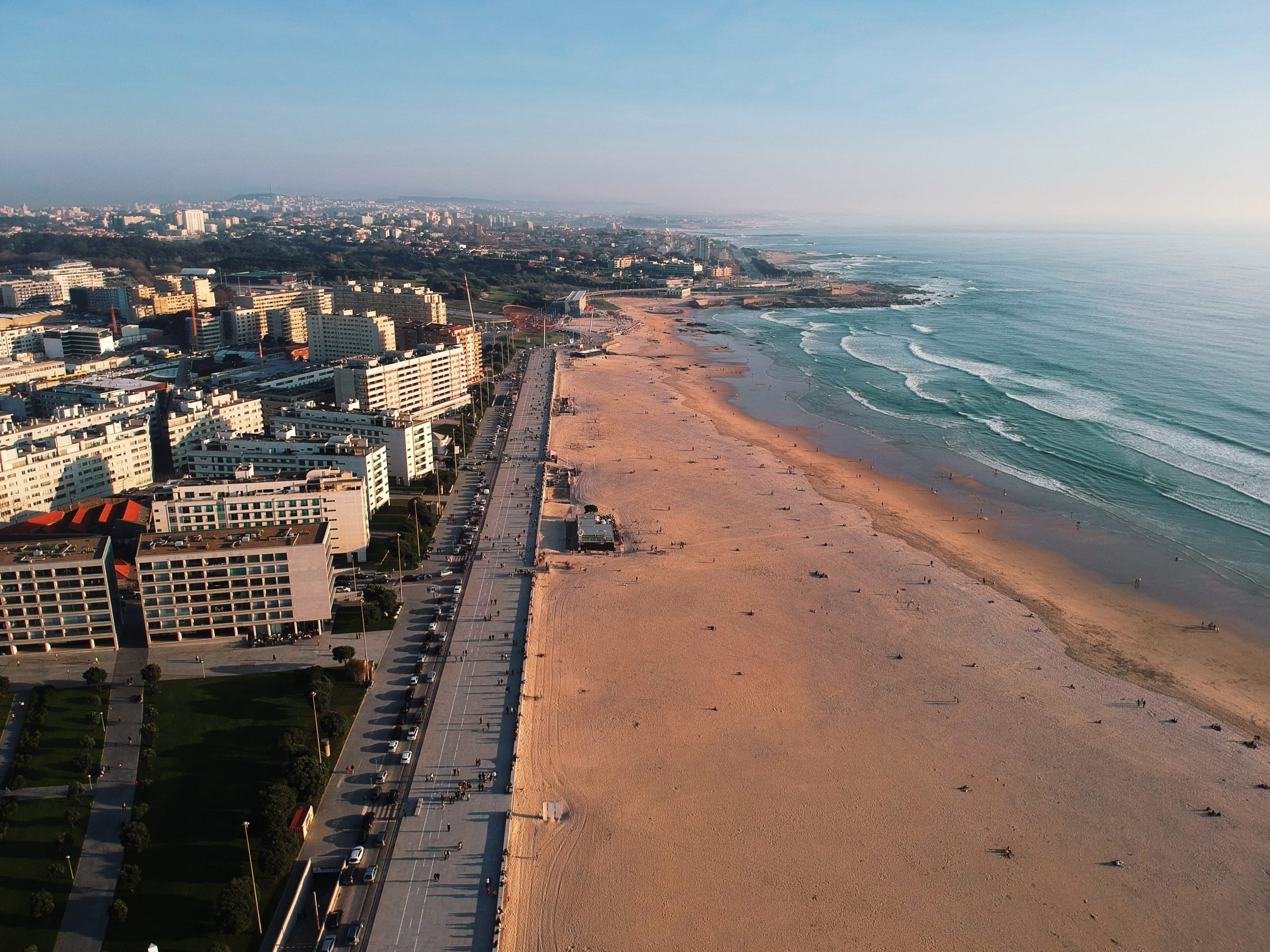 Travel Guide to Porto & Northern Portugal
What are some activities for kids in Porto, Portugal?
Porto has plenty of stuff to do with the kids, catering to locals and tourists alike. A great thing to do in Porto is visiting Sea Life, an experience the whole family will enjoy. Sea Life has over 30 displays and 3,000 sea creatures. This place has an underwater tunnel you can walk through and observe the sea life. Tickets cost €14 and entrance is free for kids under 3. If you want a surreal experience, book the VIP Turtle Feeding where you can go backstage and feed Mariza, the green turtle for €24.
Another thing to do with kids in Porto is to visit the World of Discoveries in the center, an interactive museum and theme park that teaches you about Portuguese navigators. Kids younger than 3 years old have free access, kids from 4 to 12 years old pay €9, and adults pay €15. However, bear in mind that some parents feel like this place glorifies the era of Portuguese "discoveries" and silences the victims of colonialism.
Lastly, if you don't mind getting away from the city, Zoo Santo Inácio in Vila Nova da Gaia is a 15-minute drive from Porto. They have over 600 animals and 200 species living in the zoo. From a 40-meter glass tunnel where you can see a lion's habitat to a reptile area with the largest snake in the world, the reticulated python at 11 meters long, this zoo is an incredible experience. Kids under 3 do not pay, while kids under 13 pay €10. Adults pay €15.
What are some free things to do in Porto, Portugal?
Due to its beautiful views and public historical buildings, Porto has a lot for those on a budget. Exploring this magical city comes at zero cost – think of it as a free walking tour!
The riverfront district of Ribeira is the perfect place for a walk as it was declared a UNESCO World Heritage Site. You can take photos of Dom Luis bridge and enjoy a panoramic view of the city. There are pedestrian walking lanes along the bridge so you can actually cross it.
The gardens of the Palacio de Cristal are only a 15-minute walk from the center. The landscaped gardens were designed in the nineteenth century and offer views of the Douro river, as well as walking paths and fountains. Perfect for a picnic!
You should also visit a Casa Da Musica (House of Music), an iconic concert hall in the center of the city, built in 2005. Designed by architect Rem Koolhaas. Although a tour of the inside costs €10, the best part of this place is the exterior. Perfect to take photos!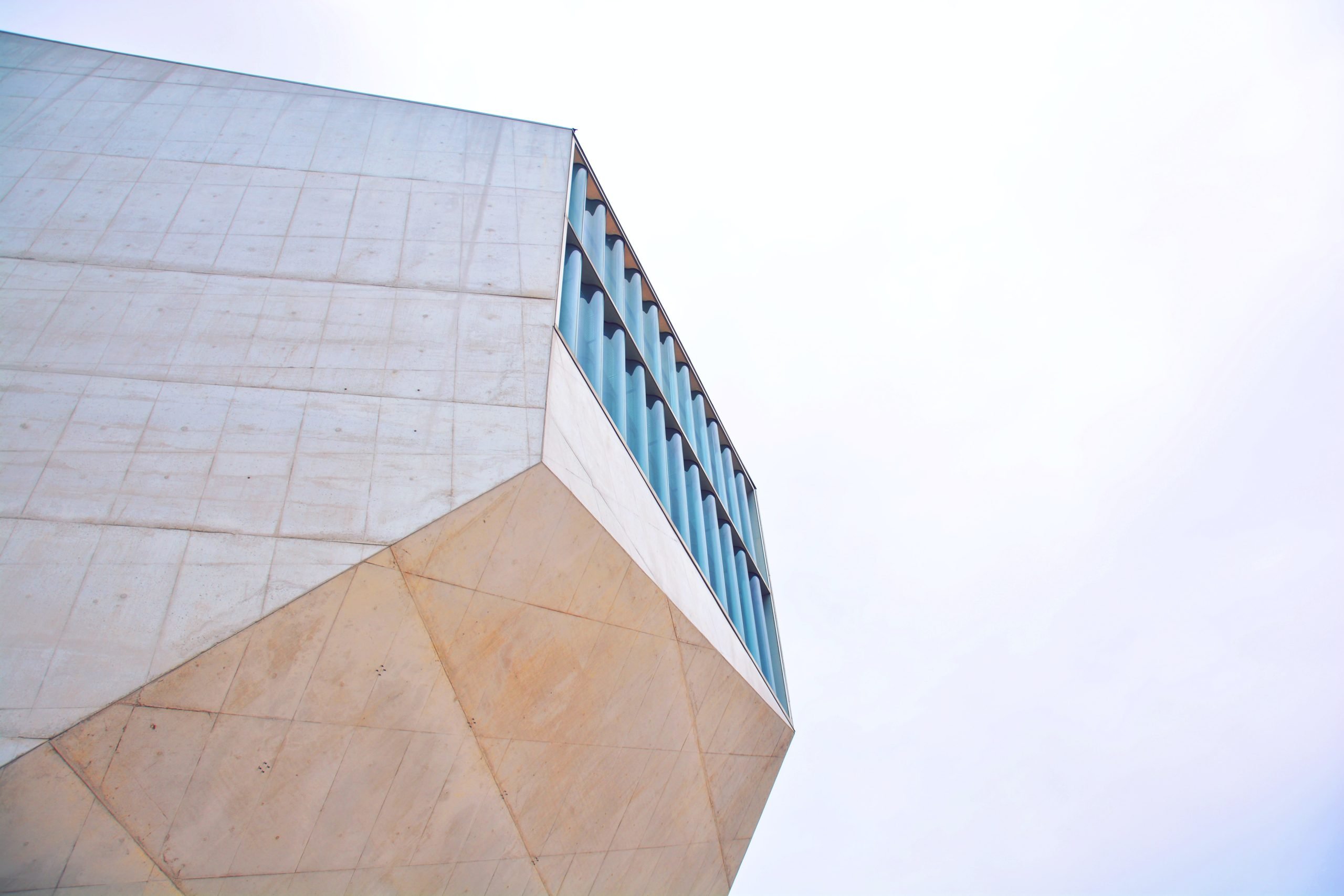 If you love photography, visit the Centro Português de Fotografia. This museum showcases works from Portuguese and international photographers and has free exhibitions. The building once served as a prison which you will notice by the iron gates and cells inside the museum.
Finally, the São Bento railway station is not just perfect for traveling. This station has an atrium covered in 22,000 azulejos (tiles), created by artist Jorge Colaço. The azulejos feature iconic episodes of Portuguese history. São Bento railway station is often described as one of the most beautiful train stations in the world!
This Porto travel guide would be meaningless without the most important part of Portuguese culture – food. Porto offers an incredible culinary experience at a much more affordable price than Lisbon. From "francesinhas" to seafood and wine, Porto is the perfect place for a foodie. The options are limitless, so we have selected our favorite restaurants for your needs. Porto has meals for everyone's taste: traditional food, vegan meals, as well as luxury dining for those looking for an experience.
Portuguese food: where to eat traditional Portuguese food in Porto, Portugal?
Porto is home to many restaurants serving Northern cuisine that will make you feel like a local. But first, let's go through the typical Portuense (and Portuguese) foods you need to try in Porto. These are all definitely must-tries!
"Francesinha": A trip to Porto needs a francesinha. This meal includes ham, sausage, and steak sandwich with loads of melted cheese and a fried egg on top, and spiced tomato and beer sauce. It's served with french fries.
"Tripas à moda do Porto": This is a heavy meat-based dish, with beans, carrots, steak, veal, and pork stomach. People have been eating this in Porto for hundreds of years.
"Sandes de pernil": a roast pork butt sandwich with "queijo da serra" (a mountain cheese).
"Bacalhau: codfish. There are 365 ways to serve codfish in Portugal, our favorite is "bacalhau à brás", a dish made from shreds of codfish, onions, chopped potatoes, and scrambled eggs. Usually topped with black olives and parsley.
Caldo verde: a green vegetable soup with Portuguese sausage.
"Alheira": a Portuguese alheira sausage made from chicken, turkey, duck, or pheasant. Usually eaten with fries and a fried egg.
"Broa de Avintes: a famous bread from Porto that is dark brown.
"Tarde de Amendoa": an almond tart that is typical of Douro as this region cultivates most of the countries almonds. The tart has almonds, sugar, butter, and milk.
"Sardinhas assadas": sardines that are usually plated on top of bread and paired with potatoes, peppers, and salad.
Now that you know how to navigate a menu, here are our top 3 places to eat traditional food in Porto.
1. Taberna Santo António, Rua Virtudes
Located in the city center, a classic Porto "tasca" (Portuguese tavern), you'll be treated like a local here. You can try various traditional Portuguese dishes for a very cheap price. On Sundays, they have "cozido à Portuguesa", a traditional meat stew with pork, sausages, rice, and vegetables for 7€. They also have "bifanas", a steak sandwich for under €2. The roast pork is also amazing! You can get a full meal here for under €10.
This place is known for having the best "sandes de pernil" in Porto, a roast pork butt sandwich with mountain cheese. It was initially established in 1987 by the Correia brothers as a snack bar, but since then, they have opened two new spaces. You can try any of these, they are all amazing:
Casa Guedes Tradicional (1987): Praça dos Poveiros 130
Casa Guedes Rooftop (2019): Praça dos Poveiros 76
Casa Guedes Progresso (2020): Rua Actor João Guedes 5
Their "sandes de pernil" only costs €3.90. They also have other sandwiches: Portuguese ham, cured pork, cured black pork, and softer sheep cheese sandwich (all under €4.50). This is also a great place to try the "caldo verde" (green soup) for €1.70 and the iconic "francesinha" with melted cheese. You can have a whole meal here for €6.
One of the best "tascas" in Porto, this family-run restaurant offers traditional dishes that make you feel at home. The owner of this restaurant prides herself on creating dishes that reflect her Portuguese roots, rather than catering to tourists. The restaurant offers authentic dishes that everyone must try like "francesinhas" and "tripas à moda do Porto".You can get a meal here for under €7.
For the plant-based: where to eat vegan food in Porto, Portugal?
If you are a vegan planning your trip to Porto, look no further. The vegan scene in Porto has been booming recently. A few years ago, there were few options for plant-based food, but now there are hundreds of options for vegans. It has truly become a vegan-friendly city! Here are our top three vegan places in Porto.
1. Arvore do Mundo, Rua do Duque de Lole
Arvore do Mundo is not just a vegan restaurant, but also a gallery where you can check out local art. They have a garden and terrace where you can have a vegan meal and relax, as well as toys and books for kids.
This vegan restaurant has lunch menus for €10 per person and the average cost for dinner is around €12 per person.
Located in Baixa, the interior of the restaurant is modern and clean and you can watch the food being prepared in their open-style kitchen. kind Kitchen has a wide range of dishes including Buddha bowls, burgers, and cakes. They even have the famous beyond burger that tastes like real meat! This vegan restaurant also has a vegan version of the iconic Porto dish "francesinha" with plant-based melted cheese.
The lunch menus are under €10 per person and the average cost for dinner is around €12 per person.
Missing out on the amazing desserts in Porto? Don't worry, my Green Pastry is a vegan pastry shop that will satisfy your sweet tooth. This place focuses on local and seasonal ingredients and is also plastic-free. My Green Pastry also has savory snacks that are completely plant-based and organic. They also offer a large brunch on Saturdays for €18.
Luxury dining: what are the best Michelin star restaurants in Porto, Portugal?
Looking for a luxurious night out? Prepare to splurge! Porto has 5 Michelin-starred restaurants that will provide you with a once in a lifetime experience. We have chosen our two favorite Michelin star restaurants in Porto.
1. Pedro Lemos, Rua do Padre Luís Cabral
A 20-minute car ride from the center of Porto, Pedro Lemos is a renowned restaurant in a restored stone house. Opened in 2009 by Chef Pedro Lemos, it was the first restaurant in Porto to be awarded a Michelin star. Pedro Lemos is located in Foz, a historical neighborhood in Porto. The restaurant has contemporary decor and a rooftop terrace where you can enjoy a beautiful view. It also has a wine cellar where group dinners can take place. Pedro Lemos has excellent fish dishes that are Portuguese, as well as international cuisine. The foie gras is to die for!
Menus start at €120 per person where you can taste 8 dishes. The menu for wine starts at €65 and these are carefully selected to pair with your meal.
Located close to Museo Romántico, this restaurant is situated in a park in the center of Porto. You get a gorgeous view of the Douro River. Chef Vitor Matos uses seasonal and local ingredients to produce unbelievable dishes. This Michelin 1-star restaurant has Portuguese wines from every region, selected by the sommelier António Lopes. Try the red mullet with cauliflower and sea urchin sauce.
You can choose from a set menu or opt for the à la carte menu where vegetarian options are available. A set menu here will cost you at least €135 and the wine menu €65.
Getting around: How does public transportation work in Porto, Portugal?
Getting around in Porto is fairly easy. You can walk most places, but you also have access to efficient public transportation, including train, tram, and bus routes. Transportation costs are also incredibly affordable, with travel cards available. The best way to get from Porto airport to the city center is by renting a car or booking a 20-minute taxi.
What travel card to buy for public transportation in Porto, Portugal?
You have travel card options to go around Porto: the Porto Card + travel card or the Andante Card.
The Porto card + travel card is perfect if you are going to visit museums. You get free bus and metro transport, free entry to 6 museums (including a contemporary art museum), and 50% off in 14 monuments. You also get a free train ride to the beach. You can buy this card from official tourist offices, some railway stations, and Francisco Sa Carneiro Airport. You cannot purchase it at a metro station. Here are the prices for the Porto Card + travel card:
1-day: €13
2-days: €20
3-days: €25
4-days: €33
There are two types of Andante cards, the Andante 24 card, and the Andante Tour card. You can purchase these in Andante shops in metro stations and the airport, as well as tourist offices. The Andante 24 card gives you 24-hour unlimited access to the metro, buses, and some trains. The price of the card depends on the zone you purchase it for. If you are just getting around central Porto, purchase a zone 2 Andante 24 card that costs €4.15. You can also get an Adante Tour card for tourists that allows you to travel to all the zones. An Andante Tour 1 for 24 hours costs €7 and an Andante Tour 3 for 72 hours costs €15.
The metro in Porto, Portugal
The metro is one of the fastest public transportation options, as well as the most sustainable (after walking). 12,000 cars stopped circulating because of the Porto metro.
The metro has 6 lines and 81 stations and goes through the city's main districts, as well as outskirts. The metro works from 6 am to 1 am. A single ticket costs €1.70. Make sure to watch out for pickpocketers and stay safe!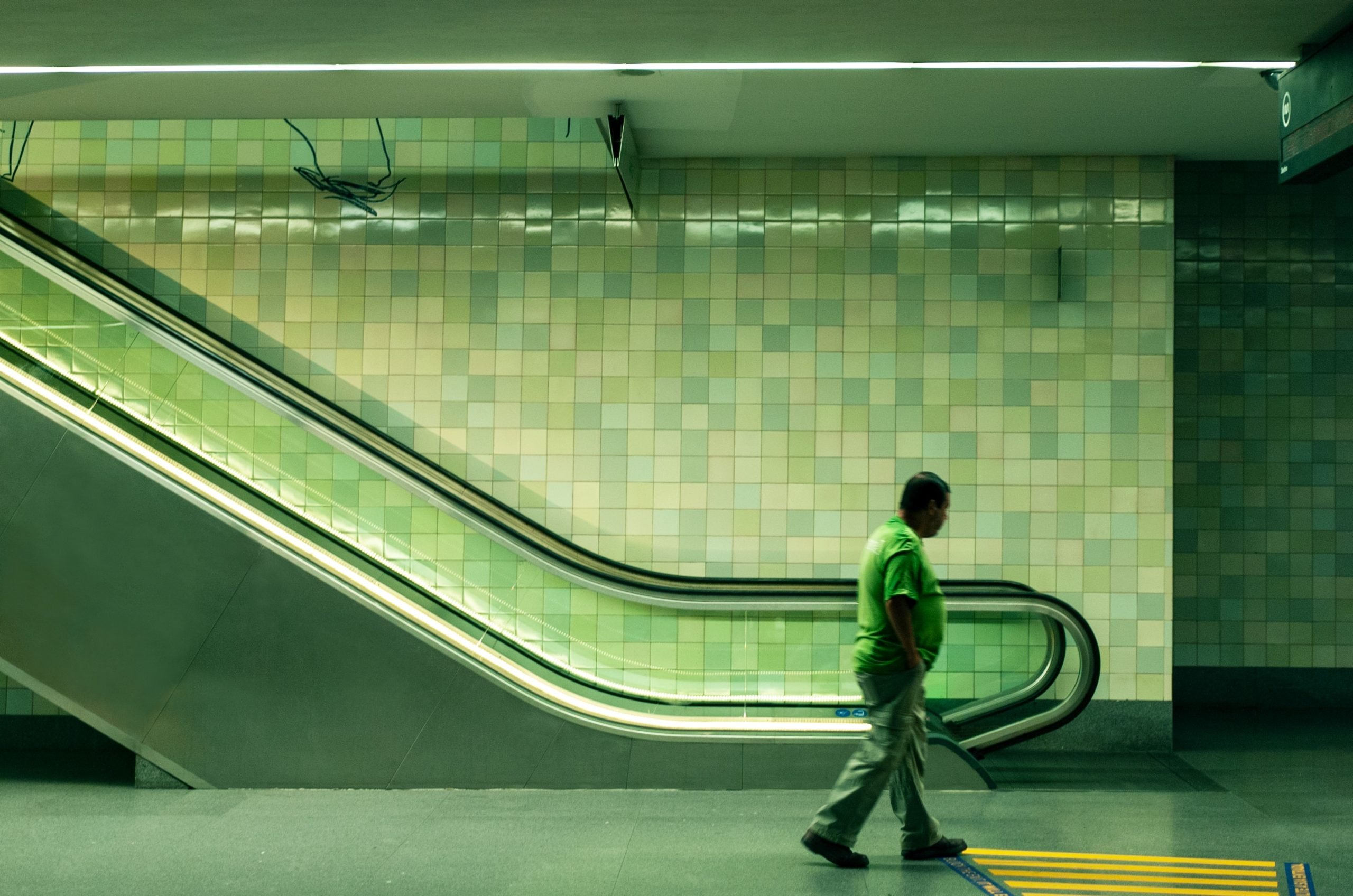 The tram in Porto, Portugal
Like in Lisbon, the trams are a cultural and historical experience. They are a great way to get to know the city, but they are much slower than other means of public transportation. The locals use to rely on the tram before the bus and metro lines were established, but now this mode of transport is best for tourists and those wanting a unique experience.
A single fare will cost you €3.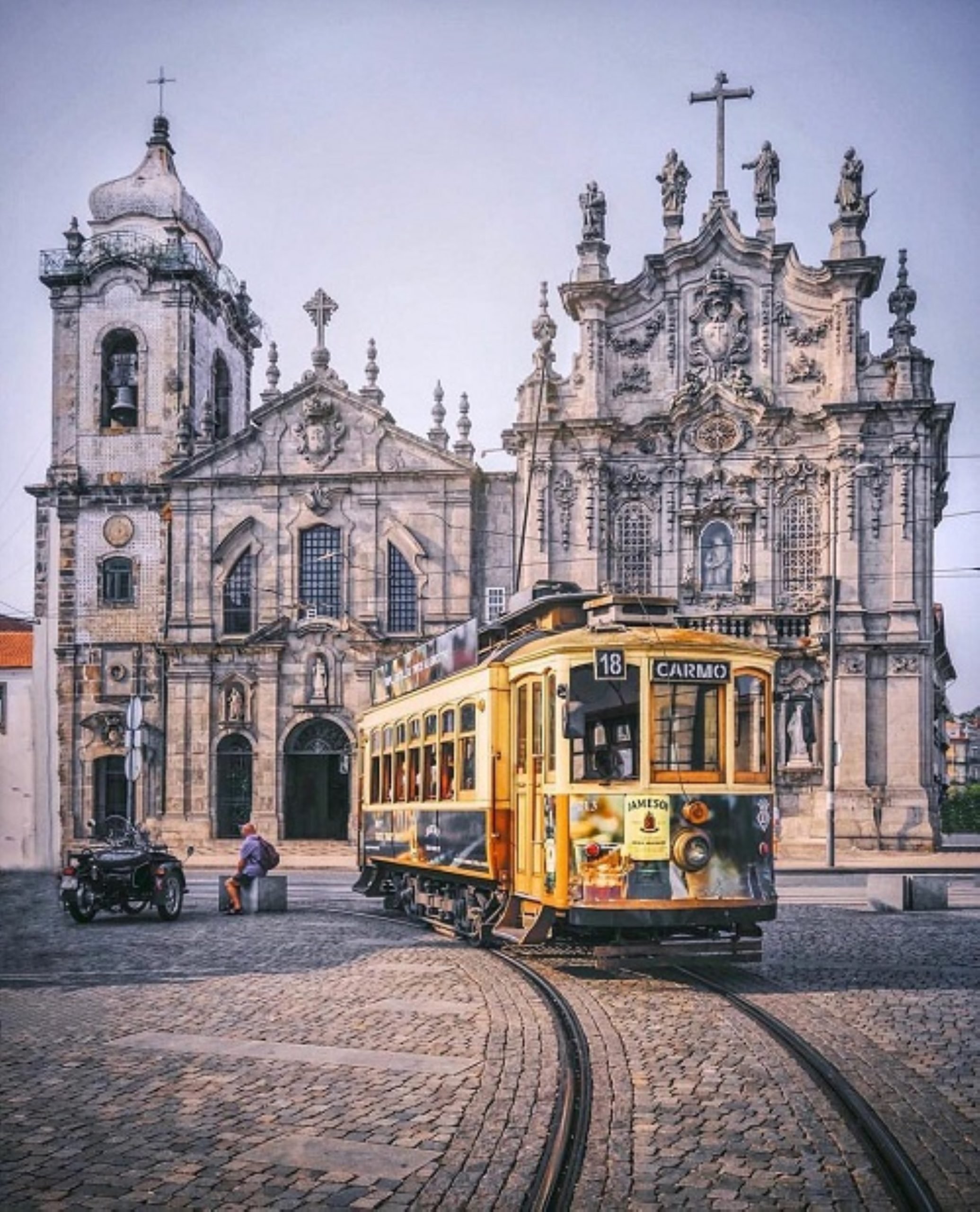 The bus in Porto, Portugal
The bus is the cheapest mode of transportation in all of Porto. It can take you places where the metro line does not reach and can take you to Vila Nova de Gaia, as well as Matosinhos for the beach.
Don't forget to reach out your arm when the bus driver passes by so that they stop to let you get on!
A single fare ticket bought with the driver costs €1.80.
The train in Porto, Portugal
The trains are great for getting out of Porto, to cities nearby. Don't travel within Porto by train. You can take the train from São Bento Station to Braga (€15), and other cities.
A single fare can cost you between €1.50 and can go up to €30 depending on where you go.
Porto Guide: Final thoughts
For you're next trip to Portugal, you must visit Porto. In fact, put it at the top of your list. From incredible food to its World Site Heritage historic center and views along the Douro river, the city has something to offer for everyone. Whether you are a solo traveler or backpacking, Porto is an affordable city to visit that can still make it a trip to remember. This city fits everyone's budget from cheap options for backpackers to luxurious hotels and Michelin-starred restaurants. Hopefully, this extensive Porto travel guide has taught you everything you need to travel to the Portuguese city. It's time to find yourself some cheap flights to Porto airport!
Take a look at our ultimate guides to Lisbon, Albufeira, and more with all the information you need for your next trip to Portugal.