When the weather starts to get warmer you may want to enjoy a lighter drink, and straight from Portugal comes the perfect option: 'Vinho Verde'. It is the perfect drink for a summer afternoon and even to take to dinner, as it's perfect with many kinds of food.
Vinho Verde is grown on the northwest region of Portugal and one of the most famous wine varieties from Portugal, just behind Port Wine.
Although it literally means "green wine", the name is not due to its color, but to the fact that the wine is not yet matured enough, since it is usually consumed around 3-6 months after harvesting. In this sense, 'verde' means young.
This wine is a DOC ("Denominação de Origem Controlada" or Denomination of Controlled Origin), meaning that the region from where this wine is from is a protected region that can only produce that variety.
It is fairly known in Portugal, especially in the North. It is usually cheaper than other wines (you can even find wine made by independent producers, people that just make it in their backyards or small farms) and it is naturally light, fresh, and sometimes fruity.  One of its most famous characteristics is its little fizz (although they are not officially recognized as sparkling or semi-sparkling).
You can find it as a white wine (the most common) or as red, rosé and even as 'aguardente', vinegar or bagasse.
There are many varieties of this wine and most of the wines you will find will probably be a blend of different types of grapes. However, some higher quality wines will probably be made out of a specific grape. If you are interested in a single type of grape, the most well-known are Alvarinho, known for having a higher alcohol content, and Loureiro.
Speaking of alcohol content, it usually is around 8.5 to 11% alcohol, however this changes for example with Alvarinho grapes, when it is around 11.5-14% (and it will probably be fruitier). This makes it less caloric than most other wines.
Vinho Verde is indeed a unique wine, different from all the others in the world! You are guaranteed to have a different experience with it!
Types of Vinho Verde
You can find white, red (tinto) and rosé Vinhos Verdes, although the white is probably the most common. There is also sparkling Vinho Verde and 'aguardente' made out of it.
The white Vinho Verde is usually lemon colored, very fresh and with fruity and floral aromas, depending on the grape variety.
As for the red Vinho Verde is a more delicate question. Many people consider it undrinkable, while others love its strong taste. It is traditionally consumed, usually in the Minho region of Portugal, in a small bowl, and if it is bought from a small producer, it will probably have dregs. Some are also a bit sparkling and it is usually drank slightly chilled. It is different from other wines, and it has a sour but also sweet taste.
This red wine is very difficult to obtain outside of Portugal, specifically the Minho region. This is because its consumption never really caught on internationally (or even nationally) and remained inside the regions borders, and because the environment of the region is very rainy, making it not well suited for the red grape varieties. This is why only approximately 10% of the wine produced in the Vinho Verde region are red or rosé.
Finally, the rosés are very fresh and fruity and, even though they are rare, the most famous Portuguese wine is a Vinho Verde Rosé: Mateus Rosé.
The Fizz
Although it's not considered a sparkling or semi-sparkling wine (since it has less than 1 bar of CO2 pressure), Vinho Verde is known for having a little fizz to it, at the end of your tongue.
Before, this fizz was natural, due to its bottling process which, being made earlier, made the wine release carbon dioxide inside the bottle because of the fermentation process. Usually, this is considered a wine fault, but in this wine it is considered part of it!
However, nowadays most of the wines you will find will be artificially carbonated. Winemakers add a boost of CO2 to the wine, because they know that the customers associate this fizz with Vinho Verde. This is why people sometimes call this wine a "soda pop for adults."
But if you want the authentic fizz, you can find it usually in the smaller, independent producers (and this is why people say that the homemade wine is the best).
You can also find Vinho Verde without the fizz, and you will probably feel the acidity even more. The trick is usually to look at the bottle: if it is taller and thinner, then it has the fizz; if is more round, like the traditional wine bottle shapes, is usually isn't carbonated.
The Region: Minho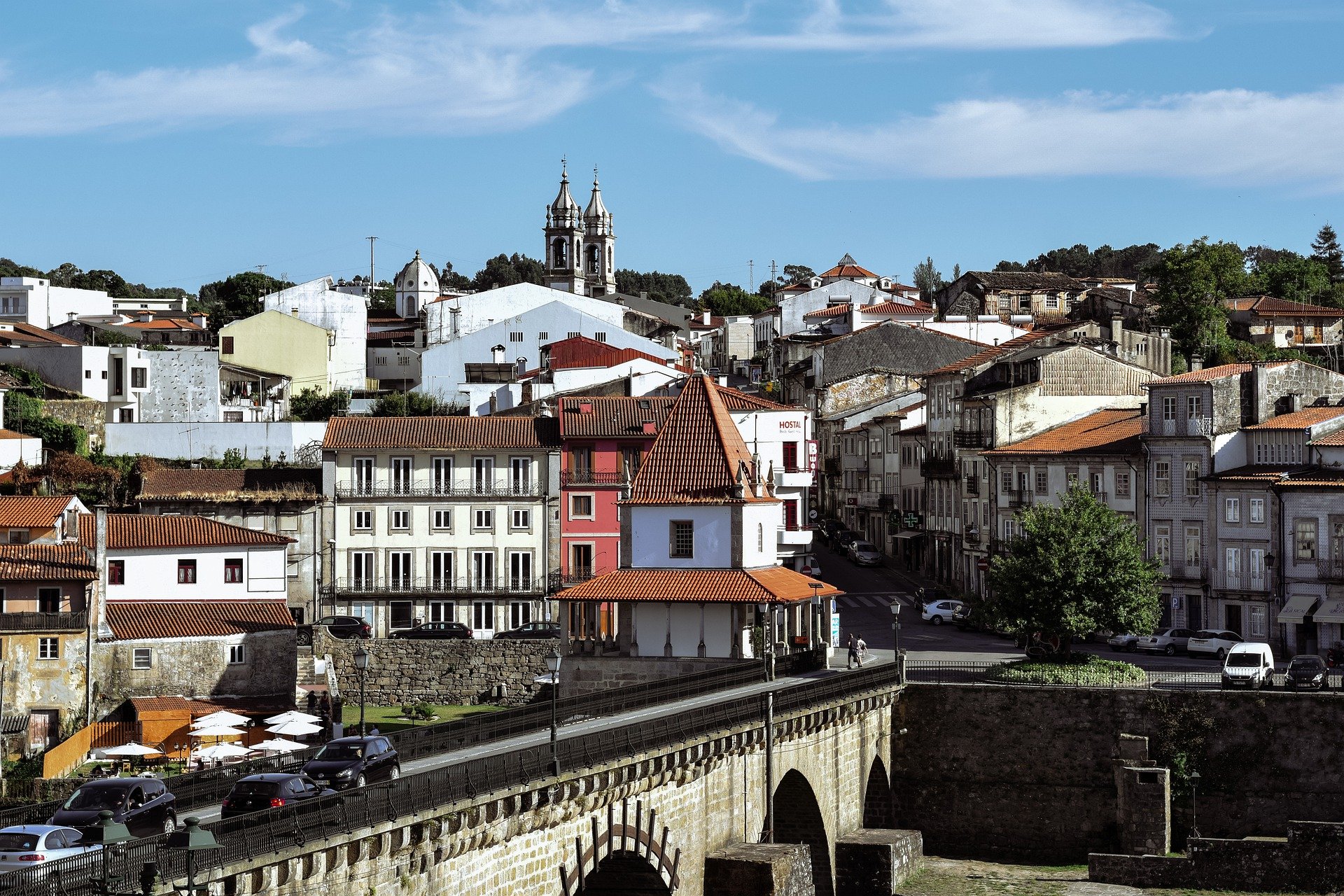 This wine is cultivated in the traditional and cultural region of Minho, on the northwest part of Portugal, bordering Spain. It includes the cities of Braga, Guimarães and Viana do Castelo.
When most people think of Portugal, they would think of wonderful beaches, sun-shine year-round and amazing weather. But not in Minho! In this region on the northwest, there is often a lot of wind and rain, with Braga even being called the "potty of the sky".
All this rain fills the regions multiple rivers and this creates wonderful hills and valleys, full of green and lush vegetation. This affects the grapes that are harvested in this region, and the microclimates inside of the region itself as well. That's why it is divided in sub-regions.
The Sub-regions of Minho
The Vinho Verde region is divided into 9 sub-regions, usually specified on the label of the wine bottle. Each of the regions has a slightly different environment and this affects the grapes and the type of wine that is produced there.
These are: Amarante, Ave, Baião, Basto, Cávado, Lima, Monção e Melgaço, Paiva, and Sousa.
Monção and Melgaço: The northern most region. It has a more granitic soil and is known for the amazing Alvarinho grapes.
Lima, Cávado, and Ave: The coastline regions. These are the rainier places, not that ideal for grape production. However, there are some grape qualities like Arinto, Loureiro, and Trajadura.
Sousa, Paiva, Baião, and Basto: These are the inland, mountainous regions. They are much sunnier. This is where you will find the harder-to-ripen white grapes and also rare red grapes, since there is enough sunshine to ripen them.
Vinho Verde With Food
Vinho Verde, coming from the North of Portugal, goes with pork and potato dishes, for example. But its lightness makes it perfect for many other dishes!
Its high degree of acidity makes it to go wonderfully with an appetizer or with light and balanced meals, such as salads, fish, seafood, white meat, sushi, sashimi and many other dishes.
History of Vinho Verde
The wine in this region, between the river Minho and the river Douro, has been known and referenced for many many years, as far back as the Roman era.
In the medieval times, it seems like the vineyards expanded even further, mostly by the hand of religious orders and incentivized by the kings that gave them tax breaks.
This wine was mostly for domestic consumption, however, it is thought that Vinho Verde might have been exported to England, Germany and Flanders as far back as the 12th century, but the first definite record of this trade is of 1788.
In the 16th century, maize came to the region, and the authorities prohibited the cultivation of vines in most areas to give space to the production of this new product. The vines started to be produced on the field margins.
Many growers would train the vines to climb trees, fences and telephone poles. This was to maximize the production and to be able to produce both wine and vegetables on the same land, which would be used as a food source. This can still be found today, especially with the little home producers, but most of the people that produce it commercially use now modern techniques that are more efficient.
In 1908, the "Vinho Verde Region" was created by law, with it being recognized as a DOC in 1984. The DOC is overseen by the 'Comissão de Viticultura da Região dos Vinhos Verdes' (Wine Commission of the Vinho Verde Region).
Today, it is estimated that there are approximately 21,000 hectares of Vinho Verde vineyards, making up around 9% of the total Portuguese wine production as well as around 19,000 individual producers and around 600 different bottlers. The region produces about 85 million liters of wine per year.
Vinho Verde Grapes Used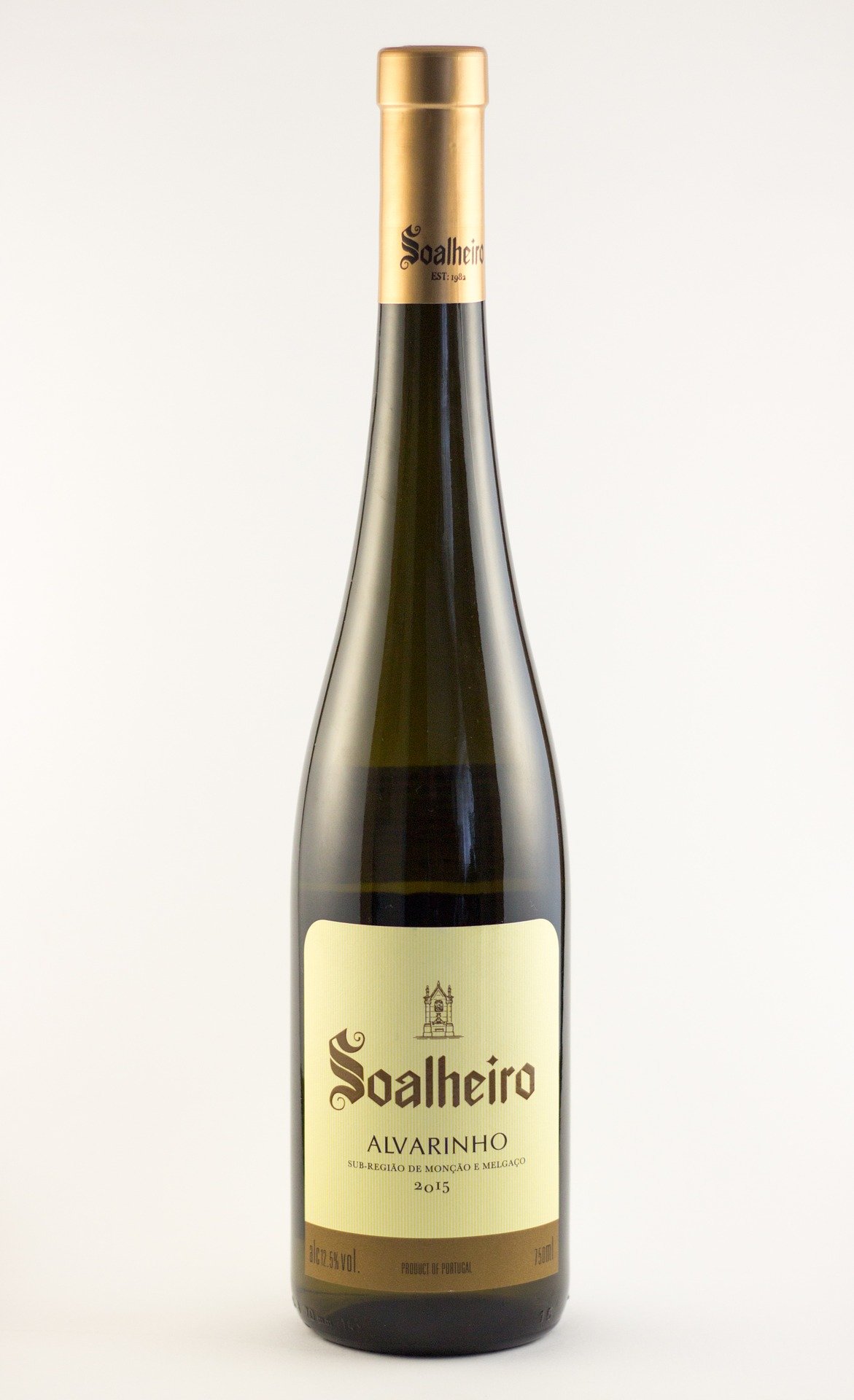 For white Vinho Verde, the recommended varieties are Alvarinho, Arinto, Avesso, Azal, Loureiro and Trajadura, but you may also find Branco-Escola, Cainho de Moreira, Cascal, Douradinha, Esganinho, Esganoso de Castelo de Paiva, Esganoso de Lima, Fernão Pires, Lameiro, Rabigato, S. Mamede and Semilão.
The most successful varieties of this white wine are Alvarinho and Loureiro. The first one is known to produce low yields and, as we've talked about, can reach higher alcohol levels. It is grown on a specific region, in the northern Minho region, between the Lima River Valley and the Spanish border on the Minho River. On the other side, Loureiro produces higher yields but very aromatic wines.
As for red Vinho Verde, there is Brancelho, Amaral, Borraçal, Espadeiro, Padeiro, Pedral, Rabo de Anho and Vinhão as the recommended ones. But Doçal, Doçal de Refóios, Espadeiro Mole, Labrusco, Mourisco, Pical Pôlho, Sousão and Verdelho Tinto are also found and permitted.
The red wine grapes that are considered the best are Vinhão, Amaral and Espadeiro. They produce wines with deep purple coloring and peppery notes.
Brands and Vineyards
There are several brands of Vinho Verde, even though in the region it is fairly common for people to make it themselves, sometimes in backyards in the villages. This is, according to the locals, the best kind of Vinho Verde.
However, the wine experts also have their opinion and each year they decide which are the best 'Verdes'. As of 2021, the one that one the "Grand Gold Medal" was Quinta do Regueiro Reserva Alvarinho 2013.
Here is the list of some of the other winning wines:
White Vinho Verde: Quinta de Linhares Premium 2020
Rosé Vinho Verde: Muralhas de Monção 2020
Red Vinho Verde: Aguião Superior Vinhão 2020
Harvest Before 2018: Quinta do Regueiro Reserva Alvarinho 2013
Vinho Verde Loureiro: Pequenos Rebentos Escolha Loureiro 2020
Sparkling Vinho Verde: Curvos Reserva Bruto Branco 2016
Vinho Verde Alvarinho: Quinta do Regueiro Reserva Alvarinho 2020
Regional Wine Minho: Curvos Alvarinho 2020
Vinho Verde de Casta: Quinta de Linhares Azal 2020
Vinho Verde Aguardente: Alvarinha Aguardente Vínica Velha
Wine Tours Featuring Vinho Verde
4×4 Wine Tour at Quinta de Santa Cristina Vinho Verde Wine Estate:
A tour to the largest wine region in Portugal, including 2 outdoor activities (kayaking, Segway, Alpine Coaster, or Fantasticable), a picnic lunch or regional specialties and Portuguese wines and a 4×4 tour through the vineyards, promising wonderful views!
Wine Tour of the Vinho Verde Region from Porto Including Lunch:
A small-group tour, starting from Porto, with a knowledgeable local guide that will show you the beautiful Minho region and a visit to 2 wineries, the wonderful cities of Celorico de Basto and Amarante, a traditional Portuguese lunch and a lot of learning on the local history, culture, architecture and winemaking tradition. Perfect for the people who would love a small one day tour to this wine region.
Vinho Verde Premium Wine Tour:
You can experience the amazing culture and history of this wine region, while admiring incredible valleys and sipping on a good glass of Vinho Verde.