A place where nature and modern tourism meet, Peneda-Geres National Park is a national treasure in northern Portugal, one that many tourists do not know about. A UNESCO Biosphere Reserve, Peneda-Geres National Park covers over 700 km2 of protected land with stunning mountain trails, river beaches, and historical villages such as Geres. The Peneda-Geres National Park consists of four main mountain ranges: Peneda, Geres, Amarela, and Soajo.
From swimming in the lagoons among the mountain ranges, discovering some of the best hiking trails in the country, as well as tasting the regional cuisine, Peneda-Geres National Park has a lot to offer for any kind of tourist. Make sure to pack comfortable hiking shoes and dress in layers with a bathing suit at hand, you never know when you'll find a beautiful waterfall!
How to get to Geres? Located in the northwest of Portugal between Upper Minho and Tras-os-Montes, the best way to get here is by car. It is around 1.5 hours from Porto and 40 minutes from Braga by car and while public transport to the region is available, we recommend booking a guided tour or private vehicle for convenience.
Things to do in Peneda-Geres National Park
Hiking: Best trails in Peneda-Geres National Park
Peneda-Geres National Park features some of the most amazing hiking trails in all of Portugal, fit for hikers of all physical conditions. We recommend booking a guided tour so you do not get lost. This tour includes a hiking trail to a waterfall, as well as a trip on a 4×4 Land Rover, and a traditional Portuguese lunch. Book this hiking and sightseeing private tour where you will get to discover the park's landscape, fauna, and flora, as well as rivers and waterfalls.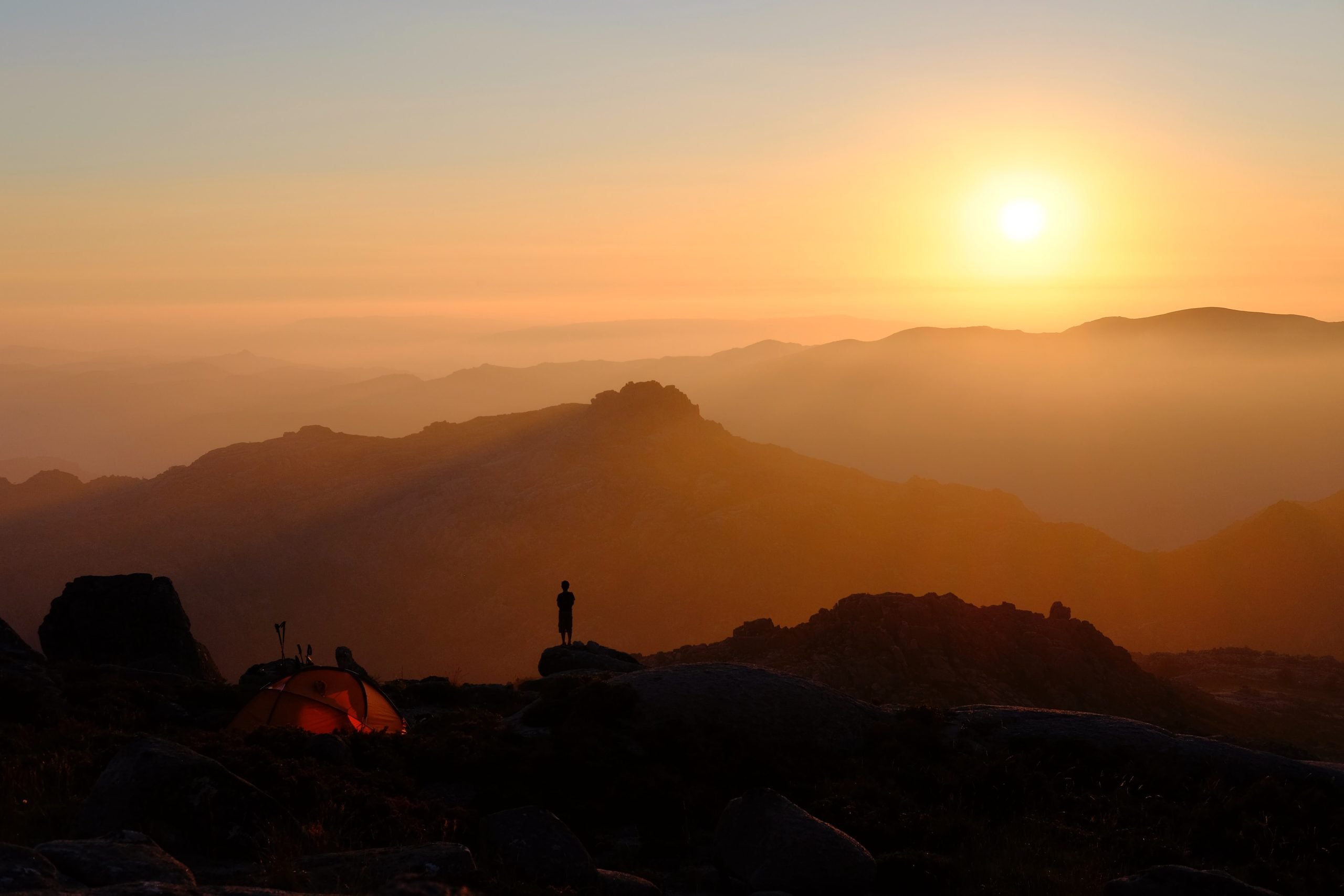 Book a hiking tour in Peneda-Geres National Park
If you prefer to hike on your own, here are our four favorite trails in Peneda-Geres National Park for hiking.
1. Cidade da Calcedonia – PR1 TBR
If you are brave enough for this high difficulty level trail, the Cidade da Caledonia trail is 6.5 kilometers and allows you to explore an ancient fortified village from the Iron Age. You will get to discover archaeological items dating back hundreds of years. The trail takes around 5 hours and you will get a view of the Covide vale, as well as find some cows. However, beware this is one of the hardest hiking trails in Geres and should not be hiked alone.
2. Sao Bento – PR7 PBR
A 10 kilometers hike in Sao Bento, this trail takes around 4 hours and a half and is of medium-level difficulty. The hike stretches along the south-eastern cliffs of the Caldo river and you will get to discover interesting religious sites such as the Basilica of St. Benedict, Portugal's second-largest sanctuary. You will find granite stones with the ancient footprints of St. Eufemia on the way, as well as find evidence of nearby bears and wolves.
3. Preguica – PR10 TBR
Translating to "hike of laziness", this trail is of medium difficulty and is 4 kilometers long. Within the three hours of the hikes, you will see the river Gere, a diversity of trees, and the Preguica viewpoint. The hike starts at Casa da Preguica and you will enjoy the views of the Geres valley that goes all the way to the Canicada dam.
4. Sobreiral da Ermida do Geres – PR14 TBR
A 13-kilometer hiking trail that takes 5 hours, Sobreiral da Ermida do Geres is a medium-level difficulty hike that goes through forest areas. However, the highlight of the hike is the Arado waterfall, perfect for taking some photos. Starting in the Ermida viewpoint, the trail also goes through the Arado bridge, built in 1936, and a cork oak farm filling 200 hectares.
Explore the Traditional Villages in Peneda-Geres National Park
The Peneda-Geres National Park is not only the home of natural beauty and nature but of historic villages that have been around for centuries and luckily rightfully preserved. If you are looking to discover these in between hikes and swimming, our three favorite villages in Peneda-Geres National Park are Geres, Fafiao, and Tourem.
The village Geres gives the national park its name and is probably the most well-known village inside the park. The village has many spas, hotels, and regional shops, as well as houses with locals who still live there.
Fafiao village is a small one and features less than two Portuguese traditional restaurants. The village is home to a popular attraction, Fojo do Lobo, an ancient trap built to hunt wolves. The attraction has two walls that are two meters high and 64 meters long.
Tourem used to be a border defense town in the 13th century against Spain, but today is the location of historical attractions. For example, the stunning church of S. Pedro dates back to the 13th century and is made of granite, as well as the monastery of Santa Maria de Junias. The village also features green meadows and is highly isolated as you will not see other villages around.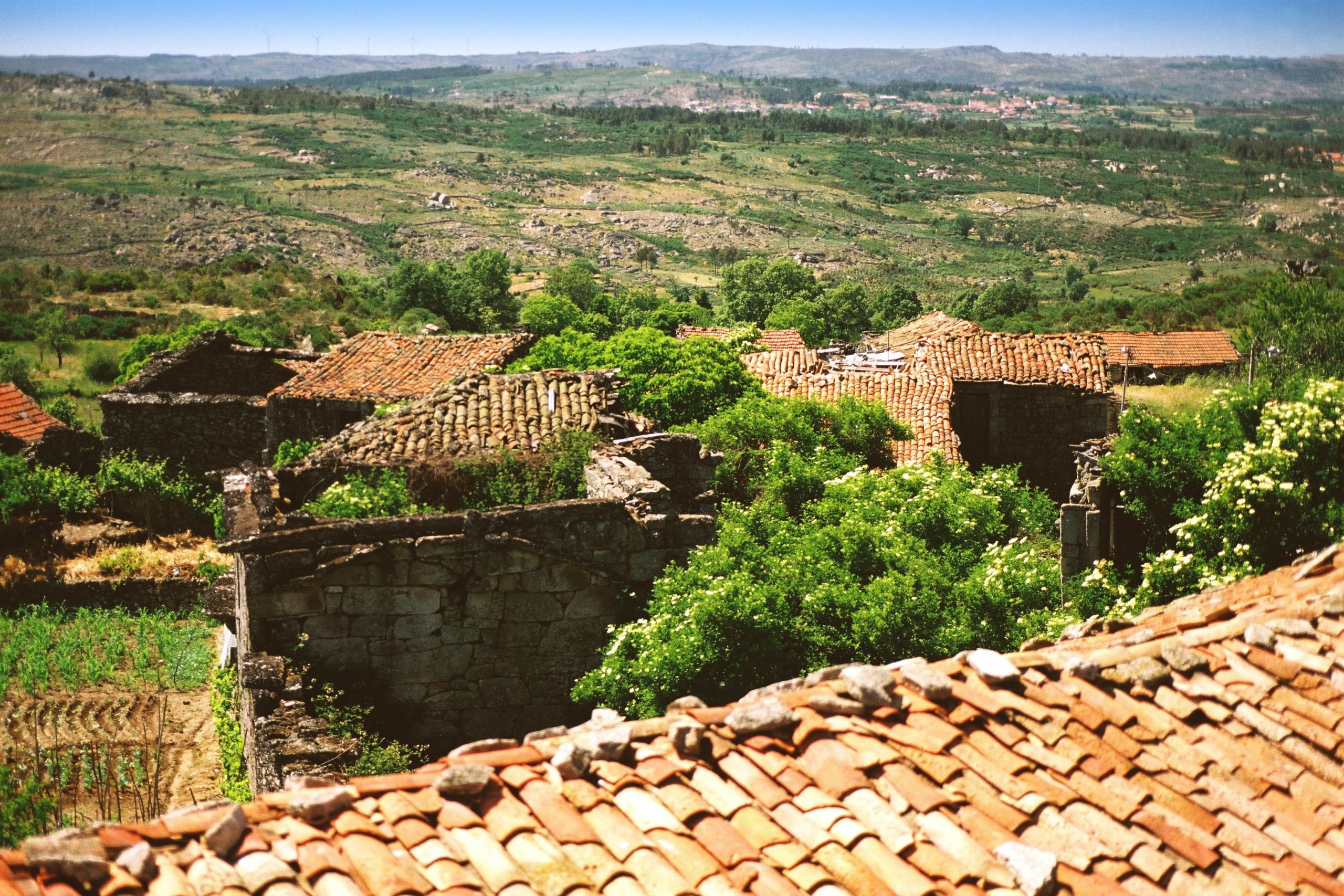 Camping: Where to Camp in Peneda-Geres National Park
Peneda-Geres National Park features beautiful campsites where you can pitch your tent for a real nature experience. The large park features many camping options that are affordable at less than 5 euros a night per person. Here are a few campsites that are popular with tourists and locals alike:
Ermida Geres Camping: Located in the village of Ermida, this camping site is family-run and features bathrooms with hot water, internet, campervan camping, a bar, and a barbecue. They even provide camping equipment so you do not need to bring anything.
Parque Cerdeira: Located in the heart of the park, this campsite offers tent spots, as well as tree tents, bungalows, and a tarp tied to trees. It also has a swimming pool and a kids adventure park.
Geres Green Park: Located on the river banks of Cabril river, this campsite is close to hiking trails There are 48 tent spots and 3 caravan sites, a barbecue, pub, laundry, dishwasher, snack bar, and more.
Vale dos Moinhos: 1.5 kilometers away from the village of Geres, this campsite offers affordable rooms and spots to camp your tent. It is close to waterfalls and you can swim in the Geres river and Barragem da Albufeira lake nearby. The campsite features a barbecue, wifi, free parking, and more.
Ponte Saltos Camping: Located at the banks of Cavado River, this campsite features a barbecue grill, direct access to Canicada Dam, a mini-market, a bar, and more. They even offer electric bike rental!
Swim in the Lagoons in Peneda-Geres National Park
You cannot miss a beach day at the lagoons in Peneda-Geres National Park. Among the valleys of the four mountain ranges of the park, you will find plenty of gorgeous natural lagoons. Do not forget to pack water and food as facilities will be close to impossible to find nearby. Here are our favorite lagoons in Peneda-Geres National Park for those hot summer days:
Poco Azul: This lagoon has crystal-clear waters and is one of the most popular in Geres, featuring a small waterfall. However, to get to Poco Azul, you must hike through an 8-kilometer trail.
Sete Lagoas: Translating to seven lagoons, these lagoons are located against the Cavado River and the temperatures can reach 20 degrees celsius. To get to the lagoons there are multiple hikes, the shortest starting from Xertelo village (5 kilometers).
Arado Lagoa: Located on the Arado river near Ermida, this lagoon has one of the largest waterfalls in Geres. You can get there by car. The lagoon is formed by the waterfall and offers crystal clear waters.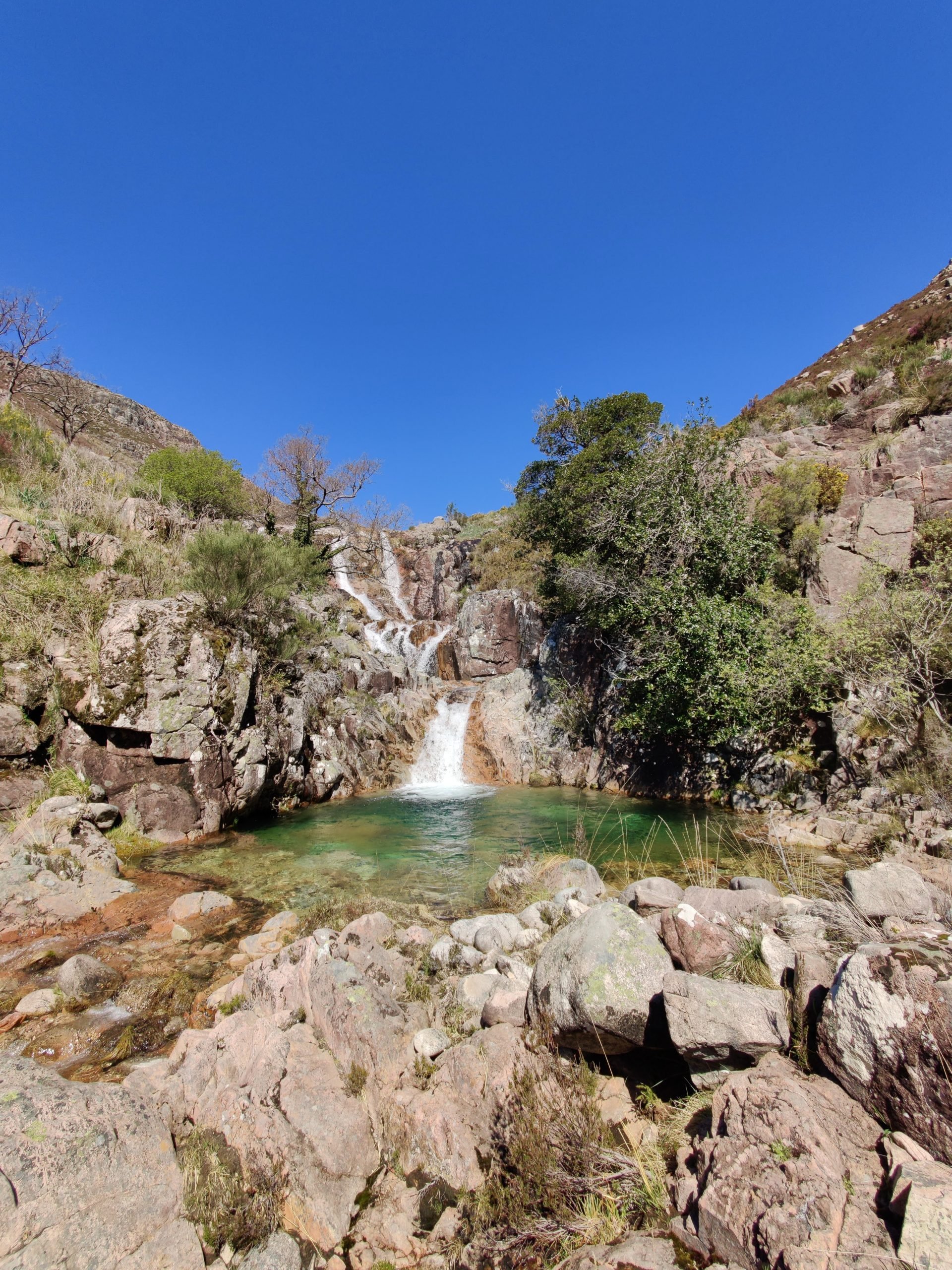 5 Best Restaurants near Peneda-Geres National Park: Where to eat in Geres?
1. Taberna da Ti Ana da Eira
A well-kept secret, Taberna da Ti Ana da Eira is one of the best restaurants in the region, located in Montalegre. The dishes are produced from regional products, many from the actual village. Like a Portuguese miradouro (viewpoint), the family-run restaurant boasts large windows that offer panoramic views of the Paradela reservoir and the Peneda-Geres National Park. We recommend the alheira and the traditional Cozido a Portuguesa made with local meats.
2. Restaurante Casa Capela
Located in the Geres village, Casa Capela is a cozy Portuguese restaurant with affordable prices overlooking the Geres Park. If you're looking for large dishes that will fill you up after a hike, head here. Meals are cooked on a traditional wood stove for an authentic experience. We recommend the cabritinho assado (veal) and the Polvo a Lagareiro (octopus), as well as the Pudim Abade de Presicos (caramel pudding) for dessert.
3. Restaurante Pedra Bela
Located in Terras do Bouro, Pedra Bela is known for its meats cooked on a wood stove and a welcoming environment. However, do not just try the meats as the octopus and codfish dishes are some of the best in the region. The restaurant pays homage to the local gastronomy, as well as local products and is committed to making every guest feel like a family member.
4. Restaurante Cerdeira
Located in the Peneda-Geres National Park in Parque Cerdeira, Cerdeira Restaurant is a reference in local gastronomy and overlooks the gorgeous green mountains. A large restaurant seating up to 100 people, Cerdeira focuses on serving delicious dishes of Minho by sourcing local products such as vegetables from the garden. We recommend the Bacalhau a Lagareiro (codfish) and the costeletao (veal), while vegetarian dishes are also available.
5. Saber ao Borralho
Located in the village of Soajo, Saber ao Borralho opened in 2006 and has been a local favorite ever since. The restaurant is surrounded by typical granite houses and is decorated traditionally according to the village traditions. Although Saber ao Borralho serves a range of delicious regional foods, we recommend the cachena stew, containing meat, rice, beans, and vegetables. The bacalhau com broa is also delicious, a codfish dish with cornbread.
Transportation in Peneda-Geres National Park: How to get around Geres
If you were looking forward to traveling around Geres by bus, not so fast. There is barely any public transportation. We recommend traveling by car so you can access as many villages, waterfalls, and lagoons as possible. In reality, you will also be doing some walking if you want to access the best-kept secrets of the park. Rent a car here for affordable prices. In fact, if you are flying to Porto you can pick a car up at the airport and return it when you fly back home.
5 Best Hotels near Peneda-Geres National Park: Where to stay in Geres?
If you are looking for a cabin experience in the middle of the woods – Secret do Geres in Viera do Minho is the best spot to book. Offering one-bedroom treehouses surrounded by nature, each unit comes equipped with wood balconies, a private bathroom, and a double bed. The property also features a swimming pool, garden, and room service for breakfast in bed. Tahiti waterfall is only 8 kilometers away and the Geres park is 7 kilometers away.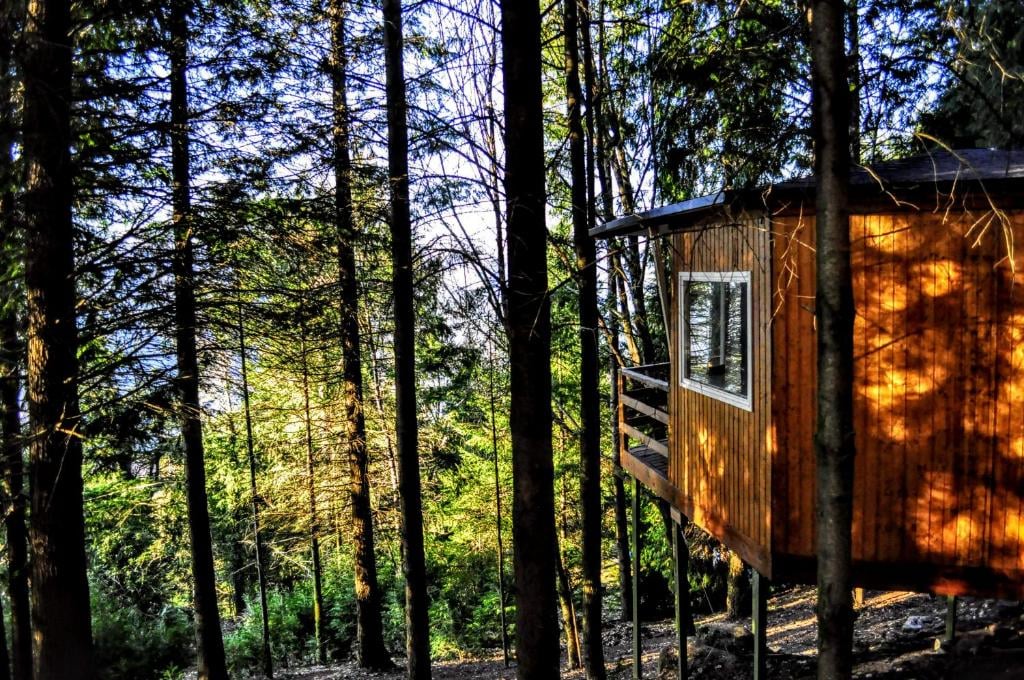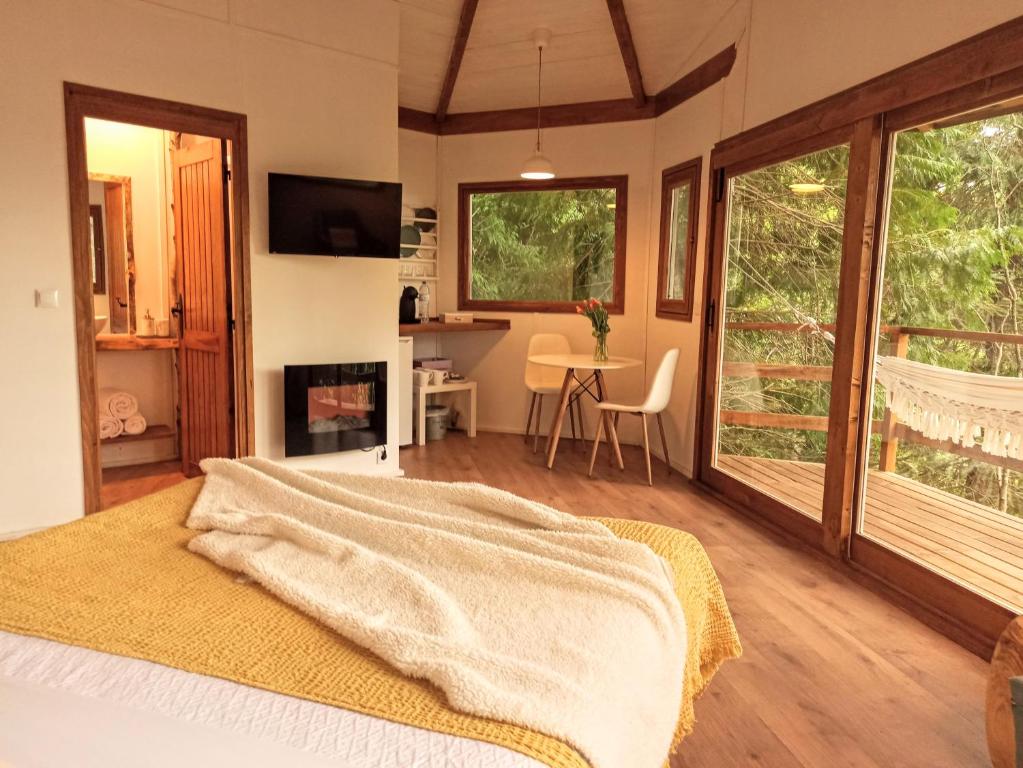 Featuring comfortable one, two, and three-bedroom houses, Pousada Village is located in Vieira do Minho and overlooks the river and valley. The property features a restaurant, bar, garden, and outdoor pool for guests to enjoy. A sauna and indoor pool are also available at Pousada Village. Each unit comes equipped with a flat-screen TV, a seating area with a sofa, a kitchen, and a private bathroom. The property is located 12 kilometers from Tahiti waterfall and less than 5 kilometers from the Geres park.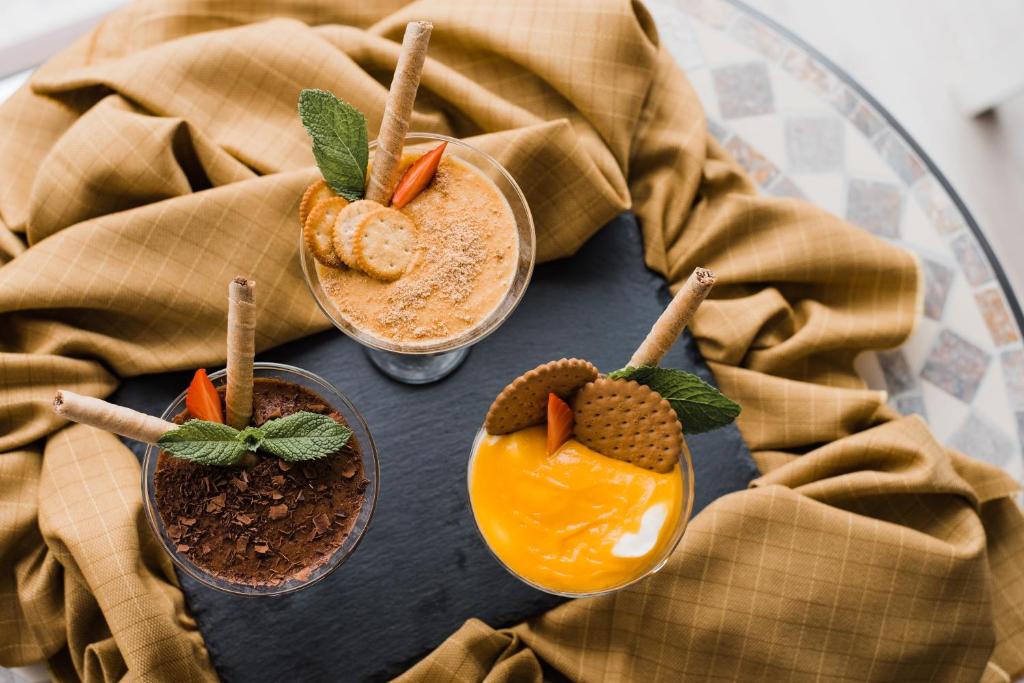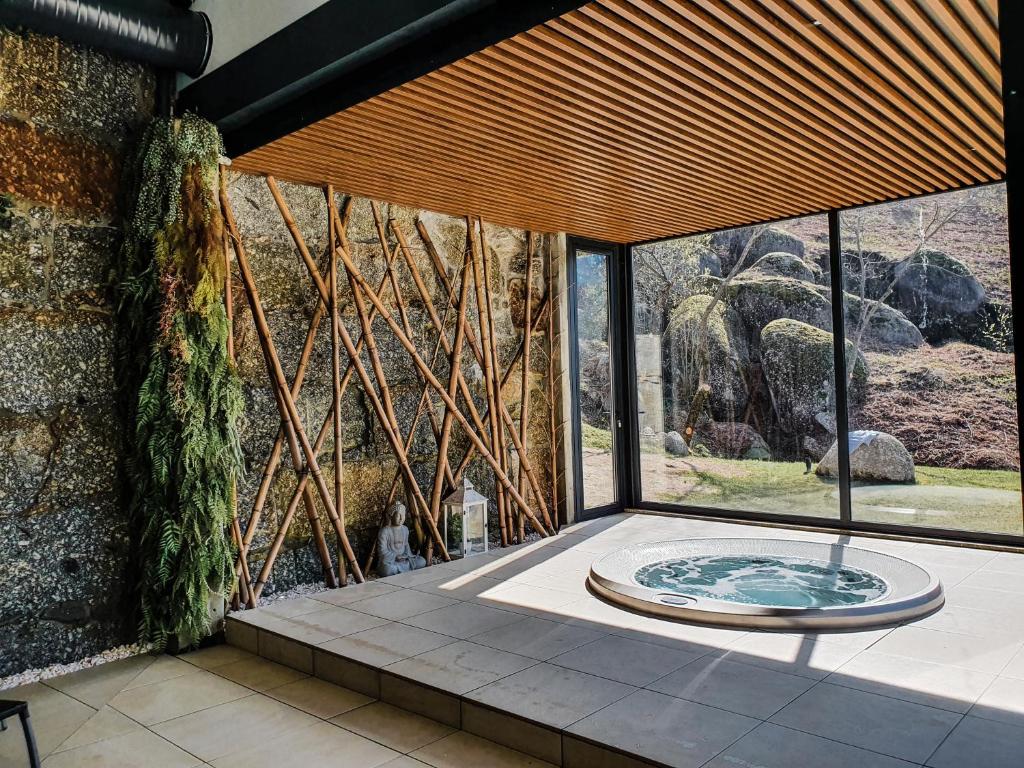 Located in Vieira do Minho, DOBAU Village is less than 4 kilometers away from Geres park. Featuring a large outdoor swimming pool, a children's playground, barbecue, terrace, and gorgeous views of the river, DOBAU Village provides a luxurious hotel experience for an affordable price near Geres. The property offers apartments sleeping up to six people with private bathrooms, mountain and river views, a flat-screen TV, and a private terrace.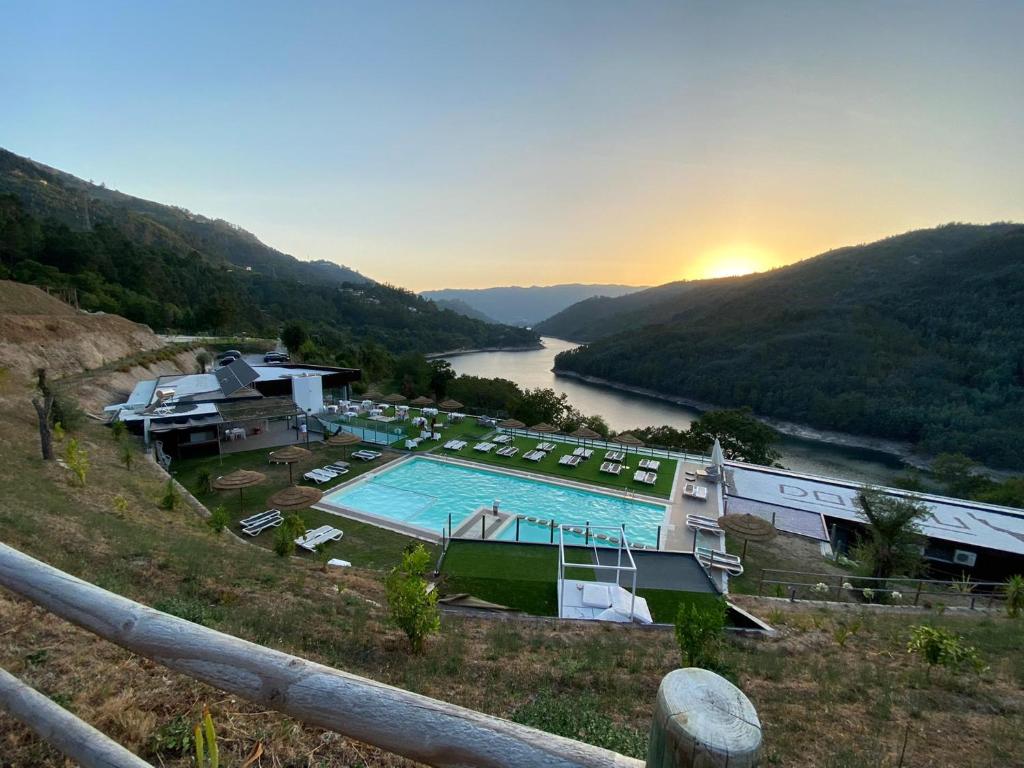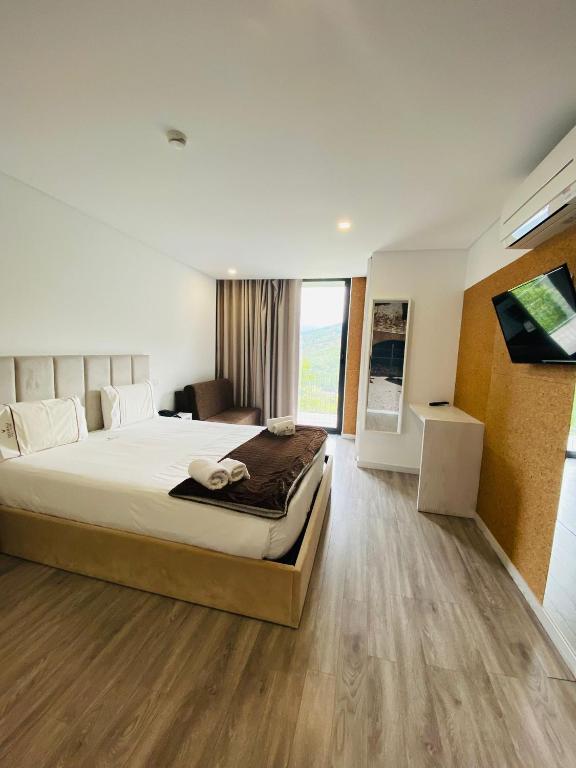 Located only a 2-minute walk from Albufeira Geres river beach, Selina Geres is a popular hostel offering private rooms, beds in dormitories, and even glamping tents. The ideal off-grid escape, Selina Geres is located on the shores of Cavado River and features a restaurant-bar, cinema room, rooftop, yoga deck, and outdoor pool. There are plenty of social events at Selina Geres, as well as yoga lessons. The property is a 7-minute drive away from Peneda-Geres National Park and a 10-minute drive from the village center.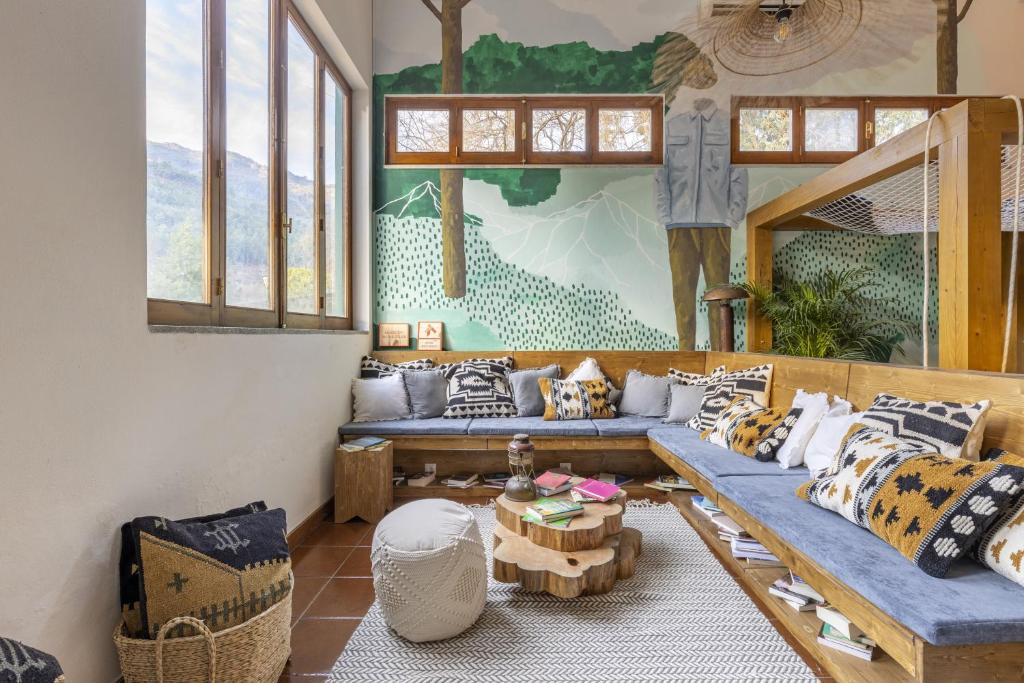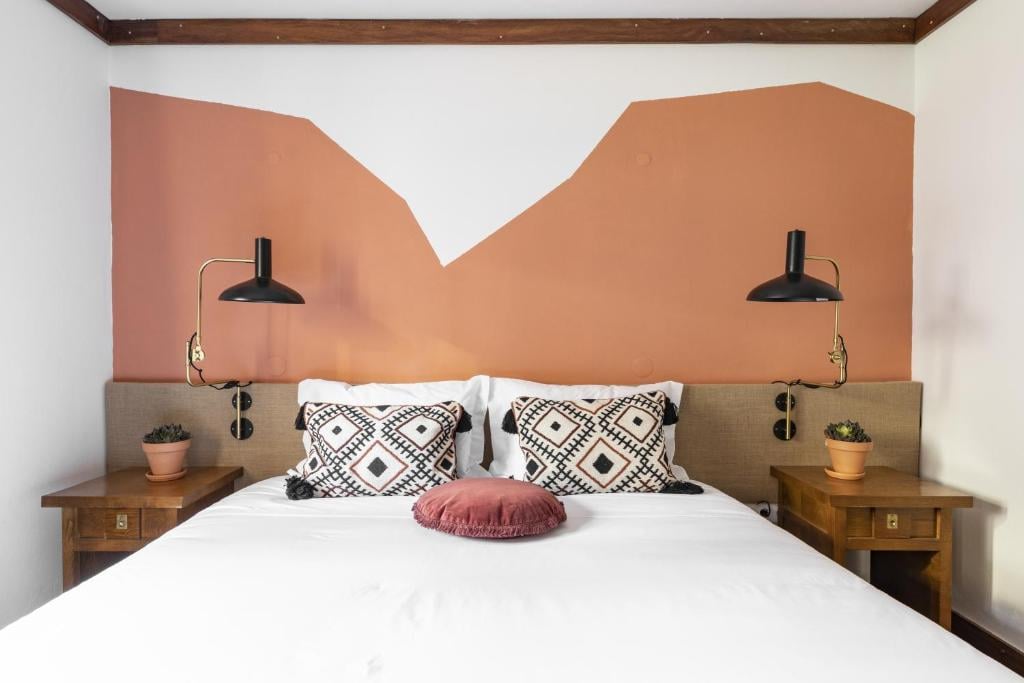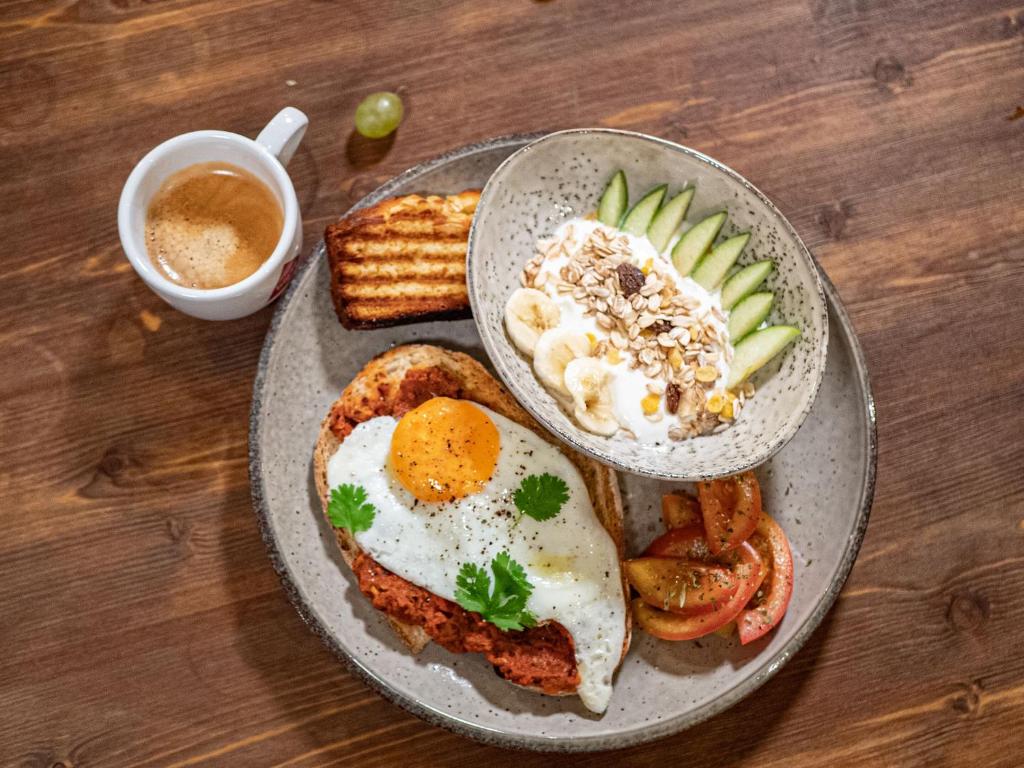 A 4-star hotel, Tempus Hotel & Spa is located less than 15 kilometers from Peneda-Geres National Park. The hotel features a restaurant serving Portuguese cuisine, a bar, as well as several pools. The property also features a high-quality spa and wellness center which includes a sauna, hot tub, Turkish bath, and indoor pool. The modern rooms come equipped with a private bathroom, a living area with a sofa, and a flat-screen TV.