The Algarve is a beautiful coastal region in Portugal known for its stunning beaches which thousands visit every summer. If you're exploring the region, finding the perfect beach out of the hundreds of options can be daunting.
Luckily, we've put together the top 5 beaches in the Algarve that you must spend a day at. Whether you are looking for a beach with nautical activities or a more secluded beach with warm waters, the Algarve offers some of the best beaches in Europe. Grab your swimsuit and let's dive into the 5 top beaches in the Algarve!
1. Praia do Ancão
Praia do Ancão is a part of the vast sandy coastline in the western section of Ria Formosa Natural Park. This beach is not as popular with tourists as they usually head to nearby resorts. It is actually a popular beach with Portuguese celebrities and politicians due to its privacy,
Also known as just Ancão, this beach features natural pine forests and dunes covered in aromatic plants. It also offers a 1.5-kilometer stretch with a beach bar and two well-regarded seafood restaurants on the dunes. Access to these spots is through wooden walkways that preserve the delicate dune ecosystem.
Praia do Ancão is also a great birdwatching spot and home to chameleons in the dunes and otters in the marshy area nearby.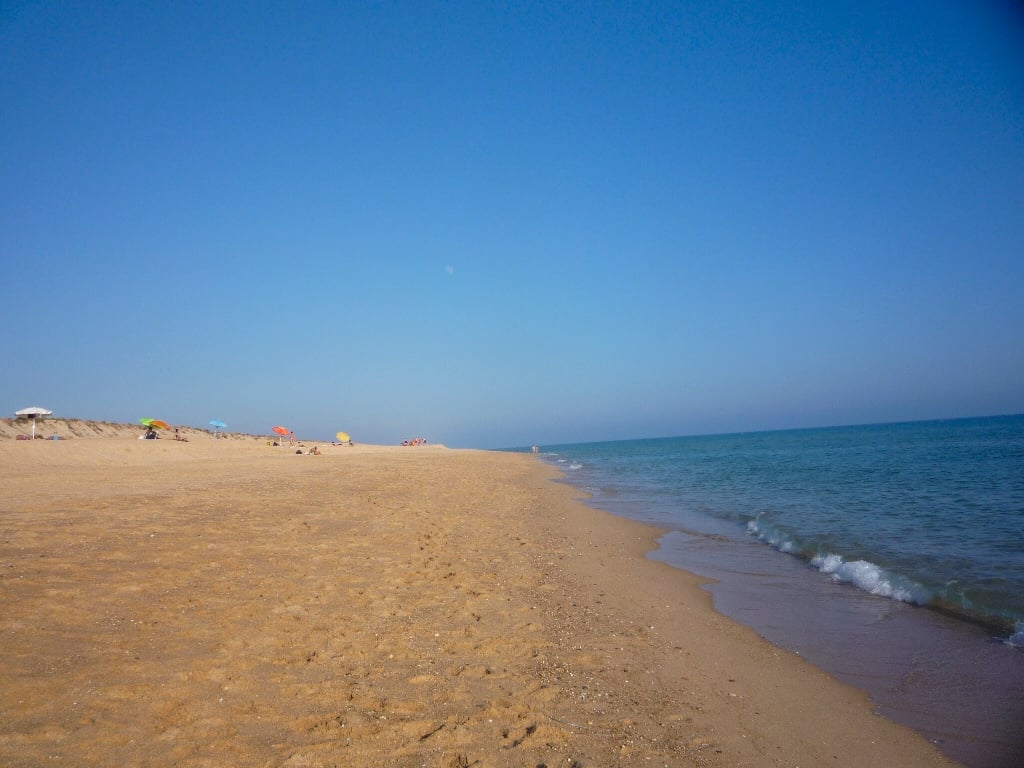 2. Ilha da Barreta
This island beach is known as one with the warmest waters in Portugal. This beach is around 10 kilometers long and provides a secluded oasis. You can only get to the island by boat, which you can rent in Faro.
Fun fact – This island has no permanent residents, and the only notable building on the entire island is the surprisingly popular O Estamine Restaurant, located at its eastern end. This well-regarded eatery serves highly-rated food, prepared using a solar-powered kitchen.
Due to it being a pretty large beach that is often empty, this beach is often frequented by nudists (not officially).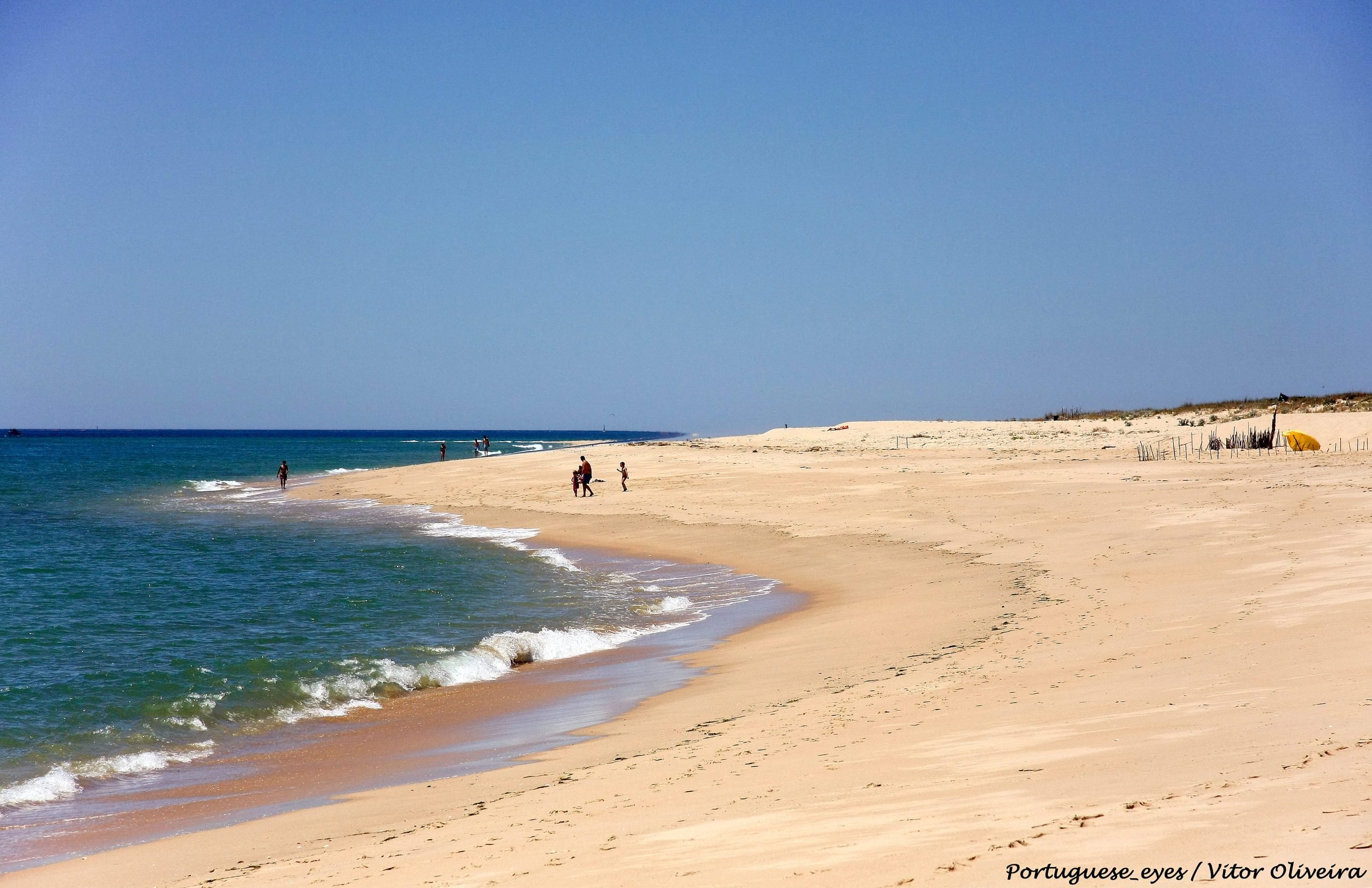 3. Praia da Marinha
Praia da Marinha, translating to Navy Beach, is an iconic beach near Lagoa. Favored by Lonely Planet as the Algarve's top beach, Praia da Marinha has become a poster child for the region in travel advertisements.
To reach this picturesque haven, visitors can follow a long staircase on the left side leading down to the beach. At the stairway's end, a restaurant and a small section of Marinha Beach offers delightful lunches.
Adjacent to the beach, on the right side, lies a famous rock structure resembling the letter "M," aptly named the "M Rock" or the "Cathedral." This striking rock formation contributes to the unique charm of Praia da Marinha.
This beach is family-friendly, but keep in mind that the stairs could be hard to walk through for those with small children.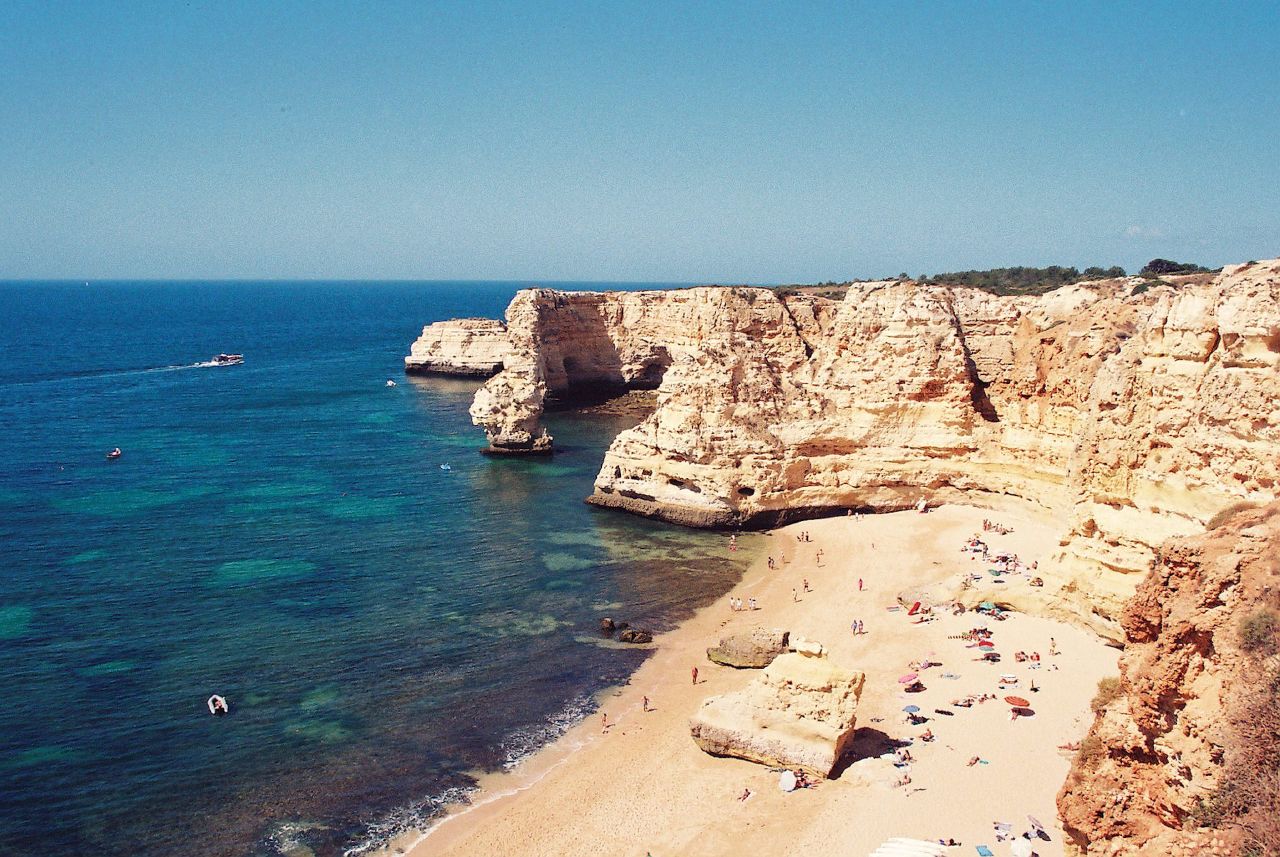 4. Praia da Dona Ana
Praia da Dona Ana, near Lagos in the Algarve, is a stunning beach renowned for its clear waters and striking cliffs. It is one of the most photographed beaches in the region, often featured on postcards and billboards promoting the Algarve.
This beach can be accessed via steep stairs from the headland above, where various accommodation options, including Carvi Beach Hotel, Dona Ana Garden, Villa Doris Suites, and Big Chill Hostel, are available.
Praia da Dona Ana is a sheltered spot ideal for swimming, but the water can be cool even during the peak of summer. The beach's unique red and yellow sandstone rock formations attract sea kayaking tours, while a beachside restaurant and rental services for parasols and sunbeds are available.
5. Praia da Falésia
Praia da Falésia is a beloved beach renowned for its breathtaking red cliffs, earning it the apt translation of "Beach of Cliffs." Considered one of the best beaches in the Algarve, Praia da Falésia spans over 6 kilometers, stretching from Vilamoura in the East to Olhos de Água near Albufeira in the West.
As you set foot on the beach, you'll be greeted by soft, powdery sand, and warm waters. However, it is the mesmerizing backdrop of dramatic red cliffs that truly sets Praia da Falésia apart. These striking cliffs create a stunning contrast against the blue waters of the Atlantic Ocean.
Beyond its natural beauty, Praia da Falésia offers a range of activities for visitors to enjoy. Whether it's leisurely beach walks, beach volleyball, or simply basking in the sun, there's something for everyone to relish on this enchanting shoreline.