With more than 300 days of sun a year and over 1500 kilometers of Atlantic ocean coastline, Portugal has countless golden sand beaches, some of the best beaches in the world. From calm clear waters and sheltered bays, as well as large beaches with large waves perfect to surf, Portugal has a beach for everyone. Wherever you are along the coastline of Portugal, we have selected the 20 best beaches throughout mainland Portugal, as well as the archipelagos of Madeira and the Azores so that you can enjoy a wonderful beach day. Summer is coming up so get your bathing suit ready and keep this list handy to explore some of the most beautiful beaches in Portugal!
1. Praia do Almograve, Alentejo
Located in the quaint village of Almograve, Praia do Almograve is a long golden sand beach along the Sudoeste Alentejano and Costa Vicentina Natural Park. One of the best beaches in Alentejo, Almograve features the Sardao Cape to the South, offering views of the coastline and inaccessible and natural beaches. A beach that is never filled with tourists, Praia do Almograve is one of the best beaches in all of Portugal, providing the perfect balance between a large beach with stunning waves and a calm environment. The beach is closed off in the extremities by cliffs, making it a great spot for windy days. After a relaxing morning on the beach, walk a few minutes to the Almograve village where there are plenty of traditional Portuguese restaurants serving affordable lunches.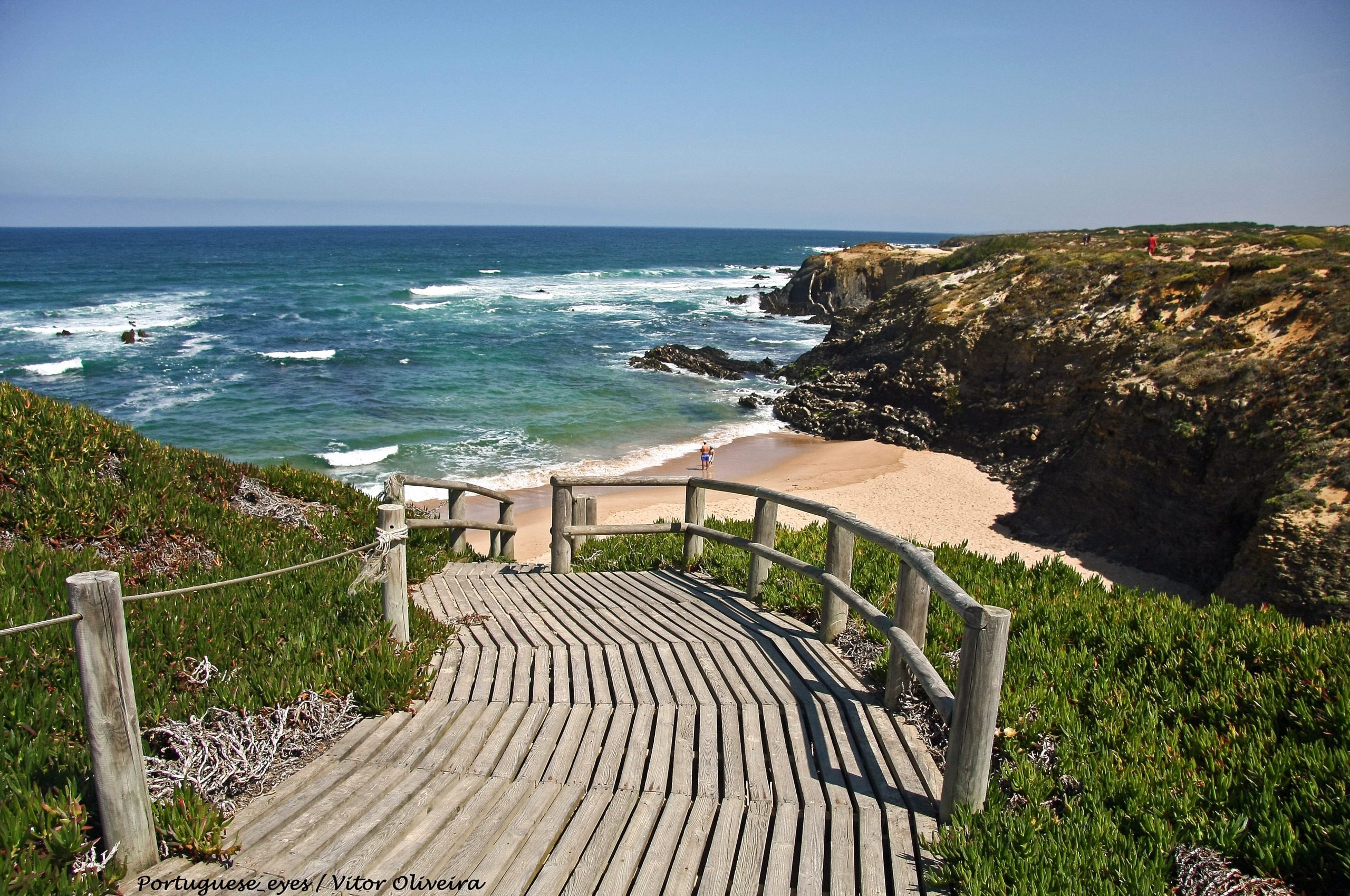 2. Praia de Moledo, Caminha
Located in Northern Portugal, Praia de Moledo in Caminha has been a popular beach since the 20th century, having been frequented by politicians and families of the Portuguese elite. While many head to the south of Portugal in the summer, Caminha's beach is not second-best but rather less crowded by tourists, making it one of the best beaches for those looking to run from the crowds. With optimal conditions for watersports such as surf, bodyboard, and windsurf, as well as its therapeutic features such as the high amount of iodine, Praia de Moledo does not disappoint. In front of the beach on an island only accessible by boat, you can find the Insua Fort, built in the 17th century.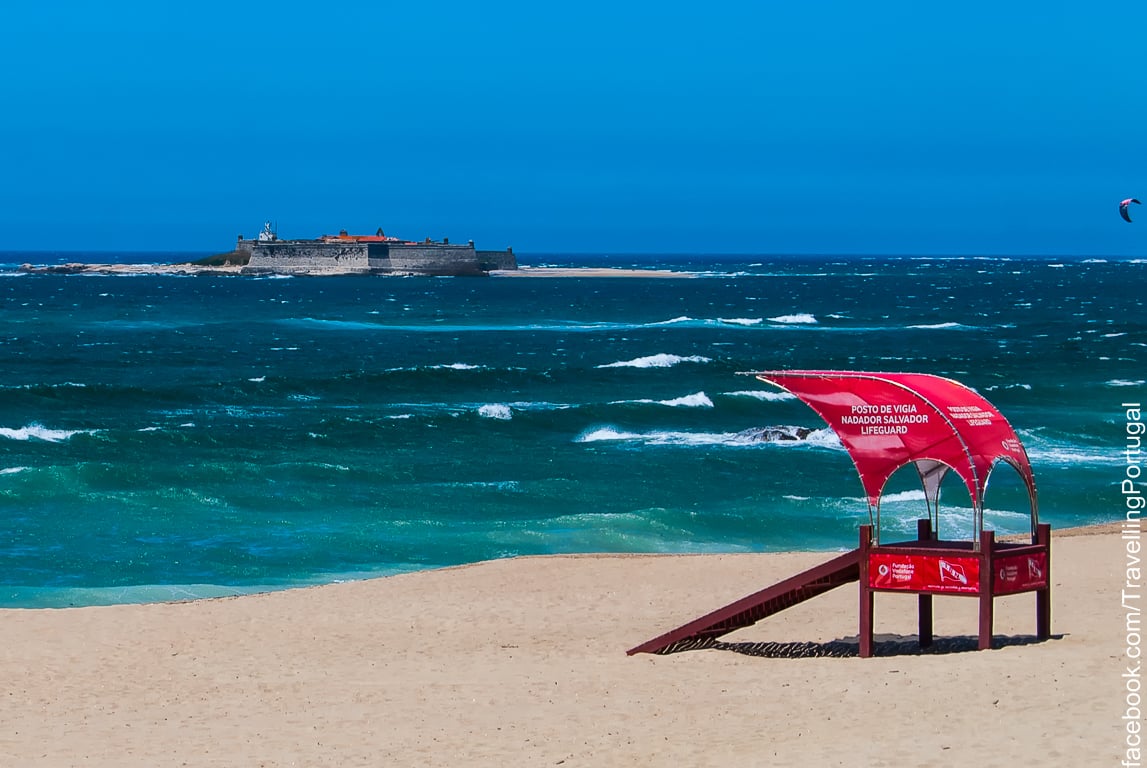 3. Praia da Aguda, Sintra
Praia da Aguda is located close to Praia Grande in Sintra and is one of the most beautiful beaches in Lisbon that is less known to tourists. Around a 45-minute drive from Lisbon, take a snap of the ocean and the cliffs before you head down to the beach. To get to the sand, you need to go down a 230-step staircase down a cliff which introduces you to the stunning blue ocean views. The way back up is a bit of a workout so this is not the right beach for those with limited mobility. Praia da Aguda is also listed as an unofficial nude beach by the Portuguese Naturist Federation so expect to see the occasional nudist.
Guide to Naturist & Nudist Beaches in Portugal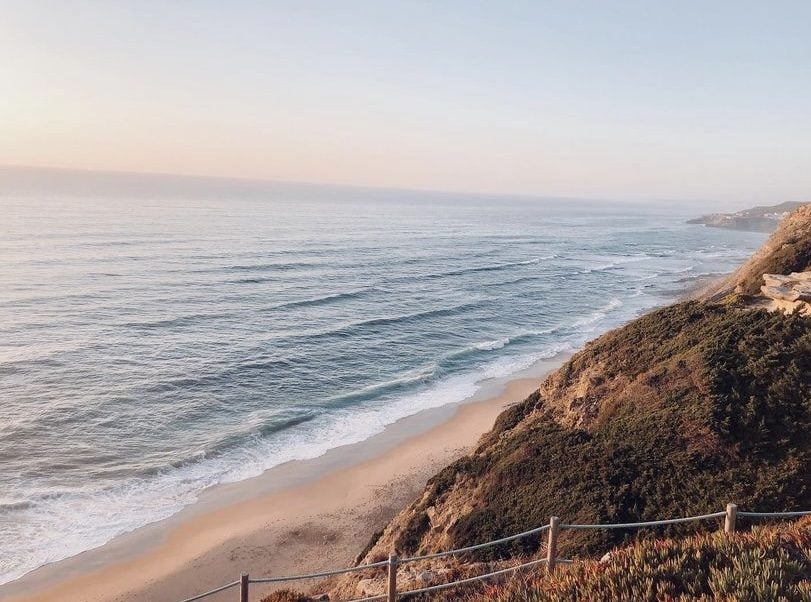 4. Praia do Alvor, Algarve
Praia do Alvor is one of the most well-known beaches in the region of the Algarve in the south of Portugal. The beach is composed of fine white sand and stretches over 3.5 kilometers, featuring a long boardwalk that guides to gorgeous dunes and the Ria de Alvor Nature Reserve. You can find a beautiful lagoon behind the beach, formed by the river of Alvor where you can enjoy some windsurfing, kayaking, and more. The beach is located in Alvor, a historic fishing village that has now been modernized with hotel complexes and lively bars. You will also find several restaurants close to the beach, as well as bathrooms, showers, and a lifeguard station.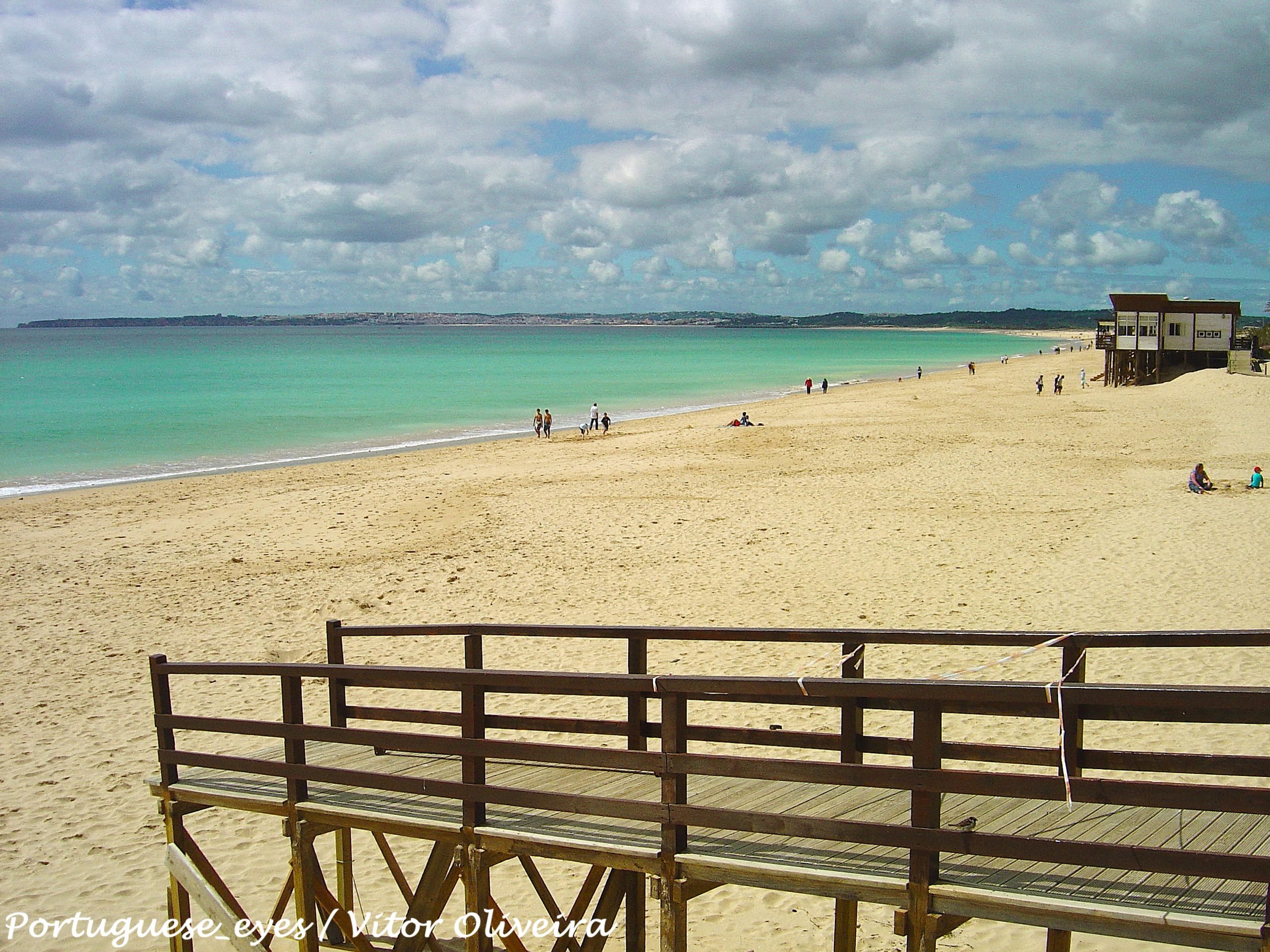 5. Praia de Troia-Mar, Troia
Praia de Troia-Mar is located in the peninsula of Troia and is one of the only beaches in Portugal that most resembles a tropical getaway. This beach offers a gorgeous view of the Serra da Arrabida, has clear waters, and white sand like a tropical oasis. Praia de Troia-Mar is one of the best beaches to spot dolphins and the water temperature is much warmer than in other parts of the country at around 19.5°C in the summer. You can also enjoy some windsurfing, beach volleyball, and football in the designated areas.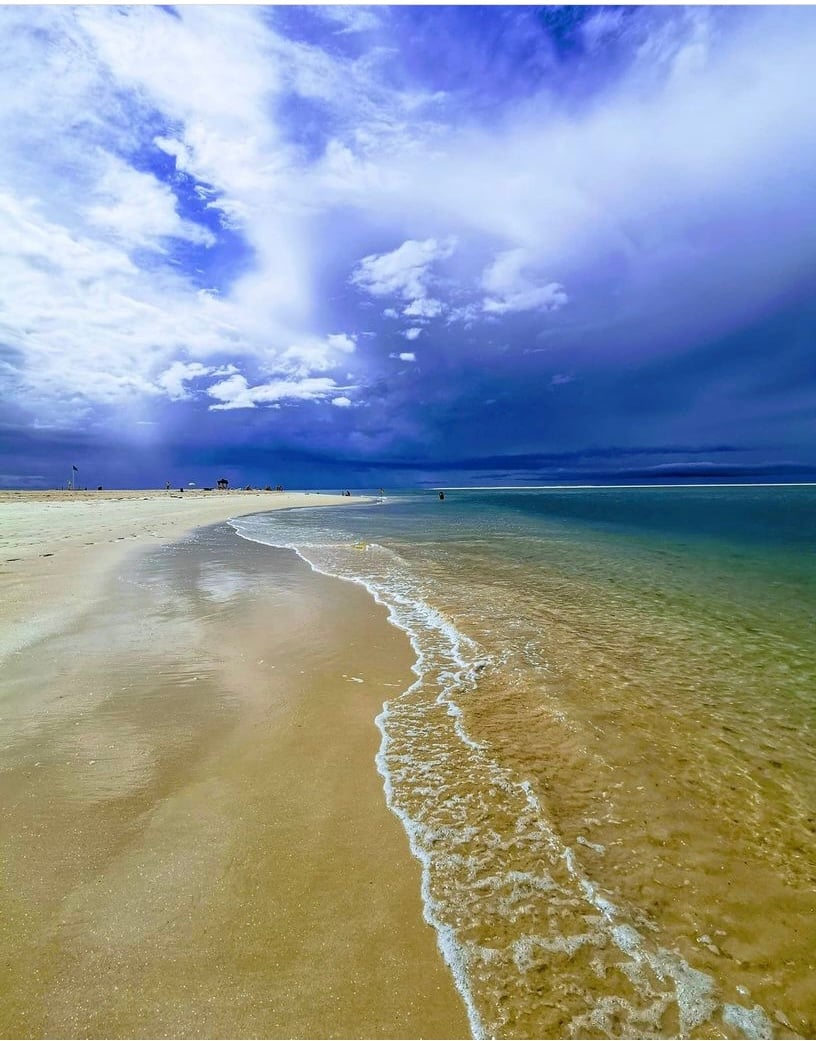 6. Praia da Franquia, Alentejo
Located in Vila Nova de Milfontes in the Alentejo, Praia da Franquia is one of the most sheltered beaches in the area, making it popular for canoeing, paddle, and windsurfing. This small beach has a long tradition of being a popular one in the area, being featured in literature since the 19th century. One of the best beaches for families with children, as well as water sports lovers, Praia da Franquia is rarely full of tourists and offers a relaxing beach day without too much commotion. Its located close to the town, as well as features several facilities such as a lifeguard, bathrooms, and cafes.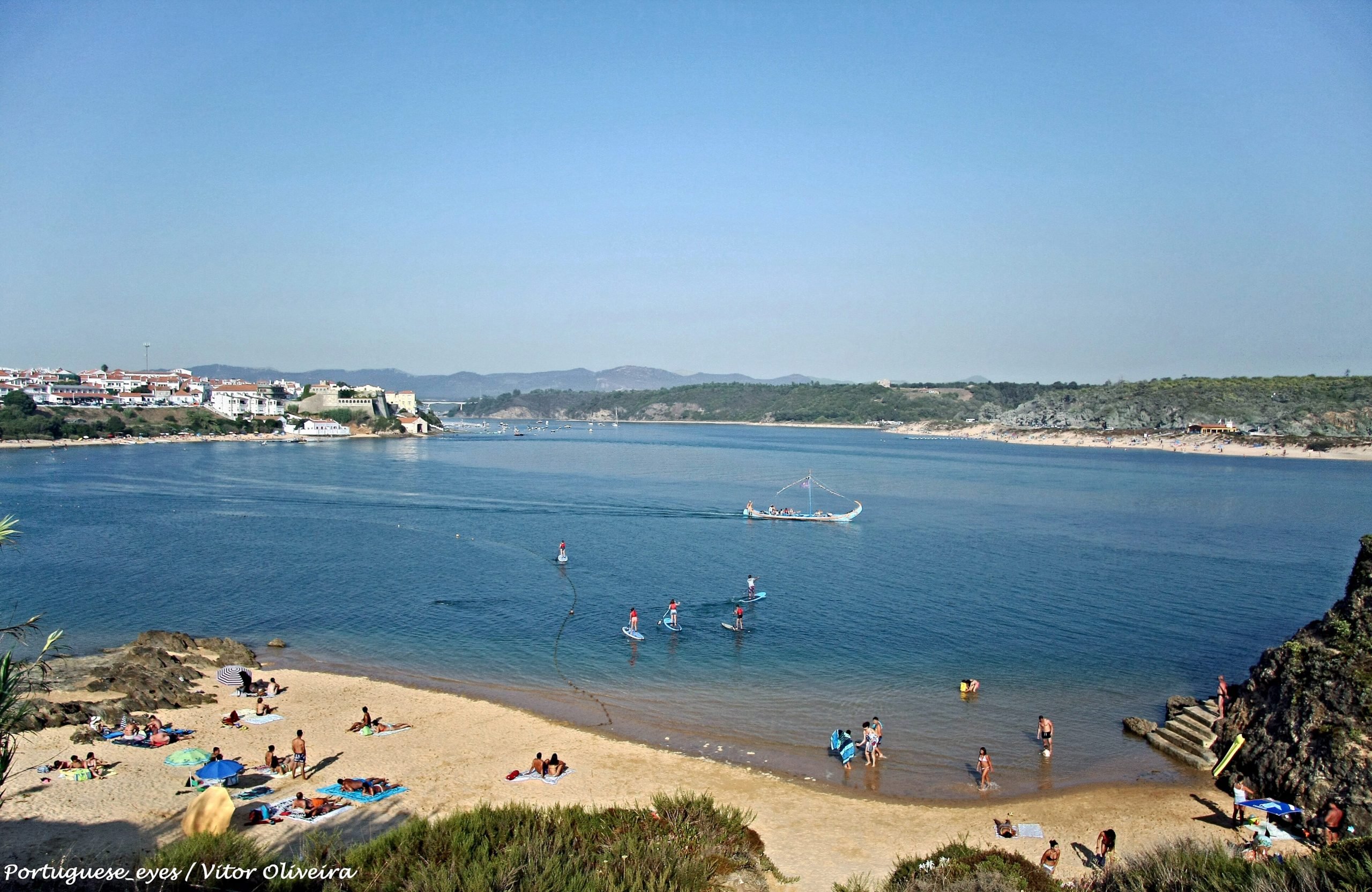 7. Praia do Barril, Algarve
If you are planning on visiting the city of Tavira in the Algarve, you cannot miss Praia do Barril. The beach features a wooden path over golden sand which provides a gorgeous contrast with the dark blue waters. Due to the large size of the beach, you will rarely feel like it's too busy, despite its popularity. Praia do Barril features over 100 rusting anchors in the sand, presented in rows known as the "Anchor Cemetary" to represent the remains of the former tuna fishing village. The beach next to Praia do Barril is called Praia do Homem Nu and is a popular nudist beach in the Algarve, particularly with the LGBT+ community.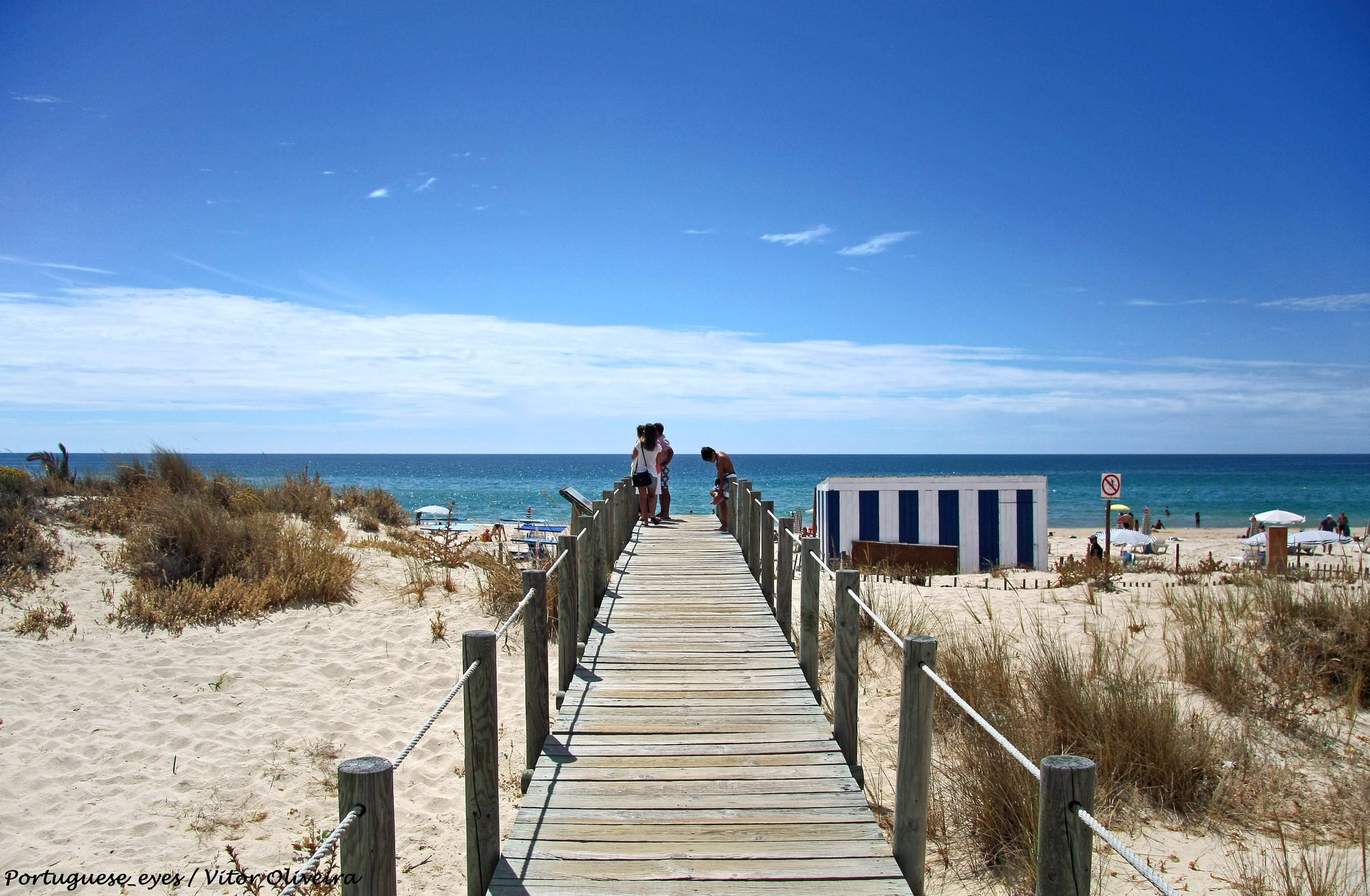 8. Praia da Comporta, Setubal
Comporta is a popular vacation town in Setubal for families all over the country, but particularly Lisbon locals due to its close proximity and incredible beaches. Praia da Comporta is part of the Sado Estuary Nature Reserve, having its dune vegetation preserved, as well as the nearby pine forest. The 12-kilometer beach features high-quality facilities such as an extensive parking lot, public toilets with showers, and wheelchair ramps. The beach has optimal conditions for kite surfing as plenty of competitions are hosted here.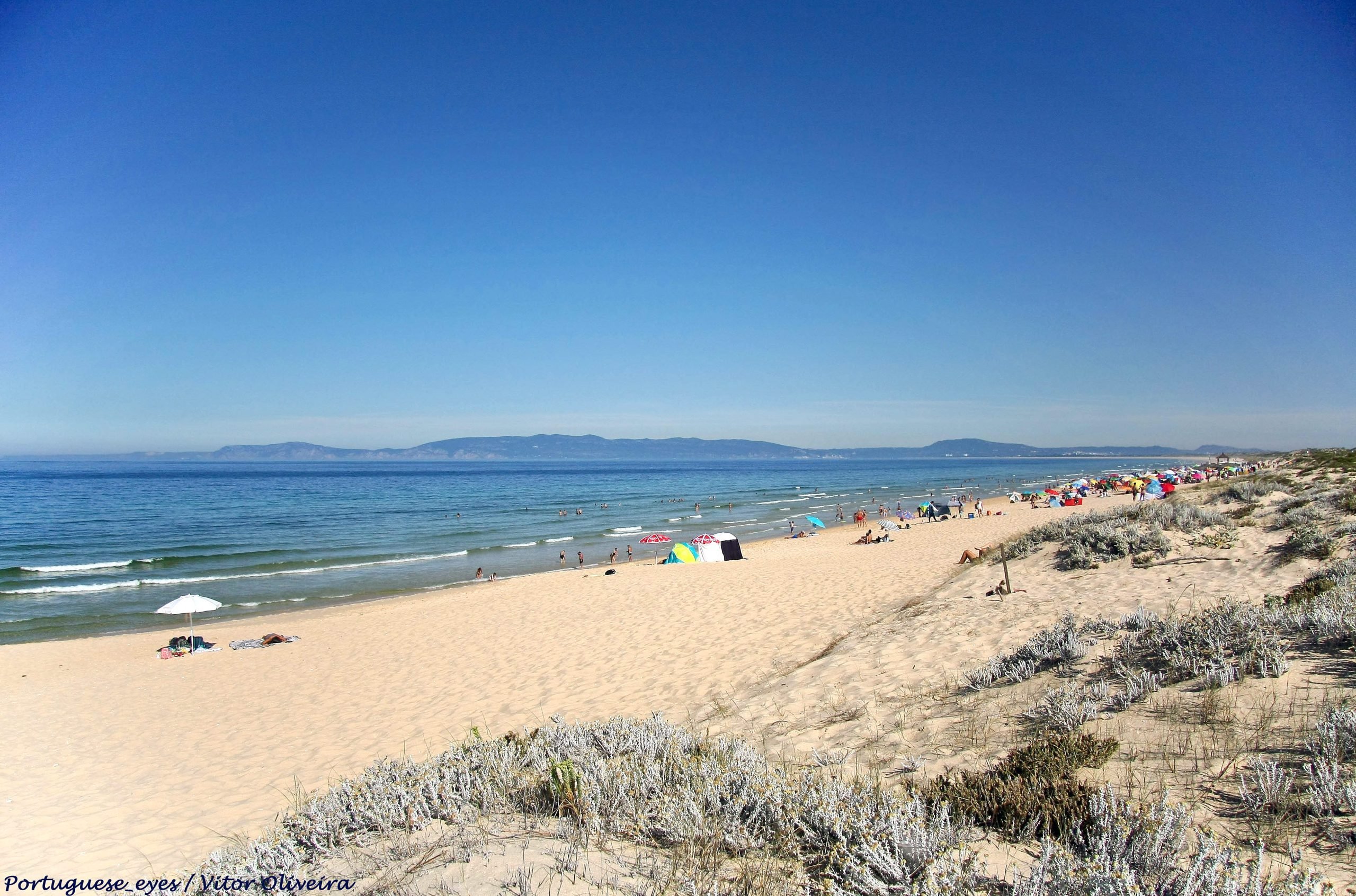 9. Praia do Guincho, Cascais
If you know Cascais well, you know that the best beaches are not in the center, but rather around a 10-minute drive away. Praia do Guincho is by far the best beach on the Portuguese Riviera, boasting large Atlantic ocean waves known for surfing, even in the winter. The Guincho shoreline is around 1 kilometer, making it perfect for enjoyable walks on the beach. You can also enjoy some lunch and drinks at Bar do Guincho which has a beautiful view of the ocean and the cliffs. However, on this side of the bar, near the bar, the beach can get quite busy in the summer so we recommend parking your car near Estalagem Muchaxo and enjoying this side of the beach.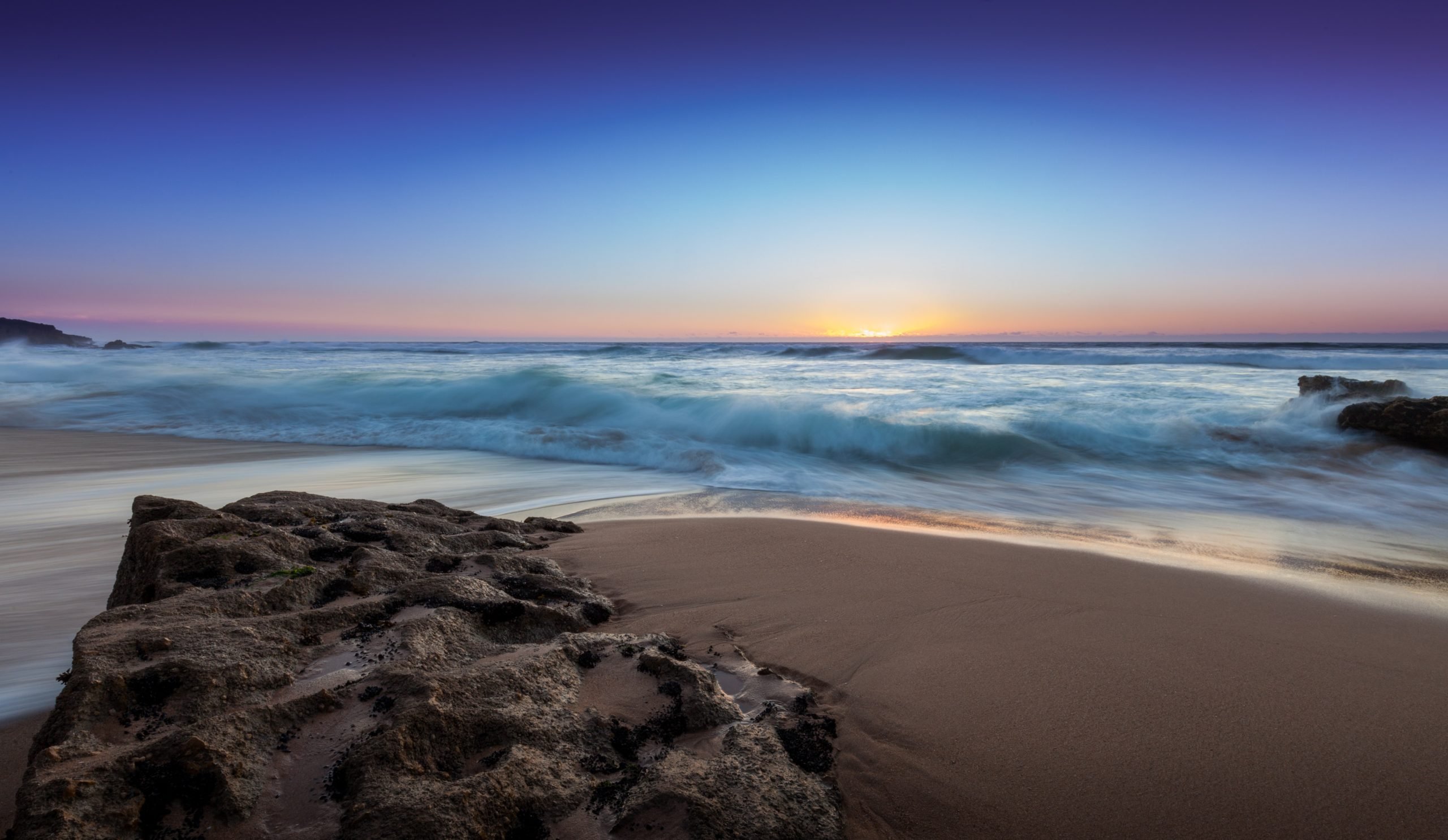 10. Portinho da Arrabida, Setubal
Located in the Serra da Arrabida Natural Park in Setubal, Portinho Beach is a clear watered beach with white sands, as well as deep green hills. This beach features a bay that is suitable for diving and discovering marine life, while fishing is prohibited. Located in a former small fishing village, public transport is pretty much inexistent here which leads this beach to always be calm and never overcrowded. The beach features umbrellas to rent, as well as watercrafts and games. A 17th-century fort guards the beach which now hosts the Oceanographic Museum. You can also enjoy a Portuguese meal at the seafront restaurant called Beira Mar which serves quality seafood.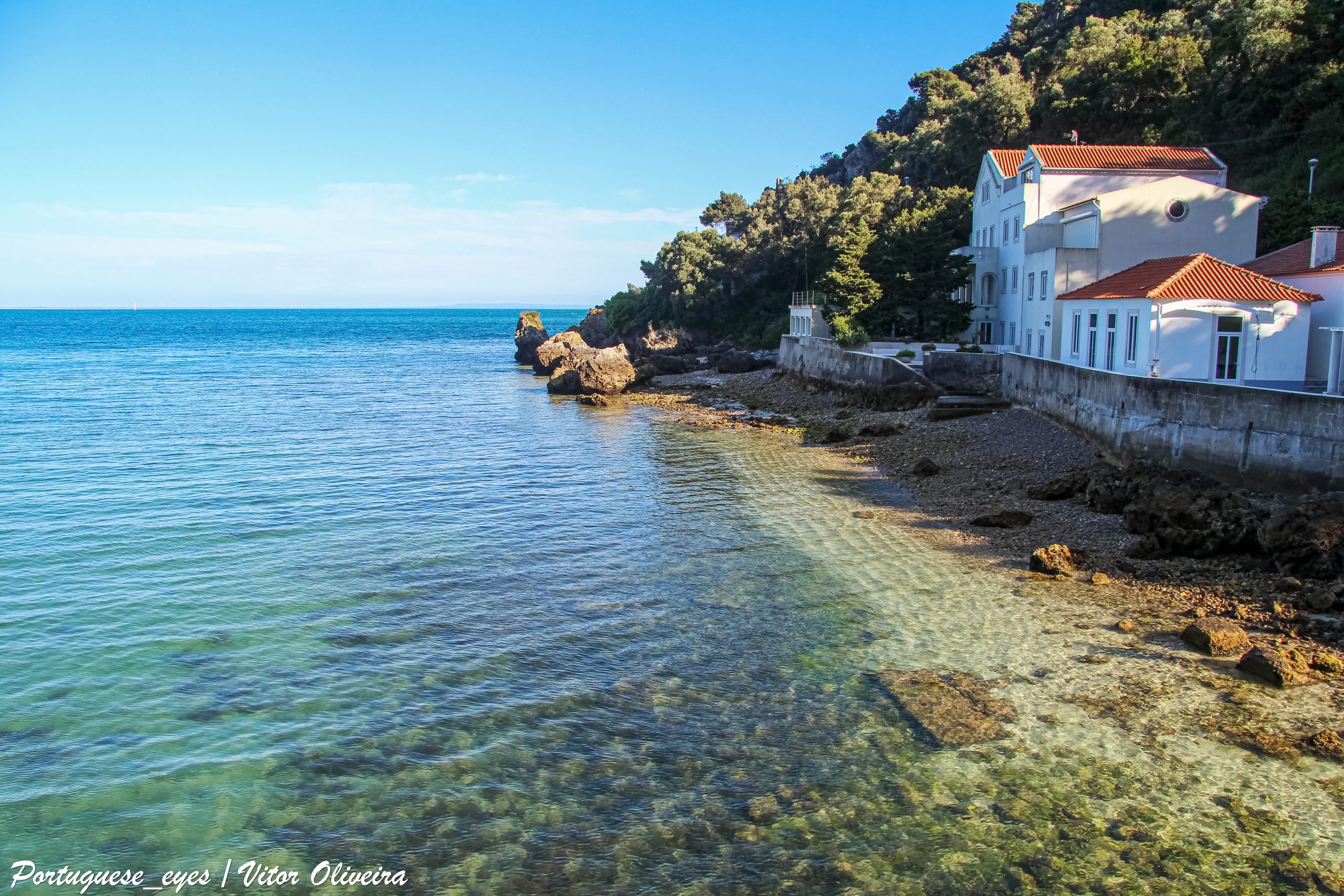 11. Praia da Ursa, Sintra
Praia da Ursa is a "wild beach" in Sintra, meaning that there are no lifeguards on-site and the path to the beach is not an official one. This stunning beach is one of the best known in Sintra, but might not be suitable for families with small children due to the large waves, common in the Atlantic ocean. It is also not suitable for people with limited mobility as the path to the beach is also quite rough and can be unsafe, as you have to walk down a mountainous path that is not built for that purpose. However, the difficult walk is worth it. We recommend packing food and drinks, maybe even bringing a sun umbrella as there is no access to restaurants or cafes. This beach is rarely full and although it is not listed as a naturist beach, full nudity is common here.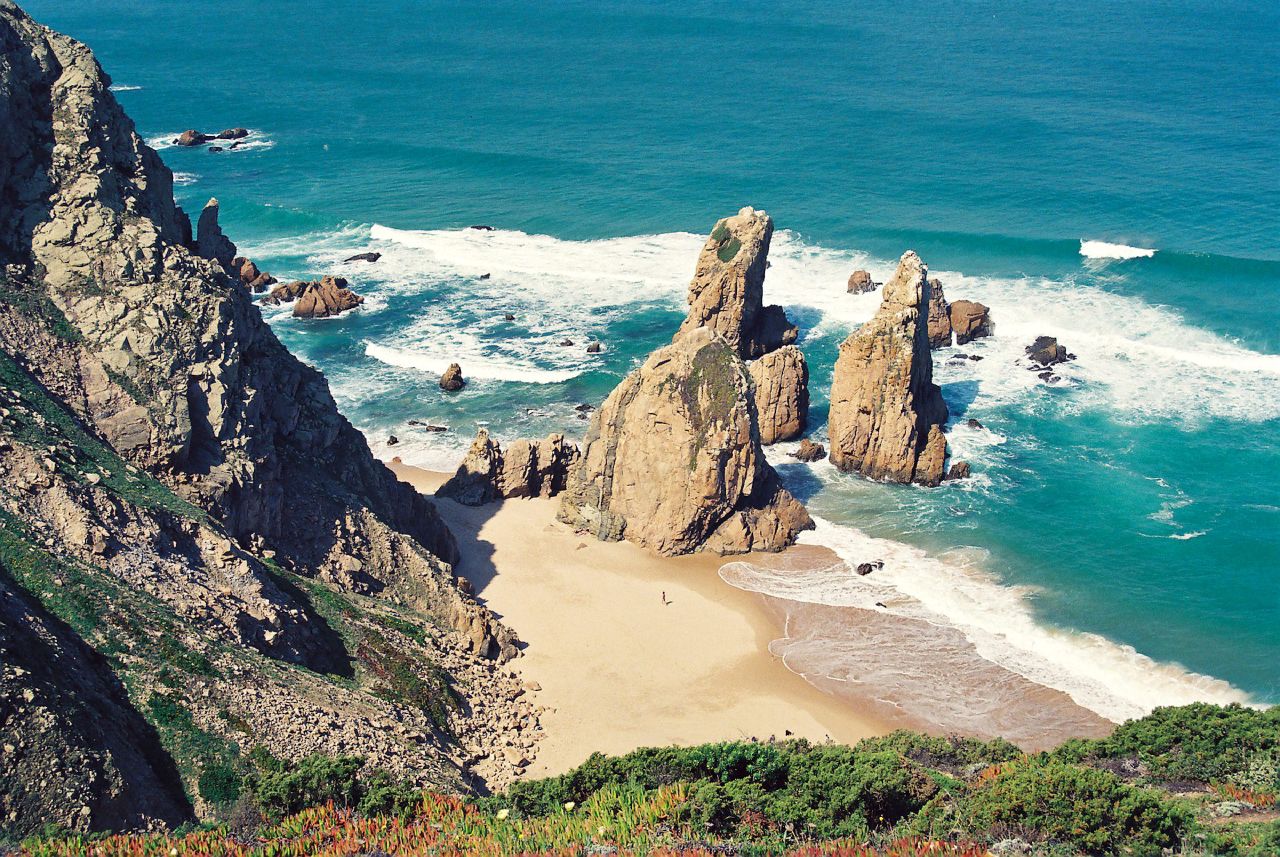 12. Praia do Porto do Seixal, Madeira
One of the best beaches on the island of Madeira, Praia do Porto do Seixal is a black sand beach worthy of being displayed on a travel postcard. A small beach, it features huge cliffs with a large green mountain, as well as a relaxing waterfall, providing a beautiful contrast with the black sand. A 40-minute drive from Funchal, the best way to get to Praia do Porto do Seixal is to rent a car as you won't be able to get here by bus.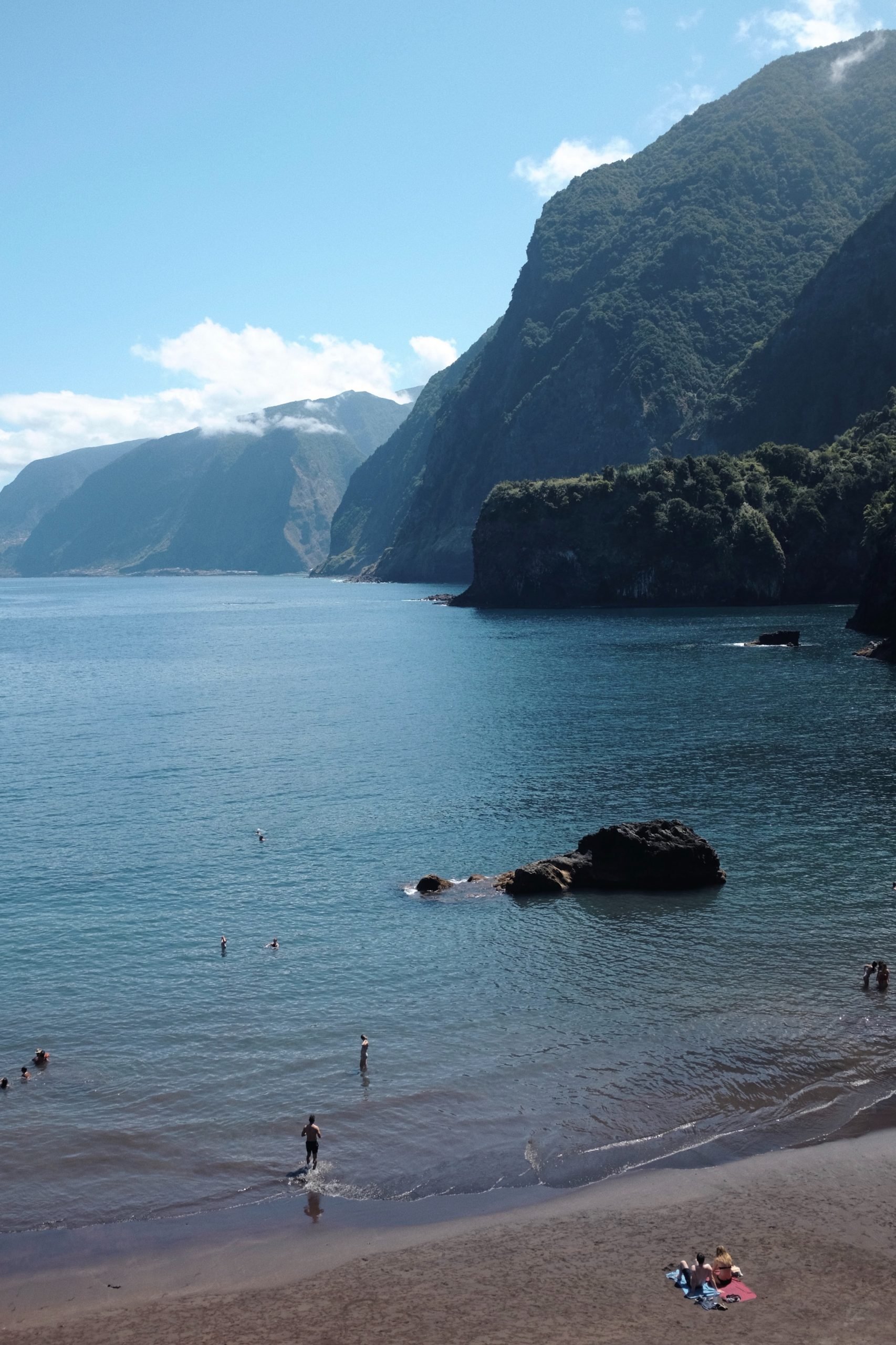 13. Praia de Miramar, Vila Nova de Gaia
Praia de Miramar is located in Vila Nova de Gaia, around a 20-minute drive from Porto. Featuring turquoise waters and golden sand, this beach does not get intense waves and is safe for the whole family, as well as perfect to enjoy some paddle. The beach is surrounded by luxury homes, located close to one of the oldest golf courses in Portugal. Due to its location, it boasts incredible facilities including sun umbrellas available for rental, bathrooms, and a bar.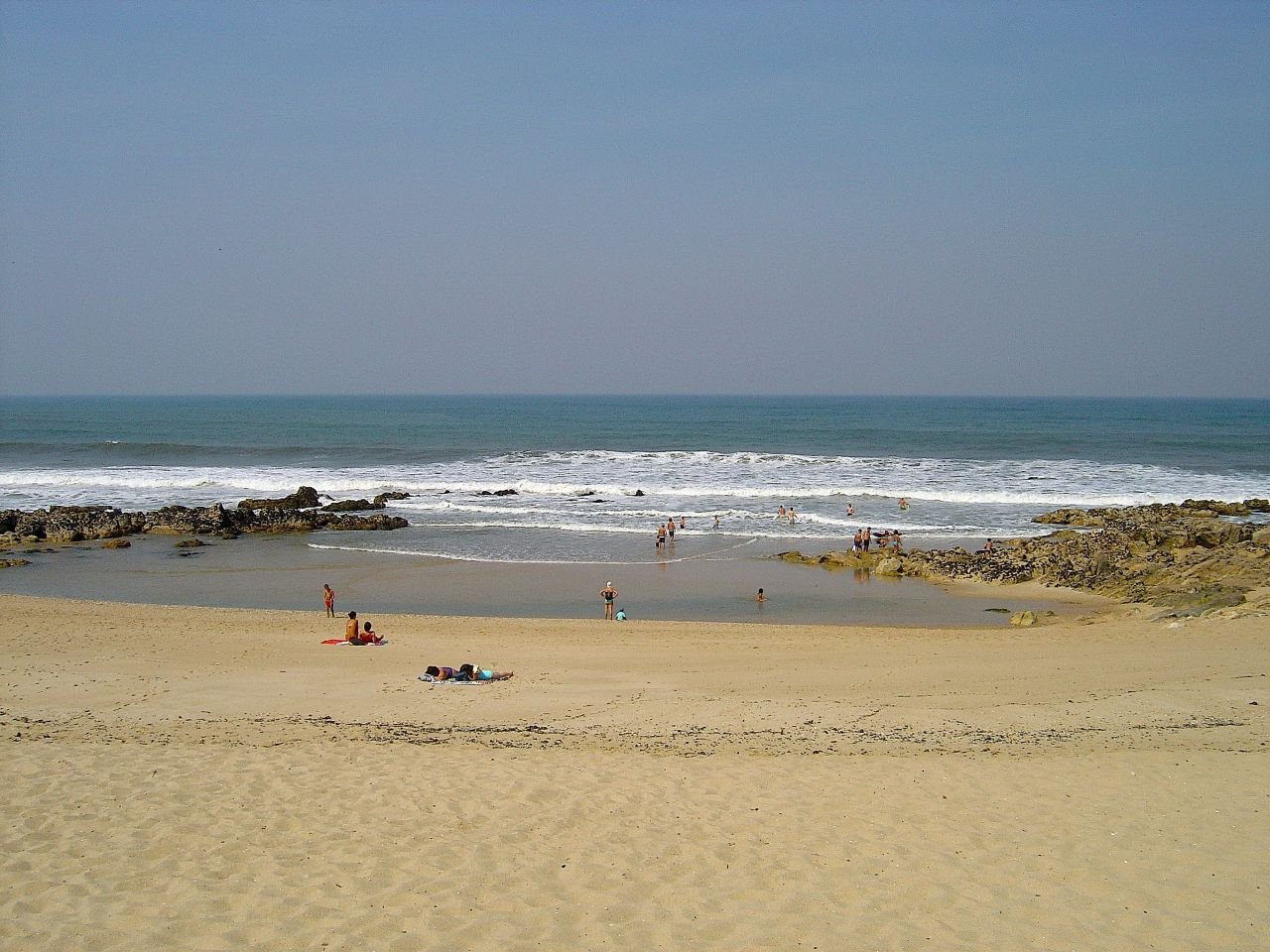 14. Praia de Odeceixe, Algarve
Located in the municipality of Aljezur in the region of the Algarve, Praia de Odeceixe is known for its horseshoe pattern, as it is surrounded by the Ribeira de Seixe. The Ribeira de Seixe is a river that surrounds the 330-meter beach until it reaches the ocean. The contrast between the river and the ocean provides a beautiful image and allows visitors to choose where to bathe which is particularly useful when the waves are too strong. During low tide, many small lagoons appear in the sand, perfect for kids to play in. You will also find surf schools at the beach where you can rent a board or take some classes to get started.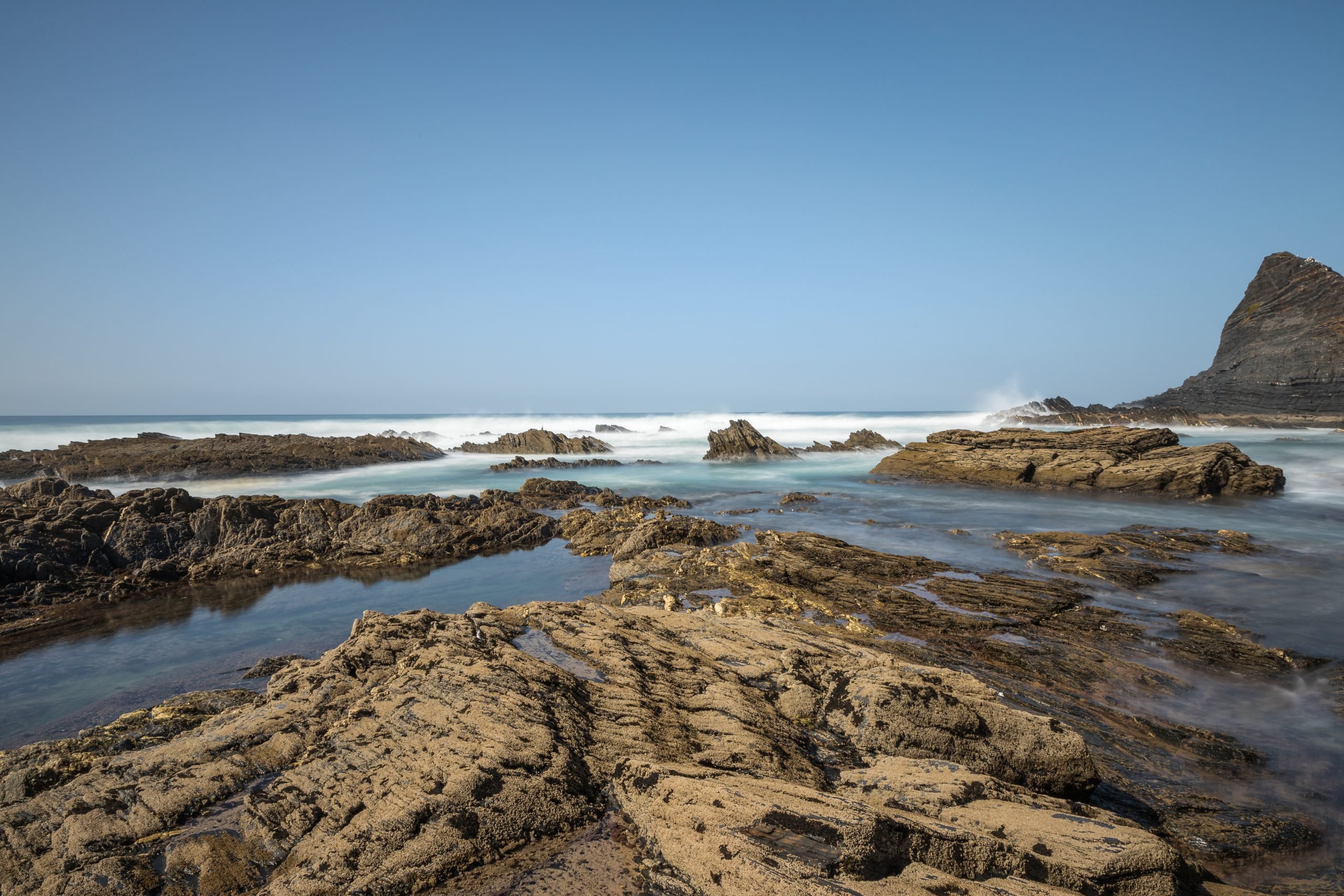 15. Porto Santo Beach, Madeira
The best beaches in Madeira are often not located on the main island. Head to Porto Santo Beach, on an inhabited island of the archipelago to enjoy a day of sunbathing on this 9-kilometer-long golden beach. You can get to Porto Santo beach, around 40 kilometers away from the island, by booking this day trip from Funchal. You will get to learn about the inhabited island in a small group of 15 people in a sightseeing minibus, as well as enjoy the beaches of the island. You can also take the official cruise to Porto Santo which costs €50 for a 2-hour trip.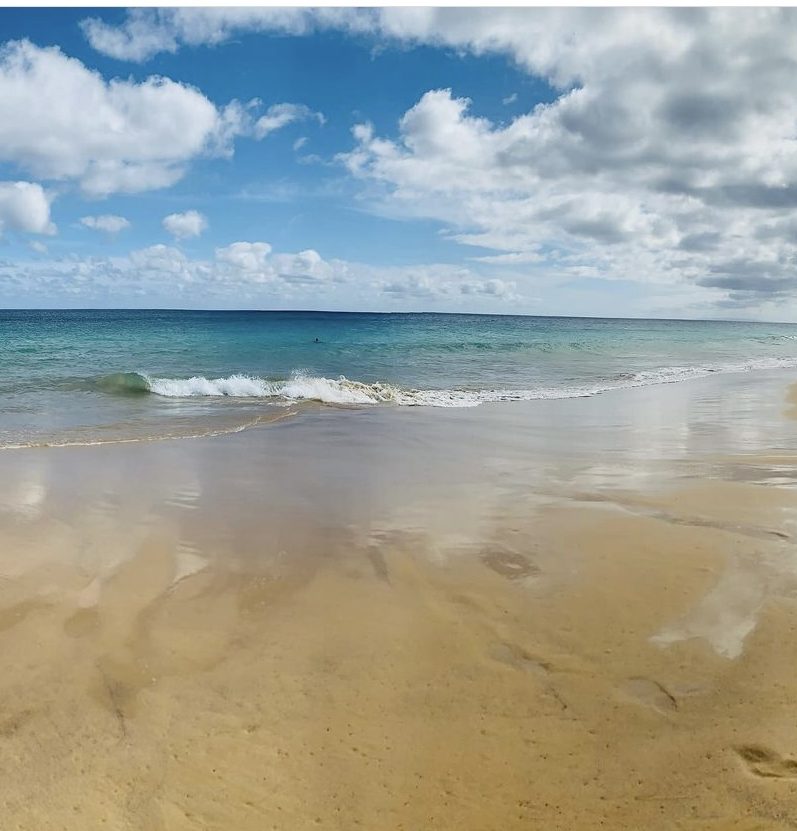 16. Praia da Foz do Lizandro, Ericeira
Located in Ericeira, a 45-minute drive from Lisbon, Praia da Foz do Lizandro is the largest beach in Mafra. The river Lizandro flows through this beach onto the ocean, providing a warmer alternative to those who do not wish to swim in the colder more volatile sea. This beach has various modern bars, restaurants, and even a surf shop for renting boards and booking surf classes. You can also rent out sunbeds and beach umbrellas.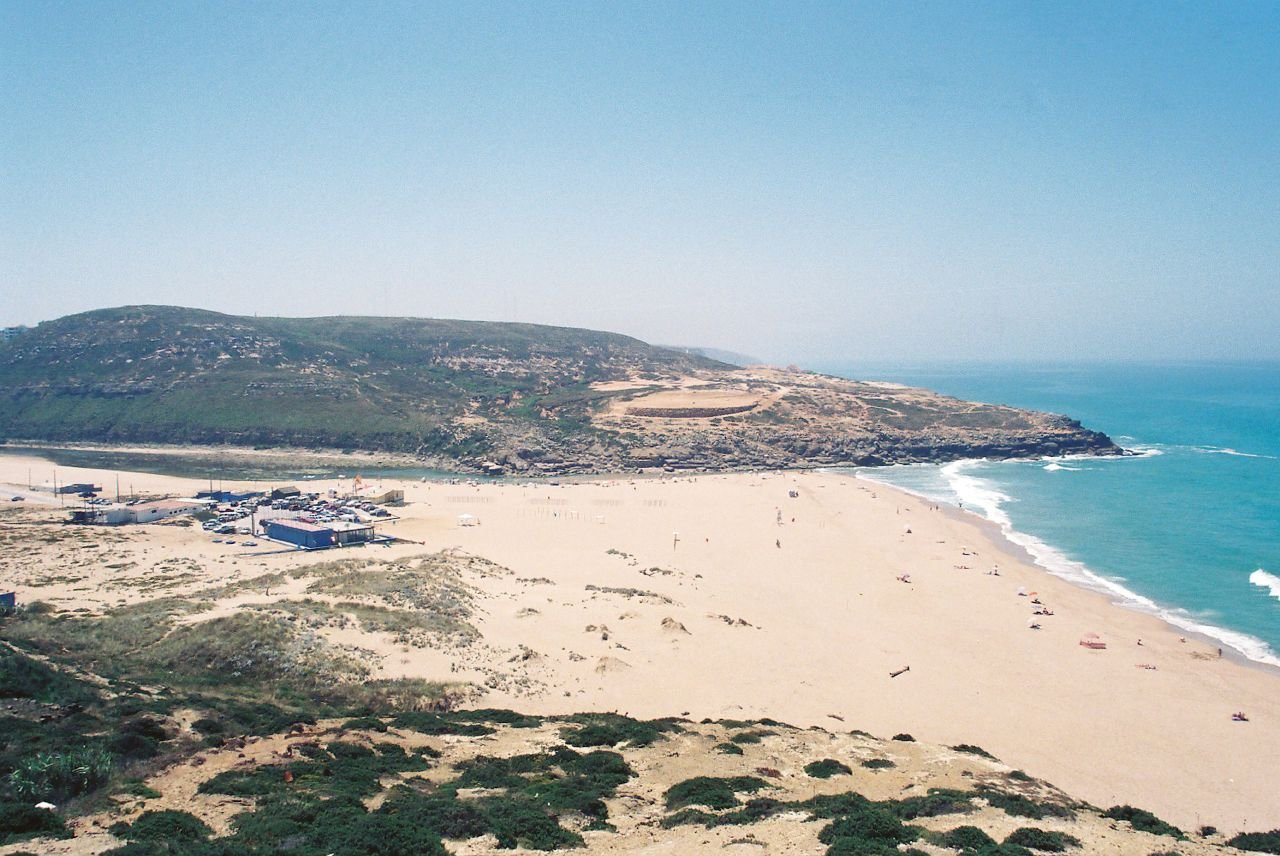 17. Praia do Meco, Sesimbra
Located in Sesimbra, Praia do Meco is a well-known 4-kilometer beach that today is an official naturist and nudist beach in Portugal (only a part of the beach is designated for tourism), probably the most famous in the country. Back in the 70s when it had no road access, this beach became known when American, Swedish, and Dutch hippies discovered it. Around two decades later, this beach had turned into a vacation spot for the Lisbon elite, such as politicians and intellectuals.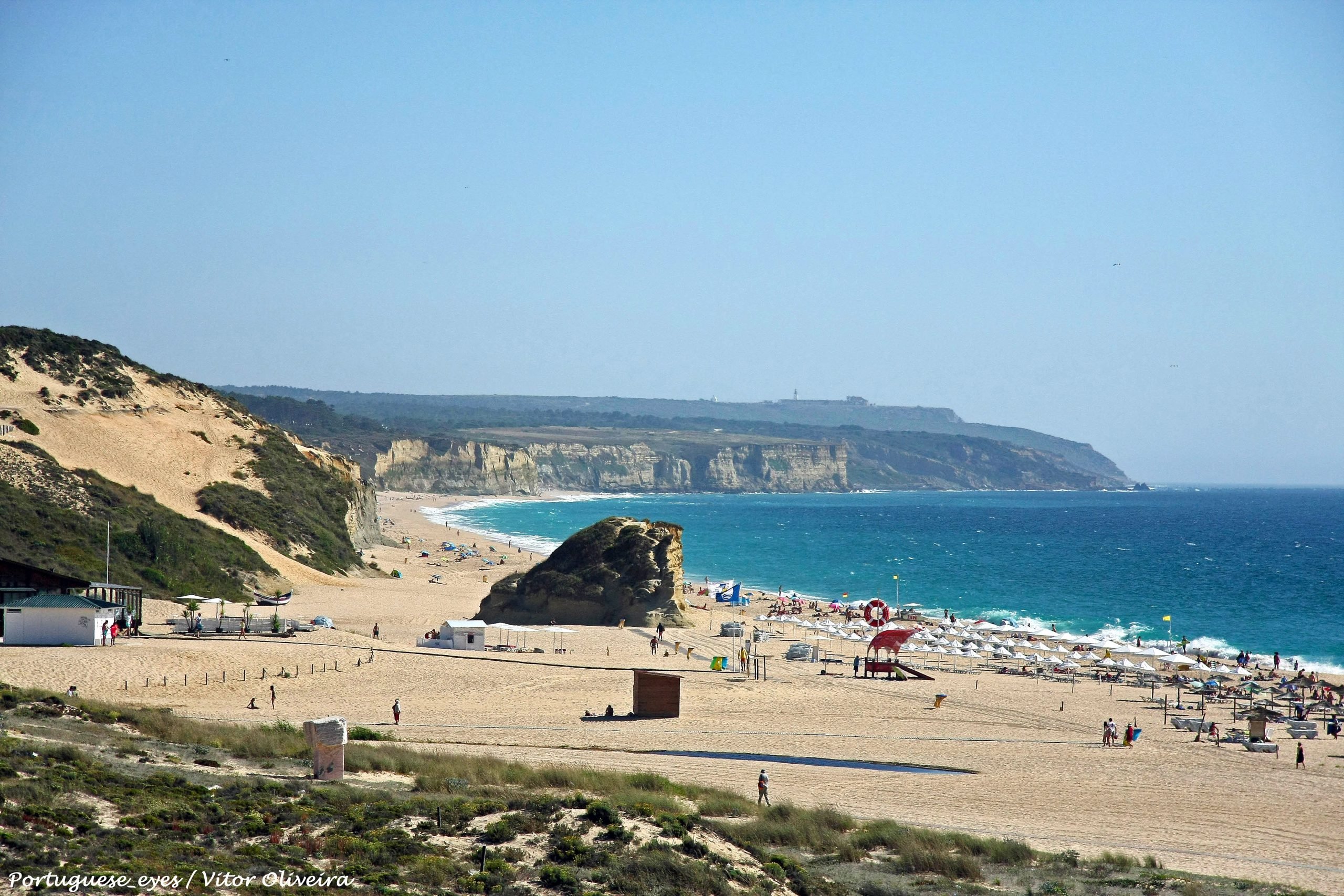 18. Praia do Magoito, Sintra
Located in the village of Magoito in Sintra, Praia do Magoito is a long golden sand beach with stunning waves that you must be careful with. Make sure to never go in the water when the "red flag" is up as this is extremely unsafe. The beach is mostly visited by locals from the village of Magoito and people that have lived in Sintra for a long time. You can enjoy a drink or a Portuguese lunch at the terrace restaurant at the entrance called Esplanada Duna Mar which has a hilltop view of the beach.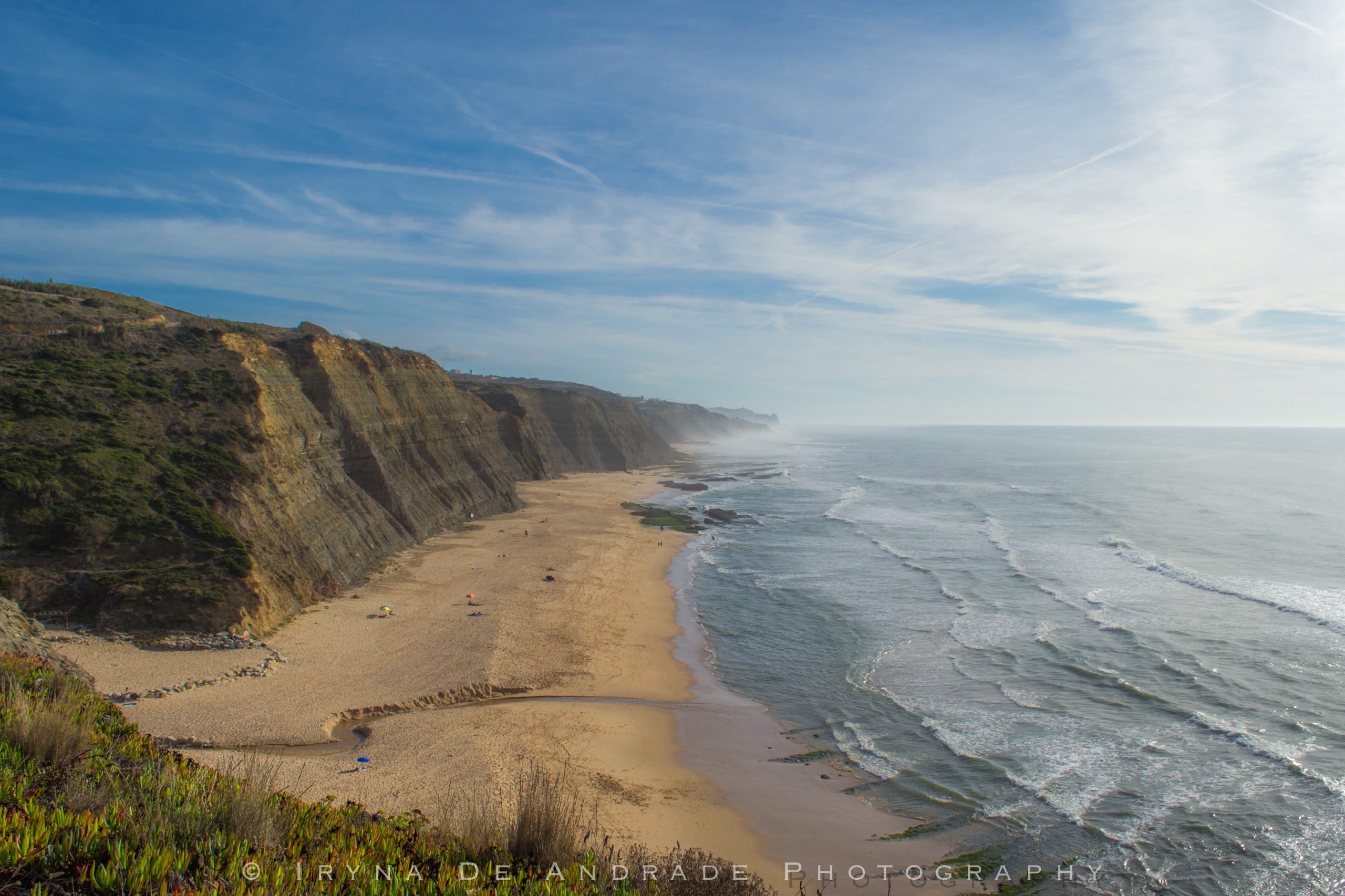 19. Praia do Areal de Santa Bárbara, São Miguel Azores
Located on the magical island of Sao Miguel in the archipelago of the Azores, Praia do Areal de Santa Barbara is a 1-kilometer beach featuring mountainous cliffs and black sand and rock. Along with offering a relaxing day at the beach, Praia do Areal de Santa Barbara has various surf and bodyboard boards for rental as the beach has great conditions for water sports. The beach has several infrastructures such as parking places, showers, bathrooms, and restaurants.
20. Praia da Fonte da Telha, Costa da Caparica
Costa da Caparica is a 26-kilometer coastline through the western side of the Setubal peninsula. The most famous beach area for the Lisbon locals who cross the 25 of April bridge for some sunbathing, the beaches here tend to have warmer weather than in Cascais or Sintra. One of the best beaches in Costa da Caparica is Praia da Fonte da Telha a long golden beach that has multiple restaurants and bars playing music at sunset. Alternatively, visit Praia da Mata or Praia do Rei, as well as many others which will not disappoint you.