As the oldest country in Europe, Portugal has a culturally rich history, delicious cuisines, and some of the best wines in the world. Millions of tourists travel to Portugal throughout the year, many choosing to drive their way around the country to experience its beauty to the max.
This 10-day Portugal itinerary begins in the city of Porto, including close-by day trips, and then moves south toward Coimbra, ending in the capital of Lisbon.
If you want to visit as much as possible of Portugal within a 10-day time frame, we recommend renting a car. You will get some of the best views and get to stop at places where public transport is pretty much nonexistent.
When renting your vehicle, you can select to pick up the car at Porto airport and return it at the end of your trip at Lisbon airport, where this itinerary ends.
For everything you need to know before traveling to Portugal, check out our Portugal Survival Guide.
Day 1: Arrive in Porto
Porto lies along the Douro river and features one of the oldest historical centers in Europe, declared a UNESCO World Heritage Site since 1996. Although your arrival day should be more relaxing, we recommend exploring the historical center first thing.
Do not miss the Livraria Lello, one of the oldest bookstores in the country, founded in 1906. It was once rumored that this bookstore was where JK Rowling wrote the Harry Potter books, but she went on to deny this. Still, the atmosphere inside the bookstore is like no other.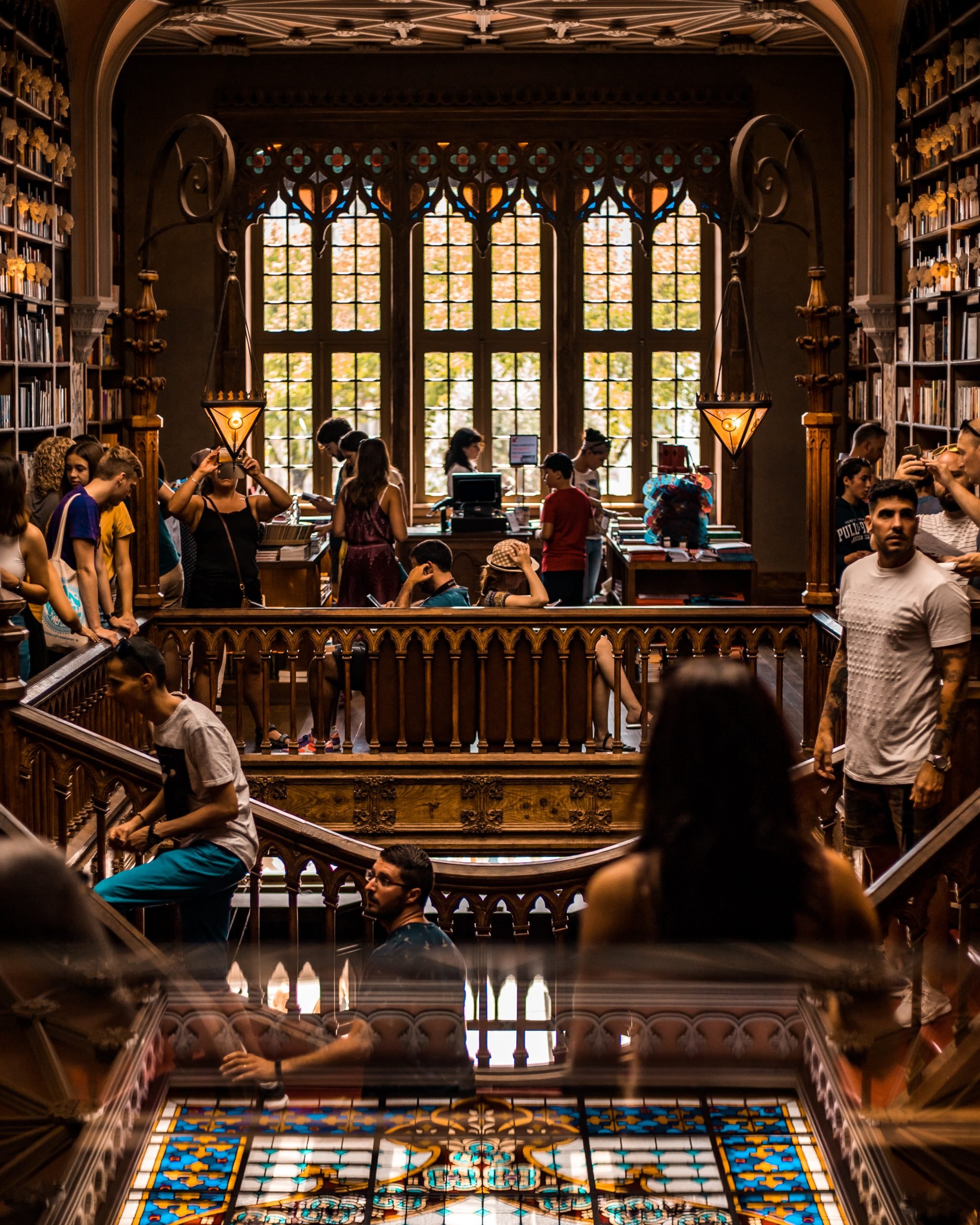 Right close by is Clérigos Tower. Built in 1763 by Italian architect Nicolau Nasoni, the Clérigos Tower offers a panoramic view of the historical center of Porto. At 75 meters high, visitors can climb 225 steps to the top of the tower which is worth the workout.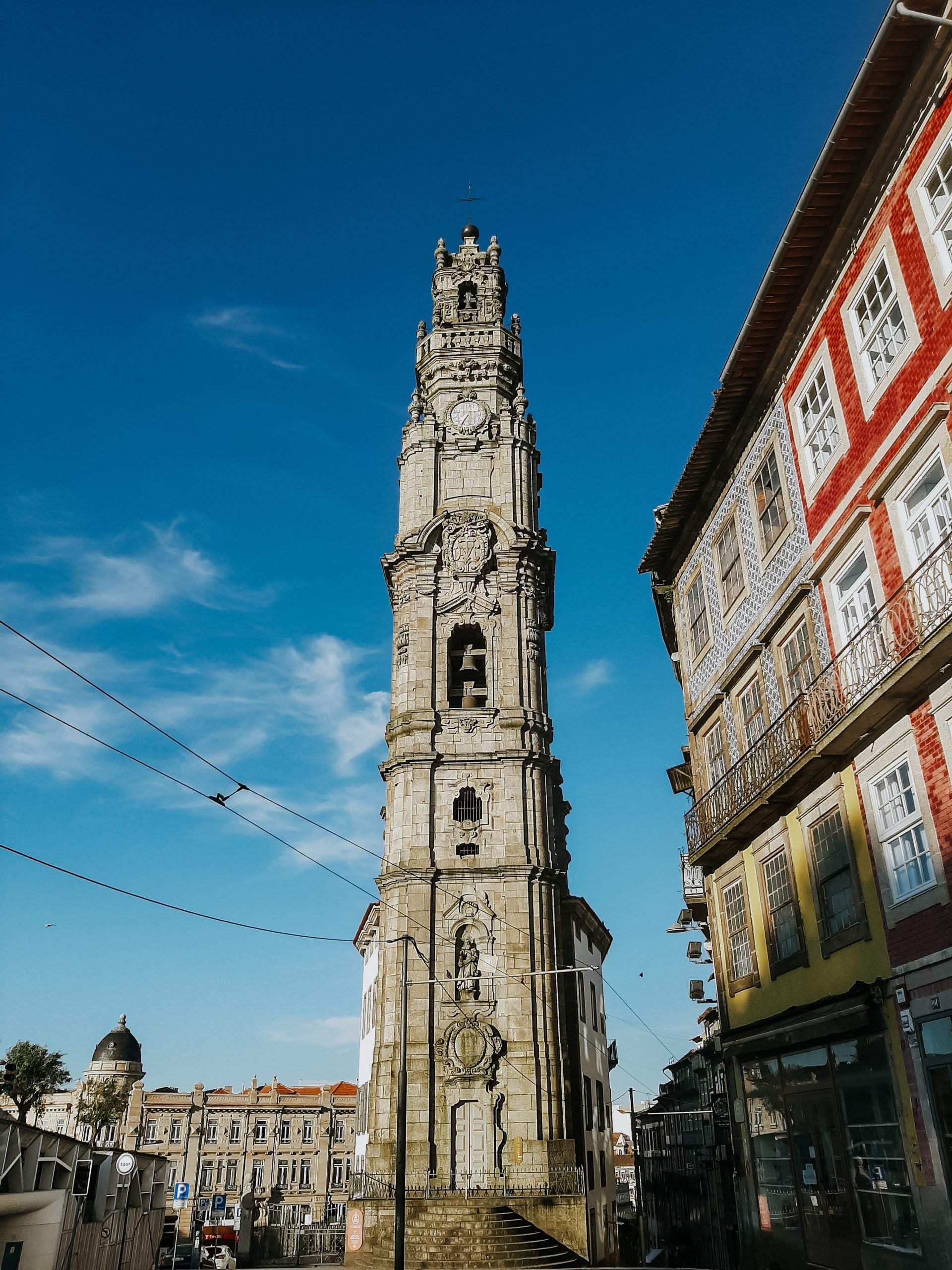 For dinner, check out our favorite restaurants in Porto. Some of our favorite restaurants are:
Antiqvvm
Pedro Lemos
Arvore do Mundo
O Tasco
Tasquinha Ze Povinho
Best Hotels in Porto
NH Hotel Porto Jardim: This four-star hotel feels like its five stars. It has a 70 cm deep outdoor people, a spa a few meters away, and a gym. It is located within walking distance of main attractions like Bolhão market, Aliados Avenue, and Ribeira. If you have a dog or cat, this hotel is pet-friendly.
Vila Gale Porto: Vila Gale is a well-known chain of hotels in Portugal and is always a safe option. This one was built in 1999 and recently renovated. The hotel has a spa with an indoor pool, a gym, a restaurant, and two bars.
Hotel Premium Porto Downtown: Located in the old town, this modern 4-star hotel has a sun terrace with views of the city of Porto, the perfect place to enjoy some port wine. You'll be close to everything you need, Santa Catarina street, Aliados Avenue, and the cathedral.
Book Tours & Activities in Porto
Day 2: Porto
Your second day in Porto will be busier. You have seen Clerigos and Lello, but now that you have a full day, make sure to visit other iconic attractions.
Bolsa Palace, for example, is a great activity for the morning. Palacio da Bolsa's construction began in 1842 by the Porto Commercial Association on the ruins of the Saint Francis Convent. The name Palácio da Bolsa translates into "Stock Exchange Palace".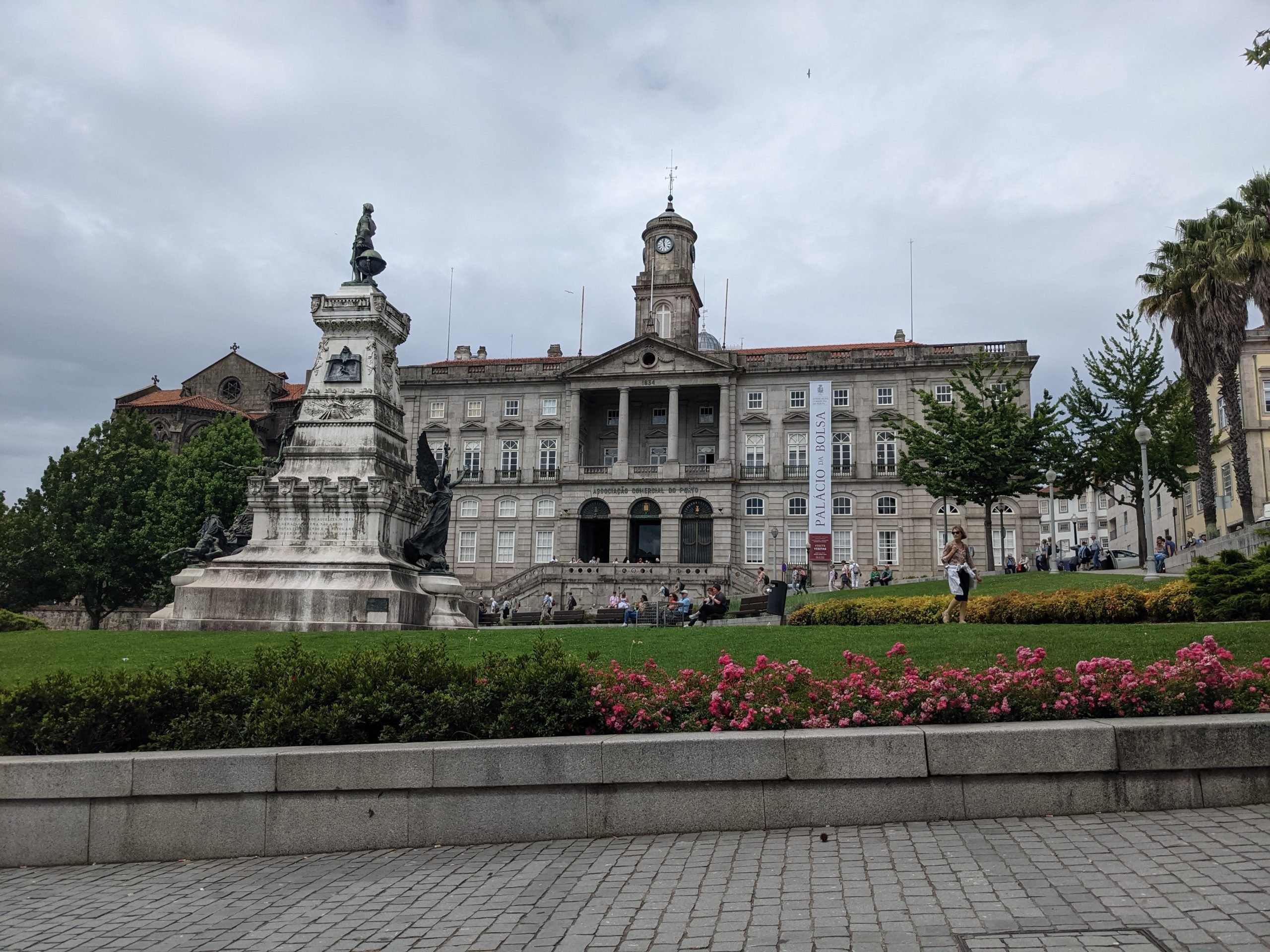 This palace was built in neoclassical style and displays furniture by Portuguese architect José Marques da Silva and sculptures by the famous sculptor Teixeira Lopes.
Then head to Porto Cathedral, known as Sé do Porto. This Roman Catholic cathedral is a national monument and the most important religious building in all of Porto. The Porto Cathedral still holds a mass every day at 11 am that you can attend for free.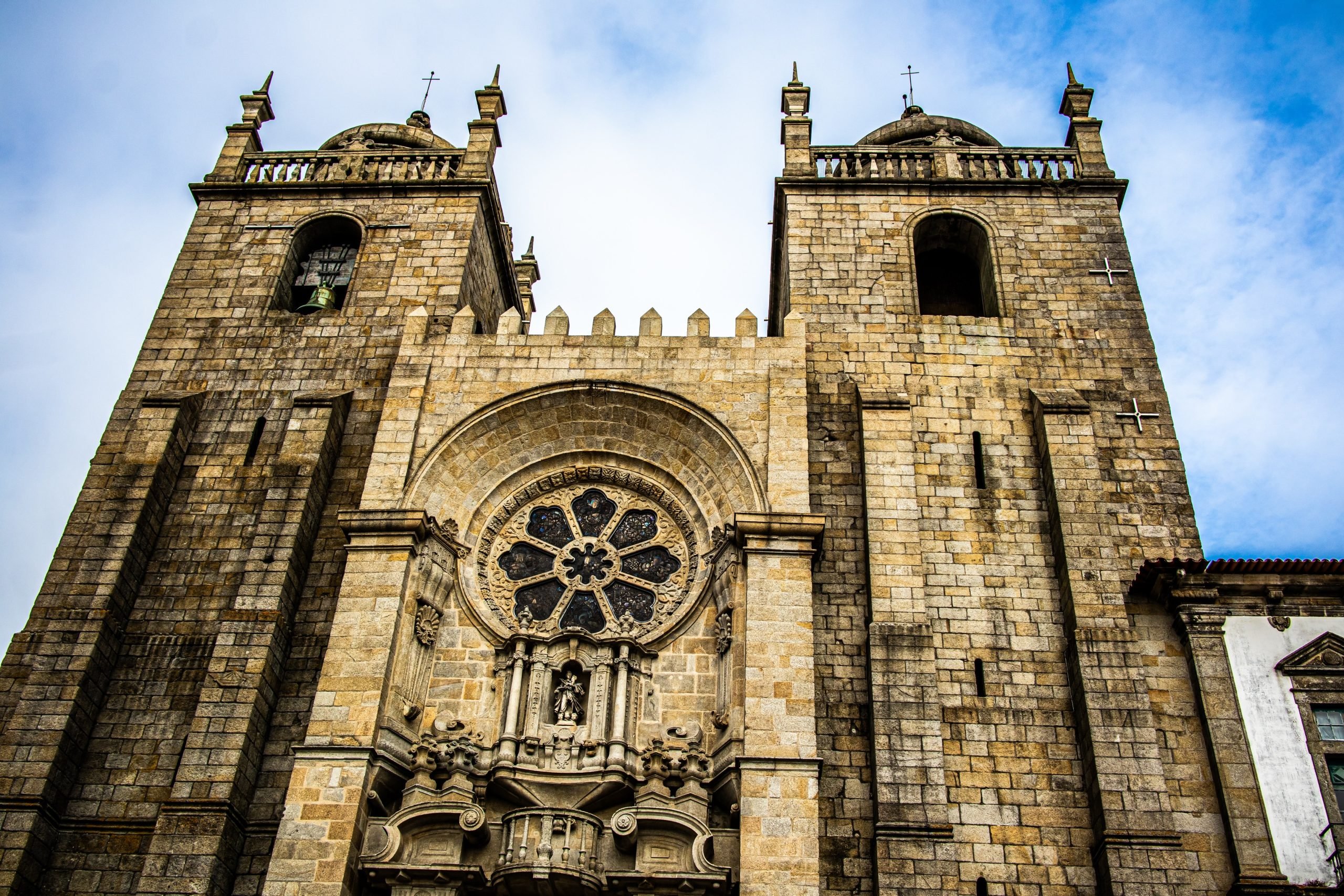 A 15-minute walk away, you will find Carmo Church. This monument is therefore one of the oldest in the old town of Porto. The church is built in baroque style, the same as the Clérigos Tower. A part of the church is decorated with Portuguese blue azulejos (tiles) made locally in Vila Nova de Gaia, across the Douro river from Porto.
Stop for lunch at Taberna dos Mercadores, for some beautiful Portuguese food at an affordable price. We recommend the seafood rice.
After lunch, why not take a tuk tour to see more of the city? Here are our three tuk tuk tours in Porto:
For dinner, check out our favorite restaurants in Porto. If you are looking for a high-end dinner, head to Antiqvvm.
After dinner, head to a Fado house to listen to the iconic style of Portuguese music. Most fado houses offer you a Port wine glass to enjoy with the live show. Book this Fado Live Show in Porto for an intimate setting in Casa da Guitarra near Sé.
Day 3: Day Trip to Douro region
Start the day with breakfast at Confeitaria Cristal in Cedofeita, a pastry shop. We recommend the courgette and ginger cookies, as well as the classic pastel de nata with an espresso.
After breakfast, head to Estiva Quay to board a top-rated full-day river cruise to discover the Regua and Douro, a famous Port wine region. The cruise includes a large breakfast, as well as lunch while you admire the Douro valley and goes through the 14-meter Crestuma-Lever Dam and the Carrapatelo Dam.
Audio guides are also included in four different languages. The cruise stops at Regua where you can enjoy the town with friends. The route back is done by train.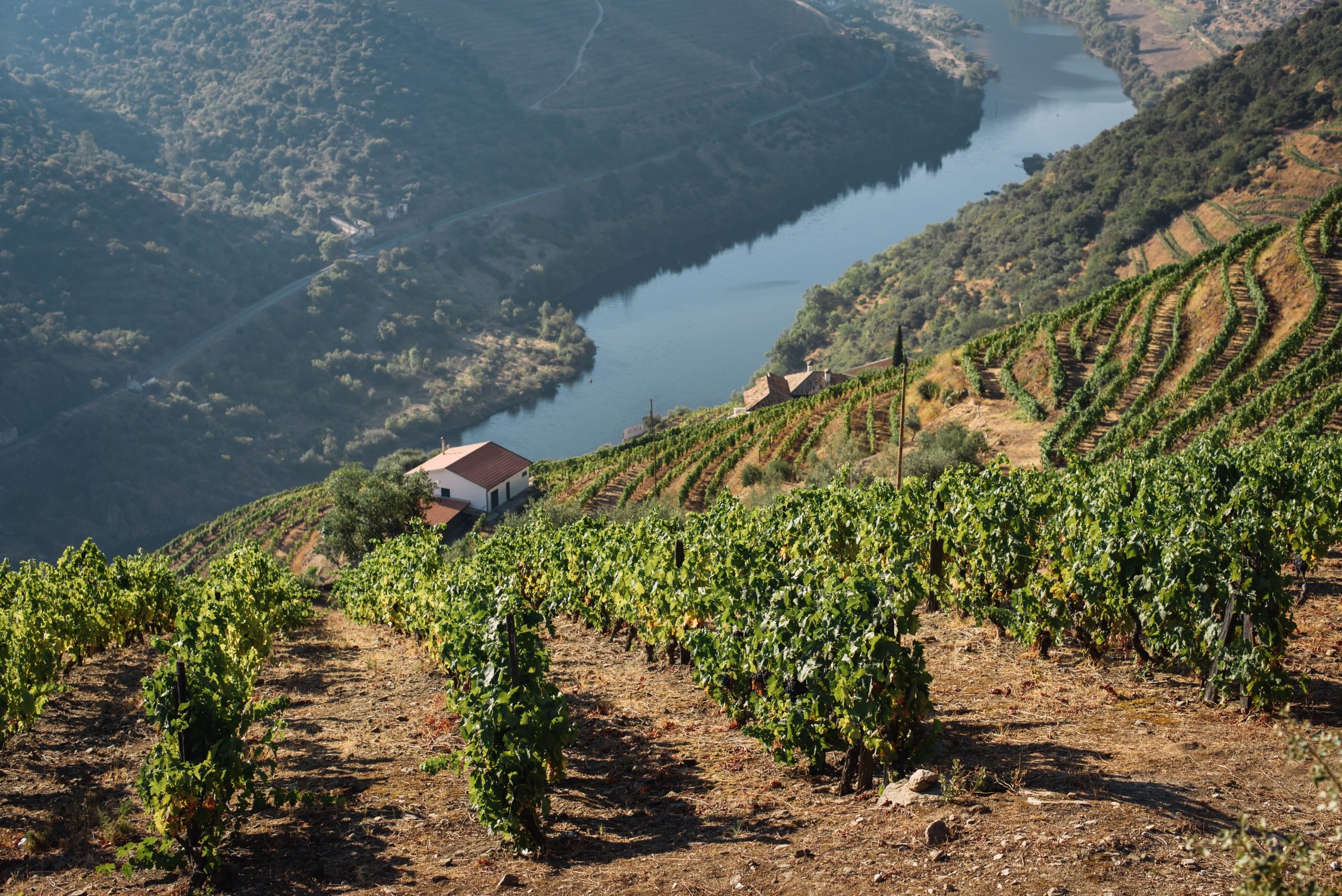 For dinner, head to Vila Nova de Gaia for dinner at the 5-star hotel, the Yeatman. 15 minutes away from Porto, across the Dom Luis Bridge. You get a full view of Porto across the Douro river and get to try some of the best food in the country as the Yeatman has 2-Michelin stars.
Before heading back to Porto, explore the city center of Vila Nova de Gaia. Enjoy one last night in Porto, before driving south towards Lisbon, with a stop in the beautiful city of Coimbra.
Travel Guide to the Douro Valley
Day 4: Coimbra
Around a 1-hour drive from Porto, Coimbra is your next stop. We recommend leaving early in the morning so you can enjoy your day in the city.
Your first stop should be the University of Coimbra, one of the oldest universities in the world. To get to the university, start from the Almedina Tower, the entrance gate forming part of the wall surrounding the old city situated in the lower section of the city. Here, you can explore the alleys that date back to the 8th century.
Visit the Joanine Library, a Baroque library situated in the center of the University of Coimbra, by the university tower. The library was built in the 18th century, and it is considered a national monument with priceless historical value. For a full experience, book a tour of the university.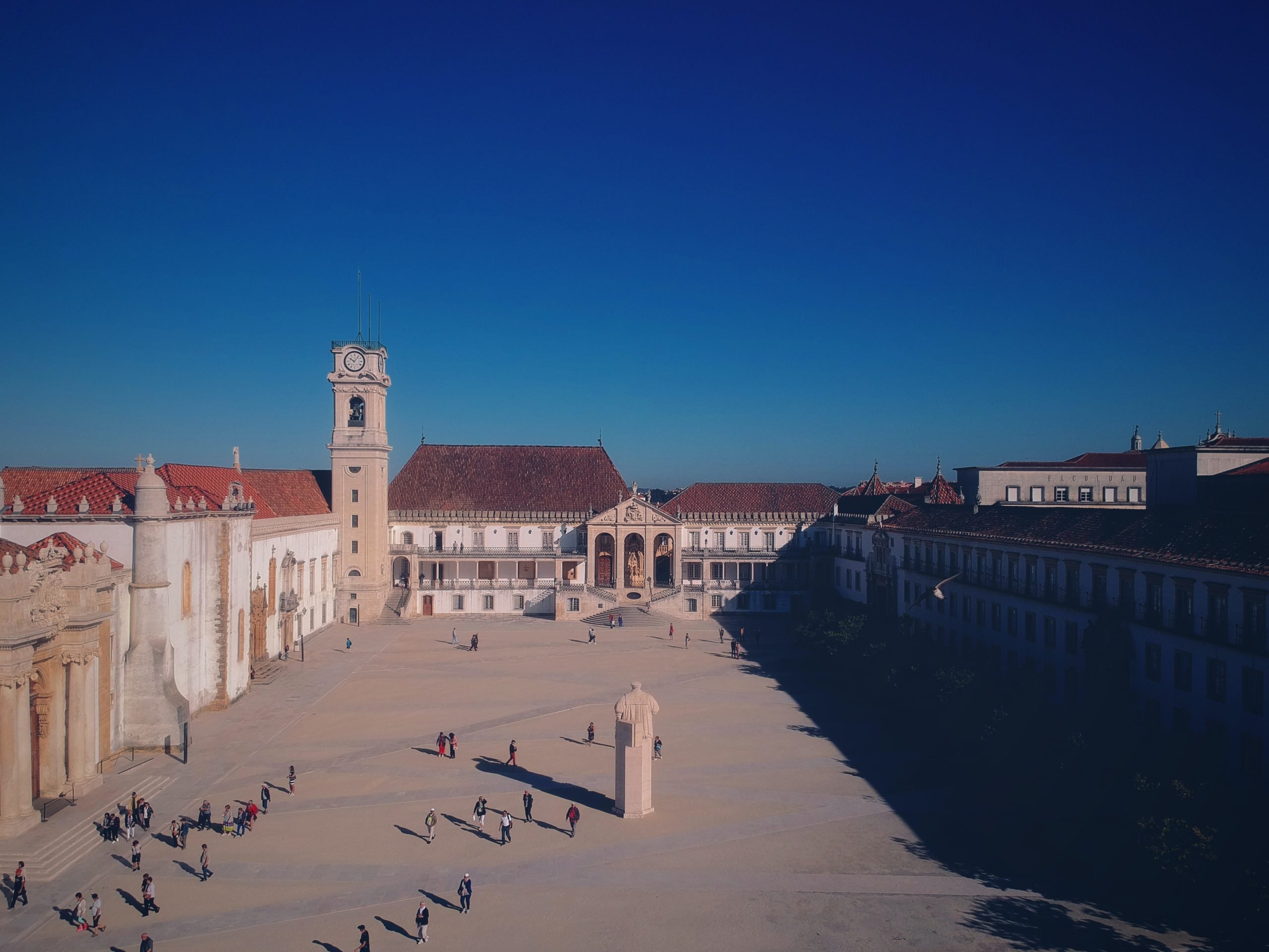 Book University of Coimbra Tour
For lunch, head to Italia in the Docks of Coimbra, a restaurant serving high-quality Italian food, or Cordel Maneirista, a Portuguese restaurant near the S. Francisco Convent. We recommend the alheira and the Santa Clara dessert.
After lunch, take a walk in the Botanical garden, one of the oldest in Portugal. With 13 hectares of beauty, the garden was established in 1772 by the Marquis de Pombal with the purpose of supplementing the study of medicine and natural history at the University of Coimbra.
Book Botanical Garden & Cathedral Coimbra Tour
Next, visit the Santa Cruz Monastery and the Convent of Santa Clara, built in 1314. If you still have time, head to Quinta das Lagrimas. This estate has been the setting for the forbidden romance between King D. Pedro I and Inês de Castro. The gardens have a canal, "Fonte dos Amores" that, according to the legend, transported love letters between the Estate and the Royal Palace.
Enjoy your night in Coimbra with dinner at Arcadas Restaurante, a fine-dining restaurant with an extraordinary collection of wines and cuisine made of traditional ingredients.
Best Hotels in Coimbra
Hotel Quinta das Lagrimas: A 5-star hotel, Hotel Quinta das Lagrimas is located in a historic medieval palace that was recently renovated. Featuring botanical gardens and a luxurious spa with views of the city, as well as a 9-hole golf course, this hotel has all the facilities you need and more.
Solar Antigo Luxury Coimbra: Located in the heart of Coimbra, only 400 meters from the University of Coimbra, Solar Antigo Luxury Coimbra is a 4-star boutique hotel that features views of the city. A historical building, its traditional architecture has been kept intact, while including all the modern amenities necessary for a comfortable stay.
Day 5: Arrive in Lisbon
Lisbon is a 1-hour drive from Coimbra. The capital of Portugal, Lisbon gets over 4 million tourists a year for a reason. One of the oldest cities in Western Europe, Lisbon is a cosmopolitan city filled with historical heritage, culture, and architecture that will leave a mark to remember.
You might only arrive in Lisbon at lunchtime, depending on what time you leave Coimbra. For lunch, take a look at our favorite restaurants in Lisbon.
If you are vegan or just enjoy plant-based food and want to try some Portuguese food, we definitely recommend Ao 26 Vegan Food Project. Located close to Chiado, Ao 26 serves a plant-based version of traditional Portuguese food. Every single dish at this place tastes like the real thing – or even better.
Another great option for lunch for the meat-lovers is Alfaia, one of the oldest restaurants in Lisbon that opened in 1880.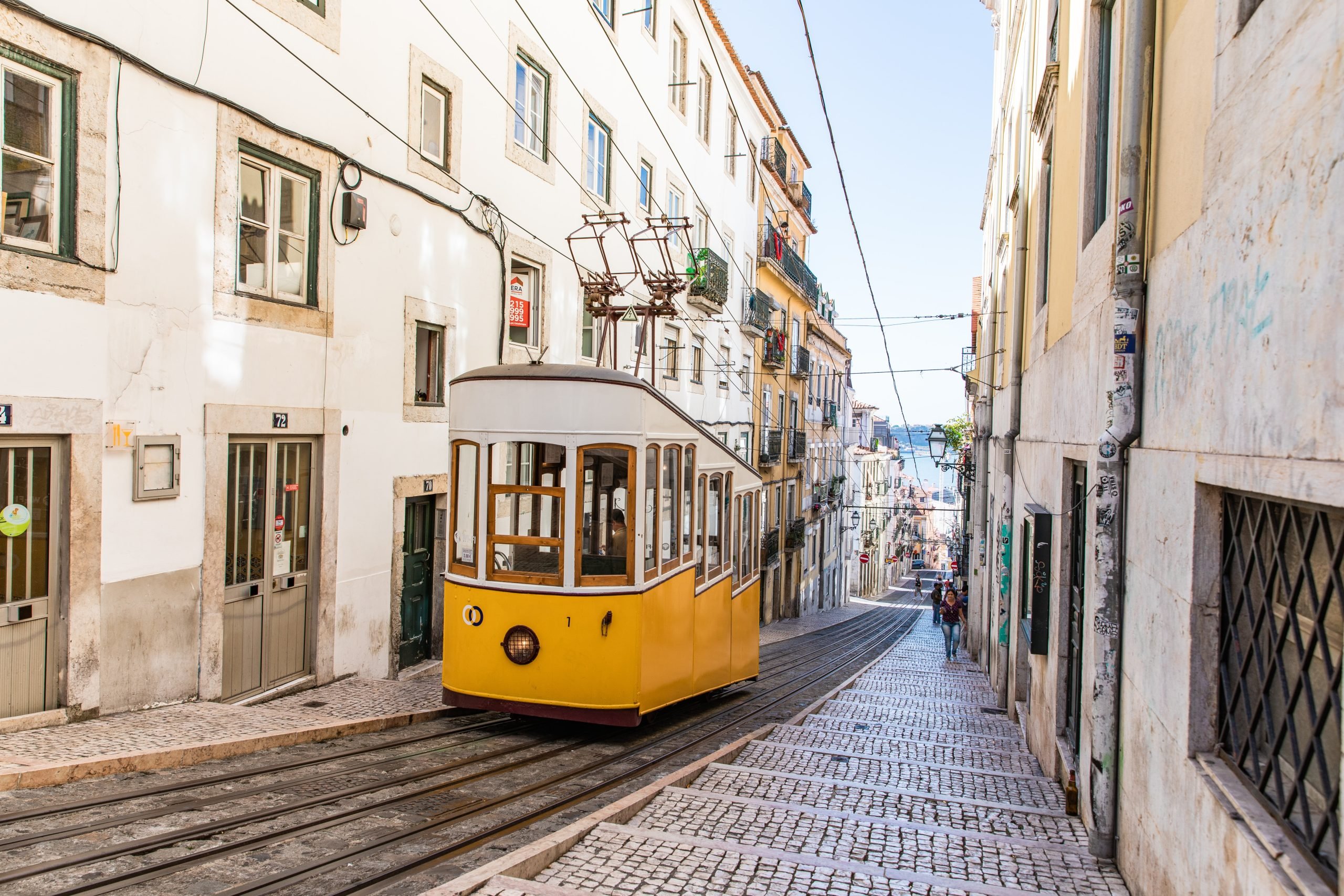 After lunch, head to Sao Jorge Castle. The 5th-century palace was restored in 1938 by the dictatorship of Salazar to look the way it is presented now.
Tourists can visit the castle complex, which consists of the castle itself, the ruins of the royal palace, gardens, and a terraced square with panoramic views of the city. A ticket to visit costs between €5 and €10. You can also pay a little extra to skip the line.
Book Castelo de Sao Jorge Ticket to Skip the Line
A 5-minute walk away, head to Alfama, the oldest neighborhood in Lisbon and the home of fado. Explore the neighborhood and look out for Fado spots, as well as historical monuments such as the Lisbon Cathedral, the Convent of the Grace, and more.
After dinner, walk to Bairro Alto, the most popular area for drinking outdoors. Tons of locals and tourists line the streets of Bairro Alto with a beer in hand. We recommend Ze dos Bois Gallery, a musical center that has live music and serves tasty drinks.
Best Hotels in Lisbon
Selena Secret Garden: This hostel also has a rooftop deck, CoWork space for professionals, and a movie room. In the heart of Cais do Sodre, you are close to contemporary art galleries, bars with riverfront views, and within walking distance to Chiado.
Turim Av Liberdade Hotel: Located in central Lisbon, this 4-star hotel has over 150 rooms of different sizes and will soon also have a spa. It also has a reading room, a multimedia room, and a famous pizzeria and steakhouse.
Hotel Lisboa Plaza: Looking for the Portuguese experience? This 4-star family-owned hotel is decorated in the style of Portuguese homes. With 24-hour room service, a terrace, and a gym, this small hotel has been in the same family since the 1950s. The hotel has won many travel awards, including the Experts' Choice Awards in 2021.
Day 6: Lisbon
Spend your second day in Lisbon exploring Belem. Belem lies along the Tejo Estuary and is home to two UNESCO sites, Torre de Belem and Mosteiro dos Jeronimos.
Mosteiro dos Jerónimos is a former monastery in Belém constructed in Portuguese Late Gothic Manueline style, and you can visit the church for free. A 2-minute walk from the monastery, head to Pasteis de Belem where the traditional Portuguese custard tart was first invented.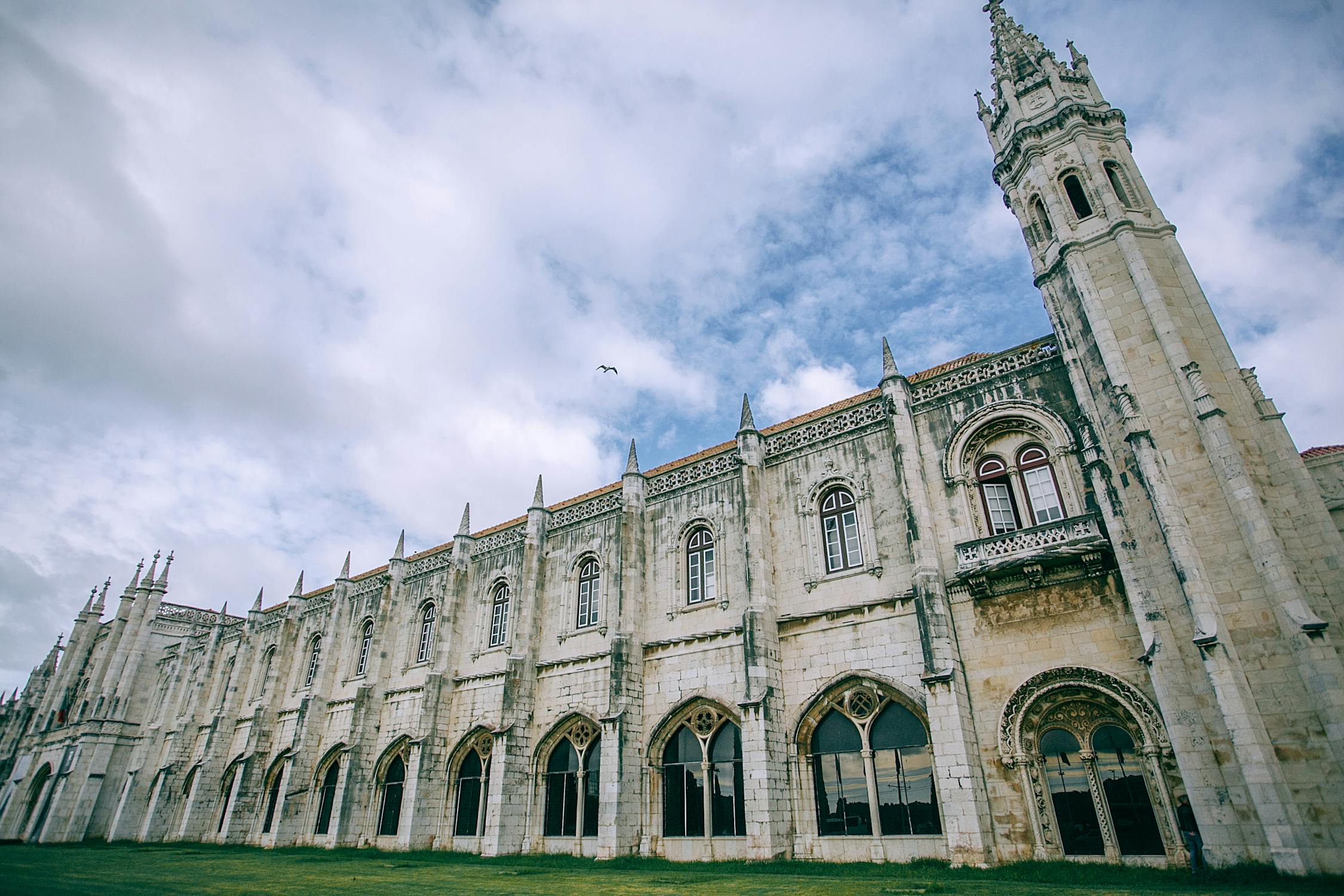 Belem has some great lunch spots. Portugalia Cervejaria is a classic franchise restaurant in Portugal that has tasty steak with a variety of sauces.
After lunch, head to Berardo Collection Museum, located in the Belem Cultural Center. Ever since it opened in 2007, it has been one of the most impressive museums in Portugal. There are around 1000 pieces in the collection, starting in the 20th century.
The collection focuses mostly on European and American art. You will get to see pieces from Andy Warhol, Picasso, Paula Rego, and more across two floors.
Before dinner, head to one of Lisbon's miradouros to see the sunset. . Miradouros are city lookout points where you get beautiful panoramic views of Lisbon. You'll always find people listening to music and drinking beer on the hundreds of miradouros in the city.
Grab a bottle of wine and some cheese to enjoy the sunset. You'll also find some small kiosks that sell drinks and coffee next to miradouros. Wondering which miradouros have the best views and environment? Our favorite lookout spots are Miradouro de Santa Luzia in Alfama, Miradouro da Graça, and Miradouro de Santa Catarina.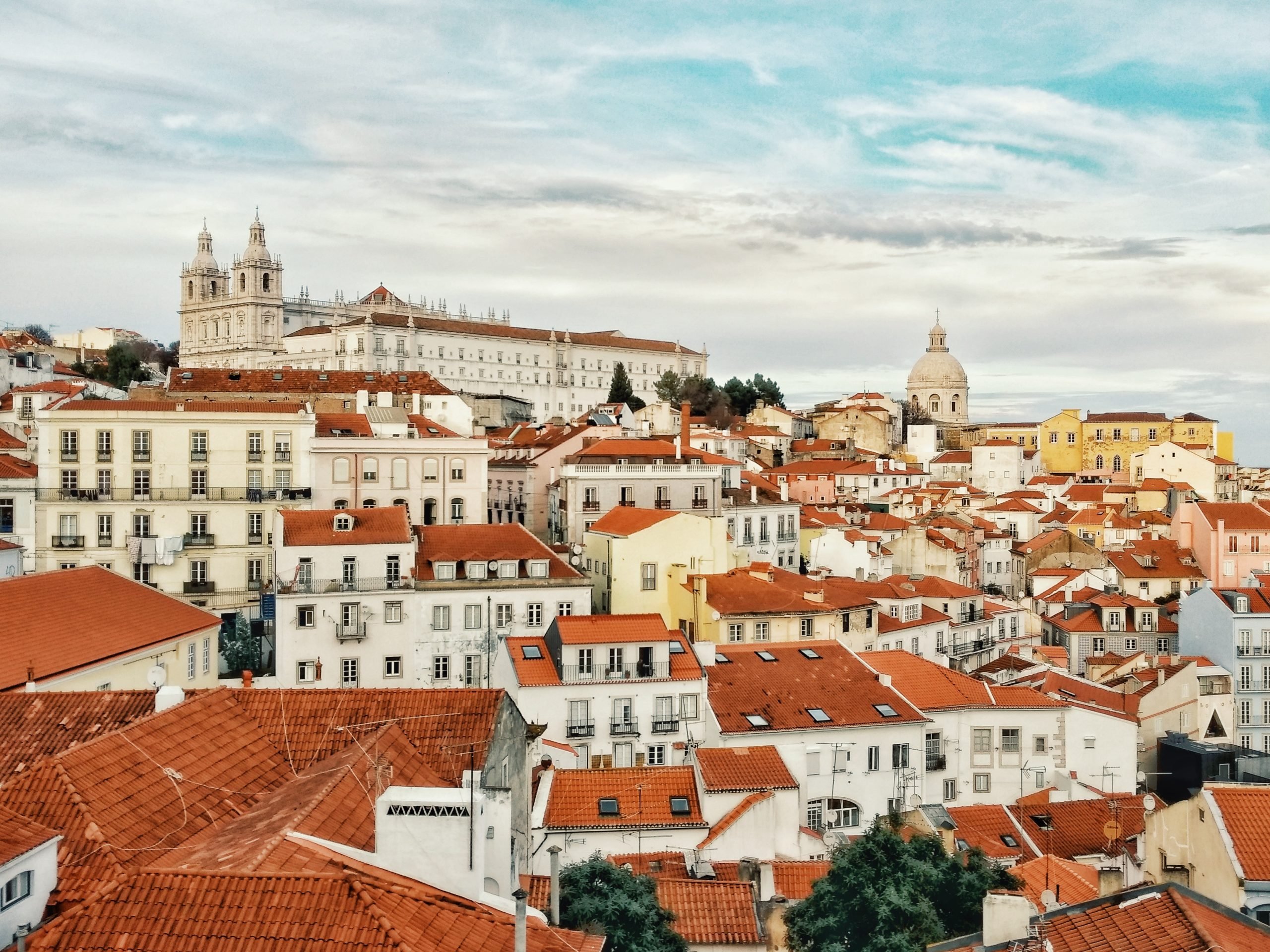 If you are in Alfama, we recommend grabbing dinner here while watching a fado show. This experience allows you to explore Alfama on a guided walking tour, as well as the quaint neighborhood of Mouraria. You will get to discover all about the Fado genre, as well as listen to the melodies of Fado at a traditional Fado house. Finish with a Portuguese dinner while you listen to live fado.
Day 7: Tuk Tuk Tour of Lisbon
Lisbon is a pretty large city, at least to Portuguese standards. Since you only have 14 days to enjoy as much of Portugal as possible, we recommend a guided tour of Lisbon so you get to see as much as you can of the capital. For your second day in Lisbon, here are the best guided tours to explore the city:
Lisbon 3-Hour Sightseeing Tour by Tuk Tuk: This tuk-tuk tour rides up and down the hills of Lisbon, going through the city's oldest neighborhoods and main attractions.
Lisbon Hop-On Hop-Off Bus Tour: Book a 24-hour ticket with an audio guide. This affordable ticket allows you to visit different routes and hop in as you would like.
Lisbon 3-Hour Tour by E-Bike: This tour allows you to cycle through Lisbon on comfortable e-bikes with a guided tour. You will get to visit different viewpoints and historical attractions.
After your tour, we recommend heading to CasaNova in Santa Apolonia for some pizzas cooked on a wood-burning stove. You can then walk to Terreiro do Paco, the harbor-facing plaza and one of the largest in Portugal. If you are there at sunset time, sit near the river with a beer and enjoy the view!
Day 8: Day Trip to Sintra & Cascais from Lisbon
What makes Lisbon one of the best cities in Portugal is that you are very close to stunning hidden gems that are perfect for a day trip. It would be a waste not to take advantage of its location. Therefore, you should take a full day to visit Sintra and Cascais.
We recommend driving to these locations (around 30 minutes from Lisbon) or booking a guided tour.
In the morning, head to Sintra for breakfast. Grab a "travesseiro", a Sintra staple at Piriquita, in the city's heart. Then walk toward Castle of the Moors, a medieval castle that sits on a hilltop and was built by the Moors in the 8th century.
Palacio da Pena is another must-see. The exterior of this palace is painted in multiple colors and is in a romanticist style. You can also wander around the castle and see the beautiful green area that surrounds it. You'll feel like you're in a fairytale. Tickets cost around €15.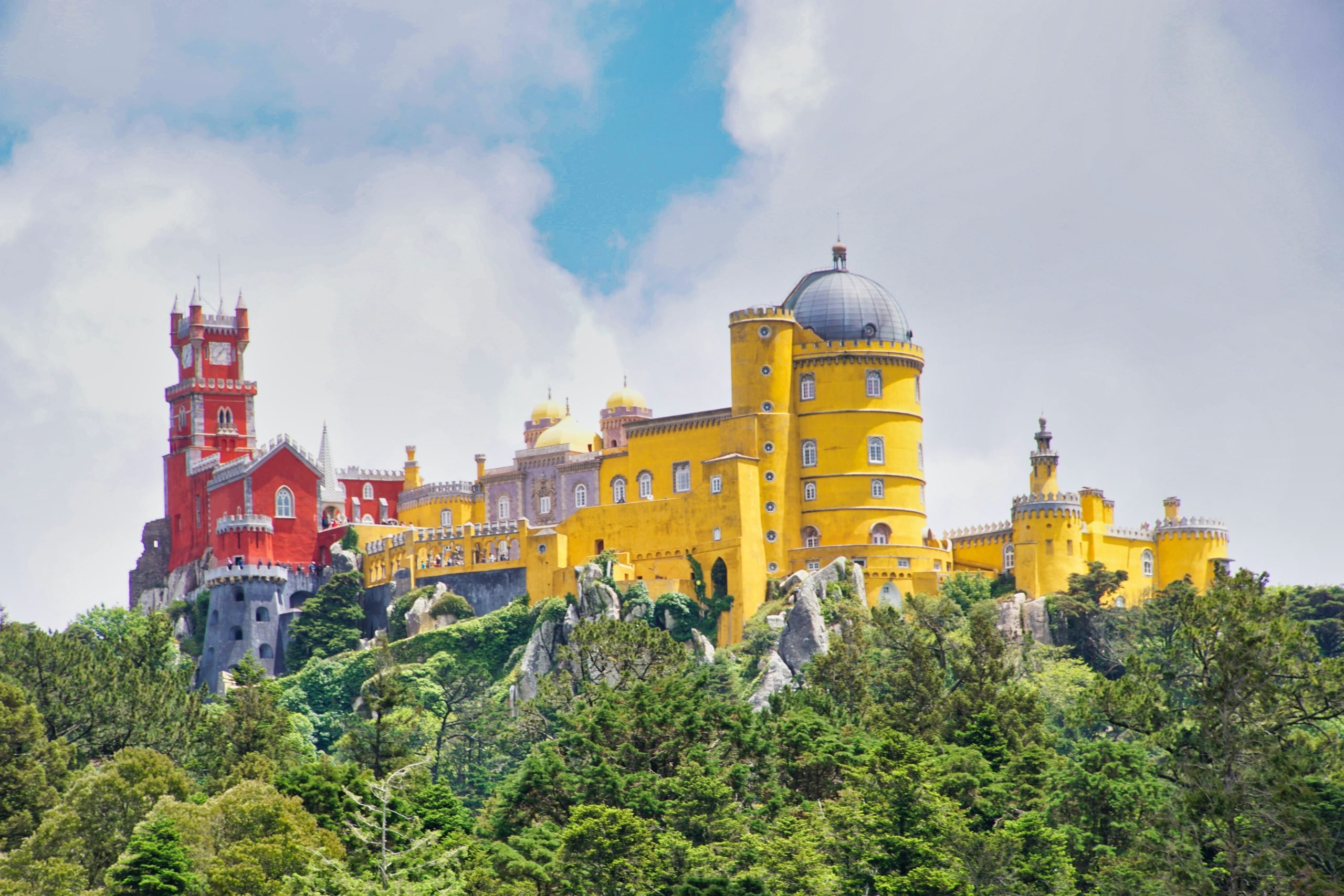 For lunch, drive towards Cascais and stop at a restaurant called Furnas do Guincho. This is one of the best seafood restaurants in the area, but it is quite pricey. For a more affordable alternative, drive to the center of Cascais and eat at Baia do Peixe.
After lunch, discover the town of Cascais, located on the Portuguese Riviera. One of the richest municipalities in the country, it is home to the best hotels and beaches. Head to "Praia da Rainha," a secluded beach with a wonderful view, perfect for a family photograph.
Then, walk for a minute toward "Frederico Arouca" street. This is essentially the high street with the major stores, as well as smaller vendors selling Portuguese souvenirs.
From there, walk toward the City Hall of Cascais in "Praça 5 de Outubro". This beautiful building with traditional Portuguese architecture stands in the middle of the commerce square, featuring authentic cobblestone streets.
If you're still energized, and the weather is good, exploring Guincho beach is next. A 10-minute ride from the center of Cascais, Guincho is the of the best beaches in Portugal. It is perfect for swimming and tanning in the summer and also beautiful to walk through in the colder months.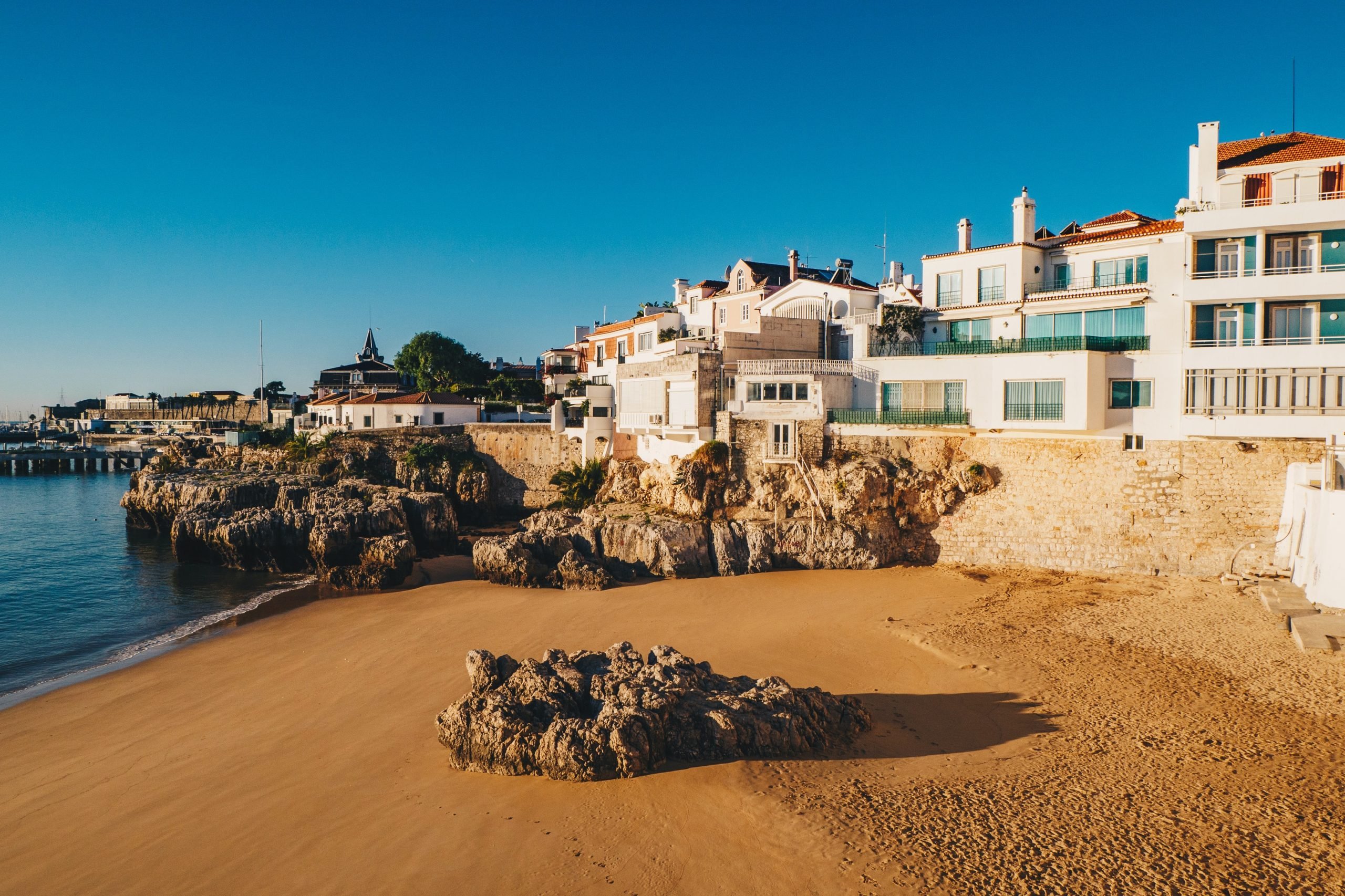 If you prefer a guided tour, this tour of Sintra and Cascais takes you to all the best spots. It also includes a guided ticket to the Pena Palace, allowing you to skip the long lines. You can also pick between a shared or private tour. The tour includes free time and transportation.
Day 9: Beach day in Setubal
Just over 30 minutes from Lisbon, Setubal is a city in the Arrabida Mountains with natural landscapes that blend beautiful beaches and mountains. You can enjoy hikes in the natural park's astonishing nature and spot some dolphins at the beach.
Head here from Lisbon for a beach day. One of our favorite beaches is Portinho beach, located in the Serra da Arrabida Natural Park in Setubal. Portinho Beach is a clear watered beach with white sands and deep green hills. This beach features a bay that is suitable for diving and discovering marine life, while fishing is prohibited.
The beach features umbrellas to rent, as well as watercrafts and games. A 17th-century fort guards the beach, which now hosts the Oceanographic Museum. You can also enjoy a Portuguese meal at the seafront restaurant called Beira Mar, which serves quality seafood.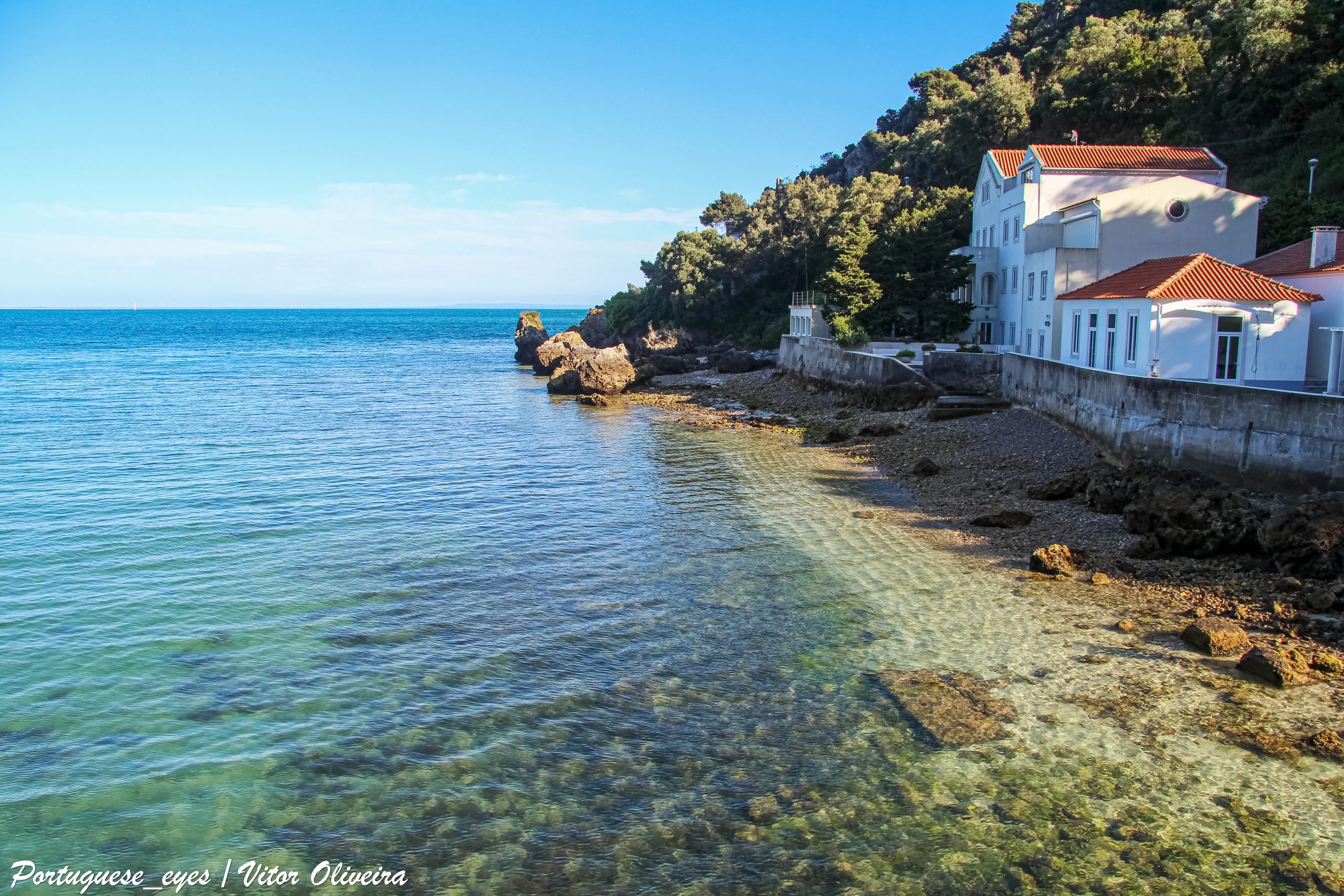 Day 10: Fly back from Lisbon
Fly back home from Lisbon Airport. You can return the car you rented in Porto at Lisbon airport. Just make sure you selected this option when booking the car rental.