Visiting most European capitals usually means being surrounded by buildings, traffic, and noise. The Portuguese capital allows you to explore the cosmopolitan side of the city, the narrow cobbled streets, stunning architecture, and the country's cultural heritage, while still being able to relax on some of the best beaches in Europe. It's truly the best of both worlds.
The best time to visit Lisbon to experience quality beach life is between May and September when temperatures are warm and the sun is shining. However, many are overcrowded and overly saturated by tourists. Luckily, we have selected our top 9 beaches in Lisbon (or near Lisbon) so that you can enjoy the best beaches the coast has to offer.
Once you've decided which beach to visit, we recommend renting a car as transportation to nearby beaches in Lisbon is not as efficient as in the center. The best beaches are oftentimes more than 30 minutes away by car.
1. Costa da Caparica
A 15 to 20-minute drive from Lisbon, Costa da Caparica is a 26 kilometers coastline through the western side of the Setubal Peninsula filled with golden sandy beaches. Costa da Caparica beaches have some of the best weather. Whenever it's windy in Cascais or Sintra, Costa da Caparica will always be the best alternative. The best beaches on the Costa da Caparica coast are Praia da Fonte da Telha, Praia da Mata, and Praia do Rei. Costa da Caparica beaches also have a lively party sunset scene where you can grab a drink and dance to some music after a relaxing day on the beach.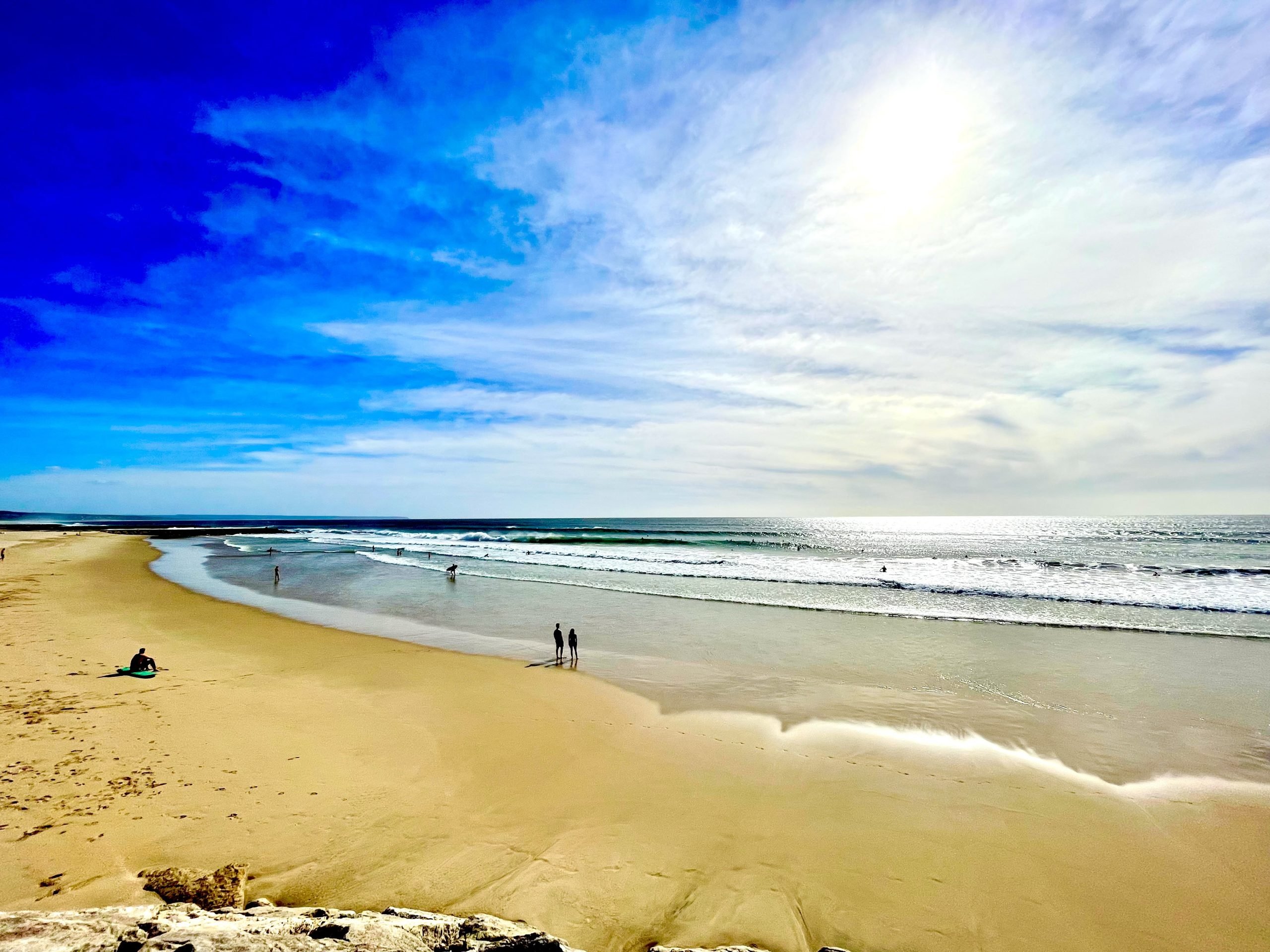 2. Praia do Guincho
A 30-minute drive from Lisbon, Praia do Guincho is the best beach in Cascais on the Portuguese Riviera. Guincho is known for surfing due to its large waves, even in the winter. Although even during the summer there are some windy days on this beach, when the weather is calm, Praia do Guincho is one of the best beaches in Lisbon. The Guincho shoreline is around 1 kilometer, making it perfect for enjoyable walks on the beach. You can also enjoy some lunch and drinks at Bar do Guincho which has a beautiful view of the ocean and the cliffs.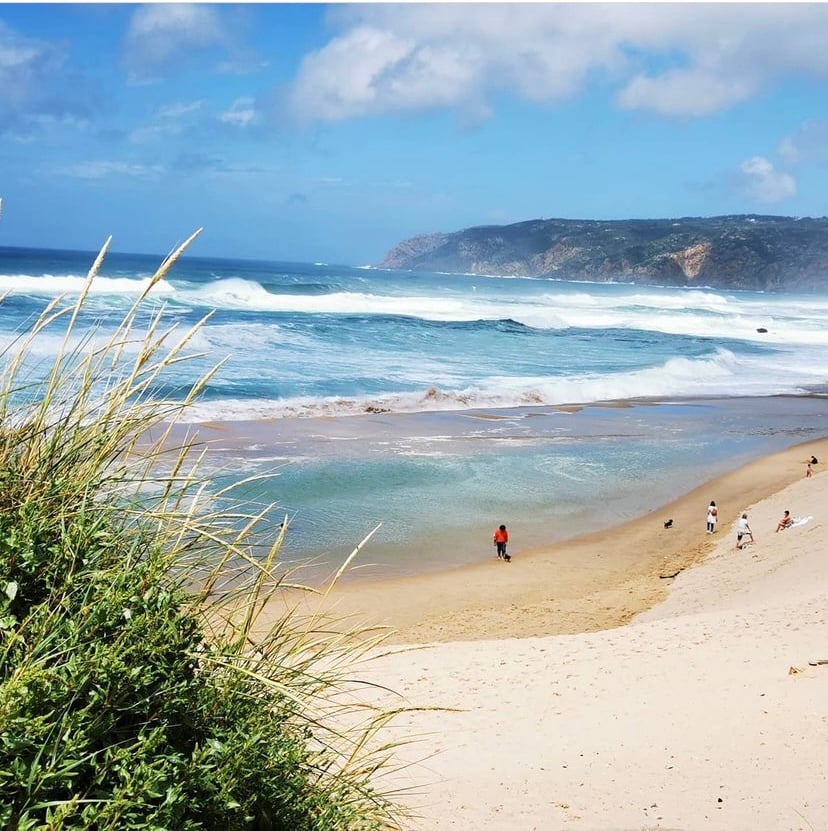 Praia da Aguda is located close to Praia Grande in Sintra and is one of the most beautiful beaches in Lisbon. A 45-minute drive from Lisbon, this spot is beyond insta-worthy and the best part is that it's rarely full as it's mostly famous with locals. To get to the beach, you need to go down a 230 step staircase down a cliff which introduces you to the stunning blue ocean views. The way back up is a bit of a workout so this is not the right beach for those with limited mobility. Praia da Aguda is also listed as an unofficial nude beach by the Portuguese Naturist Federation.
Guide to Naturist & Nudist Beaches in Portugal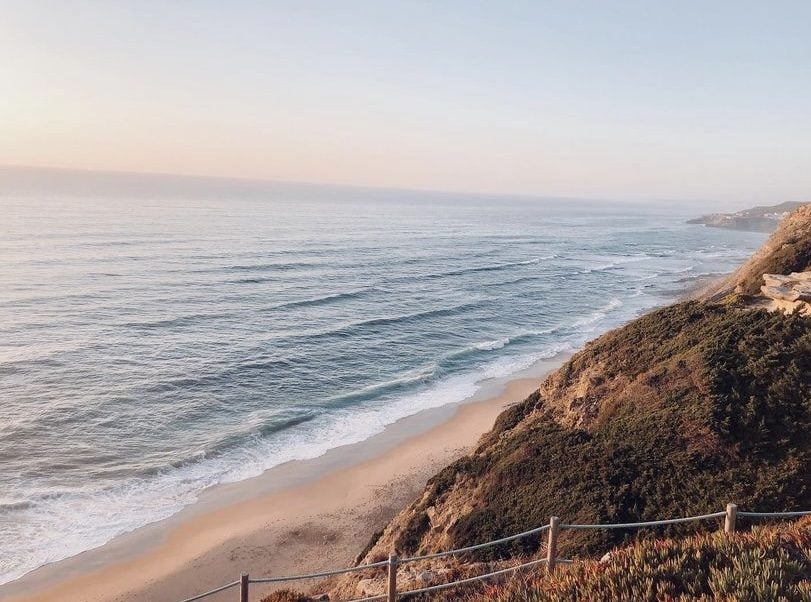 4. Praia do Magoito
Located in the village of Magoito in Sintra, Praia do Magoito is a long golden sand beach with turquoise blue waters. This beach is never full and is not known with tourists, mostly families and young people who live in the area. The waves at Praia do Magoito can get quite high so make sure to be careful and never go in the water when the "red flag" is up. Praia do Magoito has a nice terrace restaurant at the entrance, Esplanada Duna Mar that has a hilltop view of the beach and serves traditional meals.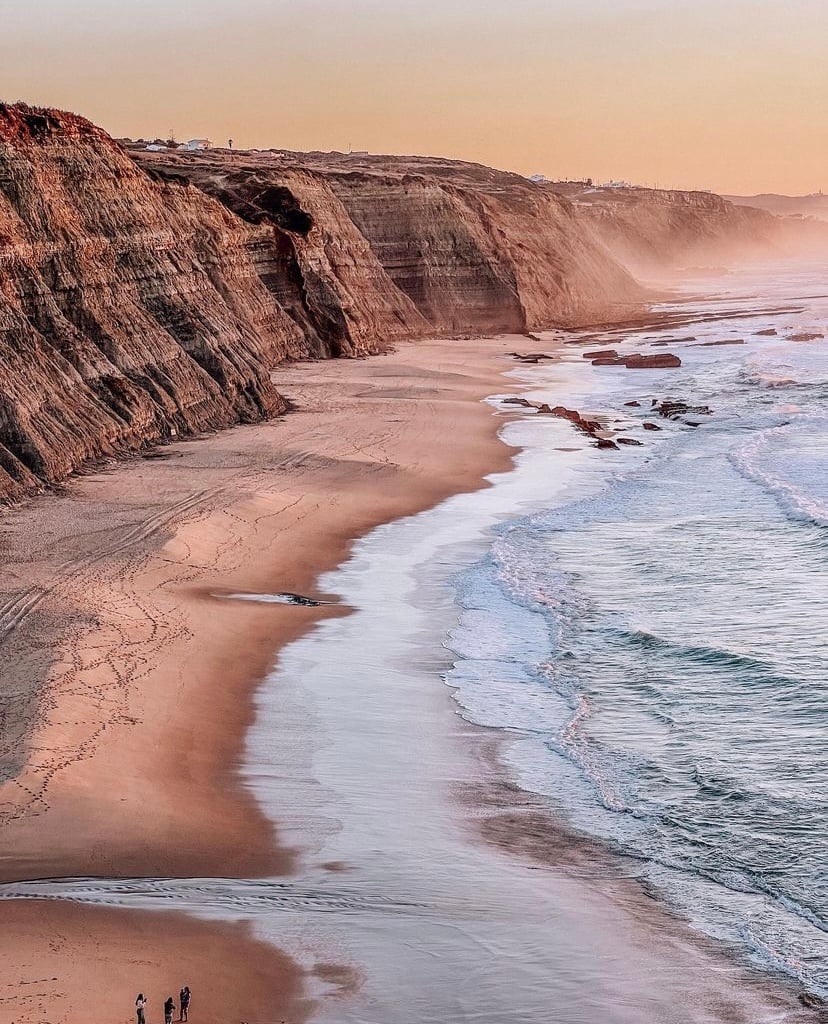 5. Praia da Cresmina
A 30-minute drive from Lisbon, Praia da Cresmina is very close to Praia do Guincho and is a local alternative to when Praia do Guincho is windy as it is protected by surrounding cliffs and is smaller in size. You can access the beach through a path by the Fortaleza do Guincho hotel. The surrounding restaurants are some of the best seafood and fish restaurants in the country, such as O Faroleiro and Porto Santa Maria.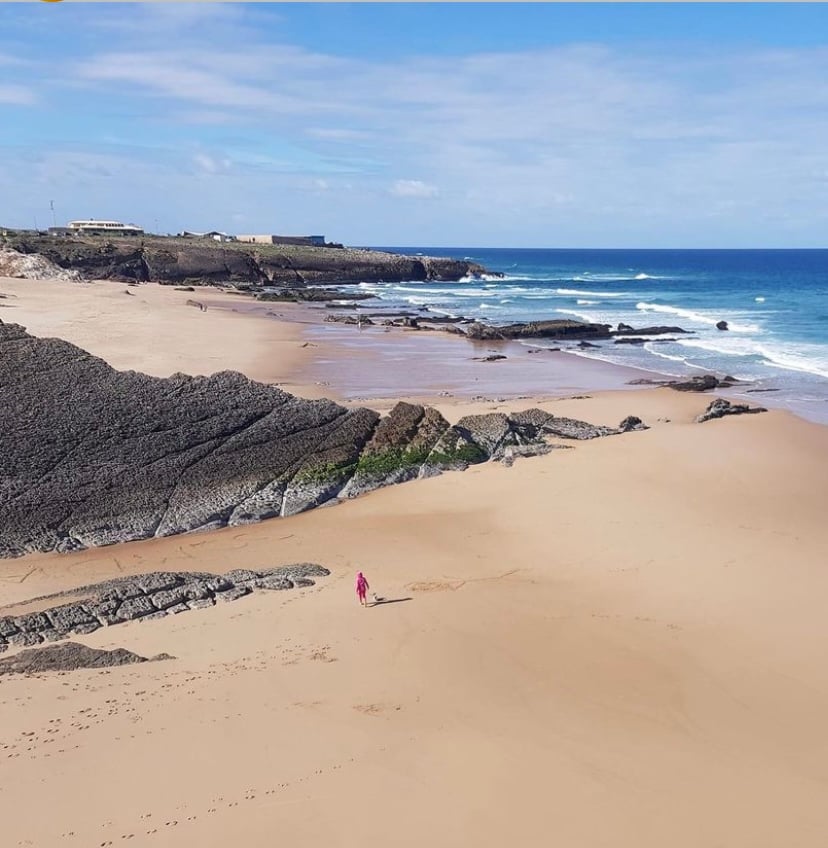 6. Praia da Ursa
Praia da Ursa is a "wild beach" in Sintra, meaning that there are no lifeguards on site. This stunning beach is one of the best known in Sintra, but might not be suitable for families with small children due to the large waves. The path to the beach is also quite rough and can be unsafe, as you have to walk down a mountainous path that is not built for that purpose. However, the difficult walk is worth it. This beach is rarely full and although it is not listed as a naturist beach, full nudity is common here.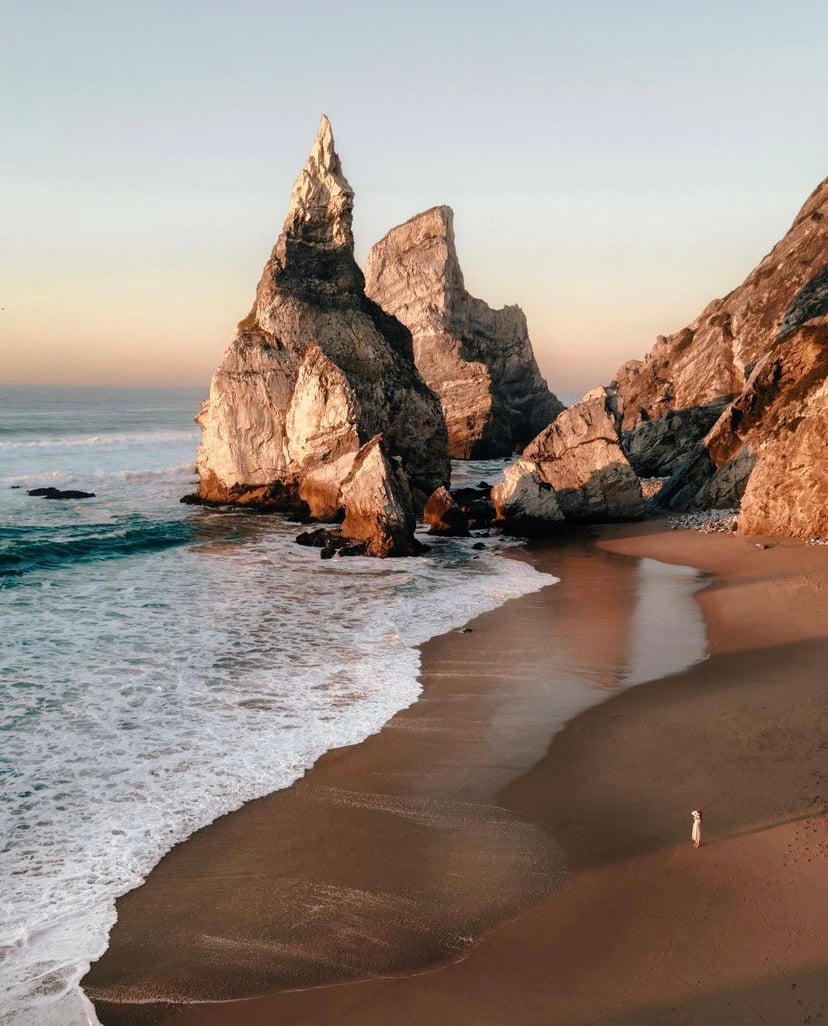 Praia de Troia-Mar is located in the peninsula of Troia, 55 kilometers south of Lisbon. We know that technically Troia is not in Lisbon, but it's worth taking the one-hour drive. This beach offers a gorgeous view of the Serra da Arrabida, has clear waters, and white sand like a tropical oasis. You will often see dolphins swimming around this beach and the water temperature is much warmer than in other parts of the country at around 19.5°C in the summer. You can drive to Setubal and then get the ferry boat to Troia which also provides a great experience. Praia de Troia-Mar is known for its lack of waves and features a windsurf school, as well as areas for beach volleyball and football.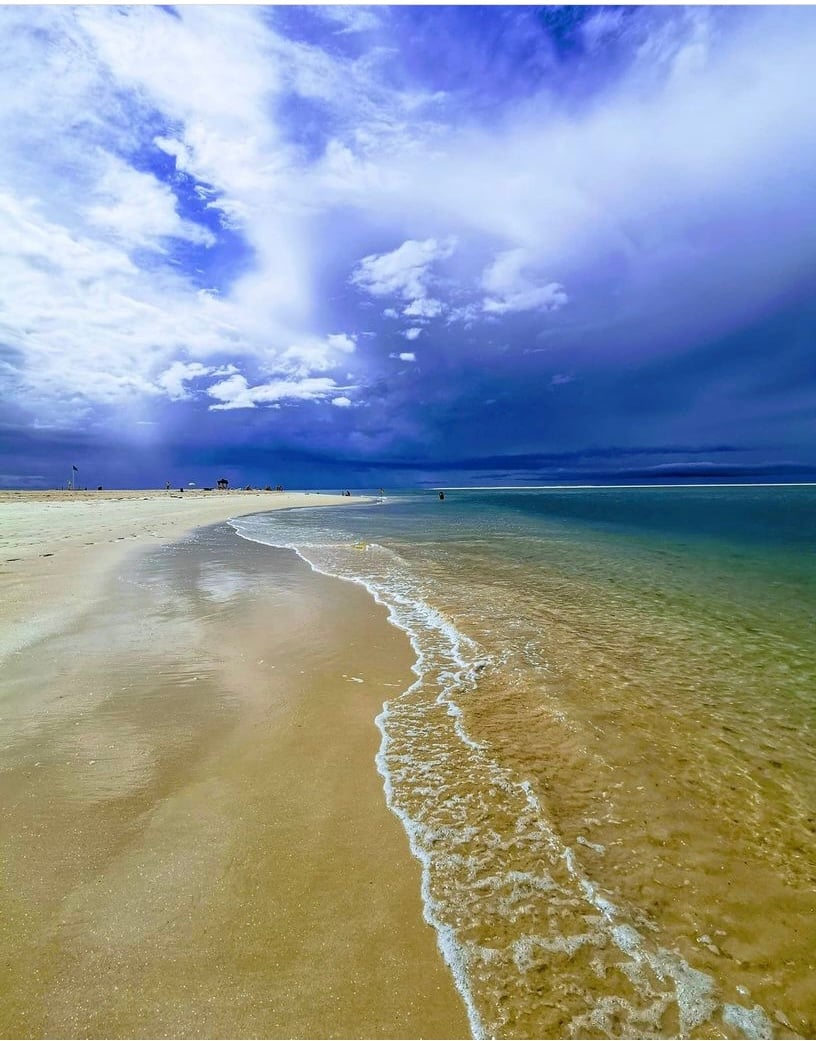 8. Praia do Meco
A 45-minute drive from Lisbon, the 4 kilometer Praia do Meco is located in Sesimbra. This beach became famous in the 1970s when a bunch of American, Swedish, and Dutch hippies discovered the beach that had no road access at the time. 15 years later, this beach became known as a vacation spot for the Lisbon elite, such as politicians and artists. Today, it is one of the most well-known beaches. A part of the Praia do Meco is an official naturist and nudist beach, probably the most famous in Portugal.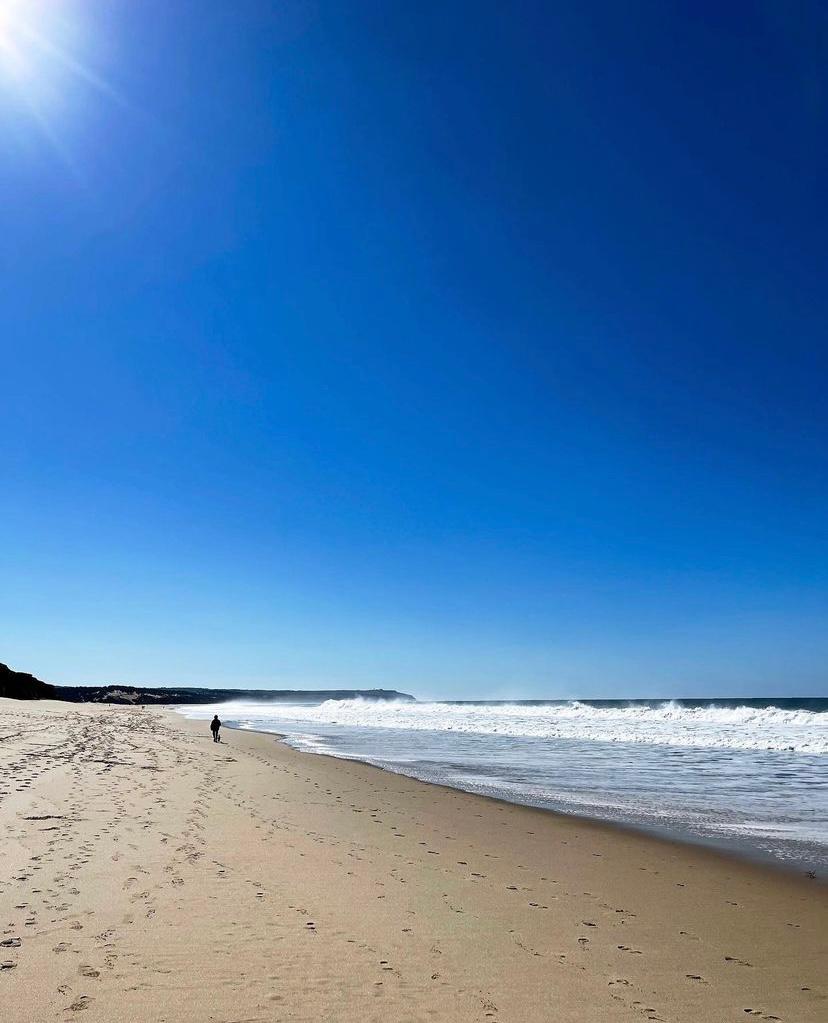 9. Praia da Foz do Lizandro
Located in Ericeira, a 45-minute drive from Lisbon, Praia da Foz do Lizandro is the largest beach in Mafra. The river Lizandro flows through this beach onto the ocean, providing a warmer alternative to those who do not wish to swim in the colder more volatile sea. This beach has various modern bars, restaurants, and even a surf shop for renting boards and booking surf classes. You can also rent out sunbeds and beach umbrellas.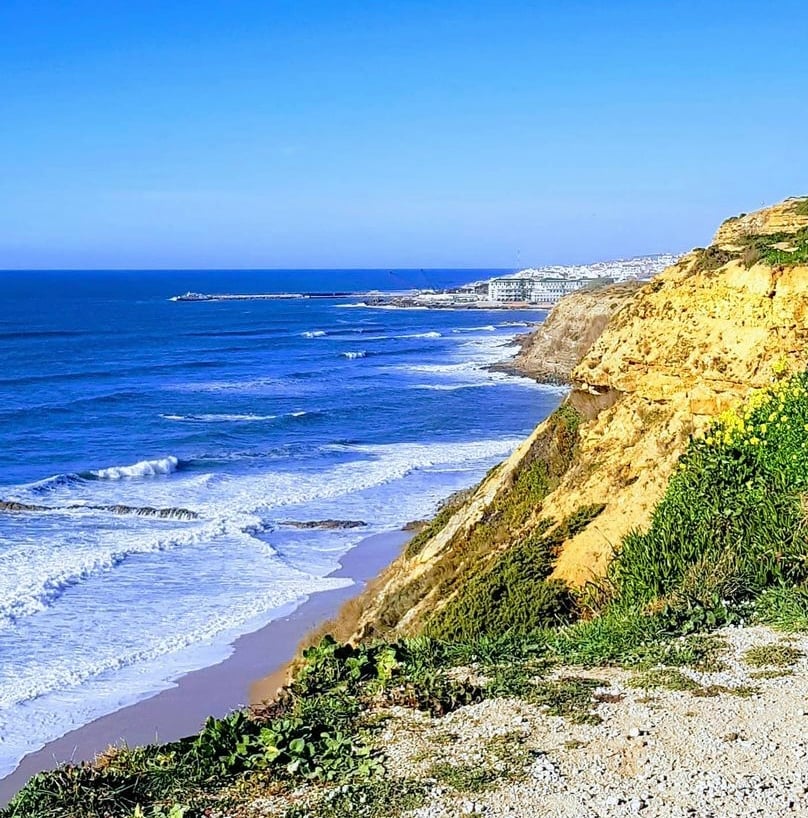 Book Tours & Experiences in Lisbon
⬇️Please share your favorite beaches in Lisbon in the comments below ⬇️