Every year, Portugal's tourism industry keeps growing as more and more people realize all that it has to offer. However, unfortunately, many tourists only spend a week in Portugal, usually in Lisbon, and miss out on the rest of the country.
The longer you spend in Portugal, the better! If you are looking to explore as much of Portugal in a three-week time frame, our 21-day itinerary has got you covered.
Starting in the north of Portugal and going all the way south, this route is best achieved by car. In reality, except for the main cities, Portugal is not very well traveled by public transport, so driving is your best option.
Also, keep in mind that you do not necessarily need to sleep in each of the following places for a successful trip. Some places are close to each other and if you find a better hotel deal elsewhere, stick to what best fits your budget.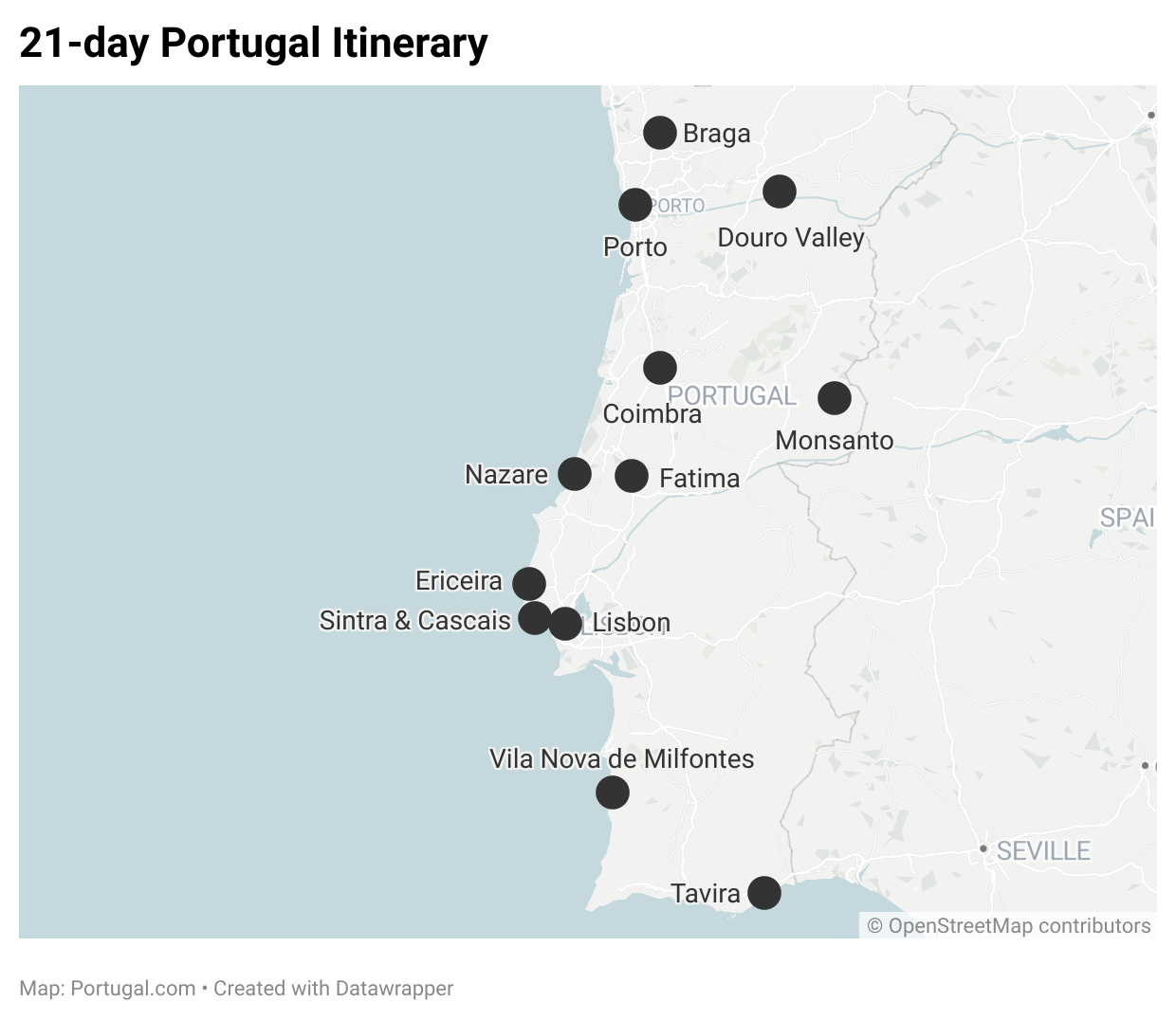 Day 1: Arrive in Porto
Our 3 week itinerary of Portugal begins in the great city of Porto, the second-largest in Portugal and one recently booming with tourism. Porto lies along the Douro river and features one of the oldest historical centers in Europe, declared a UNESCO World Heritage Site since 1996.
Particularly if you are coming from far, your arrival day will probably consist mostly of getting settled and relaxing. However, we do recommend exploring the historical center on your first day, walking around to get situated.
For a quick walk, find the outside of Livraria Lello, one of the oldest bookstores in the country, founded in 1906. Igreja do Carmo is also close by, a beautiful baroque church with a facade of Portuguese blue azulejos (tiles) made locally in Vila Nova de Gaia, across the Douro river from Porto.
Then walk by the large Clérigos Tower, built in 1763 by Italian architect Nicolau Nasoni, the Clérigos Tower offers a panoramic view of the historical center of Porto. At 75 meters high, visitors can climb 225 steps to the top of the tower, which is worth the workout but perhaps not if you're jet-lagged.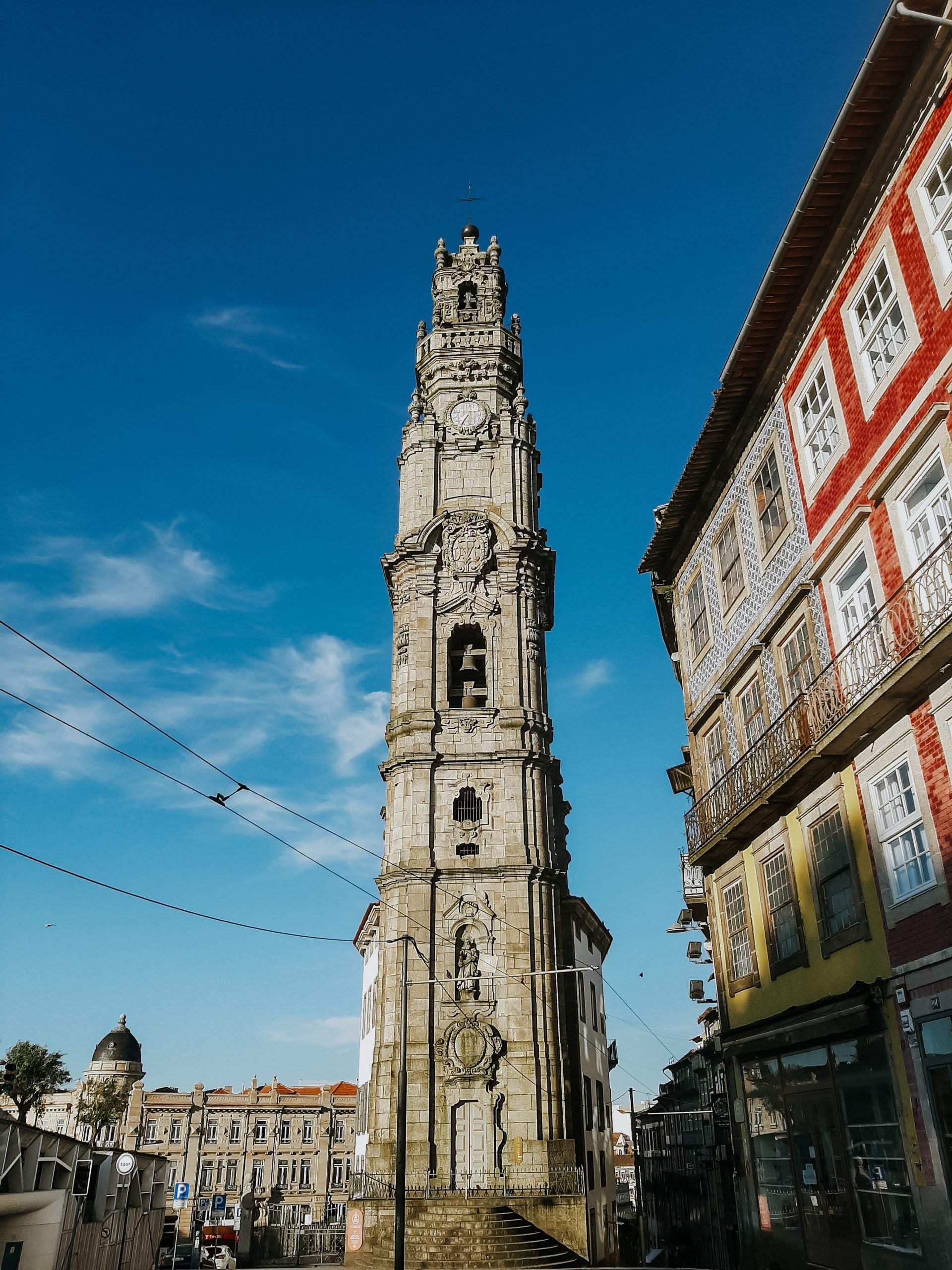 Antiqvvm
Pedro Lemos
Arvore do Mundo
O Tasco
Tasquinha Ze Povinho
Best Hotels in Porto
NH Hotel Porto Jardim: This four-star hotel feels like its five stars. It has a 70 cm deep outdoor people, a spa a few meters away, and a gym. It is located within walking distance of main attractions like Bolhão market, Aliados Avenue, and Ribeira. If you have a dog or cat, this hotel is pet-friendly.
Vila Gale Porto: Vila Gale is a well-known chain of hotels in Portugal and is always a safe option. This one was built in 1999 and recently renovated. The hotel has a spa with an indoor pool, a gym, a restaurant, and two bars.
Hotel Premium Porto Downtown: Located in the old town, this modern 4-star hotel has a sun terrace with views of the city of Porto, the perfect place to enjoy some port wine. You'll be close to everything you need, Santa Catarina street, Aliados Avenue, and the cathedral.
Book Tours & Activities in Porto
Day 2 & 3: Explore Porto
Day 2 is really the first day of your Portugal trip. We recommend starting the morning at one of the most famous monuments in Porto – Bolsa Palace.
Palacio da Bolsa's construction began in 1842 by the Porto Commercial Association on the ruins of the Saint Francis Convent. The name Palácio da Bolsa translates into "Stock Exchange Palace".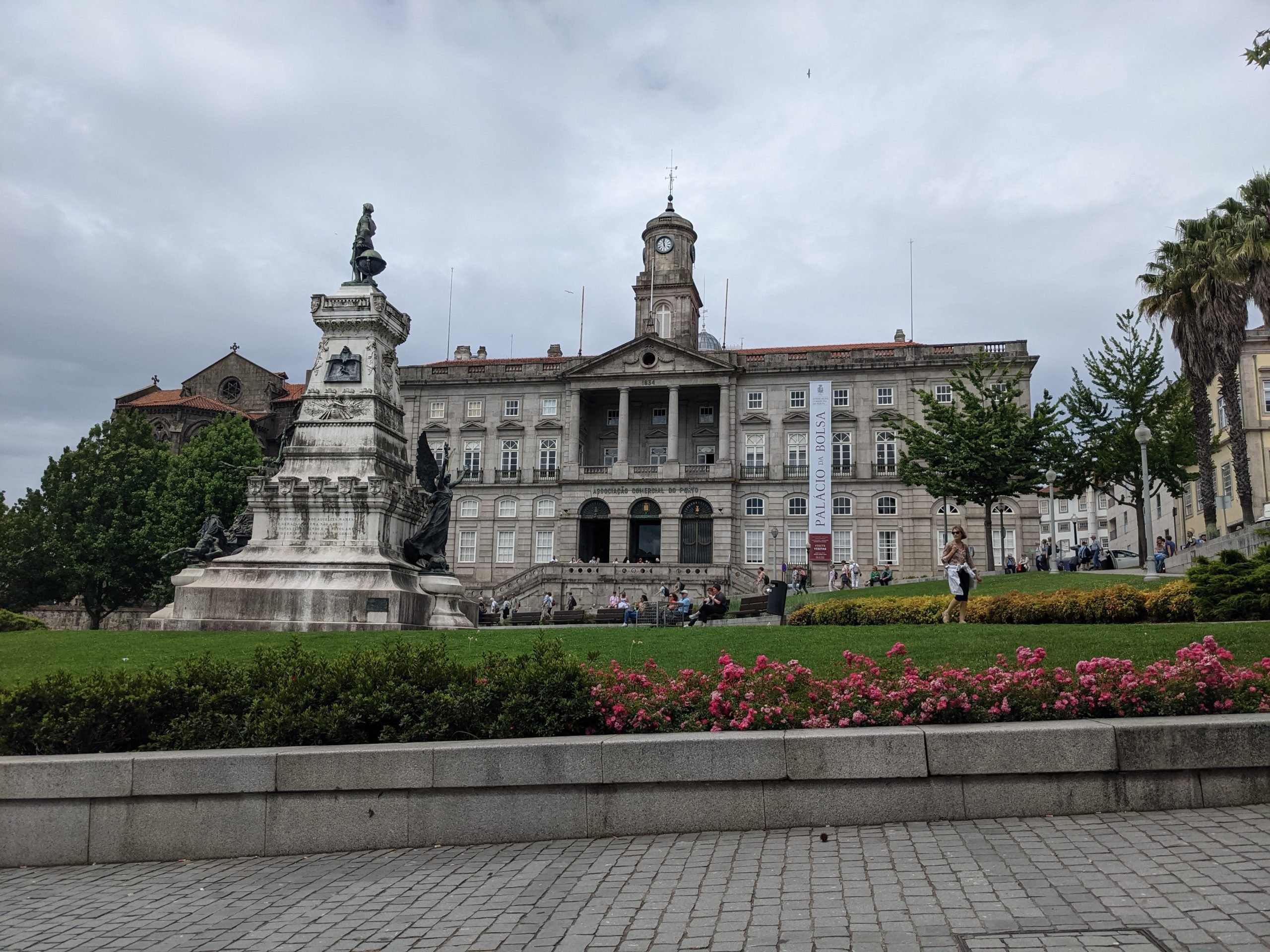 Then head to Porto Cathedral, known as Sé do Porto. This Roman Catholic cathedral is a national monument and the most important religious building in all of Porto. The Porto Cathedral still holds a mass every day at 11 am that you can attend for free.
Do not miss Sao Bento Railway Station. A 20th-century railway station in the historical center of Porto, a UNESCO World Heritage Site, São Bento Railway Station is a lot more than just a place of transport.
Home to over 20,000 azulejo tiles, it is a place of culture. The station was built in 1903 and is covered with thousands of these tiles made by Jorge Colaço. His work covers an area of over 550 m2 and depicts important moments of Portuguese history including the Discoveries.
Also, if you haven't yet gone inside Livraria Lello, this would be the day to do it. Entrance to Livraria Lello used to be free, but they were getting 4,000 visits a day with long lines and less than 5% would buy a book. Now the tickets cost €5. Kids under three years old have free entrance.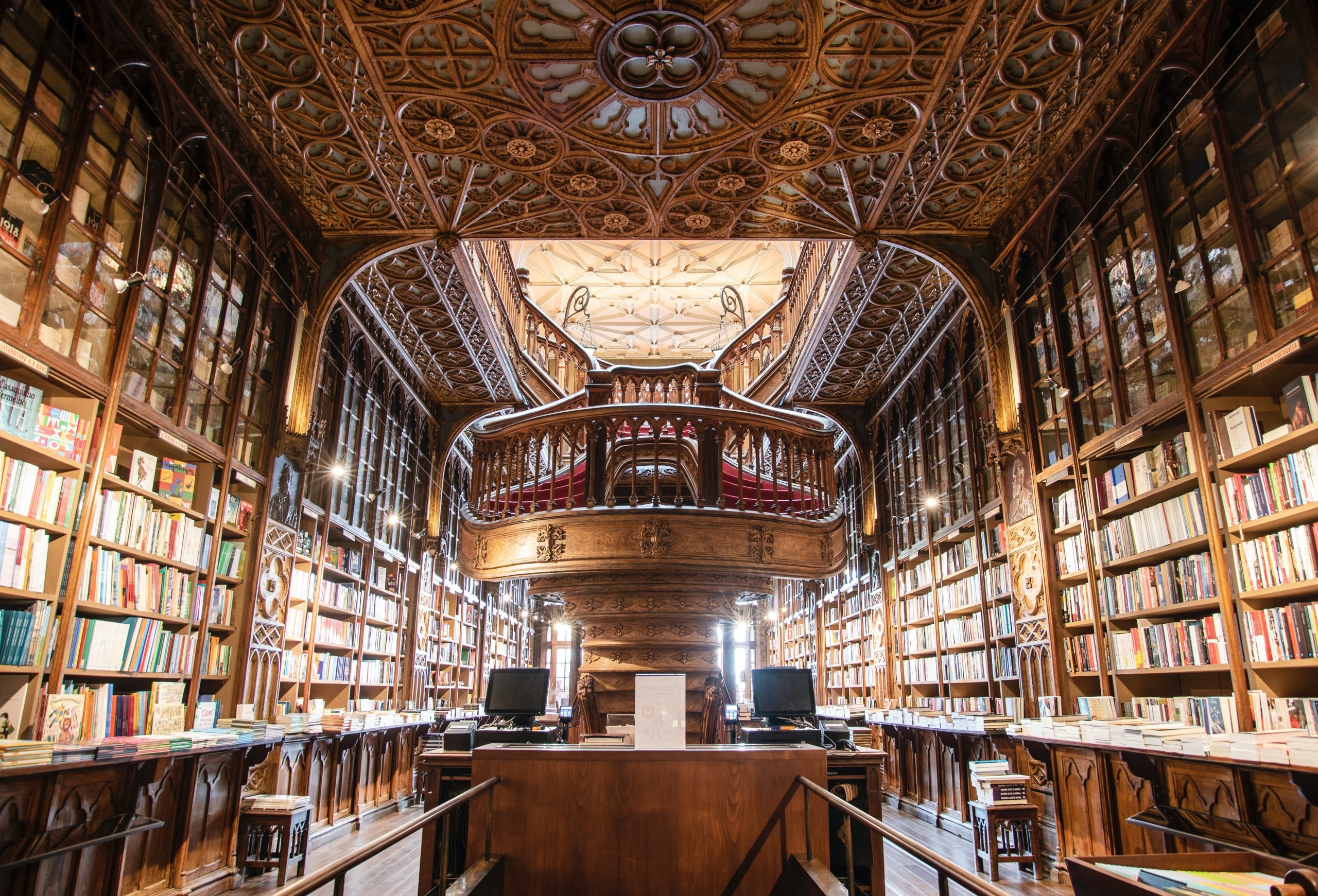 If you are up for a scenic walk of the Douro river, walk the Dom Luis I bridge to Vila Nova de Gaia. Built in 1886 by designer and co-founder of the Eiffel company Théophile Seyrig, visitors can walk across the 60-meter-high bridge on the upper level of the bridge.
Walking through the 1-kilometer bridge, you will have one of the best views of the Douro river, as well as easy access to Vila Nova de Gaia. If you're up for dinner in Gaia, head to Enoteca or Casa Portuguesa do Pastel de Bacalhau.
We also recommend heading to a fado house, especially at night. Most fado houses offer you a Port wine glass to enjoy with the live show. Book this Fado Live Show in Porto for an intimate setting in Casa da Guitarra near Sé.
For day 3, why not partake in a unique experience where you get to see more of the city in a unique way? A tuk tuk tour is a great way to see the whole city, getting to places that might be tiring and time-consuming on foot.
Here are our three favorite tuk tuk tours in Porto:
Day 4: Douro Valley
Porto's unique location offers incredible access to the region of Douro. The Douro Valley was made a World Heritage Site by UNESCO in the early 2000s. Departing from Porto and ending in Spain, the Douro river flows in the middle of the Douro Valley, a cultural landscape of vineyards where Douro wines are grown and produced.
The best way to visit the Douro Valley is by booking a tour as transportation is scarce in the area, especially if you want to visit multiple vineyards for wine tastings. We, therefore, recommend booking a Douro vineyard "hopping" tour so that you can experience a variety of locations.
For a more elevated experience, book this river cruise from Porto where you will get to stop at various wineries for tastings, with lunch included.
You can also rent your own car and book the vineyard tours yourself. Our favorite vineyards to visit are:
Quinta da Roêda (Pinhão): Along with wine tastings, this vineyard offers picnics, workshops, and more. You can explore the gorgeous vineyard with a guided tour and have a tasting of three wines for only €12 per person. Their packages go up to €44 per person for a larger number and variety of wines.
Quinta do Crasto (Sabrosa): One of the Top 20 of the World's Best Vineyards, the wine tasting here lasts around 90 minutes where you get to taste 5 of their wines, visit the wine cellars, and more for €29 per person.
Quinta do Seixo (Valença do Douro): This place has over 100 hectares of vineyards. Their cheapest visit is €15 for a 40-minute tour of the winery and tasting of 2 port wines. Their most luxurious option is a 3-hour picnic in the vineyard where you can taste their wines and enjoy Douro cuisine for €40 per person.
Book a Douro vineyard experience
Day 5 & 6: Braga
Only a 45-minute drive from Porto, Braga is the largest city in the region of Minho. We recommend spending a night or two here, at least. It is the oldest city in Portugal, boasting over 30 churches.
We recommend heading to the city's main attraction first, the Sanctuary of Bom Jesus do Monte. Locate on the top of a hill, you will have to climb a large staircase. However, the view is worth it!
Once you reach the top, behind the church, you can explore a park with several chapels, flower beds, secluded benches, and caves surrounded by vegetation, as well as a lake with rowing boats.
Then, go to Republic Square, where a beautiful fountain and a sign with the name of the city welcome visitors. It is the perfect place for a photo!
In this same square, Rua do Souto begins, the main street of the historic center and closed for pedestrians only, you'll find that Braga's main points of interest are all within walking distance. The Torre de Menagem is also a beautiful sight, as well as the Cathedral de Braga.
Also, head to the Image Museum, a space dedicated to photography within a beautiful medieval tower that opened in 1996. The Image Museum has over 200,000 images taken by classic and contemporary photographers.
You will also find a display of cameras from throughout the decades, as well as a library with magazines and photography books.
Book Tours & Experiences in Braga
Best Hotels in Braga
Burgus Tribute & Design Hotel: Located in the heart of Braga's historic center, Burgus Tribute & Design Hotel is close to popular attractions such as Biscainhos Museum. The modern 4-star hotel provides features a restaurant, private parking, a bar, and a lovely shared lounge.
Melia Braga Hotel & Spa: Maria Braga Hotel & Spa is a luxury 5-star hotel less than 2 kilometers from the city center. This place features a large spa with indoor and outdoor pools, a hot tub, and a sauna.
Hotel do Parque: Located in a 19th century-building surrounded by romantic gardens, the Hotel do Parque is less than 4 kilometers from the center of Braga. The hotel features a spa, a piano bar, and modern rooms equipped with LCD satellite TV and a minibar.
Best Restaurants in Braga
Casa de Pasto das Carvalheiras
Bira dos Namorados
Cozinha da Se
Naco na Pedra
Esperanca Verde
Day 7: Monsanto
Some might disagree on this one due to the distance, but the interior of Portugal should not be forgotten! Known as a village within stones and once titled "the most typical Portuguese village of all" in a 1938 contest during the Estado Novo regime, Monsanto is a special place.
A 3:30 hour drive from Braga, it is near the city of Castelo Branco, which is also worth the visit. Monsanto is on the official route of Portuguese historical villages. Its history dates back to the country's foundation, later on belonging to the Order of the Knights Templar.
in late 2022, it was announced that the Game of Thrones prequel House of the Dragon was filmed in the iconic village of Monsanto!
The main attraction in the village is Monsanto Castle. Sitting on top of the hill, this fortified castle was built in 1165 by Gualdim Pais, master of the Knights Templar.
The Monsanto ruins can be visited at the top of the hill, where you will find views that stretch as far as the Serra da Estrela and Spain. Next to the castle, you will find unique ruins of a Roman chapel.
You should also head to Lucano tower, also known as the watch tower. This building features the famous "Galo de Prato" which is a symbol of its achievement during the Estado Novo. In 1938, Monsanto village received the award "of the most Portuguese village in Portugal" in the Galo de Prata awards, given by the dictator Salazar himself.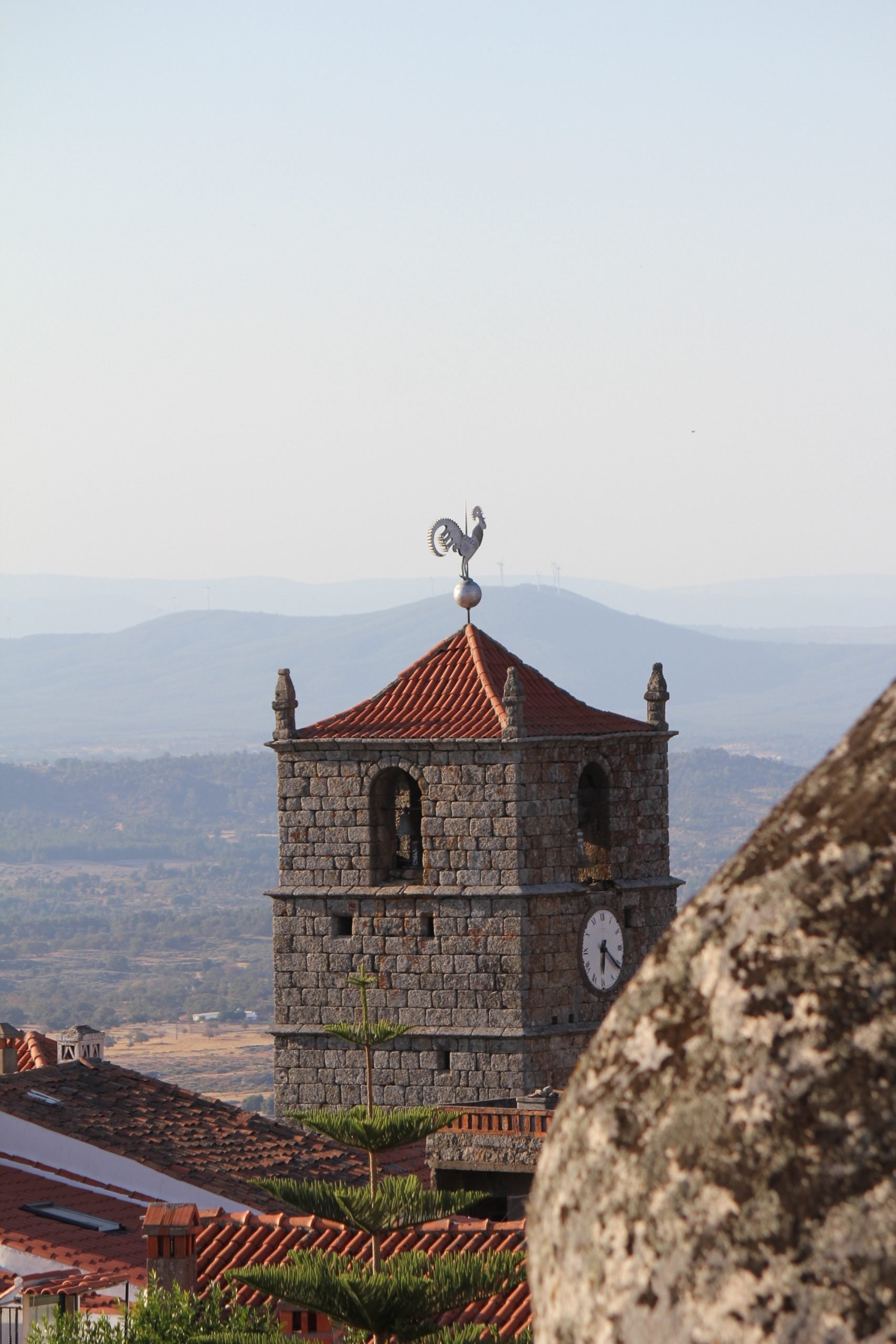 If you want a guided tour, we recommend booking this full-day tour of Monsanto, Idanha-a-Velha, and Penha Garcia. This tour from the city of Castelo Branco lasts around 8 hours, stopping in the historic village of Idanha-a-Velha on the way to Monsanto.
You can then enjoy a walking tour through the historic area of the village, stopping at the most important points, including the Lucano Tower, the Monsanto Castle, and beautiful churches.
The end of your trip stops at Penha Garcia, where you will see the windmills and the waterfall of the river beach.
Best Hotels in Monsanto
Best Restaurants in Monsanto
Taverna Lusitana
Jovem
Casa da Velha Fonte
Adega Tipica o Cruzeiro
Day 8 & 9: Coimbra
A 2-hour drive from Monsanto, Coimbra should be your next stop. We recommend staying for two days at least.
Your first stop should be the University of Coimbra, one of the oldest universities in the world. To get to the university, start from the Almedina Tower, the entrance gate forming part of the wall surrounding the old city situated in the lower section of the city. Here, you can explore the alleys that date back to the 8th century.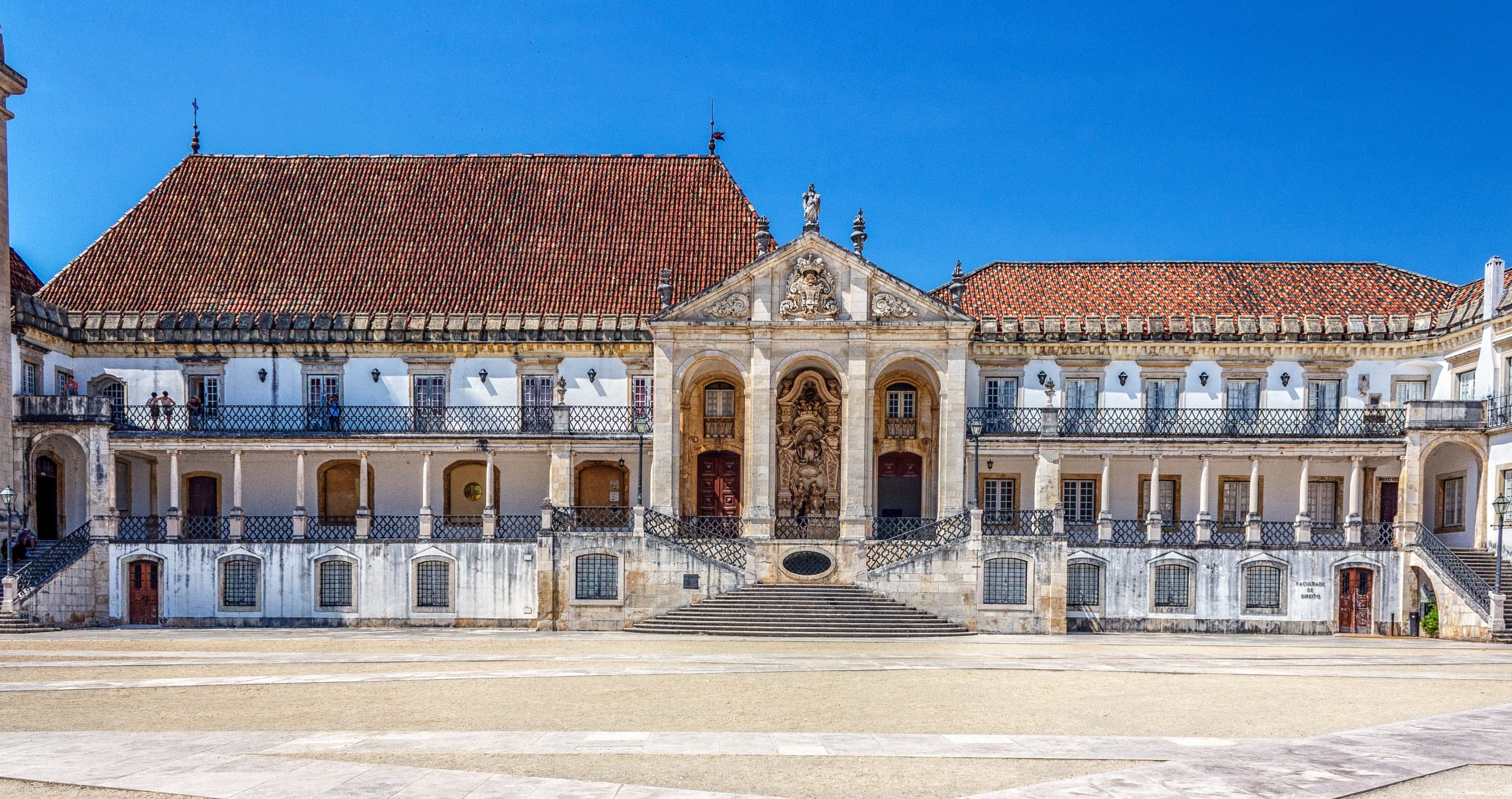 Visit the Joanine Library, a Baroque library situated in the center of the University of Coimbra, by the university tower. The library was built in the 18th century, and it is considered a national monument with priceless historical value. For a full experience, book a tour of the university.
We also recommend taking a walk in the Botanical garden, one of the oldest in Portugal. With 13 hectares of beauty, the garden was established in 1772 by the Marquis de Pombal with the purpose of supplementing the study of medicine and natural history at the University of Coimbra.
Book University of Coimbra Tour
Next, visit the Santa Cruz Monastery and the Convent of Santa Clara, built in 1314. If you still have time, head to Quinta das Lagrimas. This estate has been the setting for the forbidden romance between King D. Pedro I and Inês de Castro. The gardens have a canal, "Fonte dos Amores" that, according to the legend, transported love letters between the Estate and the Royal Palace.
Best Hotels in Coimbra
Hotel Quinta das Lagrimas: A 5-star hotel, Hotel Quinta das Lagrimas is located in a historic medieval palace that was recently renovated. Featuring botanical gardens and a luxurious spa with views of the city, as well as a 9-hole golf course, this hotel has all the facilities you need and more.
Solar Antigo Luxury Coimbra: Located in the heart of Coimbra, only 400 meters from the University of Coimbra, Solar Antigo Luxury Coimbra is a 4-star boutique hotel that features views of the city. A historical building, its traditional architecture has been kept intact while including all the modern amenities necessary for a comfortable stay.
Best Restaurants in Coimbra
Ze Manel dos Ossos
Solar do Bacalhau
O Trovador
Day 10: Fatima
A 1-hour drive from Coimbra, Fatima is a hot spot for religious tourism. However, you do not need to be religious to enjoy this city due to its cultural value. Fátima is therefore not only known as a religious site, but the city is also filled with cultural activities. From lighting a candle at the sanctuary for a loved one to visiting local villages, the city has a lot to offer.
We recommend visiting the Sanctuary of Our Lady of Fatima first. The main square of the Sanctuary of Fátima is huge! The perfect place to start. It's larger than the square of the Vatican and can hold thousands of people. You can gauge the beautiful Basilica of Our Lady of the Rosary and enjoy how enormous, but yet peaceful, the whole religious site feels.
Inside the sanctuary, you will find the basilica, known as "Basilica da Nossa Senhora do Rosário" in Portuguese, a limestone church built between the 1920s and 50s. It has a 65-meter bell tower and a statue of Our Lady of Fátima. at the entrance to the church. The church is decorated in Baroque style. Inside, the church has a 12,000-piece organ, 14 altars, and incredible stained-glass windows.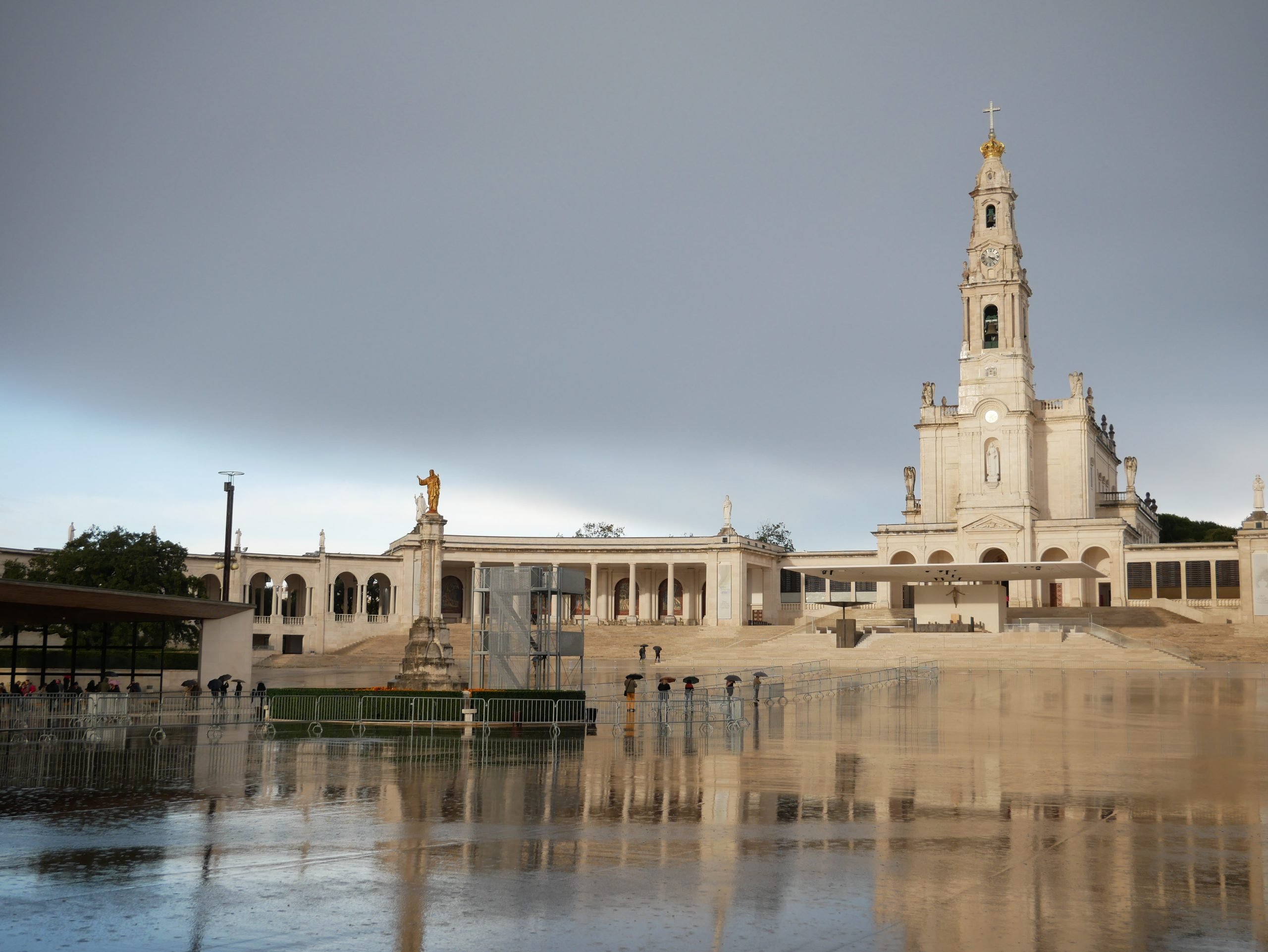 However, there are also great activities outside of Fatima. Known as "Gruta de Moinhos Velhos," this cave is over 9 kilometers in extension and a 20-minute drive from the sanctuary. It is the biggest cave found in Portugal. The cave was first entered by humans in 1947. The caves are located in the Limestone Mountains, which form the Estremadura Limestone Massif.
The Natural Monument of Dinosaur Footprints is also a great activity. This dinosaur track site was discovered in 1994 by João Carvalho, a member of the local archeology association. Its located around 10 kilometers from Fátima in the heart of the Serras d'Aire e Candeeiros Natural Park.
The footprints are over 175 million years old and were created by sauropods, dinosaurs with small heads and long tails and necks. This place has some of the longest dinosaur tracks in the world, with the longest footprint measuring 147 meters long.
Best Hotels in Fatima
Hotel Santa Maria: This four-star hotel is a 2-minute walk from the sanctuary. Hotel Santa Maria has a modern interior, spacious rooms, as well as a meditation room and chapel. The terrace on the fourth floor provides amazing views of the sanctuary.
Steyler Fátima Hotel Congress & Spa: Steyler Fátima is only 100 meters away from the sanctuary. The four-star hotel has large modern rooms with terraces, a Portuguese restaurant, a chapel for praying, and even a kids club.
Hotel Dom Goncalo & Spa: This four-star boutique hotel is less than a 10-minute walk from the sanctuary. You can enjoy the wellness center here, as well as the outdoor garden with a playground for the kids.
Best Restaurants in Fatima
Tia Alice
Manhas
Arcos de Fatima
Restaurante O Leque
Kansha
Day 11: Nazare
Nazare is home to the largest surfable waves on the planet, particularly Praia do Norte. Nazare became the stuff of surfing legend in 2011 when Garret McNamara conquered the world's biggest wave at Nazare's Praia do Norte.
Since then, it has become a place of pilgrimage for the world's most dauntless surf riders, with Brazilian surfer Rodrigo Koxa outdoing McNamara and setting the world's Guinness record for surfing the world's largest 24.4m wave in 2017.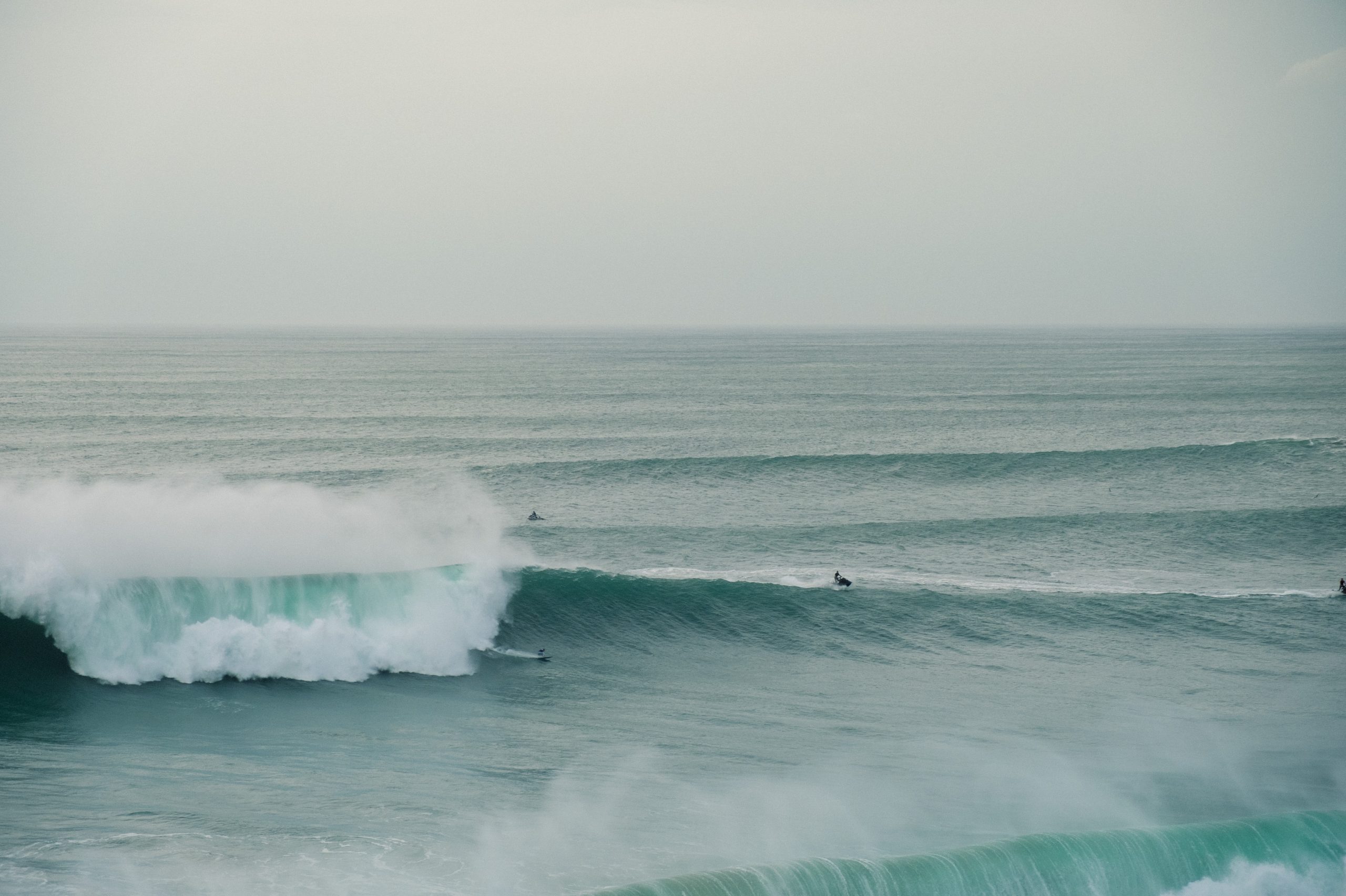 Besides spotting some waves and surging, there is a lot to do in Nazare. Nazare boasts a beautiful funicular trip. This is like a modernized 19th-century train that connects downtown and sitio, the uptown of Nazare. You can walk between these two main areas, but for the best view of Nazare, we recommend the funicular.
The funicular of Nazare runs every 15 minutes and is 318 meters long. You will get views of the town, beach, and the vast Atlantic ocean.
When you get o sitio, we recommend walking around the square and streets, offering cute stores with hand-crafted souvenirs. There is also a range of seafood restaurants you should not miss.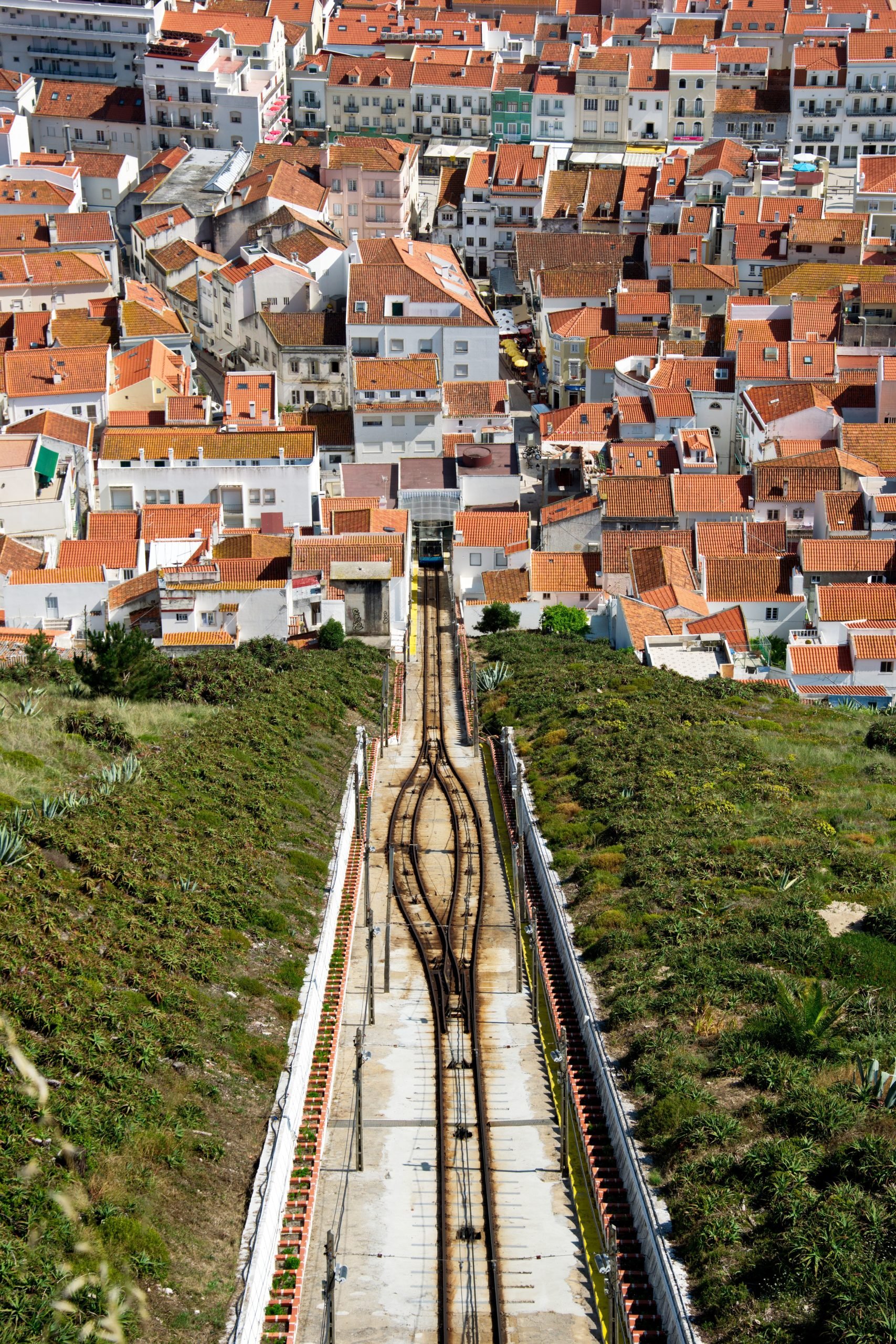 We also recommend visiting a stunning 16th-century church known as the church of the Nossa Senhora das Areias, this beautiful building looks similar to other Portuguese churches on the outside. However, when you walk inside, you get to witness the unique and rich architecture of this Catholic church. An altar stands in the middle of the church in gilded gold, with other gold accents throughout the building.
There is no better place to experience the authentic atmosphere of a seaside town than at the local market. The Mercado Municipal de Nazare boasts a lively and inviting environment featuring colorful stalls of all kinds. From organic vegetables and fresh fish to Portuguese pastries, this place is bound to call your name.
Best Hotels in Nazare
Best Restaurants in Nazare
A Tasquinha

Restaurante Maria do Mar

Rosa dos Ventos

Restaurante Casa Pires
Day 12 & 13: Ericeira
A one-hour drive away from Nazare, Ericeira is a seaside town in Mafra, Ericeira is known to many as the surfing capital of Europe. The only World Surfing Reserve in Europe, Ericeira has the perfect coastline conditions for surfing.
If you want to do some surfing while you're there, we recommend booking a surf class! Being labeled a surfing reserve, Ericeira is a protected surfing area covering 3 kilometers of great wave quality. The official Ericeira World Surfing Reserve spots are Cave, Pedra Branca, Reef, Crazy Left, Ribeira D'Ilhas, Coxos, and Sao Lourenco.
For a regular beach day, Ericeira also has some amazing beaches. One of our favorite beaches in Ericeira is Foz Do Lizandro, 3 kilometers from the center of town. The river Lizandro flows through this beach onto the ocean, providing a warmer alternative to those who do not wish to swim in the colder and more volatile sea.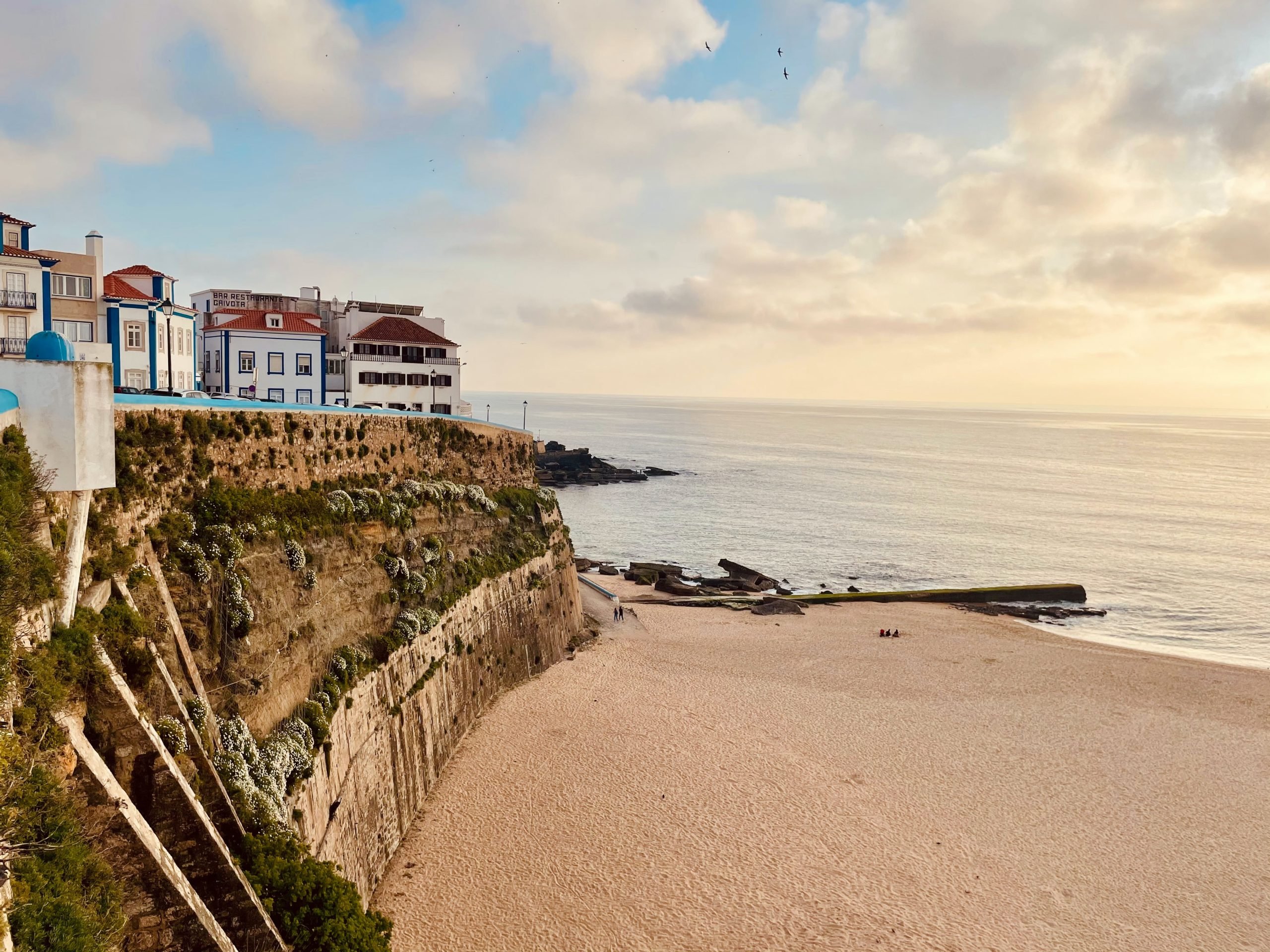 Another great beach is Praia dos Pescadores, the most central beach in Ericeira. Along with being within walking distance from the center, the "Fishermen's beach" features beautiful fishing boats and is a family favorite.
Ericeira is also well-known for hikers as it has several trails, providing both a rural feel and breathtaking ocean views. You can check these out on official trail maps or ask the locals. One of your favorite hikes is over 10 kilometers, starting in Ericeira and going through Santo Isidoro, Paco de Ilhas, Marvao, and ending finally in Ribamar.
On one of your days in Ericeira, we recommend visiting Mafra, a beautiful city located a 10-minute drive from Ericeira. Mafra is best known for being the home of the Mafra National Palace, a UNESCO World Heritage Site constructed in Baroque style.
This four-square-km palace is open to the public and includes the royal palace and chapel, a monastery, and one of the most stunning libraries in Portugal with over 30,000 books. There are over 1,200 rooms in the place and two bell towers housing the world's largest bell collections.
Best Hotels in Ericeira
Best Restaurants in Ericeira
Mar d'Areia

Mar das Latas

GiG – Green is Good

Mar a Vista

Avo Restaurante
Day 14 & 15: Lisbon
Lisbon is a 40-minute drive from Ericeira. On your first day, we recommend heading to Sao Jorge Castle. The 5th-century palace was restored in 1938 by the dictatorship of Salazar to look the way it is presented now.
Tourists can visit the castle complex, which consists of the castle itself, the ruins of the royal palace, gardens, and a terraced square with panoramic views of the city. A ticket to visit costs between €5 and €10. You can also pay a little extra to skip the line.
A 5-minute walk away, head to Alfama, the oldest neighborhood in Lisbon and the home of fado. Explore the neighborhood and look out for Fado spots, as well as historical monuments such as the Lisbon Cathedral, the Convent of the Grace, and more.
After that, take the train to Belem. Belem lies along the Tejo Estuary and is home to two UNESCO sites, Torre de Belem and Mosteiro dos Jeronimos.
Mosteiro dos Jerónimos is a former monastery in Belém constructed in Portuguese Late Gothic Manueline style, and you can visit the church for free. A 2-minute walk from the monastery, head to Pasteis de Belem where the traditional Portuguese custard tart was first invented.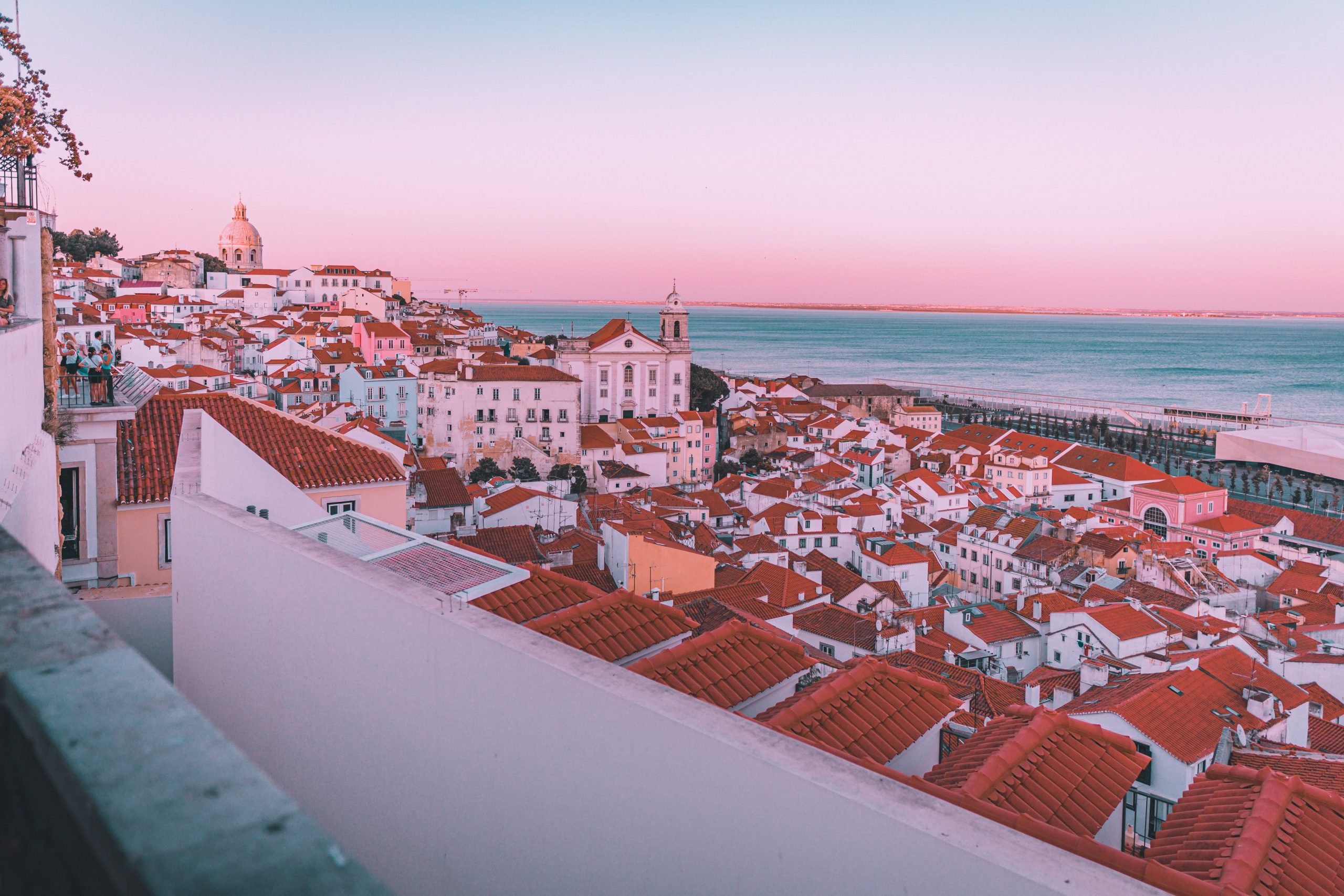 If you're looking for a night out, walk to Bairro Alto, the most popular area for drinking outdoors. Tons of locals and tourists line the streets of Bairro Alto with a beer in hand. We recommend Ze dos Bois Gallery, a musical center that has live music and serves tasty drinks.
On your second day, we recommend a guided tour of Lisbon so you get to see as much as you can of the capital. For your second day in Lisbon, here are the best-guided tours to explore the city:
Lisbon 3-Hour Sightseeing Tour by Tuk Tuk: This tuk-tuk tour rides up and down the hills of Lisbon, going through the city's oldest neighborhoods and main attractions.
Lisbon Hop-On Hop-Off Bus Tour: Book a 24-hour ticket which includes an audio guide. This affordable ticket allows you to visit different routes and hop in as you would like.
Lisbon 3-Hour Tour by E-Bike: This tour allows you to cycle through Lisbon on comfortable e-bikes with a guided tour. You will get to visit different viewpoints and historical attractions.
Best Hotels in Lisbon
Inspira Liberdade Boutique Hotel: Awarded the Best Luxury Green Hotel in 2019, Inspira Liberdade provides a relaxing Feng-Shui vibe for its guests. The hotel has a SPA, fitness room, bar, and a restaurant with Portuguese food called Pen Brasserie Mediterrânica.
Selena Secret Garden: The hostel also has a rooftop deck, CoWork space for professionals, and a movie room. In the heart of Cais do Sodre, you are close to contemporary art galleries, bars with riverfront views, and within walking distance to Chiado.
Bairro Alto Hotel: This hotel is situated in the best location in Lisbon, between Bairro Alto and Chiado in an 18th-century building in central Lisbon. The hotel features a restaurant with award-winning Chef Nuno Mendes and Executive Chef Bruno Rocha.
Best Restaurants in Lisbon
Alfaia
Mezze
A Cevicheria
Alma
Adega da Tia Matilde
Day 16: Sintra & Cascais
If you're in Lisbon, you need to visit Sintra and Cascais. We recommend spending the morning in Sintra and the afternoon in Cascais. The first thing to do when you arrive in Sintra – grab a "travesseiro", a Sintra staple at Piriquita, in the heart of the city.
Then walk toward the Castle of the Moors, a medieval castle that sits on a hilltop and was built by the Moors in the 8th century.
Palacio da Pena is another must-see. The exterior of this palace is painted in multiple colors and is in a romanticist style. You can also wander around the castle and see the beautiful green area that surrounds it. You'll feel like you're in a fairytale. Tickets cost around €15.
For lunch, drive towards Cascais and stop at a restaurant called Furnas do Guincho. This is one of the best seafood restaurants in the area, but it is quite pricey. For a more affordable alternative, drive to the center of Cascais and eat at Baia do Peixe.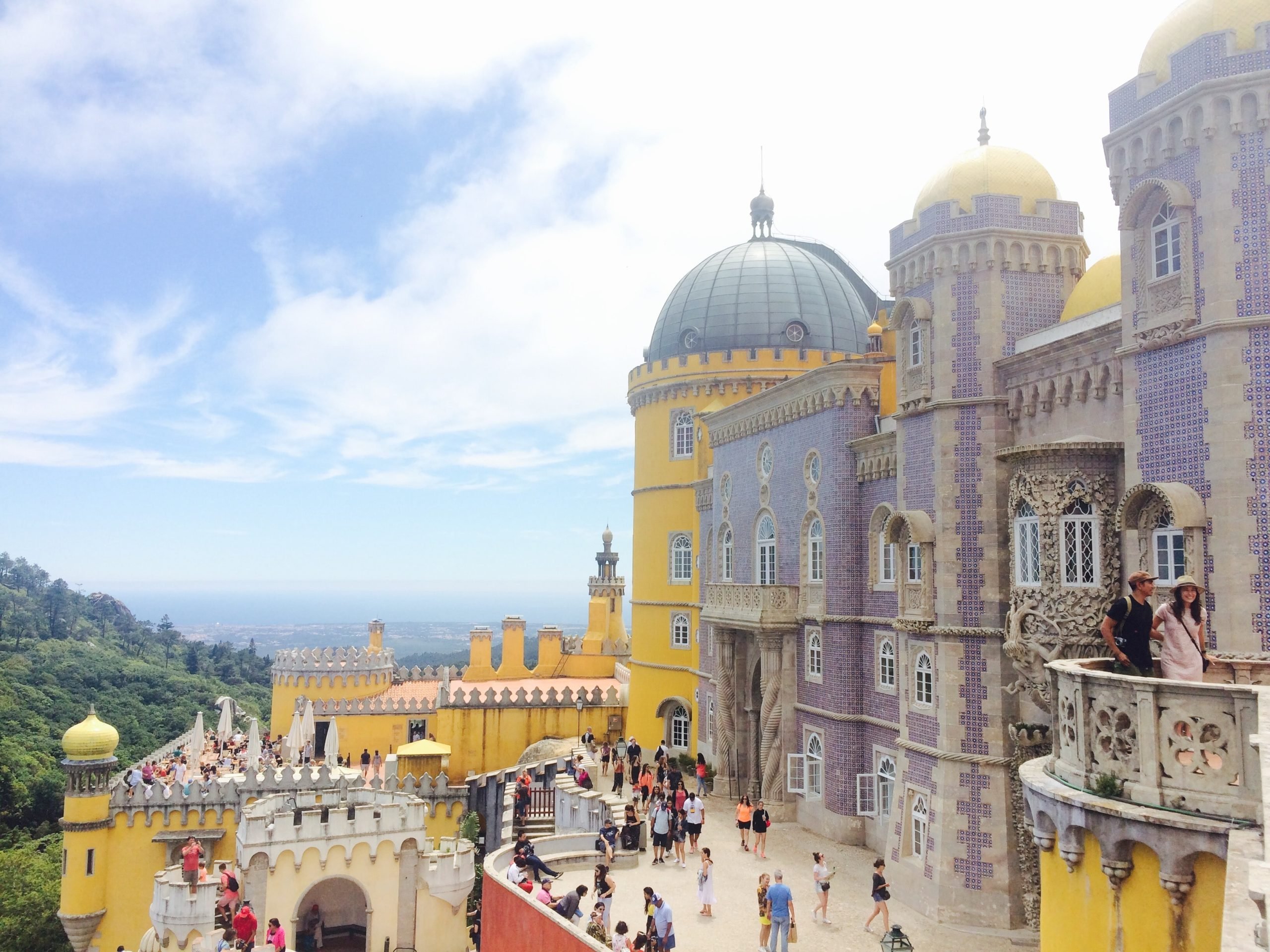 After lunch, discover the town of Cascais, located on the Portuguese Riviera. One of the richest municipalities in the country, it is home to the best hotels and beaches. Head to "Praia da Rainha," a secluded beach with a wonderful view, perfect for a family photograph.
Then, walk for a minute toward "Frederico Arouca" street. This is essentially the high street with the major stores, as well as smaller vendors selling Portuguese souvenirs.
From there, walk toward the City Hall of Cascais in "Praça 5 de Outubro". This beautiful building with traditional Portuguese architecture stands in the middle of the commerce square. The cobblestoned streets are the highlight of this square.
If you prefer a guided tour, this tour of Sintra and Cascais takes you to all the best spots. It also includes a guided ticket to the Pena Palace, allowing you to skip the long lines. You can also pick between a shared or private tour. The tour includes free time and transportation.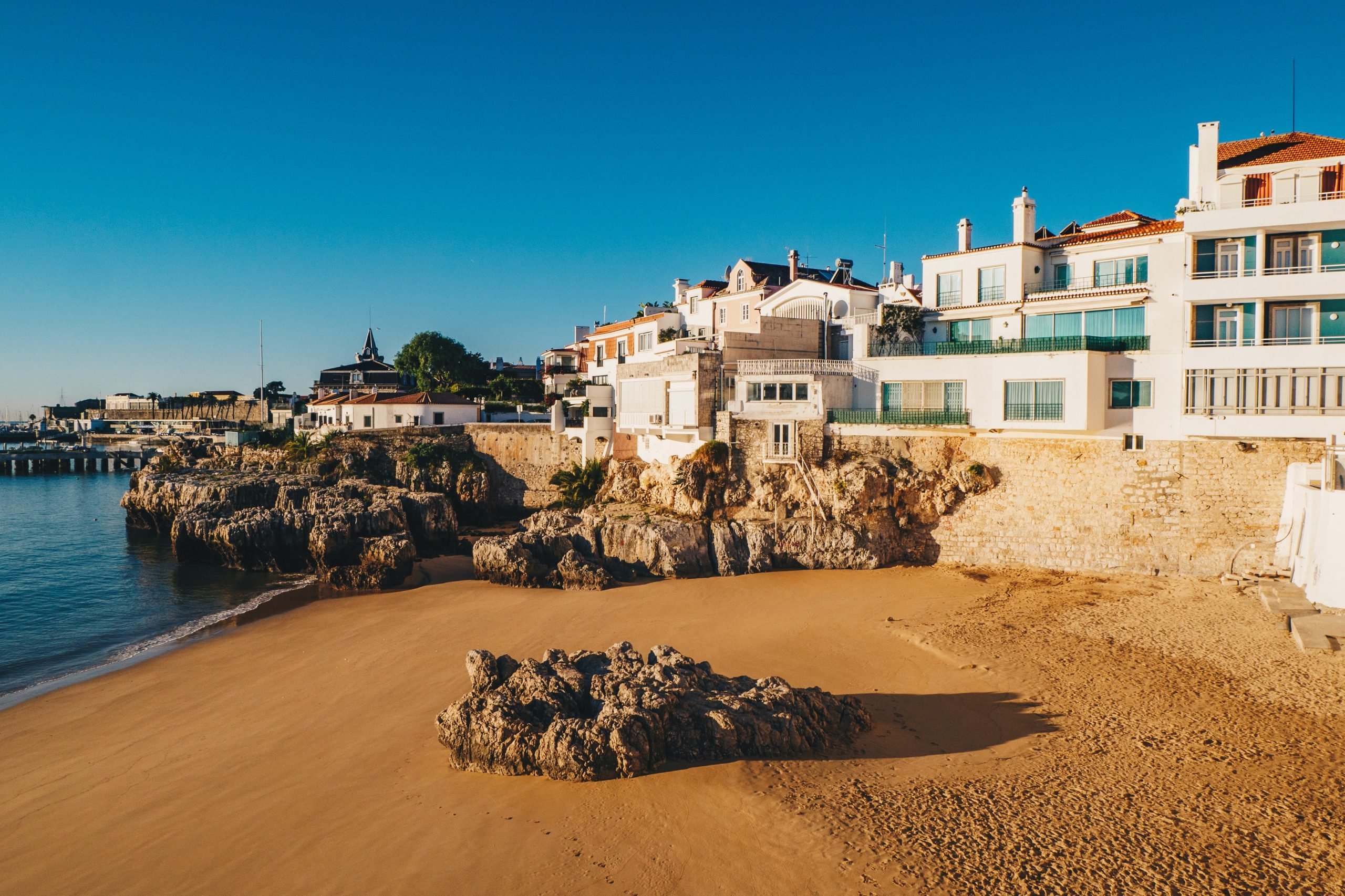 Day 17 & 18: Vila Nova de Milfontes
The last portion of your trip consists of relaxing on beaches and eating amazing food. A 2-hour drive from Lisbon, Vila Nova de Mil Fontes is a town located in the Alentejo. It is surrounded by the Southwest Alentejo and the Vicentine Coast Natural Park.
The town has some of the best beaches in Portugal, as well as a picturesque village and harbor with fishing boats. The best beaches to visit in Vila Nova de Mil Fontes are Praia da Franquia, Praia das Furnas, and Almograve, 10 kilometers away.
Spend the next two days relaxing on these beaches and exploring the town of Vila Nova. Visit St. Clement Fort, a fort built in the 17th century that is now an exclusive hotel. Discover the great restaurants, artisan shops, and patisseries in the town center and enjoy the Moorish architecture of the buildings.
Best Hotels in Vila Nova de Milfontes
Raminhos Guest House: Located a 10-minute walk from Franquia Beach, the rooms feature a desk, TV, private bathroom, and luggage storage available.
Monte da Corca Nova: The 4-star hotel features a swimming pool, bar, garden, and water sports facilities. They offer large rooms in traditional stoned houses.
Best Restaurants in Vila Nova de Milfontes
Tasca do Celso
100 Espinhas
Porto das Barcas
Patio Alentejano
Day 19 & 20: Tavira
A 2-hour drive from Vila Nova, Tavira is a town in the Algarve. Tavira was built alongside River Gilão, in an intricate of narrow roadways and white houses, and features golden beaches with warm water. While the small city is mostly known for its beaches, the quaint town allows you to visit some attractions, as well as explore shops, restaurants, and more.
Our favorite beach in Tavira is Praia do Barril. The beach features a wooden path over the golden sand, which provides a gorgeous contrast with the dark blue waters. Due to the large size of the beach, you will rarely feel like it's too busy, despite its popularity.
Praia de Tavira and Praia da Terra Estreita are also great alternatives in Tavira. If you want to discover multiple beaches, this affordable 4-hour boat tour takes you on an octopus tour and stops at multiple beaches.
Walk through Tavira, exploring the chapel of Sao Bras and the hundreds of other churches. The historic center also features a castle and a convent. Book this 100% electric 1-hour tuk-tuk tour if you want a guided tour of the city from a local's perspective.
Best Hotels in Tavira
São Paulo Boutique Hotel: São Paulo Boutique Hotel is located less than 5 kilometers from the beach and features an outdoor swimming pool, bar, shared lounge, and large garden for guests to enjoy.
OZADI Tavira Hotel: A 4-star hotel AZADI Tavira Hotel is 3 kilometers away from the beach and features a large outdoor pool, a fitness center, and two restaurants.
Quinta Dos Perfumes: An 8-minute walk from the beach, Quinta dos Perfumes is an 88-acre farmhouse that features beautiful orange groves and a salt-water outdoor pool.
Best Restaurants in Tavira
Tasquinha da Paula
Come na Gaveta
Ponto de Encontro
A Barquinha
Day 21: Fly back from Faro
Since you are already in the southern part of Portugal, there is no point flying back from Porto, which is in the north. Fly back home through Faro airport in the Algarve, a 30-minute drive from Tavira. You can usually return car rentals at Faro airport; make sure to ask about this before booking.