The Douro Wine Region is located surrounding the Douro River, passing through the regions of Trás-os-Montes and Alto Douro.
The region is a very mountainous one, with the vineyards being located on the margins of the river, on very steep hills that have been prepared for this production. The mountains protect its climate from the influence of the coastal weather, with its rain and winds, creating a good climate for wine production.
The region produces the world-renowned Port wine, Queen's Elizabeth digestif, but we may not disregard the table wine produced here, known simply as "Douro wines", and are considered of really excellent quality.
As the Vinho Verde region, the Douro is considered a DOC (Denominação de Origem Controlada or Controlled Origin Denomination), the highest classification for a region of wine in Portugal. Besides this, it is a Protected Designation of Origin both under EU and UK law and it is a Geographical Indication in several other countries which have signed agreements with Portugal.
As for the wine style produced here, it ranges from light, Bordeaux-style claret to rich Burgundian-style wines aged in new oak. The red wines are considered the most elegant of Portugal.
If you are looking for a good fortified wine for a digestif or for a good meal wine, a Douro wine is always a great option.
History of Douro Wine
It is thought that wine has been made in the region for a while, with grape seeds being found in ancient archaeological sites in the Douro region, but the oldest archaeological evidence for the production of wine there dates back to the 3rd and 4th centuries, at the time of the fall of the Western Roman Empire.
This continued to the Medieval Ages, with the Order of Cistercians, a Catholic religious order, in the 12th century, having a big influence on the region's winemaking, since they produced it in their monasteries.
500 years later, the region's vineyards were much bigger and we find the first known mention of Port wine, dating back to 1675. A few years later, the famous Methuen Treaty between Portugal and England happened, leading to the creation of several British Port wine companies in Porto. Port wine, thus, became a primary product of the region and increasingly important to the economy of Portugal.
In 1756, a royal charter defined the region for the production of Port wine, as a part of the production and trade regulation of this important part of the economy. This way, it became the third wine region in the world to have a formal legal demarcation zone, after the Tokaj-Hegyalja region in Hungary, created in 1730, and Chianti, in Italy, in 1716. At the time, the region only included the western part of the current region and it progressively expanded to the east.
In the 19th century, some vine diseases attacked the area, like powdery mildew (oidium), in 1852, and Phylloxera, in 1863.
As for table wine, it was always produced in the region, but for a long time, it was mainly sold inside it. The farms in the region were focused on the production and export of only Port wine since it was the unique regional product for the external buyers and these had little interest in the other wines produced there. Even though the wines were of good quality, this discouraged the producers from using their grapes to produce table wine of better quality.
This was until Fernando Nicolau de Almeida, an oenologist of the Ferreira Port house, decided to create his own table wine. For this, he visited Bordeaux during World War II to gain inspiration. Finally, in 1952, the wine Barca Velha was first produced on the Quinta do Vale de Meão in the Douro Superior sub-region.
At first, it was hard getting people to buy it outside of Portugal since most Port houses continued to produce Port wine. But in the 70s, some Douro table wines started to appear, and finally, in the 90s there was a boom, mainly due to Portugal entering the EEC (European Economic Community, now the European Union) and the Port houses monopoly losing their monopoly on the Douro valley. This made so that new producers started to invest in the region and make their own wines and the Port houses started to have table wines on their shelves.
In 2001, this region became a UNESCO World Heritage Site.
Grapes of Douro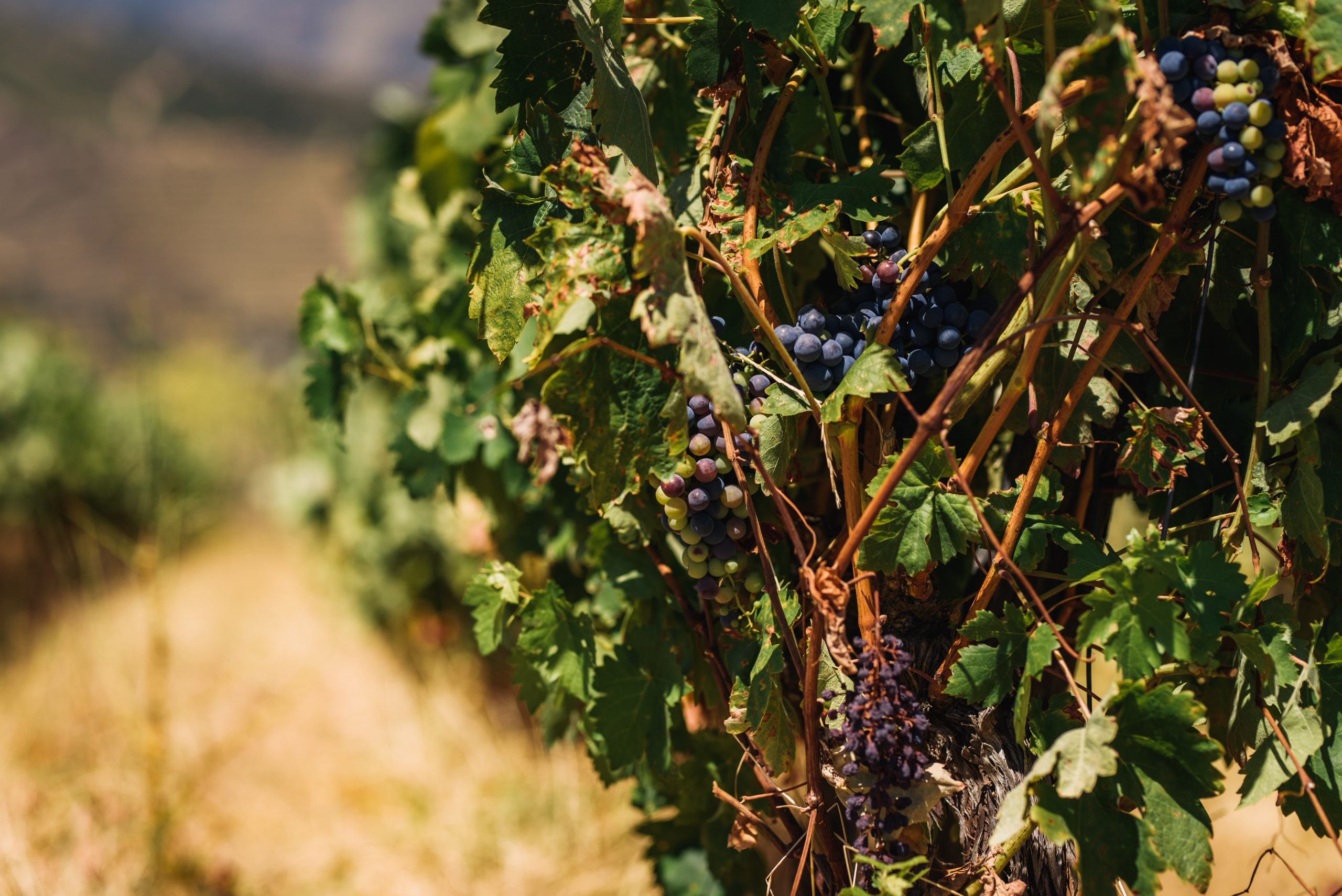 The main grape varieties in this region are:
Red Grapes: Bastardo, Mourisco tinto, Tinta Amarela, Tinta Barroca, Tinta Cão, Tinta Roriz (the same as Spain's Tempranillo), Touriga Francesa and Touriga Nacional
White Grapes: Donzelinho branco, Gouveio, Malvasia Fina, Rabigato, and Viosinho
In the old days, the grape varieties were not that well studied, with the norm being mixed varieties plantations since the farmers didn't know which grape varieties they were growing.
However, in the 1970s, the Touriga Nacional, Tinta Roriz, Touriga Francesa, Tinta Cão, and Tinta Barroca were identified as the best red wine grape varieties. This was very important since the producers now knew what type of grapes to use to get better quality wines. This gave rise to better Douro wines, including the very well-known Port wines. Nowadays, most of the great quality productions cultivate single-variety vineyards and focus on specific varieties, as to be specialized in those. But you can still find mixed production in the old vineyards, which still continue to produce.
The Region and Climate of Douro
The Douro region is, as the name implies, around the Douro river valley, as well as on the valleys of the Douro tributaries of Varosa, Corgo, Távora, Torto, and Pinhão.
It is divided into 3 subregions:
Baixo Corgo (Below Corgo): this region has a mild climate and is rainier. It has 14.000 hectares of vineyards (around 35.000 acres) and besides being the subregion that was planted first, it is considered the one that has fewer quality wines.
Cima Corgo (Above Corgo): it's the largest one, with around 19.000 hectares (47.000 acres) of vineyards. Its main city is the town of Pinhão and its famous for being the home to the famous vineyards of Port wine on the river banks.
Douro Superior ("Upper Douro"): with around 8.700 hectares (21.000 acres) of cultivated wine fields, it's the one with less cultivated space, but the largest subzone in overall area. This is probably because it was the region that was most recently planted and is still in the process of being expanded. However, it is considered to have one of the best quality wines, especially its red wines. It has the hottest and driest climate and goes all the way until the Spanish border.
Overall, the region has a continental climate, with hot and dry summers and cold winters, since it is sheltered from the winds coming from the Ocean by the Marão and Montemuro mountains.
The view is packed with terraced vineyards with many of them being dedicated to the production of Port wine, these ones are usually planted on schist-based soils while the table wine production is usually on granite.
Port Wine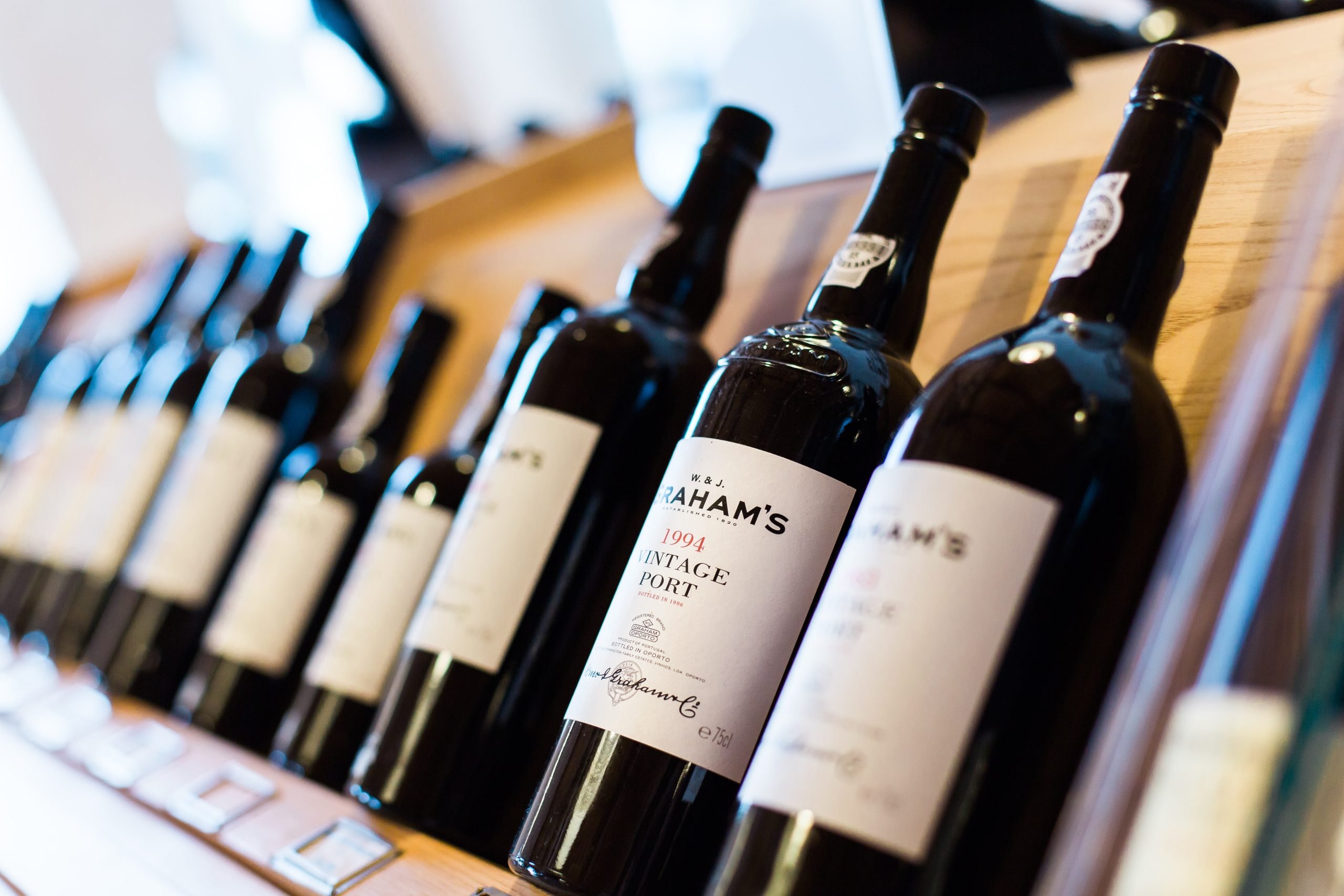 We can't talk about Douro wine without talking about Port wine. This is probably the most famous Portuguese wine, and it's not even a table wine!
It's a fortified wine, usually sweet and served in small glasses. It is much heavier than a normal wine and it has an alcohol percentage of around 19-20% (this being the reason it is served in small glasses).
It's very famous all around the world, especially in Britain, and with many countries having their own Port-inspired wine. Normally, it's served as a digestif, this is, after meals, but if it's a tawny or white port it can be served as an aperitif, meaning 'before meals'.
Port wine was the main production of the Douro region until very recently when many Port houses decided to invest in professionally made table Douro wine, so it is a wine dilled with history, besides its already unique flavor.
Douro Wine Suggestions: Best Wines in Douro 
If you are looking for Port wine, these are the brands that you can confidently look for knowing you will get a good one:
Graham's
Ferreira
Dow
Quinta do Vallado
Taylor's
Quinta da Pacheca
Offley
Niepoort
Sandeman
If what you are looking for is a nice Douro table wine, these are some of the brands that you can look for:
Burmester
Porca de Murça
Gaivosa
Casa Amarela
Quinta da Pacheca
Barca Velha
Papa Figos
Vinhas Velhas
Quinta do Romeu
And many many others
According to Vivino, a website for wine review, in 2021 these were the top 25 Douro wines:
Quinta Do Crasto Reserva Vinhas Velhas 2017
Casa Ferreirinha Castas Escondidas Douro 2018
Brites Aguiar Bafarela Grande Reserva 2019
Quinta Nova De Nossa Senhora Do Carmo Grainha Reserva 2019
Roquette & Cazes Douro 2018
Quinta Nova De Nossa Senhora Do Carmo Douro Tinto (Colheita Unoaked) 2019
Quinta Do Vale Meão Meandro Douro Tinto 2019
Prats & Symington (P+S) Post Scriptum (De Chryseia) Douro 2019
Quinta Do Vesuvio Pombal Do Vesuvio Douro 2018
Quinta Do Crasto Crasto Superior Red 2017
Quinta Nova De Nossa Senhora Do Carmo Reserva Terroir Blend 2018
Ramos Pinto Duas Quintas Tinto 2018
CARM Douro Tinto 2018
Quinta Do Noval Cedro Do Noval 2018
100 Hectares Touriga Nacional 2019
Casa Ferreirinha Papa Figos Douro 2019
Brites Aguiar Bafarela Reserva 2019
Pacheca Raizes Velhas 2019
Symington Vale Do Bomfim 2019
Quinta Do Vallado Tinto 2020
Lavradores De Feitoria Estrada Reserva 2018
Quinta De Ventozelo Reserva Tinto 2019
Quinta Nova De Nossa Senhora Do Carmo Pomares Tinto 2019
Monte Da Ravasqueira Terraços De Xisto Tinto 2019
Vila Real Cancellus Premium Tinto 2017
3 Best Douro Wine Tasting Tours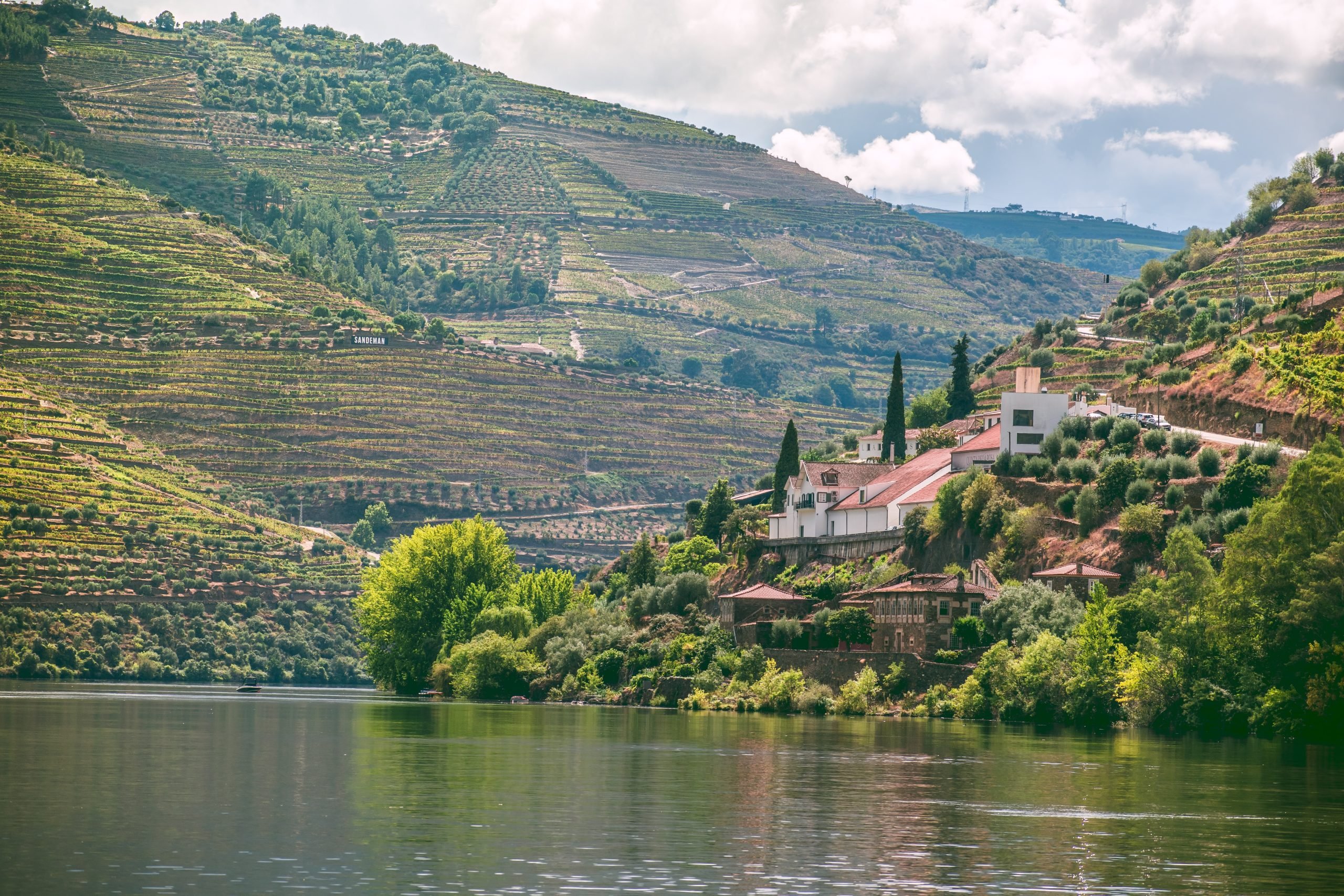 This tour allows you to enjoy a wine tasting, visit 2 wine estates, try traditional specialties at a renowned local restaurant, sightsee the UNESCO World Heritage Douro region and go on a boat cruise on a traditional 'rabelo' boat, all in a one day tour from Porto.
Book Douro Valley Tour with Wine Tasting & Lunch
By visiting the beautiful towns of Amarante, Régua, and Pinhão, you will discover all the history of the Douro Valley and of Port Wine. You will see the incredible vineyards on the hills and visit a wine estate to taste Port wine.
Experience the magic scenery of the Douro Valley on a day trip to Porto. You will taste three wine types as you go through two different wine estates and have a wonderful lunch on one of them with a view of the vineyards. After that, you will be able to relax on a River Cruise in Pinhão through the wonderful Douro River.