Many visit Portugal for one reason alone – the cuisine. The country is known for traditional Portuguese food and dishes that have a degree of complexity, mixing Atlantic and Mediterranean influences.
But out of hundreds of traditional dishes, how do you know which ones to choose? We recommend diving deep into whatever region's cuisine you are visiting.
However, there are Portuguese staples that you can try wherever you are in the country. Here are the 10 best Portuguese foods and dishes for your next trip to Portugal.
The Portuguese Custard Tard, also known as the Pastel de Nata takes first place. The perfect breakfast or snack accompanied by an espresso, this sweet pastry is a Portuguese staple.
The Portuguese Custard Tart is made of puff pastry, egg custard, and topped with cinnamon. The perfect Pastel de Nata is creamy on the inside and crisp on the outside.
If you have tried one abroad, it won't taste the same. The authentic Pastel de Nata can be found in Pasteis de Belem in Lisbon, a short walk from the Jeronimos Monastery.
This place holds the original monk recipe that remains a secret. Announced in 2011 as one of Portugal's Seven Wonders of Gastronomy, you will get to taste the original custard tart while surrounded by history.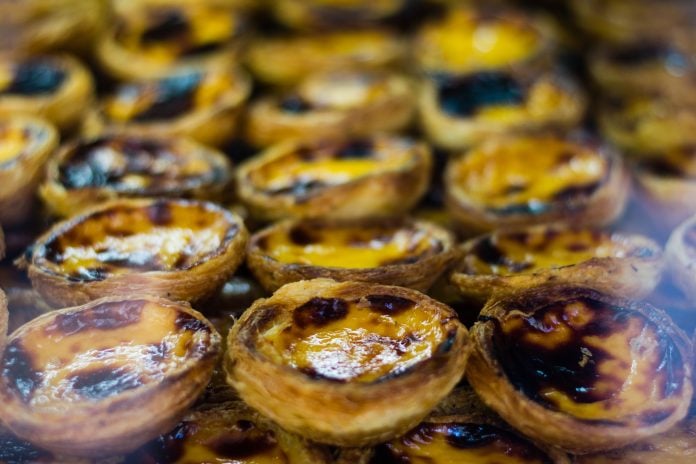 2. Bacalhau A Bras
A national treasure, the Portuguese consume 20% of the world's cod. The Portuguese say there are 1001 ways to cook cod, also known as bacalhau.
One of our favorite ways is Bacalhau à Brás! This dish is made from shredded salted cod, onions, thinly cut fried potatoes, and scrambled eggs. It is often garnished with olives and fresh parsley.
You can taste this wonderful dish anywhere in the country, although it is said to have originated in the neighborhood of Bairro Alto in Lisbon. Some places will cook it more dried, while others leave the scrambled egg cooking for less time.
One of our favorite places in Lisbon to try Bacalhau à Brás is Miguel Castro e Silva, and O Rei do Bacalhau.
This is also a very simple dish to make at home. Nowadays, there are plenty of vegetarian versions, replacing the cod with leek or tofu.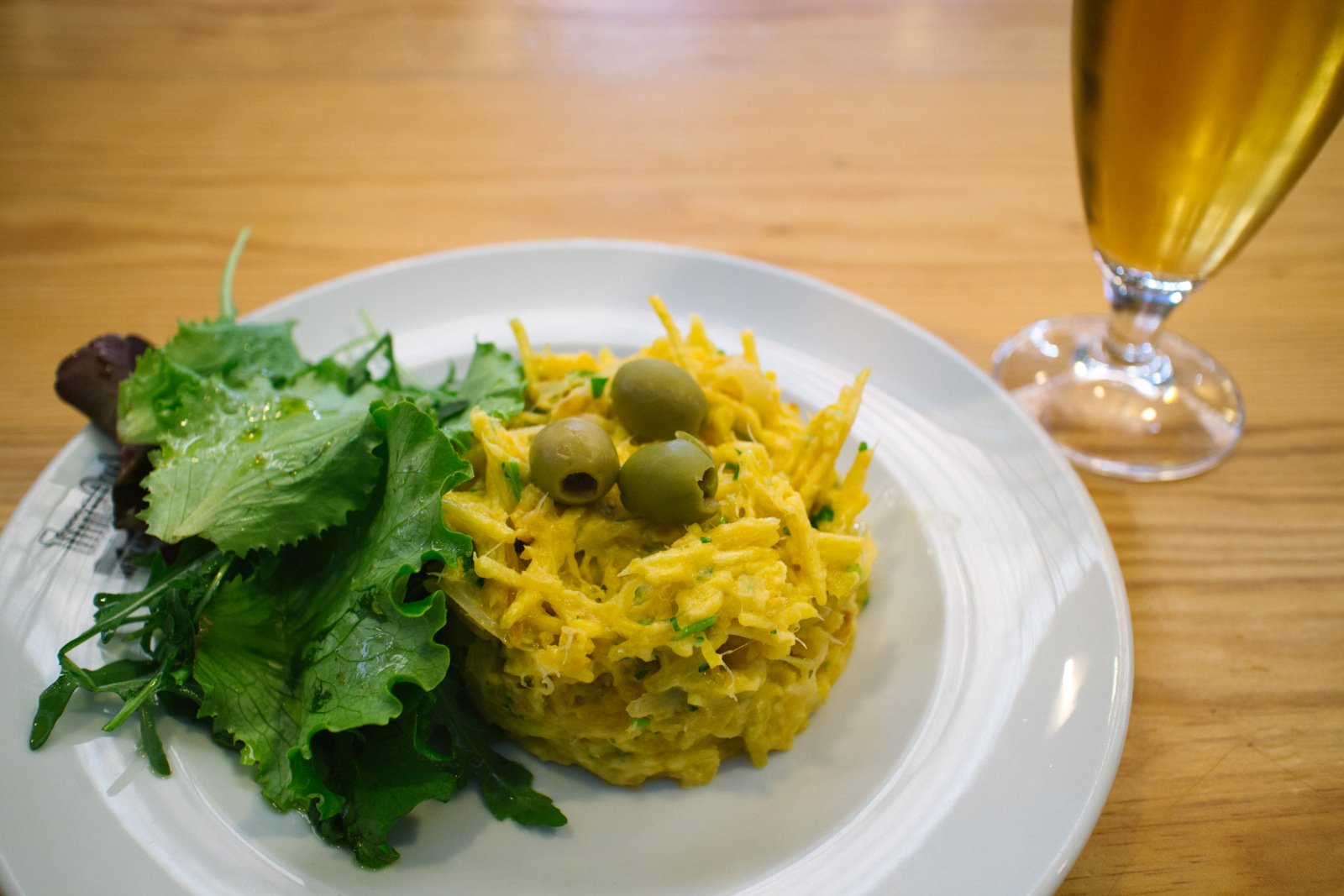 3. Caldo Verde
A popular soup in Portugal, the Caldo Verde translates to "green broth". It includes some of the most traditional Portuguese ingredients, including shredded Portuguese cabbage, potatoes, onion, garlic, and pieces of meat such as chourico or linguica. This dish is usually eaten as a starter or a late-night lighter dinner.
But where did the Caldo Verde originate from?
This traditional dish was born in Minho in northern Portugal. This is the best area to try out the dish, although it is available all over the country, even at McDonald's!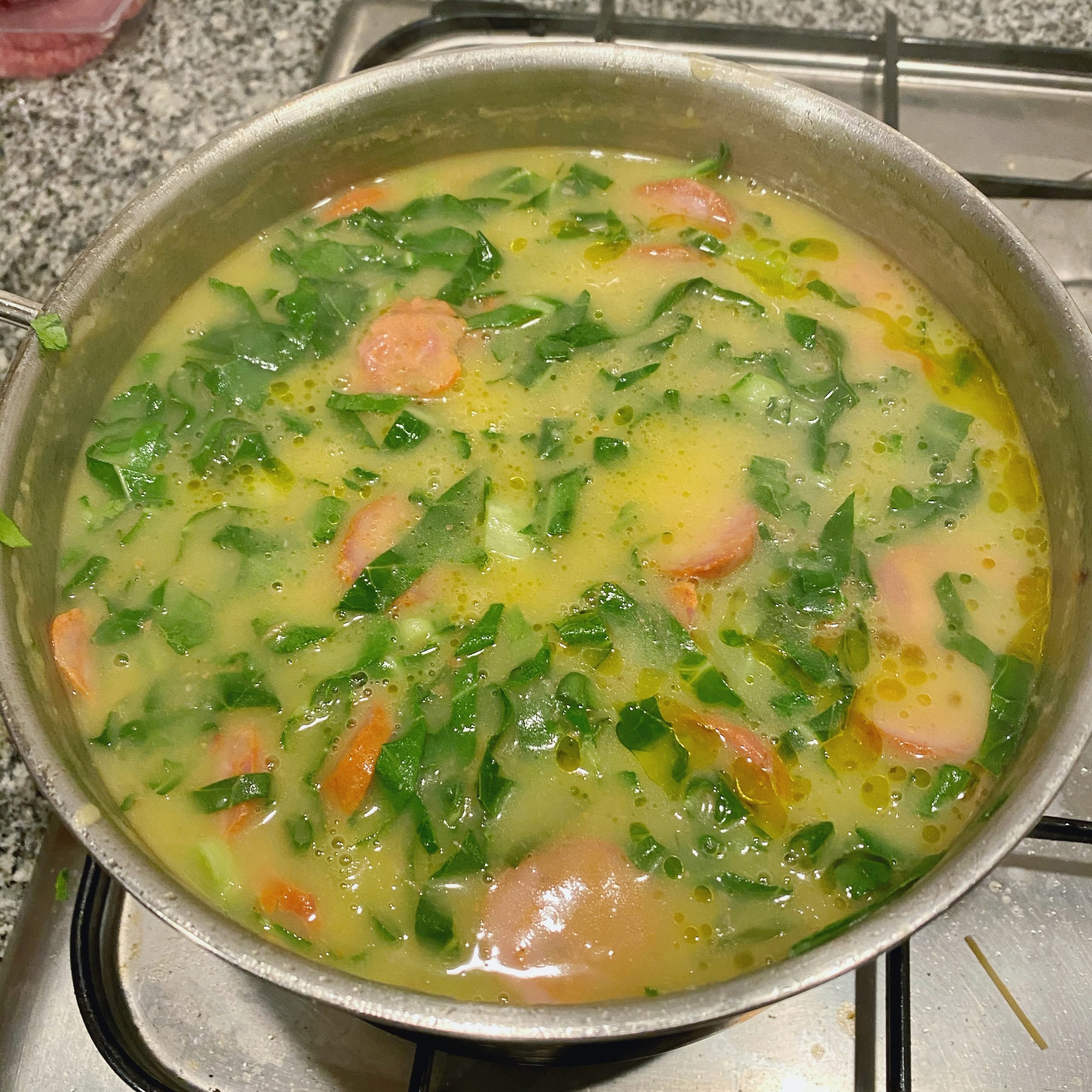 4. Arroz de Pato
Arroz de Pato is one of the most popular Portuguese dishes globally. With roots in the city of Braga, this dish is a combination of traditional ingredients, including duck, rice, bay leaf, and chourico.
This dish is made with Carolino rice, a short-grain rice that absorbs flavors. The duck is shredded, and the dish is then topped with slices of delicious chourico. This dish is served for lunch or dinner as a heavy main.
You can try this duck rice anywhere in Portugal, but the best places in Braga are Tasquina Dom Ferreira and Taberna do Migaitas.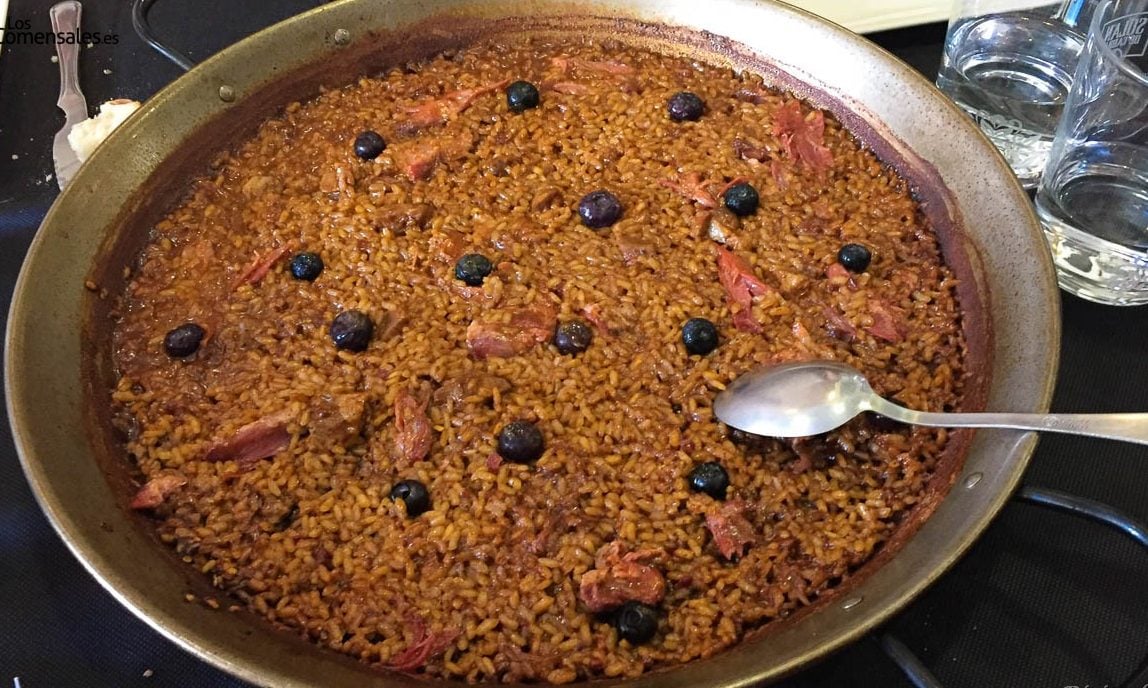 5. Ameijoas à Bulhão Pato
If you are a seafood lover, you need to try Ameijoas à Bulhão Pato. These are delicious clams with olive oil, garlic, cilantro, and lemon juice, creating a beautiful, tasty sauce that goes well with bread.
Clams are a Portuguese staple, as well as a great source of protein and omega-3. This dish is usually eaten as a starter. You can find it all over the country, but the best will be found in coastal cities such as Algarve.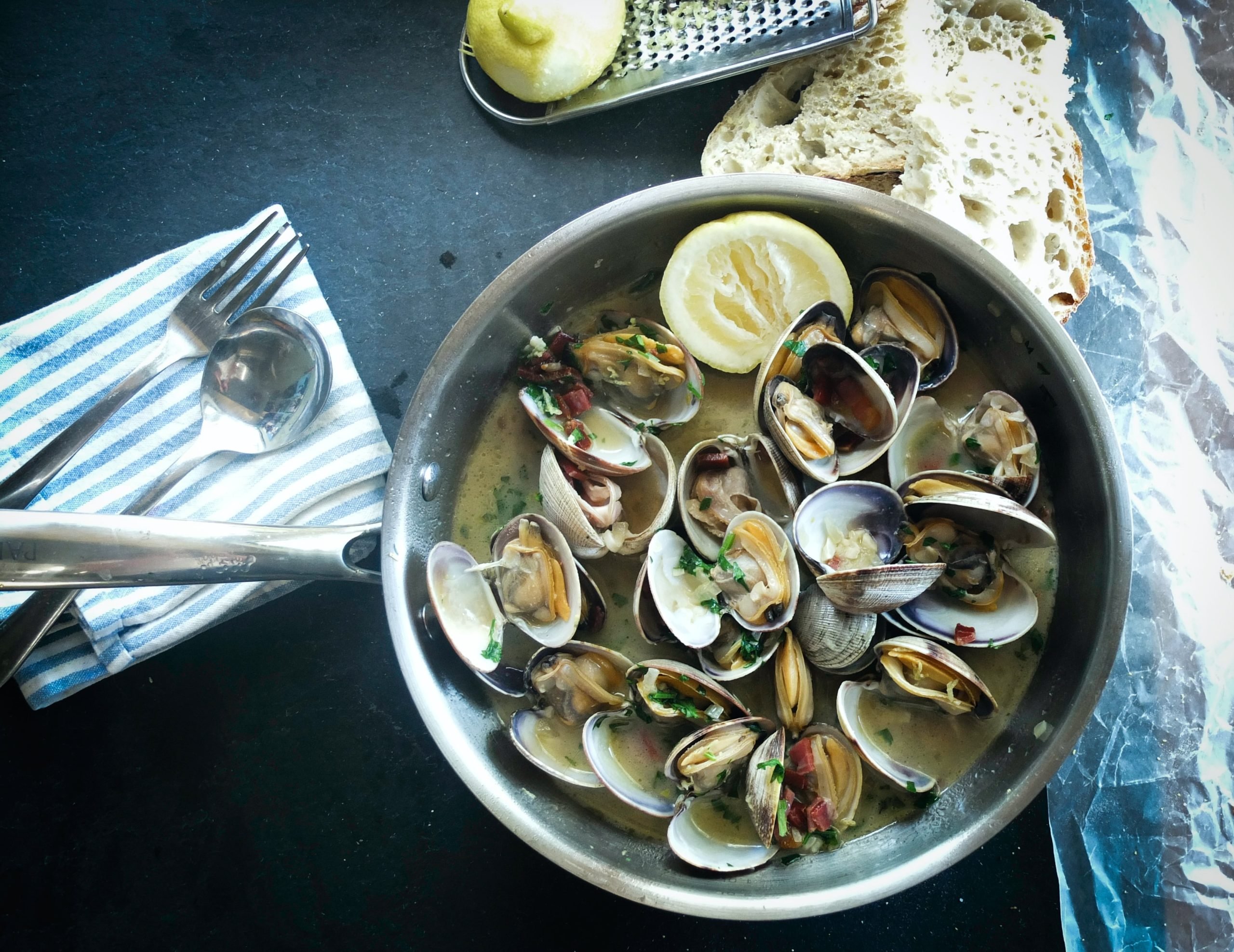 6. Sardinhas Assadas
Sardines are a cultural symbol in Portugal, ingrained in Portuguese traditions such as the Saint Anthony's festival on June 13 in Lisbon. You will find the smell of sardinas assadas all over the streets, accompanied by music and laughter.
Sardinhas assadas are a grilled sardine dish that is packed with bold flavor, originating in Lisbon and the Vale do Tejo region.
The fish is usually seasoned with salt and grilled on both sides for about 10 minutes. The sardines are then served on top of bread and paired with potatoes, peppers, and sometimes a tomato salad.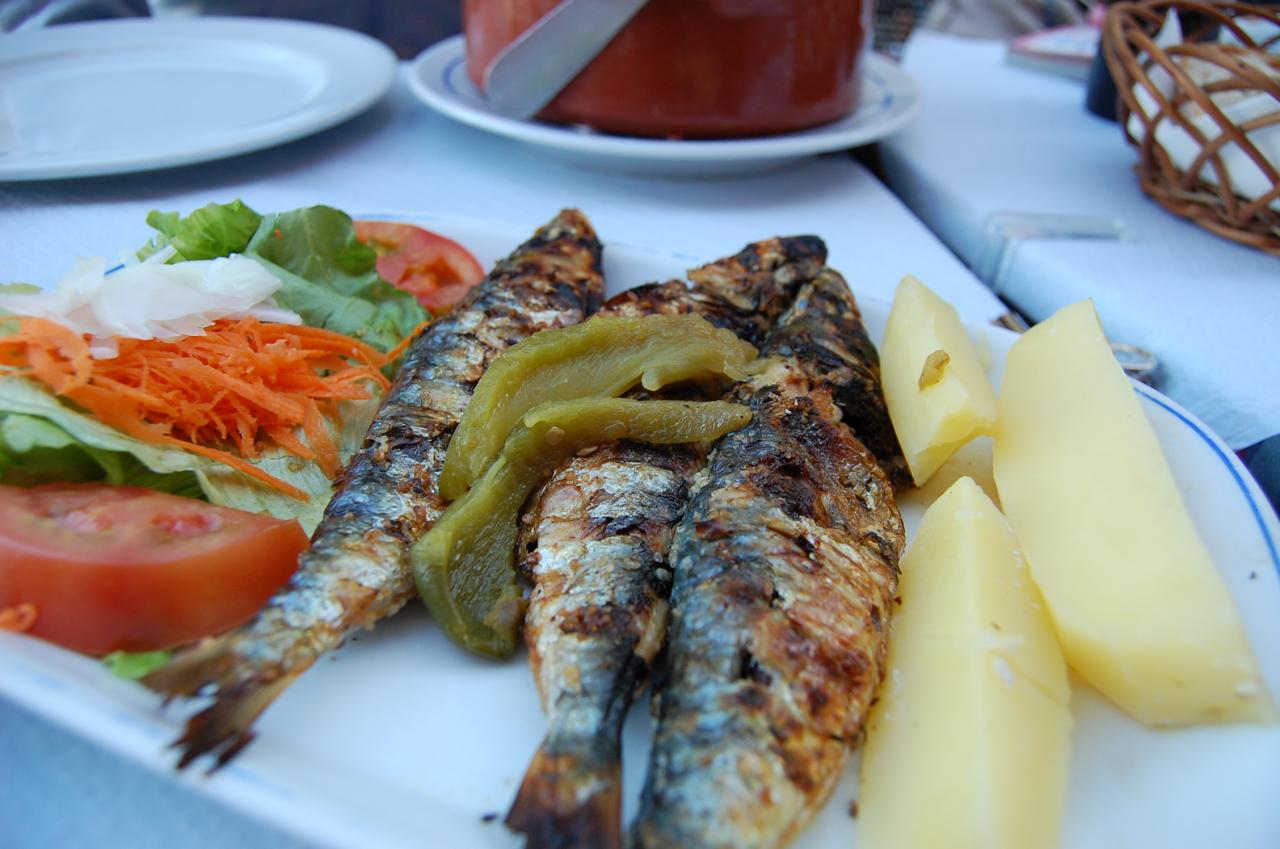 7. Alheira de Mirandela
Alheira is one of most unique ingredients in Portugal, a Portuguese sausage with various types of meat and bread.
The Alheira de Mirandela is the most popular, traditionally smoked, using olive or oak wood to give its aroma. The Mirandela Alheira includes fat, poultry meat, olive oil, bread, and lard.
This dish is often served with a side of fries and vegetables. You can find this dish all over the country, but the most authentic is found, unsurprisingly, in Mirandela in northeastern Portugal.
The best alheira restaurants in Mirandela area A Adega and O Gres.
8. Polvo à Lagareiro
Polvo à Lagareiro is a Portuguese dish you will find at probably every Portuguese tavern. This is a simple dish. Boiled and baked octopus with potatoes in a garlic and olive oil sauce.
Lagareiro is a type of preparation of Portuguese food, which includes boiling or baking potatoes that are smashed, salted, and tossed in some seafood or fish with olive oil and cilantro.
Eating octopus might be unusual to some, but for the Portuguese, it's a part of the cultural heritage. Although this dish is simple, it can be hard to cook the octopus just perfectly. It should not be too rubbery but rather soft.
One of our favorite restaurants to try this dish is Republica do Polvo in Guimaraes or Frade dos Mares in Lisbon.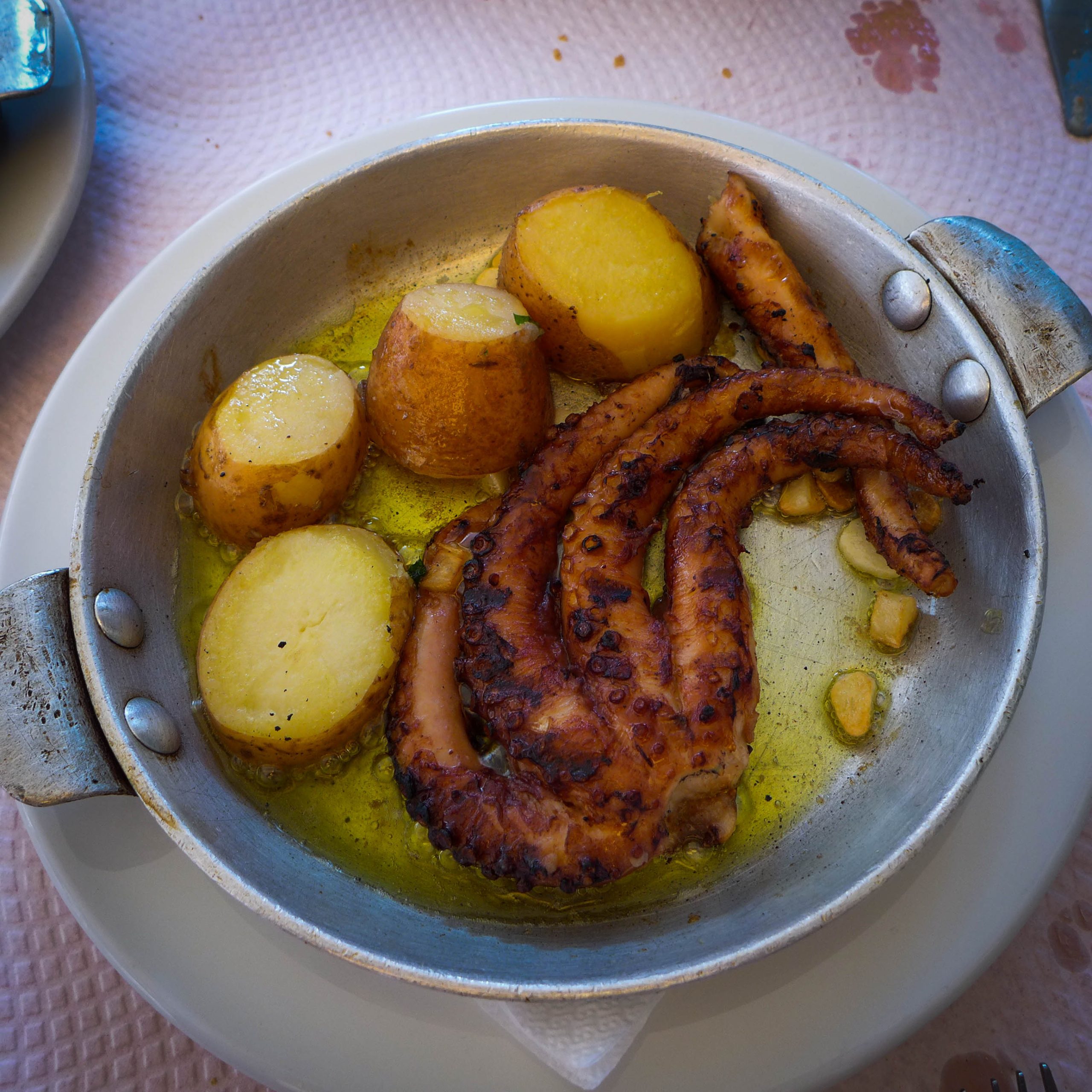 9. Cozido à Portuguesa
The Cozido à Portuguesa is perhaps the most traditional Portuguese dish and one of the oldest known. It was a dish of poverty, as it was made of leftover ingredients and seasonal vegetables from the garden.
This dish is a stew with various vegetables such as cabbage, potatoes, carrots, beans, as well as rice and meats such as chicken, pork, bacon, and smoked sausages. It is essentially a meat stew with some of the best Portuguese ingredients.
It is traditional for families to have Cozido à Portuguesa on Sundays for lunch as a way to come together and spend quality time. If you are in major cities in Portugal, many restaurants will have a cozido menu for Sundays.
However, if you are looking for a unique experience, we recommend traveling to Sao Miguel, an island in the Azores. The cozido is cooked under the ground in natural caldeiras with temperatures ranging from 70ºC to 100ºC. The dish is placed in a metal pot and buried in volcanic soil to be slow-cooked by the natural heat of the caldeiras.
The Francesinha is Porto's staple dish. This Porto classic is a Portuguese sandwich made with bread, ham, steak, linguica sausage, and melted cheese on top. The dish also contains a spiced tomato and beer sauce. Some restaurants in Porto will serve it with a fried egg on top and fries on the side.
The Francesinha originated in the 1950s when Daniel Silva got inspired by the French Croque Monsieur and developed this dish in Porto. Throughout the decades, it has been adapted, and more ingredients have been added, such as the beer sauce that was not in the original recipe.
However, while most Portuguese taverns in Porto always ace this dish, there are a few tourist traps to avoid. Here are our favorite Francesinha restaurants in Porto:
Cafe Santiago
Casa Guedes
Tasquinha Ze Povinho
Lado B
Cervejaria Brasao