To many looking to relocate to Europe, there are two top contenders: Portugal or Spain. The question of where to move doesn't always have a simple answer. We can't make that decision for you, but we can let you know the differences between living in Portugal and Spain so you can make the right choice for you.
The two countries that divide the Iberian Peninsula have a similar culture but simultaneously unique customs, economies, ways of living, and more.
Let's take a look at the different factors to consider about moving to Portugal or Spain. From the climate and cost of living to taxes and the culture, it's important to think about every little detail.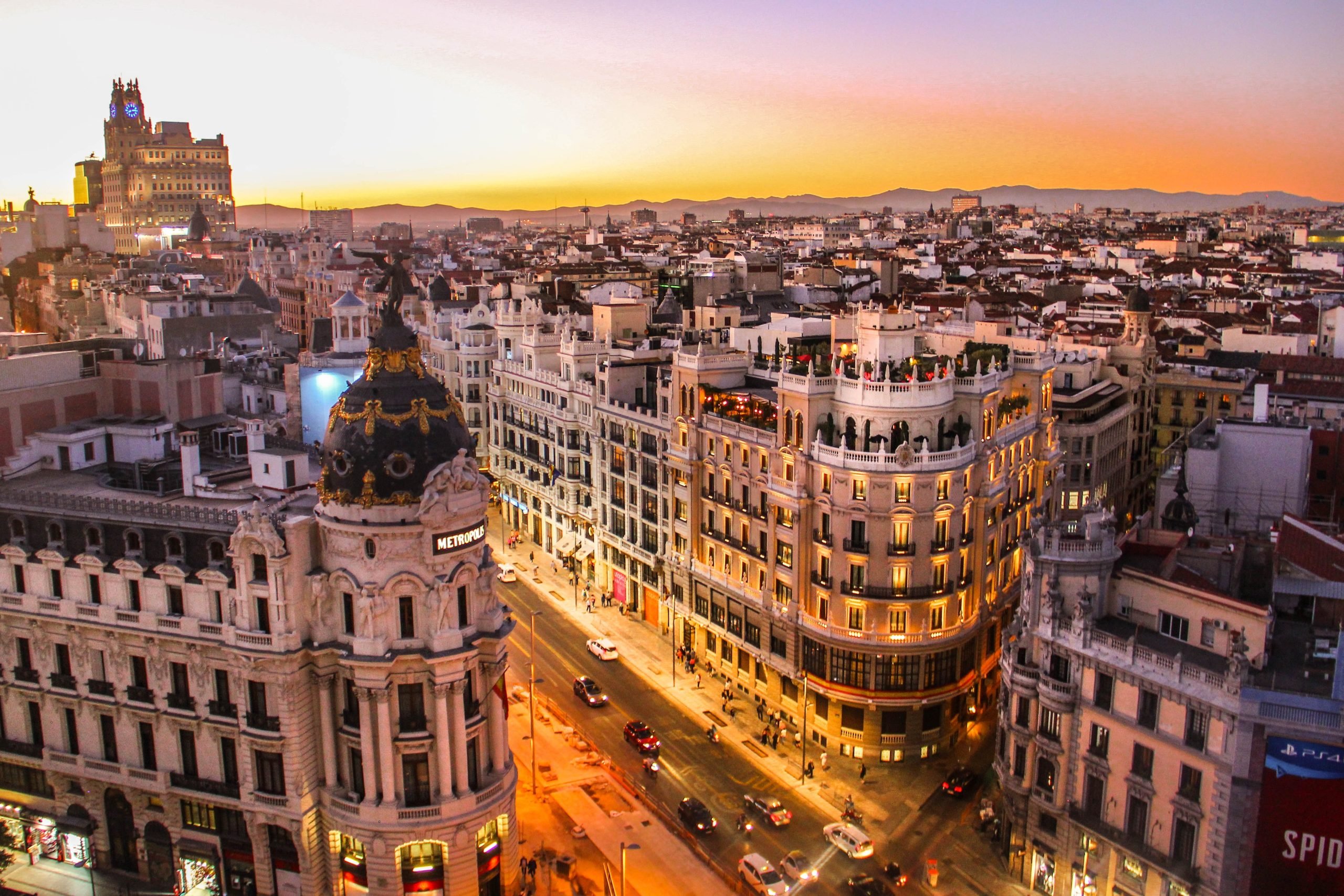 Portugal and Spain's Climate
Portugal and Spain have very similar climates. They both have really hot areas, such as the Alentejo in Porto and Andalucia in Spain, as well as colder parts in the north. Their islands away from the mainland also have unique climates.
Winters are pretty mild in both countries, with certain areas seeing less rain, such as the Algarve in Portugal. However, summers tend to be sometimes hotter in Spain than in Portugal. The sea is also much warmer, as Portugal has the Atlantic ocean.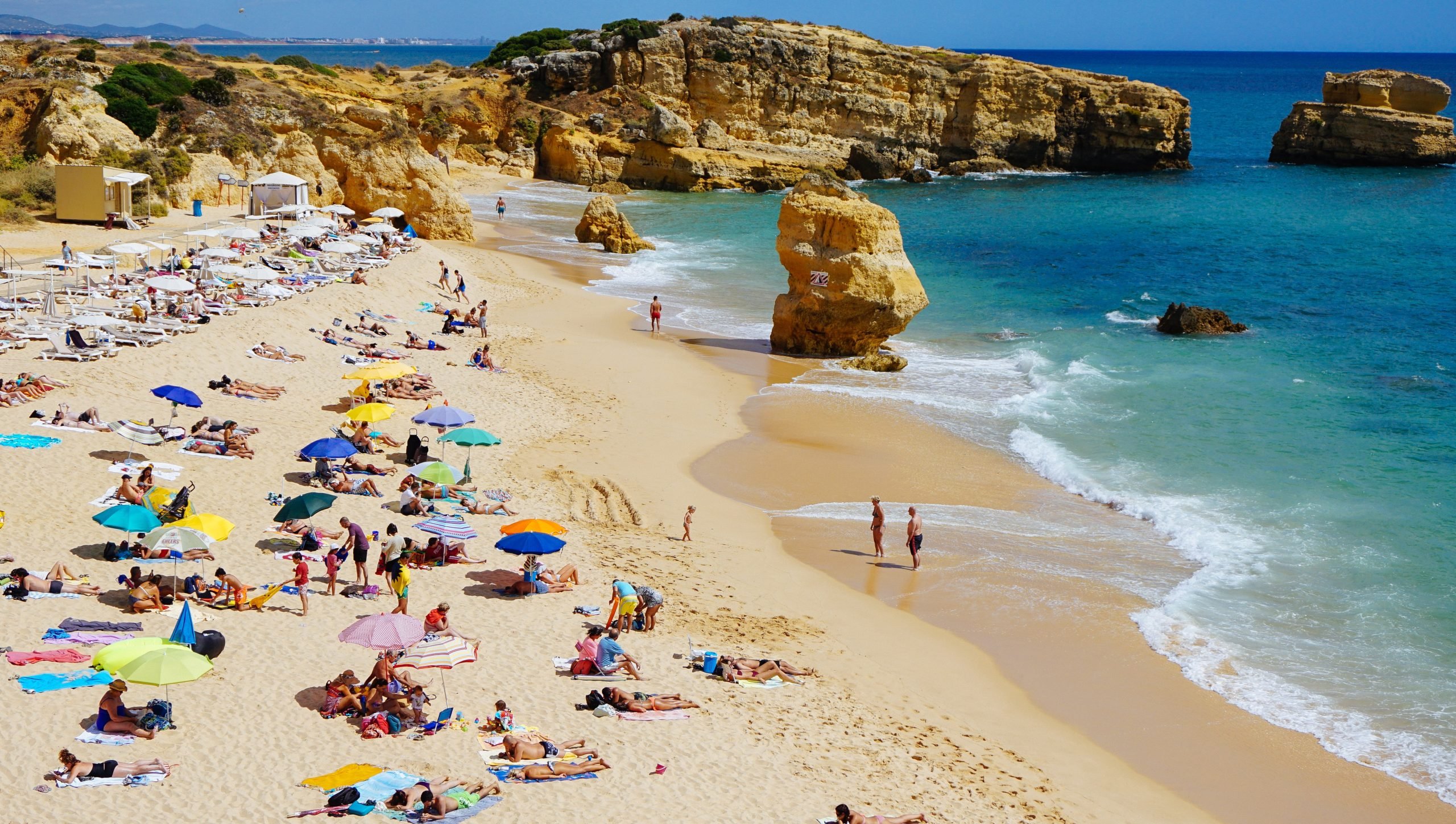 Cost of Living
The cost of living will vary by city, but if you make more than €2,000 a month, you can live very comfortably in both Spain and Portugal. Let's take a look at the average cost of living in the capitals: Lisbon and Madrid.
It's hard to compare the cost of living between Lisbon and Madrid, but overall, the Portuguese capital is relatively cheaper. However, rent is around 6% more expensive in Lisbon than in Madrid. However, consumer prices are 8% higher in Madrid, and restaurant prices are around 9% higher.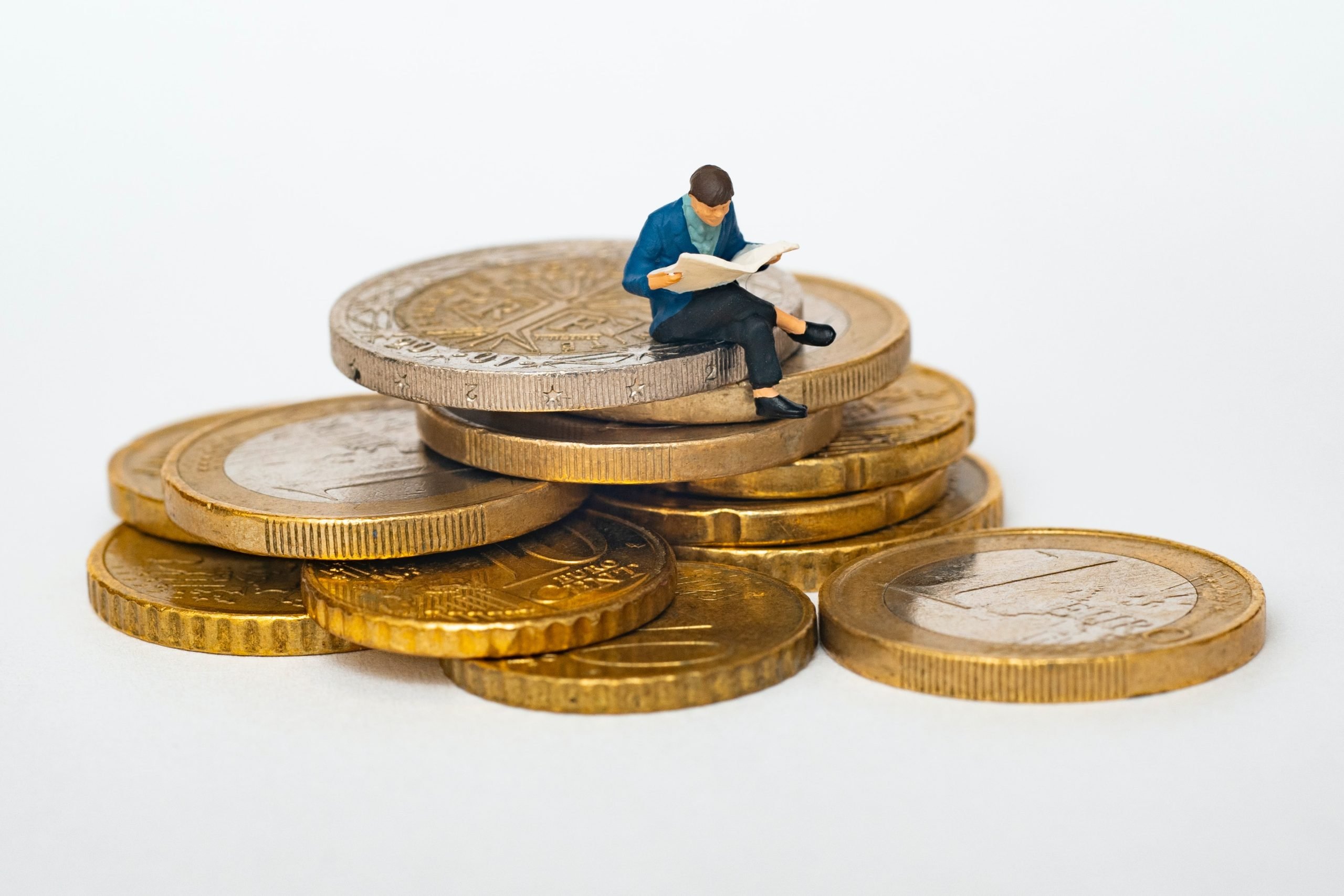 Cost of Living in Lisbon
A single expat needs around €1,700 a month to live in Lisbon.
Housing & Utilities: A one-bedroom costs an average of €1,035 in the center of lisbon. Utilities, including electricity, wifi, etc, won't cost you more than €150 a month.
Transportation: Public transport is extremely affordable at €50 a month.
Groceries: Food shops should not run you more than €200 a month.
Healthcare: You can use the national health service (SNS) as a legal resident. If you want to access private healthcare, insurance is around €50 a month, depending on many health factors.
Eating Out & Leisure: Budget around €200 a month for restaurants, concerts, going out, and any leisure activity.
Cost of Living in Madrid
A single expat needs around €1,800 a month to live in Madrid.
Housing & Utilities: You can get a one-bedroom in the city center for an average of €1,023. Utilities, including electricity, wifi, etc., won't cost you more than €180 a month.
Transportation: Public transport costs around €55 a month.
Groceries: Food shops should not run you more than €200 a month.
Healthcare: Spain has free healthcare, which residents that are employed or self-employed in Spain can access. If you want private insurance, this is around €50 a month, depending on your age and other factors.
Eating Out & Leisure: Budget around €250 a month for restaurants, concerts, going out, and any leisure activity.
Salaries in Portugal and Spain
The average gross monthly salary in 2020 in Portugal was around €1,300 a month. However, the minimum salary in Portugal is €822.5 per month, considering 12 payments per year (or €705 per month in 14 payments).
The minimum salary in Spain is a lot higher than in Portugal. For 12 months, it is around €1,166.67 gross a month (or €1,000 in 14 payments). However, the average salary in Spain is even higher at around €1,950 a month for 14 payments.
Therefore, while the cost of living is slightly higher in Spain in some places, the country offers better salaries. Still, if you work remotely for a company outside of Portugal or are self-employed, chances are Portugal might be the better option, especially when it comes to the tax regime for non-habitual residents.
Taxes: Spain vs. Portugal
Spain and Portugal have high taxes for most residents. However, both these countries also have attractive tax regimes for non-habitual residents. These seek to attract high-quality professionals and boost the economy. However, these regimes are quite different.
In Portugal, NHRs are taxed at a flat rate of 20% on their income. See what you would save below.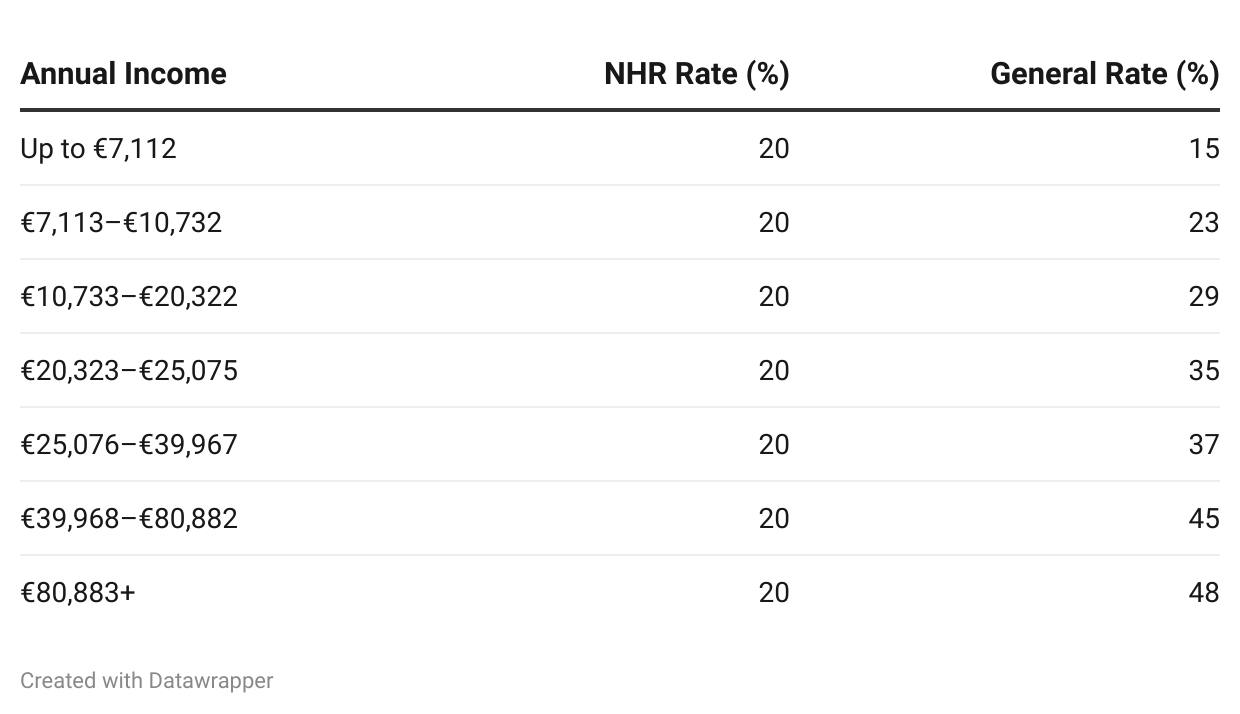 You will also not pay any tax on dividends, interest, royalties, capital gains, rental income from real estate outside Portugal, and income from employment in another country.
The NHR tax regime is available to all new tax residents in Portugal that were not Portuguese tax residents for the five years prior. The NHR status is granted for 10 years and cannot be renewed.
In Spain, NHRs are taxed at a flat rate of 24%, but up to a maximum of €600,000. Once this threshold is exceeded, a 45% tax is applied.
The Spanish NHR regime also only applies to those who have not been tax residents in the last 10 years, rather than 5 in Portugal. Moreover, this benefit only applies for six years, rather than 10 in Portugal.
So while taxes for most residents are higher in Portugal than in Spain, for non-habitual residents, the tax benefits are more beneficial in Portugal.
Guide to the Non-Habitual Resident (NHR) Tax Regime
If you don't have an EU nationality, you will need a residency visa to move to Spain or Portugal. Both countries have visas that attract retirees and those with passive incomes. However, Portugal's D7 visa is much more affordable than Spain's.
Portugal's D7 visa is both a passive income and retirement visa that requires no investment. The minimum passive income required is €8,460 per year for the main applicant.
For a spouse, you must add 50% to this (€4,230). However, the Spanish version of this visa costs €33,893 for a couple.
The Portugal D2 Visa is also a great path to take if you are an entrepreneur, freelancer, or independent service provider from outside the EU/EEA/Switzerland looking to reside in Portugal.
Similar visas in Spain and other European countries require higher amounts of seed capital to be eligible for such visas.
Portugal's Golden Visa is also more attractive than Spain's. It is much easier to get citizenship in Portugal through this visa after only five years. In Spain, you need to be a resident for at least 10 years.
Moreover, in some cases, you can buy property in Portugal for €350,000 to be eligible, while you need at least €500,000 in Spain.
Take a look at our guide to these three types of visas in Portugal. We also have detailed guides for each visa so that you find out how to apply and their benefits.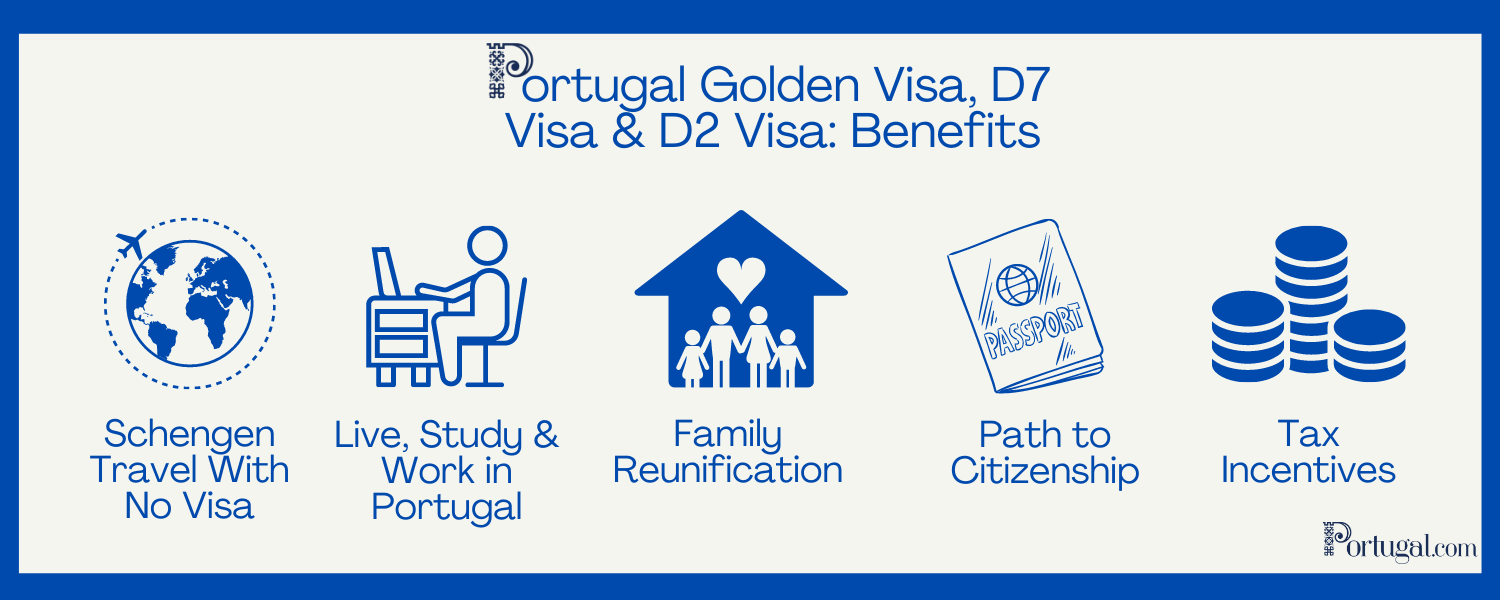 Safety in Spain and Portugal
Both Spain and Portugal are relatively safe. However, figures show that Portugal is a safer country. Portugal takes 6th place in the Global Peace Index (out of 163) with an overall score of 1.300 (out of 5). Spain takes 29th place with an overall score of 1.600. The lower the number, the better.
Spain has a perceived criminality in society of 1.889 out of 5, while Portugal scores 1.693. Portugal ranks 1/5 for violent crime, while Spain ranks 2/5. When it comes to safety and security, Portugal scores 1.533, while Spain scores 1.827. Terrorist activity is uncommon in Portugal, ranking 1.5. Spain ranks worse, with 2.149 out of 5.
Crime Rates in Portugal: Is Portugal Safe?
Culture & Customs
Portugal and Spain have similar cultures, but they are not identical. Especially not their people!
While they are both extremely family-oriented, Spanish people than to be more extroverted, talkative, and all-around more positive. The Portuguese are more reserved, into politeness, and tend to see the glass as half empty.
Their everyday lives are also impacted by their culture and customs. Spanish people eat lunch at around 2 to 3 pm, while the Portuguese eat at 1 pm. Spanish people might have dinner between 9 and 10 pm, while the Portuguese have dinner at around 8:30 pm.
The traditional nap after lunch is more of a Spanish custom, while the Portuguese reserve this for the weekends.
In both countries, women greet each other with two kisses, but in Portugal, they kiss from right to left. This is the opposite in Spain. Men usually shake hands in Spain, but a hug is normal between male friends in Portugal.
The Portuguese believe in titles such as Doctor or Engineer, while the Spanish are more informal. They often use the "you" without any titles such as level of education.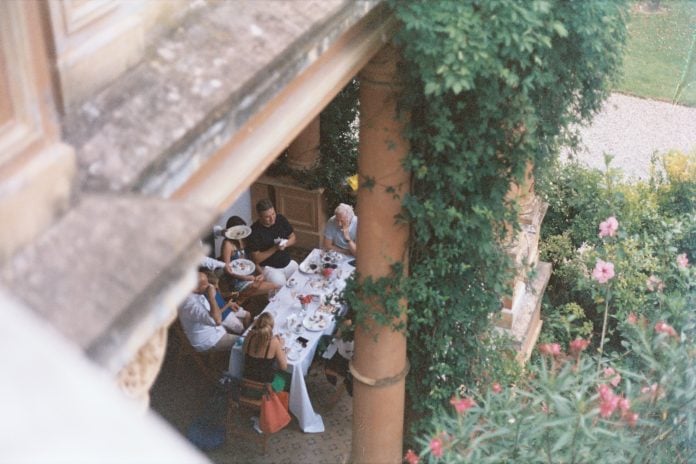 Language
Portuguese is often confused with Spanish, but this is a big no-no, whichever country you move to. In Portugal, people speak Portuguese, and in Spain, people speak Spanish.
However, Spain has some regional language differences. The regional languages include Castilian, Basque, Andalusian, Galician, and Catalan.
In Portugal, the only language is Portuguese. However, there are still different accents through mainland Portugal and the islands.
Both of these languages are equally hard to know if you do not know a Latin language like Italian. Over 215 million people around the world speak Portuguese, and it is the 6th most spoken language in the world. There are even more Spanish speakers, with 500 million worldwide.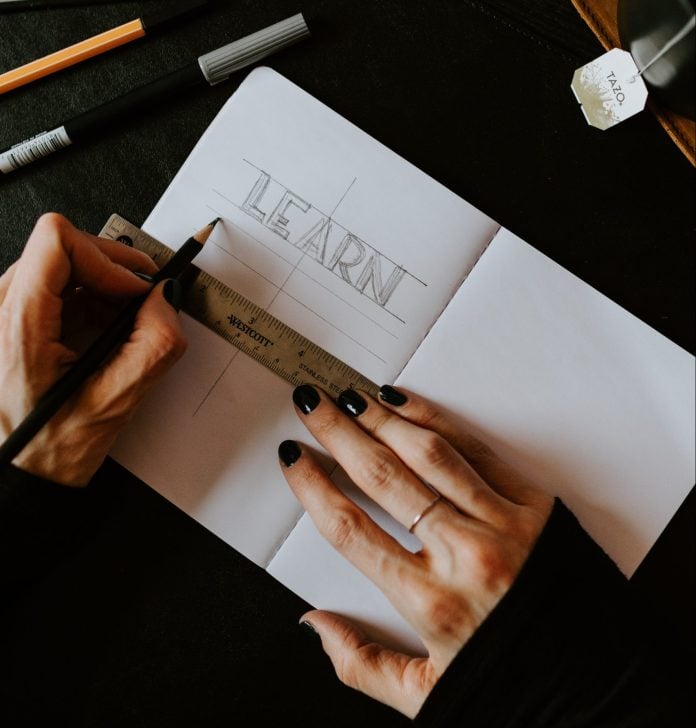 Another important thing to know about language is that the Portuguese have an easier time adapting to other languages like English. In Spain, most English shows are dubbed into Spanish, while this rarely happens in Portugal unless it's a kid's show or movie.
22% of the eligible population speak English in Spain, while this is higher at 27% in Portugal.
Why do so many move to Portugal?
Portugal boasts more than 300 days of sun, a relatively warm climate all year long, and beautiful natural landscapes.
With a population of around 10 million people and thousands of kilometers of coastal shore, this small country is making strides as one of the top places to relocate to in Europe.
Thousands have been choosing to relocate their lives to Portugal every year. Between 2011 and 2021, Portugal's immigrant population increased by a whopping 40%.
Moving to Portugal is a life-changing decision that allows you to enjoy a relatively affordable cost of living while maintaining a high quality of life.
If you have chosen Portugal as your next some, Our Ultimate Guide to Moving to Portugal has everything you need to know. From how to find housing and the work culture to taxes and the cost of living, our guide makes sure you are more than prepared to relocate.