Millions of tourists travel to Portugal every year, but it can be hard to figure out where to go. Luckily, this 1-Week Portugal Itinerary guides you on where to spend 7 days in Portugal.
The itinerary starts in the Portuguese capital of Lisbon and then heads south. You can enjoy the journey fully through public transport, but when leaving Lisbon to head to the Algarve, we do recommend renting a car.
When renting your vehicle, you can select to pick up the car at Lisbon airport and return it at the end of your trip at Faro airport, where this itinerary ends.
While both Central Portugal and the north have a lot to offer, this 7-day itinerary is perfect for a first-timer who hasn't yet visited the country.
For everything you need to know before traveling to Portugal, check out our Portugal Survival Guide.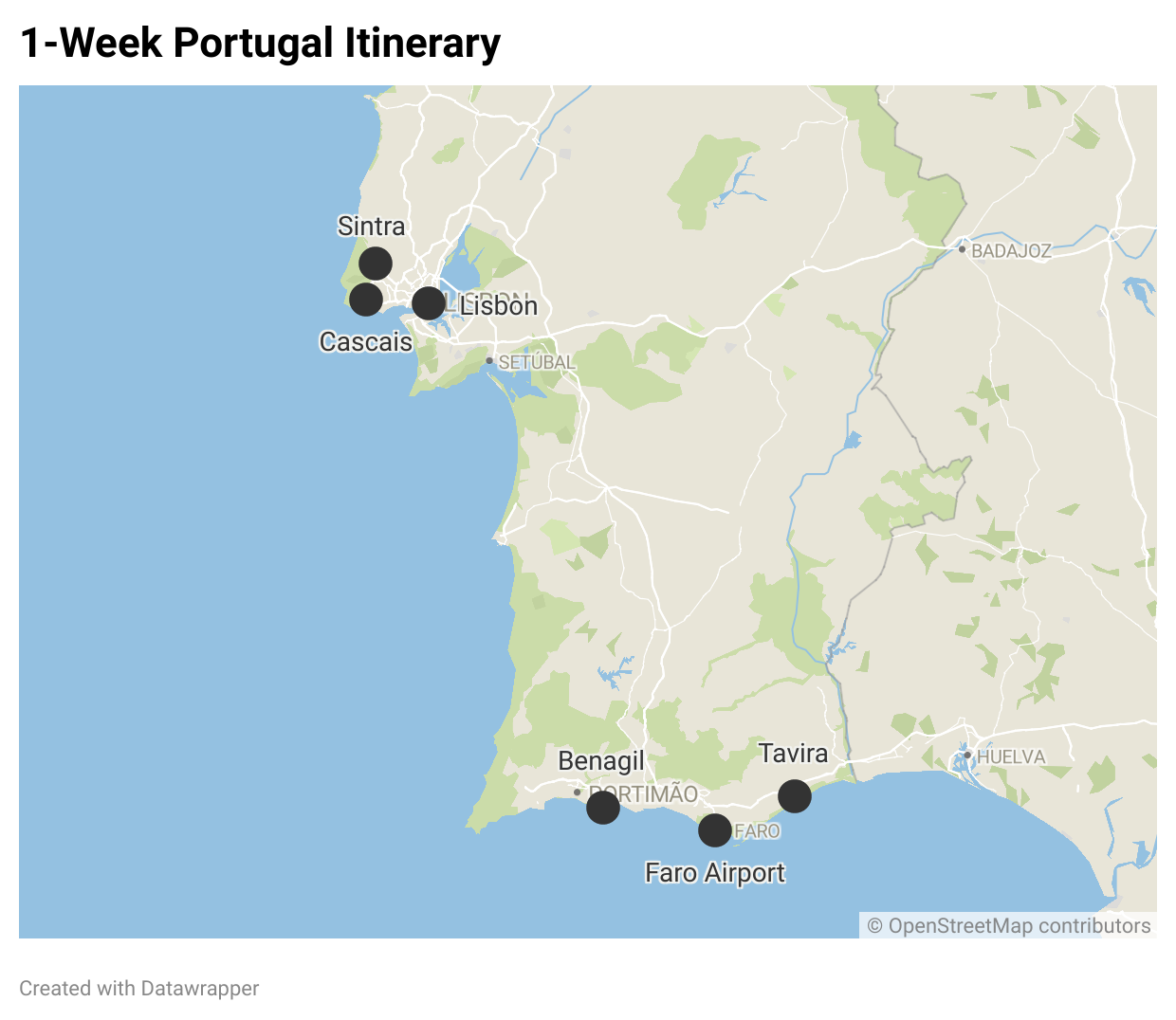 This 1-Week Itinerary in Portugal starts in the capital of Lisbon. Many cities around the world fly directly to Lisbon. You can fly directly to Lisbon from many US airports, including Miami, Boston, Washington, San Francisco, and New York.
One of the oldest cities in western Europe, Lisbon has seen a boom in tourism due to its unique beauty, historical attractions, and affordability.
The birthplace of Amália Rodrigues, the iconic Fado singer, Lisbon is rich in culture, history, and striking views.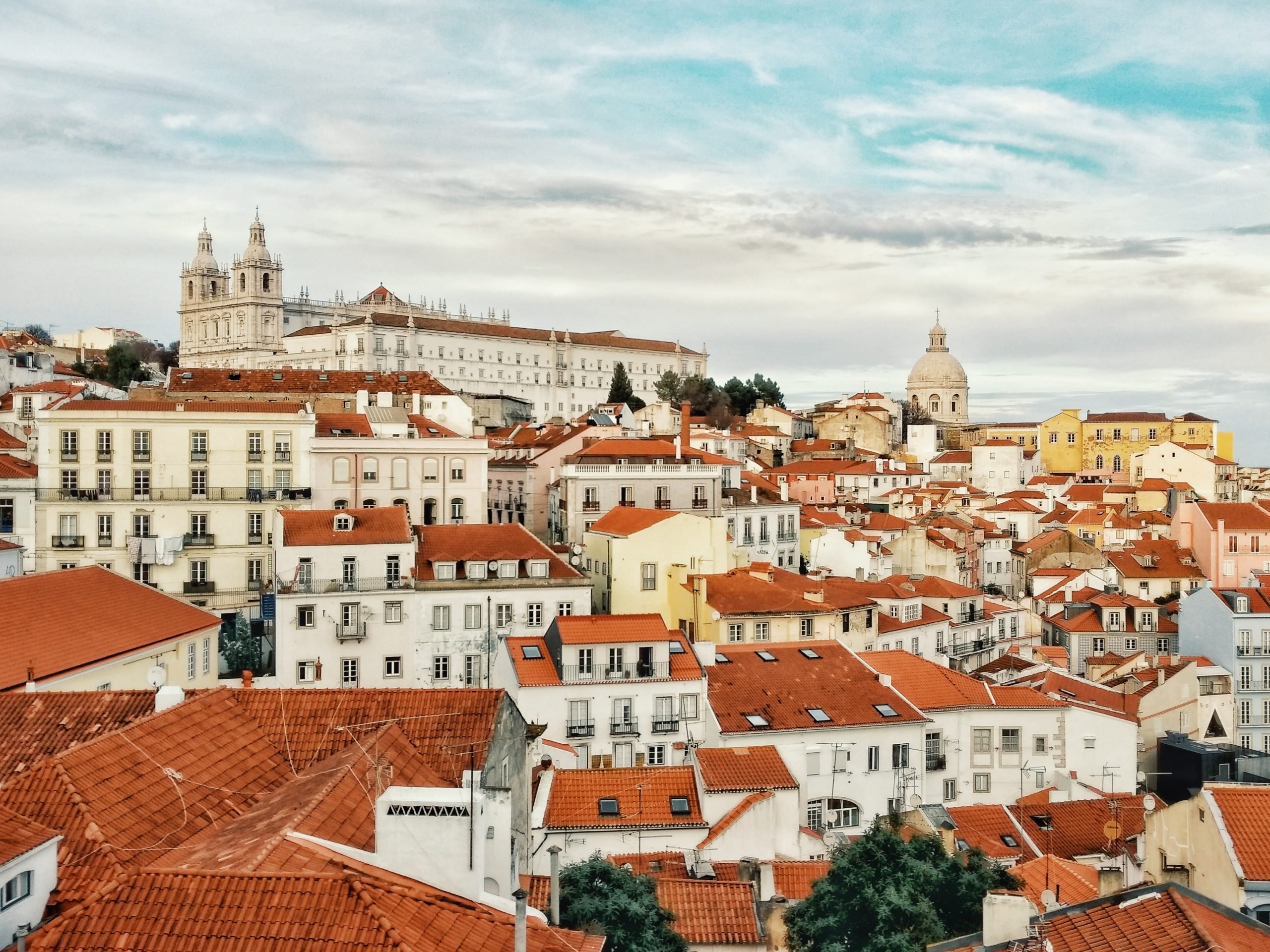 For your visit day in Lisbon, start your day off in Alfama. The oldest neighborhood in Lisbon and the home of fado. Explore the neighborhood and look out for Fado spots, as well as historical monuments such as the Lisbon Cathedral, the Convent of the Grace, and more.
For lunch, take a look at our favorite restaurants in Lisbon.
For a traditional Portuguese meal, we recommend Alfaia, one of the oldest restaurants in Lisbon that opened in 1880.
If you are vegan but still want to try Portuguese food, we definitely recommend Ao 26 Vegan Food Project.
For the best pizzas in Lisbon, head to Casanova in Santa Apolonia to take some pizzas cooked in a large wood-burning stove and enjoy views of the Tagus river.
Then head to Miradouro da Graca, one of the most iconic viewpoints in Lisbon. At the top of the seven hills of the city, you get to see historic neighborhoods and take photographs of the surroundings.
Then take the iconic 28 tram from Miradouro da Graca that passed by Praca do Comercio and other locations. Hop off in Chiado.
Chiado is well known for being home to the best stores and luxurious cafes, located in the heart of the city. The 1700s Bertrand book store is located here, as well as the emblematic cafe A Brasileira.
Take a 15-minute walk to Praca do Comercio, the city's central waterpoint front. The large square used to be the site of the former royal palace that was destroyed in the Great Lisbon Earthquake in 1755.
There are multiple shops and restaurants in the square. You can also climb the Rua Augusta Arch for 360 views of the city and the square.
For dinner, head to 1 de Maio in Bairro Alto for an affordable Portuguese meal. This hidden restaurant offers delicious fresh seafood that you can see from the window and a variety of meats like lamb.
After dinner, head to Pink Street in Cais do Sodre. The street features pink pavement and was once Lisbon's Red Light District. Today, it is a nightlife hotspot.
Many bars today still reflect the Red Light District such as the iconic bar Pensao Amor which has memorabilia from the time. Walk around to experience the nightlife which often fills the street, locals bringing their drinks outside.
Best Hotels in Lisbon
Inspira Liberdade Boutique Hotel: Awarded the Best Luxury Green Hotel in 2019, Inspira Liberdade provides a relaxing Feng-Shui vibe for its guests. The hotel has a SPA, fitness room, bar, and a restaurant with Portuguese food called Pen Brasserie Mediterrânica.
Selena Secret Garden: The hostel also has a rooftop deck, CoWork space for professionals, and a movie room. In the heart of Cais do Sodre, you are close to contemporary art galleries, bars with riverfront views, and within walking distance to Chiado.
Bairro Alto Hotel: This hotel is situated in the best location in Lisbon, between Bairro Alto and Chiado in an 18th-century building in central Lisbon. The hotel features a restaurant with award-winning Chef Nuno Mendes and Executive Chef Bruno Rocha.
Day 2: Lisbon
For your second day in Lisbon, we recommend exploring Belem. Belem lies along the Tejo Estuary and is home to two UNESCO sites, Torre de Belem and Mosteiro dos Jeronimos.
Mosteiro dos Jerónimos is a former monastery in Belém constructed in Portuguese Late Gothic Manueline style and you can visit the church for free.
Torre de Belem is a 16th-century fortification that once served as an embarkation spot for Portugal explorers. It features a Manueline style and has been a World Heritage Site since 1983.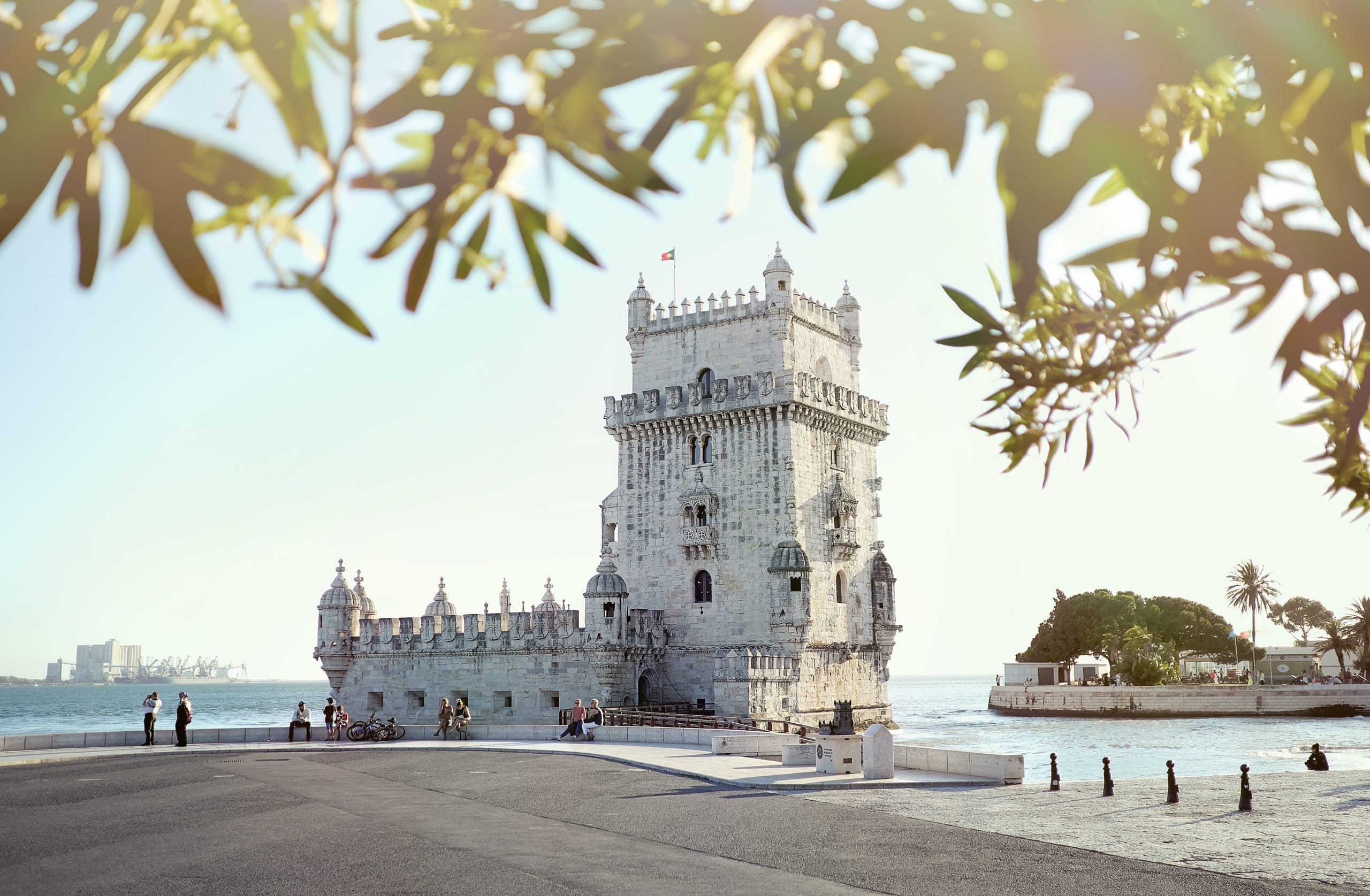 A 2-minute walk from the monastery, head to Pasteis de Belem where the traditional Portuguese custard tart was first invented.
In the afternoon, we recommend booking a sightseeing tour. Since you only have 2 days in Lisbon, this is a great way to see as much of the city as possible. Here are our favorite guided tours of Lisbon:
Lisbon 3-Hour Sightseeing Tour by Tuk Tuk: This tuk-tuk tour rides up and down the hills of Lisbon, going through the city's oldest neighborhoods and main attractions.
Lisbon Hop-On Hop-Off Bus Tour: Book a 24-hour ticket which includes an audio guide. This affordable ticket allows you to visit different routes and hop in as you would like.
Lisbon 3-Hour Tour by E-Bike: This tour allows you to cycle through Lisbon on comfortable e-bikes with a guided tour. You will get to visit different viewpoints and historical attractions.
At night, walk to Bairro Alto, the most popular area for drinking outdoors. Tons of locals and tourists line the streets of Bairro Alto with a beer in hand. We recommend Ze dos Bois Gallery, a musical center that has live music and serves tasty drinks.
Best Restaurants in Lisbon
Ze dos Cornos: For a Portuguese person, this place is like arriving at your Avó's (grandma´s) house for dinner. Everything off the menu hits the spot, but try their codfish with potatoes or their rabbit. You can have a large full meal here with wine for under €15.
The Green Affair: Open since 2018, the Green Affair serves Portuguese and international dishes. The restaurant offers lunch menus for less than €11 including a starter, main, and drink. For dinner, you'll pay around €30 for two people.
Alma: Henrique Sá Pessoa's, Alma also has two Michelin stars. The menu includes Portuguese dishes with influences from his worldwide travels. The menus start at €145 per person and do not include drinks. The wine tasting menu costs €80 per person.
Day 3: Day Trip to Cascais & Sintra from Lisbon
The great thing about Lisbon is its proximity to quaint coastal towns. Our favorites: Sintra and Cascais. We recommend either driving to these locations (both around 30 minutes from Lisbon), booking a guided tour, or taking a 30-minute train to each town.
In Sintra, we recommend heading to Piriquita for the staple deserted called a "travesseiro". After this energy boost, head to the Castle of the Moors. This is a medieval castle that sits on a hilltop and was built by the Moors in the 8th century.
Then, head to Pena Palace, one of the most iconic palaces in all of Portugal. The palace has a Disney-like feel, painted in beautiful colors in a romanticist style. You can also wander around the castle and see the beautiful green area that surrounds it. Tickets cost around €15.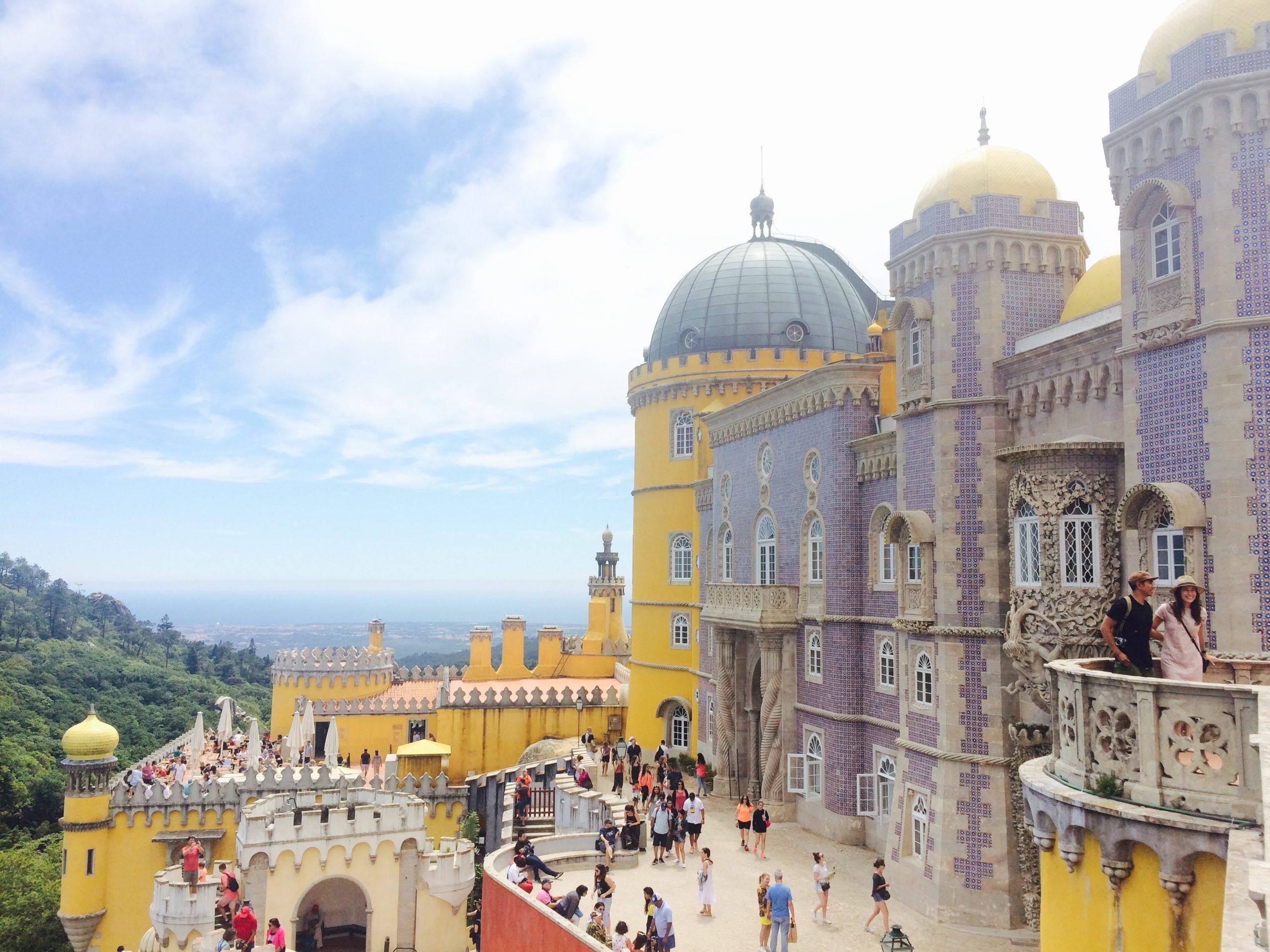 We recommend having lunch at a seafood restaurant in Cascais. Our favorites are Furnas do Guincho and Baia do Peixe, the latter being a more affordable alternative.
Then it's time to explore Cascais, the richest municipality in the country! Head to "Praia da Rainha", a secluded beach with a wonderful view, perfect for a family photograph.
Find Frederico Arouca street, a high street with major stores selling Portuguese souvenirs. Then walk to the City Hall in Praca 5 de Outubro, a beautiful building surrounded by cobblestoned streets.
To wrap up your day, head to Guincho beach, a 10-minute drive from the center of Cascais, to watch the sunset. If the weather is nice, take a dip! But be careful with the waves as they can get quite high.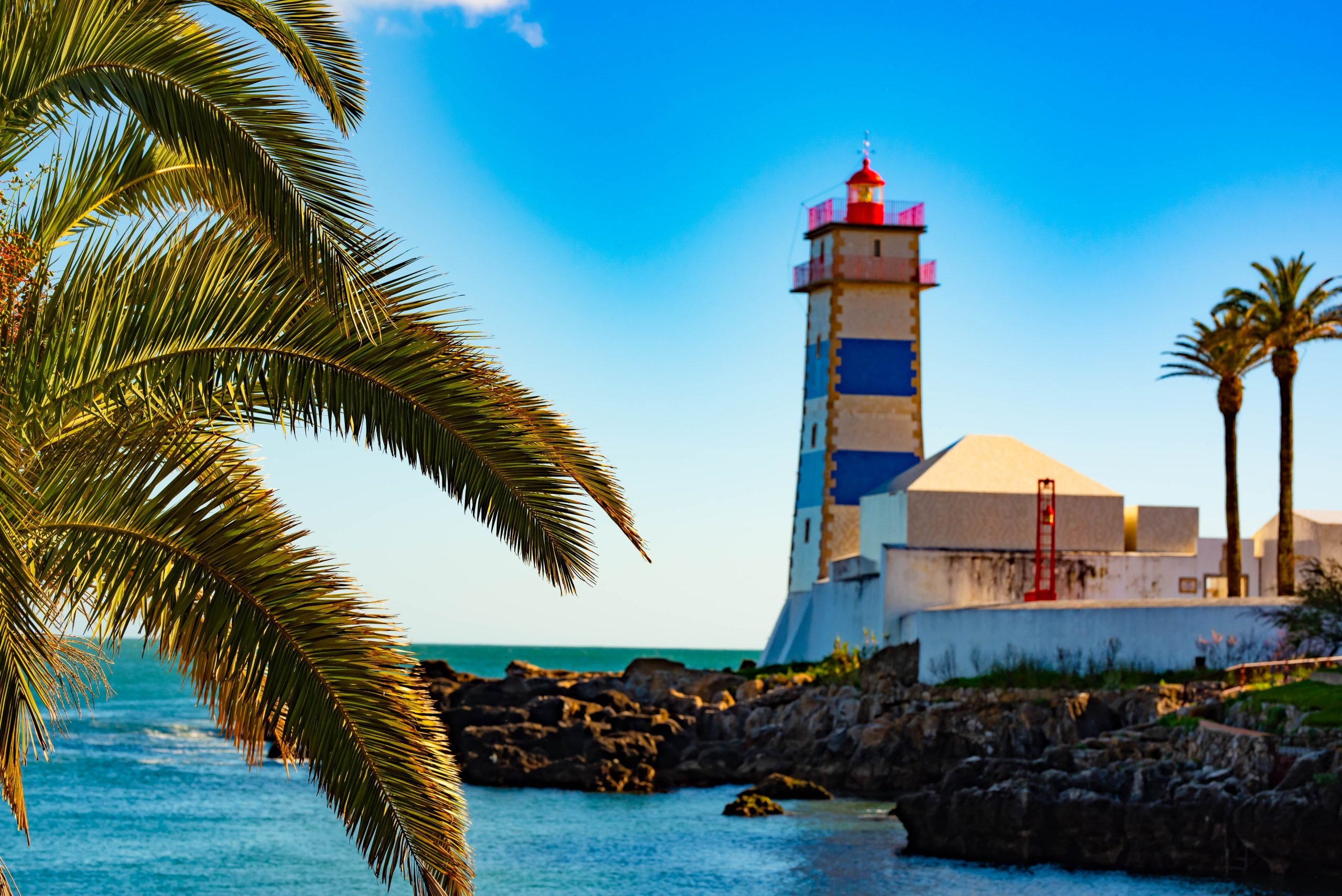 Day 4 & 5: Tavira
A 3-hour drive from Lisbon, drive south to Tavira, in the beautiful region of the Algarve. Alternatively, you can catch a train to Faro or a bus directly to Tavira.
Tavira was built alongside River Gilão and features some of the best beaches in the Algarve, as well as picturesque narrow streets with traditional houses. Along with the stunning beaches, the town has multiple attractions such as shops and historical buildings.
Your two days will be more slow-paced than the past days in Lisbon. You will be spending most of your time at the beach.
Our favorite beach is Praia do Barril. The beach features a wooden path over golden sand which provides a gorgeous contrast with the dark blue waters. Due to the large size of the beach, you will rarely feel like it's too busy, despite its popularity.
Praia de Tavira and Praia da Terra Estreita are also great alternatives in Tavira. If you want to discover multiple beaches this affordable 4-hour boat tour takes you on an octopus tour and stops at multiple beaches.
In between resting at the beach, we recommend exploring Tavira. Take a walk through the city and explore the Chapel of Sao Bras, castle, and convent. Book this 100% electric 1-hour tuk-tuk tour if you want a guided tour of the city from a local's perspective.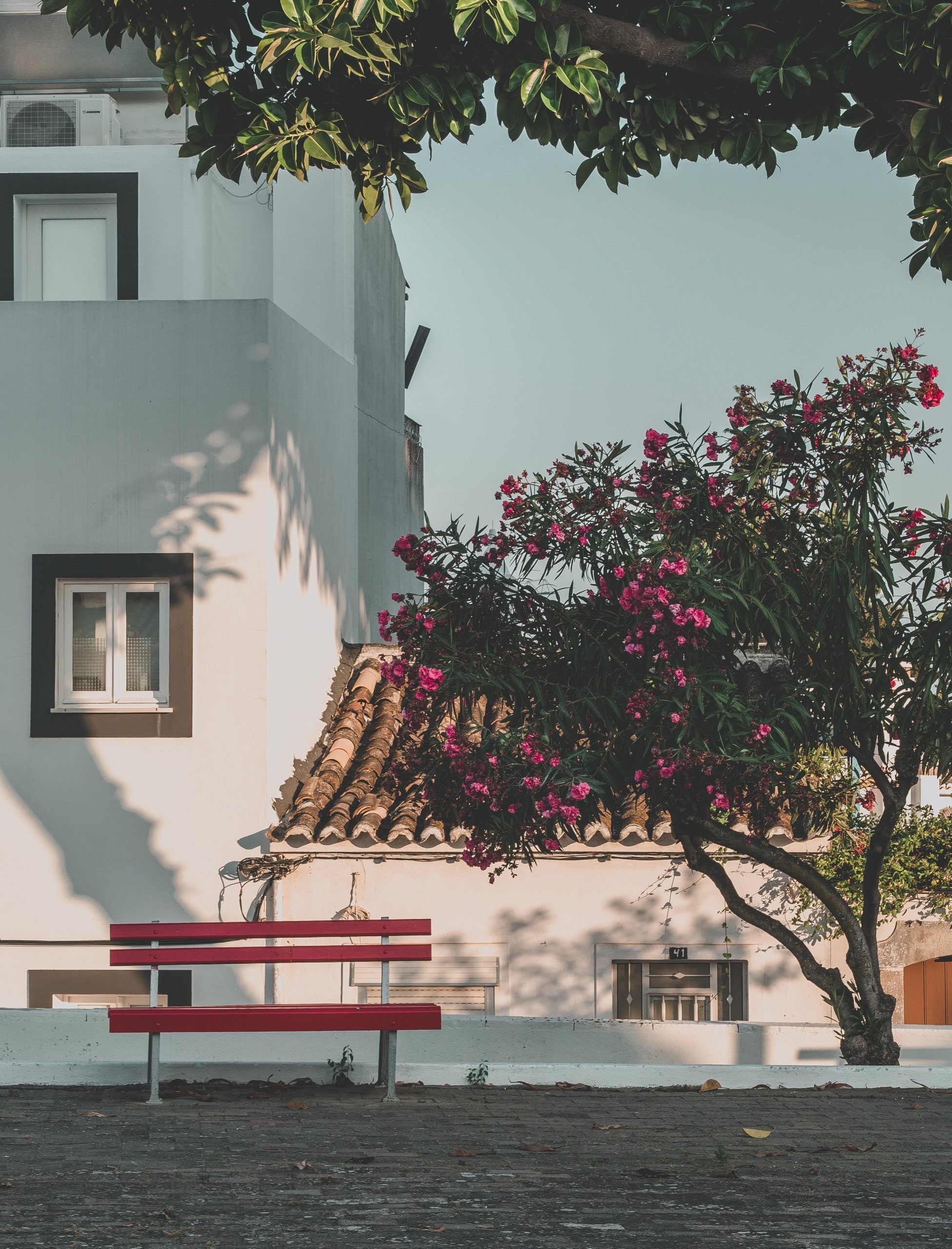 Best Hotels in Tavira
São Paulo Boutique Hotel: São Paulo Boutique Hotel is located less than 5 kilometers from the beach and features an outdoor swimming pool, bar, shared lounge, and large garden for guests to enjoy.
OZADI Tavira Hotel: A 4-star hotel AZADI Tavira Hotel is 3 kilometers away from the beach and features a large outdoor pool, a fitness center, and two restaurants.
Quinta Dos Perfumes: An 8-minute walk from the beach, Quinta dos Perfumes is an 88-acre farmhouse that features beautiful orange groves and a salt-water outdoor pool.
Day 6: Day trip to Benagil Caves
Benagil is a fishing village known for its stunning beaches and sea caves. The Benagil caves are a must-see if you head to the Algarve. We recommend booking a guided tour, many of which start in Albufeira. Here are the best day tours to Benagil Caves.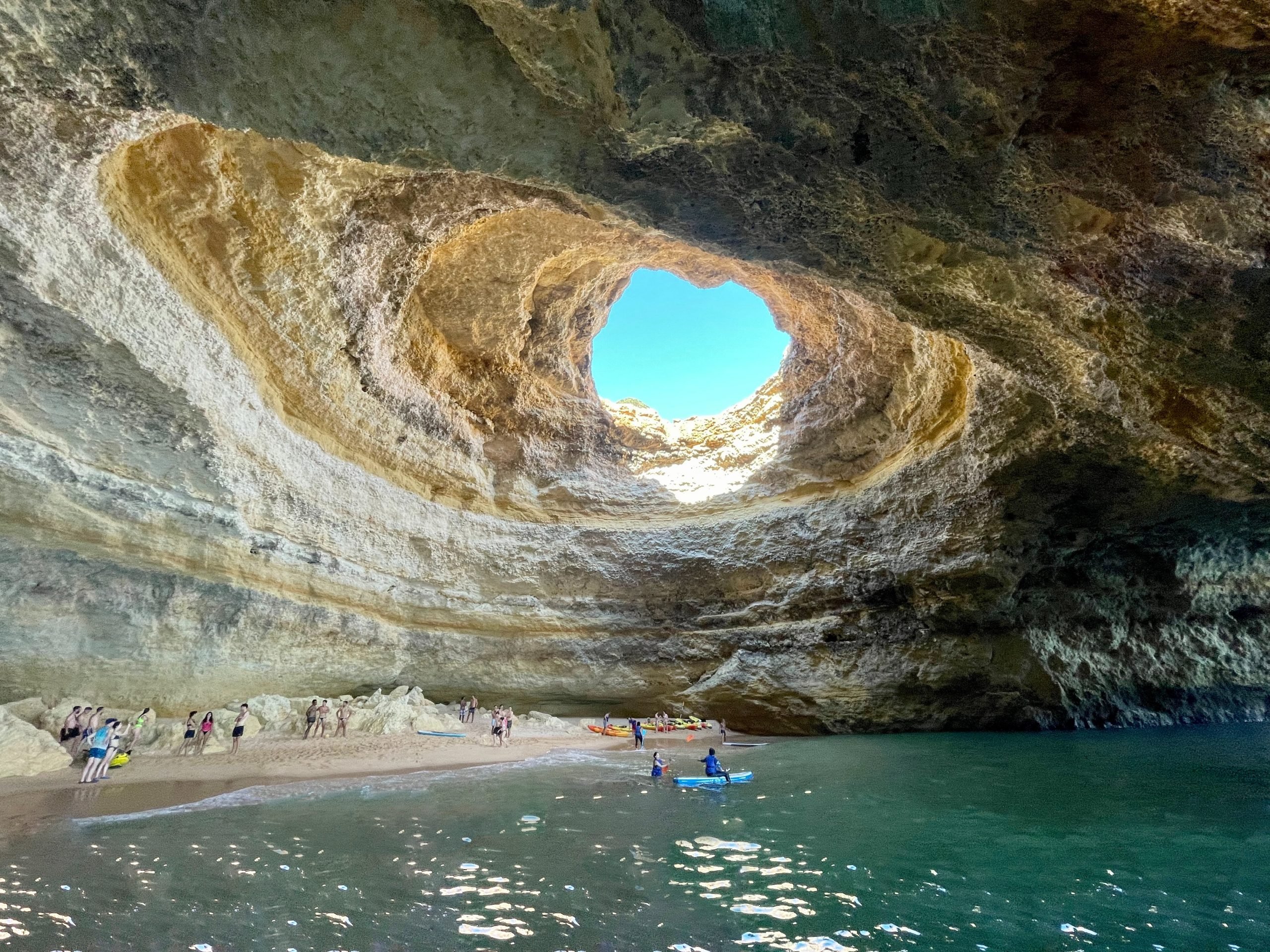 Day 7: Morning at the beach and travel home
Enjoy your last day at your favorite beach in Tavira. Again, we recommend Praia do Barril. Then travel back home from Faro Airport, only a 30-minute drive away from Tavira.