While we always recommend spending as much time as possible in Portugal, 5 days is plenty of time to see the largest two cities – Porto and Lisbon.
Our 5-day Portugal itinerary starts in the beautiful city of Porto, early in the morning. We recommend flying here instead of Lisbon as flights tend to be cheaper, particularly from the US and UK.
This breathtaking city of Porto lies along the Douro river and is home to Port wine, iconic historical monuments, and francesinhas, a meat and cheese sandwich with a delicious beer sauce.
After two days in Porto, you will head to the capital of Portugal, Lisbon. The birthplace of Amália Rodrigues, the iconic Fado singer, Lisbon is rich in culture, history, and striking views.
Let's take a look at our very own 5-day Portugal itinerary so you can make the most out of a short trip to Portugal!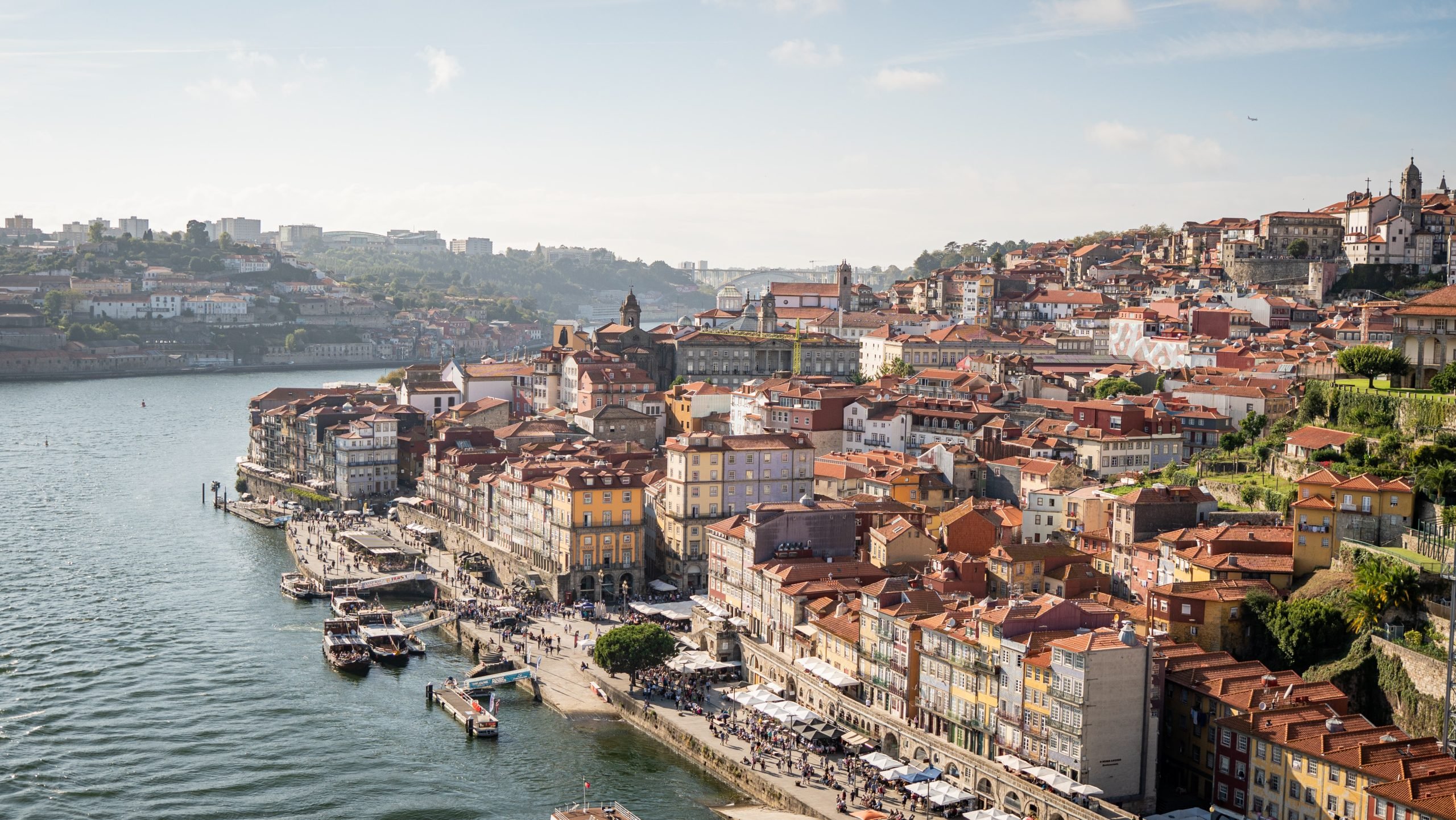 One of the oldest in Europe, Porto's old town in the city center is a UNESCO World Heritage site since 1996, so we recommend starting there! Head to the Clérigos Tower where after climbing the steps you can enjoy a 360 view of the city.
Then take a short walk to Livraria Lello, one of the oldest bookstores in the country with over a century of history. Although it used to be free, tickets now cost €5. Kids under 3 years old have free entrance.
For lunch, check out our favorite restaurants in Porto. We recommend starting out your Porto cuisine experience with a francesinha at Casa Guedes or Tasquinha Ze Povinho.
After lunch, it's time to unwind. Take a walk along Ribeira to enjoy the views of the Douro river. Then head to the Dom Luis I bridge that connects the Ribeira district to Vila Nova de Gaia.
Built in 1886 by designer and co-founder of the Eiffel company Théophile Seyrig, visitors can walk across the 60-meter-high bridge on the upper level of the bridge.
Walking through the 1-kilometer bridge, you will have one of the best views of the Douro river, as well as easy access to Vila Nova de Gaia.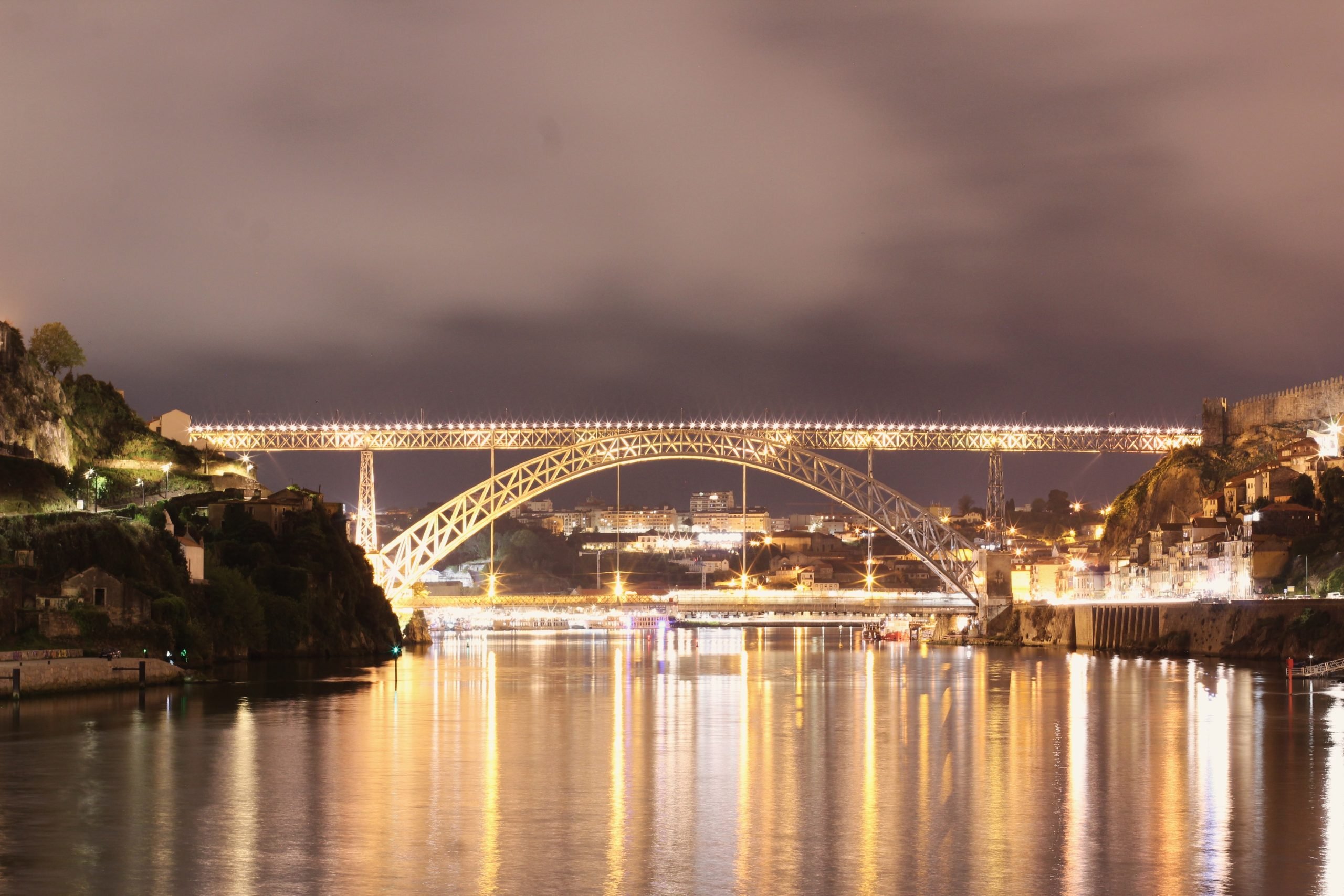 In Vila Nova de Gaia, head to a wine tasting in a Port cellar. Caves Ferreira is one of our favorite places. Founded by a family of winemakers in 1751, Caves Ferreira is the only wine company from Porto that has always remained Portuguese throughout its history. They offer port tastings at different prices but a great option is a Classic visit for €15 per person.
For a unique experience, stay in Vila Nova de Gaia for dinner. We recommend having dinner at sunset time in the Yeatman's restaurant. Located in a luxurious 5-star hotel, the Yeatman restaurant has 2 Michelin stars and offers one of the best views of Porto across the Douro river.
Top Hotels in Porto
NH Hotel Porto Jardim: This four-star hotel feels like its five stars. It has a 70 cm deep outdoor people, a spa a few meters away, and a gym. It is located within walking distance of main attractions like Bolhão market, Aliados Avenue, and Ribeira. If you have a dog or cat, this hotel is pet-friendly.
Vila Gale Porto: Vila Gale is a well-known chain of hotels in Portugal and is always a safe option. This one was built in 1999 and recently renovated. The hotel has a spa with an indoor pool, a gym, a restaurant, and two bars.
Hotel Premium Porto Downtown: Located in the old town, this modern 4-star hotel has a sun terrace with views of the city of Porto, the perfect place to enjoy some port wine. You'll be close to everything you need, Santa Catarina street, Aliados Avenue, and the cathedral.
Book Tours & Activities in Porto
Start your second day in Porto with breakfast at Confeitaria Cristal in Cedofeita, a pastry shop. We recommend the courgette and ginger cookies, as well as the classic pastel de nata with an espresso.
After breakfast, head to Aliados Avenue, one of the most popular streets in Porto. Some call it Porto's Champs Elysées, featuring luxurious cafes and spots, such as Guarany, a famous piano bar.
The avenue also features a statue of D. Pedro IV to symbolize his battles for liberalism and courage, the perfect spot for a touristy photo.
Walk for less than 10 minutes to Igreja do Carmo. A combination of two buildings, the church is one of the oldest buildings in the historical center of Porto, one built in the 1600s and one in the 1700s. The church is built in baroque style and features blue azulejo tiles.
You can enter the church for free! However, to visit the museum, catacombs, and Casa Escondida, there is a fee of €3.50.
Then walk for less than five minutes to the Clérigos Tower where after climbing the steps you can enjoy a 360 view of the city.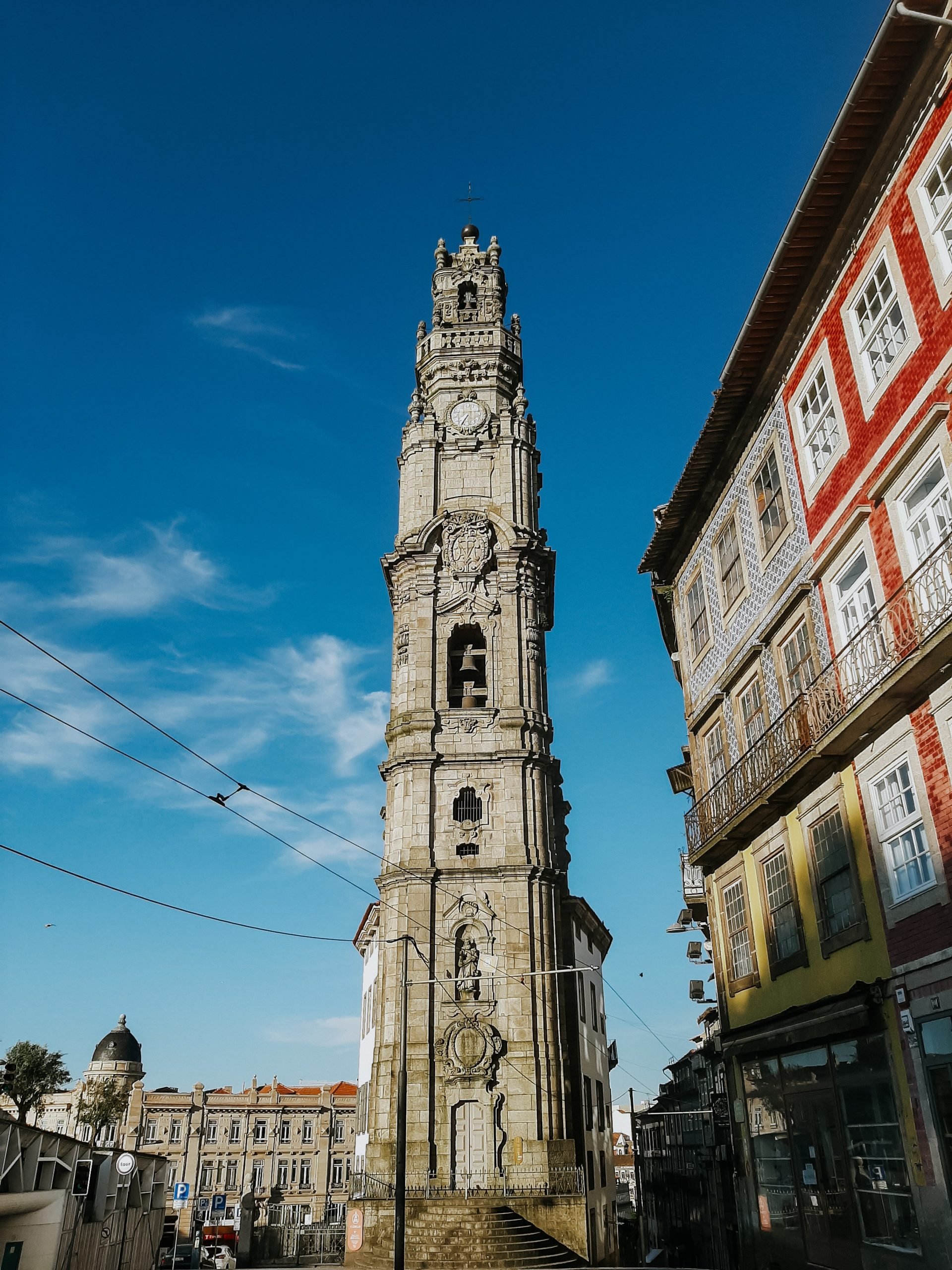 For lunch, head to Chama, which offers a unique gastronomical experience. This place primarily serves grilled food and "sustainable slow-burning food." Alternatively, head to a Cozinha do Manel, a family-run restaurant that opened in 1989. With a rustic appeal, they specialize in meat and fish dishes.
We recommend booking a tour for the afternoon. This private boat tour allows you to see the Douro river with up to four people, passing through Porto's historic bridges and Gaia's caves. A welcome drink is included.
Alternatively, this Porto walking tour delves into the history of Porto with a professional guide. You will get to see the UNESCO World Heritage city center in more detail and learn how Port is made.
For dinner, head to Cantinho do Avillez, founded by the famous Portuguese Chef Jose Avillez. Cantinho do Avillez is incredibly well decorated, with a retro feel and a homely environment. The restaurant offers main courses such as risotto and octopus, as well as shared tapas.
After dinner, head to a Fado house to listen to the iconic style of Portuguese music. Most fado houses offer you a Port wine glass to enjoy with the live show. Book this Fado Live Show in Porto for an intimate setting in Casa da Guitarra near Sé.
Tomorrow morning you are off to Lisbon bright and early!
Get the train early to Lisbon Santa Apolonia. If you are in the historical center, you can get a ticket from Sao Bento train station to Santa Apolonia. However, the train does not go directly to Lisbon, it first rides for 5 minutes to Campanha. Alternatively, get the train directly from Campanha. The train is around 3 to 4 hours, and the tickets cost around 30 euros.
You'll probably arrive hungry so it's time to head for lunch. If you're in the mood for pizza, CasaNova is a 2-minute walk from the station. This place serves delicious pizzas cooked on a wood-burning stove and offers a terrace with views of the Tagus river. Take a look at the best restaurants in Lisbon here if you are looking for alternatives.
After lunch, walk a few more minutes to Terreiro do Paco, the harbor-facing plaza and one of the largest in Portugal. Here, you can visit the Wines of Portugal Tasting Room, a large modern tasting room with shared tables and wine starting at €1.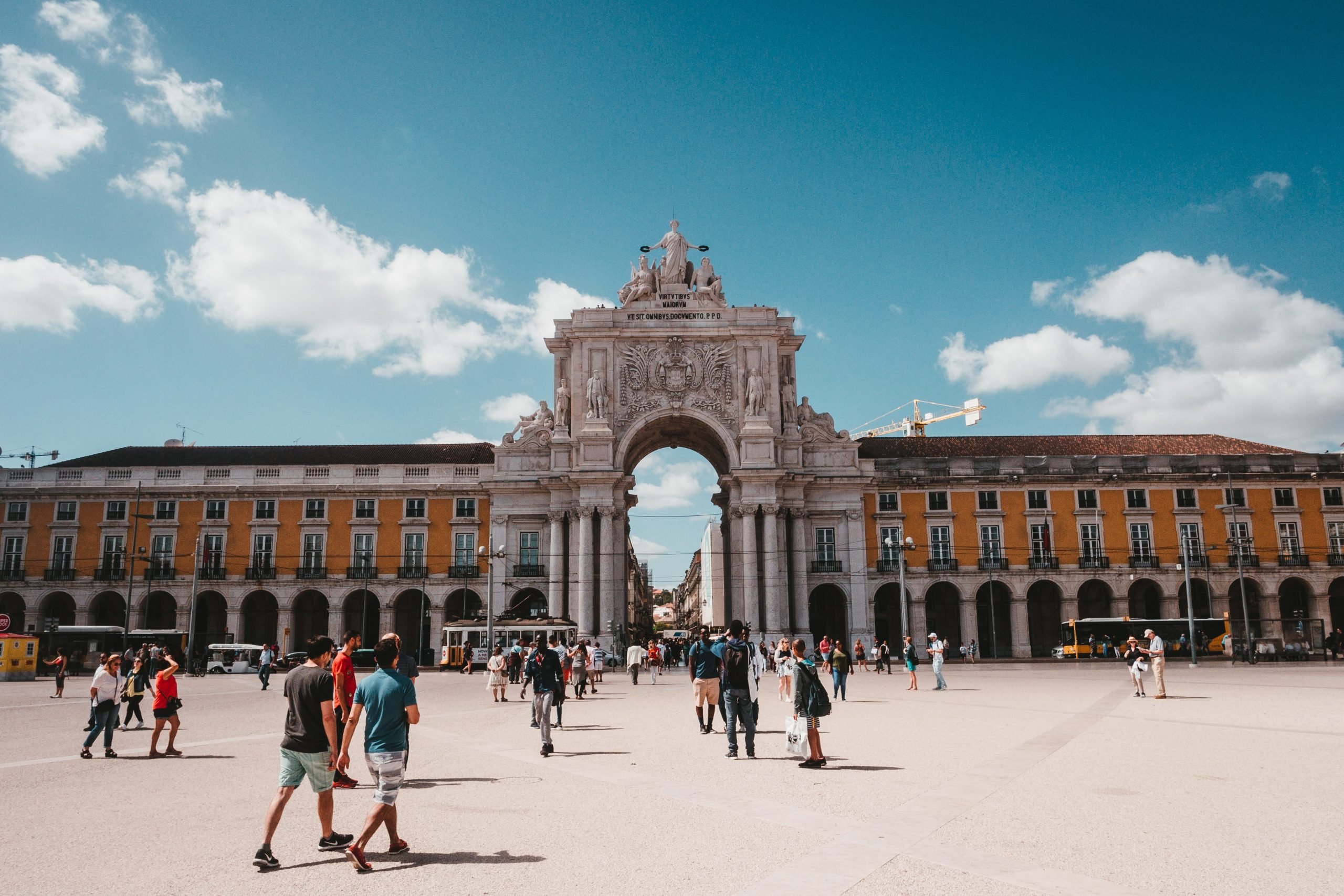 Then, head to Alfama. The oldest neighborhood in Lisbon and the home of fado, as well as Amalia Rodrigues' birthplace. Explore the neighborhood and look out for Fado spots, as well as historical monuments such as the Lisbon Cathedral, the Convent of the Grace, and more.
Walk towards Castelo de São Jorge, a medieval castle that overlooks the historical center of Lisbon from the fifth century. During the reign of Afonso I of Portugal in the twelfth century, it was altered and made into an official Royal Palace. It was then completely restored in 1938 by the dictatorship of Salazar as part of a commemoration of Portuguese patriotism and independence. Book a ticket to skip the line.
Take tram 15E from Praca Figueira, a 10-minute walk from the castle, towards Belem. The 20-minute tram journey stops at some iconic spots such as Praca do Comercio and Santos.
Belem lies along the Tejo Estuary and is home to two UNESCO sites, Torre de Belem and Mosteiro dos Jeronimos.
Mosteiro dos Jerónimos is a former monastery in Belém constructed in Portuguese Late Gothic Manueline style and you can visit the church for free.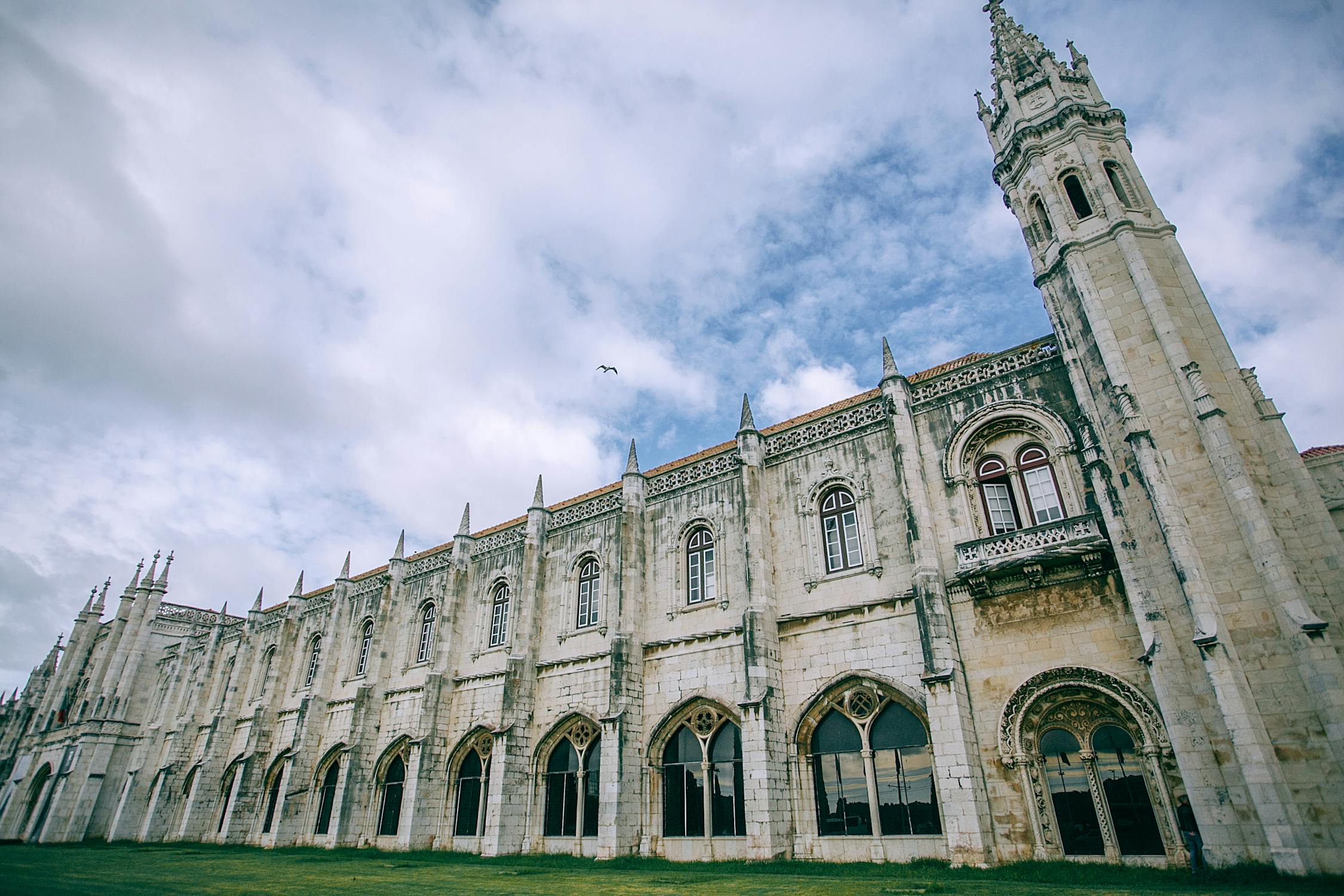 A 2-minute walk from the monastery, head to Pasteis de Belem where the traditional Portuguese custard tart was first invented.
Then walk towards Torre de Belem. The 30m Belem Tower was built in the 1500s in Manuelino style, like the Jerónimos monastery. It was also declared a UNESCO World Heritage Site in 1983.
Belem has some great dinner spots, particularly for a sunset dinner. Portugalia Cervejaria is a classic franchise restaurant in Portugal that has tasty steak with a variety of sauces.
Alternatively, take the 30-minute train along the coast from Belem to Cascais for dinner. Head to Marisco na Praca in Cascais Marina, which serves quality seafood and fish dishes. Alternatively, at a more expensive price but even higher quality, Mar do Inferno in Boca do Inferno is one of the best seafood restaurants in Cascais, with views of the ocean.
To start your last day in Lisbon, head to A Brasileira in Chiado, the heart of the city. A Brasileira is one of the oldest cafes in Lisbon that is still active. While it is expensive, having a coffee and toast on the terrace is a must-see experience in Lisbon for first-timers.
This main street in Chiado has many stores and boutiques for shopping, as well as Livraria Bertrand. Livraria Bertrand holds the Guinness world record for the world's oldest bookstore still in operation, founded in 1732.
Then walk for 5 minutes towards Santa Justa Lift, also known as Elevador do Carmo, a 45m tall elevator built by Raoul Mesnier in 1902, an architecture student of the man who built the Eiffel Tower. Its purpose was functional, but now it has turned into one of the most popular tourist attractions. From the top of the lift, you can enjoy a view of the Baixa Pombalina.
For lunch, go to Cevicheria, a restaurant specializing in Portuguese cuisine and the traditional Peruvian dish, ceviche. We recommend trying the Portuguese ceviche, with octopus, codfish, and potatoes, as well as the tuna and foie gras ceviche.
For a more authentic Portuguese restaurant with a more relaxed environment, head to Adega da Tia Matilde, a Lisbon local favorite for decades. Well-known for its friendly hospitality, Adega da Tia Matilde has some of the best duck dishes and large shrimps in the city.
After lunch, book a guided tour of the city so you can see as much as possible in the little time you have in Lisbon.
This 3-hour tuk-tuk tour of the city goes through the city's oldest neighborhoods and main attractions, riding up and down the hills of Lisbon (which you do not want to walk).
If you want more flexibility, book this 24-hour bus ticket in the morning which allows you to visit different routes and hop in as you would like.
After your tour, head to Principe Real to explore. One of the trendiest neighborhoods in Lisbon, Principe Real has the best restaurant, bars, and art galleries in the city, as well as stunning nineteenth-century buildings and plenty of green spaces.
Have dinner at BouBou's in Principe Real, a restaurant offering a variety of international dishes from pork belly, and octopus to lamb kebabs. This place has an outdoor patio with sparkling lights and banana trees, perfect for enjoying one of their cocktails.
After dinner, walk to Bairro Alto, the most popular bar area where the nightlife comes to life. We recommend Ze dos Bois Gallery, a musical center that has live music and serves tasty drinks.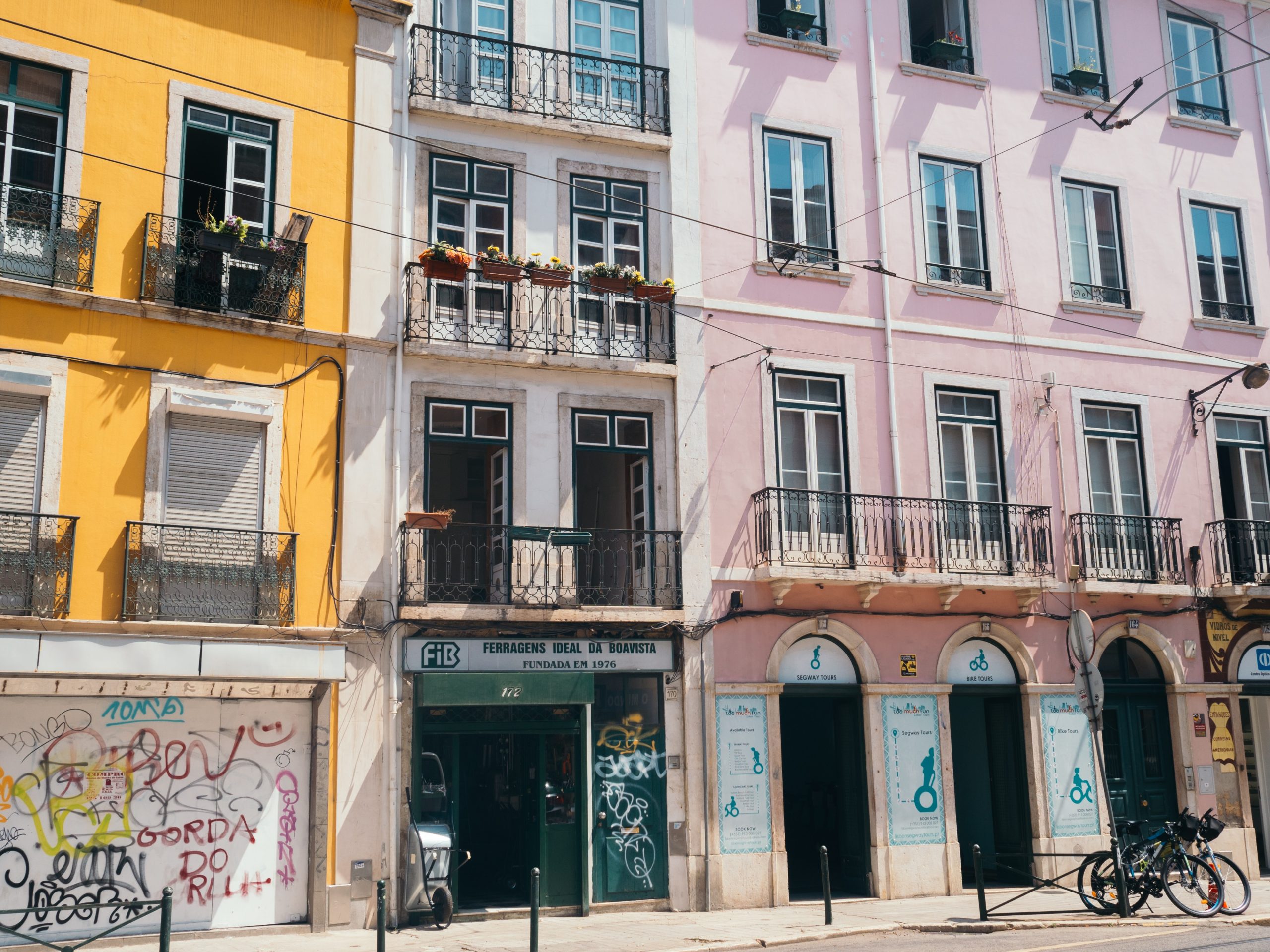 Top Hotels in Lisbon
Inspira Liberdade Boutique Hotel: Awarded the Best Luxury Green Hotel in 2019, Inspira Liberdade provides a relaxing Feng-Shui vibe for its guests. The hotel has a SPA, fitness room, bar, and a restaurant with Portuguese food called Pen Brasserie Mediterrânica.
Selena Secret Garden: The hostel also has a rooftop deck, CoWork space for professionals, and a movie room. In the heart of Cais do Sodre, you are close to contemporary art galleries, bars with riverfront views, and within walking distance to Chiado.
Bairro Alto Hotel: This hotel is situated in the best location in Lisbon, between Bairro Alto and Chiado, in an 18th-century building in central Lisbon. The hotel features a restaurant with award-winning Chef Nuno Mendes and Executive Chef Bruno Rocha.
Day 5: Fly Back!
You can fly back home from Lisbon Airport, or you can take the train back to Campanha and fly from Porto Airport. If you've enjoyed your trip so much you want to come back soon for longer, take a look at our 14-day itinerary to Portugal.