The Algarve is located on Portugal's southwestern tip and is known for its picturesque towns, cuisine, and golden sand beaches. The Algarve is home to the best weather in the country, with sunny warm days all year round. Over 4 million travel to this region every year, making it one of the most popular tourist regions in Portugal for decades.
Our 10 Day Algarve Itinerary allows you to explore Algarve in 10 days, stopping at the best spots. This itinerary is best traveled by car, so we recommend renting a vehicle. Let's take a look at how you should spend 10 days in the Algarve, with the best things to do, as well as hotel and restaurant recommendations.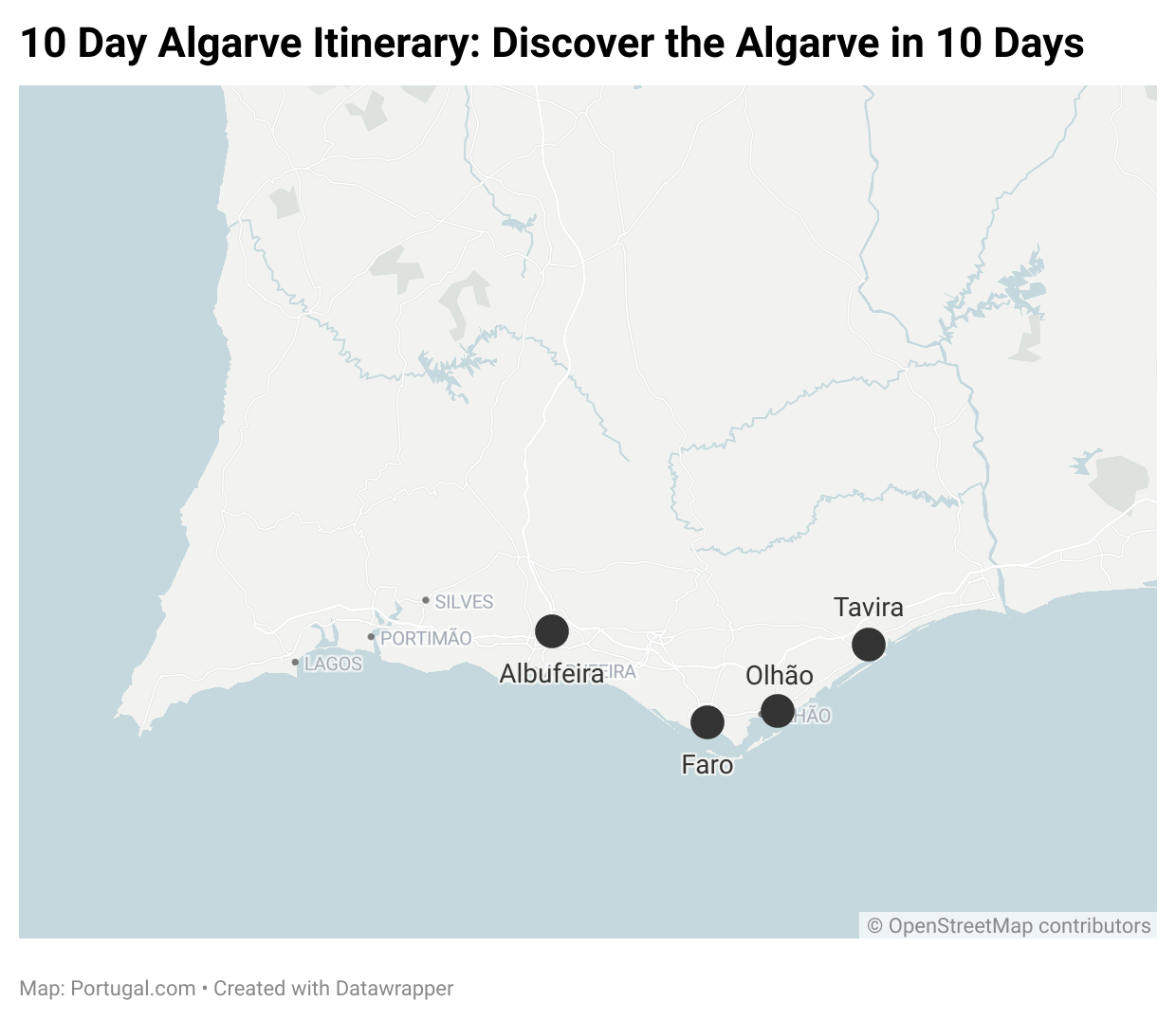 Day 1 & 2: Faro
If you are planning a trip to the Algarve, you are probably flying to Faro Airport. The capital of the Algarve and one of the largest cities, Faro is a tourist hotspot that is close to nature and beaches but also has a cosmopolitan feel. It's a great way to start your trip!
From Faro, you can also get to the beautiful islands in the Ria Formosa, such as Culatra. These smaller communities on islands, a few steps from the beach, are great to explore and make you feel like you are in the Caribbean.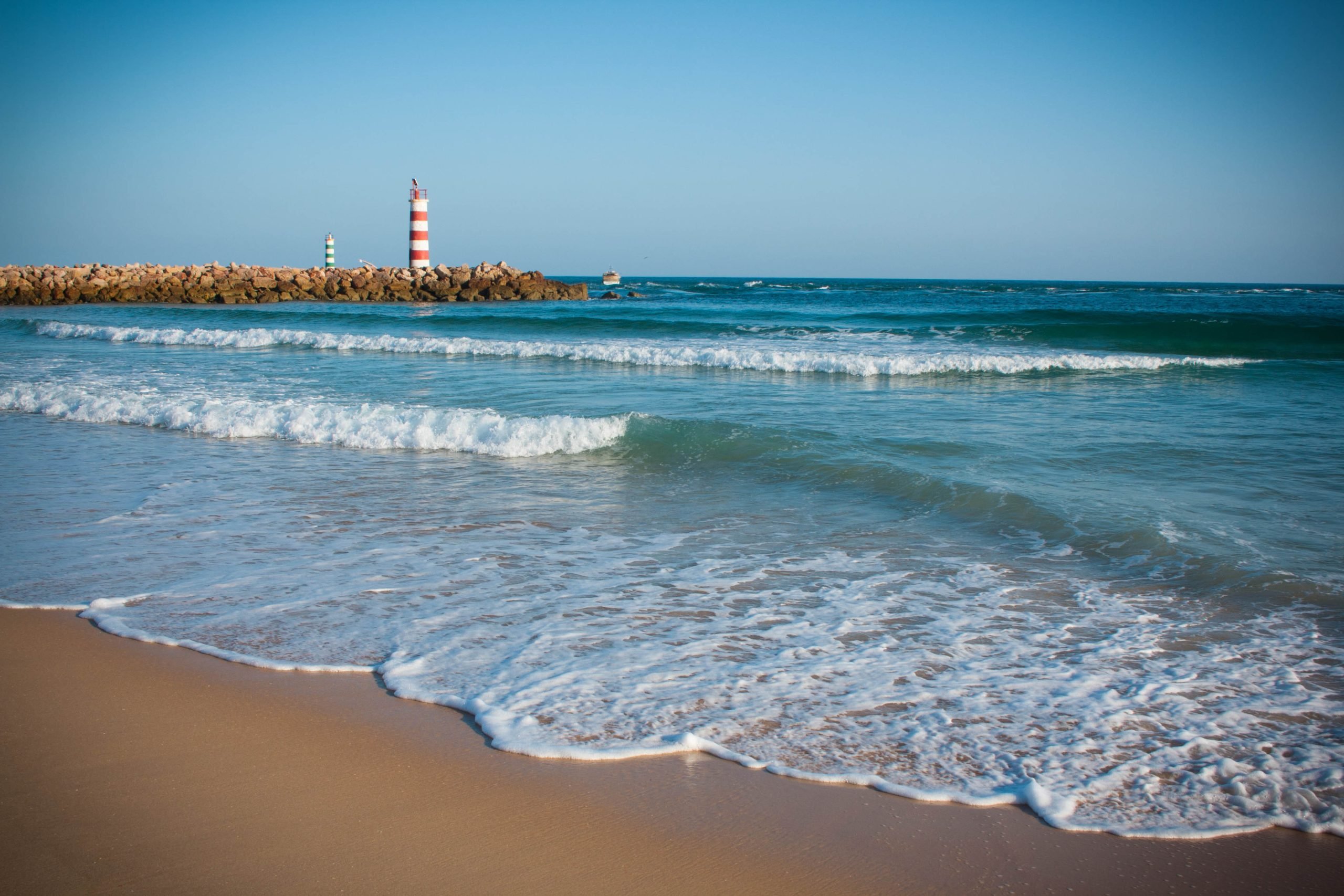 Faro: Best Things to Do
Book this tour to explore the marine life around Faro in a cruise that sets sail on the Atlantic Ocean with a marine biologist. You will get to see dolphins and bottlenose, marine birds, bluefin tuna, and maybe even orcas and sharks.
This tour allows you to sail the Ria Formosa Natural Park and visit stunning islands on a catamaran that takes up to 12 people. You can choose either the morning tour or afternoon tour, both of which provide breaks for swimming.
The best beaches in Faro are Praia de Faro, Praia da Ilha da Culatra, Praia do Farol, and Praia dos Hangares.
Best Hotels in Faro
Best Restaurants in Faro
MyoMeu
Shiraz
Afecto
Raizes
Tia Ana
Day 3 & 4: Olhão
Just twenty minutes away from the Algarvean capital Faro, Olhão is a city that was once neglected in the Algarve. It has recently become a more visited town as more tourists discover its beauty. Olhão boasts unique cube-shaped houses, street art, incredible churches, and beautiful beaches.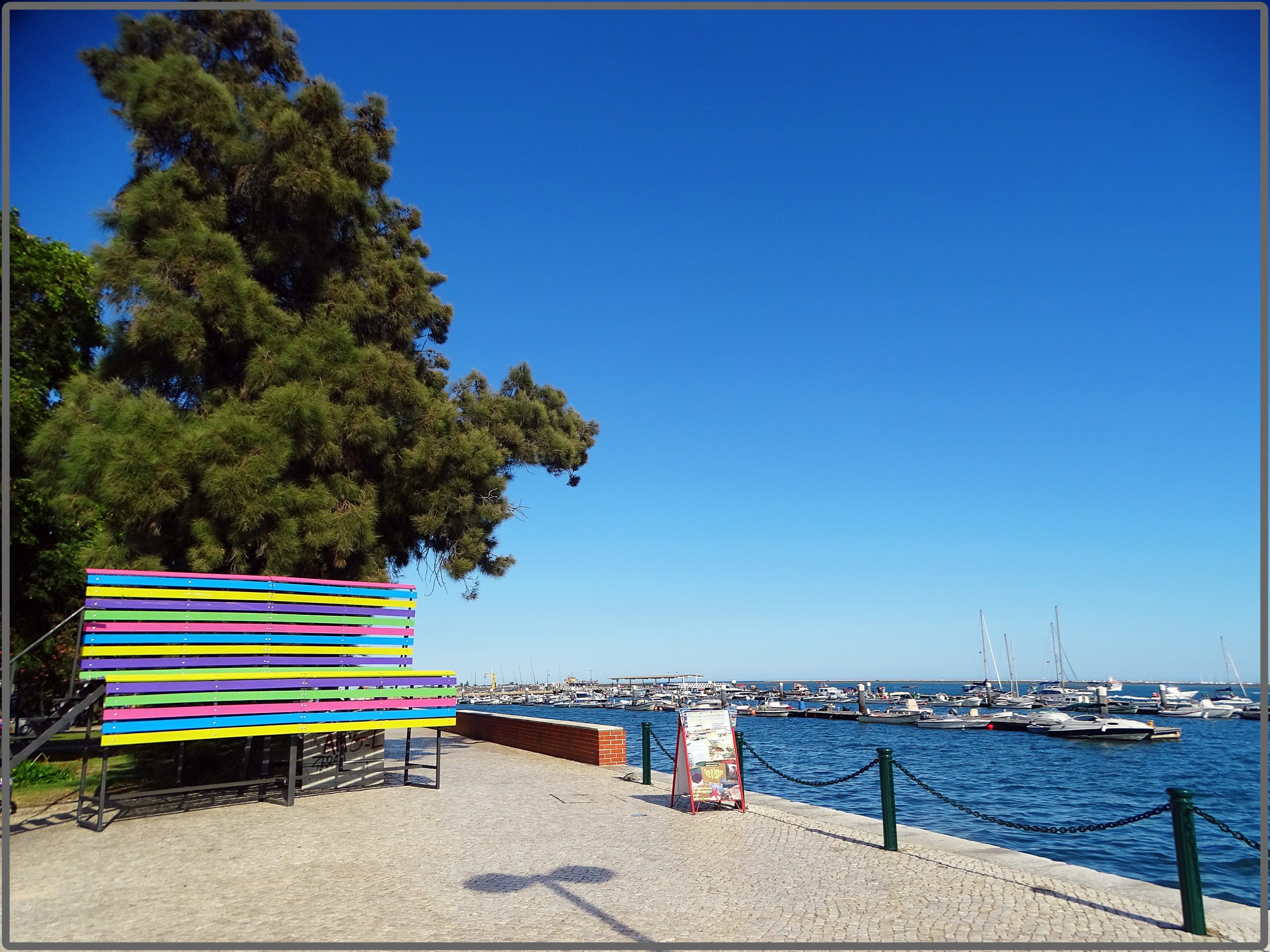 Olhão: Best Things to Do
Explore the cube-shaped houses in the Bairro dos Pescadores (fishermen's district), adorned with typical Portuguese azulejos (tiles).
Walk through the caminho das Lendas (path of the tales), featuring interesting graffiti, modern art installations, and statues are on display in five different squares, arranged in a walking route.
Visit the Mercado (market), built in 1912. All sorts of goods are for sale here – meat, poultry, fruits and nuts, baked goods, and fish.
The Igreja de Nossa Senhora do Rosário (XVII century) is the main church in Olhão: the interiors boast beautiful frescos and altarpieces, while at the back sits the Capela do Senhor dos Aflitos (chapel).
Best Hotels in Olhāo
Best Restaurants in Olhão
Lagar Mar
Terra i Mar
A Taska
Mósse!
Petiscais
Day 5, 6, & 7: Tavira
Tavira was built alongside River Gilão, in an intricate of narrow roadways and white houses, and features golden beaches with warm water. While the small city is mostly known for its beaches, the quaint town allows you to visit some attractions, as well as explore shops, restaurants, and more.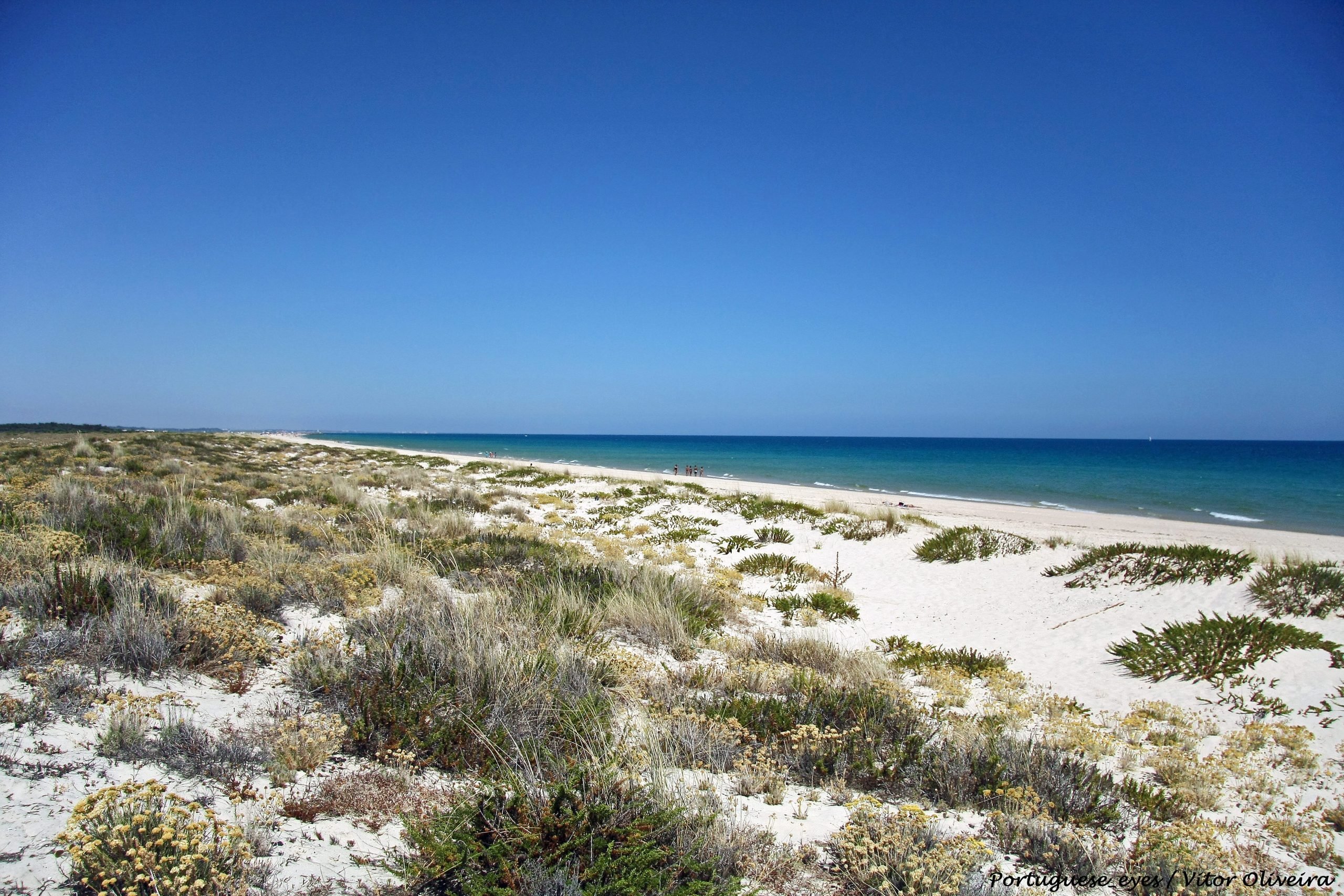 Tavira: Best Things to Do
Enjoy a beach day in Tavira. Our favorite beach in Tavira is Praia do Barril. The beach features a wooden path over the golden sand, which provides a gorgeous contrast with the dark blue waters. Praia de Tavira and Praia da Terra Estreita are also great alternatives in Tavira.
Walk through Tavira, explore the chapel of Sao Bras and the hundreds of other churches.
Book this 100% electric 1-hour tuk-tuk tour if you want a tour of the city from a local's perspective.
Visit Vilamoura Marina, a popular marina, a 40-minute drive away in Quarteira. You will find loads of shops, restaurants, and even a worth-while beach called Praia da Falesia.
Travel to Albufeira where you can get a Dolphins and Benagil Caves Tour. This boat tour allows you to discover dolphins, marine life, and Benagil caves in an inflatable boat. A stop for a swim is included!
Best Hotels in Tavira
Best Restaurants in Tavira
Tasquinha da Paula
Come na Gaveta
Ponto de Encontro
A Barquinha
Day 8 & 9: Albufeira
Albufeira is the largest resort town on the Algarve coastline and it has been the most popular holiday destination in the south of Portugal since the 1970s. Albufeira is known mostly for its beaches, but the city also has beautiful attractions, such as the city's old town.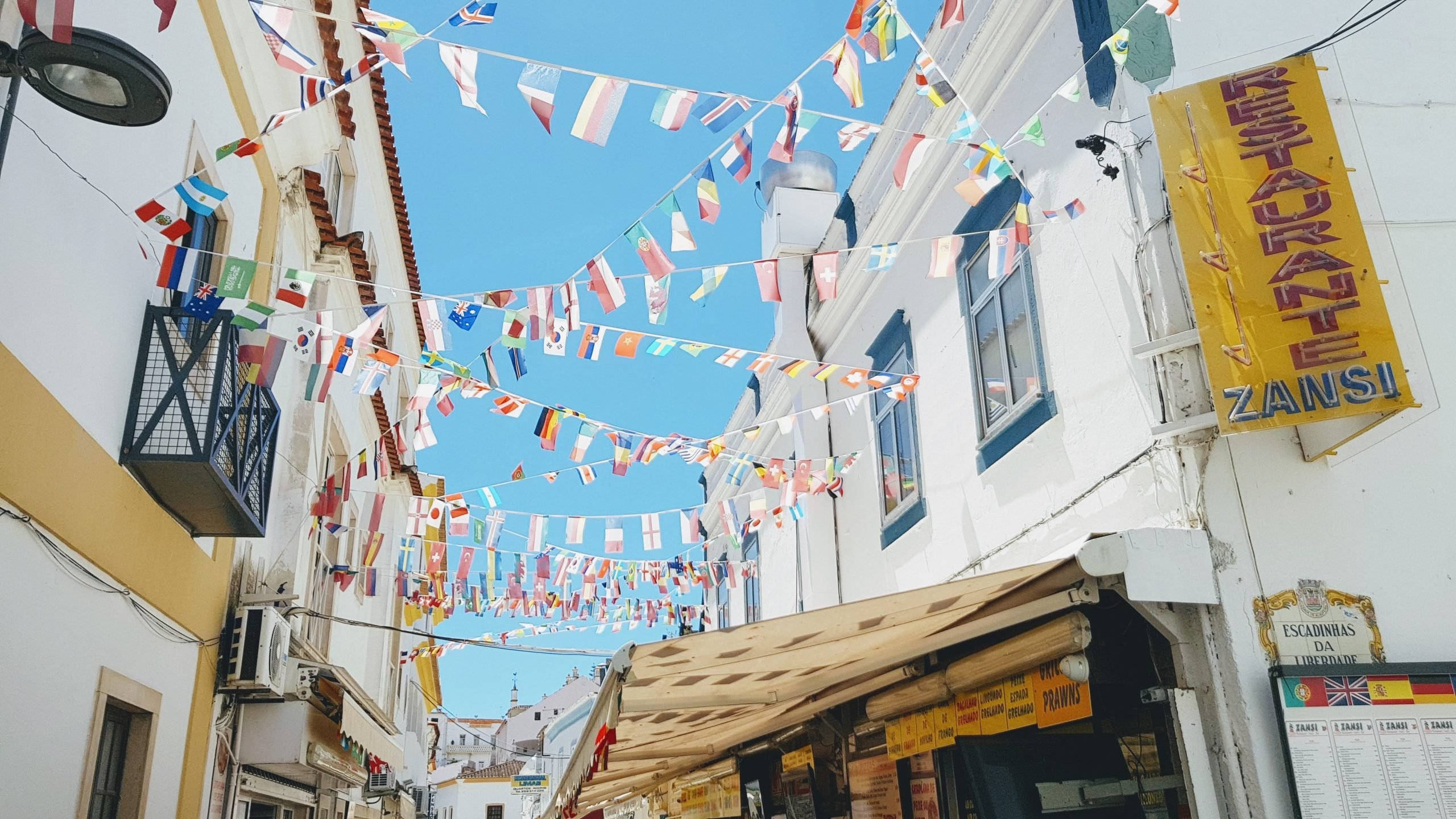 Albufeira: Best Things to Do
Visit the stunning Benagil Cave from Albufeira by booking a tour,

allowing you to swim in sea cave and maybe even do some kayaking. The Algar de Benagil is a unique seaside cave that can only be reached by boat, known for a sky-light-like hole in the roof.

Explore Albufeira's old town's restaurants and shops. Enjoy the views of Albufeira from the hill overlooking Praia dos Pescadores.
Spend the day at one of Albufeira's beach. Our favorite is São Rafael Beach, mostly frequented by younger people and it is surrounded by beautiful rock formations and bushes. To get down to the beach there is a ramp with a restaurant on the sand.
Best Hotels in Albufeira
Best Restaurants in Albufeira
Restaurante The Cockerel
Windmill Restaurant
The Market Restaurantxt
Day 10: Fly back home
A 30-minute drive from Albufeira, fly back home from Faro airport. If you rented a car at the airport, you could drop it off back here. We recommend booking a nighttime flight so you can still spend the day enjoying a beach in Albufeira or closer to Faro.