Leiria is a city in Central Portugal with a small population of 128,000 people but with so much to offer. While still not massively discovered by expats like Porto and Lisbon, more and more are moving to Leiria. Its historical significance, architecture, as well as access to beaches and forests, makes it an incredible city to live in.
But is Leiria expensive? How much does it cost to live in Leiria? Leiria is around 12% less expensive than Lisbon. Rent is on average 49% less expensive than in Lisbon, a shocking number. Let's take a look at the cost of living in Leiria, including the monthly budget for an expat, digital nomad, and family of four.
Cost of Living in Leiria for an Expat
The monthly budget for an expat in Leiria Portugal, is at least around €1,300 if you want to live in the center.
A one-bedroom apartment in the center costs around €690. Outside of the center, it can cost around €500.
A monthly transportation pass is around €15 per person. Utilities cost around €250 for an 85 m2 apartment.
For exploring Leiria, eating out at your favorite restaurants, and exploring the nightlife, budget around €160 a month. You can easily spend more; this depends on your lifestyle.
Groceries for a single person average out at around €180 a month.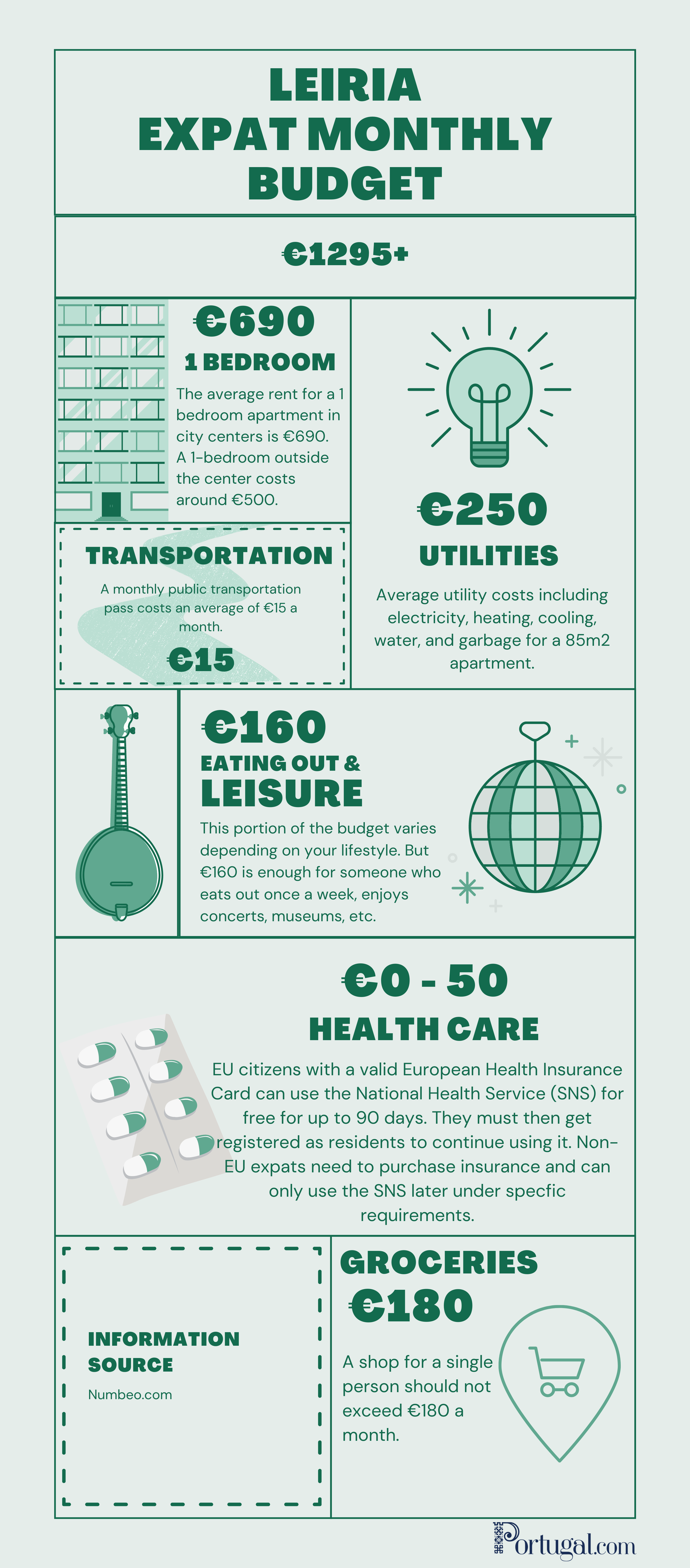 Cost of Living in Leiria for a Digital Nomad
The cost of living in Leiria for a digital nomad is at least €1,095 a month. This is the case if you sleep in a hostel's dorm and cook most of your meals. If not, expect to need €3,000+ a month in Leiria.
How did we get from around €1,000 to over €3,000? If you opt for the budget option of a shared dorm in a hostel, expect only to need to pay €20 a night, so around €600 a month. However, a private Airbnb would cost you at least €1,500.
Renting a desk at a co-working place in Leiria costs around €100. Transportation costs around €10.
Budget at least €200 for leisure such as eating out, bars, and tourists attractions.
Food can easily max out your monthly budget. If you want to save and have a kitchen at your disposal, a monthly shop shouldn't cost more than €180.
However, if you plan to eat out, an affordable meal is around €10. This would set you back around €1,000 in a month.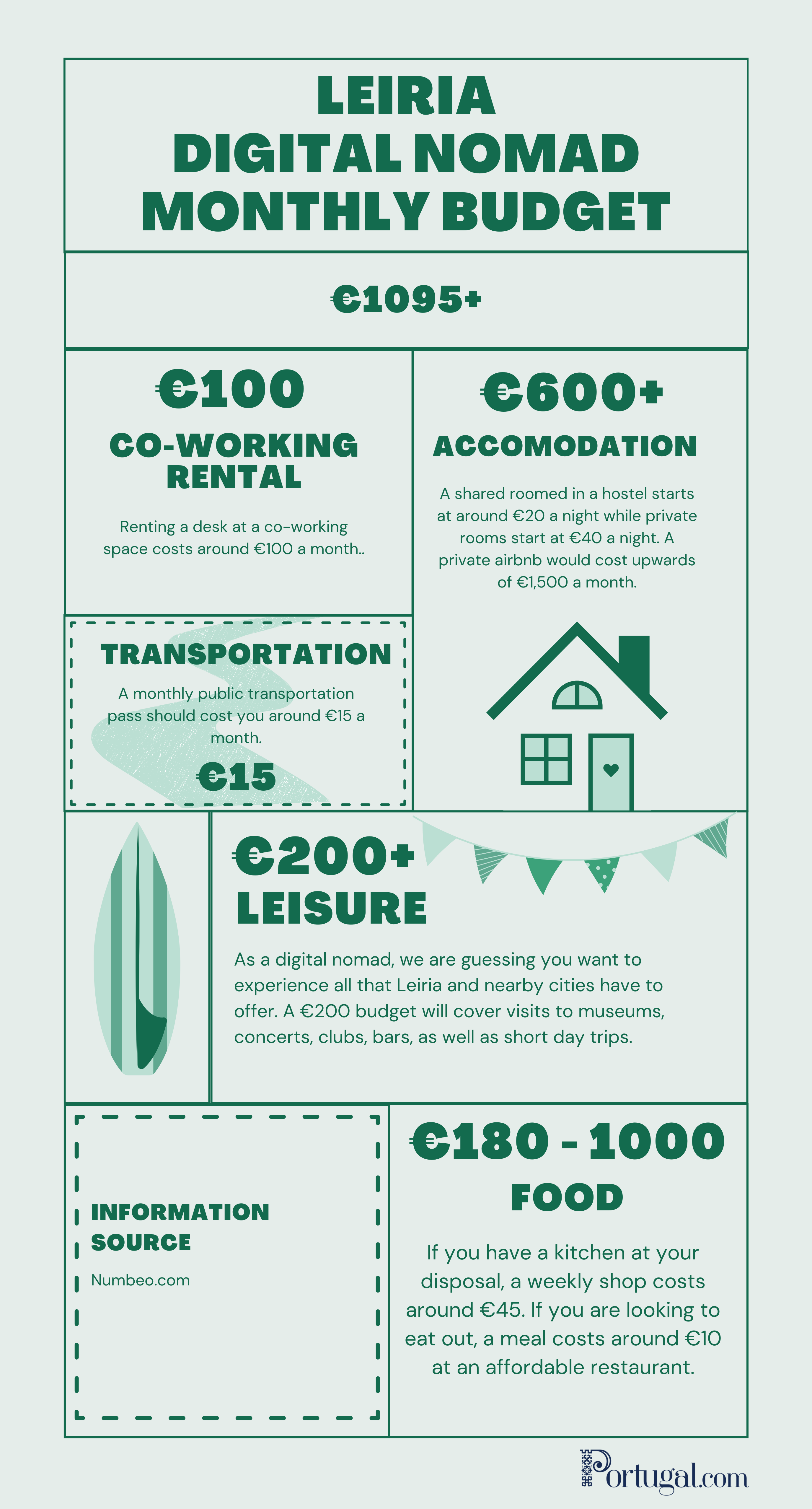 Cost of Living in Leiria for a Family of Four
Expect to spend at least around €2,320 a month for a family of four in Leiria. However, if you need health insurance for the entire family and your two kids will attend private school, you will spend thousands more.
A three-bedroom apartment in the center of Leiria will set you back around €1,000. However, prices can go up to €2,000, depending on the apartment type and amenities. Moreover, if you want to save money, opting for an apartment outside the center can save you another couple hundred euros at around €700.
Budget around €60 a month for monthly transport passes. However, it is more convenient for a family of four to own a car and drive around Leiria. This way, you can also more easily visit neighboring cities. Fuel will cost you anywhere between €150 and €250 a month.
Utilities cost around €260 and include electricity, heating, water, etc for a 85 m2 apartment. However, this can be much higher in the winter or depending on your family's consumption.
Groceries for a family of four in Leiria should cost around €125 a week, so budget at least €500 a month.
If you need to purchase health insurance for the whole family, this will cost you at least €200 a month.
However, you might be eligible to use access to healthcare for free, even if you are not an EU resident. Non-EU citizens are only entitled to use the public health system if they are employed and pay social security in Portugal, having to be registered as legal residents as well.
While public schools are free, private schools can cost around €7,000 a year, depending on the establishment and age of your child. You could pay around €1,400 a month for two kids just for education.