In recent years, many have become digital nomads, living in a nomadic way while working remotely online. In the United States alone, 10.9 million Americans described themselves as digital nomads.
Lisbon, Portugal, is one of Europe's largest digital nomad hotspots. The Portuguese capital is a favorite all year long, especially for those looking to escape cold winters.
While Lisbon is more expensive than other Portuguese cities, it still offers a relatively affordable cost of living compared to cities such as London and Amsterdam.
Along with delicious food, plenty of coworking spaces, and fun activities, it is no surprise Lisbon is a digital nomad favorite. Our Digital Nomad Guide to Lisbon, Portugal has everything you need to know!
Pros and Cons of Being a Digital Nomad in Lisbon
Pros
300+ days of sun and all-around good weather
Affordable cost of living in comparison to other major European capitals
Large international community
Quality public infrastructure
Amazing food at an affordable price
Cons
Overcrowndess due to tourism in Spring and Summer
Bureaucracy, long waiting times to get things done
"Slow-paced" lifestyle, so stores might be closed on certain days
Some places only take cash
If you are not an EU national, the Portugal D7 Visa is the most suitable visa for digital nomads. It requires no investment!
This visa is for non-EU/EEA/Swiss citizens who want residence in Portugal and have a reasonable passive income. This income can come from real estate, a retirement pension, a salary, etc.
The minimum passive income required is €8,460 per year for the main applicant. For a spouse, you must add 50% to this (€4,230), and for a dependent child, you must add 30% to this (€2,538).
However, you might not need a visa at all, depending on the timeframe and your nationality. If you are a UK citizen, you can travel and stay in the United Kingdom up to 90 days out of any six-month period. US and Canadian citizens can also stay in Portugal for up to 90 days without a visa.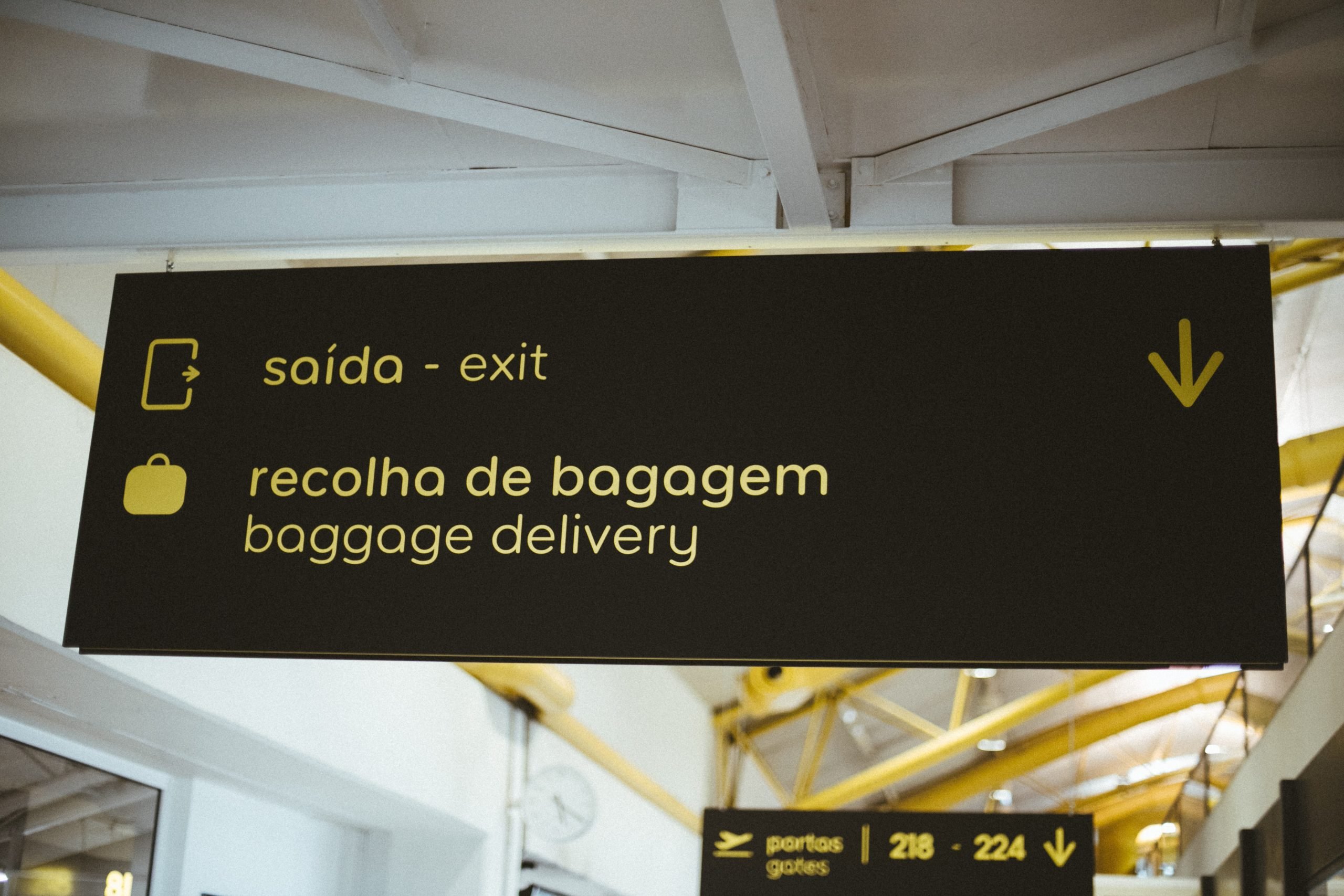 Portugal Digital Nomad Visa
Applications for the new Portugal Digital Nomad Viusa start on October 30, three months after the Portuguese government amended immigration law.
Remote workers can apply for a one-year temporary stay visa or a residency permit that can be renewed for up to five years. Applicants need to make at least €2,800 per month a month, four times the minimum wage in Portugal.
Only those from outside the EU and EEA can apply. You must also be employed by a company outside of Portugal or self-employed. These will naturally be checked officially through tax residency documents, proof of employment, and proof of income for the last three months.
You can apply for this digital nomad visa at a Portuguese Consulate in your home country or at the Portuguese Immigration and Border Service, also known as SEF.
Portugal's digital nomad visa starts October 3
Cost of Living in Lisbon for a Digital Nomad
As a digital nomad in Lisbon, you need at least €1,000 a month. This value will, however, depend heavily on your lifestyle. Let's take a look at a breakdown of the costs.
Assuming you're looking to rent a coworking space, this will run you at least €100 a month, and transportation passes cost around €50 a month.
Accommodation will also vary, but for a shared room in a hostel, prices start at €15 a night, amounting to €450 a month. If you are looking for a private room in a hostel, this will cost you around €1,200 a month, and a private Airbnb is at least €1,500 a month.
If you have a kitchen available, you can opt to cook your food, and groceries are around €200 a month. If you want to eat out 3x a day, budget at least €1,000 a month.
To explore the city's museums, clubs, bars, and more, you will need at least €200 a month.
Therefore, the cost of living in Lisbon for a digital nomad can be anywhere from €1,000 to upwards of €3,000 if you want to splurge.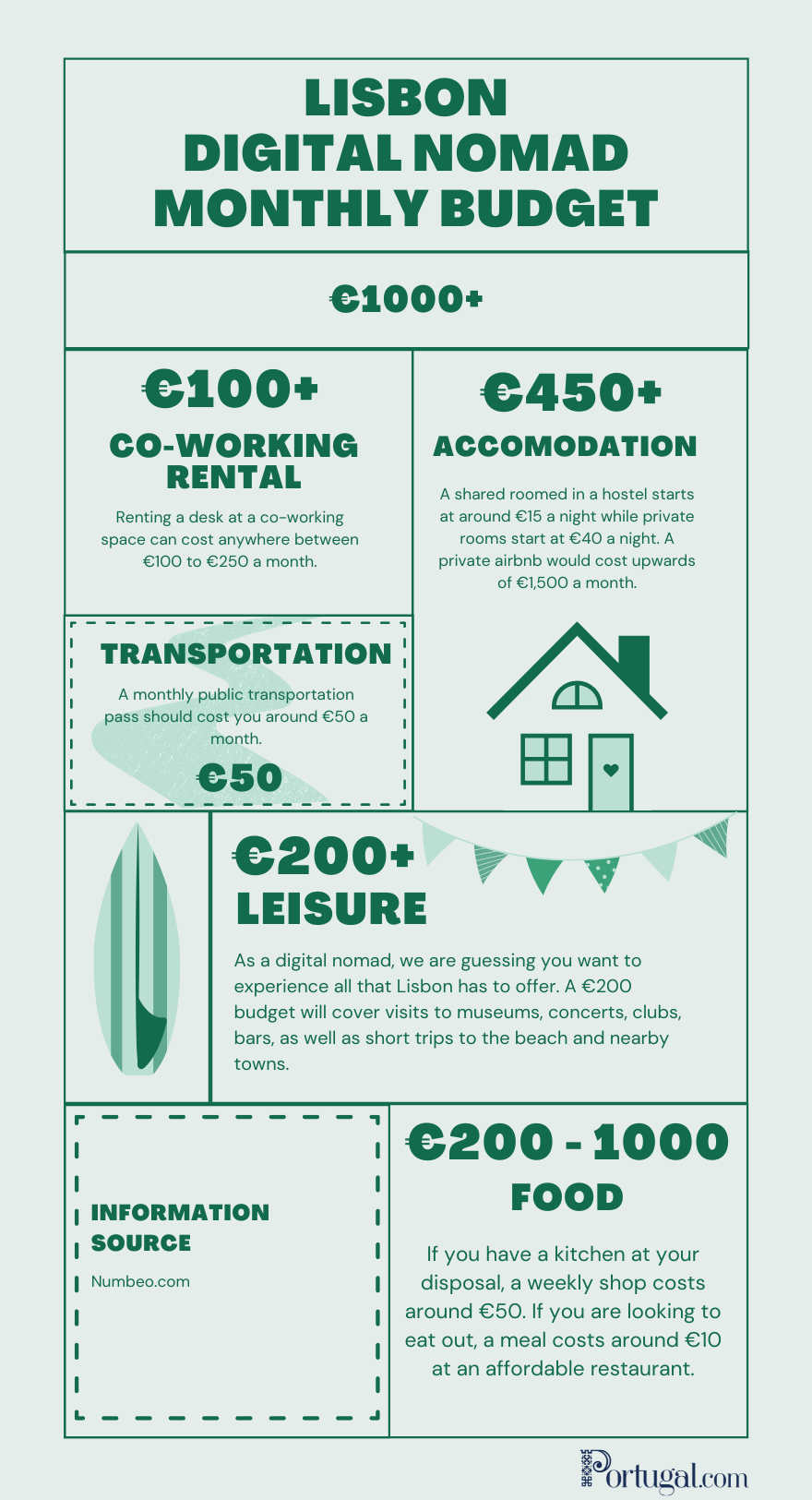 Monthly Budget: Cost of Living in Lisbon
Digital Nomad in Lisbon: Where to Stay
Where to stay as a digital nomad in Lisbon will depend heavily on your budget, timeframe, and lifestyle. Are you looking for privacy? Are you staying more long-term or just a few weeks? Let's take a look at your options.
Digital Nomad Hostels Lisbon
A hostel is often a top contender for digital nomads looking to socialize while living comfortably. You have all the amenities you need, such as a shared kitchen and often a coworking space. If you are on a strict budget, you can book a bed in a shared dormitory that will usually cost you around €15 a night.
Alternatively, if privacy is key, you can book a private room in a hostel starting at €40 a night. You will often need to share a bathroom, but not always.
Here are some of our favorite hostels in Lisbon for digital nomads:
Yes! Lisbon Hotel: Located in the heart of the city in Chiado, this youth hostel won the best "Hostel in the World" in 2019. You are very close to the best places in the city, like Alfama and Bairro Alto. The hostel offers everything you need from a lounge room for socializing, 24-hour reception and security services, laundry facilities, and even a PlayStation and book exchange service.
Urban Garden Hostel: Lisbon's first eco-hostel, Urban Garden wants to minimize its environmental footprint through "green initiatives". The hostel has an extensive recycling program, dual flush toilets, only use recycled paper products, and more.
Selena Secret Garden: The hostel also has a rooftop deck, pool, Coworking space for professionals, and a movie room. They also have weekly programs with activities such as yoga, meditation, and Portuguese lessons.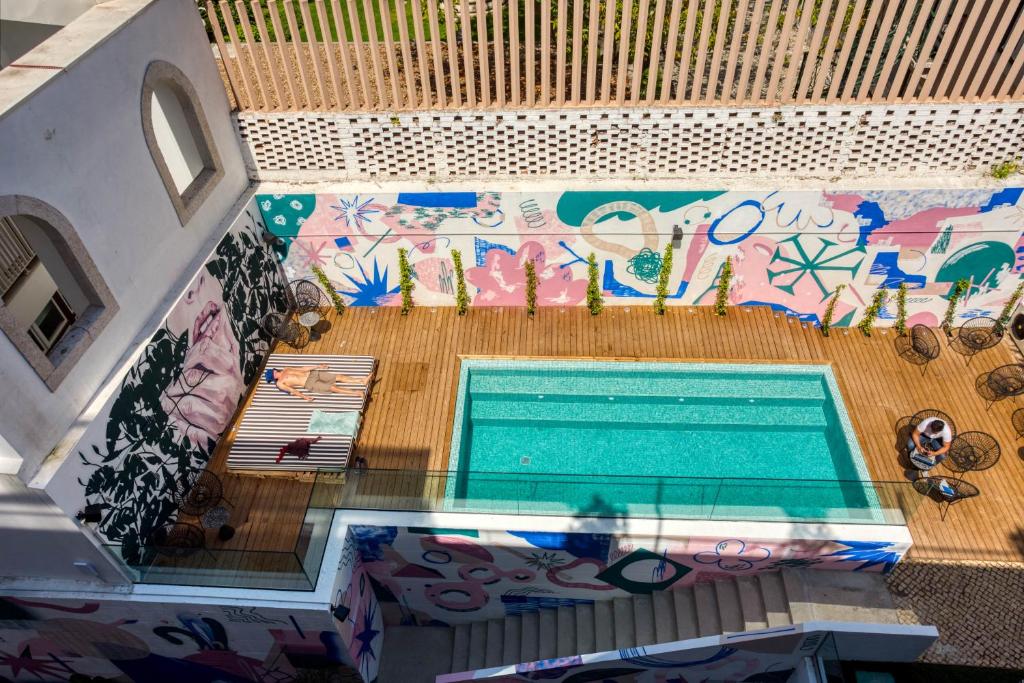 Medium-Term Apartment Rentals
If you are looking to stay between 1 to 6 months in Lisbon, there are plenty of apartment options for medium-term rentals that are reasonably priced. Airbnb is mostly used for shorter-term rentals, although they have beautiful apartments offered in Lisbon. Still, some hosts offer discounted prices if you stay for over a month.
However, other platforms focus more on medium-term apartment rentals. For example, Housing Anywhere and Flatio offer longer stays between 1 to 6 months. These. tend to offer better pricing.
Renting an Apartment – 6 months +
Renting an apartment with a landlord is also possible if you stay for at least six months. Usually, landlords won't rent you an apartment for less than six months, but this will depend on how much you are willing to pay. Even finding an apartment for six months can be difficult, but it is possible.
Keep in mind that Lisbon is the most expensive place to rent a house in Portugal. In June 2022, the price of renting in Lisbon is €14.50 per m2. An 80 m2 apartment could cost around €1,160 in the Lisbon district. However, this will be cheaper than renting a short-term apartment.
Most landlords require expats and digital nomads to have a Portuguese guarantor, known as a fiador. If you cannot find one, you will be asked to pay rent upfront, usually 6 to 12 months.
Guide to Renting an Apartment in Lisbon
Coworking in Lisbon: 3 Best Coworking Spaces in Lisbon
If you're not staying at a hostel with a coworking space or do not have a comfortable office at your apartment, there are plenty of other places to work in Lisbon. In the last five years, several coworking spaces have been opening, costing anywhere between €100 and €250 a month. Here are our three favorite coworking spaces in Lisbon:
1. Second Home
Located in Mercado da Ribeira, Second Home is a large coworking space with green plants and high ceilings. This place believes that being in a green space surrounded by nature nurtures people's well-being. Second Home's amenities include fiber-optic broadband, unlimited printings, full-time reception, mailing, and registered address, as well as free coffee.
This place is very diverse, with half of its community being Portuguese and the other half from 23 different countries. You can also purchase extras such as access to showers, 5 days a month access to Second Homes in London and LA, daily cleaning, and more.
A hot desk here costs €235 + VAT, including access to all services. For a private office full of plants and natural light, this costs €365 + VAT.
2. Impact Hub
Located in Alcantra, Impact Hub offers an inspiring coworking space in the heart of Lisbon. This space offers multiple meeting rooms, call booths, and more. This place is more than just a coworking space, offering a place to connect with innovators and organize community activities.
They offer a variety of memberships:
Digital: This virtual membership gives you access to local and global communities plus business benefits such as registering your company in their location for €35 + VAT.
Connect: A flexible seat in a shared desk once a week for €50 + VAT a month.
Flexible: A flexible seat twice a week in a shared desk for €100 + VAT a month.
Fixed: A dedicated seat in a fixed desk where you can keep your equipment and your own economic chair for €200 + VAT.
3. Village Underground Lisboa
Village Underground is located near Lx Factory with 14 refurbished metal shipping containers for a trendy feel. More than a coworking space, you can rent these for a lab, store, office, and more. This place gives you access to some of the best Lisbon networking, workshops, exhibitions, and regular parties.
Unlike other spaces, you have 24/7 access to work flexibility, as well as air conditioning and supersonic fast internet. Prices start at €18 per day, €150 per month for a shared container, or €600 per month for a private container.
What to Do in Lisbon: 5 Things to Do in Lisbon for Digital Nomads
Lisbon has a variety of activities for digital nomads to enjoy, from monuments to wine tastings at a range of prices to accommodate all visitors. Here are our five top things to do in Lisbon:
1. Relax on wonderful beaches near Lisbon
It is rare to find a cosmopolitan city that is so close to the beach. Lisbon is only 15 minutes away from the sea, and you can get there by public transportation. And you won't be going to just any beaches, Lisbon has some of the best European beaches, perfect for a city break.
Costa da Caparica is only 20 minutes away, an area with some of the best beaches in Greater Lisbon. Another alternative is going to Cascais or Sintra, where there are fewer busy beaches with loads of space.
Here are our favorite beaches near Lisbon:
Praia da Cornélia (Costa da Caparica)
Praia da Mata (Costa da Caparica)
Praia do Guincho (Cascais)
Praia da Adraga (Sintra)
Praia do Magoito (Sintra)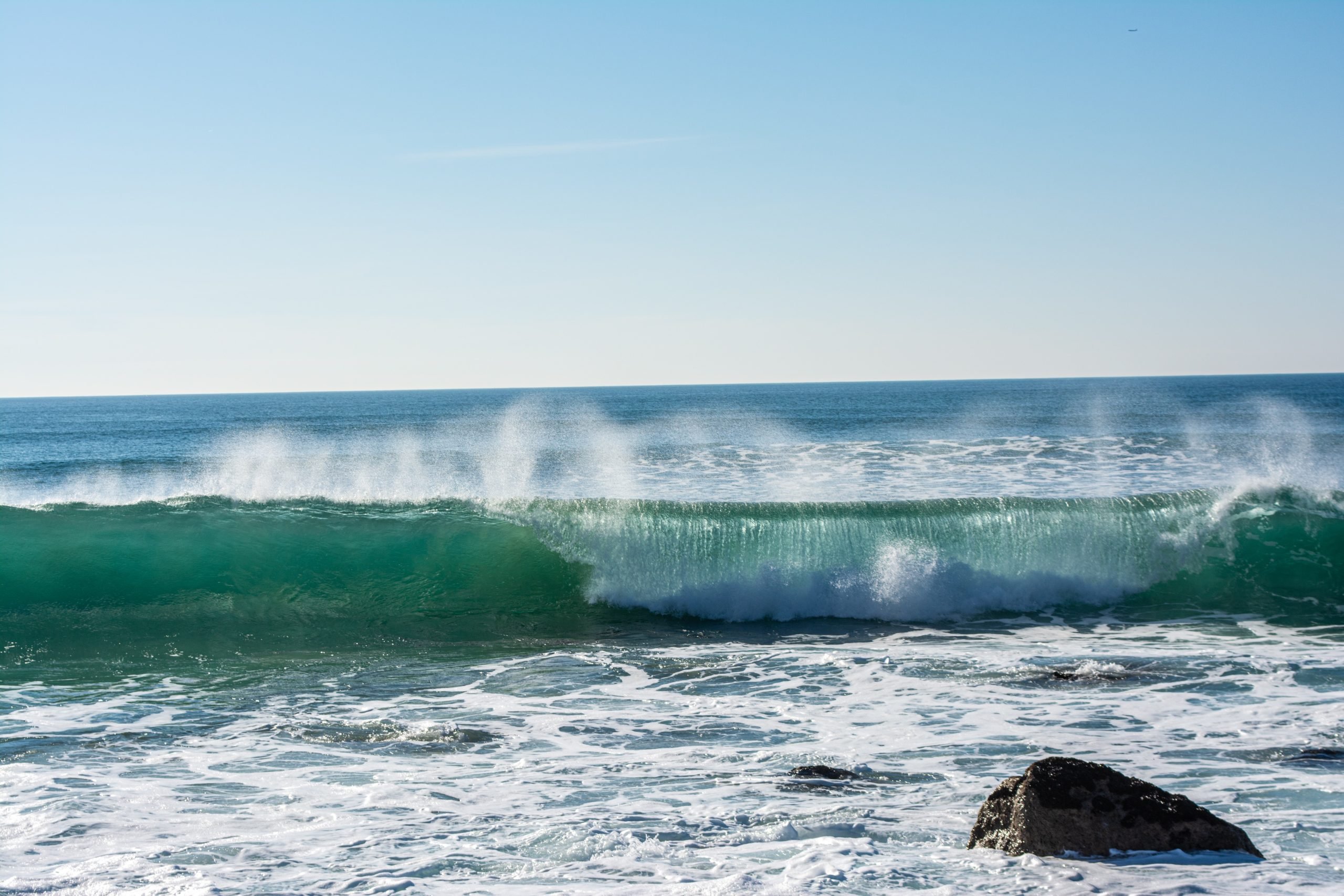 2. Taste delicious Portuguese cuisine in Lisbon restaurants
Lisbon's food scene is renowned all over Europe. If you visit the capital, you must explore traditional restaurants called tascas (taverns). These provide a relaxing environment where you can try out some cheap traditional Portuguese food for anywhere between €10 and €15. Our favorite tascas are Zé dos Cornos, 1 de Maio, and Alfaia.
We recommend ordering the following:
Sardinhas (sardines)
Frango de churrasco piri-piri (piri-piri chicken)
Bacalhau (codfish)
Polvo à la lagareiro (octopus)
Bitoque (thin steak)
Secretos de porco preto (Iberico pig)
Caldo verde (green soup)
Cozido à portuguesa (meat stew)
Pastel de nata (custard tart)
Baba de camelo (camel drool or condensed milk mousse)
Arroz doce (rice pudding)
Bolo de bolacha (portuguese biscuit cake)
Bifana (pork sandwich)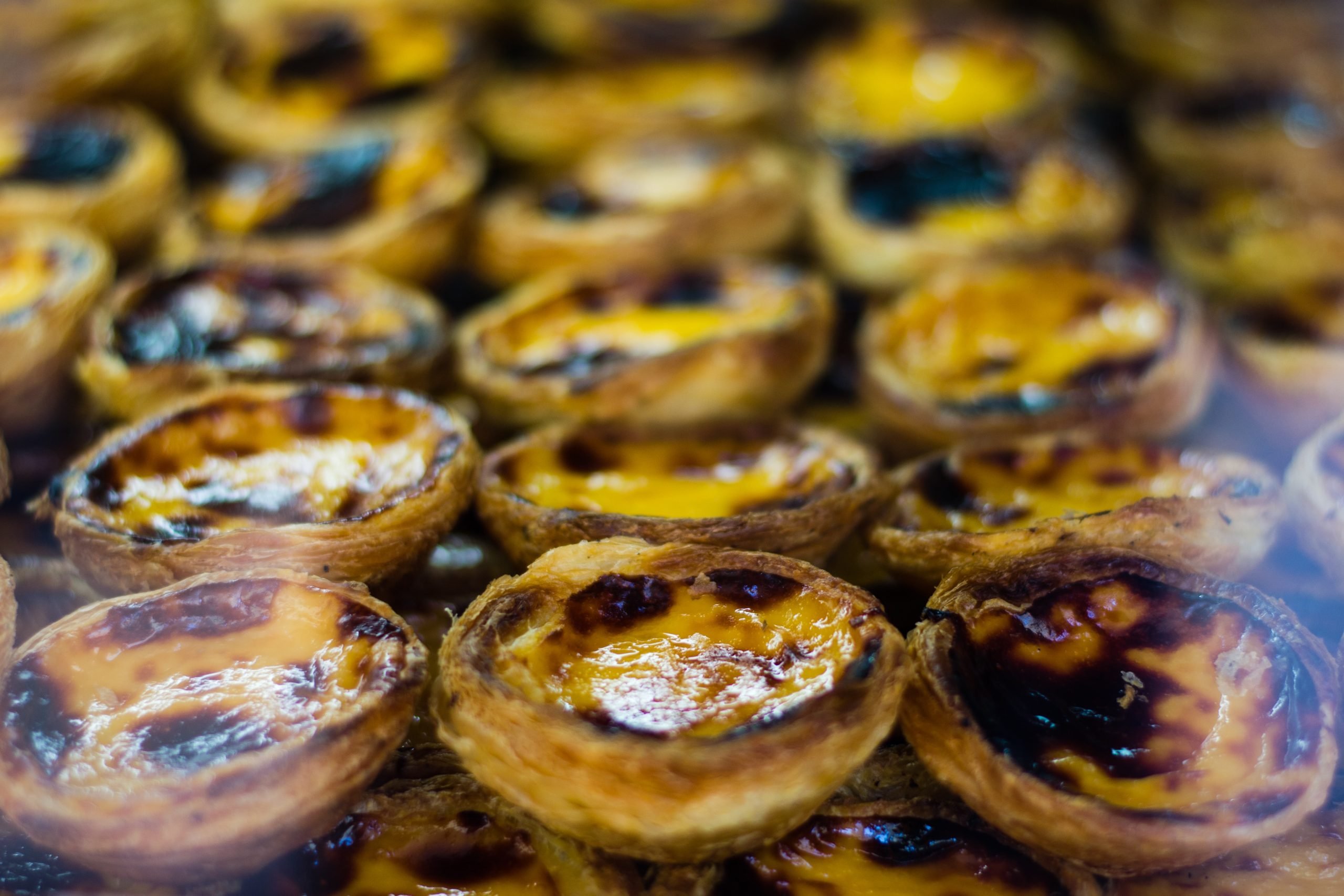 3. Day trips to Sintra and Cascais from Lisbon
One of the best things about Lisbon is its proximity to nearby cities and towns that are perfect for a day trip. Our favorites are Sintra and Cascais.
Sintra is a UNESCO World Heritage Site, only a 30-minute drive from Lisbon or a 45-minute train from Oriente station (around €2). Sintra is a hidden gem in Portugal, filled with greenery and palaces that once belonged to royalty.
One of the most iconic palaces in Portugal, Pena Palance is located in Sintra. The palace is designed in a romanticist style, painted in multiple colors to make you feel like you are witnessing a fairytale. Purchase your entrance ticket here to skip the line, with a free cancellation option.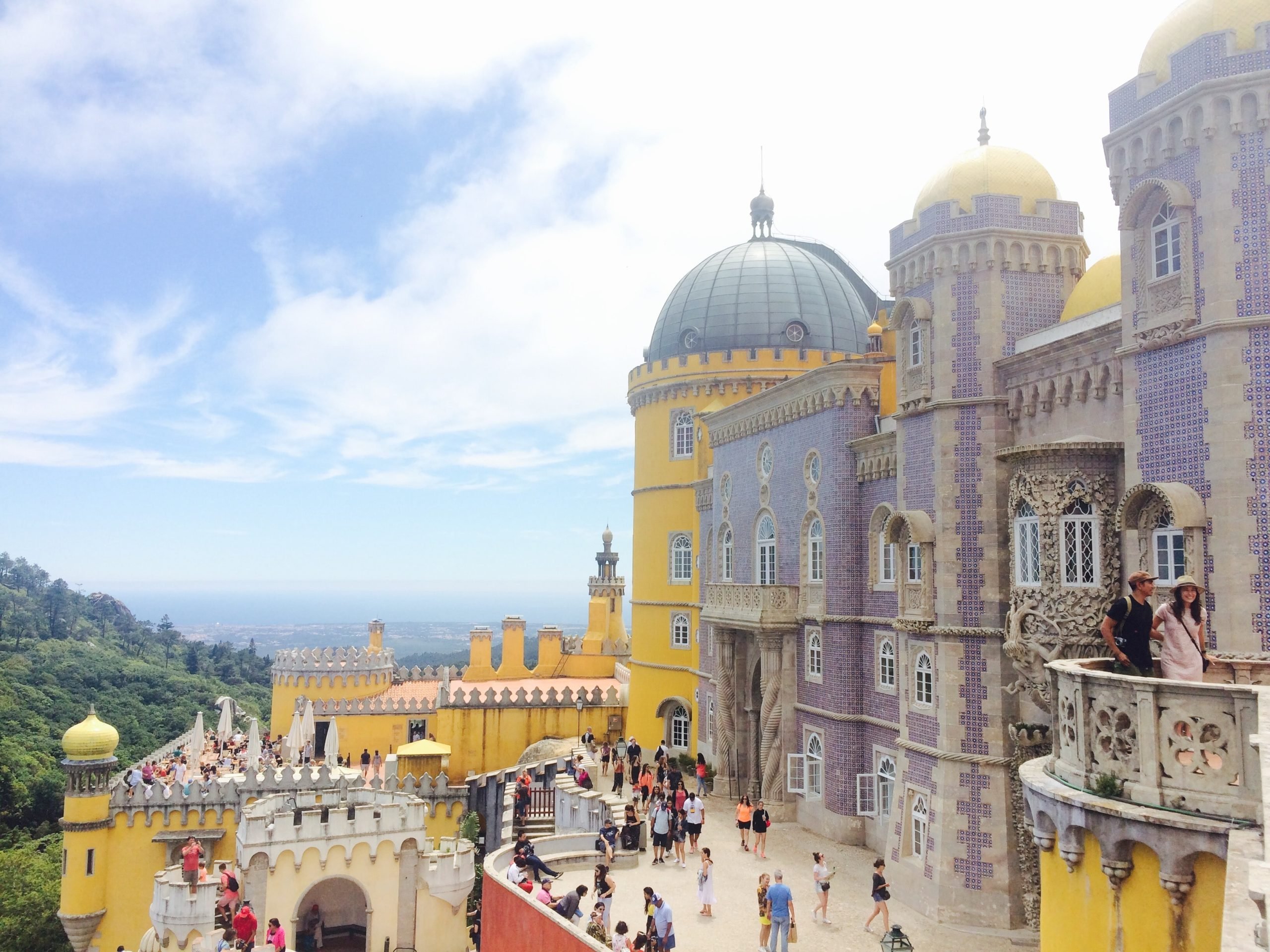 Cascais is located on the Portuguese Riviera, around a 40-minute train ride from Lisbon. It is one of the richest municipalities in Portugal, known for its luxurious restaurants, hotels, and inviting beaches.
We recommend taking the train to enjoy a view of the ocean as you travel toward Cascais. Stop in the station Estoril before Cascais to visit the largest casino in Europe. When you arrive in Cascais, we recommend exploring the City Hall, the bay, and the Citadel of Cascais.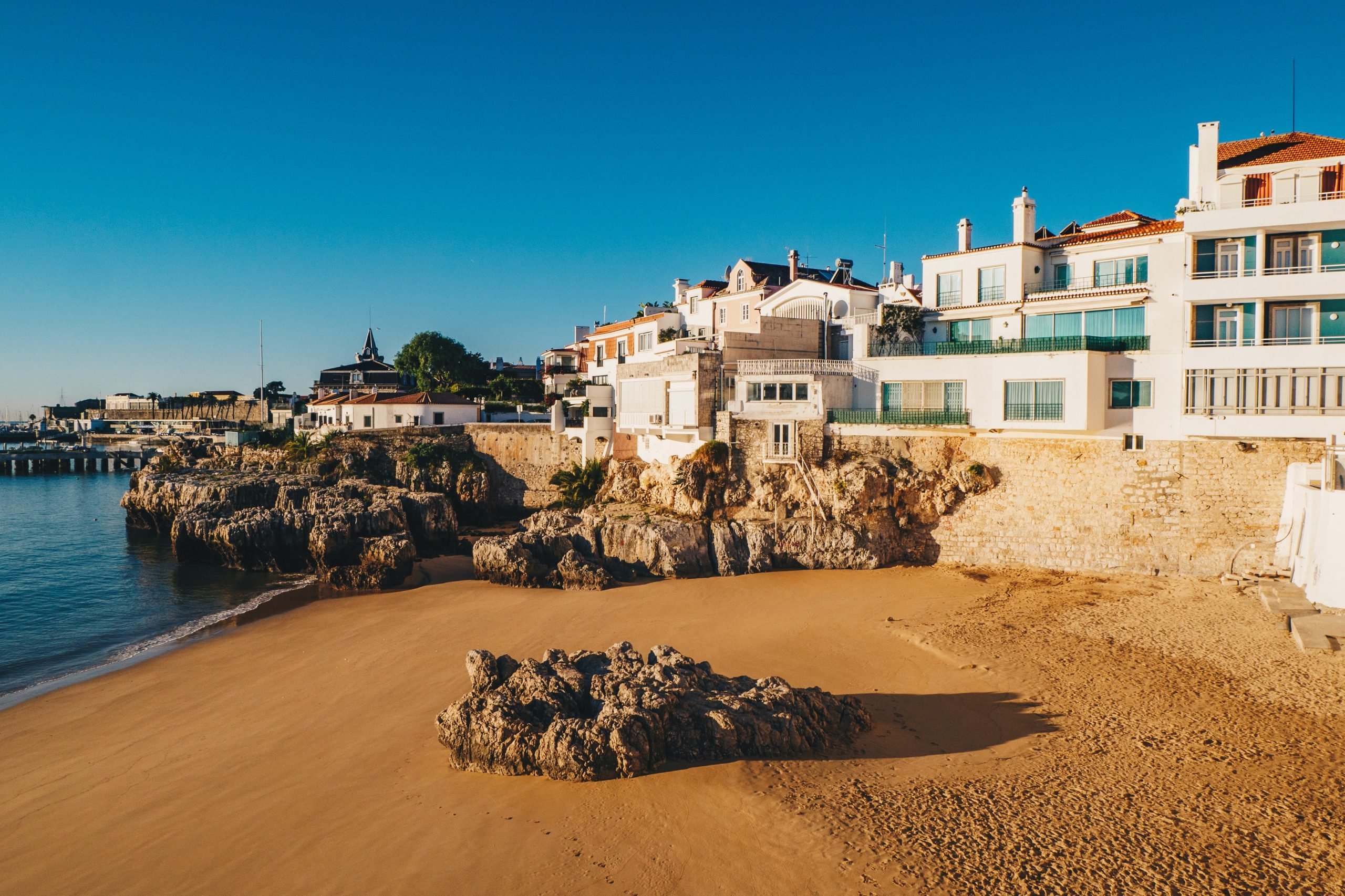 4. Enjoy panoramic views from Lisbon's viewpoints
They say the best things in life are free, and Lisbon's miradouros agree. Miradouros are city lookout points where you get beautiful panoramic views of Lisbon. You'll always find people listening to music and drinking beer on the hundreds of miradouros in the city. Grab a bottle of wine and some cheese to enjoy the sunset.
You'll also find some small kiosks that sell drinks and coffee next to miradouros. Wondering which miradouros have the best views and environment? Our favorite lookout spots are Miradouro de Santa Luzia in Alfama, Miradouro da Graça, and Miradouro de Santa Catarina.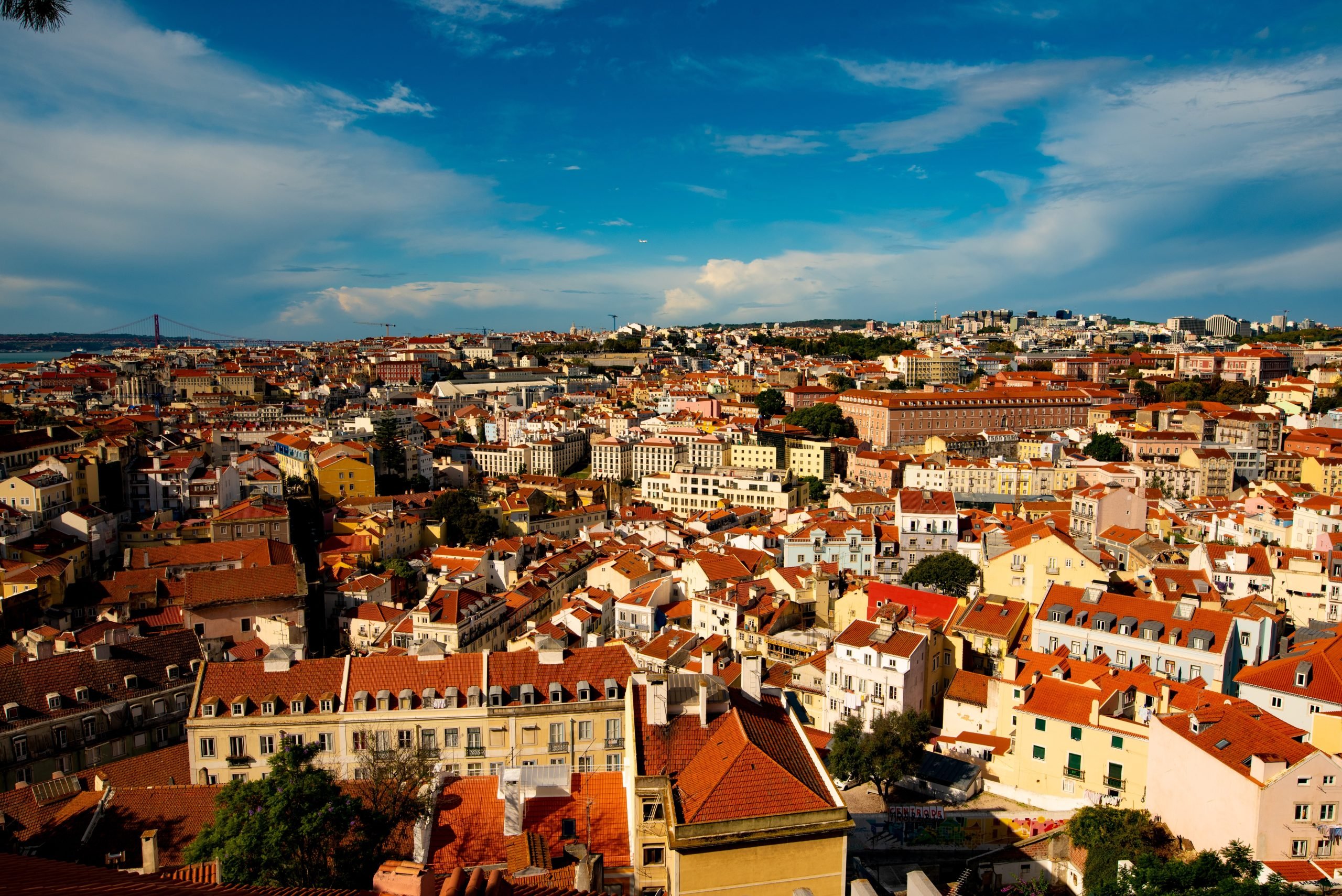 5. Tram 28 – A Scenic Route of Lisbon
One of the best ways to see Lisbon is the number 28 tram. Although the tram is a public transport service, due to the places it rides through, think of it as an affordable tourist tour.
This tram line connects Martim Moniz with Campo do Ourique. The tram stops in popular tourist districts such as Alfama, Baixa, Estrela, and grace.
In a traditional yellow tram, you will ride a scenic route through Lisbon's narrow and steep streets, the perfect morning in Lisbon.
We recommend riding the train early in the morning to avoid crowds. Make sure to beware of pickpocketers!