From affordable hostels, boutique hotels, and luxurious 5-star hotels, Porto has a bed for everyone. But first, what are the best locations to look for accommodation in Porto?
According to locals, the best locations are in Center-Baixa, Ribeira, Cedofeita, and Bonfim. All of these are within walking distance from the main hotspots in the city and have accommodation for everyone's budget.
So where should you stay in Porto? We have got you covered – regardless of your budget and whether you need to save money! From affordable hostels to 5-star hotels, the city has a lot to offer. Let's take a look at the 13 best hotels in Porto at different price points.
Low-cost Hotels in Porto, Portugal
Wanna save your money for "francesinhas" and Port wine? You're in luck! There are many budget options in Porto that won't hurt your wallet.
The prices for low-cost accommodation in Porto can range anywhere from €10 to €30 a night for a bed for one person.
Here are five great options for low-cost accommodation in Porto that won't make you feel like you're cheating out.
Located inside the S. Bento train station, this trendy hostel is the perfect spot for a tourist who wants to stay on the move. This hotel has amazing facilities: a bar, living room with TV, lounge area, a trendy interior garden, laundry room, huge communal kitchen, as well as a clock tower room for events.
You can reach the Douro Riverside within a 15-minute walk and the main shopping areas are 5 minutes away. The Passenger Hotel is part of Booking's Travel Sustainable program, meaning they take steps to make sure the hostel is green-friendly.
A bed in a dorm room will cost you around €18-€25, not the cheapest option out there but the location and amenities pay off. You can also get a private room starting at €55. Breakfast is included!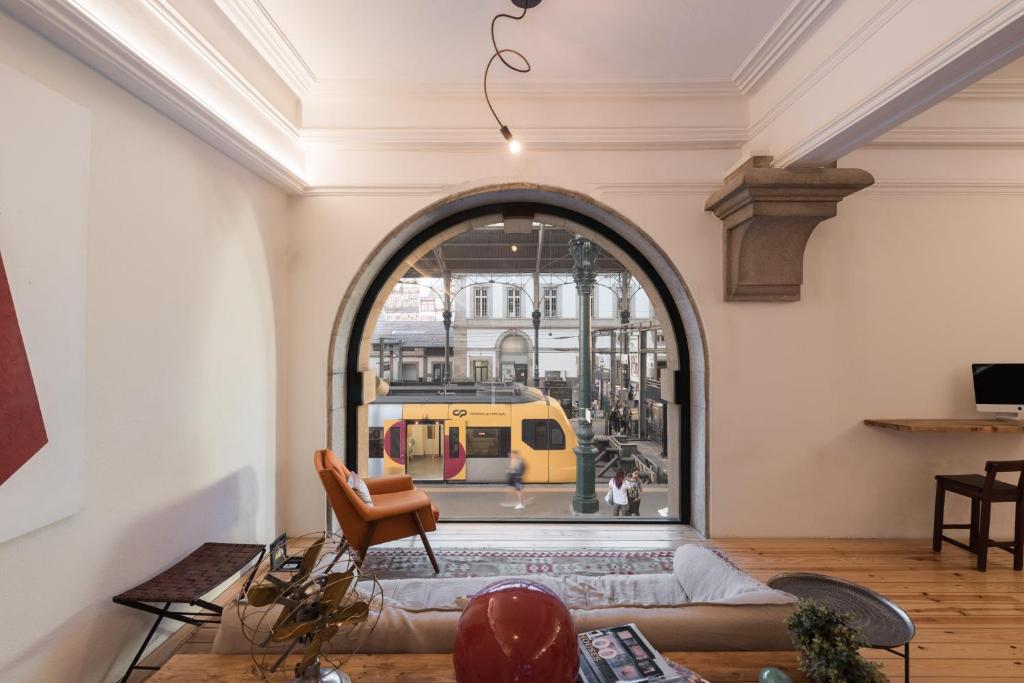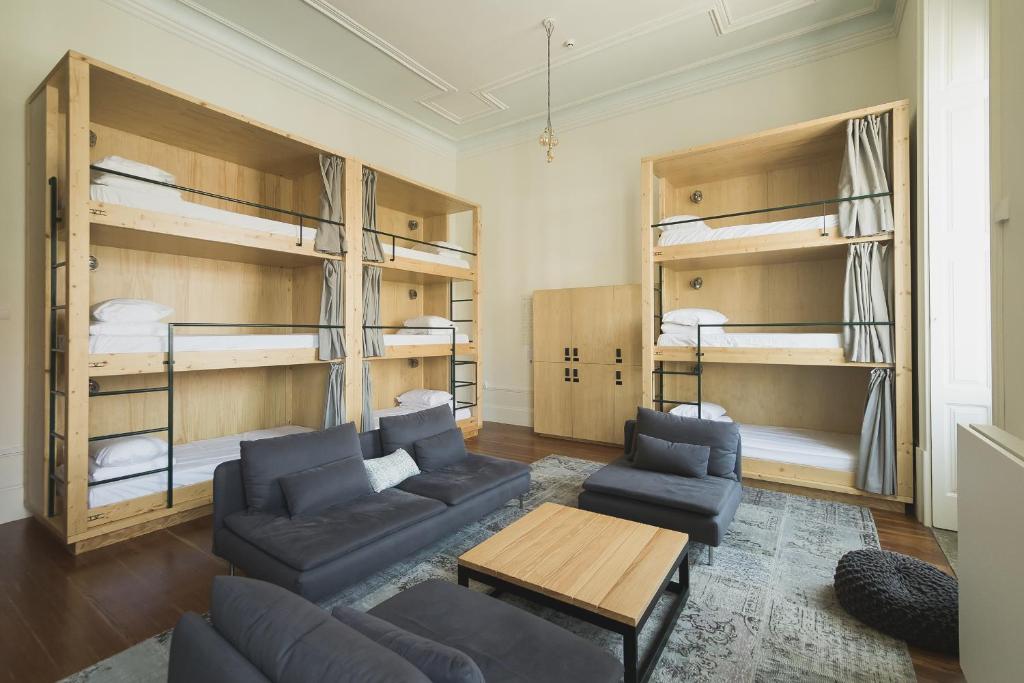 Decorate in a Porto-style hotel, the Gallery Hostel is located in the art quarter of Bombarda Street. The building is the former headquarters of the University of Porto newspaper and every room has art from Porto artists. This hostel is a 10-minute walk from the iconic Clérigos Tower.
The Gallery Hostel restaurant provides guests with a large continental breakfast and Portuguese restaurants with a gourmet twist. They also have a café on the terrace where you can enjoy some wine. The hostel has a lounge with boarding games, books, and computers with free internet access. Better yet – the hostel offers free walking tours of Porto for free.
The hostel is also socially responsible, they support a homeless people project called "Missão Sem Abrigo", as well as one for the planet "we care- responsible planet".
You can get a private room starting at €70. However, if you are looking to save money and like the social aspect of a dormitory, you can book a bed for €20 with a free breakfast.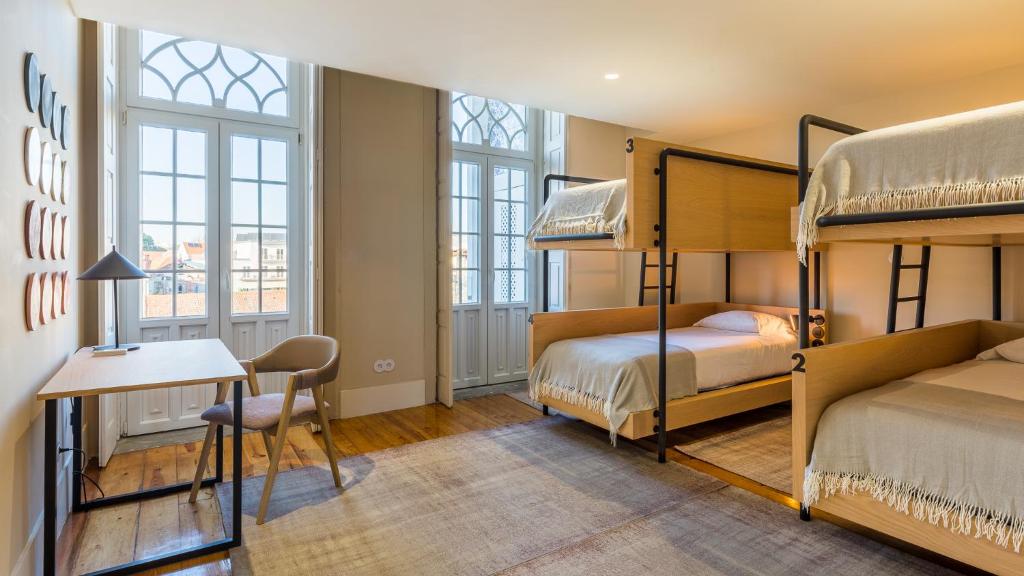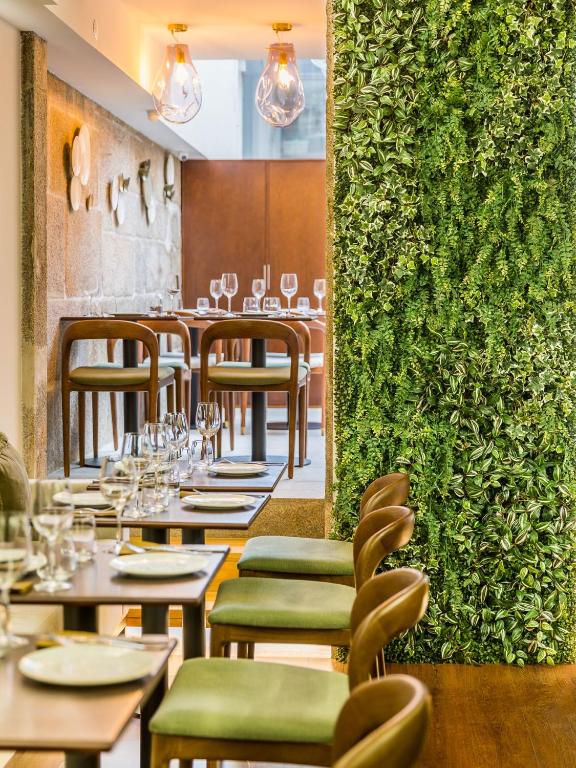 Hostel One Ribeira has incredible facilities: a large communal kitchen, 3 common areas for socializing and working, laundry facilities, and 24/7 reception. They also offer free activities like free group dinners, free day activities for exploring main attractions, and free night activities for exploring the nightlife.
A bed in a dorm room will cost you around €15 You can also get a private room starting at €75.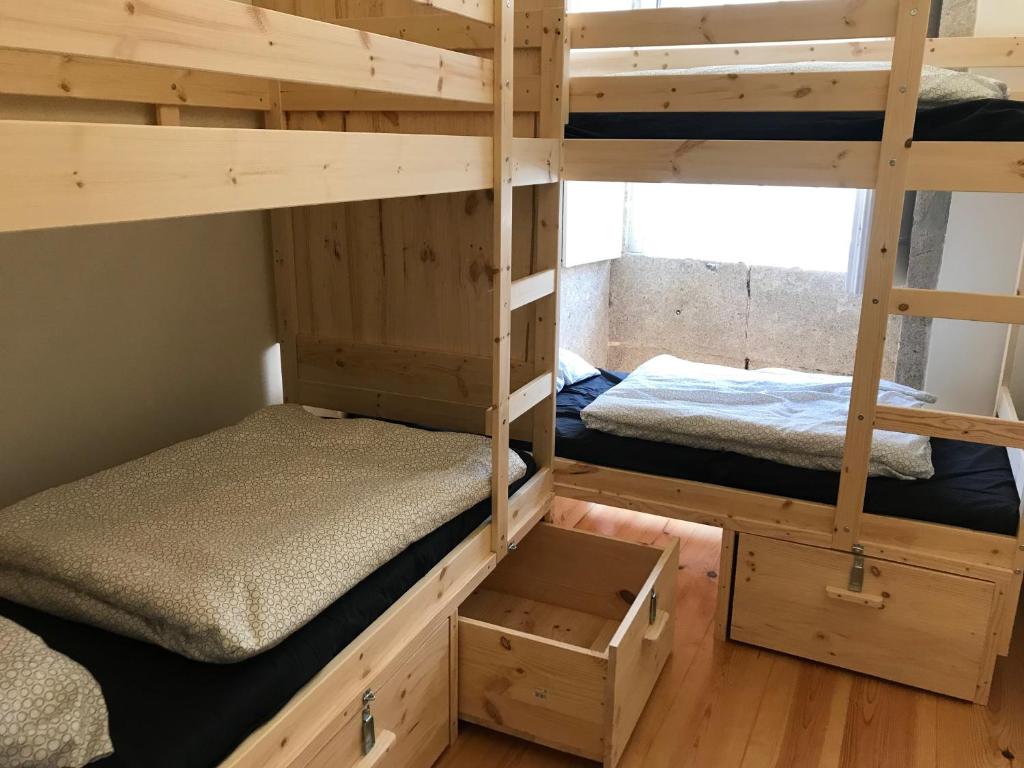 This hostel is located in the center of Porto and has everything you need. From a lounge area for chilling out, a library, an on-site cocktail bar, and a communal kitchen, the facilities are great. The Aliados metro stating is a 3-minute walk away, one of the most central places in the city of Porto. They also offer a Happy Hour where you can get beer for 50% off, free events at the hostel, and free walking tours.
A bed in a dorm room will cost you around €20. You can also get a private room starting at €60. Breakfast here is not included but only costs € €2.50 per day.
Owned by two brothers from Porto, this hostel is meant to feel like a home. This hostel is 500 meters away from São Bento train and metro station and a short walk away from Aliados Avenue, the Dom Luis I Bridge, and the Ribeira district. Being Port has a large communal kitchen and a dining area with exposed stone walls, very authentic Portuguese.
A bed in a dorm room will cost you around €20. You can also get a private room starting at €55.
Free breakfast included!
Mid-range Hotels in Porto, Portugal
Not into the hostel backpacker vibe? No worries, there are many affordable mid-range accommodation options in Porto.
Prices range from around €60 to €120 a night for a double bedroom. Let's take a look at our top 5 favorites.
This four-star hotel feels like its five stars. It has a 70 cm deep outdoor people, a spa a few meters away, and a gym. NH Jardim is also committed to sustainable practices – we love to see it. It is located within walking distance of main attractions like Bolhão market, Aliados Avenue, and Ribeira. If you have a dog or cat, this hotel is pet-friendly.
A double room here will cost you between €100 to €120.
Vila Gale is a well-known chain of hotels in Portugal and is always a safe option. This one was built in 1999 and recently renovated. The four-star hotel's decoration is inspired by cinema and has photographs of iconic movie scenes and actors. The hotel has a spa with an indoor pool, a gym, a restaurant, and two bars.
A standard double room here will cost you between €80 to €120. They have larger rooms that go up to €190.
Located in the old town, this modern 4-star hotel has a sun terrace with views of the city of Porto, the perfect place to enjoy some port wine. You'll be close to everything you need, Santa Catarina street, Aliados Avenue, and the cathedral. The hotel offers unique and affordable experiences, like driving your own plane (A320) over Porto for €30 and boat trips on the river for €15. The hotel is also close to the best restaurants like Cúmplice Steakhouse & Bar.
A double bedroom starts at 60€ and prices go up to €90 – €100.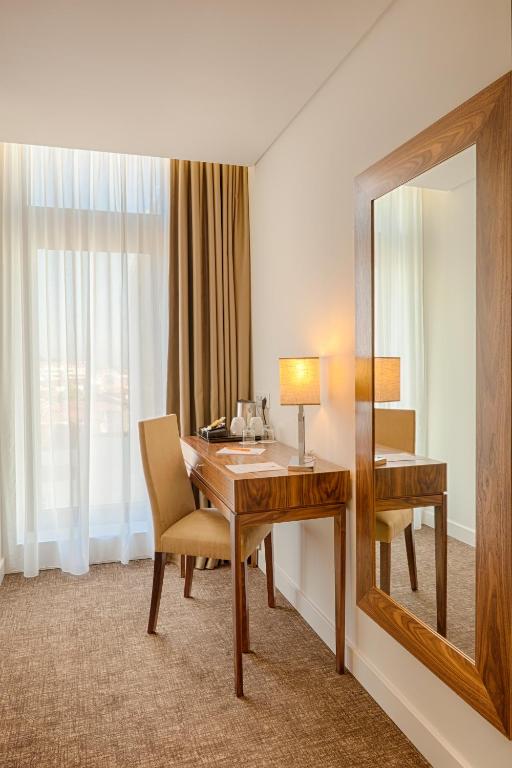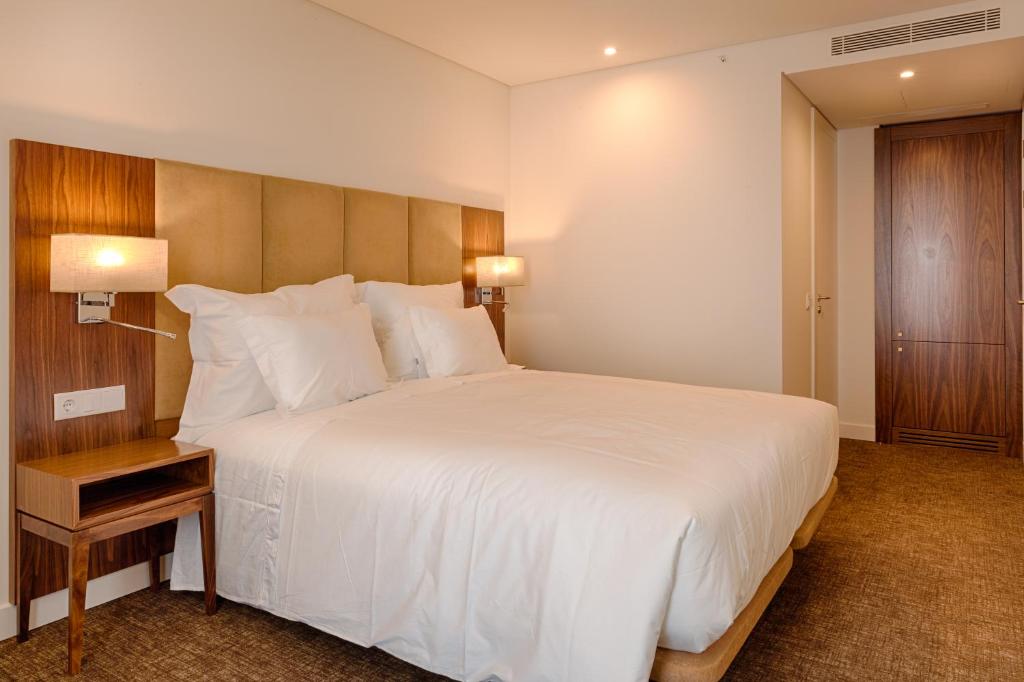 You don't always need to say super central. Hotel Cristal is a 20-minute walk away from the center or a 10-minute bus ride. The best part about this boutique hotel is not just the funky blue decor, but that it has a relaxing garden. They also have a bar called "Porto Ruby" where you can have a Port wine tasting and the restaurant "Cristal" that has space for over 100 people
They have single bedrooms for €60 and double bedrooms for €75. Hotel Cristal also offers a suite with a landmark view and balcony for €120.
This hotel mixes the modern with rustic and has a real-life tree inside the restaurant, "O Sítio Esquecido" (the forgotten place). Mercure Porto has a restaurant, pool, and sun terrace: it feels like a retreat away from the city. One of the best locations for a hotel, you'll be a few minutes away from the hotspots.
Prices for a double room range between €80 and €120 a night including breakfast.
Luxury Hotels in Porto, Portugal: What are the best hotels in Porto?
The luxurious side of Porto is one that most don't experience, but it is probably one of the top places to splurge in Europe. From renovated palaces to elaborate buildings, Porto's five-star hotels will make you feel like royalty.
Prices for luxury accommodation in Porto can start at €200 and go up to thousands a night, particularly during peak season.
Take a look at our three favorite 5-star hotels in Porto, the best hotels in the city of Porto.
This might be considered cheating but the best luxury hotel isn't really in Porto – it's 15 minutes away, crossing the bridge in Vila Nova de Gaia. You get a full view of Porto across the Douro river. Especially at night, this view is magazine-worthy. Have a meal and some Portuguese wine at the 2 Michelin awarded Yeatman Restaurant that serves Portuguese dishes.
The hotel has a luxury spa offering panoramic views of the city. Each double bedroom comes with a private terrace. The bathrooms have a large bathtub, shower and come with Caudalie skincare products – wow.
If you stay here, use a car service like Uber or car rental to go into Porto. It's worth it.
Rooms here start at €250 a night and can go up to €2,500 for the presidential suite.
Located in a historic building from 1923, this 5-star hotel has two restaurants, a bar, a Spa, and a large indoor pool. Situated in the iconic Aliados Avenue, Monumental Palace is a 6-minute walk away from Clerigos Tower and the Livraria Lello. Dom Luis Bridge is only a 10-minute walk away. The hotel has 63 rooms and 13 suites for those looking to splurge, as well as a traditional library where you can sit by the fireplace and relax. The hotel has two Michelin start restaurants: Le Monument and Yakuza Porto by Olivier. The latter is a famous Japanese restaurant with Brazilian influences by Chef Olivier that is well known in all of Portugal. Expect to pay over €100 for a meal for one person.
Rooms start at €200 and can go up to €1,000 for a larger suite.
This 5-star hotel by InterContinental is located in the former Palácio das Cardosas, an eighteenth-century palace. Located at the famous Praça da Liberdade, it has a view of the whole Aliados Avenue. Looking for a luxurious weekend away? This hotel has everything you need. From a spa with three treatment rooms and a sauna to a 24-hour fitness center. InterContinental also houses the Restaurant Astoria by Chef Tiago Sales. The menu is inspired by modern Portuguese cuisine. The hotel is close to all the attractions so no need to take transportation to get around.
Rooms start at €210 and can go up to €900 for a larger suite.
Join our FB group Portugal Travel & Living for all things Portugal and visa updates