While Lisbon is more known for its fashion, Porto has a wide variety of stores for shopping lovers to explore. From high-end brands, mainstream Inditex brands, and vintage and sustainable stores, Porto has a lot to offer. This shopping guide to Porto has everything you need to know so you are ready for your next fashion spree, such as the best shopping malls and shopping streets.
Best Shopping Malls in Porto
Alameda Shopping
Founded in 2005, Alameda Shopping hosts around 121 stores over 5 floors and 38,427 square meters. Located next to the Estadio do Dragao, the shopping features a large Continente hypermarket and brands such as Sportzone, Intimissi, Zara, Massimo Dutti, H&M, and more. Alameda Shopping also features a seven-screen NOS cinema.
Shopping Cidade do Porto
Shopping Cidade do Porto is located next to major cultural and touristic references and hosts over 5 million visitors a year. The shopping features hundreds of stores from fashion to food, as well as a large supermarket. You can find multiple stores here including Mango, United Colors of Benetton, Intimissi, and more.
Peninsula Boutique Center
Located on Praca do Bom Sucesso, this smaller boutique center is a Porto style and fashion reference, with over 20 boutiques of various brands. The center also hosts fashion events, cultural initiatives, and wellbeing events. You can find stores such as Massimo Dutti, Bimba Y Lola, Carolina Herrera, Adolfo Dominguez, and more.
ViaCatarina Shopping
Located in the center of Porto, ViaCatarina shopping has over 95 shops throughout its 4 floors and 11500m2. The shopping mall features retail stores for fashion and home goods, as well as a food court and a rooftop restaurant. You can find stores such as Levi's, H&M, NewYorker, Jean Louis David, and more.
Best Shopping Streets in Porto
Rua de Santa Catarina
Rua de Santa Catarina is the most iconic shopping area in Porto. Beginning in Batalha square, ViaCatarina shopping is located on this main shopping street. The street is packed with fashion brands such as H&M, Footlocker, Springfield, Tezenis, and more.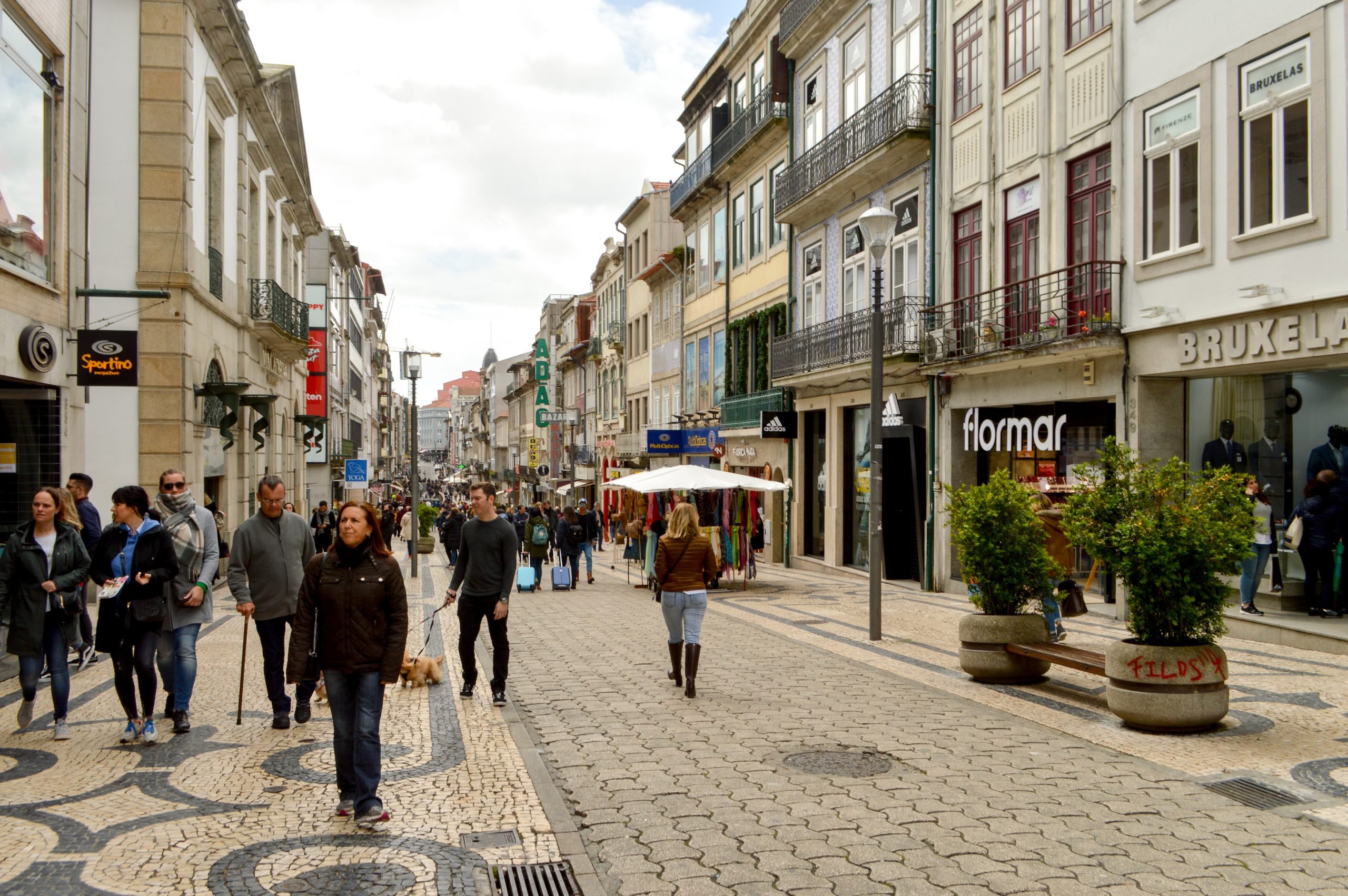 Avenida da Boavista
Avenida da Boavista is around 5 kilometers long, making it the longest avenue in Porto. The avenue is home to main attractions such as Casa da Musica and Fundacao Serralves, as well as a large concentration of stylist ateliers and high-end brands.
Rua de Cedofeita
Another famous shopping street, Rua de Cedofeita features several independent shops that you won't find in shopping malls. Extending over 800 meters, from Praca de Carlos Alberto to Rua de Boavista, the street features stores at Lefties, Me Allegro, and TeeLegend.
Second-Hand Shopping in Porto
3 Best Vintage Stores in Porto
1. Mao Esquerda Vintage
Founded by two women, Mao Esquerda Vintage sells vintage clothing from the 40s to the 80s. The store was founded through a passion to commit to environmental responsibility and fighting the impact of the textile and fashion industry. You can find trendy flower-print shirts and men's jean jackets for affordable prices.
2. Mon Pere Vintage
An affordable vintage store, Mon Pere Vintage often hosts weekend discounts where all products are 50% off or 1 euro each. This store has lovely vintage dressed, bathing suits, and an extensive Levi's selection, boasting popular brands for cheap prices.
3. Humana Vintage
Humana Vintage has stores all over the country, including one in Porto. The brand is committed to fighting climate change and 100% of the profits from the stores are donated to social causes. You can find a range of vintage pieces at Humana such as leather jackets, jeans, and vintage dresses.
3 Best Second-Hand Markets in Porto
1. Vandoma Flea Market
Vandoma Flea Market has been operating for decades and became regulated after 1984, making it completely legal. The market happens every Saturday in an area along the riverside. You can find loads of products here from vinyl records, clothes, and furniture.
2. The Urban Market
Located in Hard Club, a live music venue, Urban Market gathers creatives and designers from fashion, jewelry, art, ceramic, food, and music. Sometimes the market takes place in other locations so watch out for that, such as Praca das Cardosas, across the street from Sao Bento train station.
3. Mercadinho dos Clerigos
Located near the historical tower of Clerigos in the city center, Mercadinho dos Clreigos is a monthly market that hosts performances, as well as handmade products, food, flowers, and clothes, as well as bio and organic food products.
⬇️Please share your favorite places for shopping in Porto in the comments below ⬇️