Portuguese cuisine has a history that dates back to the 15th century, when Portugal was a major maritime power and played a significant role in global trade. Portuguese cuisine has been influenced throughout the centuries by a variety of cultures, including the Moors, Romans, Celts, and Phoenicians.
In all of its history, one of the most significant events in Portuguese cuisine was called the "Age of Discovery". Portuguese explorers traveled to Africa, Asia, and the Americas, and brought back new ingredients and spices that greatly influenced Portuguese cuisine. Some of these ingredients included tomatoes, potatoes, chili peppers, and various spices which are still used.
Today, Portuguese dishes still carry influences of Africa, Asia, and the Americas with a unique Portuguese twist. Let's take a look at the popular dishes in Portuguese cuisine you must try when you next visit Portugal.
11 Popular Dishes in Portuguese cuisine
1. Bacalhau (Codfish)
Oven-baked, with cream, à Brás, à Gomes de Sá, the options are endless. The Portuguese say that there are 1001 ways to cook cod, also known as bacalhau in Portugal. It is usually served in many ways, such as boiled, baked, or fried. It is often mixed with potatoes, onions, and olives, and is a perfect meal to enjoy with a glass of wine.
Interestingly enough, salted cod is not even caught on the Portuguese coast, but rather from Norway. The Portuguese consume over 100,000 tonnes of salted dried Norweigian cod, almost 10 kilograms per person every year.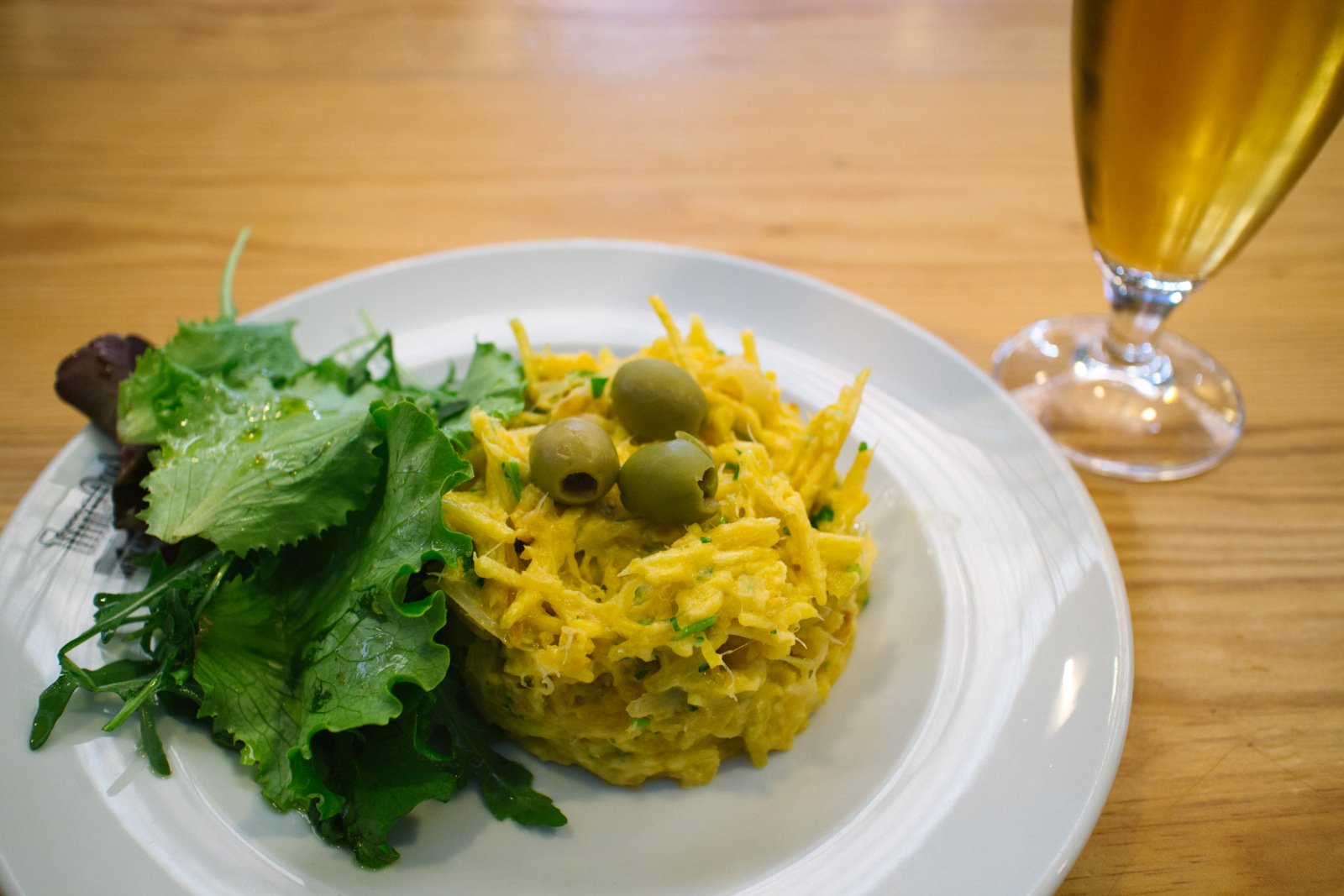 2. Francesinha
Francesinha translates to "little French," which gives away a piece of the story behind Porto's francesinha. In the 1950s, Daniel Silva was a Portuguese immigrant living in France. He was allegedly inspired by the French dish Croque Monsieur and brought its inspiration back to Porto.
Inspired by the French hot sandwich, Daniel adapted this dish into the francesinha by replacing its main ingredients with traditional Portuguese products. His francesinha was much simpler than the one seen today with bread and baked beef.
Today, you can get the best francesinhas in Porto, particularly in Cafe Santiago and Casa Guedes.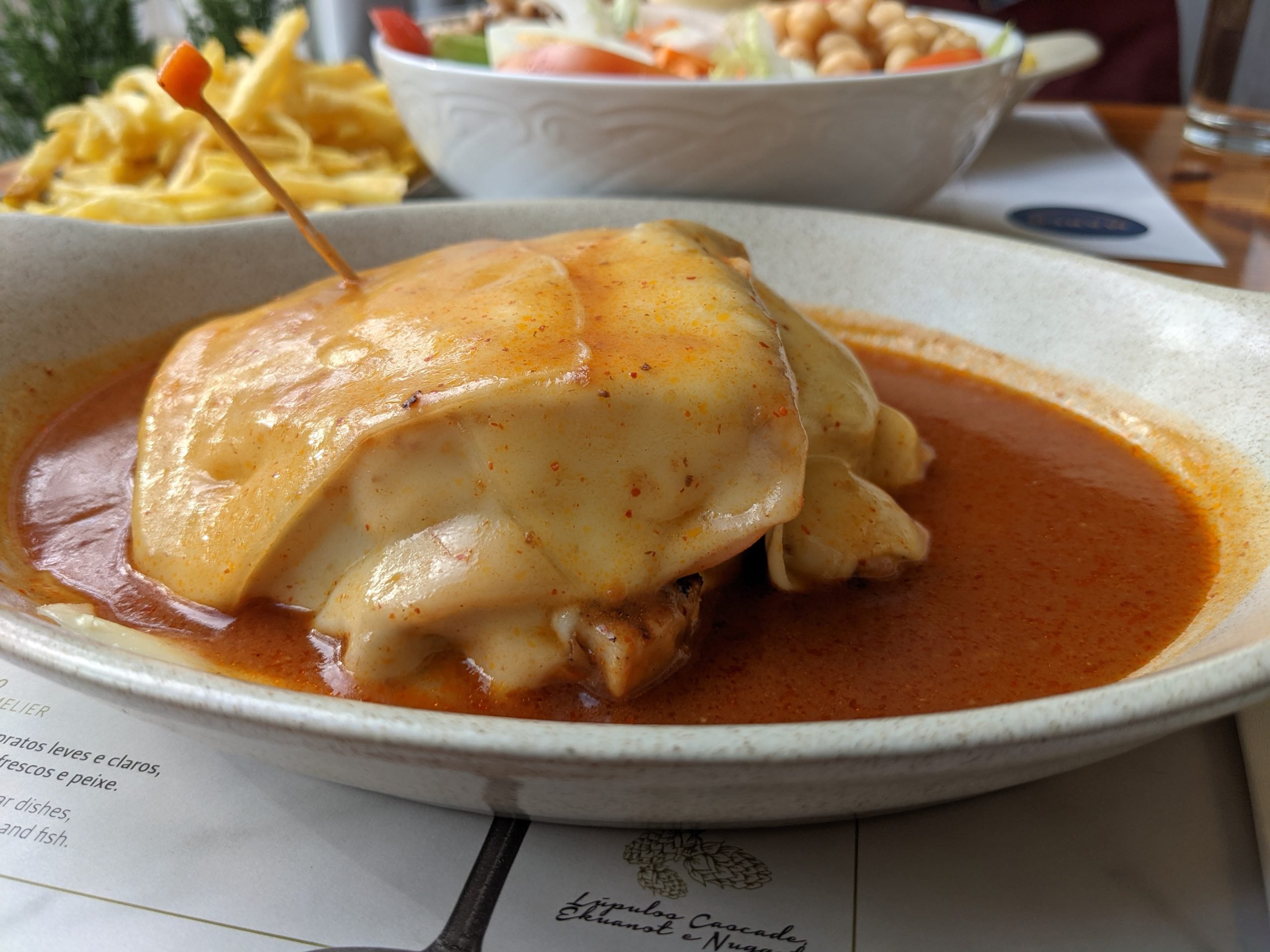 3. Pastel de Nata (Custard Tart)
The combination of caramelized custard, puff pastry, and cinnamon sprinkles has hooked many for life. Whether you have it for breakfast with an espresso or as a snack, the pastel de nata is a part of the daily life of the Portuguese and the tourists that visit Lisbon.
This delicacy was created before the 18th century by Catholic monks in the Jeronimos Monastery, a UNESCO World Heritage Site today. Today, you can find the original recipe at Pasteis de Belem, a cafe that sells over 20,000 tarts daily.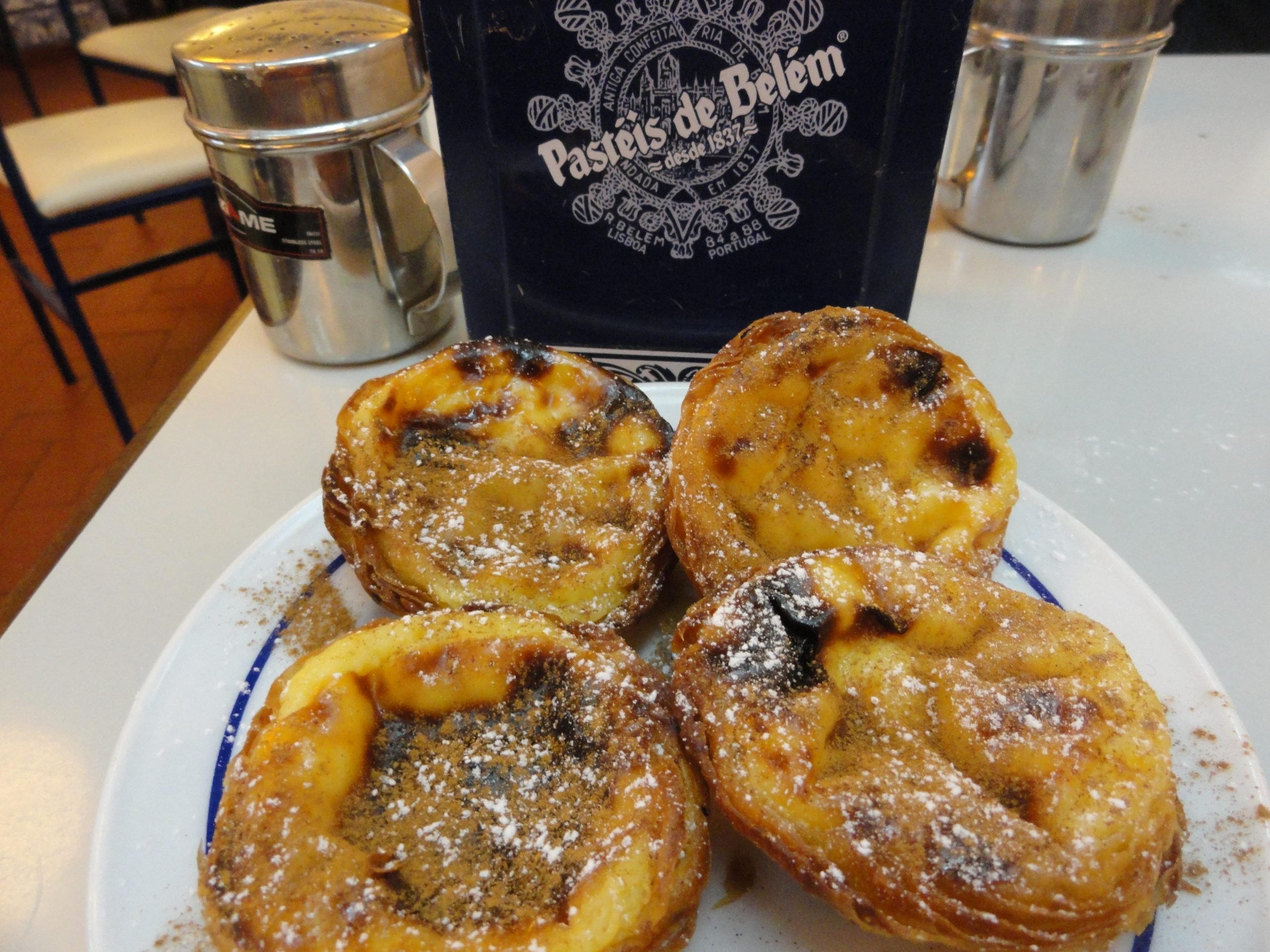 4. Cozido à Portuguesa
Cozido à Portuguesa is a stew made with a variety of meats, such as beef, pork, and chicken, as well as vegetables such as potatoes, carrots, and cabbage. In some areas, the dish might include smoked sausages or blood sausage, while in others, it might feature beef, pork, or chicken. It is a hearty and comforting meal, often served during the colder months for centuries.
The dish has its roots in rural communities, where farmers and peasants would gather whatever ingredients they had on hand and cook them together in a large pot over an open fire.
5. Arroz de Pato (Duck Rice)
Arroz de Pato is a classic Portuguese dish that originated in the southern region of Alentejo. Like many traditional Portuguese dishes, Arroz de Pato has its roots in rural communities, where people would often raise their own ducks and use them in a variety of dishes.
One of the defining characteristics of Arroz de Pato is its rich, savory flavor. The duck meat is cooked until it is tender and flavorful, and the rice is cooked in a broth made from the duck bones and other ingredients, such as garlic and onion.
6. Sardinhas Assadas (Grilled Sardines)
Grilled sardines are a classic dish in Portuguese cuisine that is popular throughout the country, especially during the summer months. The dish typically features fresh sardines that are grilled over an open flame until they are crispy on the outside and tender on the inside.
Sardinhas Assadas has a long history in Portugal, dating back to the days when sardines were a staple food for many coastal communities. The dish was originally prepared by fishermen who would grill the sardines on the beach using simple ingredients such as olive oil, salt, and lemon juice.
Today, Sardinhas Assadas is enjoyed by people of all ages and is often served at festivals, fairs, and other outdoor events. The dish is typically served with boiled potato and a tomato salad.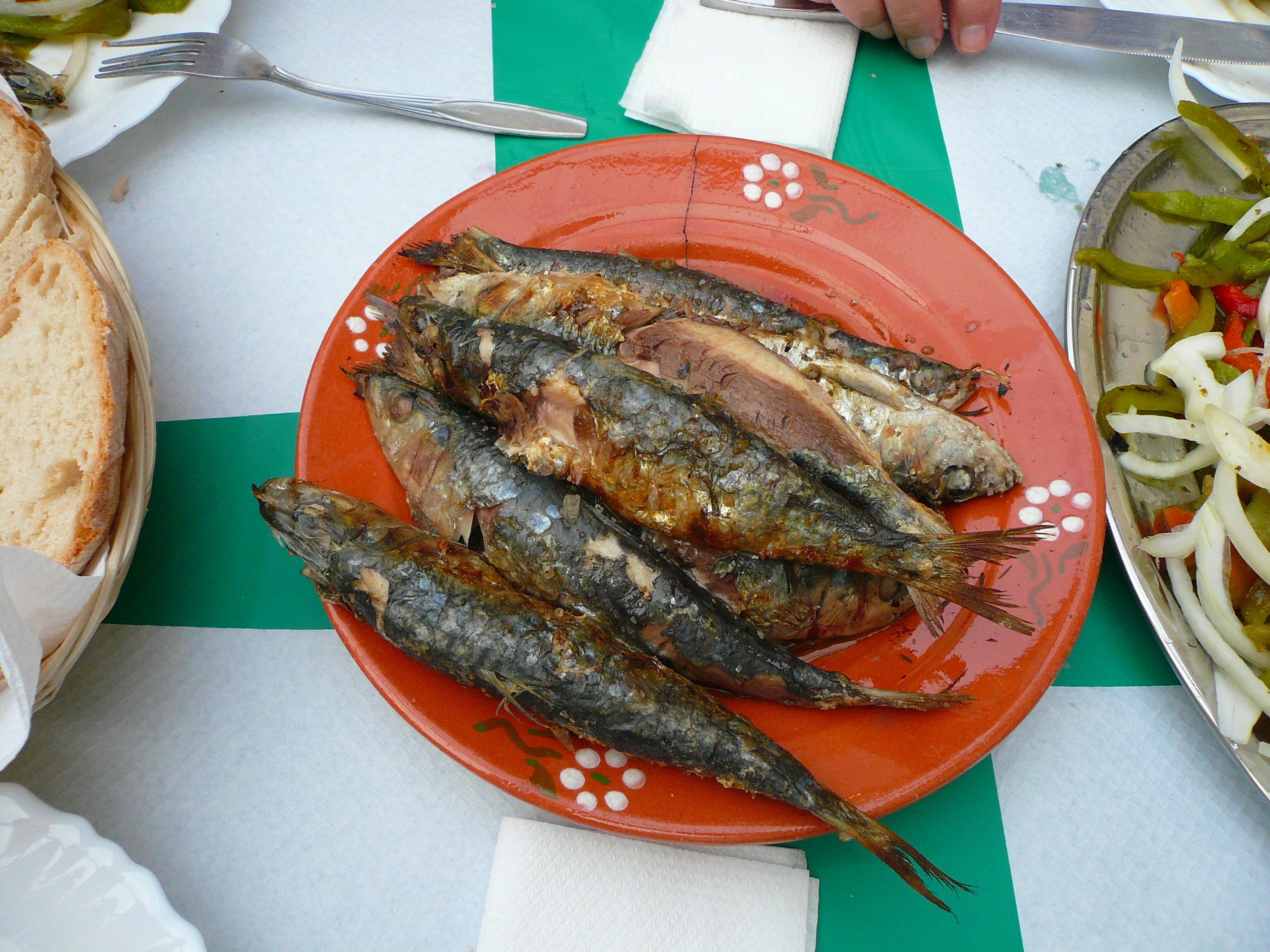 7. Arroz de Marisco (Seafood Rice)
Arroz de Marisco, or Seafood Rice, is a flavorful and aromatic dish that is a beloved part of Portuguese cuisine. The dish features a variety of seafood, such as shrimp, clams, mussels, and squid, combined with saffron-infused rice and a blend of herbs and spices.
Arroz de Marisco has its roots in the coastal regions of Portugal, where fresh seafood is abundant and has been a staple food for centuries. The dish was originally prepared by fishermen who would cook the seafood they caught in a large pot with rice and other ingredients they had on hand.
This dish is quite saucy and heavy. Often, you will find it at restaurants served for at least two people. This large portion usually actually feeds 3 or 4.
8. Prego
A popular sandwich in Portugal, a prego consists of a juicy beef steak served on a soft bread roll, usually garnished with garlic, butter, and spicy sauce. This sandwich has a fascinating history, tracing back to the 1960s when Portuguese workers in Angola introduced it to the African country.
When Angola gained its independence in 1975, many of these Portuguese workers returned to their homeland, bringing along their new-found culinary experience. The prego sandwich soon gained popularity in Portugal, particularly in Lisbon, where it became a staple street food.
Today, it is a quick easy lunch and a delicious festival staple!
9. Leitão
A roasted suckling pig, this dish originates in the central region of Portugal, particularly in the Bairrada region, and has become one of the most famous and appreciated dishes of Portuguese cuisine. Leitão is often served in special occasions, such as weddings, baptisms, and religious festivals, as well as in restaurants and local taverns.
The leitão is prepared by stuffing the pig with garlic, herbs, and spices and roasting it slowly on a wood-fired oven until the skin is crispy and the meat is tender and juicy. It is then typically served with roasted potatoes, vegetables, and a variety of sauces and condiments.
10. Lapas (Limpets)
Lapas are grilled limpets, a unique marine snail that is found in the rocky shores of Portugal. This dish is particularly popular in the coastal regions of Portugal, especially in the Azores and Madeira islands.
The lapas are usually cooked on the grill or on a hot plate, with a dash of olive oil, garlic, and lemon juice. They are served in their shells and are typically eaten with a toothpick or small fork, making it a fun and interactive dining experience.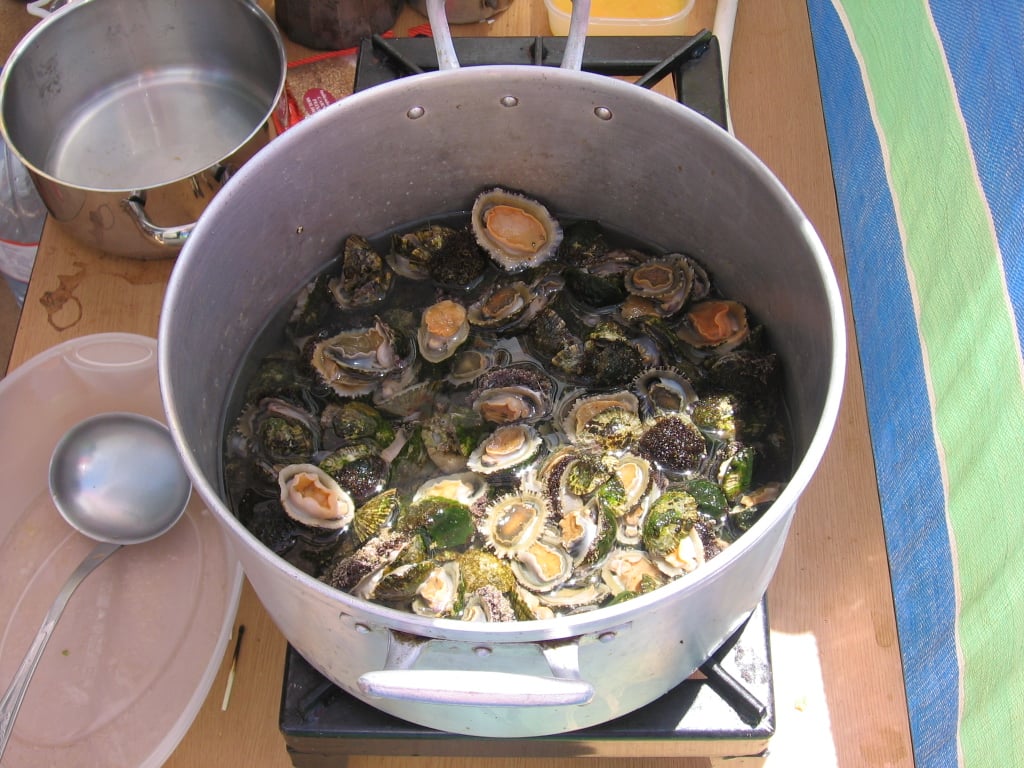 Join our FB group Portugal Travel & Living for all things Portugal and news update