From Jazz to Rock, Fado is not the only genre of live music to enjoy in Lisbon. While the typical melancholic genre of music is heard all around Lisbon, particularly in Amalia Rodrigues' birthplace of Alfama, the city has a versatile music scene.
Whether you are looking to enjoy some dinner with live music or sit in a less crowded bar listening to up-and-coming artists, we have selected our favorite spots throughout Lisbon. Here are the 9 best live music spots in Lisbon, Portugal, a city filled with outstanding musical experiences.
1. Ze dos Bois Gallery
A leader in the Lisbon music scene for almost three decades, Ze dos Bois Gallery, known as ZDB, is not just a music hotspot, but also a place for exhibitions and events. ZDB hosts over 150 art events per year, as well as groundbreaking music and dance performances.
ZDB is one of the best places in the city to grab a drink and listen to live music, surrounded by an alternative crowd. The space features an outdoor terrace for warm summer nights, as well as an indoor space with a large seating area.
Whether you're looking to dance the night away or sit quietly while enjoying some Jazz, ZDB has a night for you. Make sure to check out their program online to find the live music night that fits your taste the best.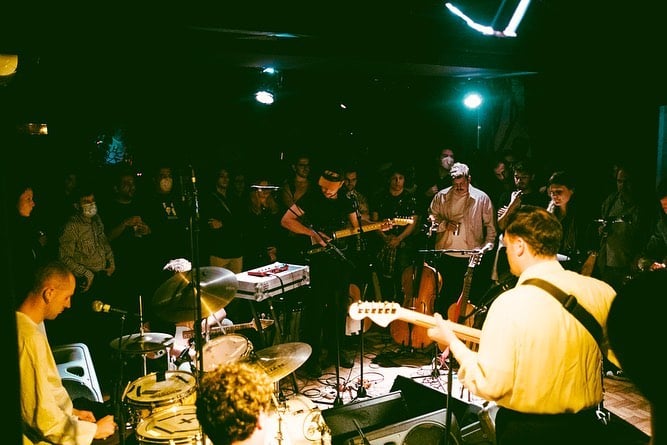 2. Fabrica Braco de Prata
Located in the building that was once the War Material Factory, Fabrica Braco de Prata open in 2007. It was one of the first places to kickstart a new cultural environment in Oriente, Lisbon.
Although Fabrica Braco de Prata is known for its live music shows, it also features a restaurant, bar, and even a bookstore. The likes of Salvador Sobral, the Portuguese winner of Eurovision in 2017 regularly perform here.
Fabrica Braco de Prata is home to 12 rooms that host all kinds of cultural events. From live music concerts, dance classes, and even raves, you can find all kinds of musical events here. Make sure to check out their online program.
3. MusicBox
Located in Cais do Sodre on the iconic Pink Street, MusicBox is one of the best spots for live music in Lisbon. Inaugurated in 2006, this club has music playing every day of the week, of which many include live music performances.
Hosting DJs and live bands, Music Box is an integral part of the cultural life of the capital where guests can enjoy live music from 0:00 to 6:00 in the morning. Check out their program on their website. You can actually filter between clubbing and concerts.
MusicBox has recently also become involved in other music projects, such as the Jameson Urban Routes, the first indoor festival in Portugal boasting urban music.
4. Ma Lingua
A relatively recent bar in Graca, a trendy neighborhood in Lisbon, Ma Lingua is owned by Megan and Fabio. The bar features a basement with high ceilings where jam sessions and acoustic concerts are hosted, as well as readings and cinema circles. This place aims to become a cultural hotspot, also featuring art and photography exhibitions, PubQuizzes, and more.
If you're looking to enjoy some live music over dinner, this is the spot for you. Ma Lingua serves delicious bites such as fresh ceviche and burrata in a homemade tomato sauce.
Recently, the bar has also started a weekly comedy night called "Bad Tongue Comedy", as well as an open mic night for the brave ones to showcase their talent. Ma Lingua is open until 2 am on weekend nights.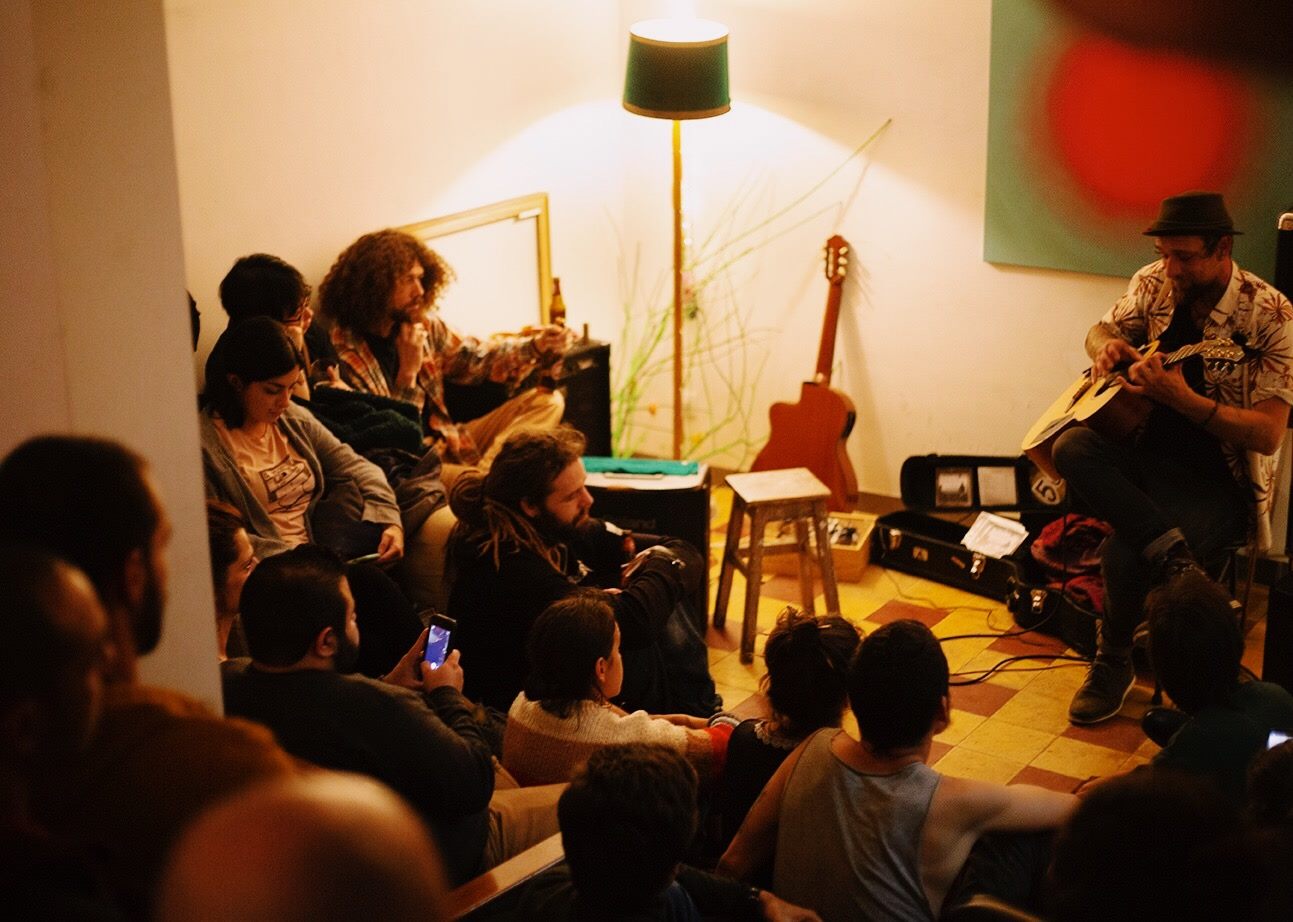 5. Fado in Chiado
With over a decade of experience, Fado in Chiado was one of the first places to host a daily live traditional fado show, accompanied by a guitar and viola, with two singers, a feminine and masculine voice for a full Portuguese experience.
The show is a little less than an hour in the Chiado district and you will get to experience the melancholic vibes of the traditional musical genre of fado. Book this ticket to skip the line to this iconic cultural experience. Drinks are not included in the ticket price, but we recommend ordering a classic Port wine.
6. Cafe Dias
Located in Santo Amaro, Cafe Dias is conveniently situated only a 10-minute walk from Lx Factory. An epicenter for Jazz, the bar regularly hosts jam sessions and live concerts in a cozy but modern environment.
But what makes this one of our favorite places goes beyond the music. Cafe Dias has some delicious petiscos (Portuguese tapas), such as croquettes and Portuguese empanadas. They also serve the traditional Portuguese ham and cheese toastie which is to die for.
Cafe Dias also features a lovely outdoor terrace where performances take place, making it the perfect place for a summer night.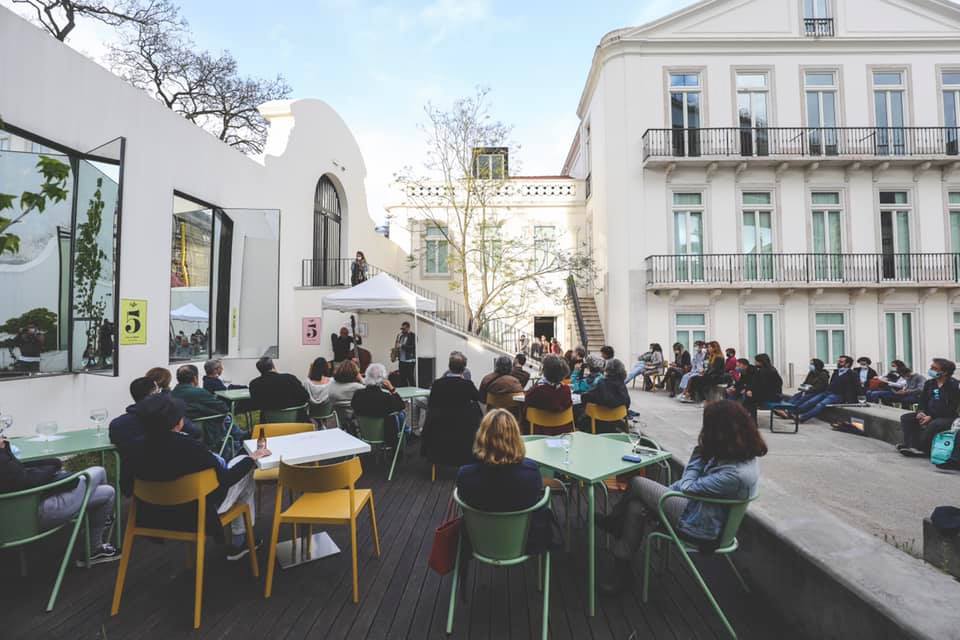 7. Alface Hall
Located in the center of Bairro Alto in a building from the 18th century, Alface Hall is a bar and hotel. There are few places left in Bairro Alto that still have live music, unfortunately. Alface Hall is one of the last spots that keeps the live music scene alive in Bairro Alto, a neighborhood known for its nightlife.
Alface Hall's bar is quite small, offering a cozy and inviting atmosphere. You can find all kinds of live music performances, from jazz to rock and soul.
If you are lucky enough to be staying at the hostel, you can enjoy daily live music right at your footsteps. The hostel features shared dormitories at an affordable price, as well as private rooms.
8. Pharmacia Musical
Hugo Fernandes, the cellist that founded Pharmacia Musical says that the live music bar seeks "transformation through art". The founder opened the bar in a laundromat in Rua Damasceno Monteiro.
The space is inspired by a pharmacy from Penha de Franca, with furniture and jars that represent it. While the space is quite small, this actually makes the bar more inviting as you will feel like you are listening to live music in a friend's apartment.
The live music concerts are free of charge and there are multiple music genres performed every day, from jazz to classical music. You can check out their daily program online.
9. Tokyo
Tokyo is a Cais do Sodre classic that has been around for decades. Founded in 1968 by the name of Tamisa, what is known today as Tokyo is a live music hotspot from Tuesdays to Saturdays.
The bar is full of interesting musical history. In the late 70s, it became one of the most popular spots for live music, with iconic Rock singers taking its stage. In 2012, Tokyo underwent a revamp, with the colors, logos, and bar being altered to improve the customer experience.
However, the rock & roll environment of the previous decades remains. Still, along with rock live music, Tokyo now also hosts Quizomba nights and other nights will a larger diversity of music genres.