The birthplace of Amália Rodrigues, the iconic Fado singer, Lisbon is rich in culture, history, and striking views. Music has always played a large role in the Portuguese capital of Lisbon, from fado singers performing in the streets to mainstream music festivals. There are plenty of music spots that you must discover the next time you visit Lisbon. If you are unsure where to head out to first, this Lisbon Music Guide will show you the best music spots in Lisbon.
Best Live Music Spots in Lisbon
1. Zé dos Bois Gallery
Founded in 1994, Galaria Ze dos Bois (ZDB) is a large art and musical center in the heart of Bairro Alto. ZDB hosts over 150 art events the year, and offers musical and dance performances. While this place is known as an art center, ZDB is an equally nice place to grab a drink and listen to some live music, along with a more alternative scene. The place features an outdoor terrace for those warmer nights and a large indoor space with plenty of seating area if you need a break from the dancing. The best nights to visit are when a show is on and you can check their program online.
Founded around 10 years ago, Fado in Chiado was one of the first places to host a daily live traditional fado show, accompanied by a guitar and viola, with two singers, a feminine and masculine voice. The show is a little less than an hour in the Chiado district and you will get to experience the melancholic vibes of the traditional musical genre of fado. Book this ticket to skip the line to this iconic cultural experience.
3. Armazem F
Located in Cais do Sodre, Armazem F is a one-stop shop for live music, a large entertainment venue for bands and DJs, with a capacity of 1200 people. This place has all the equipment for a quality musical experience, from a ticket office, high-quality sound system, catering, and more. Check out their Facebook so you don't miss their next show.
4. Hot Club de Portugal
The oldest jazz in Portugal, founded in the 1940s, Hot Club de Portugal is located in Praca da Algeria and hosts concerts almost every day. The magazine DownBeat considered the club one of the best 100 jazz clubs in the world. Several jazz musicians have played here such as Ronnie Scott, Sarah Vaughn, Dave Liebman, and more.
5. MusicBox
Located in Cais do Sodre, MusicBox is one of the best spots for live music in Lisbon. Hosting DJs and live bands, Music Box is an integral part of the cultural life of the capital where guests can enjoy live music from 0:00 to 6:00 in the morning. MusicBox hosts several musical projects, such as the Jameson Urban Routes, the first indoor festival in Portugal boasting urban music.
Best Clubs in Lisbon
1. Lux Fragil
Lux Fragil is one of the most exclusive clubs in Lisbon and is renowned in Europe for its selection of electronic music DJs. Located in Santa Apolonia, major DJs from all over Europe play in Lux every week and the club mostly plays techno and house music. Lux offers views of the Tagus river from its balcony, as well as a rooftop terrace that opens in the summer. The dress code for Lux is not formal so no need to wear heels and a dress – you'll be the only one. However, you should try to dress nice, even if you´re wearing sneakers. Men wearing shorts will probably not be allowed in. Even then, you might still be denied entrance at the door.
2. Trumps
Founded in the 80s, Tumps is the most iconic gay club in all of Lisbon and an integral player in the capital's queer history. Located in Principe Real, the club is mostly full on Saturday nights and plays house and dance music, as well as pop. Known for its quality drag queen nights, Trumps welcomes all and is actually quite popular with straight women.  Internationally renowned artists have performed at Trumps including Fergie and Conchita Wurst, as well as queer Portuguese icons such as the one and only António Variações. The club has its own productions, dancers, DJs, and drag queens and has also co-hosted events around the world such as World Pride.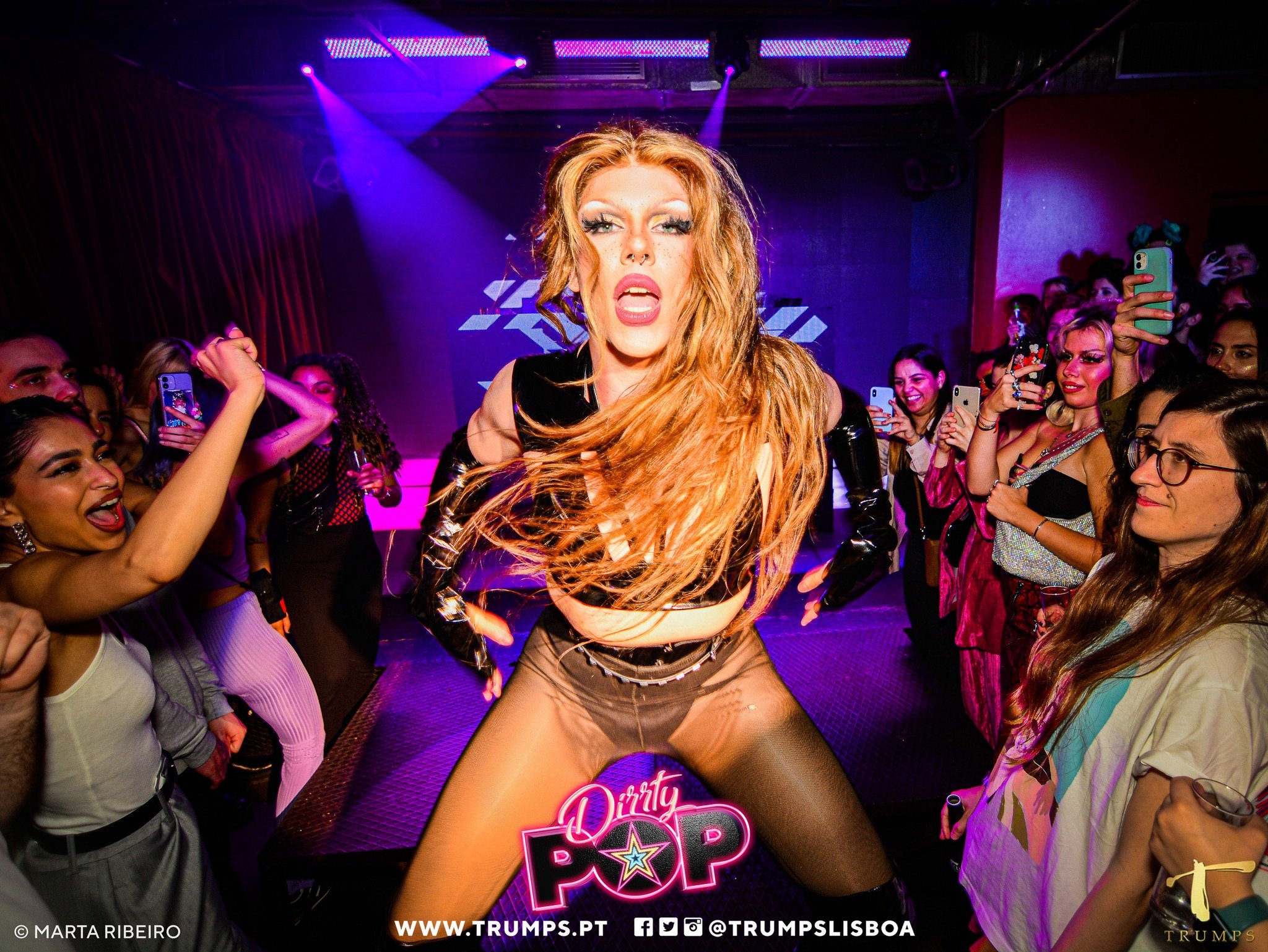 3. Kremlin
Founded in 1988 in Santos, Kremlin was once named the third best club in the world during the 90s. Kremlin plays electronic music and hosts world-famous artists of the techno scene. The club boasts stunning stone floors but has also elevated the space to reflect the modern times with an updated light and sound system, as well as a VIP area, three bars, and a large dance floor. At Kremlin, you can dress as you wish and are free to express yourself.
Top Music Festivals near Lisbon
1. Nos Alive 6 – 9 July 2022
Located in Alges, a 10-minute train ride from Lisbon, NOS Alive is known to have the most well-known line-up in Portugal, along with Rock in Rio, adding to its international popularity. In 2009, the British magazine NME named NOS Alive one of the top 12 European festivals. The 16th edition of NOS Alive welcomes The Strokes, The War On Drugs, Florence + The Machine, Alt-J, Metallica, Stormzy, Jorja Smith, Two Door Cinema Club, Phoebe Bridgers, and much more.
2. Rock in Rio 18 – 26 June 2022
Originating in Rio de Janeiro, Brazil Rock in Rio branched out to Lisbon in 2004, with over 350,000 people in attendance. After four years without Rock in Rio, Lisbon will host its 9th edition at Bela Vista Park. This edition was initially meant to take place in 2022 but was postponed two years in a row due to the COVID-19 pandemic. This year's edition welcomes the Foo Fighters, The National, the Black Eyed Peas, Ellie Goulding, Post Malone, Anitta, and more.
3. Super Bock Super Rock 14 – 16 July 2022
Founded in 1995, Super Bock Super Rock is named after its main sponsor, Super Bock, the iconic Portuguese beer brand. Located in Meco, Sesimbra, less than an hour from Lisbon, the festival has altered its focus on rock throughout the years, now welcoming a variety of music genres. From The Cure to Metallica, as well as more recently artists such as Mac DeMarco and Tom Misch, Super Bock Super Rock seems to satisfy plenty of music lovers. This year's 26th edition of Super Bock Super Rock welcomes the one and only ASAP Rocky, as well as Nathy Peluso, Leon Bridges, Filipe Karlsson, and more.
Guide to Festivals in Portugal
⬇️What are your favorite music spots in Lisbon? Let us know in the comments below⬇️