Portugal shocked the world in February when the government announced an end to Portugal's Golden Visa scheme to tackle the housing crisis. The program will end for new applicants, with the government's announcement referencing real estate investment options specifically.
While no new visas will be given out when the decision is final, current golden visa holders should still be eligible for renewal.
Unfortunately, what has not been well explained in the media is that this decision has not yet taken effect. The government's Golden Visa announcement refers to a preliminary proposal that must go through several steps in the Portuguese political system.
When will the Portugal Golden Visa end?
Although a provisional deadline is expected to be announced in the coming weeks, at this point, no one knows for certain when the Portugal Golden Visa will end. However, let's take a look at the chain of events that are expected in the next few weeks or months:
A public discussion with relevant stakeholders will take place, where everyone is invited to provide feedback.

A new Meeting of the Council of Ministries will take place, where the final proposal will be drafted and presented to the parliament.

Parliament will vote on the proposal. If approved, the proposal will be discussed by a separate commission that will then propose a final version of the draft.
Parliament will then have to approve this final draft. If approved, the proposal will be sent to the Portuguese President, Marcelo Rebelo de Sousa. When the proposal is in the hands of the President, there are three possible scenarios:
Direct ratification, where everything will come into force as set in the proposal, although a transition period is still possible.
The President does not accept the proposal and returns it to parliament for amendment, where changes will have to be made.
The President accepts the proposal but requests an evaluation by the Constitutional Court.
Can I still apply for the Portugal Golden Visa?
While official deadlines are still unclear, your time window is closing if you are looking to obtain a Portugal Golden Visa. Financial and Immigration firms facilitating Portugal Golden Visa applications are urging those who wish to apply to do so as soon as possible.
There are resources to help you clear up any doubts and ensure you get in before the Golden Visa ends. Holborn Assets, a leading global financial services company, is hosting a private webinar on Tuesday 17th October at 6 pm Lisbon time (1 pm EST) for a live Q&A session.
Jason Swan, Senior Partner at Holborn Assets, will answer all your questions regarding the program withdrawal.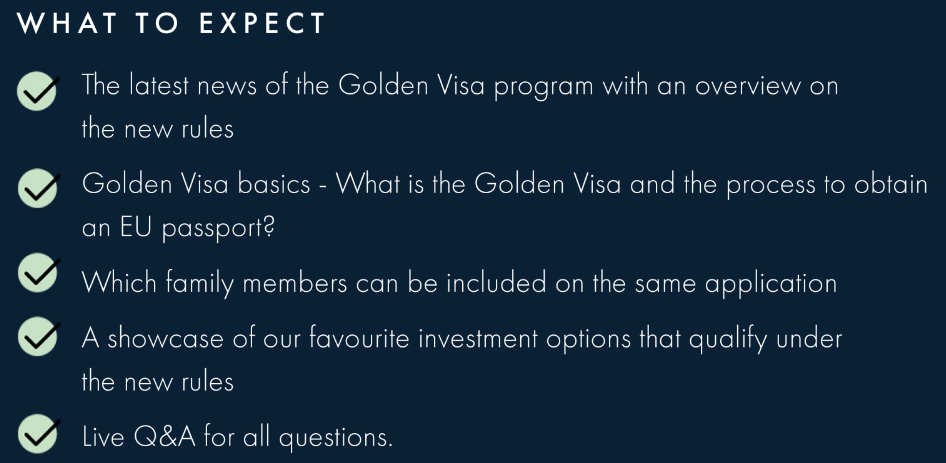 Portugal Golden Visa: Benefits
Portugal's Golden Visa was created in 2012 and has been seen as one of the most attractive investment visas in the world. The Golden Visa allows non-EU citizens to qualify for a residency permit and, eventually, a European passport through investments. The most common investment in this visa scheme's last decade has been in real estate.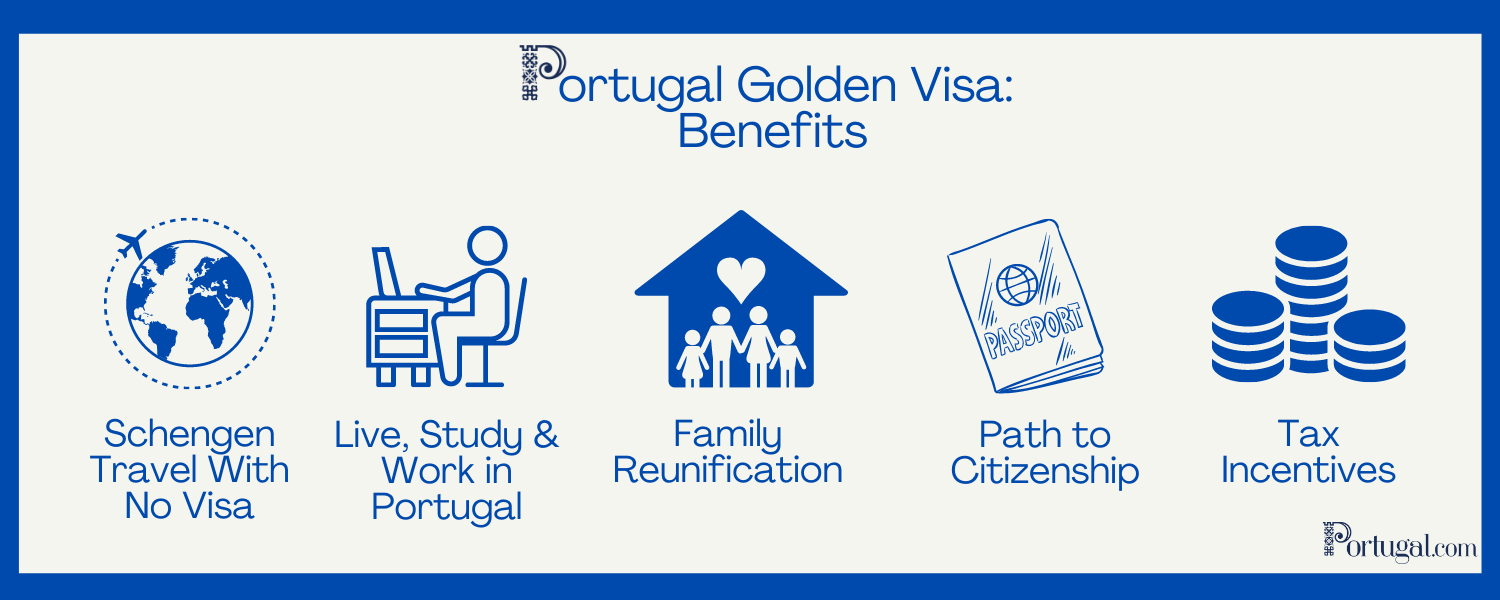 Citizenship & European Passport
After legally residing in Portugal for at least six years, the investor can apply for Portuguese citizenship and obtain a passport.
Visa Exemption
The Portugal Golden Visa allows you to enter Portugal and the Schengen area (26 EU Countries). You can travel freely without requiring a visa, essentially granting you the travel privileges of European Union citizens.
Ability to Stay in Portugal
The visa grants you the right to live, study and work in Portugal as if you were an EU citizen.
Family Perks
The Portugal Golden Visa does not only grant the investor privileges but also their family members. The program includes family reunification, meaning that a spouse, minor children, children over 18, children over 18 who are studying, and parents who are financially dependent on the investor are all granted the same rights.
Permanent Residence
The investor can apply for permanent residence if they follow all the requirements and complete the five years necessary.
You will not be faced with any tax responsibility unless you become a tax resident, meaning you spend more than 183 days of the year in Portugal. If so, under the Portugal Gold Visa, you can follow the Non-Habitual Resident (NHR) tax regime, where you transfer your tax residency to Portugal. Here are some of the benefits of this tax regime:
Income from "high value-added activities" is taxed at 20%. This includes employment and self-employment income from scientific, artistic, or technical activities performed in Portugal.
Foreign interest, dividends, rents, and property capital gains can be exempted from taxation. You will also not pay an inheritance or wealth tax.
Your pension income is taxed at a flat rate of 10%, including retirement savings and life insurance.
Last Chance to Apply for Portugal's Golden Visa Program
If you're interested in finding out the latest details about the closing of the Golden Visa program and want to take advantage before it ends. Signup for a live Q&A webinar with an expert from Holborn Assets that will answer all your questions. The event is scheduled for October 17th at 6 PM Lisbon Time.
The latest news of the Golden Visa program with an overview on the new rules
Golden Visa basics
What is the Golden Visa and the process to obtain an EU passport?
Which family members can be included on the same application
A showcase of our favourite investment options that qualify under the new rules
Live Q&A for all questions
Sign Up Today