What is the Portugal Golden Visa?
Created in 2012, the Portugal Golden Visa is known as one of the most attractive in the world. The Portugal Golden Visa was created to boost foreign investment to benefit the Portuguese economy. The program allows non-EU citizens to qualify for a residency permit and eventually a passport in the country through investments. With a Portugal Golden Visa, you can live in Portugal and travel within most European countries without an issue. However, you do not need to live in Portugal to be eligible for this visa. All you need to do is to stay in the country for at least 7 days in the first year and 14 days in the subsequent years. You obviously also need to engage in an investment, which we will get to.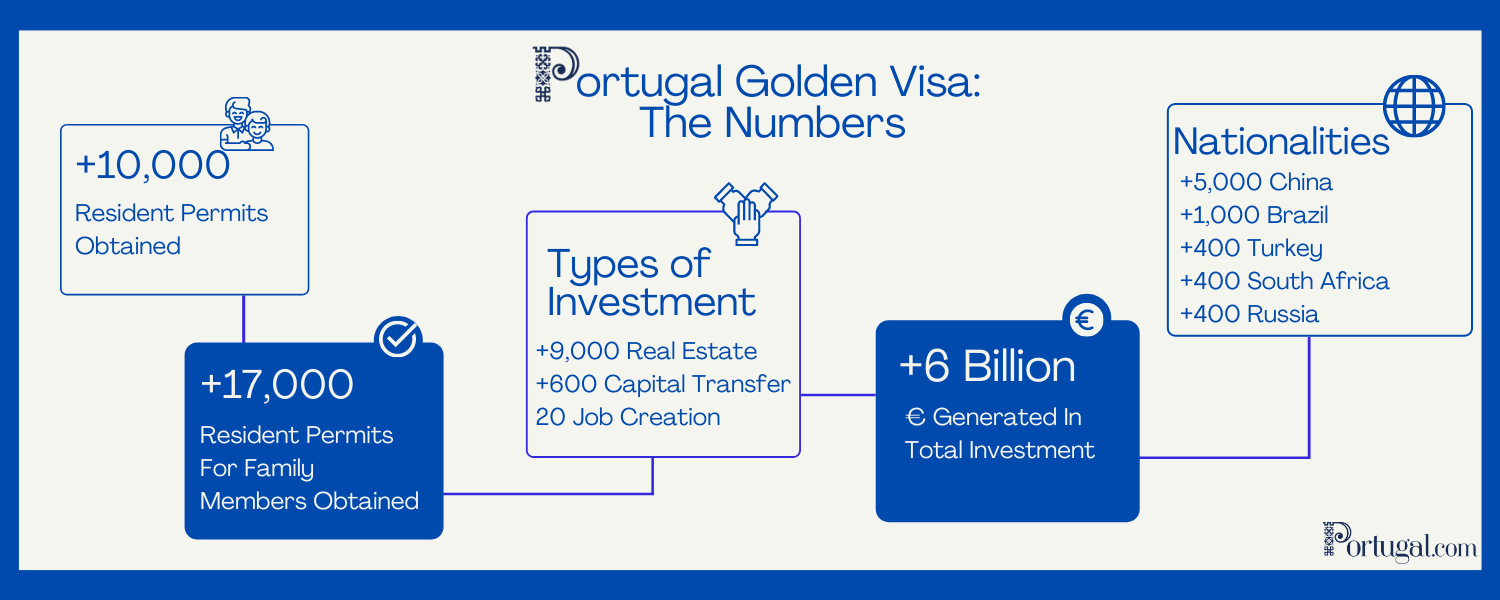 What are the Benefits of the Portugal Golden Visa?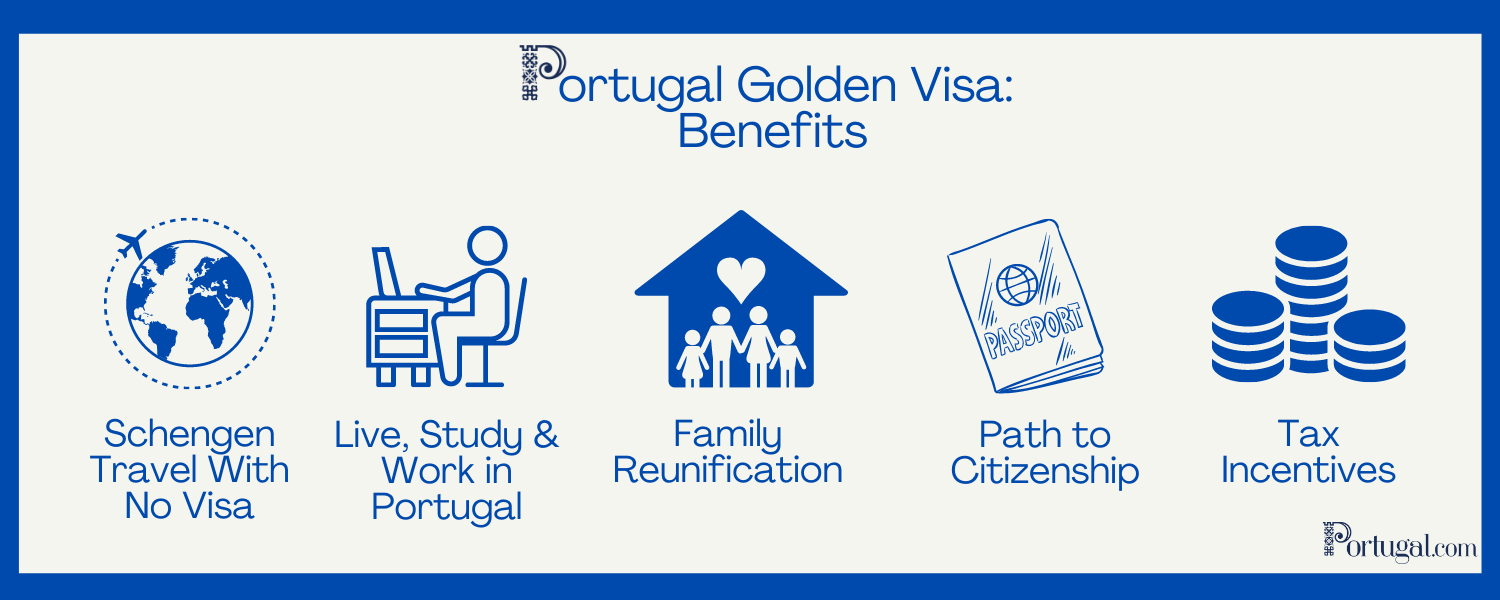 1. Visa Exemption
The Portugal Golden Visa allows you to enter Portugal and the Schengen area (26 EU Countries). You can travel freely without requiring a visa, essentially granting you the travel privileges of European Union citizens.
2. Ability to Stay in Portugal
The visa grants you the right to live, study and work in Portugal as if you were an EU citizen.
3. Family Perks
The Portugal Golden Visa does not only grant the investor privileges but also their family members. The program includes family reunification, meaning that a spouse, minor children, children over 18, children over 18 who are studying, and parents who are financially dependent on the investor are all granted the same rights. They can all live and work in Portugal and travel freely within the Schengen area, as well as enjoy all the visas' benefits.
4. Permanent Residence: Does the Portugal Golden Visa Lead to Residence?
The investor can apply for permanent residence if they follow all the requirements and complete the 5 years necessary.
5. Citizenship: Does the Portugal Golden Visa Lead to Citizenship?
After legally residing in Portugal for at least 6 years, the investor can apply for Portuguese citizenship and potentially obtain a passport. However, to get citizenship you must obtain an A2 Portuguese language certificate, prove you have links to the country such as through your investment, provide documents such as proof of a Portuguese bank account, and have no criminal record.
The Portugal Golden Visa provides some inviting tax incentives. You will not be faced with any tax responsibility unless you become a tax resident, meaning you spend more than 183 days of the year in Portugal. If so, under the Portugal Gold Visa, you can follow the Non-Habitual Resident (NHR) tax regime where you transfer your tax residency to Portugal. Here are the benefits of this tax regime:
Your pension income is taxed at a flat rate of 10%, including retirement savings and life insurance.
Income from "high value-added activities" in Portugal is taxed at 20%. This includes employment and self-employment income from activities of scientific, artistic, or technical character performed in Portugal. Still, you will pay the same income tax as ordinary tax residents for other types of domestic income.
You will only be taxed on your worldwide income after the first 10 years of residence.
Foreign interest, dividends, rents, and property capital gains can be exempted from taxation. You will also not pay an inheritance or wealth tax.
Who can get a Portugal Golden Visa?
You are eligible for a Portugal Golden visa if you are a non-EU/EEA/Swiss national. You need to be at least 18 years old and have no criminal record. The main requirement is that you make an investment in Portugal, which will be explained in detail in the next section. This investment must come from funds from outside of Portugal.
Life After Brexit: Why Should UK Nationals Apply for a Portugal Golden Visa?
Since January 1st, 2021, UK citizens are eligible to apply for the Portugal Golden Visa which allows them to travel freely within the Schengen Area. This is a great option for UK nationals who want to enjoy some benefits, essentially getting back most of the EU citizen rights that were lost in Brexit. A UK national with a Portugal golden visa can travel freely through the Schengen area (26 EU Countries). A UK national will then also have the right to work, study, and live in any EU/EEA country. They will also be able to apply for residence and later on, citizenship, granting a UK national an EU passport.
Golden Visa Portugal Investment Options: What investments qualify for a Portugal Golden Visa?
There are five types of investments you can make to qualify for a Portugal Golden Visa: a real estate acquisition, an investment fund, a capital transfer, job creation, or making a donation. We will break down all of these for you and their minimum amounts.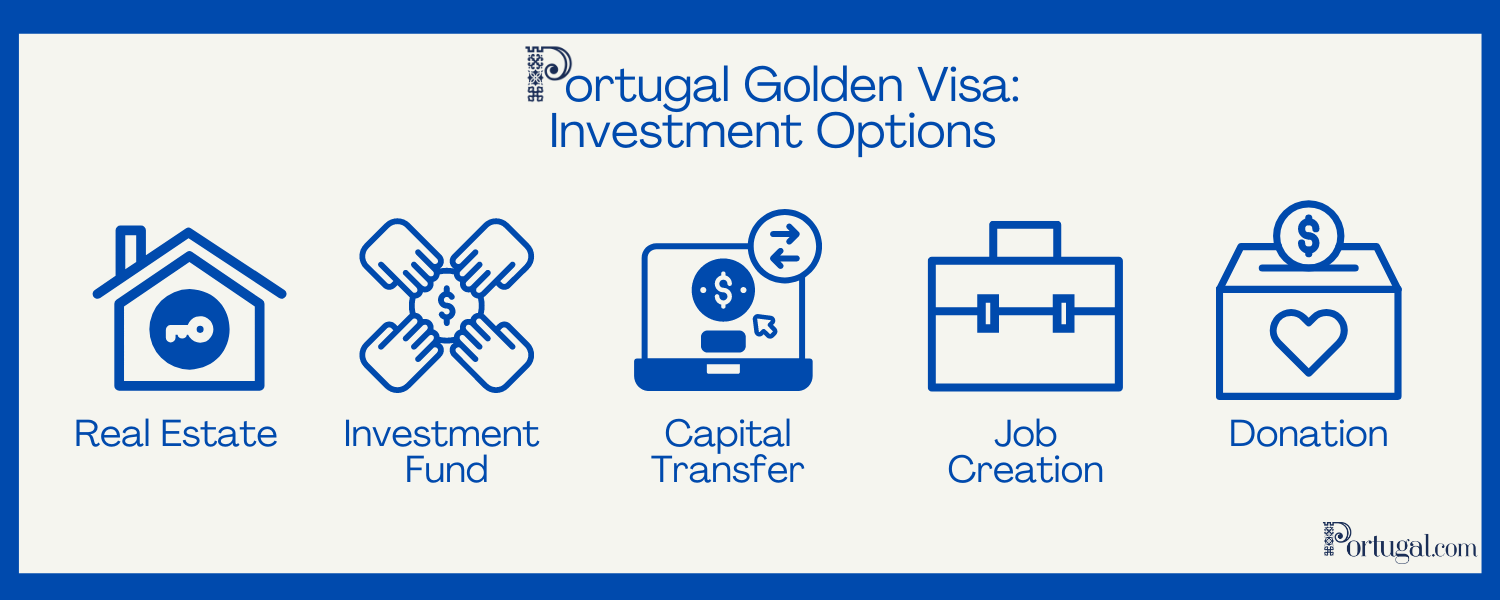 1. Portugal Golden Visa through Property Investment
You can get a Portugal Golden Visa by purchasing a property. Most people think you need to purchase property that costs at least €500,000 in Portugal to get a Golden Visa. However, you can spend less. If you purchase real estate in a low-density area in Portugal, the minimum to spend is €400,000. You can also buy real estate that is over 30 years old in an urban rehabilitation area and renovate it for at least €350,000.
You do not need to buy one property, you can purchase multiple properties. Just make sure to meet the minimum amount. You can also combine your investment with other applicants. For example, if you purchase a €1 million house with a friend, both of you can apply for the Portugal Golden Visa, as each of you has spent a minimum of €500,000.
If you do not rent out the property, you do not pay any tax on it. However, if do, your real estate income is taxed at a flat rate of 28%.
However, since January 2022, you cannot purchase residential properties in Lisbon, Porto, and coastal towns. Only residential properties in Azores and Madeira, as well as interior territories, are now eligible for the Portuguese Golden Visa through residential real estate investment.
Take a look at where you can purchase property in Portugal to be eligible for the Golden Visa and which type of investment (residential and commercial) below.
2. Portugal Golden Visa through an Investment Fund
You can also choose to spend a minimum of €500,000 subscription in a qualifying Portuguese investment fund. In Portugal, these are known as "fundos de capital de risco" and are investment funds that support Portuguese businesses.
The investment fund option used to be the cheapest option at €350,000, but since January 2022 the minimum amount has risen by €150,000.
3. Portugal Golden Visa through a Capital Transfer
The most expensive option to qualify for a Portugal Golden Visa is making a capital transfer of a minimum of €1.5 million to Portugal. You must have proof of bank transfer deposits to Portugal from an international account that adds up to at least this amount.
Before January 2022, a capital transfer to qualify for a golden visa was a minimum of €1 million, but this has recently increased by €500,000.
4. Portugal Golden Visa through Job Creation
You can also obtain a Portugal Golden Visa through job creation. There are two main investment options in this category. The first option is to create a minimum of ten new full-time jobs in a Portuguese business that you own. You do not need to invest a certain amount here.
The second option has two requirements. First, you invest a minimum of €500,000 in an existing Portuguese business. Second, that business must create a minimum of five new full-time jobs within three years.
5. Portugal Golden Visa through a Donation
There are two types of donations that qualify an applicant for the Portugal Golden Visa. You can either invest a minimum of €250,000 in preserving national heritage or €500,000 in a research and development activity in Portugal.
How much does a Portugal Golden Visa cost?
Apart from your chosen investment purchase, there are costs to the Portugal Golden Visa such as the application and legal costs.
Golden Visa Application Costs: How much does the Portugal Golden Visa Application Cost?
There are a number of government application fees when applying for a Portugal Golden Visa. The processing fee is around €550 at the beginning and then you will have to pay around €80 for each renewal. The initial application fee is around €5,325 per person, a one-time payment. The renewal application fee costs €2,663 per person. If you want eligible members to also have a Golden Visa, you must pay this fee for them, as well.
Also, expect to pay a legal fee and prices will depend on the law firm and investment types. The prices usually start from €5,000 for legal costs. However, a lawyer's help will make the whole bureaucratic application process a lot easier.
Portugal Golden Visa Mortgage: Can you take out a loan or mortgage to pay for your investment?
You cannot take out a loan or mortgage from a Portuguese financial institution to pay for your investment. However, you can take out a loan from a bank outside of Portugal.
Portugal is one of the crypto-friendliest countries in the world. You can actually purchase real estate with bitcoin and other cryptocurrencies through intermediaries and qualify for a golden visa. You can also qualify for any of the investment options with crypto visa cards. Not only can you use crypto to qualify for a Portugal Golden Visa, but you will also benefit from the Portuguese system as a trader in the long run.
Portugal is a tax haven for crypto as you will not be charged any tax or VAT on a crypto transaction. The country does not view cryptocurrencies as an asset, but rather as a form of payment so they do not tax it as the former. You will have to show that you obtained your money legitimately with documentation.
Cryptocurrency is treated like any other currency, essentially. However, businesses that provide services related to cryptocurrency are taxed on gains between 28% and 35%. If you trade cryptocurrency as your primary income source, as your main profession, you will also be taxed this amount. There are many factors that determine whether this is the case like your profit and the frequency of your trade. To be sure, contact a tax advisor in Portugal.
Take a look at our guide to cryptocurrency in Portugal here.
Portugal Golden Visa: Healthcare in Portugal
Portugal has a strong National Health Service called SNS, which takes the 17th spot on the World Index of Healthcare Innovation. If you obtain a Portugal Golden Visa, you can register with the SNS and access public healthcare. After you obtain your visa, you must register with the local health care center using your residence card. You will then be provided with your healthcare number that you will need to access public health care. The SNS provides multiple services from emergency treatment, psychiatric care, and maternity care. Most services are free. However, there are certain particular services such as visiting energy rooms or diagnosing exams that require payment. Usually, the prices range from €5 to €20. SNS services are completely free for children under 18 and those over 65. Dental care is not included in the SNS.
Aside from the SNS, Portugal also has private hospitals as it has a hybrid public-private health system. If you have a Portugal Golden Visa, you can purchase private insurance so that prices are more affordable. Health insurance prices range from €300 to €1,000 a year, depending on the company and other personal factors such as your age.
Portugal Golden Visa Steps & Application Process: How to Get a Golden Visa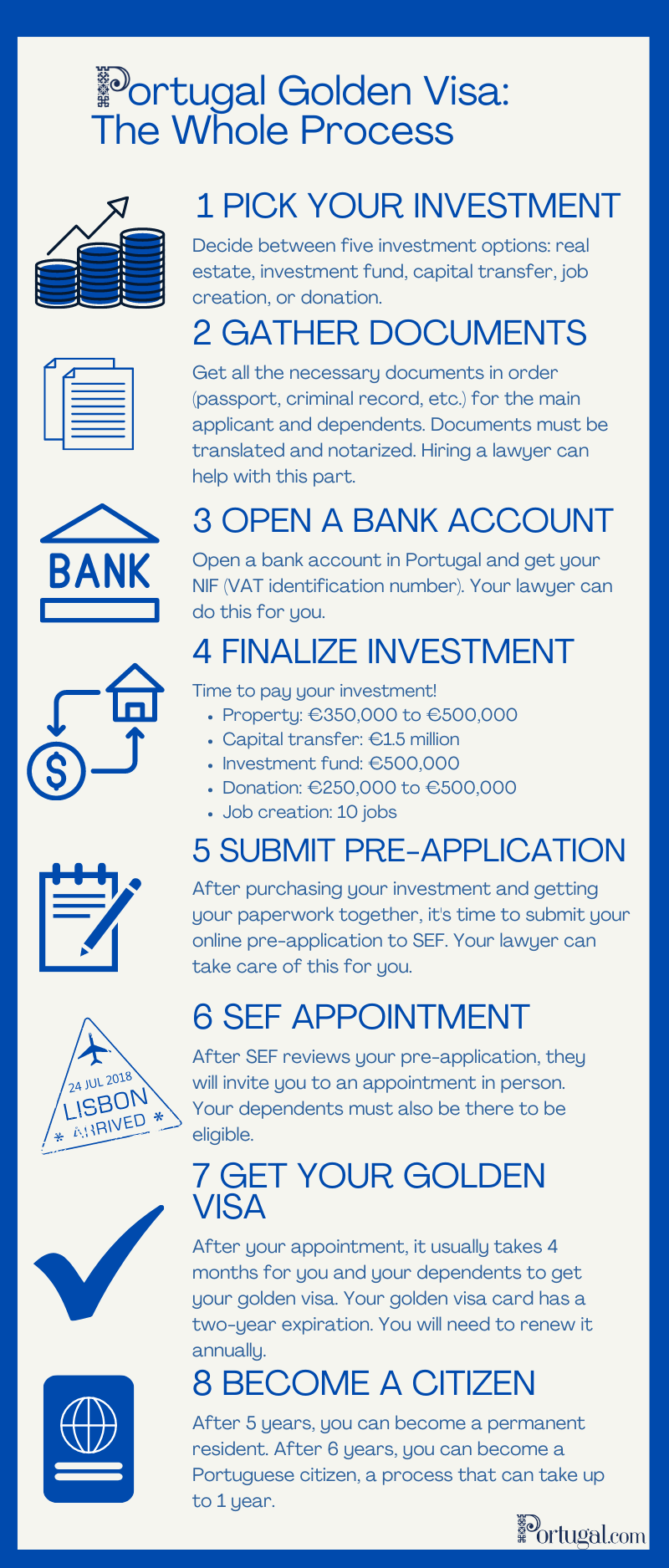 Join our FB group Portugal Travel & Living for all things Portugal and visa updates