The Portuguese parliament has approved on Friday, April 29 the State Budget 2022, after two days of debate. The Socialist majority government's proposal passed with votes against from the Social Democratic Party (PSD), Enough (Chega), Liberal Initiative (IL), the Portuguese Communist Party (PCP), and the Left Bloc (BE). The two members of parliament from Livre and PAN abstained. Due to the Socialist Party's (PS) recent majority in parliament with 117 seats, the party was able to pass the state budget without needing the support of other parties. Before the January 2022 General Election, the state budget was rejected as PS did not hold a majority.
PS states that their state budget is directed at uplifting the middle-class and young people, many arguing it is the most left-wing state budget in Portuguese history. They want to invest further in public services such as the National Healthcare Service (SNS) and education, as well as increase the minimum salary, combat climate change, and tackle inequality. The state budget is hundreds of pages long so we have got you covered with an overview of the most important points.
Although the state budget has been approved, until the end of May, minor alterations can still occur such as amendments but the budget is expected to remain mostly the same.
Portugal's State Budget 2022 Overview
Minimum Wage & Taxes
The national minimum salary will increase to €750 by 2023 and public workers get a 0.9% raise.
The state budget will make the income tax (IRS) brackets more progressive with an "unfolding" of the third and sixth tax brackets, as seen below. The state budget document states that the revision of the tax brackets from 2018 to 2022 will provide tax relief of over 500 million euros to Portuguese families.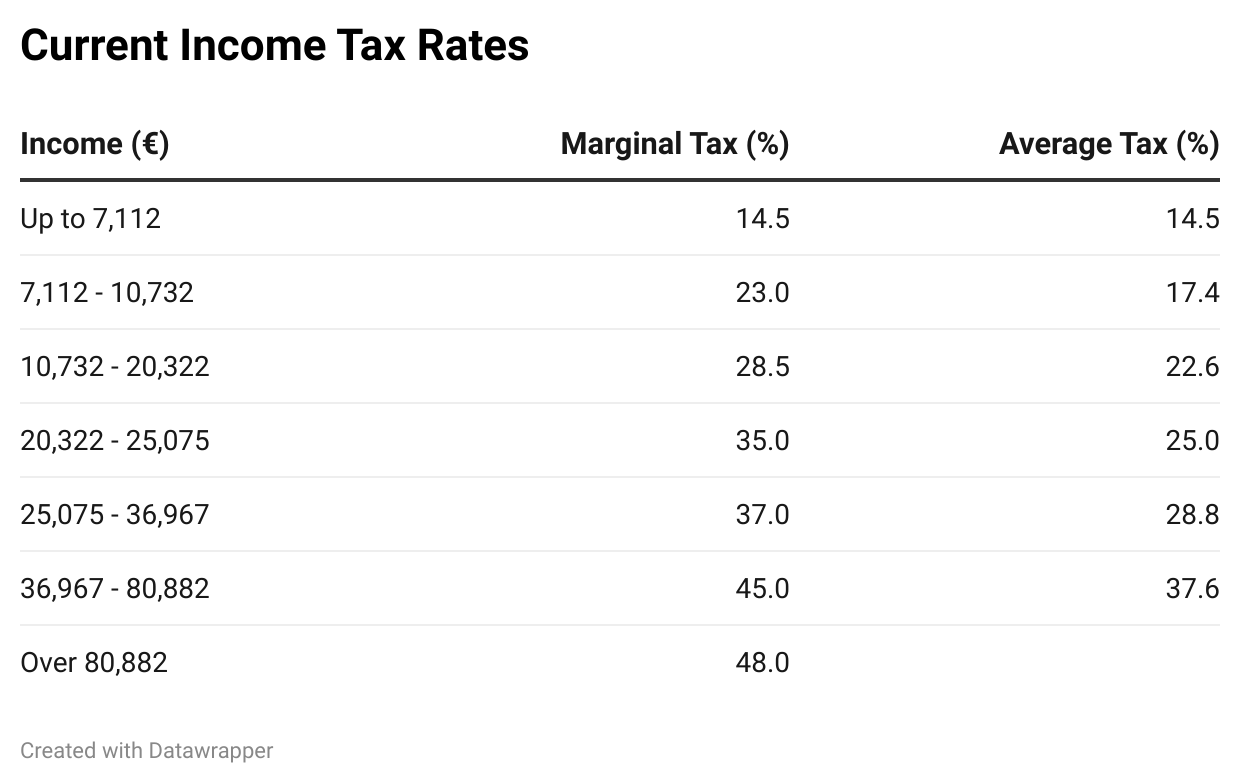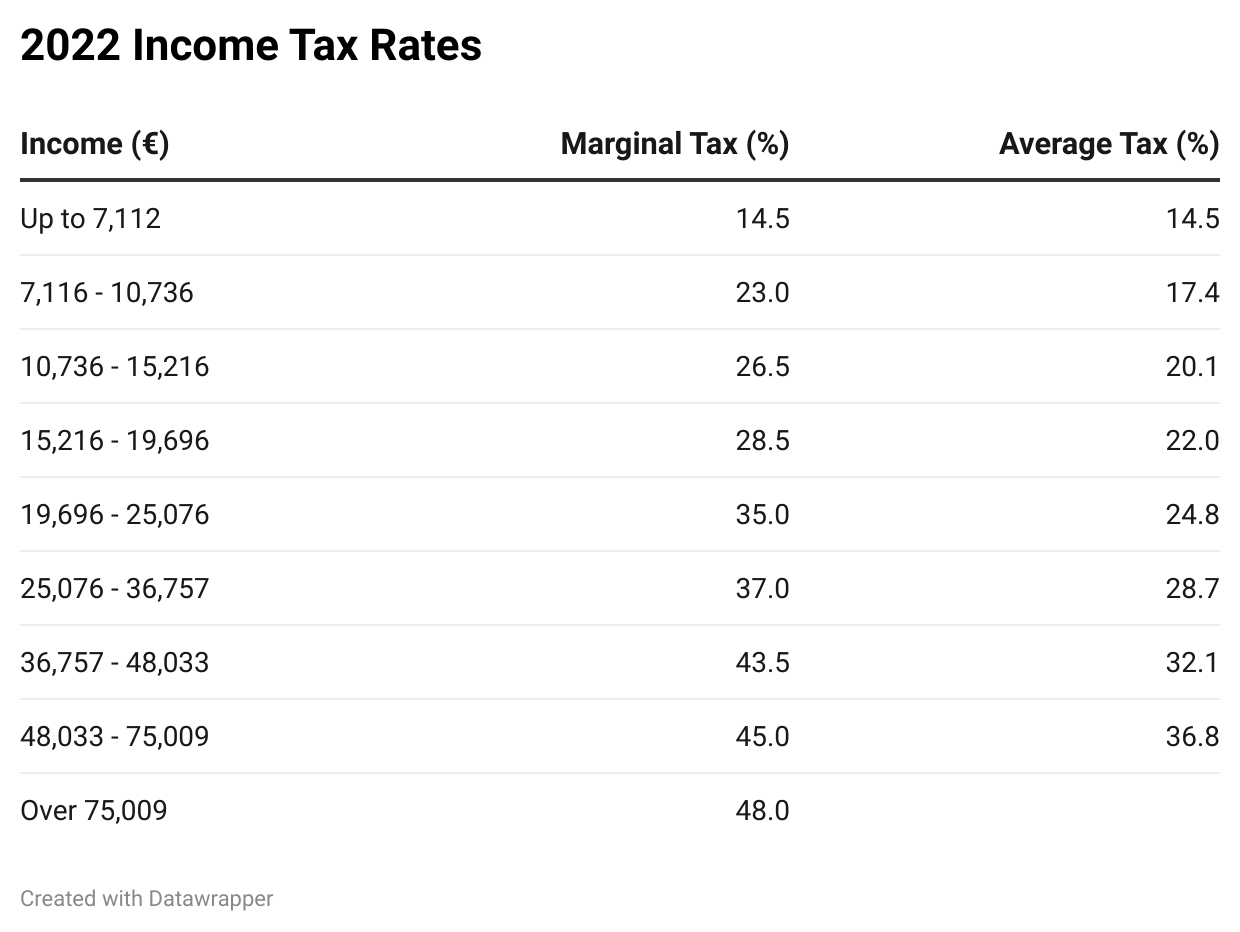 By 2022, parents can deduct €900 from their taxes for their second child up to the age of 6 years old.
There are also tax reductions for families with a second child, as seen in the next section.
Families & Children
In the case of families in extreme poverty, for every child until 17 years of age, parents will receive €1,200+ a year or €100 a month by 2023. This measure will be implemented through phases, guaranteeing €840 annually in 2022.
Allowances for informal careers all over the country.
Free daycare measure: from 2022/2023 daycares with agreements with the social security system will be free for all children up to one years old. From 2023/2024 the free childcare measure will include children up to 2 years old, instead of kids that are up to 1 year old. By the year after that, all children entering a creche, a school for kids under the age of 3, and children moving to the second and third year of primary school, will also take advantage of free childcare. This is a gradual measure that is thus set to take around 3 years.
Tax reductions for families with a second child. A couple with two kids making a yearly gross income of €47,600 will save €330 a year, as seen below.
Young People
IRS Jovem (Income Tax for Young People), tax relief for young people starting their careers for 5 years, will now include freelance/self-employment. Those between 18 and 26 (or 28 if they have a doctorate) with at least a Bachelor's will not have to pay either 30%, 20%, or 10% of their income tax for the first 5 years.
Programa Regressar (Program Return), for the next 4 years at least, this program allows those who have emigrated, particularly young people who are qualified to come back to Portugal until 2023 to get a tax relief of 50% on their IRS for 5 years.
Climate Change
The budget includes a €3.8 allocation of funds to combat climate change and for the environment. The government has stated that this amount is a 30% increase in relation to 2021.
Decabornization efforts will be reinforced through the promotion of public transport with €250 million in support.
Includes plans to further the objective to reduce 55% of greenhouse gases by 2030, in comparison to 2005.
Plan to have 47% of energy produced by renewables by 2030, such as through green hydrogen.
Development actions to fight energy poverty by partnering with local entities.
Financial support to purchase private electric vehicles, as well as an increase in public electric vehicles.
6% reduced VAT rate for solar panels.
Public Services
Budget increase for the National Health Service (SNS) of €700 million.
€900 million investment in public schools for two years to increase staff and necessary resources.
Digital equipment will be installed in classrooms, as well as resources for robotics projects.
Companies
Creation of the Tax Incentive for Recuperation (IFR) for the second semester of 2022, allowing for the reduction of 25% from the Corporate Tax (IRC) for new investments
Progressive elimination of the Special Payment on Account (PEC). This was an advance on tax payments applied to industrial, agricultural, and commercial companies, as well as non-resident entities.
Mitigating Geopolitical Impact
To mitigate the impact of inflation due to the war in Ukraine and protect the purchasing power of residents, the government will implement a series of measures, many of which are already in place.
The AUTOvoucher program was reinforced from €5 to €20 until the end of April. From now on, the measure will be replaced by a reduction in the Tax on Fuel (ISP) equivalent to a VAT charge of 13%.
The suspension on the carbon tax increase over fuels will remain until the end of the year.
To protect the most vulnerable families, the budget includes temporary measures including a €60 support for food products and a €10 support for gas bottles.
Impact of Portuguese State Budget 2022 on Expats and Internationals
The Socialist Party believes that immigration is necessary to sustain the development of both the Portuguese economy and the positive change in demographics. The party states they want to continue with progressive immigration policies that reflect their values of tolerance and openness, one that the budget arguably reflects. Although this was decided prior to the state budget, the Portuguese Foreigners and Borders Service (SEF) will be replaced by the Portuguese Agency of Migration and Asylum (APMA). It will no longer act as a law enforcement institution, but rather one of an administrative function. The party also wants to create a digital platform for immigrants to reduce the bureaucracy that Portuguese administrative functions are known for. This platform would make applying for a visa and uploading documents easier. PS also wants to simplify the types of visas out there and the complicated processes for each one, so that the overall immigration process runs more smoothly.
Regarding the Portugal Golden Visa, there are no plans to abolish it. However, since January 2021, those looking to be eligible for a Portugal Golden Visa can no longer purchase property in Lisbon and Porto, only some parts of the interior of the country. It is still possible that more restrictions or a total ban could occur. However, this is unlikely to happen in the next year(s).
State Budget Debate: Views of Portuguese Parties on State Budget
Social Democratic Party (PSD)
Liberal conservatism, center-right – 76 seats
The Social Democratic Party was founded in 1974 and is a center-right party with both conservative and liberal economic ideologies. It is the second-largest party after PS. PSD argues that the state budget will reduce the purchasing power of the population due to inflation. The leader of PSD Rui Rio calls this an austerity measure through inflation saying, "if as proposed salaries only increase by 0.9% when inflation in the eurozone has surpassed 7%, it's clear that salaries will lose at least 4% of their purchasing power for 2022".
ENOUGH (CHEGA)
Right-wing populism & national conservatism, Far-right – 12 seats
A far-right and nationalist party, ENOUGH was founded in 2019 by the leader Andre Ventura. This party believes that people living off social benefits are "leeches" of the state who do not want to work. They campaign for life imprisonment (which is not legal in Portugal), as well as chemical castration for child abusers. Chega believes that "Portuguese people will lose income" and that the budget "is a return to austerity".
Liberal Initiative (IL)
Classical liberalism, center-right to right-wing – 8 seats
The Liberal Initiative was founded in 2017 and is the first liberal party in Portugal. Led by João Cotrim Figueiredo, the party focuses on the individual rather than the collective. IL campaigns for right-wing economics such as reducing taxes and promoting a flat income tax for all, as well as less "dependence" on social welfare. The Liberal Initiative (IL) argues that the State Budget for 2022 is failing young people, public workers, pensioners, and companies, seeking alterations to neutralize the impact of inflation.
Left Bloc (BE)
Democratic socialism, left-wing to far-left – 5 seats

Led by Catarina Martins, the Left Bloc is a feminist, ecosocialist, and anti-racist party that from 2019 until 2022 functioned as an opposition force. BE wants to allow immigrants and residents in Portugal to vote in parliamentary elections, reduce transport prices, as well as fight job insecurity and raise the minimum wage. The leader of the Left Bloc, Catarina Martins has said that "Shutting up the right with a right-wing program is the opposite of a leftist budget", accusing Prime Minister Antonio Costa of "repeating the old mantras of the right".
Portuguese Communist Party (PCP)
Marxism-Leninism, left-wing to far-left – 6 seats
Led by Jeronimo de Sousa, PCP follows a Marxist-Leninist, communist, and anti-fascist ideology. The Portuguese Communist Party has voted against the state budget proposal arguing it is the same one as before and that it does not favorƒp workers and value their salaries. Jeronimo de Sousa said, "Inequalities and injustices, dependency and submission to external impositions, delays, and structural failures. None of this seems to justify a global response".
People Animals Nature (PAN)
Environmentalism & animal welfare, Center-left – 1 seat
PAN was founded in 2009 and became known for fighting for animal rights, as well as environmental justice. The party holds ecofeminist, animalist, and progressive ideologies. PAN's only member of parliament Ines Sousa Real has abstained but has seven pages of measures approved in the document that address the climate crisis. However, she argues the budget does little to reduce the country's dependency on fossil fuels, as well as make public transport free to reduce emissions.
FREE (LIVRE)
Eco-socialism & pro-Europeanism, center-left to left-wing – 1 seat
FREE, also known as Livre, was founded in 2014 by Rui Tavares. FREE's ideology is ecosocialist, pro-European, feminist, anti-racist, and progressive. The party became known for supporting a trial of the Universal Basic Income, where every citizen would receive a sum of money to eradicate poverty. The only member of parliament from Livre, Rui Tavares abstained and called for a more ambitious state budget that rather than "repeating formulas from 2021, faces the crisis head-on".
Why did the State Budget 2022 take so long to pass?
On October 27, 2021, the state budget for 2022 proposed by the Socialist minority government was rejected in the assembly, as all other parties voted against it, even left-wing ones such as the Left Block (BE) and the Communist Party (PCP). The left felt like the state budget plan was too moderate and did not go far enough to tackle inequality and protect workers' rights. In contrast, right-wing parties such as the Social Democratic Party (PSD) and the Liberal Initiative (IL) felt like the plan would not alleviate the tax burden on individuals and corporations and that there should not be an increase in investment in public services. In turn, in November of 2021, the President of the Republic, Marcelo Rebelo de Sousa announced snap elections set for January due to the collapse in the governing center-left/left alliance.
Then, on Sunday, January 30, 2022, Portugal held an early general election to elect 230 members to the Assembly of the Republic. The Socialist Party won a majority with 117 seats in the assembly, winning 9 more seats than in the last election. The new government entails a Socialist majority so the Socialist Party does not need to form a coalition with other parties. Now, with a majority, the same state budget has been able to be approved in parliament.