Does it snow in Portugal?
When you think of Portugal, you think of golden sandy beaches and warm weather. However, the temperatures in the 92,212 km2 of Portuguese land are not all the same, as altitudes vary. To the surprise of many tourists, it does snow in Portugal!
Still, it only snows in a few areas in mountainous zones up north. The most common place to see snow in Portugal is in the Serra da Estrela mountains. While it might snow sporadically in other areas, the snow never tends to stick.
Serra da Estrela is the highest mountain range in all of continental Portugal and is 100 kilometers long and 30 kilometers wide.
At the peak of the winter season, there is around 114 mm of snow. Serra da Estrela even boasts its own ski resort!
Still, as temperatures warm globally, it is snowing less every year. Furthermore, if you are expecting an Italian ski resort, think again. While skiing and other ski sports are possible in Serra da Estrela, the amount and quality of snow are not the same as in other countries.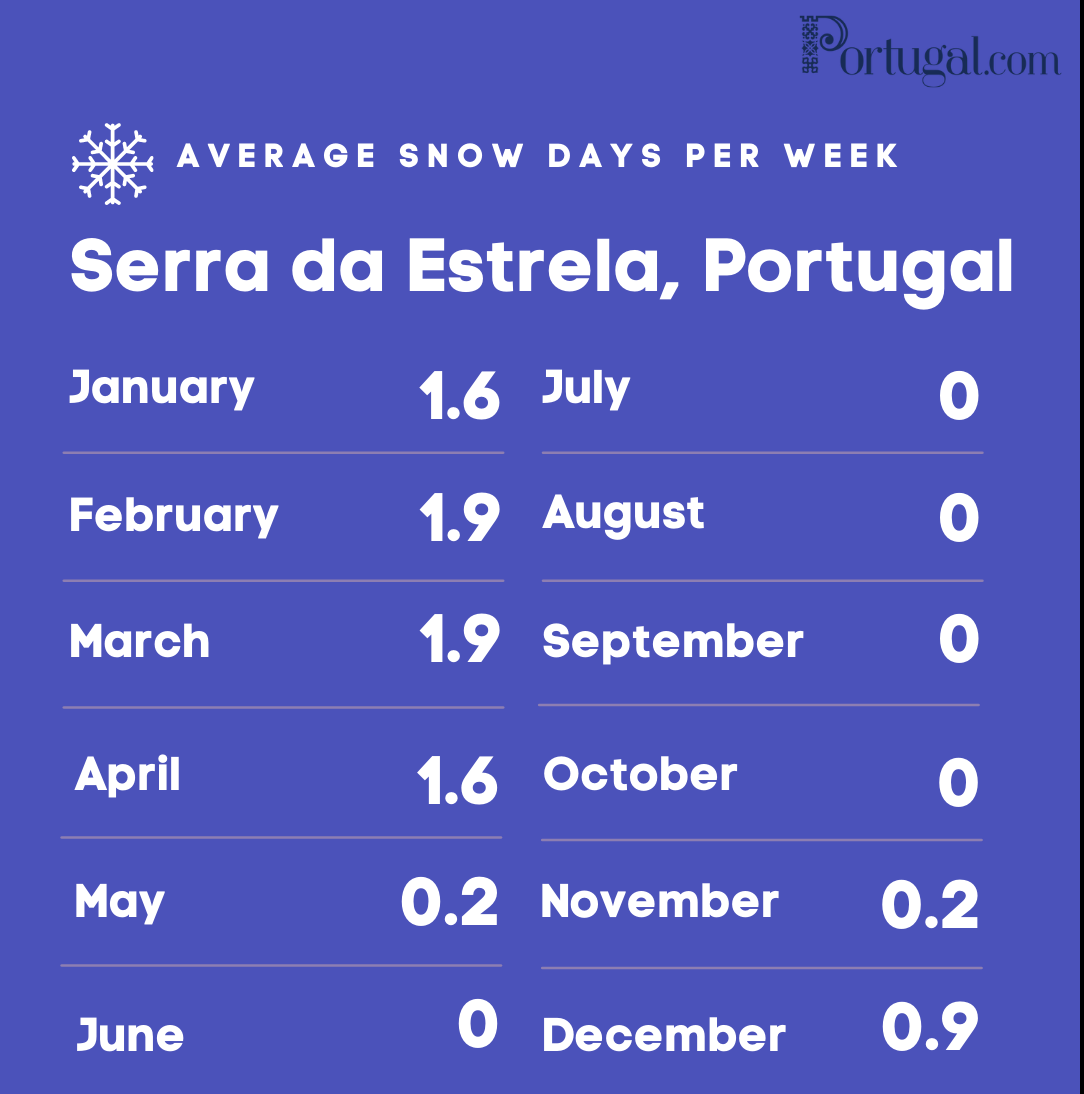 Is Portugal good for skiing?
Yes, Serra da Estrela has its own ski resort where Portuguese people tend to go skiing. However, it is more geared toward beginners, although some pistes are available for those more experienced.
Tourists and locals head to the ski resorts in Seia and Manteigas to enjoy the slopes. The best time to visit Serra da Estrela for skiing is between January and March, making February the best month.
Since the mountain is located between the municipalities of Seia, Manteigas, Gouveia, Guarda, and Covilha, these areas are also wonderful to explore!
Top 5 snow activities in Portugal
1. Snow sports in Serra da Estrela
The only place to ski in Portugal is Serra da Estrela. You should visit the only ski resort in the country, open from November to April in Serra da Estrela.
This small ski resort only has four ski lifts and is perfect for children, as well as beginners. There are around 130 meters of vertical descents and nine ski descents. The best time to ski and snowboard in Serra da Estrela is between January and March.
You can rent skis and other snow sports equipment there, as well as book classes!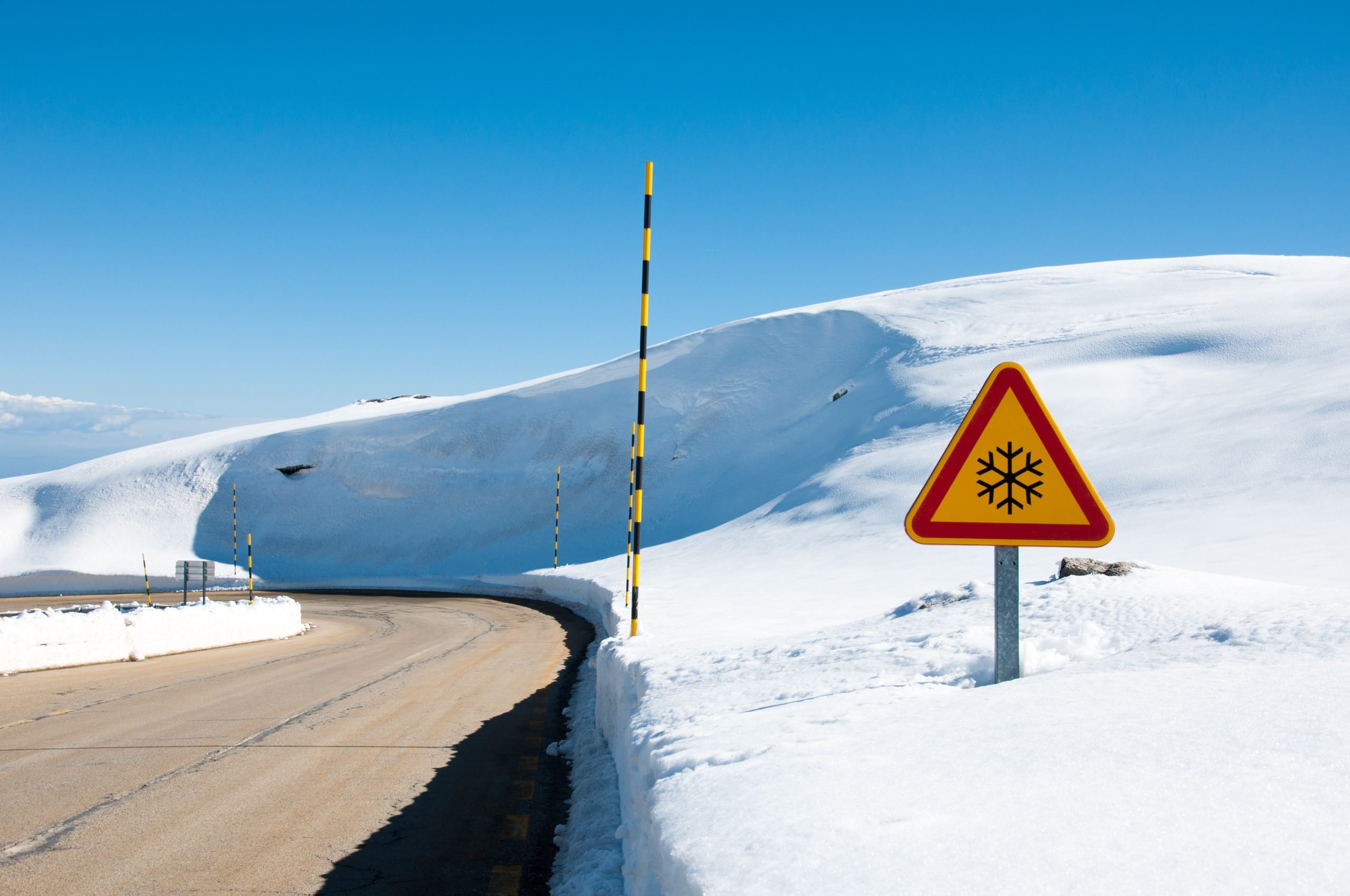 2. Explore the beautiful Covao dos Conchos
An artificial lake in Serra da Estrela, Covao dos Conchos, is known for its "Bell-mouth spillway." This is hard to describe; it's best if you look at the photo below to picture this hidden gem! However, it was built in the 1950s to divert water from Ribeira das Naves to Lagoa Comprida.
Funnily enough, this spillway went viral in 2016 for its sci-fi presentation. Over the last decades, moss has grown on top of it, adding to its beauty.
The tunnel that collects the water is around 1,500 meters long. You can take a hike to get there, although this hike is difficult during the winter.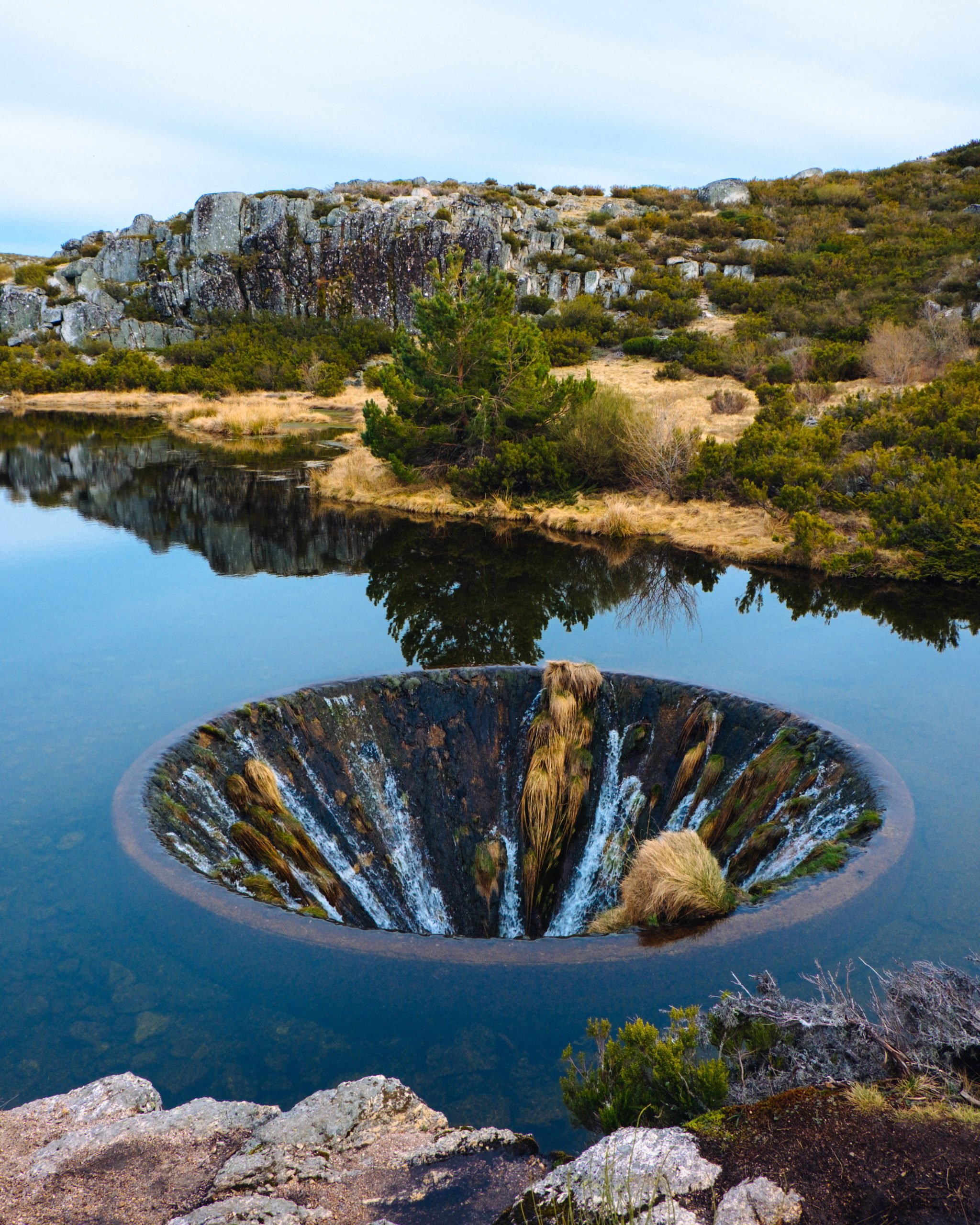 3. Visit the nearby city of Guarda
Guarda is the city in Portugal with the highest altitude, making it one of the coldest cities in Portugal. As it is very close to Serra da Estrela, temperatures get quite cold, and snow is common.
Guarda features unique architecture as it was once occupied by the Romans, Visigoths, and the Moors. The town is built mostly from granite, as seen in the cathedral called Se, which was built between 1390 and 1540.
Guarda's historic center also features medieval buildings such as the Torre de Menagem, a tower in a park at the highest point in the city, featuring panoramic views.
Also, visit the Jewish district, the Judiaria, which features narrow alleys with picturesque 14th-century houses.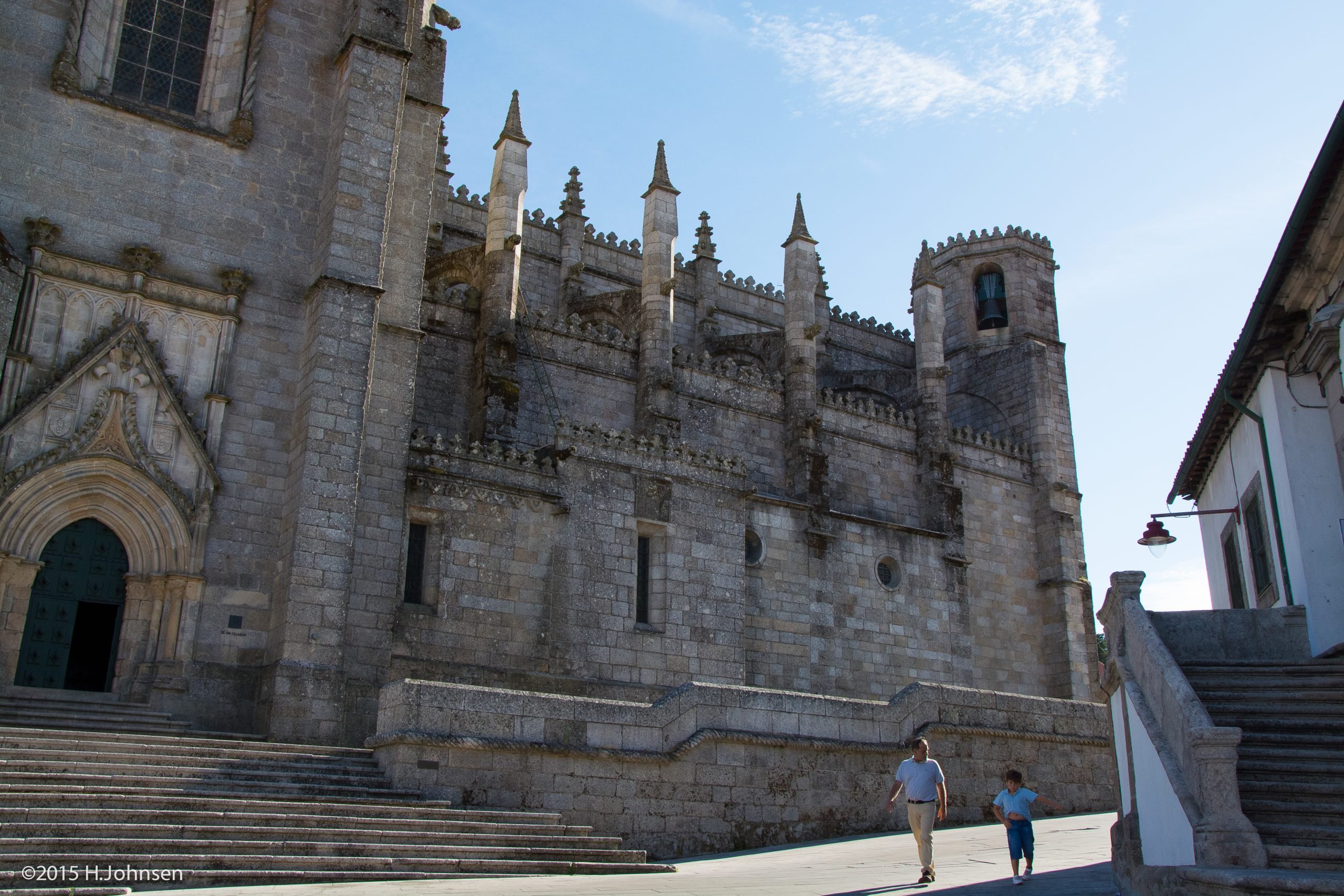 4. Hike in Serra da Estrela
Serra da Estrela has some of the best hiking spots in the country. Whether a beginner or advanced, this mountainous range has a trail for you. You can find a list of trails, altitudes, and kilometers here.
You can also climb the "Torre" mountain, which is 2000 meters high. On a clear day, you can see the Atlantic ocean more than 150 kilometers away.
For lunch, stop at the Torre Restaurant, located at the top of the mountain. This place offers a panoramic view of the mountain range and serves regional dishes such as a shepherd-style stew.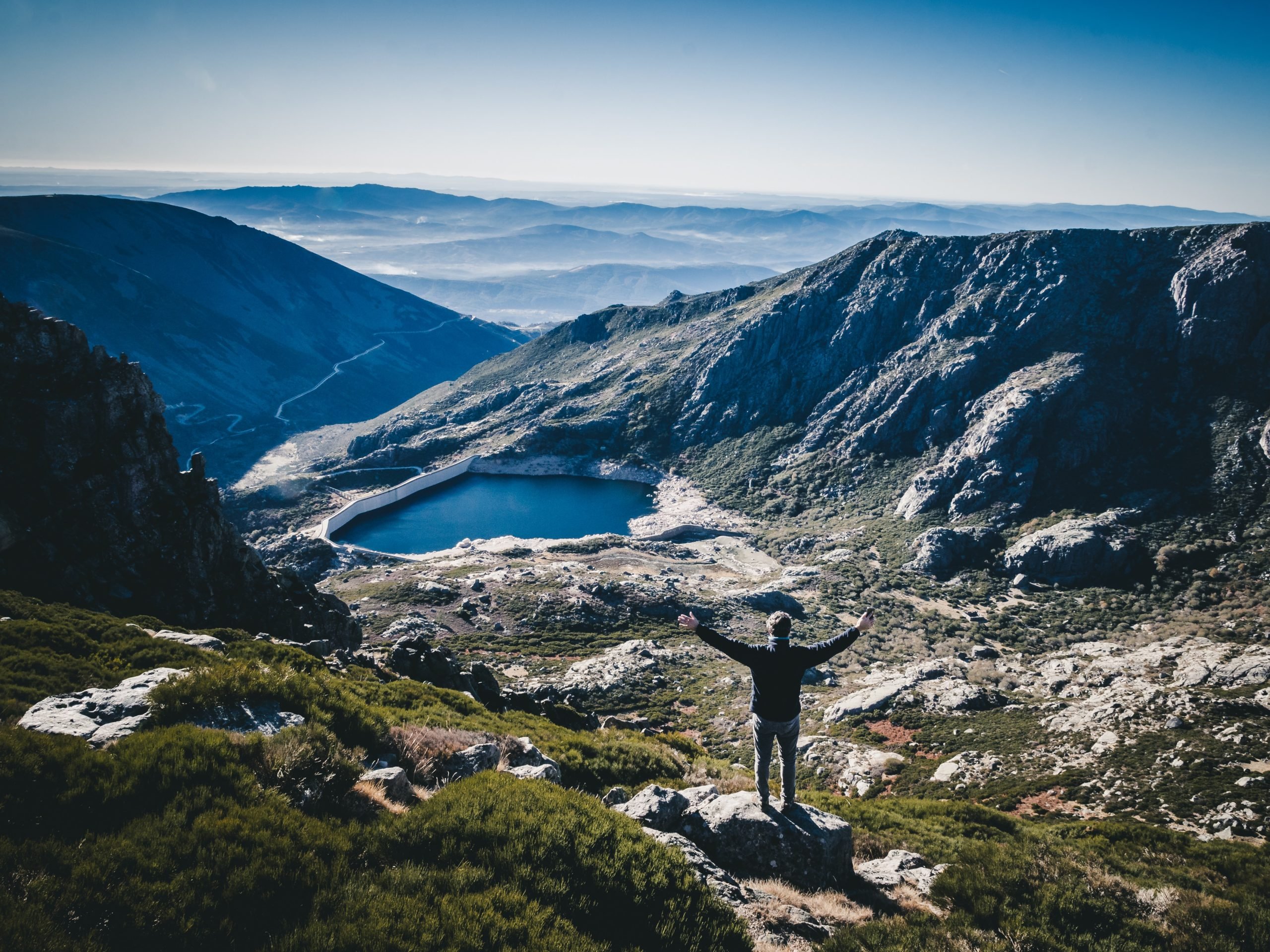 Another great hike is hiking from Manteigas to the Poço do Inferno, a 7.5 KM hike considered medium level. The village of Manteigas is a quaint town perfect for exploring and a great spot to discover the local cuisine. The hike will lead you to a waterfall that offers beautiful views.
Depending on the weather, contact local authorities to determine if a certain hiking trail is safe.
To see as much of Serra da Estrela, we recommend a 4×4 jeep tour. This half-day off-road tour is four hours long and allows you to discover the landscapes of the mountain with a local guide.
We recommend booking the tour when it is snowing to get the best panoramic views of the white mountain range.
The tour even includes a Serra da Estrela cheese tasting. This cheese is a protected designation of origin (PDO) within the European Union, highlighting its uniqueness to the region. It is made from sheep's milk and has a maturation period of at least thirty days.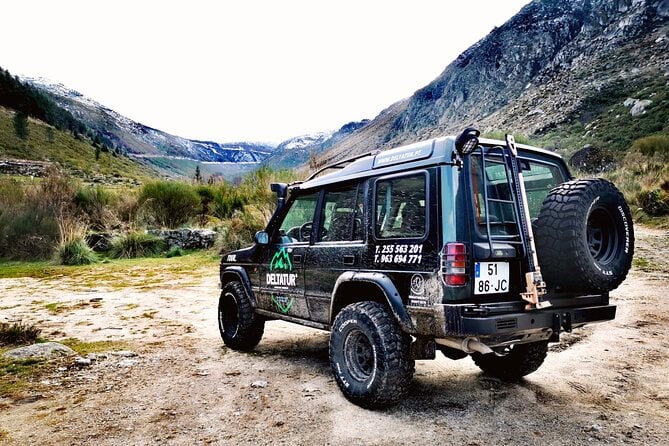 Join our FB group Portugal Travel & Living for all things Portugal and news updates