Porto is beautiful in the winter. Not only due to the way the city lights up during the Christmas season and fewer hoards of tourists but because of the celebrations on December 31. The last day of the year is a memorable one in Porto, with locals and expats alike taking to the streets to celebrate and admire the fireworks.
If you are trying to figure out your plans for your next New Year's Eve in Porto, we have got you covered. From the best hotels to our favorite restaurants to celebrate this night, Porto has a lot to offer. But first, let's take a look at the New Year's Eve traditions in Portugal so you know what to expect!
New Year's Eve Traditions in Portugal
12 Raisins: At the stroke of midnight, the Portuguese begin eating their 12 raisins to represent the 12 months for good luck. If you are spending New Year's Eve at a restaurant, these will usually be handed out to you.
Champagne toast: It's customary to toast with your friends in attendance, making sure not to cross your arms with others and to make eye contact.
Money: Portuguese superstition says that you should have money with you when the clock strikes midnight for wealth. The tradition varies, with some holding the money in their hands and others keeping it in their wallet or even shoes.
New outfit: It is said to bring about good luck to wear a brand new outfit. Everything should be brand new, particularly your underwear!
Ocean swim the next day: Many heads to the beach on the morning of January 1. The brave ones enjoy the first dip of the year in the ocean.
Best Hotels for New Year's Eve in Porto
What better way to spend New Year's Eve in Porto than in a nice luxurious hotel? Many even have special packages for the occasion that include a delicious New Year's Eve dinner and other activities, such as a relaxing spa day. Let's take a look at the 5 best hotels for New Year's Eve in Porto.
This four-star hotel feels like its five stars. It has a 70 cm deep outdoor people, a spa a few meters away, and a gym. It is located within walking distance of main attractions like Bolhão market, Aliados Avenue, and Ribeira, great spots to watch the fireworks after dinner.
The hotel restaurant serves local and international cuisine and has a great selection of Portuguese wines for your New Year's Eve dinner.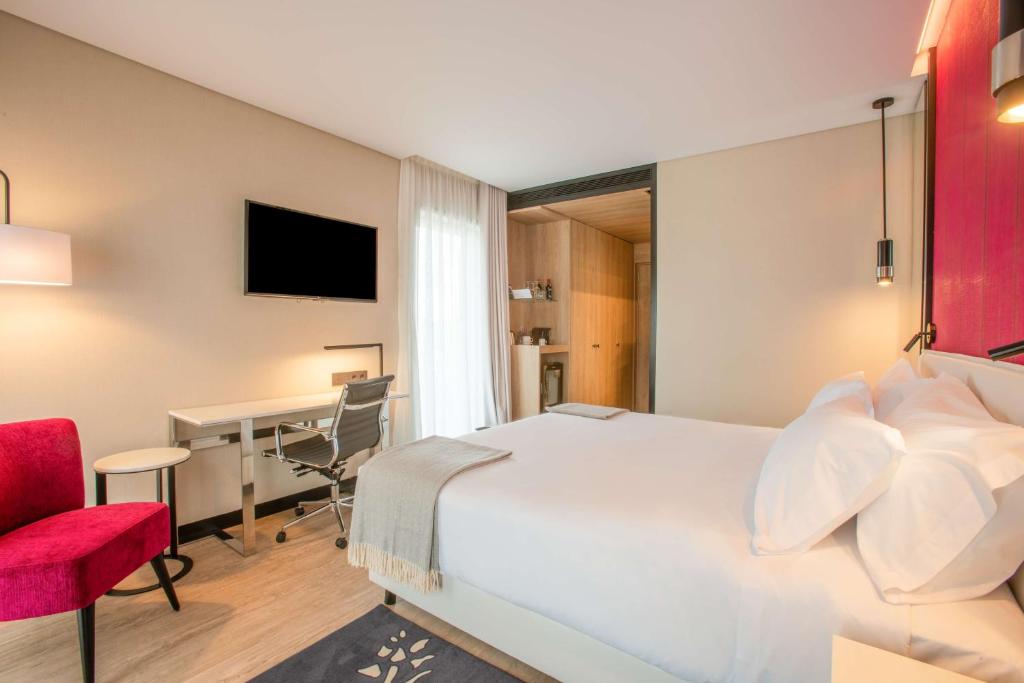 Located in the old town, this modern 4-star hotel has a sun terrace with views of the city of Porto, the perfect place to enjoy some port wine. You'll be close to everything you need, Santa Catarina street, Aliados Avenue, and the cathedral. The hotel offers unique and affordable experiences, like driving your own plane (A320) over Porto for €30 and boat trips on the river for €15, which are the perfect activities for the first day of the year.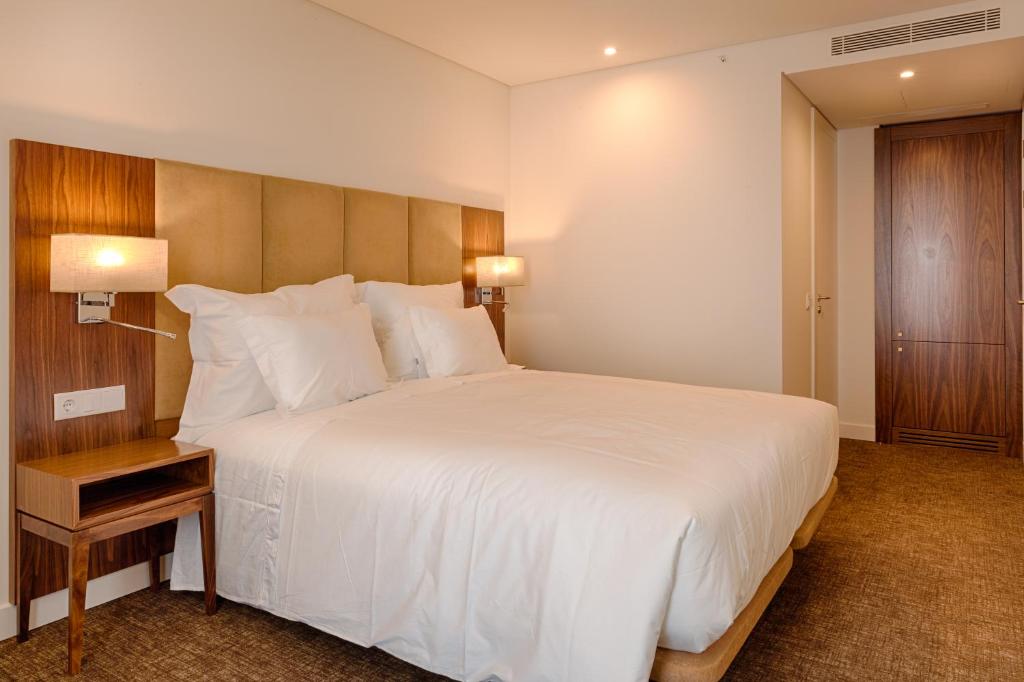 This hotel mixes the modern with rustic and has a real-life tree inside the restaurant, "O Sítio Esquecido" (the forgotten place). Mercure Porto has a restaurant, pool, and sun terrace: it feels like a retreat away from the city. One of the best locations for a hotel, you'll be a few minutes away from the hotspots to watch the fireworks after dinner!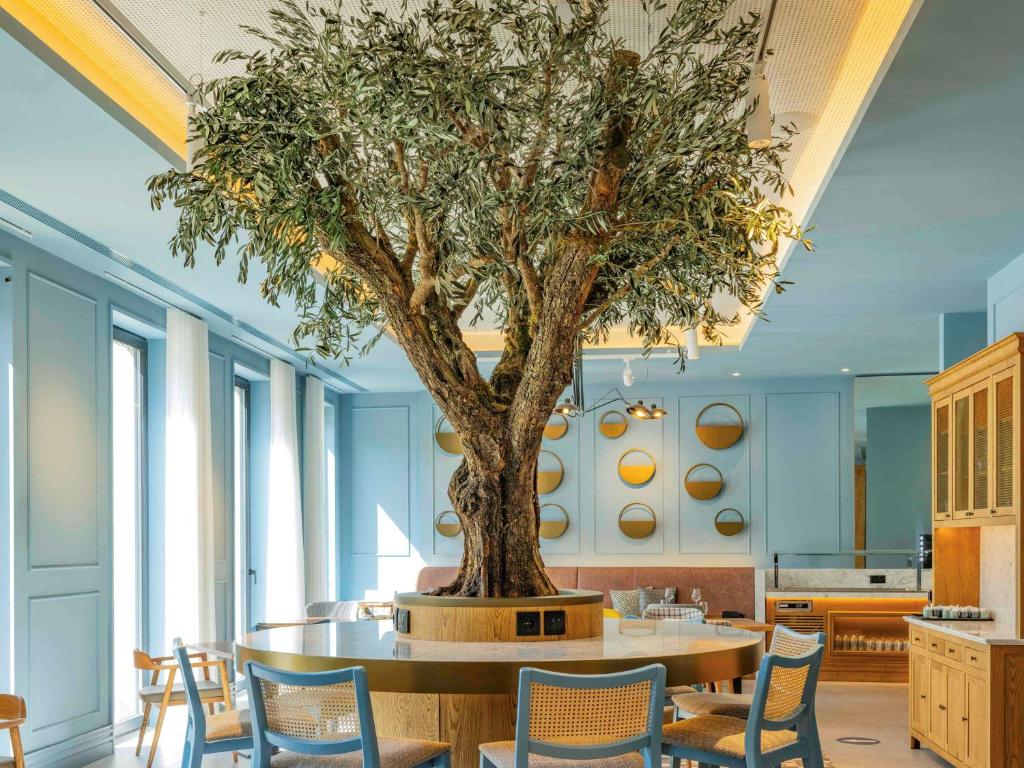 This luxury hotel isn't really in Porto – it's 15 minutes away, crossing the bridge in Vila Nova de Gaia. You get a full view of Porto across the Douro river, showcasing the fireworks along the water. Especially at night, this view is magazine-worthy. Have your New Year's Eve dinner with some Portuguese wine at the 2 Michelin awarded Yeatman Restaurant.
The hotel has a luxury spa offering panoramic views of the city, perfect for a relaxing day on January 1. Each double bedroom comes with a private terrace. The bathrooms have a large bathtub and shower and come with Caudalie skincare products.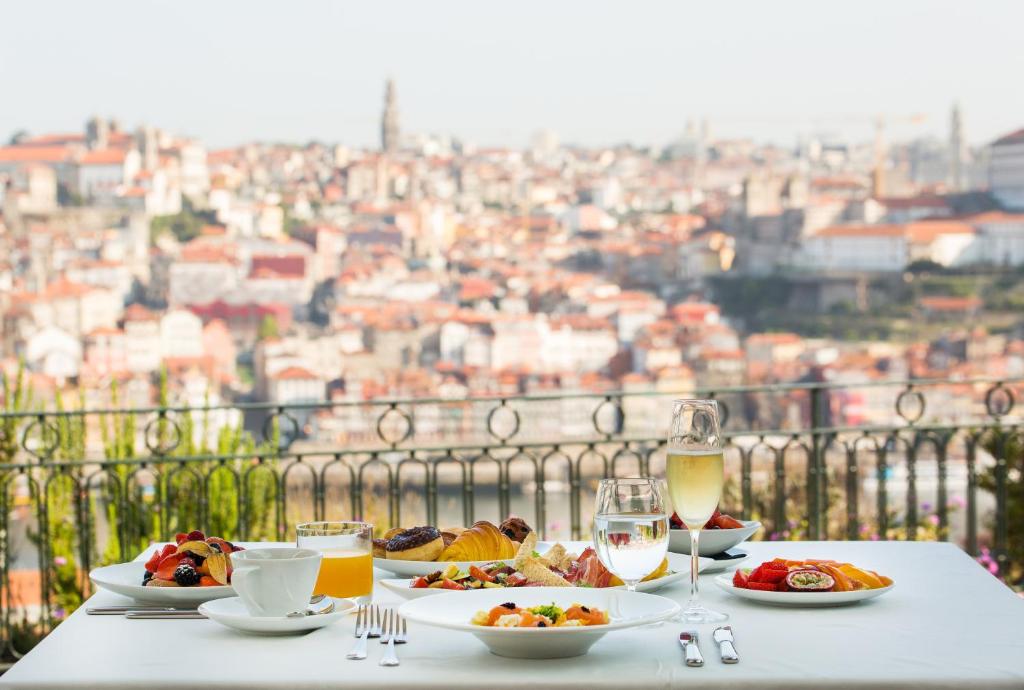 If you want to go all out, Le Monumental is for you! Located in a historic building from 1923, this 5-star hotel has two restaurants, a bar, a Spa, and a large indoor pool. Situated in the iconic Aliados Avenue, Monumental Palace is a 6-minute walk away from Clerigos Tower and the Livraria Lello.
The New Year's Eve celebration at the hotel include dinner, cabaret, singers, and other performances. Offers start at 550 euros per person and include dinner and a room, although there is a minimum stay of two nights.
On January 1st, the hotel is offering a New Year's Day brunch for 120 euros per person.
The hotel also has two Michelin star restaurants: Le Monument and Yakuza Porto by Olivier. The latter is a famous Japanese restaurant with Brazilian influences by Chef Olivier that is well known in all of Portugal.
Best Restaurants for New Year's Eve in Porto
The perfect New Year's Eve needs a delicious New Year's dinner! It is your last meal of the year, after all. Here are the 5 best restaurants in Porto for New Year's Eve dinner.
1. Antiqvvm
Located in Rua de Entre Quintas, Antiqvvm has one of the best views of the River Douro from its garden. The Michelin-star restaurant was opened by Chef Vitor Matos, who uses local ingredients to produce dishes, picking out produce by season.
The wines at the restaurant are specially selected by sommelier António Lopes. You can choose from a set menu or opt for the à la carte menu, where vegetarian options are available.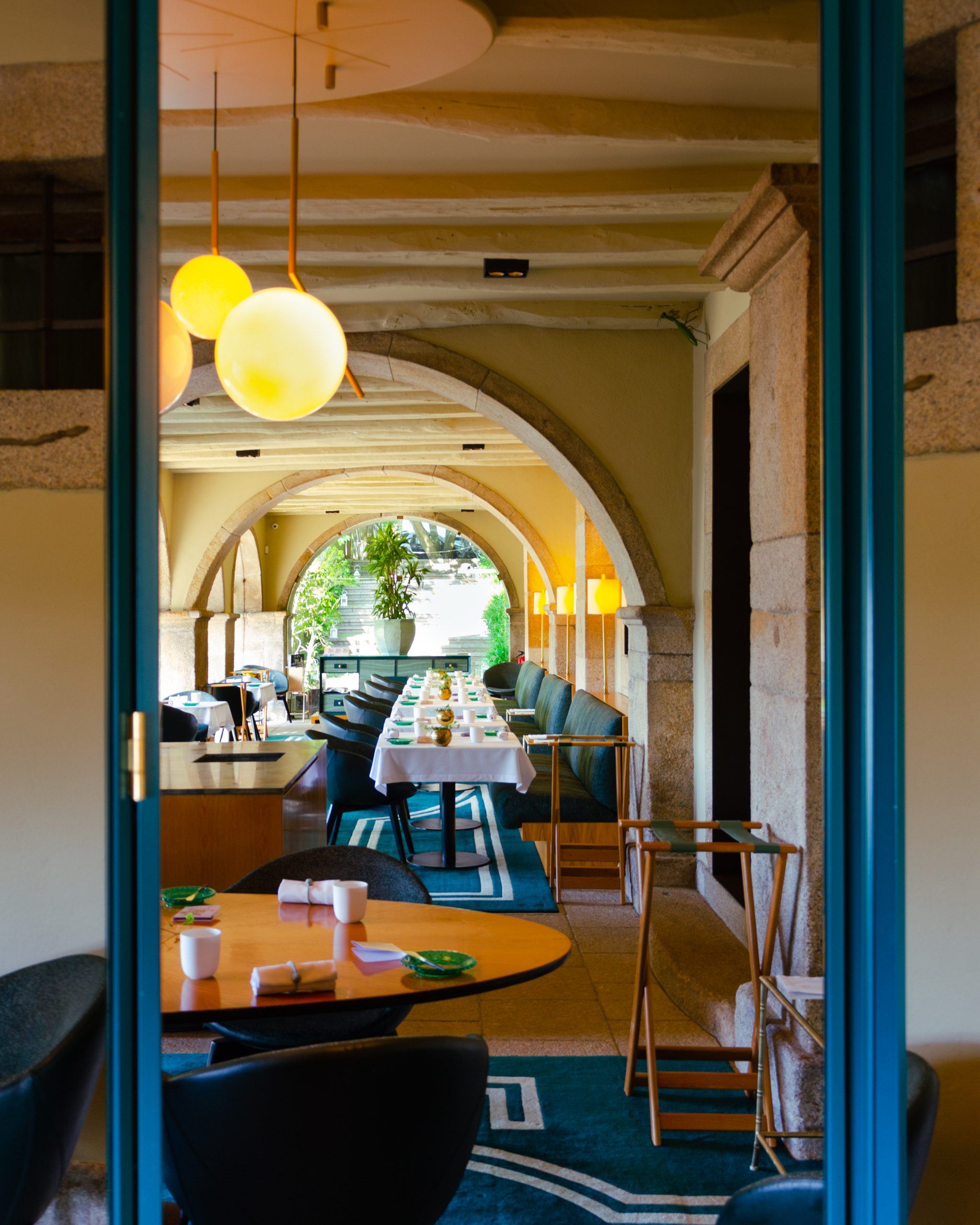 2. Pedro Lemos
Located in a restored ancient stone house, Pedro Lemos was opened in 2009 by Chef Pedro Lemos, making it the first restaurant in Porto to receive a Michelin star. You'll find this place in Foz, a historical neighborhood of Porto, 20 minutes away from the center of the city. This place has a rooftop terrace to enjoy the view of the river and watch the fireworks.
3. Enoteca 17.56
One of the trendiest restaurants in Gaia, Enoteca 17.56 has a cool atmosphere and a modern interior design. With a terrace offering a gorgeous view of Porto and the Douro River, this restaurant is also a great spot for a sunset drink. Enoteca is known for its sushi, fillet steaks, and focaccia, as well as an extensive wine list.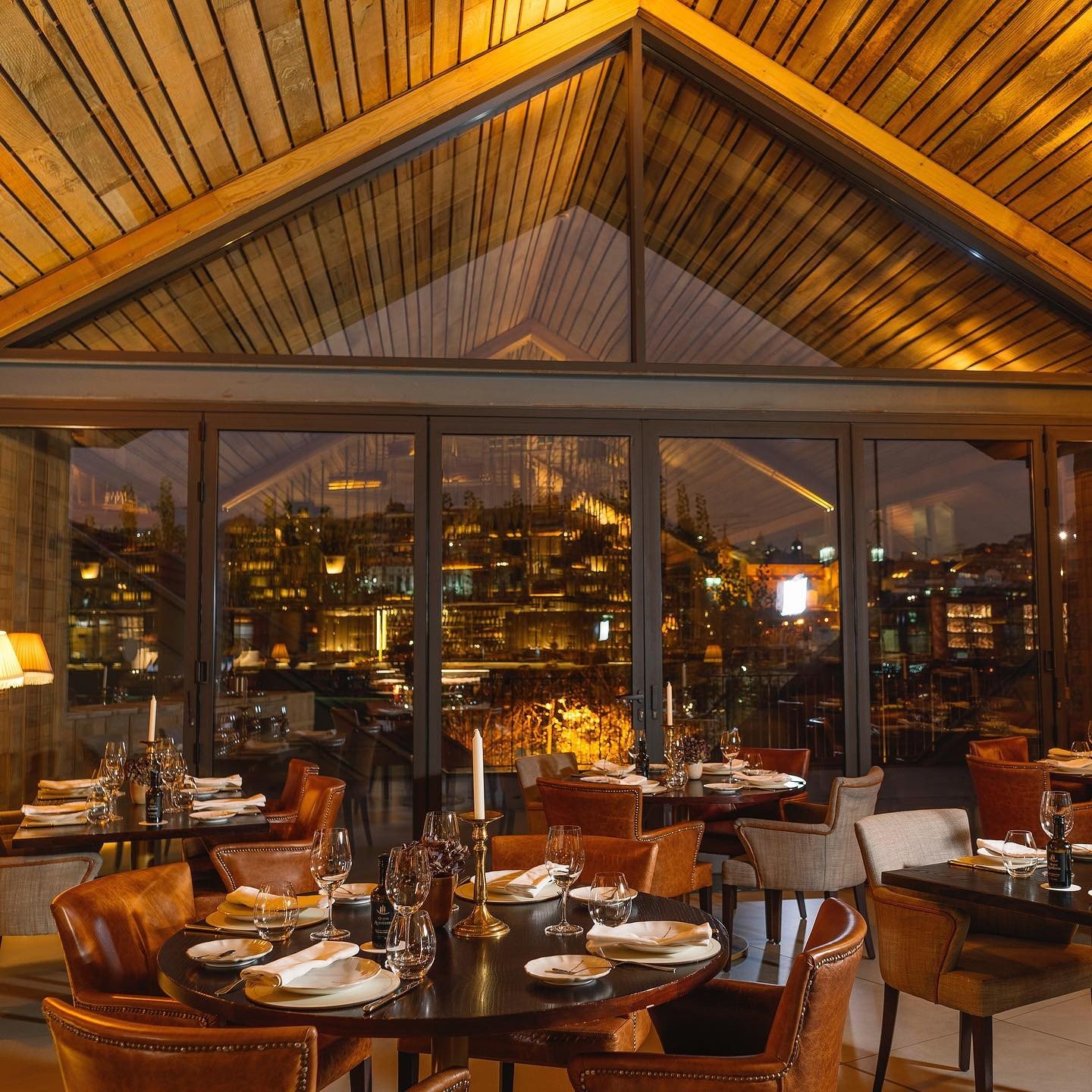 New Year's Eve Fireworks in Porto
The best part about New Year's Eve in Porto is the fireworks display that the city puts on. These are displayed by the Douro river and can be seen both from Porto and Vila Nova de Gaia. People gather on the margins of the Douro river to watch the fireworks celebrations above the D. Luis I bridge. The best way to see these is either by staying at a hotel or finding a restaurant with great views. Alternatively, walk down to Ribeira on the sidelines of the river to watch the beautiful fireworks.