The gorgeous Brown Island of the Azores, Sao Jorge features vivid green landscapes that contrast with the dark blue ocean surrounding it. This volcanic island is part of the Triangle Islands with Pico and Faial but is most well-known for its iconic fajas that make up quaint villages and natural pools.
From wonderful hiking trails and natural pools to discovering the cultural heritage of Sao Jorge, the brown island has so much to offer. Let's take a look at the 7 best things to do in Sao Jorge, Azores so your next trip can be one to remember.
1. Visit the coffee plantation in Sao Jorge
You might not associate coffee with the Azores, but that's where you're wrong! Sao Jorge is the home of the only coffee plantation in Europe. Located in Fajã dos Vimes, Cafe Nunes is owned by a family who opened the cafe at the plantation in 1997 and has some delicious coffee for you to try.
However, fun fact! Coffee was not naturally grown in the Azores. The locals believe that someone who visited Brazil brought back some coffee beans in the late 18th century. Since then, this family has been growing their own coffee plants and making a richly flavored coffee that is a must-try.
You can buy bags of coffee to take home, as well as visit the artisanal shop that sells handmade tapestries and carpets.
2. Hike stunning trails on the Azorean island
The beautiful island of Sao Jorge has some of the best hiking trails in the Azores. Exploring some of the island's 10 hiking trails is a great experience for nature lovers. Make sure to hike on "official" trails that are taken care of by the Azores Tourism Broad.
These are properly maintained and signed with hiking markers throughout so people do not get lost. You can look up the official hike trails here.
Our favorite hike takes you to the Caldeira do Santo Cristo and is 9.5 km long, perfect for a morning activity. We also recommend the following hike trails: Serra do Topo (5.5 KM, 2h30) and Fajã de Além (4.7 KM, 3H).
3. Discover Velas
You can't go to Sao Jorge without exploring Velas. Velas is a municipality in São Jorge where around 6,000 people live, meaning that most people on the island live in this village. Velas translates to sails and is rumored to pay homage to the sailing ships that have passed through the municipality.
Visit the sports marina that features a Sea Gate created in 1799. There are also many churches to explore, such as São Jorge Church, a 16th-century building, and Conceição church, located in a convent.
Velas also features a large Cultural Center, a modern building with an auditorium, a cinema, and a library.
If you come to Velas at the right time, you might be able to witness Azorean culture at its finest. A culture week occurs every summer in Velas, the main village of the island where local traditions and cultures are celebrated with local concerts and bullfights.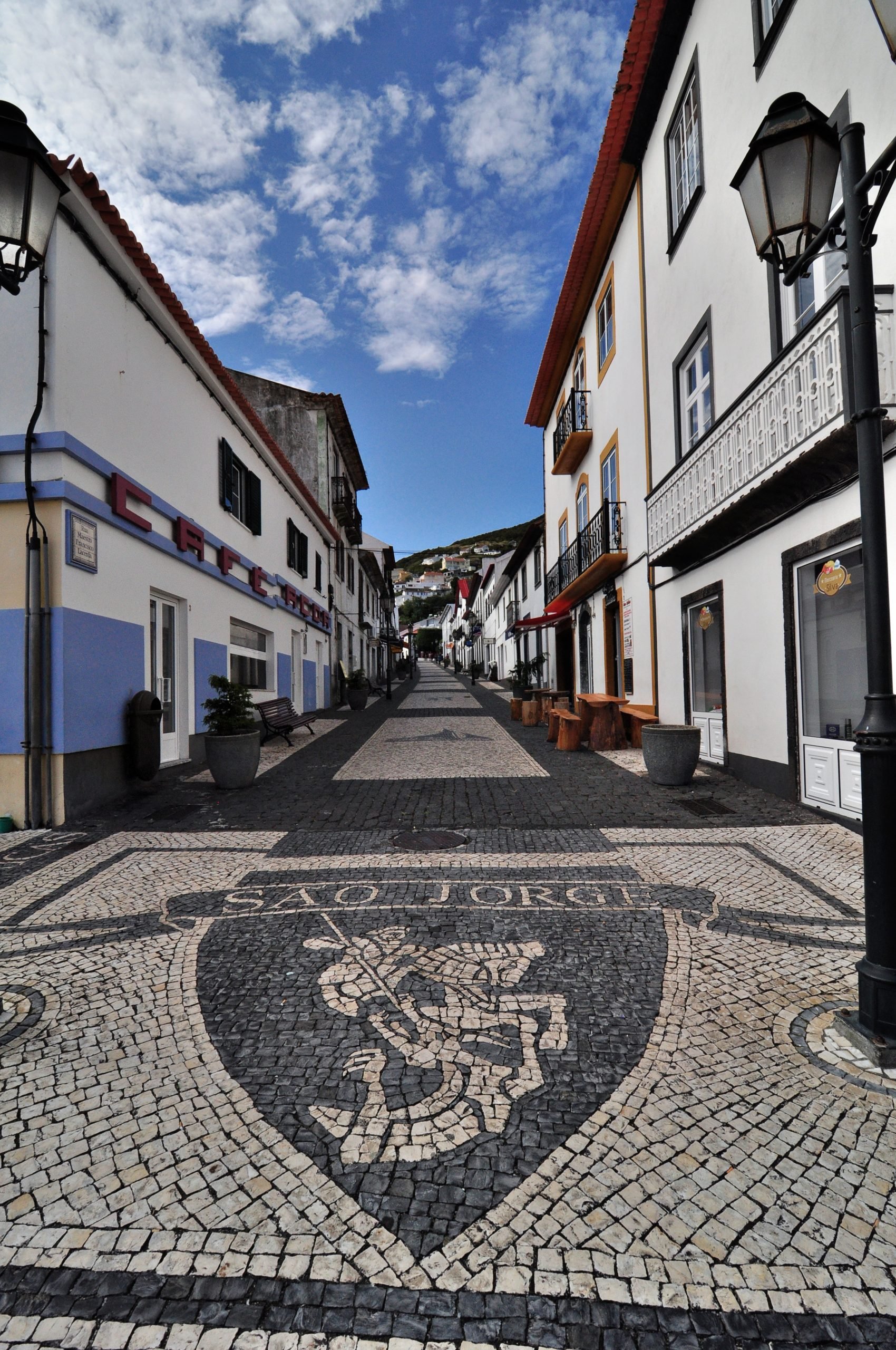 4. Explore the iconic fajas
Many Azorean islands feature fajas, but usually only a maximum of two in a single island. São Jorge tops any other island, featuring more than 40 of these!
If you are wondering what these are, Fajas are small plains located at sea level which were once created by lava flows. You must visit our favorite faja, Faja do Ouvidor, the one that locals go to the most.
It's home to the Poca Simao Dias, the most amazing swimming hole on the island. The water is clear, and you can even jump onto the water from low rocks. However, make sure the tide is safe and that you can jump without getting hurt.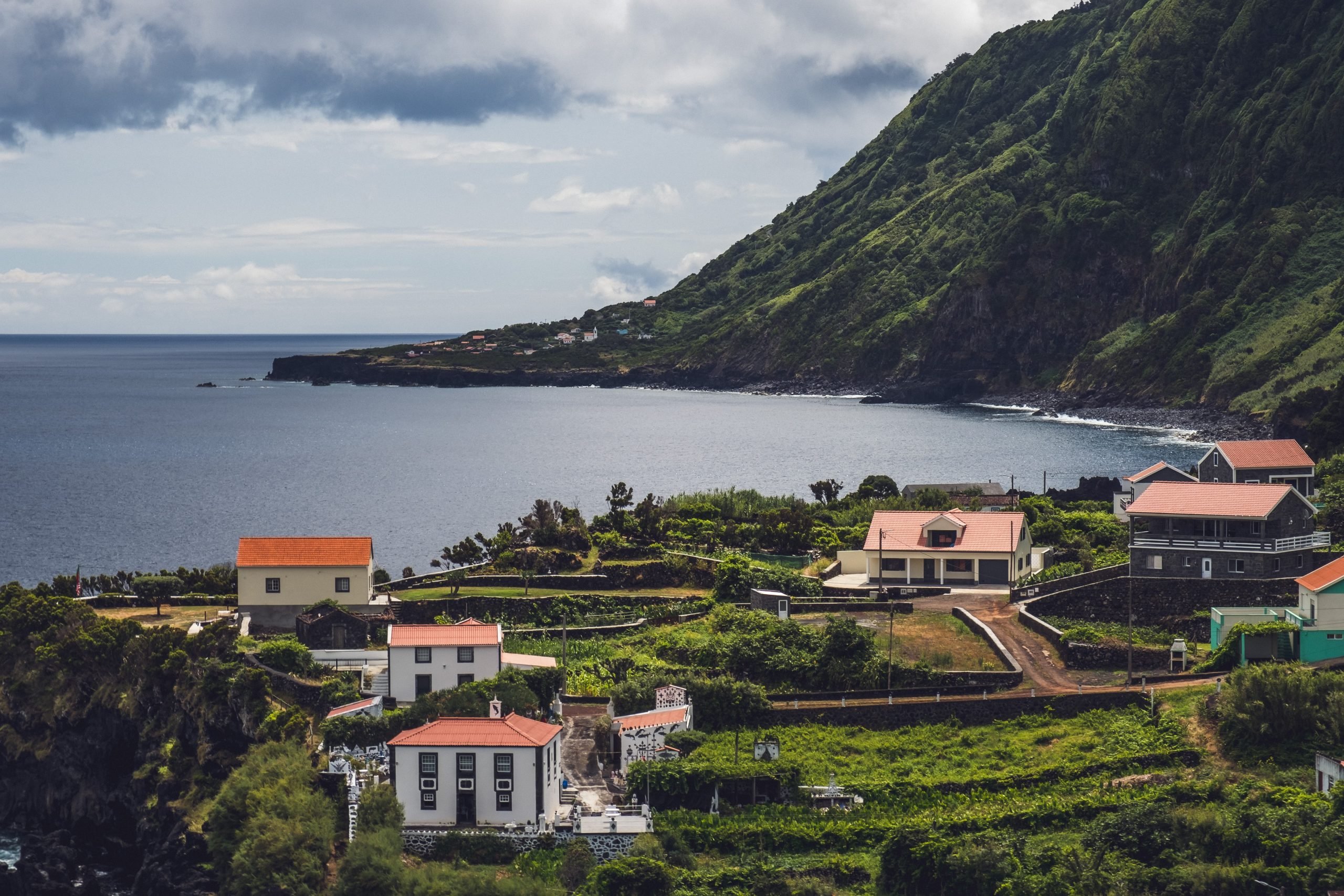 5. Day trip to Faial
Luck you, Sao Jorge is part of the Triangle Islands with Pico and Faial. Each island has a unique culture, so we recommend taking at least one day to explore each.
Let's start with Faial! The ferry from Sao Jorge (Calheta) to Faial (Horta) takes around 2h30 minutes.
Faial is nicknamed the Blue Island because of the hydrangeas in different shades of blue that span the landscapes of the island. 15,000 people live on this island of 67 square miles, making it a cosmopolitan island that still features activities for nature lovers.
But what to do when you get to Faial? We recommend exploring the city of Horta. The Horta marina has a large mural where sailors from around the world paint a section to symbolize their voyage.
Also, head to Peter Cafe Sport, an emblematic cafe on the island that thousands have passed through. There are also many quaint traditional churches that are beyond Insta-worthy.
If you are a nature lover, we recommend booking this hike with a professional to go down the caldeira. You can also walk around the crater which will take around 2 hours. In fact, Faial has a lot of beautiful trails to hike, such as this 10 Volcano trail that you can book here.
Do not miss the Capelinhos, the site of a volcano that erupted in 1958 on the western side of the island. This section of the island was only created 60 years ago after the eruption.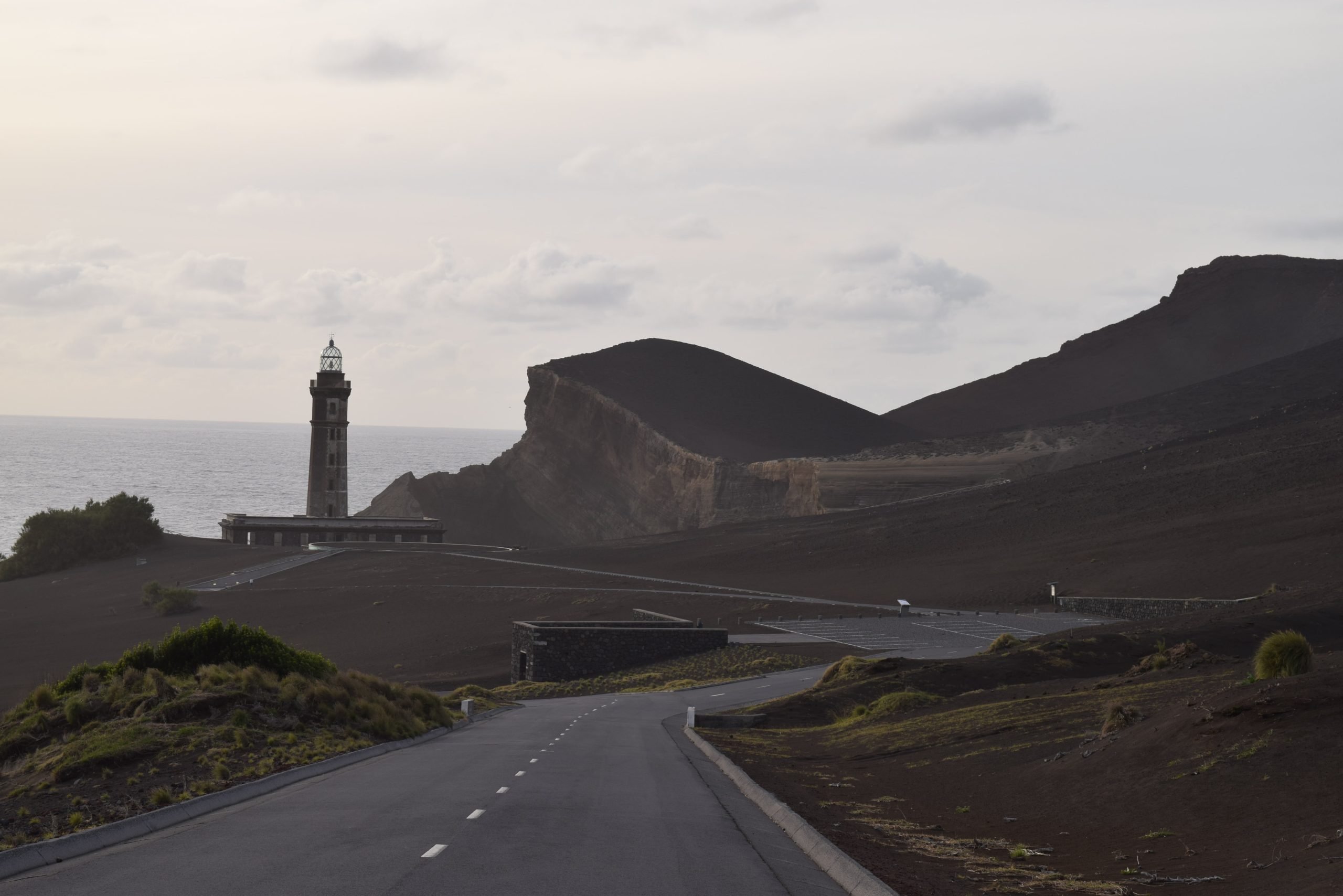 6. Day trip to Pico
Known as the Black Island of the Azores, Pico is like the Hawaii of the Azores. Home to the highest mountain in Portugal, it features exotic vegetation, UNESCO-designated vineyards, and beautiful sea views. The ferry from Sao Jorge (Calheta) to Pico (Madalena) is only 1h45 minutes.
There is so much to do in Pico! Pico has some of the nicest seawater natural pools. We recommend the Poço da Maré do Verdugo, Ponta do Admoiro, as well as the classic Lajes do Pico Natural and São Roque do Pico pools.
The island is also famous for its whale-watching, we recommend booking a dolphin and whale guided tour with a biologist here.
Pico was once a whale hunting spot, although luckily, this practice has been outlawed. However, you can learn a lot about this time on the island at the Museu dos Baleeiros in Portuguese. The Whalers Museum is a must-see, close to Lajes Port. The museum is situated in three boathouses from the 19th century.
Hiking in Pico is also a great experience. The best hiking trails in Pico are Caminho das Lagoas (22 KM, 7 hours), Calheta do Nesquim (8.6 KM, 2h30), and Prainha do Norte (7.8 KM, 2h30).
We also recommend hiking up Mount Pico, the highest mountain in all of Portugal, if you are up for it. You can book a guided hike here, where you will also learn about the geology, fauna, and flora of the mount.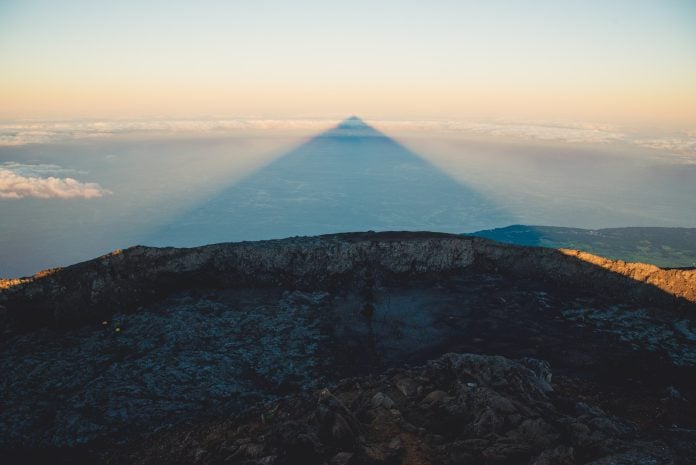 7. Taste Azorean cuisine
São Jorge features innovative cuisine made from local dairy, vegetable, and meat products. We recommend trying the traditional clams, cheese, limpets, cataplana, and any meat dish. Also, try out the Especies de Sao Jorge, a delicious local biscuit. If you are looking for the best restaurants in Sao Jorge to try out some Azorean food, here are our favorites:
Fornos de Lava
O Branquinho
Restaurante Velense
O Caseiro
Restaurante Amilcar