Discovered in the 15th century with Flores, the island of Corvo in the Azores is the smallest island in the archipelago. Less than 500 people actually live on this island! It is also the most remote island of the archipelago, giving tourists an isolated getaway from the stresses of life.
Considered a World Biosphere Reserve by UNESCO, this remote island features gorgeous green landscapes with contrasting dark blue sea views, as well as picturesque narrow streets and a strong-knit community.
If you are planning your next trip to Corvo island in the Azores and unsure what to do, you've come to the right place. There are so many enjoyable activities in Corvo. From marveling at astonishing species of birds to hiking trails with impressive landscapes, let's take a look at the 6 best things to do in Corvo, Azores.
1. Bird watching in Corvo in October
October is low season in all of the Azores, but you'll find that Corvo could be all booked up for this month. Strange, right? This is because October is bird watching season in Corvo, where you'll find hundreds of different bird species. For fanatic bird watchers, Corvo is set to be a bucket list destination.
As the island is close to the American continent, many American vagrants are spotted on this island, which you can never see in Europe or mainland Portugal. Here are some of the bird species you can find in Corvo during this season:
Double-crested Cormorant
Killdeer
Buff-breasted Sandpiper
Cedar Waxwing
Hermit Thrush
White-eyed Vireo
Black-and-white Warbler
Northern Parula
Northern Waterthrush
White-crowned Sparrow
Indigo Bunting
2. Explore Vila do Corvo
Vila do Corvo is the smallest municipality in all of the Azores and the only village in Corvo island. Its size is also proportional to its population. Vila do Corvo is the least populated municipality in all of Portugal!
This village has quaint small homes along narrow streets made of a traditional black stone. Vila do Corvo is home to significant religious buildings that you must visit, such as the Church of Nossa Senhora dos Milagres, an 18th-century church in Baroque style, and the Império of the Divino Espirito Santo, a church constructures in 1871.
We also recommend visiting the Windmills of Corvo, known as the Moinhos do Vento. These are three windmills located along the Caminhos dos Moinhos, built on volcanic rock with octagonal sails.
3. Walk the Corvo Caldera
The caldera in Corvo was formed 430,000 years ago during a Plinian eruption. It is 2,000 meters in diameter and 300 meters deep. Within the caldera, you will find different cinder and spatter cones that have given rise to small lakes and islets.
If you only do one hike in Corvo, the caldera walk is one you must not miss. It takes around 2h30 to walk up to the caldera, but the journey is worth it, filled with hydrangeas along the past. You will get one of the most beautiful views of a lifetime, particularly if you arrive in time for sunset.
If the hike is too difficult or you don't feel like walking, you can get a taxi up to the caldera for a cheap price. Nevertheless, we do recommend taking the walk as the path is very much worth it.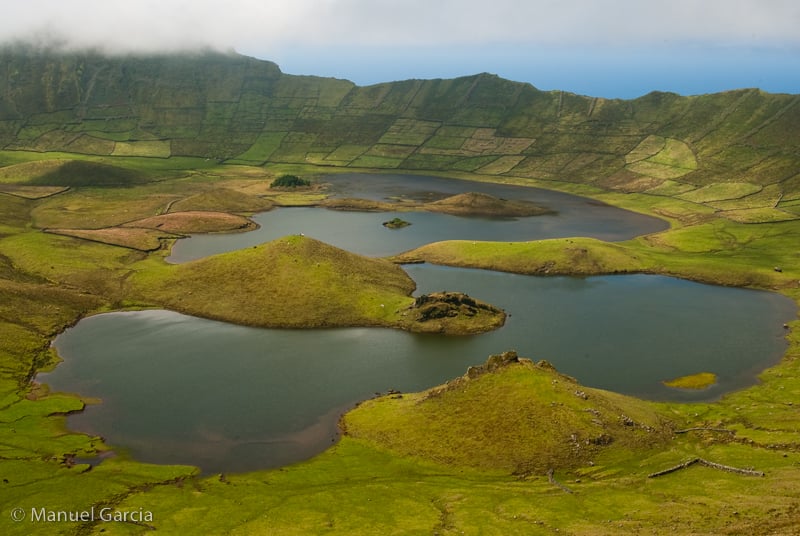 4. Hike beautiful trails in Corvo
Corvo might not have a ton of hiking trails, but the two official ones on the island are still worth it. You can take a hike around the iconic caldera that is 4.8 kilometers long and goes around the crater. If you are more experienced, the Cara do Indio trail is a 10-kilometer hike that features gorgeous views of Flores island and takes around 3 hours.
Make sure to only hike on these official trails that are taken care of by the Azores Tourism Broad if you are a beginner. There might be other unofficial hiking trails, but without the correct signage, you risk getting lost. You can look up the official hike trails here. You can find the routes on a map, the duration of the hike, as well as the elevation levels, and more.
5. Experience the Holy Spirit Celebrations in Corvo
Corvo is one of the islands in the Azores that is most well known for religious celebrations and festivals. The Festas do Espirito Santo, translating to Holy Spirit Celebrations or Festivities, are celebrated per Azorean tradition during the summer.
It begins on the last Sunday of June to celebrate the Sao Pedro, with night festivities in the Outeiro plaza and a procession in Vila Nova do Corvo. On the third Sunday of July, there is another celebration to honor the Holy Family with a lively procession.
However, the largest celebration of all takes place on August 15th every year to honor Our Lady of Miracles. During these celebrations, along with processions, you will find amazing cuisine, music, and an authentic Azorean atmosphere.
6. Day trip to Flores
Flores is only a 40-minute ferry away that costs less than €10. One of the most remote islands in the Azores, Flores is the perfect spot for nature lovers. Its name translates to "flowers" for a reason. During the summer months, Flores island is covered with thousands of blue and pink hydrangeas, as well as yellow goldenrods.
Less than 4,000 people live on this island, making it a quaint destination to experience the Azorean way of life. The island spans a 141.4 km2 surface, making it a small island that is easy to drive around through. From natural pools to the seven lakes and natural pools, this island is the perfect spot for a full island experience. Here are some of our favorite activities in Flores:
Swim in the Poço do Bacalhau, located in Fajã Grande. You can swim in this pool surrounded by cliffs and let the 90-meter waterfall fall on you.
Visit the seven lakes, blue and green lakes that span the Caldera of Flores. The largest lake is Lagoa Negra which is over 100 meters deep.
Hike a trail from the seven lakes viewpoint to Poço do Bacalhau. It's only 7 kilometers long and takes around 3 hours.
Book a canyoning experience for a once-in-a-lifetime experience, where you'll jump into pools and slide between rocks to experience the landscape to its fullest.