Traveling with kids can be stressful. Luckily, Lisbon is a very child-friendly capital and your trip to Lisbon can be stress-free if you plan accordingly. Lisbon gets over 4 million tourists a year, many of which are little ones. This cosmopolitan city with great cultural heritage, architecture, and cuisine caters to those of all ages, despite what most might think.
From fun family activities like the "hippo" amphibious sightseeing tour to independent activities for just the kids, the options are endless. Let's take a look at the 7 best things to do in Lisbon with kids to make your trip memorable.
1. Ride the "Hippo" Amphibious Sightseeing Tour of Lisbon
Our top activity to do with kids in Lisbon is this "Hippo" tour, an amphibious sightseeing guided tour of Lisbon. The tour starts off in a vehicle that appears to be a bus, covering top attractions such as the Commerce Square and Avenida da Liberdade.
The "Hippo" bus later on rides onto the Tagus River, transforming into a boat! This trip is thus set to shock your kids in a positive way. Sailing through the Tagus River, you get a unique view of Lisbon from the water, passing by the Belem Tower and the Monument of the Discoveries.
There is an English and Portuguese guide available that will tell you all about the places you see and the history of Lisbon. However, keep in mind that only children over 2 years old are allowed on this tour.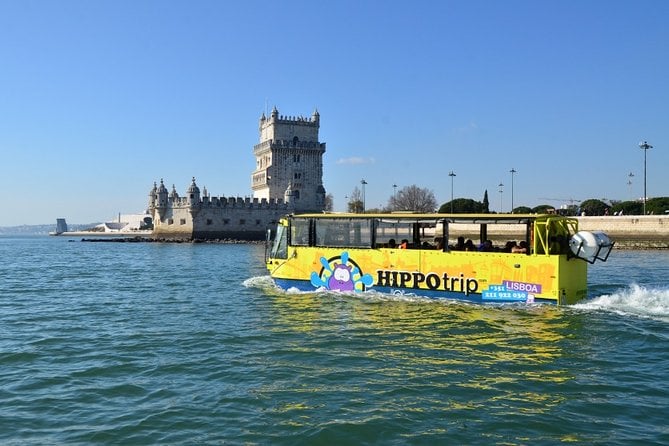 2. Visit the Lisbon Oceanarium
The Oceanário de Lisboa in Parque das Nações, the city's aquarium, is one of the largest in Europe. This place has over 8,000 creatures from 500 species, making it the perfect activity for a date or family day. Over 17 million visitors from 140 countries have visited the aquarium since it opened in 1998. Every year, over 1 million people visit the aquarium.
The Oceanário de Lisboa is divided into 4 separate bodies of water, representing the North Atlantic, Antarctic, Temperate Pacific, and Tropical Indian Ocean. From cute otters to sharks, this aquarium has every animal you want to see. Buy your ticket here to skip the line at the entrance and enjoy free cancellation.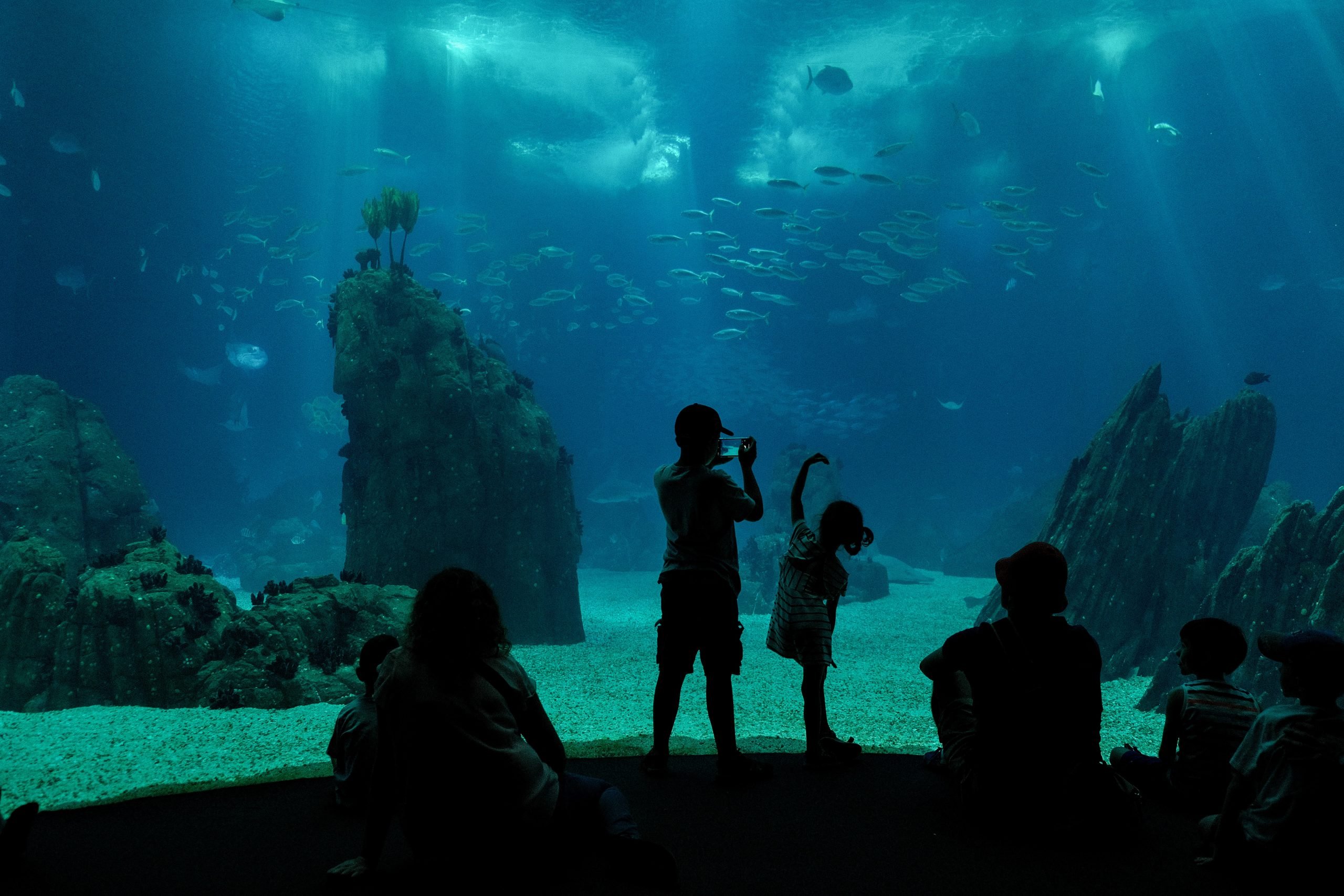 3. Tuk Tuk tour of the Portuguese capital
This is one is especially fun for those who get easily bored at museums but need an activity in Lisbon on a rainy day. Your kids are set to get excited when they see the picturesque tuk tuk that will ride on! Book this private electric tuk tuk tour of Lisbon with a local guide. This tour is an eco-friendly way to visit the best sights in the city.
The tour stops at all the major attractions such as Alfama and Mouraria, the historic neighborhoods, as well as Praca do Comercio and Belem. The tuk tuk also stops at the best Lisbon viewpoints for photo ops of the city.
Book Private Electric Tuk Tuk Tour of Lisbon
4. Enjoy a family beach day nearby
Kids love the beach and if you live somewhere far away from one, you're in luck! Lisbon is only 15 minutes away from the sea and you can get there by public transportation. And you won't be going to just any beaches, Lisbon has some of the best beaches in Europe, perfect for a city break.
Costa da Caparica is only 20 minutes away, an area with some of the best beaches in Greater Lisbon. Another alternative is going to Cascais or Sintra, where there are fewer busy beaches with loads of space.
Here are our favorite beaches near Lisbon:
Praia da Cornélia (Costa da Caparica)
Praia da Mata (Costa da Caparica)
Praia do Guincho (Cascais)
Praia da Adraga (Sintra)
Praia do Magoito (Sintra)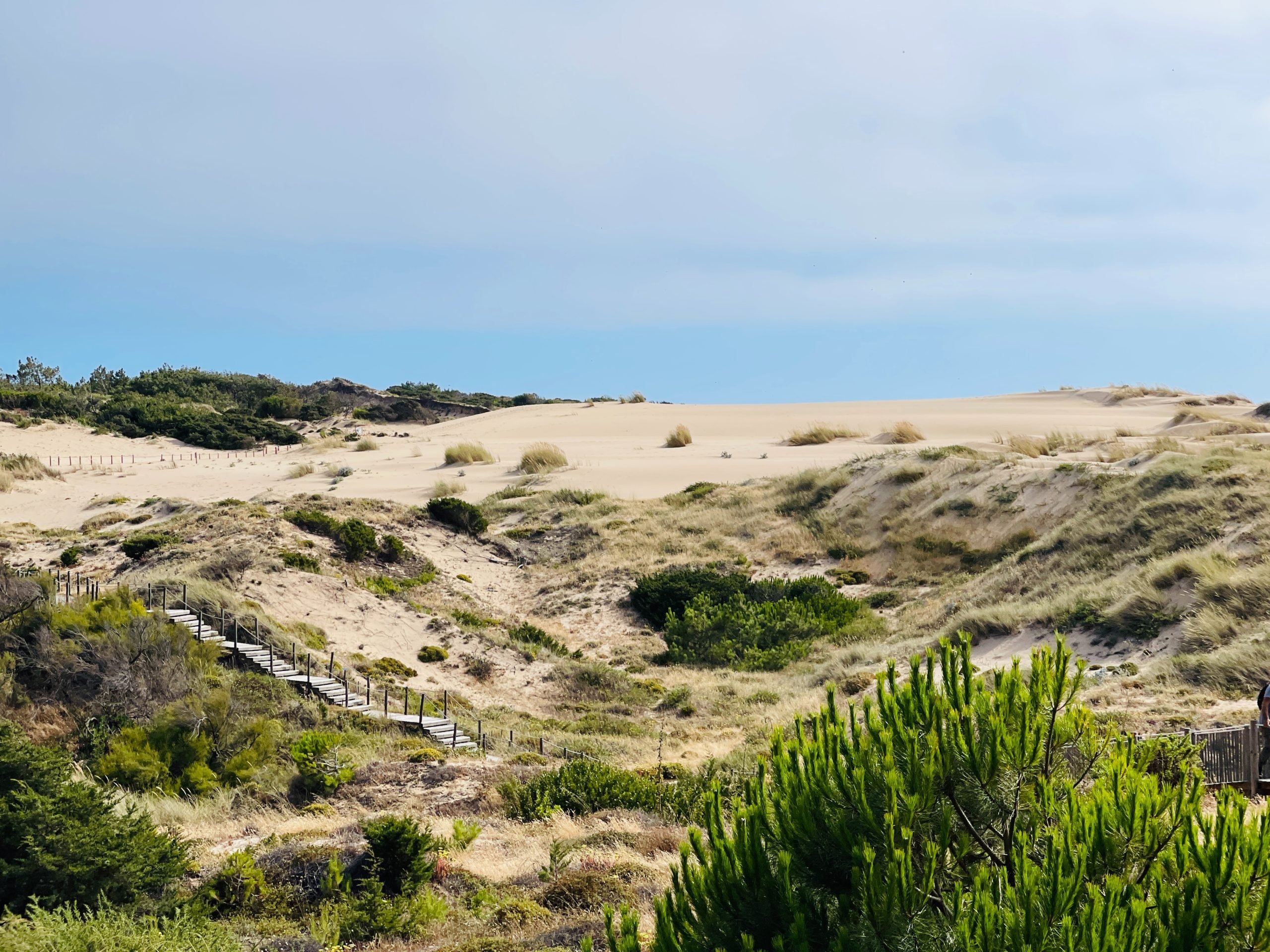 Book a beach experience near Lisboa
5. Tram 28
If a tour is not really your style and you are looking for a more affordable way to see the city with your family, we recommend taking the 28 tram. Although the tram is a public transport service, due to the places it rides through, think of it as a cheap tourist tour.
This tram line connects Martim Moniz with Campo do Ourique. The tram stops in popular tourist districts such as Alfama, Baixa, Estrela, and grace. In a traditional yellow tram, you will ride a scenic route through Lisbon's narrow and steep streets, the perfect fall morning in Lisbon.
We recommend riding the train early in the morning to avoid crowds. Make sure to beware of pickpocketers!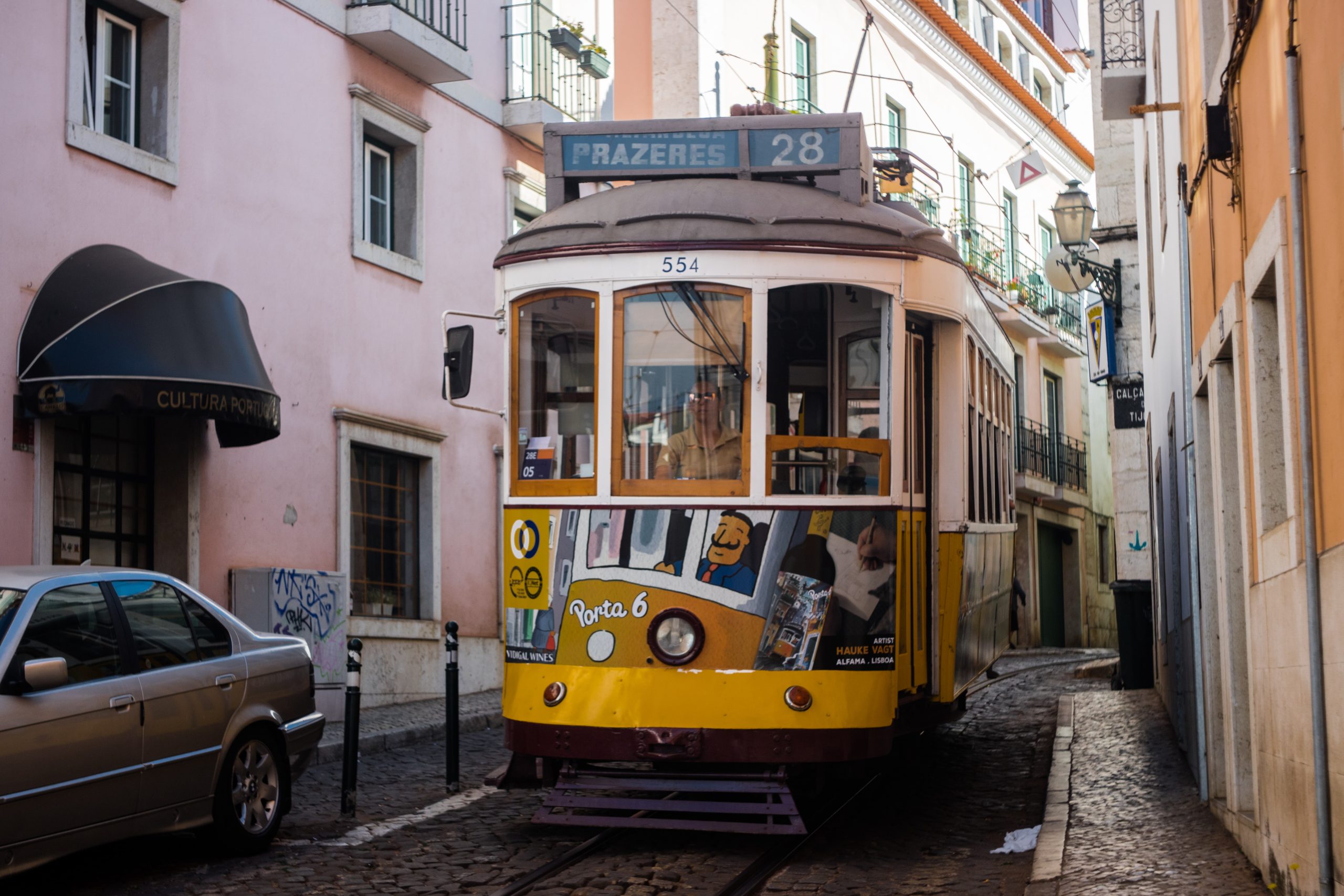 6. Learn about Lisbon history at S. Jorge Castle
Open every day of the week, Castelo de Sao Jorge is located in Santa Maria Maior and is open to visitors. The medieval castle overlooks the historical center of Lisbon and includes guided tours in various languages, allowing your kids to learn a bit about the local history.
The castle's construction has an interesting history. First, a small fortress was built by the Visigoths during the fifth century. It was made larger by the Moors in the eleventh century, who invaded the Iberian peninsula.
During the reign of Afonso I of Portugal in the twelfth century, it was altered and made into an official Royal Palace. It was then completely restored in 1938 by the dictatorship of Salazar as part of a commemoration of Portuguese patriotism and independence.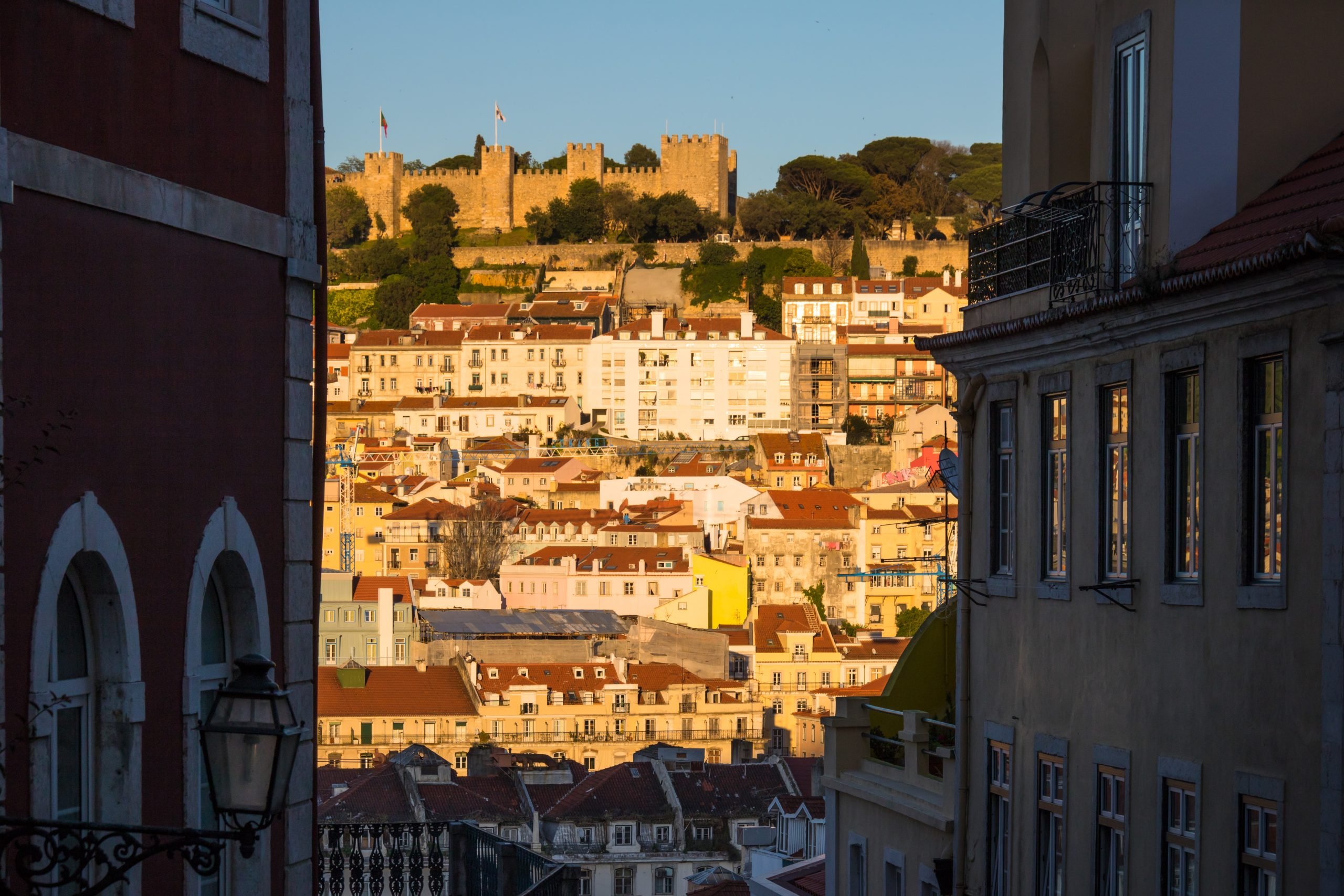 7. KidZania
KidZania is literally a kid's dream spot. Located in the UBBO shopping mall in Lisbon, KidZania is an interactive city made for children up to the age of 15 that combines fun and learning through realistic role plays.
Kids can explore a city independently, with more than 60 careers to try. Your kids can be doctors, scholars, lawyers, firefighters, and more. They earn Kidzos (the city's currency) from their work, and they can then spend it on games. Not only is this a fun activity, but it teaches kids how to manage money and navigate the real world.
The KidZania site in Lisbon includes a hospital, airport, factories, shops, police station, TV studio, fire department, beauty salon, and more.