Editor's Note: Please be careful, safe and follow all regulations regarding the covid-19 pandemic issued by the government.
Winter is a great time to celebrate life and there is currently at least one city in Europe that is keen on dancing till the morning.
Lisbon, the capital of one of the world's most vaccinated countries has become a European destination of choice for party-starved tourists by keeping parties and mass events like Christmas markets & Carnivals going.
Head to this jovial city to immerse into the magical atmosphere of Winter 2022 and check out our top twenty things to do in Lisbon this winter. Read on and pack up to enjoy the Portuguese capital's festive vibe.
1. Go Partying in Lisbon
Lisbon is one of Europe's topmost party capitals. It is known for its Bairro Alto, a charming area by day that turns into a partying monster throbbing with pleasure-seeking at night.
Even though tiny in size, the district numbers over 100-night establishments and has one of the world's highest shares of nightspots per capita. It is by right considered one of the best places to party in the winter of 2022.
Keep in mind that even though the Portuguese capital has stayed out of lockdown the EU digital certificate will be required for you to attend a public event like a party, for example.
2. Head for Dinner and a Shopping Spree in Lisbon's hip LX Factory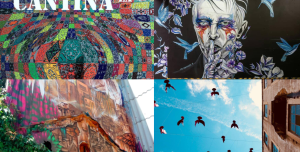 One of Lisbon's secret places LX Factory is a cluster of shops, restaurants, cafes, and creative spaces. It is known for its tasty food, cute hipster ambiance, designer stores, and a Sunday market that draws in the most "plugged-in" Lisbonites.
The Lx Factory is situated at 103, Rodrigues de Faria Street. To get there from Cais do Sodré you need to jump on the 15E tram or hop on the 714 Bus.
3. Go to a Techno Party at the Kremlin, Lisbon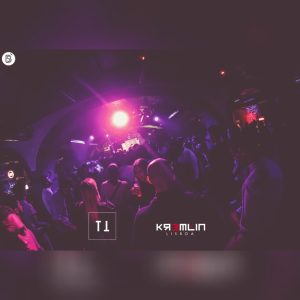 Housed inside an old convent in the area of Santos, the club with this somewhat menacing name is something to be afraid of.
Going to the 350 square meters party-den can induce a highly acute dancing frenzy, which can be exacerbated by the presence of Lisbon's most incorrigible techno fiends.
Note that even in winter you will feel hot, which makes it a great alternative to mulled wine on Lisbon's quay to cheer the New Year in.
Keep in mind that the club has a truly unique interior, with a rough stone floor, many imposing arches among other anachronistic décor elements.
Sadly, it is open just on Friday and Saturday and even then only from midnight. If party-minded on Thursdays and Sundays go to LuxFragil, another great techno spot in Lisbon.
4. Kick back and listen to reggae in the Groove Bar
Sitting on the notorious Rua de Rosa in Barro Alto, the reggae joint is known for its chilled rhythms and a laid-back feel. It also features great DJs performances, punchy cocktails, a trippy inside, and a wall painting of charismatic Commandante Che Guevara, a symbol of Lisbon's nightlife's resilience this winter.
5. Meet New Year at

Ribeira

Esplanade
Once a place for building and repairing ships sailing for Portuguese India's Spice Coast, Ribeira Esplanade is one of the best places to celebrate New Year in Lisbon. Dance your way to Ribeira Esplanade to look beyond the horizon and think of all the adventures that the year 2022 is promising you.
Party in the year 2022 by uncorking this heady Dao right at the water edge. Or if abstinent, go for a coffee at a riverside café; but don't forget a sprinkle of cinnamon to make the New Year ever more spicy and fragrant.
6. Head to Cascais for a Christmas Family Dinner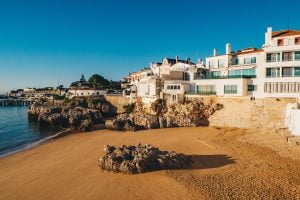 Known as one of Europe's most chic seaside resorts for its luxurious casinos (one of which inspired a James Bond movie, Casino Royale), hotels, and restaurants, Cascais is one of the best places to celebrate New Year and Christmas.
Feel like a true royal in Cascais' beautiful setting made so famous by the Portuguese, British and Spanish kings, who relished spending their time here.
Bear in mind that the beaches between Cascais and Lisbon are the best for a winter seaside walk, while those further North may feel windier.
7. Shop at its en vogue boutiques
Lisbon is a fashion magnet whose pull has inexorably grown. Apart from trendy places such as LX Factory, it boasts many designer boutiques such its Embaixada, a cult-like store housed in a stunning Ribeira de Cunha Palace; Luvaria Ulisses, one of Lisbon's choicest historical boutiques specialised entirely in selling limited edition unique leather gloves; FORA, selling vintage-inspired sunglasses to sport in the sun-lit Lisbon; Baixa, a tribute to all milliners and one of the best hand-made hat-stores; or 88 Retro, one of the Lisbon's most exquisite vintage clothing boutiques, which even sells some home ornaments.
8. Head for a rooftop swim at White Lisboa Hotel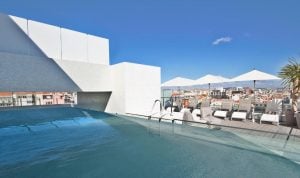 Open till midnight, the roof-top infinity pool is one of the nicest places to sip on your cocktail while floating starfish-like in warm water under the impeccably blue skies, delighting in the warm sunshine.
Note that it is best to laze about on the paradisiac rooftop as a guest of White Lisboa Hotel, one of the best places to put up in in Lisbon.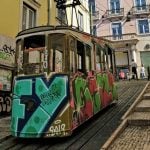 9. Use a funicular (cable car) for a great selfie opportunity
Go to the bohemian Bairro Alto by day to have a look at its street art, ride a funicular to take great pics, and gaze at the eye-pleasing facades of its centuries-old houses. Keep in mind that you can stay here beyond sunset for you to check out the area's unleashed partying vibe.
10. Revel in communal carnivalesque frenzy on Fat Tuesday, 1st of March 2022
One of the best times to visit Lisbon is the end of February – the beginning of March when both locals and visitors put on dashing and extravagant dresses and parade down its streets.
The festivities leave no place for escape and draw in thousands of ordinarily quiet folk that turn into merry revelers who know no sense of inhibition and engage in frenzied feast-making, often disguised as someone else.
Note that a Brazilian beach-side carnival takes place in Sesimbra, while a more Lusitanian celebration unfolds in Torres Vedras.
11. Sample the heavenly seafood at Invicta
Christmas and New Year's time are synonymous with good food and champagne drinking. What can be more festive than oysters washed down with this effervescent tipple?
To sample what is arguably Lisbon's best oysters head to Invicta, one of Lisbon's top-secret places. It is prized not only for oysters but also great prawns and other seafood delicacies, not to mention the non-pareil atmosphere that inevitably leads to the New Year carousal.
Note that the restaurant's address is 140 Rua da Esperanca, close by Museu da Marioneta.
12. Head for 1/8 finals UEFA champions league games played by Sporting and Benfica
The winter of 2022 is truly special for the Lisbonites who are truly enraptured by football. The joga bonito lovers will for sure spend a sleepless night in February when Sporting and Benfica will play in the city in the knock-out stage of the UEFA Champions League tournament.
Head to the stands to root them on to the quarter finals and maybe see one of them winning the UEFA champions trophy in the future.
Note that it was as far back as 2003 when it happened last time. Then, Porto carried off the title of Europe and hence the world's strongest club, and revived Portugal's football glory.
13. Go on a Lisbon Pub Crawl
Pub crawling is one of locals & foreigners in Lisbon's favourite pastimes. Hop from one Lisbon bar to another and meet a lot of new friends, which is bound to make your winter holiday in Lisbon ever more pleasant and memorable.
14. Pay a visit to its museums
Lisbon is known as one of the most "cultural" cities in Europe. A museum buff will for sure spend at least half of their time in Lisbon going to the likes of rather unique Museu da Marioneta, Portugal's first museum dedicated to puppetry or splendid Asia-focused Museu do Oriente; or more mainstream art-treasure-houses such as Museum Nacional do Azulejo, devoted to azulejo, a traditional Iberian tilework; Museu Coleção Berardo, a contemporary art museum, and Museu Calouste Galboukian, a major encyclopedic art museum, featuring stunning paintings and other art objects.
Keep in mind that the Museu da Marioneta, situated at 146 Rua da Esperanca, is home to unique South-East Asian puppets, including those used in the Shadowy Theatre Art of Wayang originating on Java Island in Indonesia.
Making your way to Museu da Marioneta is one of the ways to remind oneself that Portugal was one of the first European empires to build its presence in the Southern Seas.
15. Amble around its kinetic downtown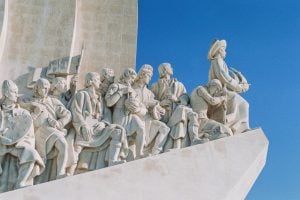 One of the best things to do in Lisbon in winter is to stroll around its picturesque historical centre. Here, you can find not only magnificent palaces, cathedrals and churches but also leafy gardens and narrow lanes that will make it your heart's refuge.
Set aside 2 or 3 hours for a thorough search of this terrain for its hidden gems such as Museu de Marinha and other nautical landmarks like 16th century Tower of Belem and the sail-shaped Discoveries Monument.
Also don't miss out on Pasteis de Belem patisserie frequented for its custard tarts, or another tropics-related site such as Jardanico Tropical.
16. Sail around to see its eye-appealing cityscape from water

Have you been thinking how to celebrate New Year and toast the year 2022 in? Think no longer, and book a private champagne-fueled sail along the picture-perfect Lisbon riverside.
Whatever the watercraft you will charter, such a maritime adventure will for sure become the main part of your Lisbon holiday since it is the sea-faring genius of the Portuguese that made the capital what it is, one of Europe's greatest cities.
17. Go to one of the world's most beauteous cathedrals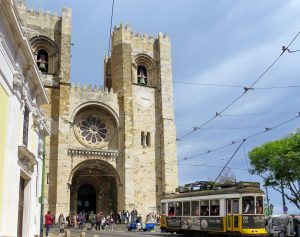 The somewhat austere Lisbon Cathedral is a grand structure highlighting the importance of Christian faith for Lisbonites. Here you can attend a Christmas mass, and see for yourself its strikingly beautiful interior.
Don't miss out on the beautiful rose windows, the one-of-its-kind altarpiece and the super-high vaulted ceiling.
Keep in mind that you can celebrate your Christmas in other places of worship in Lisbon and don't forget that the festive mood is not only inside but also outside.
18. Go to the TNSC National Opera House of Portugal
What can be more Christmas-like than going to listen to an Opera. Head to the Sao Carlos National Theatre to attend Sebastian Bach's Christmas Oratorio, one of the best theatre shows for Christmas.
Opened to the public in 1793, the grand opera house is one of Europe's most venerable theatres. Its opulent & spacious interior is matched by the superb quality of the Opera performances and its characteristically Portuguese exterior.
So whether you are spending Christmas here or not don't forget to pay a visit to this great theatre and sense the grandeur of Lisbon's soirees.
19. Buy books at Sa Da Costa in Chiado
If no usual souvenir shop can satisfy your yearn for something special to give to your loved ones for Christmas, head to this antiquarian bookstore. Located in Chiado, it offers all kinds of ancient books, whose value will for sure increase with time.
Note that as a result of censorship of Salazar's dictatorial regime, and formerly hefty costs of book manufacturing, Portugal and Lisbon took to reading second-hand books and have a lot of antiquarian book shops: so never cease hunting for new treasures.
20. Sample the best Portuguese wine

Known for its wide selection of Portuguese wines, expert staff and highly delectable wine snacks NOVA bar is one of the best wine stores to start navigating the alluring world of Portuguese national brew. But it is by no means unique, and there are many other boutique wine stores selling not only regular Portuguese wine but also its organic varieties.
Keep in mind that winter makes mulled wine especially tasty. You can try the Portuguese mulled wine at Kaffeehaus, Trobadores, Fabulas, Dona Tilia, Remi Coffee & Wine.
21. Indulge in juicy

Leitão

at Estadio Dom

Leitão
The Portuguese signature Christmas dish is Leitão, a roasted piglet that came to stand for Christmas celebrations. It is best to order a Leitão with friends or family at one of Lisbon's restaurants specialised in serving roasted-suckling-pigs. One of those is Estadio Dom Leitão, a great spot to celebrate Christmas and the New Year
22. Go to Lisbon's one-of-its-kind Christmas Market
Lisbon is one of Europe's topmost Christmas destinations not only because of its great nightlife, church ceremonies, ambrosial food but also thanks to the magical atmosphere one can find at its many Christmas markets and fairs, such as Cascais Christmas Village (December 5-January 1) situated in Parque Marechal Carmona.
It boasts a skating rink, a spell-binding Christmas tree, an enchanted forest, a zippy merry-go-round, a Santa Claus House and a dynamic Christmas market pulling in about 160,000 visitors every year.
Conclusion
Head to Lisbon to indulge in its unique winter charm and uncover its myriad attractions such as its one-of-its-kind Christmas markets, bustling food & drink scenery, scenic old town, and some of the world's best museums. Make your winter holiday in Lisbon full of memorable moments and pack up for your one-of-its-kind Lisbon winter escapade.