The historical importance of Coimbra is massive, it's one of Portugal's oldest cities, since the Roman times, this city was already an important location. This city is also known as the city of students since it's home of the University of Coimbra, one of the oldest and most important universities in the world. In this article we will present which are the best hotels for your stay in this wonderful city.
Quinta das Lágrimas Hotel
We start this list of luxury hotels in Coimbra with a hotel that is breathtaking in several aspects, the Hotel Quinta das Lágrimas. This five-star hotel was recently renovated and is located inside a historic, medieval palace. The hotel features botanical gardens, a state-of-the-art and pure luxury spa – with views of the city, two incredible restaurants, a wine cellar, an outdoor pool, Turkish bath and steam room, wellness Centre and a gym. You can also relax in the Bamboo Green Spa which features a range of luxury treatments and beauty therapies. For reading aficionados, be sure to enjoy in the hotel's library. This hotel is also a reference for golfers as it has a fantastic golf course.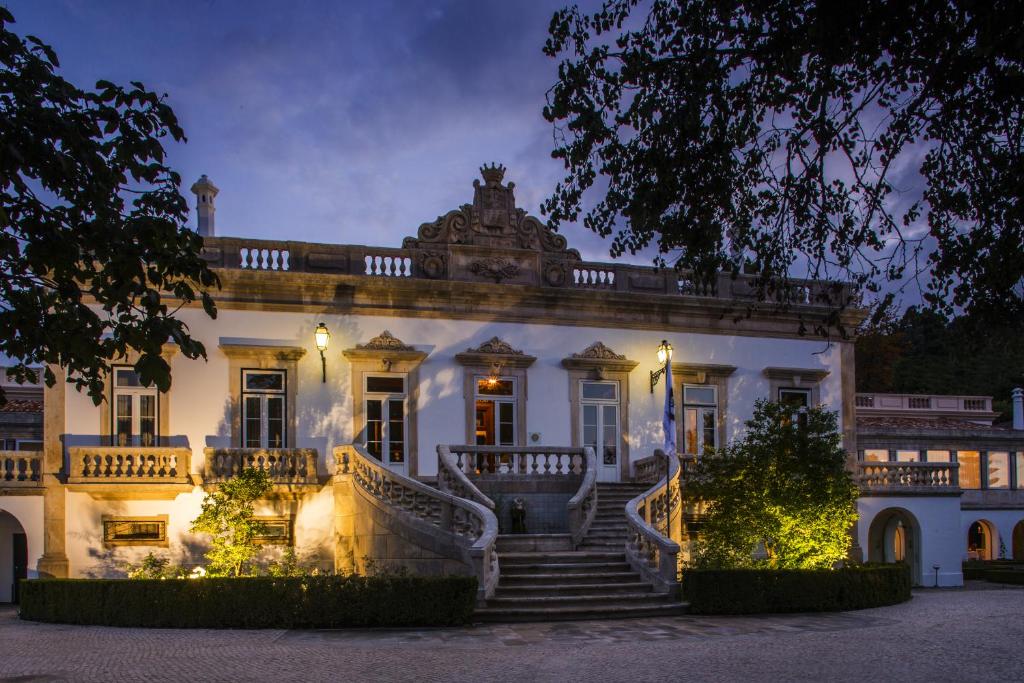 As far as room options are concerned, there are three types of accommodation to choose from: the palace superior room, spacious, air-conditioned, with stone-walled bathroom and classic decor; the large superior suite, with wood or stone floors, private bathroom and views of the garden and private terraces or gardens; and the deluxe superior, which is a mixture of the previous two.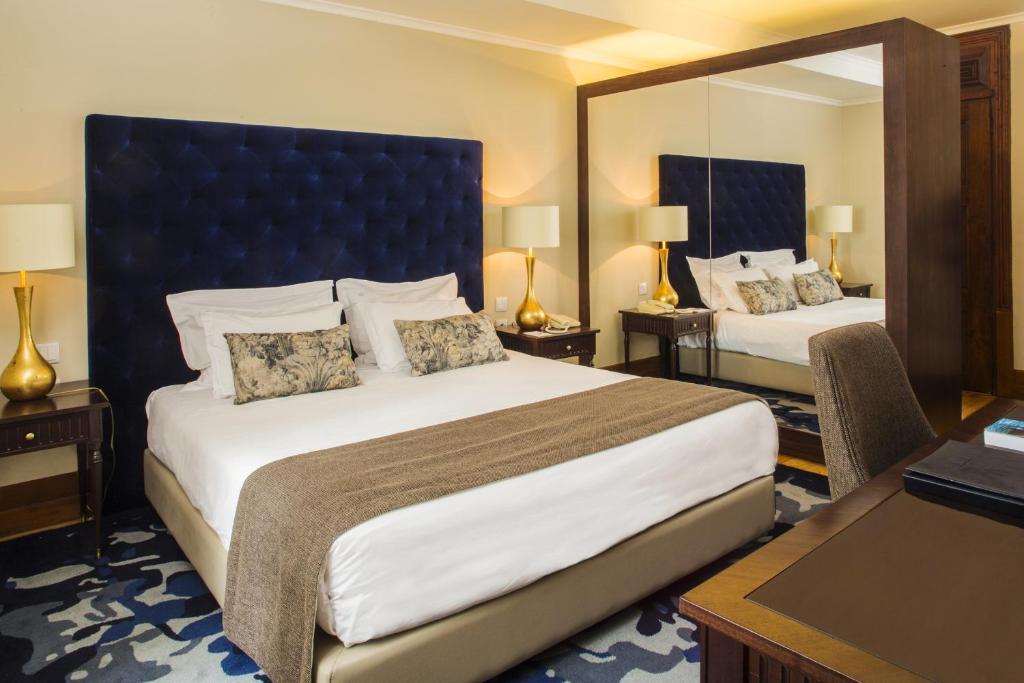 Hotel Sapientia Boutique
Hotel Sapientia Boutique is a 4 star hotel is located 300 meters from the University of Coimbra which offers 24-hour reception, luggage room, free breakfast and other facilities such as wake-up service, transfer service, bicycle rental and free Wi-Fi access throughout the property. It also has a restaurant, which is ideal for those who like to enjoy simple meals and experience the regional cuisine. Rooms at the hotel feature a terrace and city views and a flat-screen TV. Another feature of some of the bedrooms is that they have a seating area which will allow you to relax after a busy day. Each is equipped with a private bathroom with a bath or shower. For added convenience, the rooms have free toiletries and a hairdryer. If you're an explorer, the hotel also provides a bicycle rental service and you can visit S. Sebastião Aqueduct, only 400 meters from Sapientia Boutique Hotel and also Portugal dos Pequenitos (800 metres away).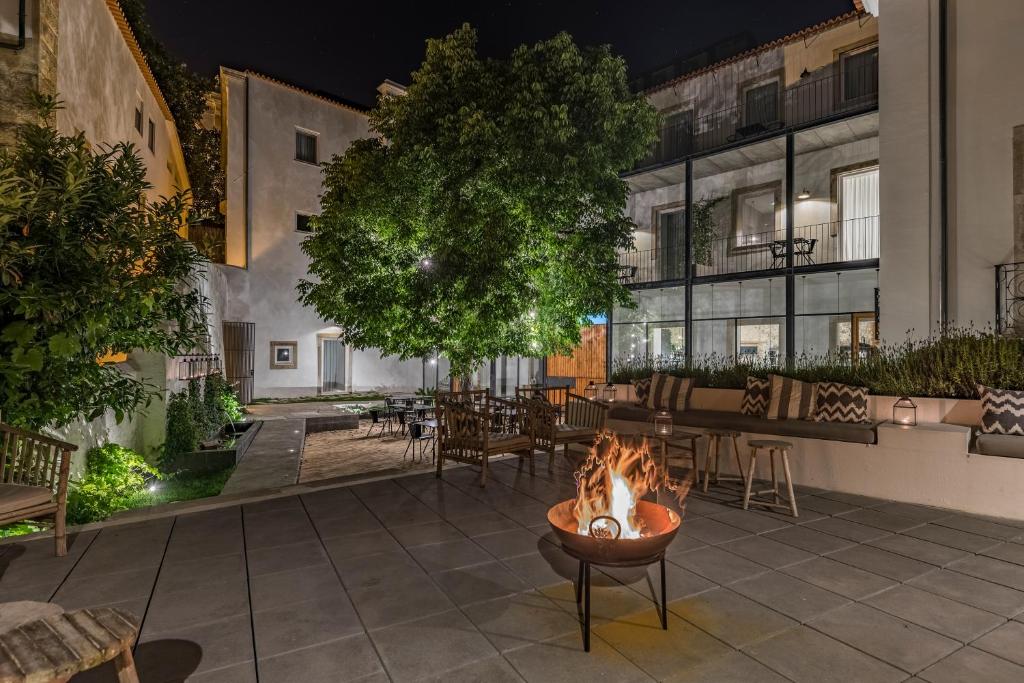 Hotel Vila Galé
The Vila Gale Hotel in Coimbra is another hotel that could not be left out of this list of luxury hotels in Coimbra. Overlooking the Mondego River, it is a 4-star hotel close to the the city historic center. It boasts two pools, one indoor and one outdoor; spa treatments; free wifi; breakfast; a restaurant and a bar. This hotel has 229 modern flats, is designed for leisure and business travelers and its theme is dance, which serves as inspiration for the decor. But you can also 'spin' by the outdoor pool and contemplate the river from there, by the two restaurants, the bar or the library. For a well-deserved rest, be sure to take a break at the Satsanga Spa that features indoor pool, sauna, wet sauna, hydro massage pool and gym.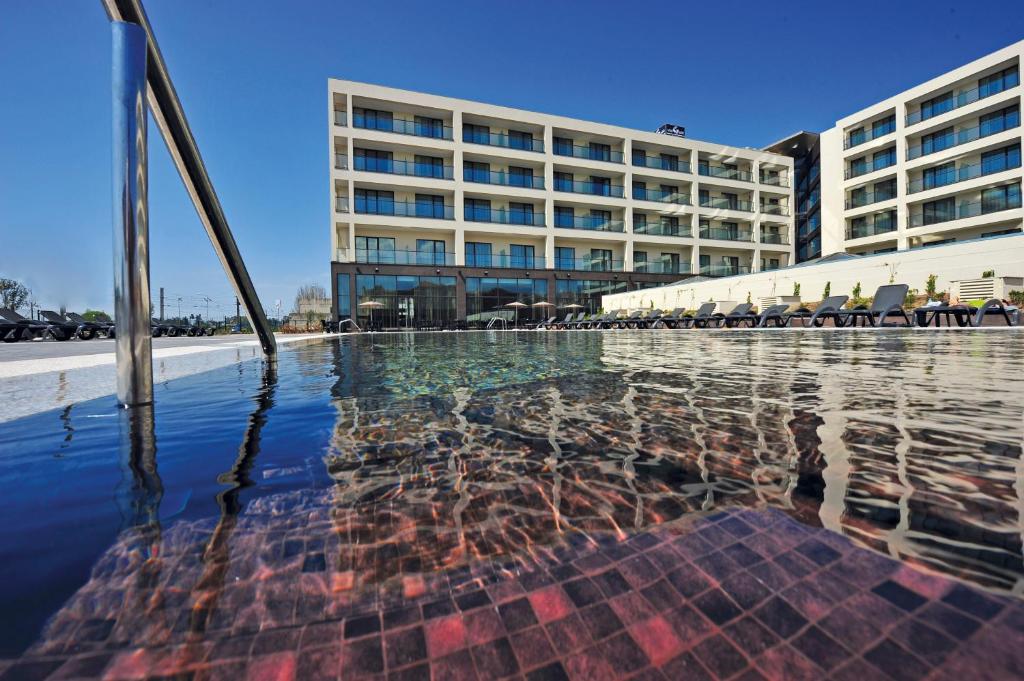 This hotel in Coimbra also has a convention and events area with capacity for 600 people. The wi-fi is free in all areas of the hotel Vila Galé Coimbra. The hotel rooms are cosy, with soft tones and fine fabrics. Room amenities include air-conditioning, television, work desk, private bathroom, and some feature a sitting area. In the bathrooms there is a hair dryer, toiletries and a bathtub. If you want to have some fun, you can take advantage of the hotel's billiard room. For those who are more active, the best thing to do is to visit the hotel gym.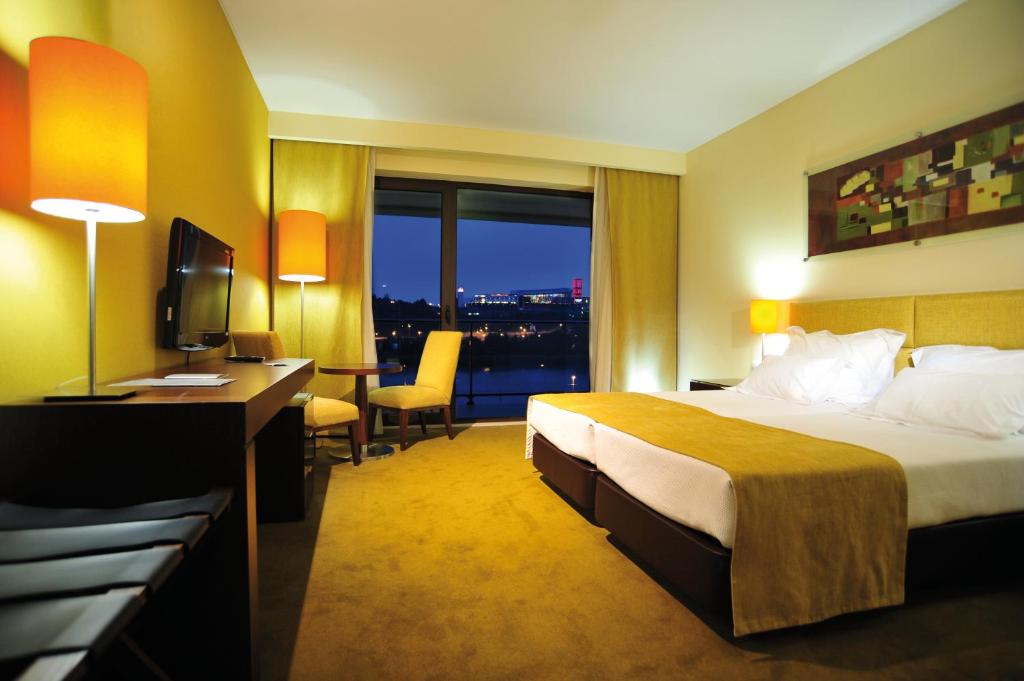 Hotel TRYP
TRYP Coimbra is a 4 star hotel that enjoys a hilltop location in the city, just 100 meters from the University Hospitals a national and worldwide hospital reference. If you are in town to explore, this is also a good option as it is only 15 minutes' walk from the prestigious University of Coimbra and also has easy access to the historic city center.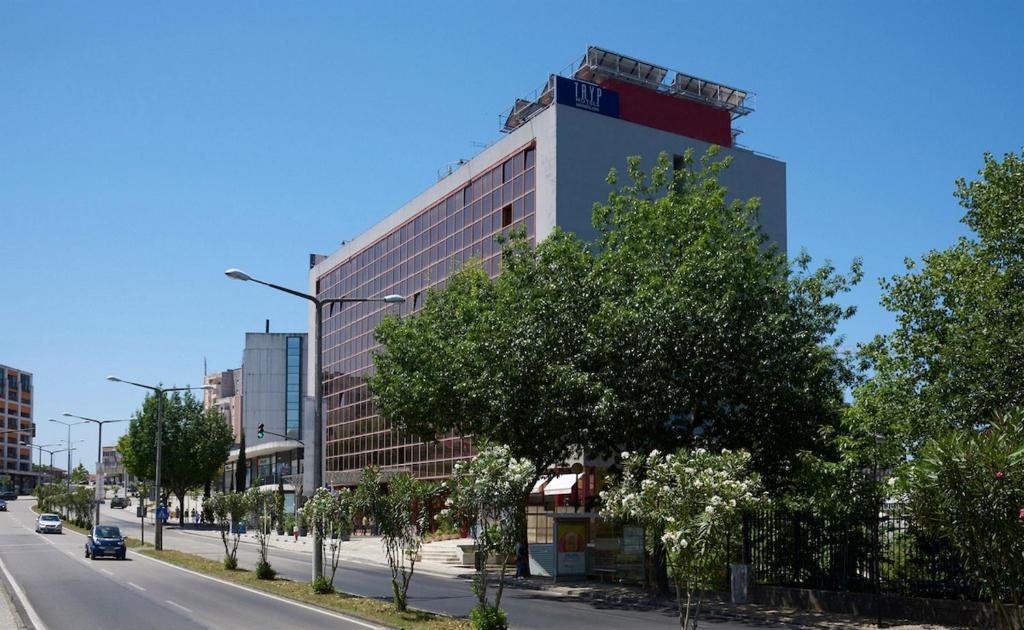 The rooms rooms at TRYP include ar conditioned and they're decorated in a modern style with pastel colors. They include a cable TV, a minibar, a work desk and a private bathroom with a hairdryer. If you like to enjoy mealt, this hotel's guests can enjoy breakfast, lunch or dinner service at the hotel restaurant, Baga, which serves a several Portuguese, international and vegetarian meal options. If you appreciate having a drink at night or other time of the day, the hotel invites you to visit the bar which has live music once a week. The Hotel Tryp Coimbra also offers you 6 meeting rooms for events or business, fully equipped with audiovisual material, air-conditioning and internet access.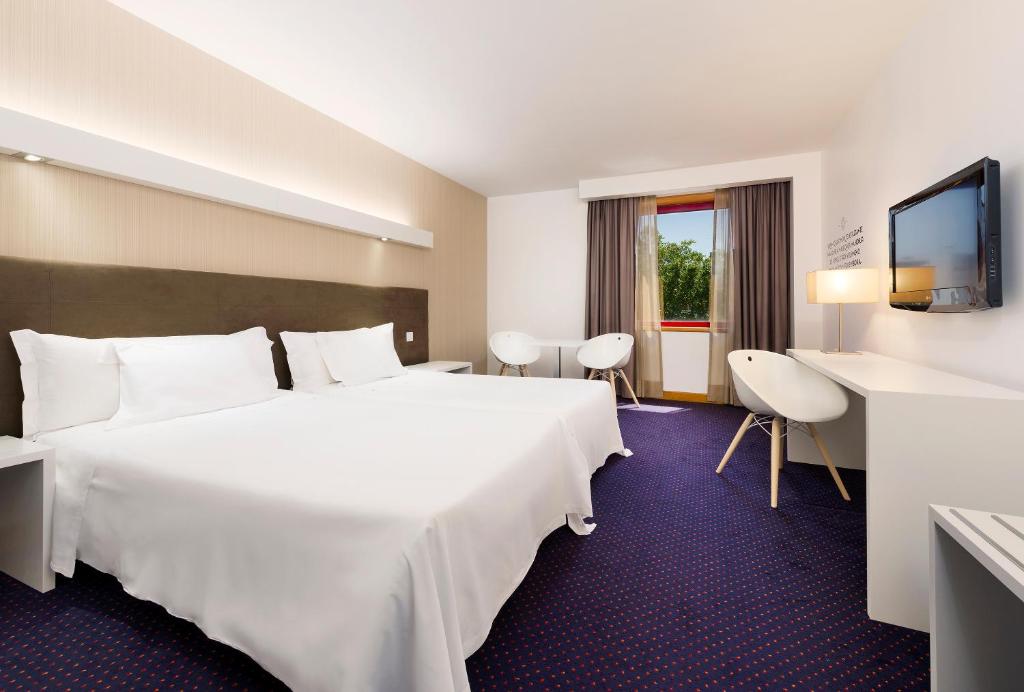 Solar Antigo Luxury Coimbra
Solar Antigo Luxury Hotel is located in the historic center of Coimbra and it's classified as UNESCO World Heritage. It is a secular, elegant and unique place, full of charm and that will make your stay unforgettable, suitable for those who like to spend a stay with refinement. The compelling beauty and stunning historical setting of this property, combined with the local traditions, make it an ideal destination for you. The Solar Antigo has a traditional feeling, it's main feature is that the original architecture of the building is preserved, maintaining its history.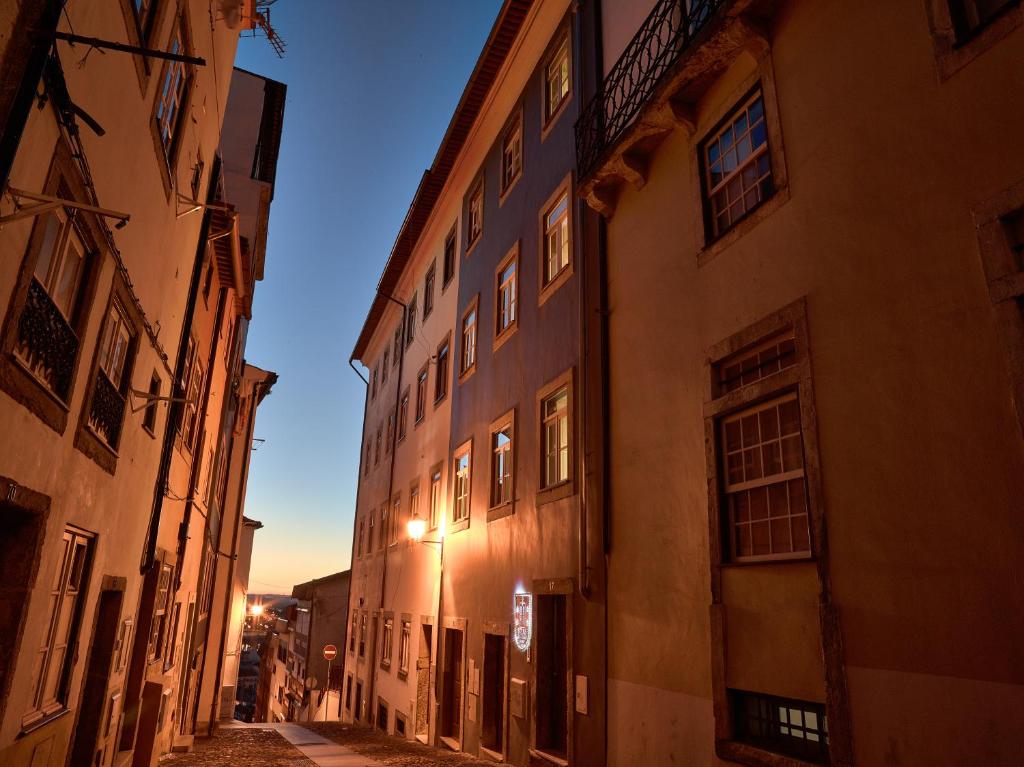 The rooms in this hotel have perks like air conditioning, TV (flat-screen with access to atellite channels), coffee machine, shower, hairdryer and a large wardrobe. They also include a private bathroom, free toiletries and bed linen. In addition, guests can take advantage of the internet at their leisure with free wi-fi. In addition, when staying at Hotel Solar Antigo Luxury Coimbra, guests can use amenities such as luggage storage. If you have a car, parking can be always a problem in this area but that's not problem if you're staying in this hotel! There's on-street parking at Hotel Solar Antigo Luxury Coimbra. During your stay, take advantage of the location of this wonderful hotel and be sure to check out some of the best restaurants serving seafood, including Solar do Bacalhau, Restaurante Aeminium, and Dom Duarte Dois, all within walking distance of Hotel Solar Antigo Luxury Coimbra.