According to Eurostat, the average Portuguese person only leaves their parent's home at 33.6 years of age, the oldest in the European Union (EU). The average age at which young people leave their parental home in the EU is 26.5 years.
Portugal, Croatia, Slovakia, Greece, and Bulgaria have the oldest average ages of leaving the parental home, reaching over 30 years old.
This is a stark contrast with other EU member states. Estonia, Denmark, Finland, and Sweden have the youngest average ages, 23 years or below.
The lowest average in the EU was recorded in Sweden at 19 years old.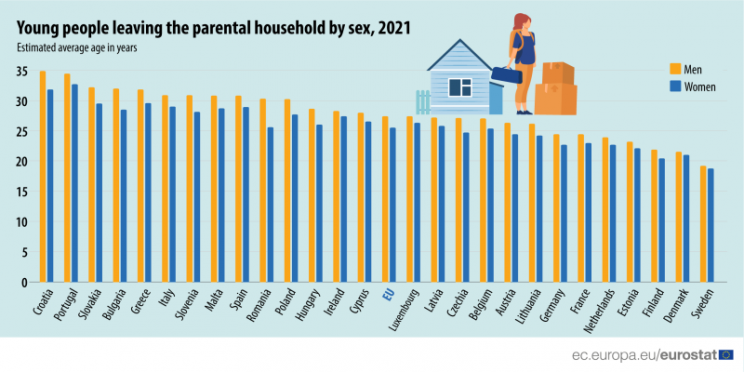 Eurostat also found that gender came into play. In all EU countries, women leave their parent's houses earlier than men. On average, women leave their parent's homes at 25.5 years of age, while men leave at 27.4 years of age.
Women only leave their parent's houses after 30 years old in Portugal and Croatia. The largest gender differences have been reported in Romania (4.7 years), Bulgaria (3.5 years), Croatia (3,1 years), and Serbia (5 years). Ireland, Denmark, and Sweden had an average difference of less than a year.
Why do Portuguese people leave their parental homes so late?
According to Eurostat, the age one leaves their home may vary. Reasons such as studying, working, getting married and having children, and more may impact the average age one leaves their parental home.
There are also clear cultural differences across Europe where in countries like Portugal, living with your parents is the social norm.
However, it is clear that labor participation plays a role. In countries where people leave their parent's homes at an older age, it is more likely that these have a lower labor force participation rate for young people.
In most EU countries where people leave their parental home at 29 or older, the labor force participation rate is below 50%.
Low salaries and high rent prices could also be to blame. According to the FFMS Foundation, these are the salaries of young people (18 – 34 years old) in Portugal after tax:
Up to 413€ – 9%
414 – 600€ – 14%
601 – 767€ – 30%
768 – 950€ – 19%
951 – 1158€ – 14%
1159 – 1375€ – 5%
1376 – 1642€ – 4%
Over 1642€ – 3%
Varies – 2%
Idealista reported in July that rental prices continue to increase in Portugal, registering a 2.6% increase in the second trimester of the year, in contrast to the first trimester. Renting a property at the end of June had an average cost of €11,3 per m2.