In October of 2021, Portugal achieved the highest vaccination rate in the world, reaching full vaccination for 85% of the population in just nine months. This allowed Portugal to open its bars and clubs with no limits on the size of groups, at the time.
While many experts attribute the success of Covid-19 vaccination rates in Portugal to the low amount of anti-vax sentiment in Portugal, others believe the highly organized vaccination program across the country is responsible.
According to ABC News, only 3% of the population see themselves as vaccine "deniers". While it is clear that the anti-vaccination movement is growing in Portugal, the general attitude is positive toward vaccination programs.
The vaccination rate in Portugal for measles, mumps, and rubella is 95%, one of the highest in the European Union.
Some of the success of the vaccination rates in Portugal can be attributed to Vice Admiral Henrique de Gouveia e Melo, who in May of 2021 was made the head of Portugal's Covid-19 vaccination task force.
The Vice Admiral told the New York Times that part of the program's success was leaving politics out of the vaccination efforts. Instead of having a team of politicians, he assembled a team of doctors, analysts, and experts from the Portuguese army, navy, and air force.
These experts developed organized production lines, employed in large sports facilities. These included a reception, a waiting room, cubicles where people were vaccinated, and a recovery area.
Today, Portugal is the 9th country with the highest rate of administered doses per 100 inhabitants. Over 8.8 million people in Portugal have been fully vaccinated against the Covid-19 Pandemic.
95% of the population has received at least one dose of the vaccine and 92.6% are completely vaccinated. Around 19,000 doses of the vaccine are given a day. Let's take a look at the vaccination rates in Portugal by age group.
Covid-19 Vaccination Rate in Portugal by Age Group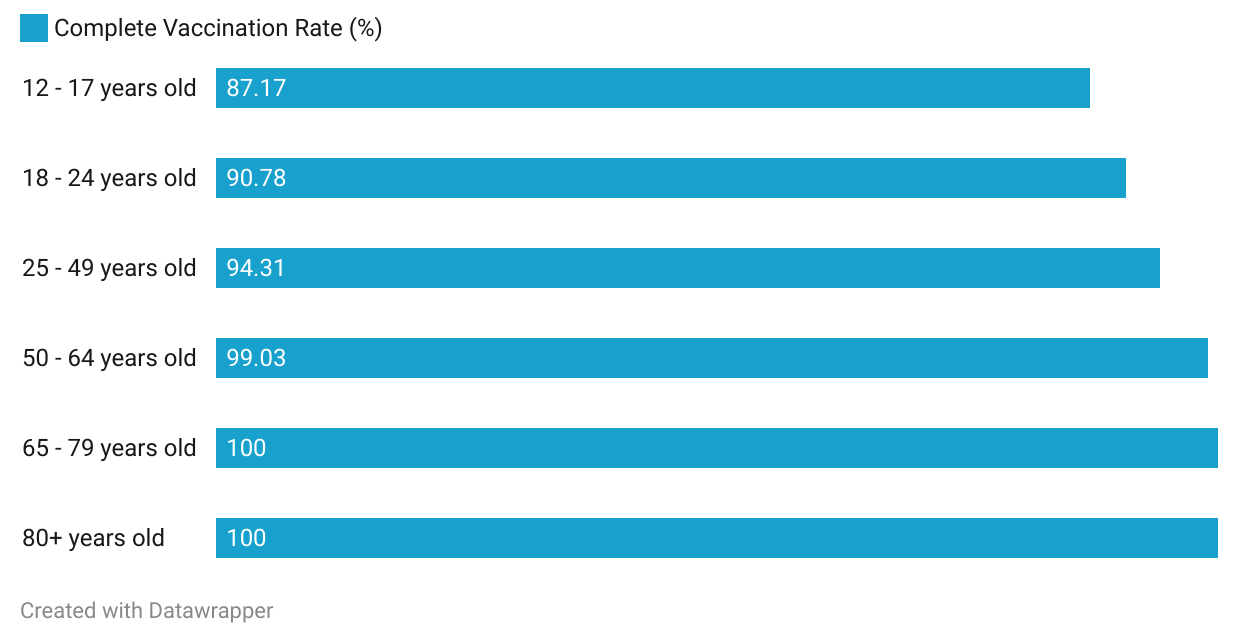 100% of those over the age of 65 years old have been completely vaccinated. Between the ages of 50 and 64, 99.03% have been completely vaccinated and 99.08% have received one or more doses.
For the age group of 25 to 49 years old, 94.31% have been completely vaccinated and 96.16% have received one or more doses.
90.78% of 18 to 24 years old are completely vaccinated and 93.42% have received one or more doses.
87.17% of 12 to 17-year-olds are completely vaccinated and 90.29% have received one or more doses.
Entering Portugal: Covid Restrictions & Current Measures