Moving to a new city is always daunting, especially if you are relocating to a whole new country. If you are moving to Lisbon soon, there might be a lot on your mind. Where am I going to live? What will my costs be like? Where are my kids going to school?
Luckily, Lisbon welcomes thousands of expats every year in the same predicament. With 87 different nationalities in Lisbon, the capital is a diverse city that provides a high quality of life for those coming from abroad. You are bound to find your community there!
But if you want to be prepared for what to expect, this expat guide to moving to Lisbon has everything you need to know. From renting an apartment, the cost of living, healthcare, and more, you will be packed and ready in no time!
Pros and Cons of Moving to Lisbon
While thousands from all over the world are relocating to Lisbon every year, it's always best to evaluate the good and the bad. This way, you can make an informed decision about moving to Lisbon and know what to expect. Here are the pros and cons of moving to Lisbon.
Pros of Moving to Lisbon
300+ days of sun and all-around good weather
Affordable cost of living in comparison to other major European capitals
Large international community
Quality public infrastructure
Free healthcare
Amazing food at an affordable price
Tax benefits with the NHR tax regime
Cons of Moving to Lisbon
Overcrowndess due to tourism in Spring and Summer
Bureaucracy, long waiting times to get things done
"Slow-paced" lifestyle so stores might be closed on certain days
Most apartments do not have central heating
Some places only take cash
Learning Portuguese is helpful for government services
Cost of Living in Lisbon
The cost of living in Lisbon is 40% less expensive than in Amsterdam and London. Still, many Portuguese people are having to leave the city as they no longer can afford the increase in housing prices and living costs. Let's take a look at what you can expect to spend monthly as a single expat and a family of four.
Cost of Living in Lisbon for a Single Expat – Less than €1,500
If you have no children, you will naturally have a lower monthly budget in Lisbon. Also, keep in mind that the following average monthly budget for Lisbon can be reduced if you live with a partner or roommates.
Rent: A 1-bedroom will cost at least around €750 and prices can go over €1,200 depending on the size, location, and whether an apartment has been recently renovated.
Utilities: Basic utilities including electricity, heating, water, garbage, internet, and phone data should cost around €150 to €200 maximum.
Transportation: A monthly pass costs around €50 a month.
Eating out & leisure: €200 a month is enough if you go out once a week to eat and enjoy going to museums and clubs.
Healthcare: Once you are registered as a legal residence, health care will be mostly free under the national health service (SNS). However, if you need health insurance or for some reason are not eligible to access the SNS, private health insurance costs around €50 a month.
Groceries: Groceries are quite affordable in Lisbon and you can live off €200 a month.
Cost of Living in Lisbon for a Family of Four – At least €3,000
The cost of living in Lisbon for a family of four will cost you at least €3,000. As you are probably aware, more kids mean more mouths to feed, more school tuition (if applicable), and more rooms in an apartment.
Rent: A 3 bedroom apartment in Lisbon costs around €1,700, but can go up to €2,600.
Utilities: Basic utilities including electricity, heating, water, garbage, internet, and phone data should cost around €150 to €200 maximum.
Transportation: Expect to pay around €200 for monthly transportation passes. If you have a car, fuel can cost around €250.
Eating out & leisure: Budget at least €400 to €500 a month for eating out, going to the cinema, kids parties, etc.
Healthcare: Once you are registered as a legal residence, health care will be mostly free under the national health service (SNS). However, if you need health insurance or for some reason are not eligible to access the SNS, private health insurance costs around €200 a month for the whole family.
Groceries: Groceries will cost you at least €500 a month for a whole family of four in Lisbon.
Schools: Portuguese public schools are completely free. However, if you are looking for an international environment and English-speaking schools, private international schools can cost you anywhere between €6,000 and €20,000 a year per child. If you choose a school that costs €20,000 a year, this will cost you €4,000 a month for two kids.
Monthly Budget: Cost of Living in Lisbon
Finding Housing in Lisbon
Renting in Lisbon
Lisbon is the most expensive place to rent a house in Portugal. In June 2022, the price of renting in Lisbon is €14.50 per m2. An 80 m2 apartment could cost around €1,160 in the Lisbon district.
However, in comparison to cities like London and Amsterdam where such an apartment would cost at least €500 more, Lisbon is a lot more affordable than most European cities.
Lisbon offers a variety of housing options from penthouses to studios and apartments. You will mostly find furnished apartments and landlords will not want to take the furniture out for you.
To find a place to rent, you can choose to enlist a rental agent from a well-regarded agency. Here are some of the most popular property portals and real estate agencies in Portugal that can help you find a home in Lisbon:
ReMax
Spotahome
Custojusto
Century21
Imovirtual
Idealista
Take a look at our guide to renting an apartment in Lisbon for everything that you need to know including contracts, tenant rights, tips, and more.
Guide to Renting an Apartment in Lisbon
Buying a Home in Lisbon
If you feel like renting is throwing money away in the trash and would rather make a real estate investment, the Lisbon housing market is an attractive one at the moment. However, prices are on the rise and have been for the past few years.
If you are thinking real estate is affordable in Lisbon, think again. While this might still be true for other parts of the country, the capital has some expensive real estate.
In May 2022, the cost of purchasing a house in Lisbon rose to €5,011 per m2. Therefore, a standard 2-bedroom apartment of 80 m2 will cost you an average of €400,880.
Can I get a mortgage in Portugal?
Yes! However, if you are not a resident in Portugal yet, this will negatively impact how much you can borrow from the bank.
Non-residents will only be offered loans up to 65-75% of the value of the home or the sale price (whichever is lower), while fiscal residents can borrow up to 90% of the sale price (whichever higher).
Most banks will also not allow your existing debts and your new mortgage payments to go over 35% of your monthly income. Portuguese banks will usually give you a mortgage that runs for 25 years, sometimes up to 30.

International Guide to Real Estate in Portugal: Buying a House in Portugal
5 Best Places to Live in Lisbon
Lisbon has a range of quaint neighborhoods to live in. However, if you choose to live in the center of Lisbon or even the Metropolitan Area of Lisbon, rent prices will be more expensive. Instead, we also recommend looking for places in Greater Lisbon which include the municipalities of Cascais and Sintra. Here are our 5 favorite places to live in Lisbon, including Greater Lisbon.
1. Sintra
Sintra was once a hidden gem in Portugal, but has in the past 5 to 10 years been discovered by tourists. Despite the overcrowdedness in the historical center in the summer, Sintra is quite large and has beautiful places to live in.
Located on the Portuguese Riviera, Sintra's mountainside is actually a UNESCO World Heritage Site. Sintra is known for its beautiful palaces and mansions, nineteenth-century gardens, and some of the best beaches in Portugal.
It is more affordable to rent than the center of Lisbon and Cascais. However, it is still an exclusive vacation location, where certain real estate can often go for millions.
You will need to have a car in Sintra as transportation can sometimes be slow and this is the best way to explore the area. However, if you work in Lisbon, you can always take the train from Sintra.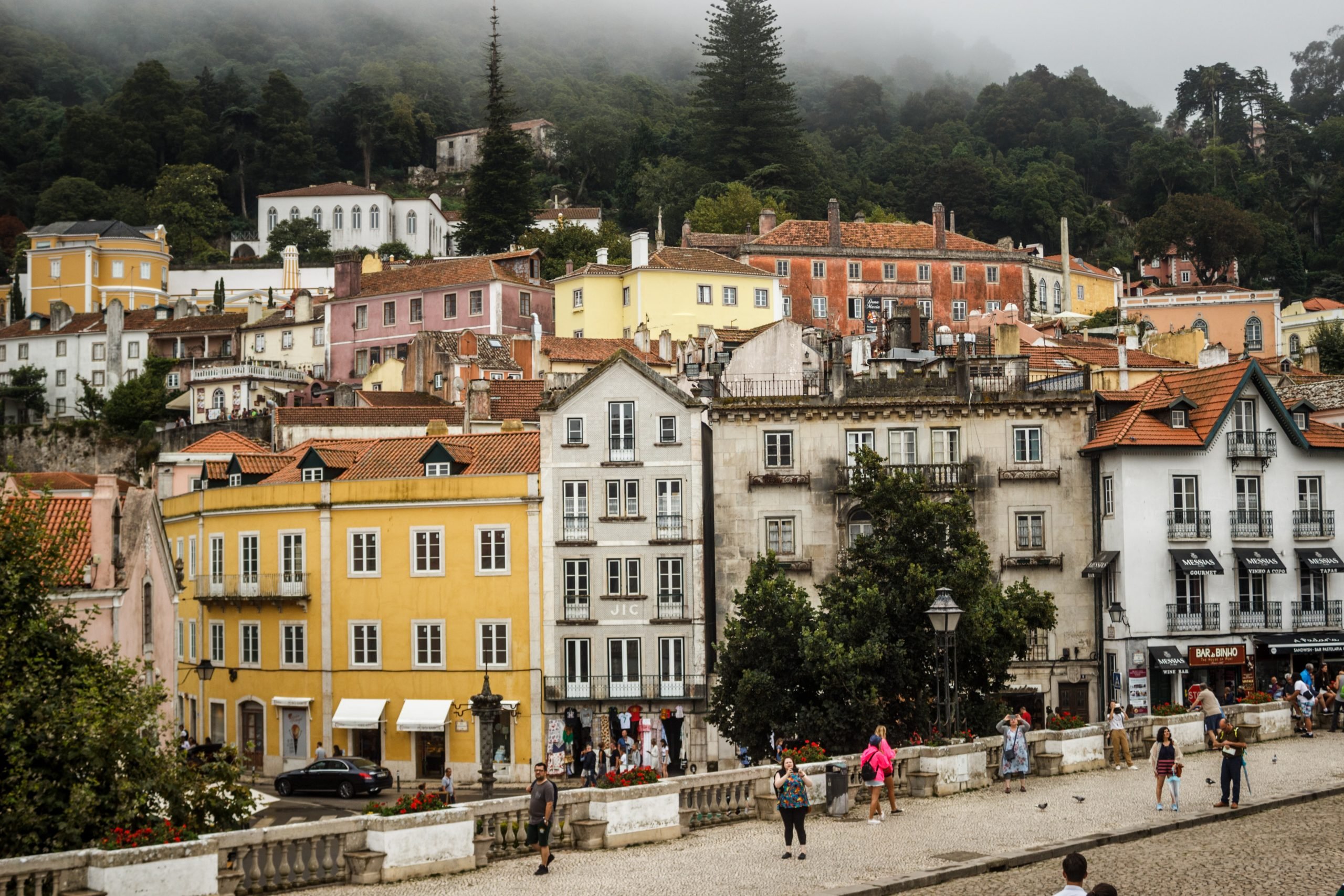 2. Cascais
Cascais is one of the most exclusive places to live in the whole of Portugal. A 30-minute drive from Lisbon, many live in Cascais and commute to work in the capital. It is one of the wealthiest areas in Portugal, so homes tend to be more expensive when it comes to buying. However, rental prices tend to be a bit more affordable than in Lisbon.
Cascais is the perfect place for families and those who prefer a more relaxed life near the beach, without having to move to an isolated location. There's so much to do in Cascais! Cascais was once a fishermen's village, still boasting incredible seafood markets, as well as local shops and quality restaurants.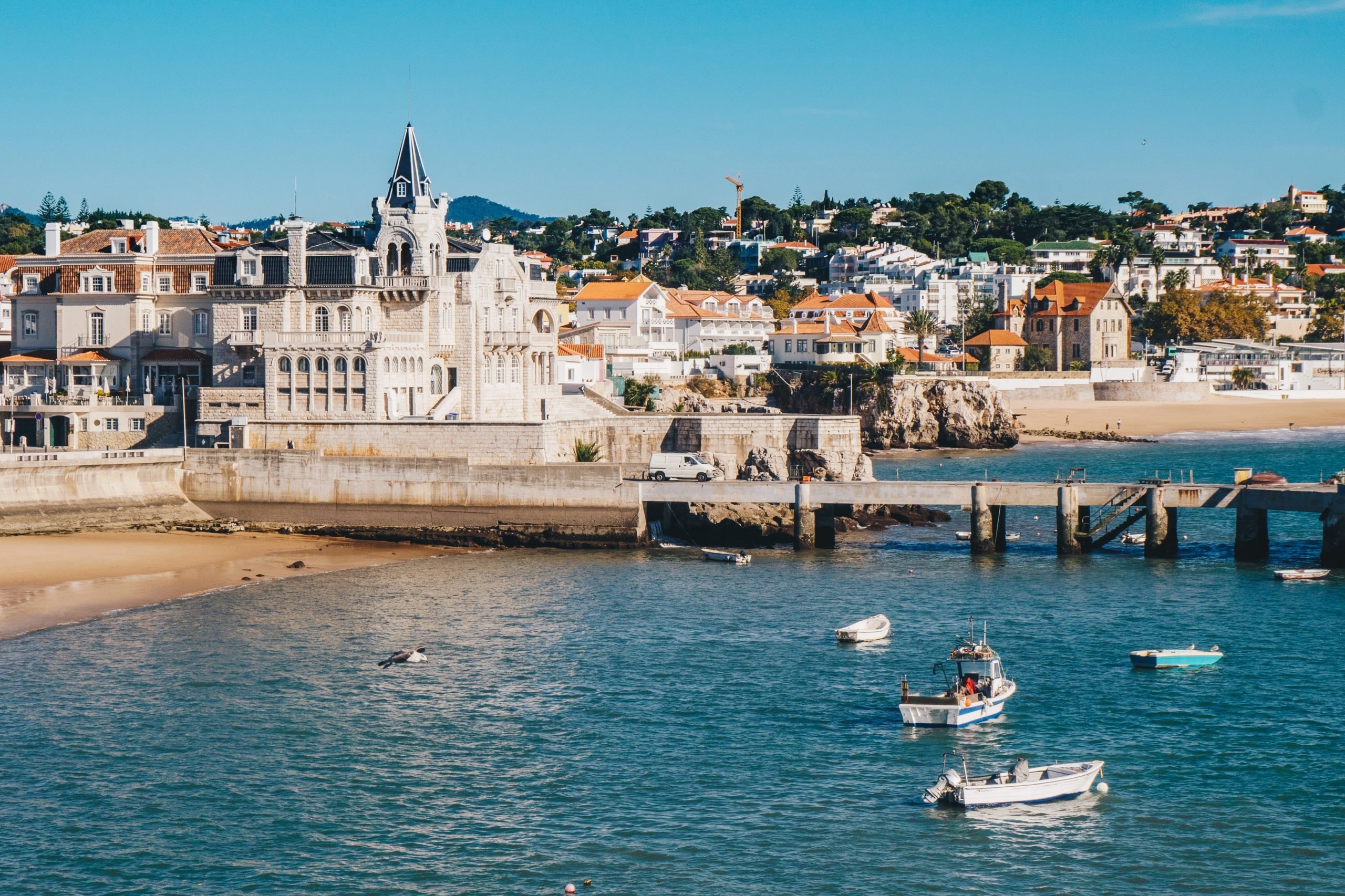 3. Alfama
The neighborhood that raised the iconic fadista Amalia Rodrigues, Alfama is known for its music, quaint streets, and narrow hills. It also offers some of the best views of the city.
As the oldest neighborhood in Lisbon, elderly people who have been there for decades live there, as well as more recently young professionals and families.
However, bear in mind that driving a car in Alfama is almost impossible in its narrow streets. Alfama is also a hilltop neighborhood, so you will have to get used to walking up steep streets. Still, the tram is widely accessible and you will save on fuel!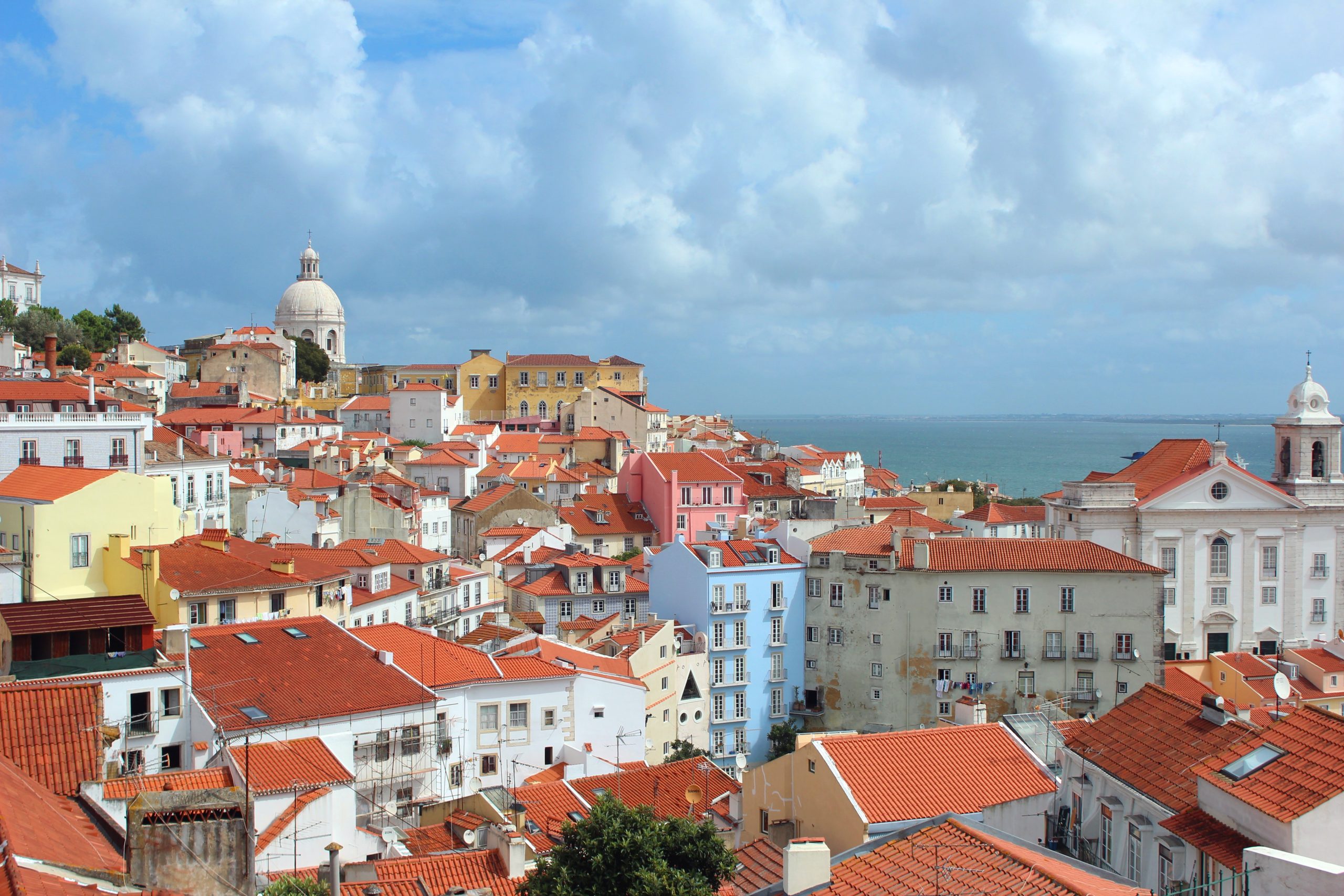 4. Principe Real
One of the trendiest neighborhoods in Lisbon, Principe Real has the best restaurant, bars, and art galleries in the city. Principe Real has a multicultural population, boasting a diversity of restaurants and businesses.
Despite its popularity, the neighborhood is still quite peaceful with nineteenth-century buildings and plenty of green spaces. Principe Real is one of the most sought out areas to live in Lisbon, so apartments are not as affordable as in other areas of the capital.
You will also have easy access to public transport so getting a car is not necessary.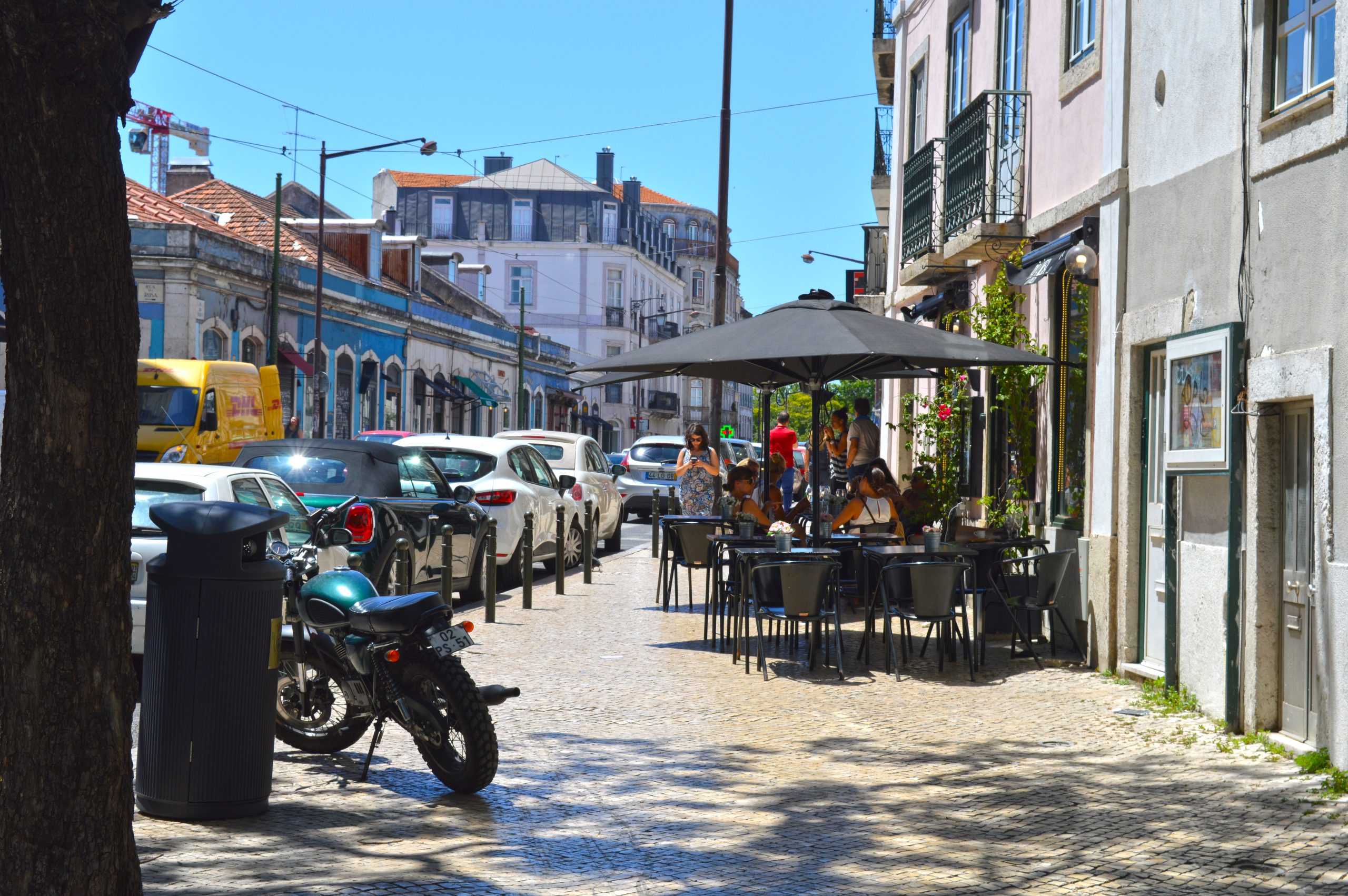 5. Baixa
Living in Baixa means living in the heart of the city, surrounded by eighteenth-century architecture in the old town. Transportation is no issue here with plenty of bus and tram spots, as well as metro stations. From markets to restaurants and shops, everything will be a few minutes away. You don't need a car at all to live in Baixa.
However, Baixa can get incredibly busy with tourists and locals, particularly at night. If you're a student or a young person who loves the vibrant environment and nightlife Baixa could be perfect for you, but it might not be suitable for families looking for a quiet life.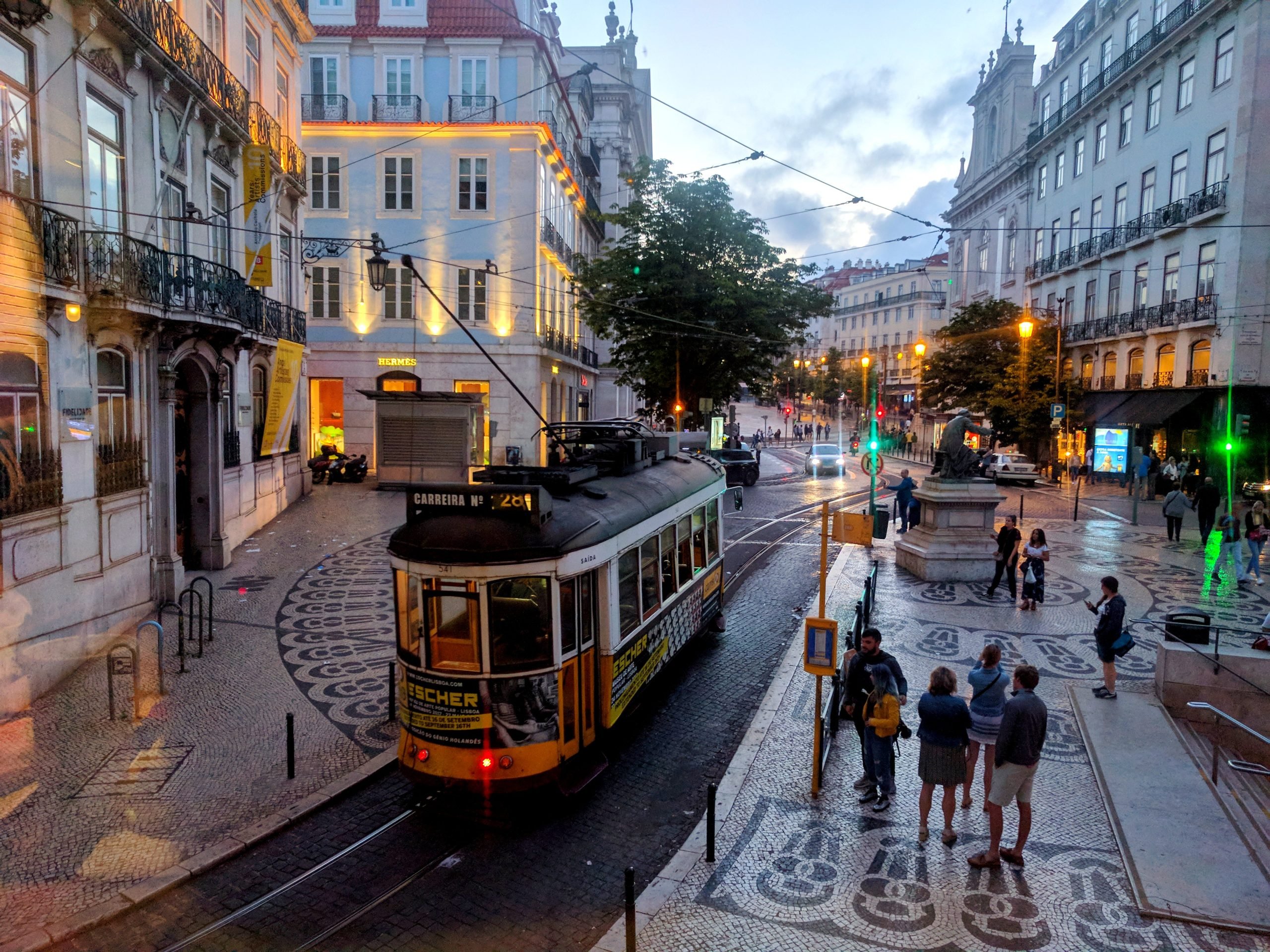 Healthcare in Portugal
Portugal offers high quality healthcare. Under the World Health Organization (WHO)'s ranking of healthcare systems, Portugal takes 12th place. Featuring both a private and public health sector, the country offers universal health coverage through the Servico Nacional de Saude (SNS).
Health care is mostly free in Portugal. Still, the SNS occasionally charges low amounts for particular treatments and prescriptions. However, children under 18 and people over 65 can enjoy 100% free healthcare.
All residents in Portugal, as well as visitors with a European Health Insurance Card (for up to 90 days), can access universal healthcare. Therefore, when you move to Lisbon and receive your residency permit, you can register with your local health center and start accessing public healthcare.
Many criticize the long waiting times with the SNS. If you prefer to use private healthcare, there are many clinics and hospitals available. Private healthcare is less expensive than in most countries, with an appointment costing around €40 to €50. However, certain doctors will charge higher prices at around €100, particularly specialists.
To cover the costs of private healthcare, we recommend getting private health insurance. The average price for health insurance is around €50, but again this can increase depending on various factors such as your age. Some insurance companies in Portugal only offer health insurance to people under 55, while others make it a lot more expensive for those in retirement.
Guide to Healthcare in Portugal
Portuguese Visas
If you are moving to Portugal as an EU national, you won't need a visa. However, if this is not the case for you, the most popular long-stay residency visas in Portugal are the Golden Visa, D7 Visa, and D2 Visa.
To be eligible for these, you need to be a non-EU/EEA/Swiss national. All of these visas share similar benefits. From being able to travel freely within the Schengen area, being able to study and work in Portugal, family reunification, and eventually being eligible for Portuguese citizenship, the perks are huge.
Let's take a look at an overview of each of the three visas. For a more detailed look at each visa take a look at our guides for each: Golden Visa, D7 Visa, and D2 Visa.
The Portugal Golden Visa might be suitable for you if you have the funds to make an investment in the country. One of the most attractive Golden visas in the world, it allows non-EU citizens to get a long-term residency permit, and eventually citizenship.
This visa allows for family reunification where your family members are granted the same residency rights as you.
So, what type of investments can you make to be eligible for a Portugal Golden Visa? There are 5 types of investments with different capital requirements: real estate, investment fund, capital transfer, job creation, and donation.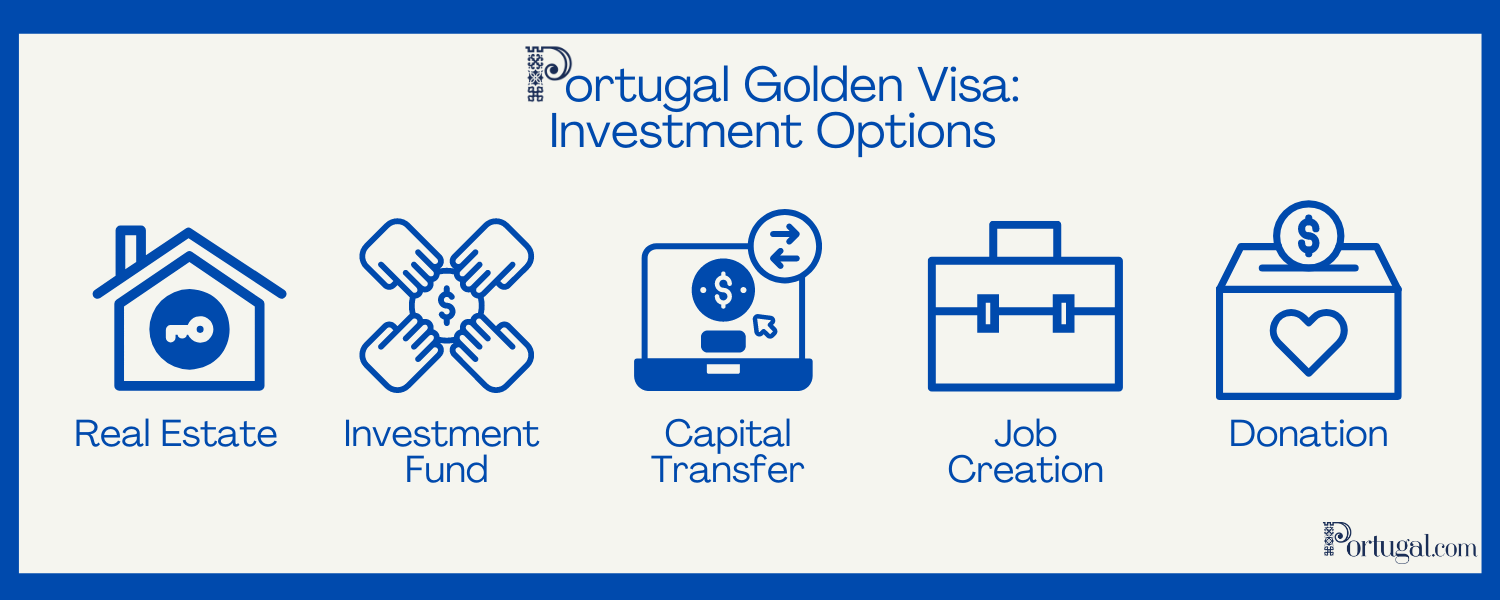 1. Real Estate
The most common investment. You can either purchase real estate in a low-density area of Portugal for €400,000 or a property that is over 30 years old in an urban rehabilitation area and renovate it for at least €350,000. You can also just purchase property for €500,000 with fewer restrictions.
HOWEVER, you can longer qualify for the Portugal Golden Visa by purchasing property in Lisbon, Porto, or coastal towns. Therefore, buying a place in Lisbon to qualify for the visa won't do!
2. Investment Fund
Alternatively, you can also spend a minimum of a €500,000 subscription in a qualifying Portuguese investment fund. These are known as "fundos de capital de risco" and are investment funds that support Portuguese businesses.
3. Capital Transfer
This is the most expensive option, a €1.5 million capital transfer. You must show proof of bank transfer deposits to Portugal from a foreign account that adds up to this amount.
The minimum amount used to be €1 million, but it has been increased to €1.5 million at the beginning of 2022.
4. Job Creation
Another investment option is creating jobs in Portugal. There are two options in this category:
Create a minimum of ten new full-time jobs in a Portuguese business that you own.
Or invest a minimum of €500,000 in an already existing Portuguese business and create a minimum of five new full-time jobs in that business within three years.
5. Donation
You can also make a donation in Portugal. There are two options in this category:
Invest a minimum of €250,000 in preserving national heritage in Portugal.
Or invest a minimum of €500,000 in a research and development activity in Portugal.
Another well know visa that is a lot more affordable is the Portugal D7 Visa, also called the Retirement or Passive Income Visa that is also suitable for remote workers. It requires no investment!
This visa is for non-EU/EEA/Swiss citizens who want residence in Portugal and have a reasonable passive income. This income can come from real estate, a retirement pension, a salary, etc.
The minimum passive income required is €8,460 per year for the main applicant. For a spouse, you must add 50% to this (€4,230) and for a dependent child, you must add 30% to this (€2,538). Therefore, for a couple with one child, you would need around €15,300 a year to be eligible for the D7 Visa.
The Portugal D2 Visa could be the right path for you are an entrepreneur, freelancer, or independent service provider from outside the EU/EEA/Switzerland looking to reside in Portugal.
You might be eligible for a D2 Visa if you want to start a business or startup in Portugal, transfer your existing one to Portugal, as well as invest in a business in Portugal.
To apply, you must put together a viable business plan that will be evaluated in terms of its economic, technological, and cultural impact. You can set up any business, from a restaurant to a tech startup.
In terms of cost, the D2 Visa would sit right in the middle between the D7 Visa and the Golden Visa. You must invest in the company's share capital, which immigration firms advise should be at least €50,000.
You must also show that you have the financial ability to sustain yourself while living in Portugal.
There are many high-quality international schools in Greater Lisbon if you are looking for an international student environment. Public schools in Portugal are all in Portuguese so if you want your children to be educated fully in English (or German), you will have to enrol them in a private international school. Here are our top three international schools in Lisbon.
1. Deutsche Schule Lissabon – German School
The German School is a private Portuguese and German-speaking school, one of the best schools in the country. Although the main language is not English, it is included in the curriculum.
The school has a little over 1,000 students and a staff of 145 teachers and educators. Made up of 8 buildings, the primary school and social sciences have their own buildings. The school also has a library with around 12,000 books, 2 IT rooms, an auditorium, as well as a pool and terrace.

2. St Julian's School
St Julian's is the largest British International School in Portugal with a strong record of academic achievements, serving around 45 different nationalities.
Along with an international curriculum, the school has a Portuguese section where children between the ages of 6 and 15 can access the Portuguese national curriculum, while still having some joint classes with international students, such as Art. For 17 and 18 year olds, the school offers the International Baccalaureate (IB), a prestigious diploma.
The school boasts incredible facilities such as an 18th-century palace housing the art and music department and the dining hall, as well as an assembly place, and a building opened by Queen Elizabeth II in 1985 that houses the primary school.
Along with other facilities, St Julian has some of the best school sports facilities in the country.

3. CAISL
The Carlucci American International School of Lisbon (CAISL) offers the American High School Diploma with the option of also pursuing the International Baccalaureate Diploma (IB) in the last two years of high school. With over 700 students from over 55 nationalities, CAISL is a very diverse school.
CAISL boasts high-quality facilities with a library media center with over 40,000 print items, fully equipped science laboratory classrooms, art, and music classrooms, a state-of-the-art 450-seat theater, cafeteria, and snack bar, 1400m2 covered gymnasium, as well as more than 10,000m2 of outdoor sports fields.
There are computers in all classrooms, with 1 computer per student in grades 1 to 5 in the classroom, and one private laptop checked out for each student in grades 6 through 12.

International Schools in Portugal
Learning Portuguese
If you are only moving to Portugal for a year or two, you don't necessarily need to learn Portuguese. But the reality in Portugal is – if you don't want to learn Portuguese don't expect the Portuguese to learn English. It's completely fine if you don't have the time and in Lisbon, you will be able to navigate the city fine without knowing Portuguese.
However, you will definitely bump into people that won't understand you, even in Lisbon. It also limits your ability to travel freely around the country and visit hidden gems like old villages with elderly people that don't speak a word of English.
If you are looking to learn Portuguese, it will take you at least 600 hours to learn to speak it fluently. It will be a bit harder if you only speak English, but if you know French or Italian, this is an advantage. If you want to learn Portuguese online, here are some useful resources:
Here are other platforms to learn Portuguese online:
However, if you just want to learn the basics, here are some of the most important sentences to know:
Obrigado/Obrigada (Thank you)
If you identify as a man, use "obrigado". If you identify as a woman, use "obrigada". The Portuguese language is very gendered. If you are non-binary you can use "obrigadx" or "obrigade", although the older generation won't know these words.
Por favor (Please)
Bom dia (Good morning)
Mornings start late for the Portuguese and go on until lunchtime, around 1 pm.
Boa tarde (Good afternoon)
You can say "boa tarde" from around 1 pm to dinner time – around 8 pm.
Boa noite (Good evening)
Use the greeting "boa noite" from dinner time onwards.
Não falo Português (I don't speak Portuguese)
If no one understands, you can say it in English. This is the one English phrase every Portuguese person knows.
Guide to Learning Portuguese
Portuguese Social Etiquette
While you might have heard that the social etiquette in Portugal is similar to Italy and Spain, they are not entirely the same. The Portuguese have a distinct set of cultural norms and ways of going about socializing.
We're not suggesting that you must change your personality or no longer abide by your country's social "rules", but here are some social etiquette tips for when you move to Lisbon.
Greetings are the most important. If you are meeting a Portuguese friend, it is customary to give two kisses on the cheek from left to right. These are called "beijinhos". Men do not usually greet other men this way, only if they are family members. Rather, they shake hands or hug. However, men do greet women with "beijinhos". Portugal is traditional so the social etiquette is very gendered.
This might be weird if you're coming from the US, but in Lisbon, you would even give two kisses to someone you just met. This is only the case if this person is a friend of a friend or you are arriving at a gathering and greeting everyone. Obviously, do not give two kisses to total strangers on the street.
However, in Lisbon, you usually do not greet strangers in passing as you do in smaller villages. But if you are bumping into a neighbor on the stairs, it is customary to say "bom dia" (good morning), "boa tarde" (good afternoon) or "boa noite" (good night), depending on the time of day.
Another important tip – if you are invited into someone's home for a meal, always bring something. You should ask beforehand if you should bring dessert or wine. If the host says you don't need to bring anything, bring something anyway.