Located in the Central Region of Portugal, Fatima is one of the most popular hotspots for religious tourism in the world. Millions of pilgrims travel to Fatima every year to visit the location of the Miracle of Fatima.
However, Fatima even sparks the curiosity of atheists and those of a variety of religions. Along with the religious site, the Sanctuary of Fatima, the city is filled with cultural activities and day trips to neighboring villages.
In 1917, three shepherd children witnessed the apparition of Mary, the Mother of Jesus, six times over six months. The children said that Mary, also known as Fátima told the children the "Three Secrets of Fátima".
These three apparitions and the spread of the messages throughout the city culminated in the Miracle of the Sun, allegedly witnessed by over 70,000 people. There are many accounts of what this miracle consisted of but most say that after a period of rain, the skies cleared and the sun appeared as a spinning disc in the sky with radiant colors.
If you are looking to visit the site of the Miracle of Fatima, we have selected the top hotels in Fatima for 2022. From 4-star hotels to low-cost alternatives, Fatima offers a variety of accommodation options to fit your budget.
Where to Stay in Fatima: 9 Best Hotels in Fatima
A 4-star boutique hotel in Fatima, Luz Charming Houses is surrounded by nature, offering a tranquil environment to settle the mind. The hotel reinterprets the traditional architecture of the villages of the region of the 19th and 20th centuries with multiple houses surrounded by greenery.
The houses are built with irregular stones from the region and the construction techniques are based on ancient techniques.
The property features standard, superior, and master suites with private bathrooms, as well as room service.
A wellness center in a natural cave is also present, along with a heated outdoor pool. Luz Charming Houses also features a grocery and crafts store, a digital meeting room, a bar, a restaurant, and babysitting services.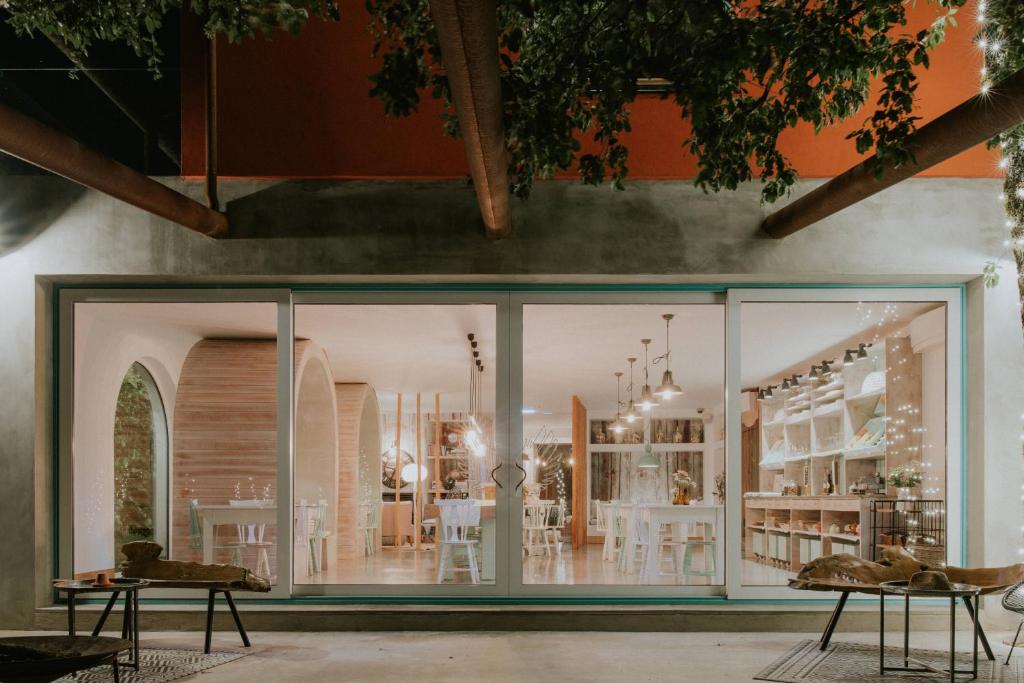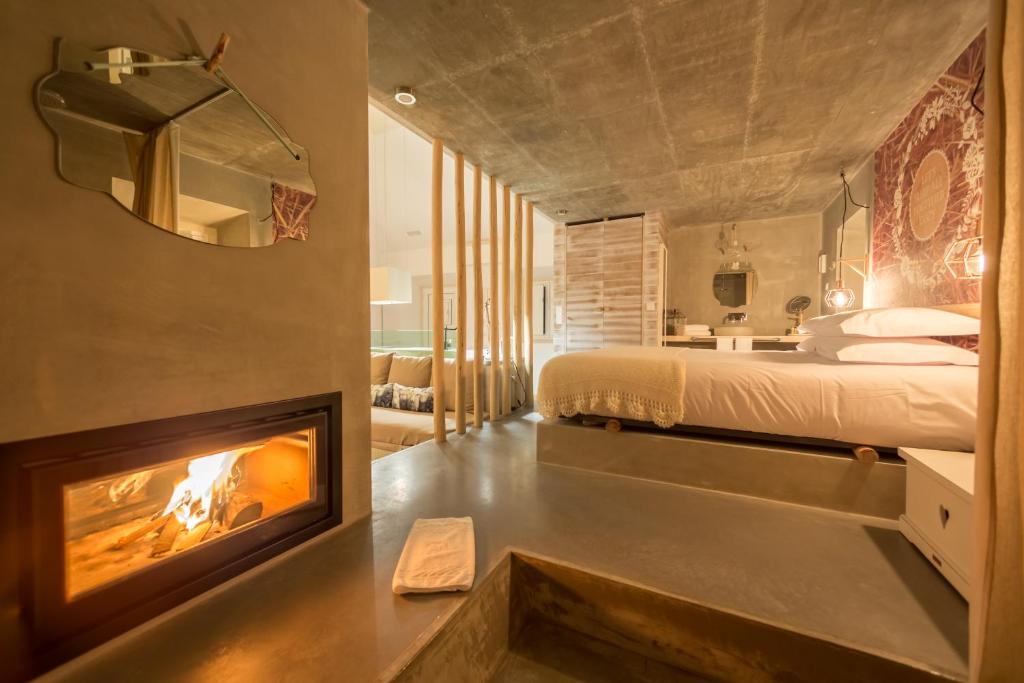 Located close to the Sanctuary of Fatima, Mercure Fatima is a 4-star hotel offering 72 large bedrooms with modern bathrooms. The property features two Portuguese cuisine restaurants, Casa Platano and Plane Tree Bistro, and a bar.
Guests can enjoy a large buffet breakfast in the dining area, as well as work out in the well-equipped fitness center. The hotel also caters to those with reduced mobility, offering rooms that suit their needs.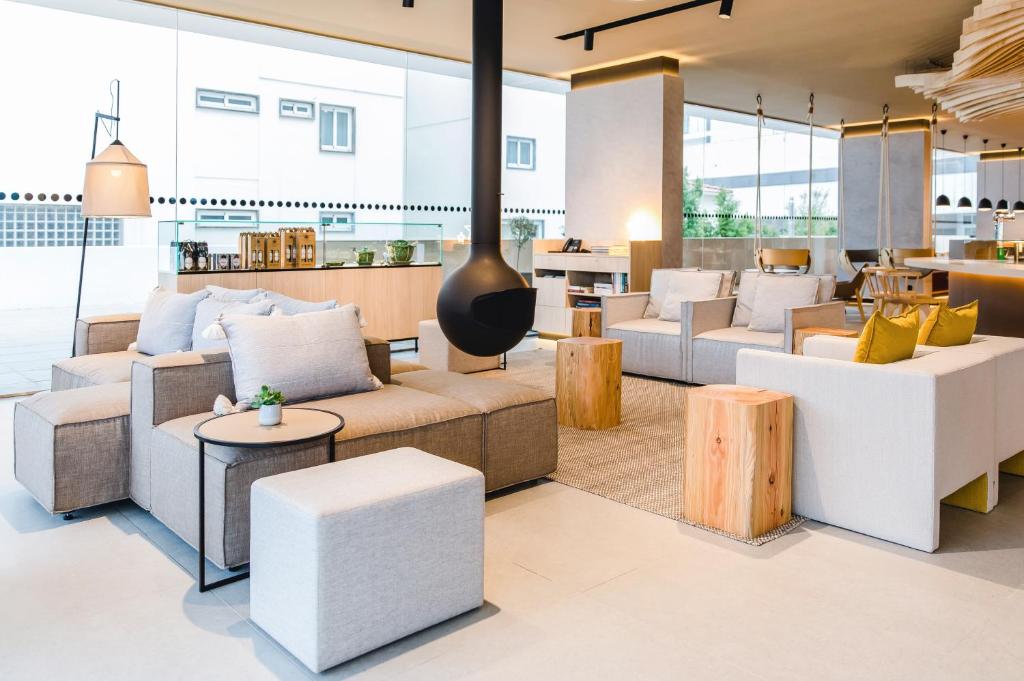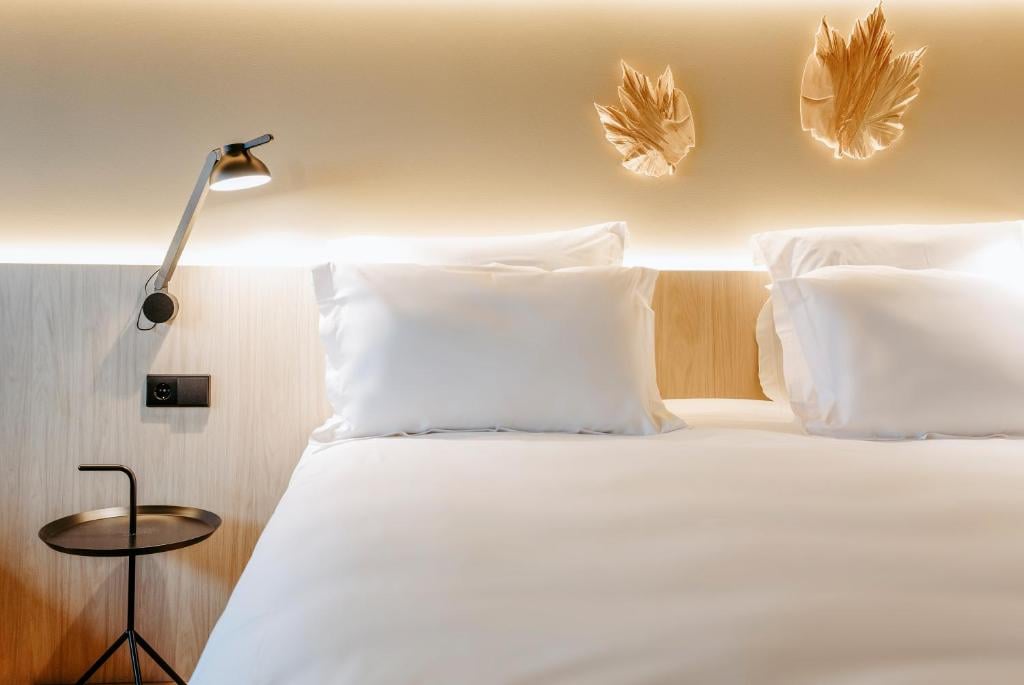 Offering views of the Sanctuary of Fatima, Hotel Santa Maria is a 4-star hotel featuring 173 air-conditioned rooms. The property features a gift shop, restaurant, and lounge area with a bar, as well as a cozy fireplace in the lobby. Enjoy the views of the city from Santa Maria's rooftop terrace.
The rooms at Hotel Santa Maria come equipped with a fridge, cable TV, and private bathrooms with bidets and complimentary toiletries. Some rooms feature bathtubs, as well.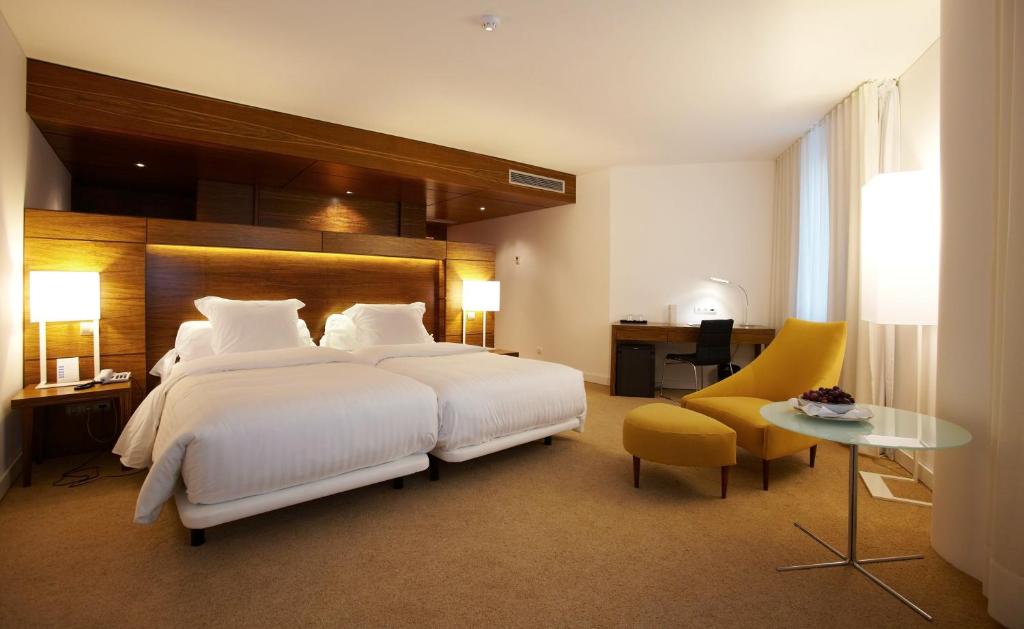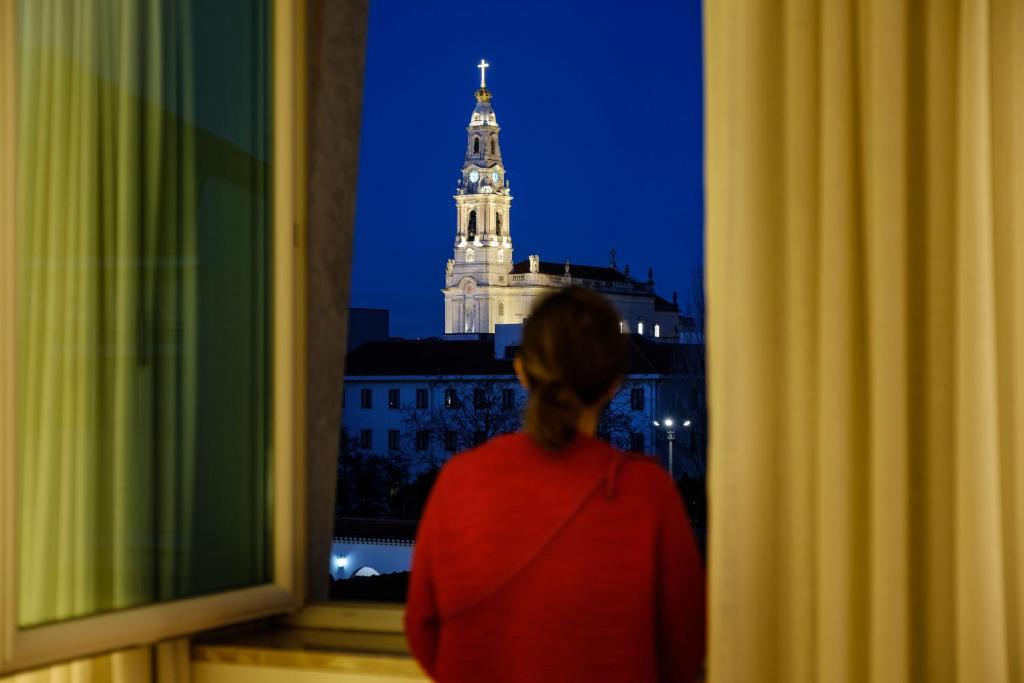 Hotel Anjo de Portugal, translating to "Angel of Portugal" is a 4-star hotel, located a few minutes away from the Sanctuary of Fatima. The hotel features a large restaurant with a capacity of over 100 guests, serving Mediterranean food. An outdoor lounge area to enjoy a drink is also available.
The guest rooms are decorated modernly and feature flat-screen TVs, work desks, a bathtub, and air conditioning. A laundry service is also available, as well as a business center and games room.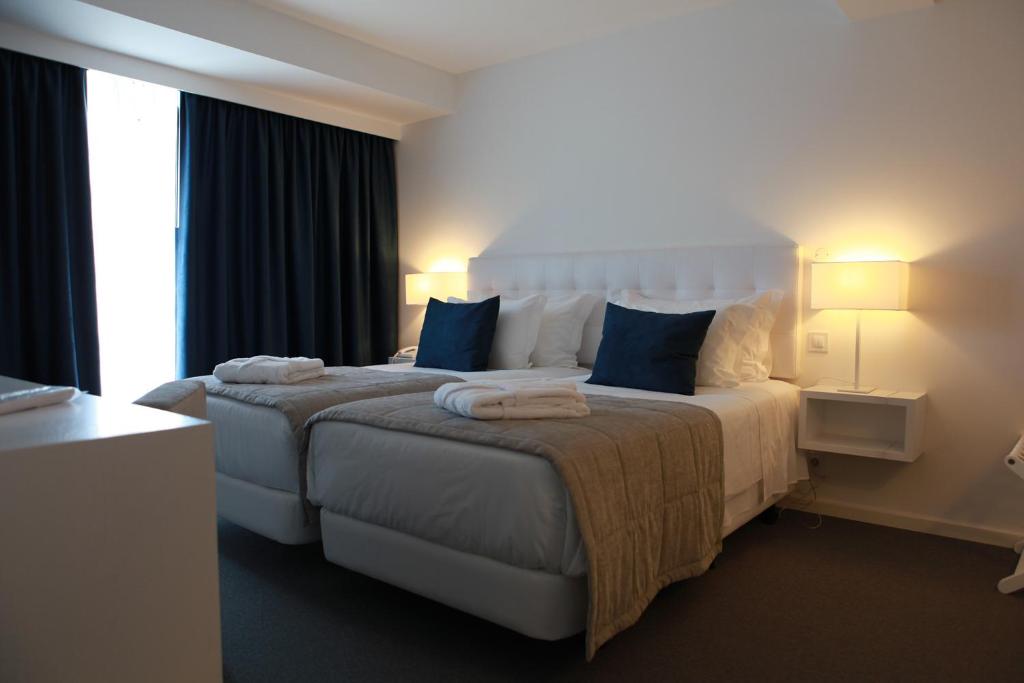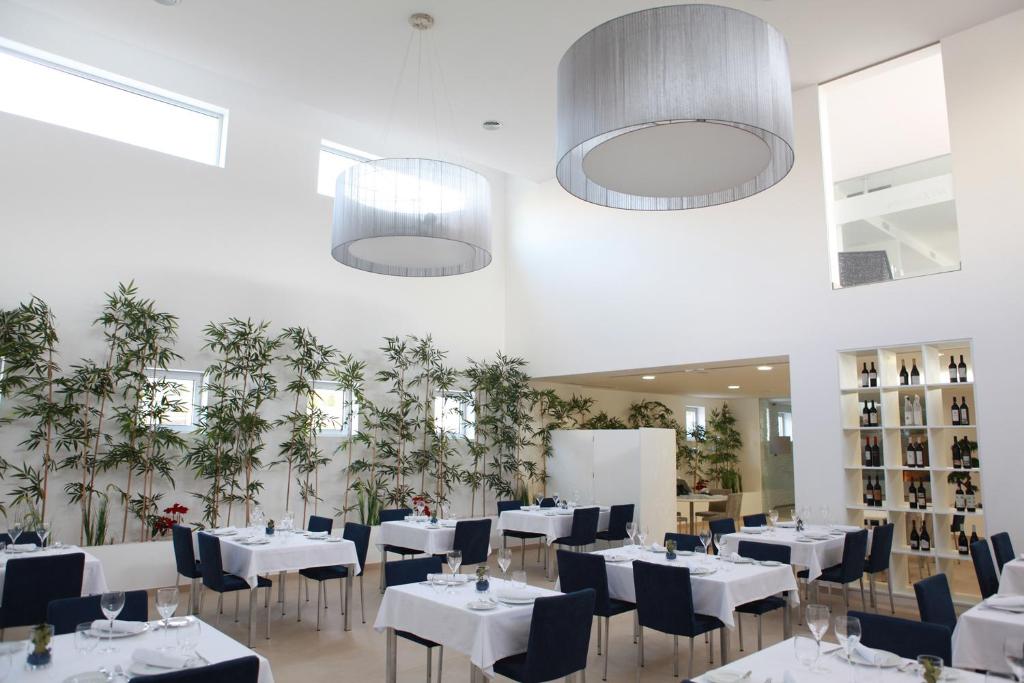 750 meters away from the Sanctuary of Fatima, Hotel Dom Goncalo & Spa caters to families with children and those looking to relax in its top-notch wellness facilities. Featuring a restaurant called "O Convite", one of the only restaurants in the region recommended by the Michelin Guide, a bar, and a kids room, the hotel has extraordinary facilities.
The 4-star hotel features 67 rooms and 4 suites with two design options, Design rooms that feature a contemporary feel and Classic rooms with vintage decor. The wellness center features an indoor pool, Turkish bath, tropical shower, jacuzzi, treatment rooms, and gym.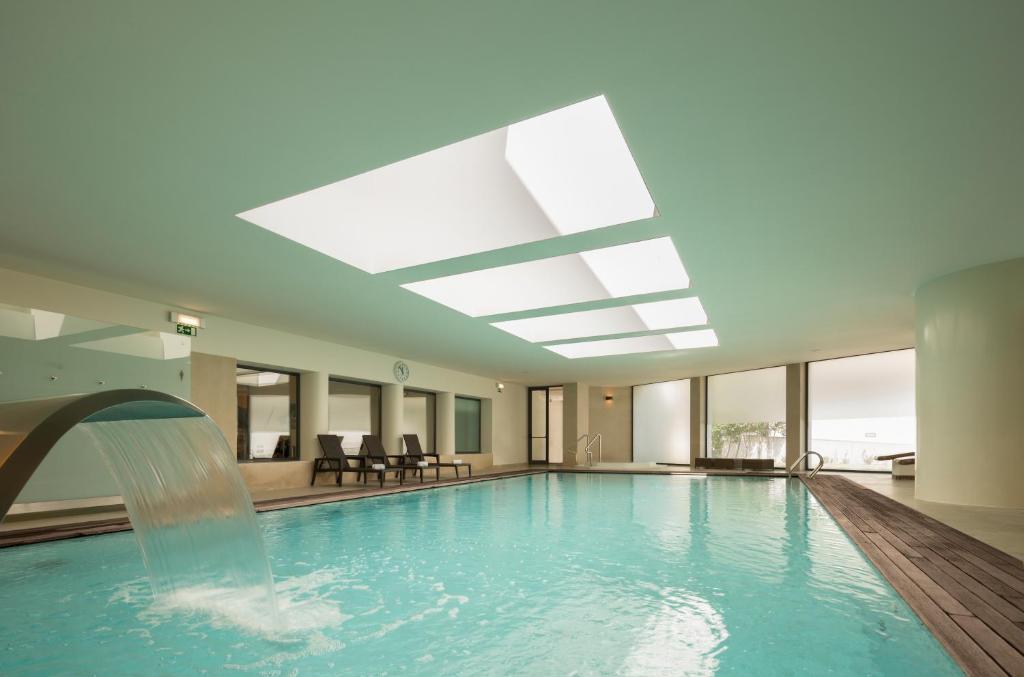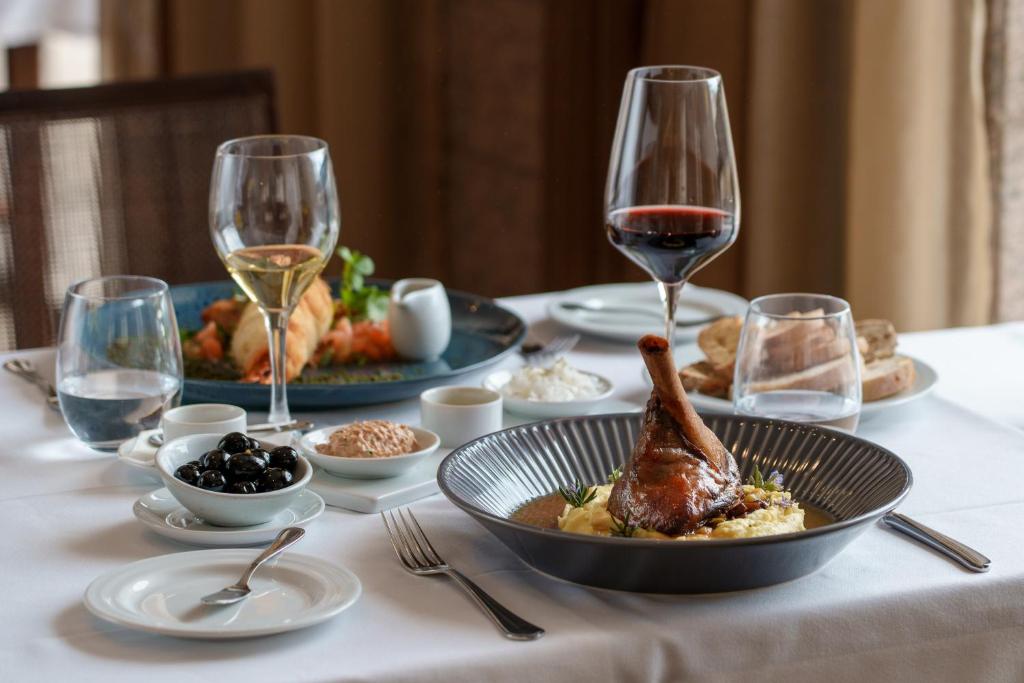 An affordable 4-star hotel, Hotel Sao Jose is located within walking distance from the sanctuary and the wax museum. With a classic feel and touches of modern design, the hotel features a bar, a restaurant, a gym, a sauna, and a Turkish bar.
There are over 70 rooms on the property, each equipped with double-glazed windows, air conditioning, a safe, mini bar, desk, HDTV, and a private bathroom with toiletries. Guests can choose between rooms with wooden or carpeted floors.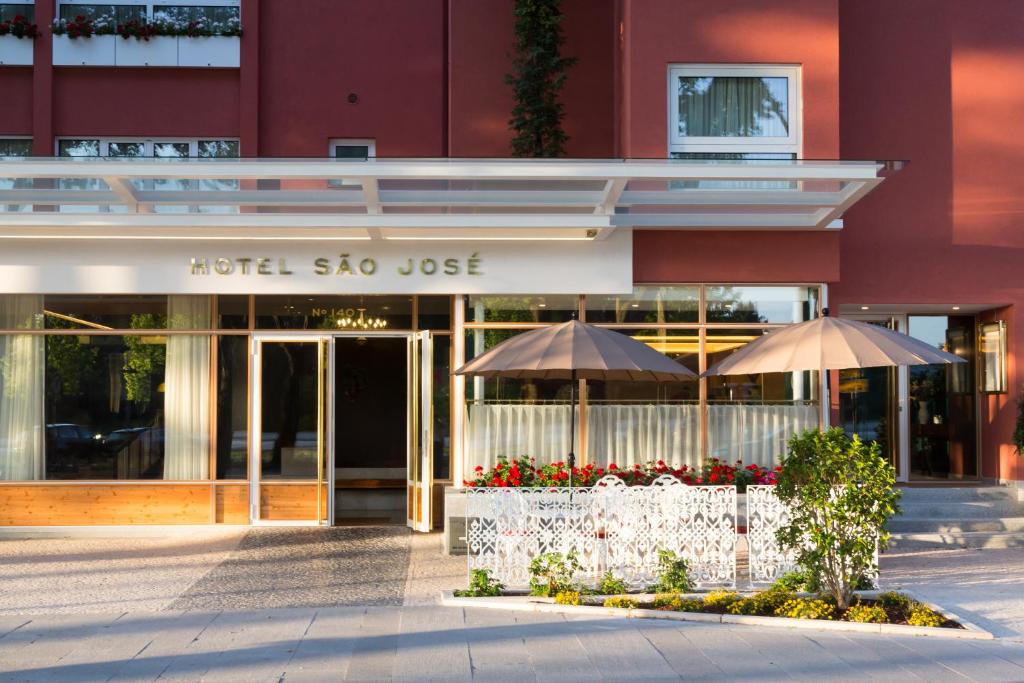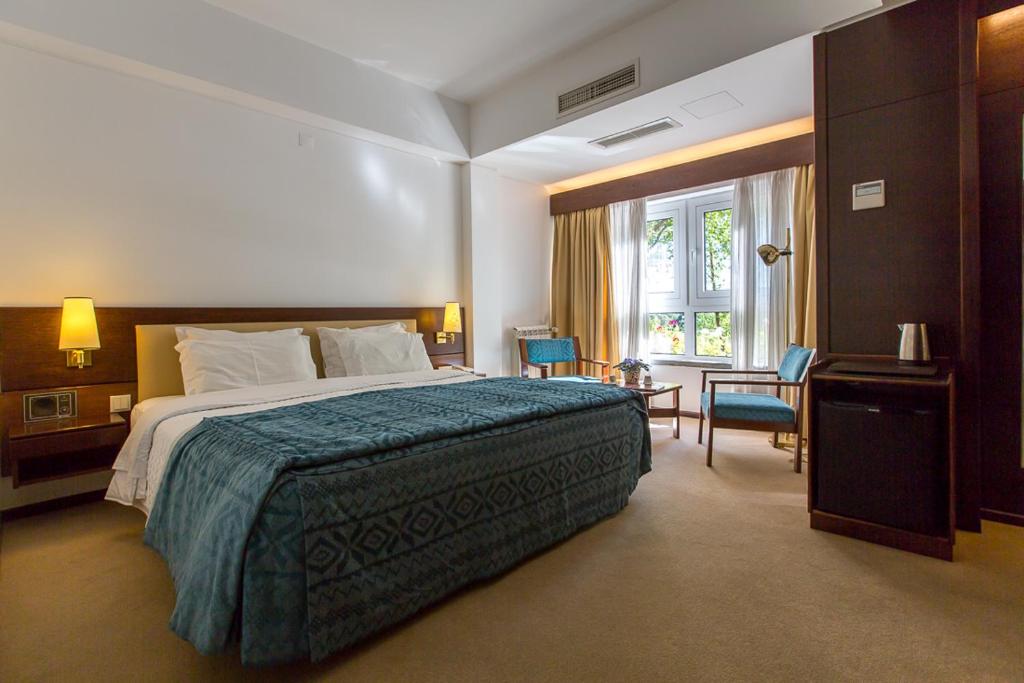 Founded in the 50s but remodeled in 2019, Hotel Estrela de Fatima has one of the best locations in Fatima, footsteps away from the sanctuary. All you need to do is cross the street to the other side and you will find the holy site!
The design of the hotel is inspired by the region and features a stunning terrace to enjoy sunsets and a restaurant reflective of the flavors of Fatima.
The hotel features 84 rooms in two distinct styles, flower rooms and tree rooms, as well as 14 deluxe rooms, and 4 junior suites.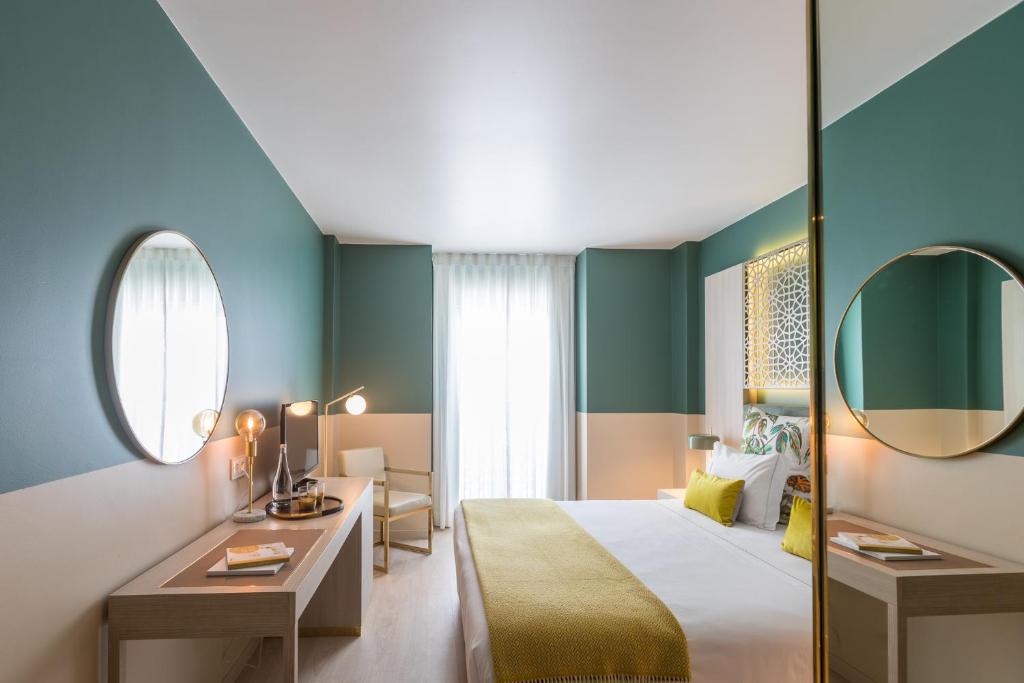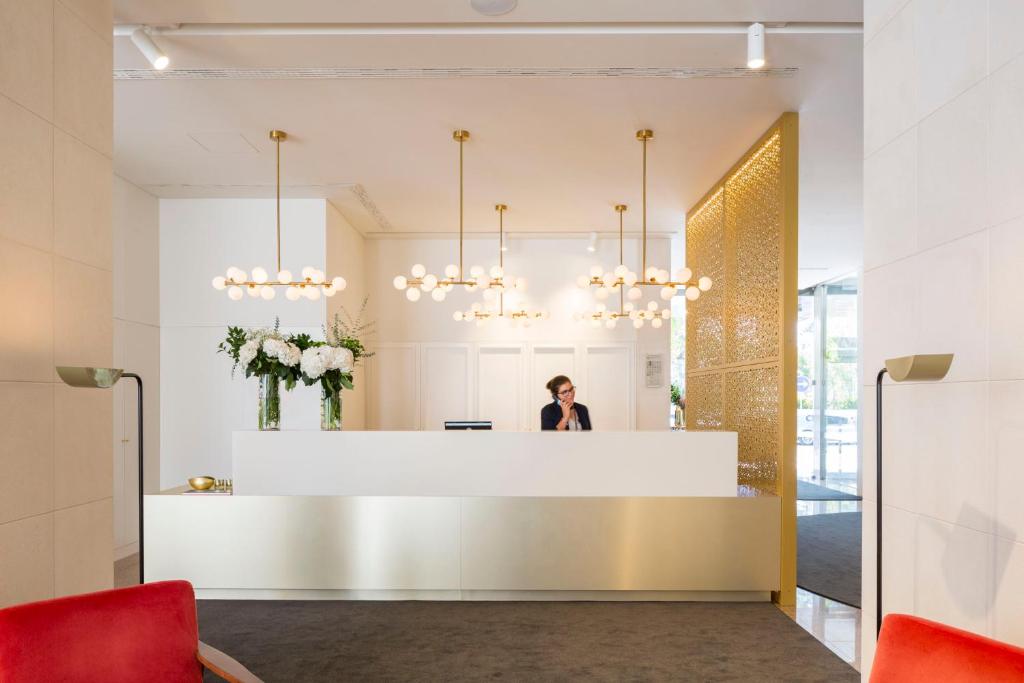 Hotel Lux Fatima is located in the center of Fatima and features an emblematic outdoor pool on a wooden deck, offering gorgeous views of the city. The hotel also has a bar, fitness area, spa, and a restaurant called Palatus.
There are over 60 rooms at Hotel Lux Fatima, all offering a spacious and modern feel. These come equipped with cable TV, a mini bar, air-conditioning, a private bathroom, and more. Babysitting and laundry services are also available on site.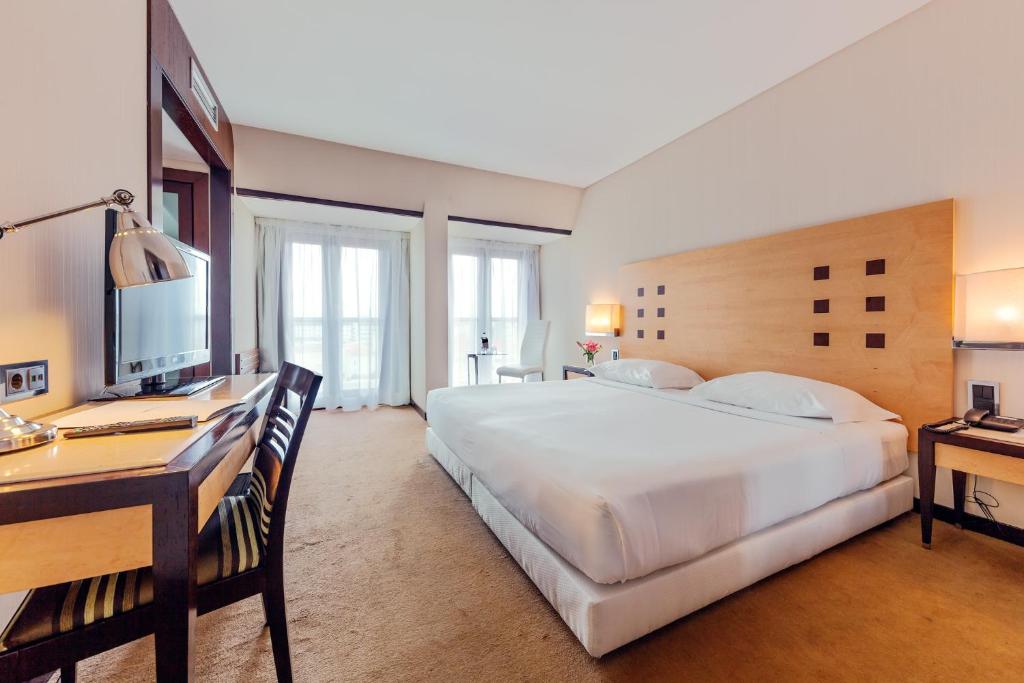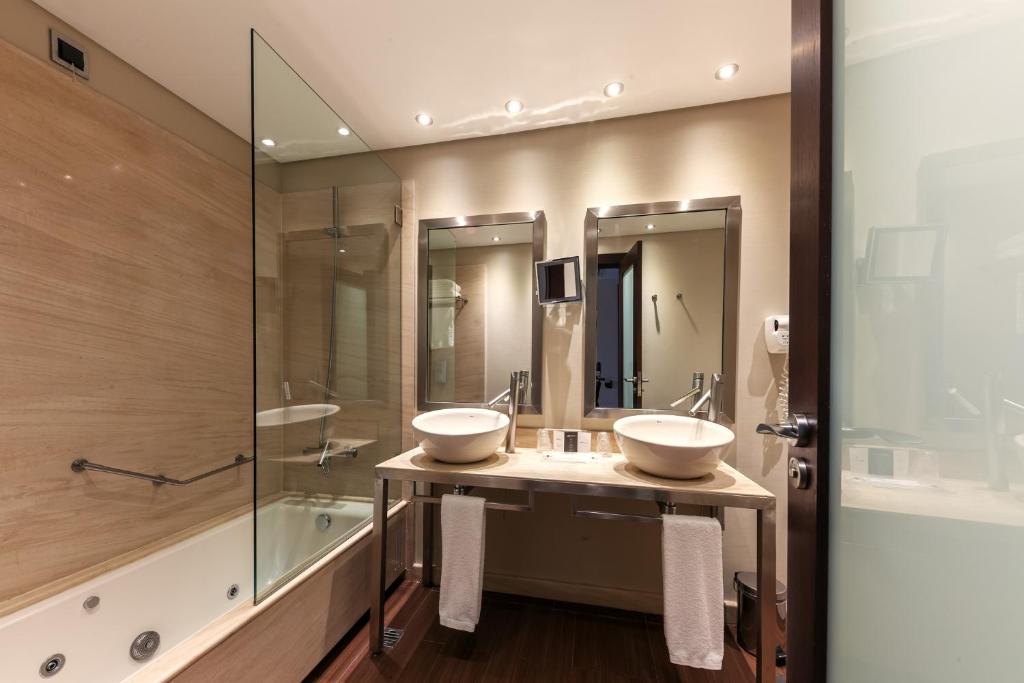 Essence Inn Marianos Hotel is a 4-star "concept" hotel built to awaken the senses. Each floor at the property features a different essence: floral, fruity, natural, wooden, and oriental. The hotel also features a store, atelier, and workshop area to explore Catholic culture, as well as a chapel for prayer.
The hotel prides itself on being "the first inclusive hotel in Fatima". All rooms have been built with people with reduced mobility in mind, featuring SOS buttons all around and safe bathtubs. The "My Eyes" technology has also been implemented, a mobile app for those with visual impairment.
Essence Inn features a heated indoor pool, bar, restaurant, 24/7 reception, a business center, and private parking. Along with over 70 double rooms, 10 single rooms, and 3 suites, the hotel features 1 studio and 1 apartment.
Book Essence Inn Marianos Hotel