To most, sardines are nutritious oily fish that are filled with omega-3 fatty acids. To the Portuguese, they are so much more. A cultural symbol, an art form, inspiration for art, a part of our language, the list goes on. However, while for decades, the sardine was mostly celebrated for its freshness, it is today even more widely consumed in a can for conservation. You can find flavors of all kinds and originality, from spicy sardines to tomato riched aromas.
Despite the Portuguese's love for sardines, most that visit us are not aware of all its facets. Let's take a look at 7 interesting facts about sardines in Portugal so that you can better understand this national icon the next time you come to visit.
1. The sardine population is declining
While once every household had access to sardine fishing and the resource was abundant, this is no longer the truth. Today, the Portuguese sardine industry is declining as this fish population is also decreasing. This is predominantly due to climate change and overfishing.
Portugal is, in fact, a long way from reaching sustainable populations of the sardine stock it shares with Spain. This led the country to join the International Council for the Exploration of the Sea (ICES), a marine science organization that promotes sustainability in oceans and fishing.
Due to the declining sardine population, industries and consumers are looking for Portuguese alternatives such as the carapau (horse mackerel) and cavala (chub mackerel).
Climate Change: Impact on Portugal
2. Canned sardines are a Portuguese delicacy
When you think of delicious fish, you often think of it as being fresh, fished that same week, and picked up from your local market. That's the way many in Portugal still consume their fish and seafood. However, that's not always the case for sardines, and this doesn't make the product any less delicious.
But how did canned sardines come about in Portugal? Let's go through a bit of history. Canning fish in Portugal only became a method of preserving fish in Portugal in the 19th century. Ramirez, the first canning company in Portugal founded Vila Real de Santo Antonio and began packing sardines, tuna, and mackerel into tin cans in 1865.
In the decades that followed, two world wars made it so that Portugal expanded its production of canned sardines as it was a long-lasting and nutritious food for soldiers. BY 1950, Portugal had over 400 canneries.
However, today, this process is not only a method of preserving fish but has also turned into Portuguese art and Portuguese delicacy. You will find this delicacy of canned sardines beautifully presented, with artistic tins and with a wide array of flavors, such as garlic, hot sauce, tomatoes, and more.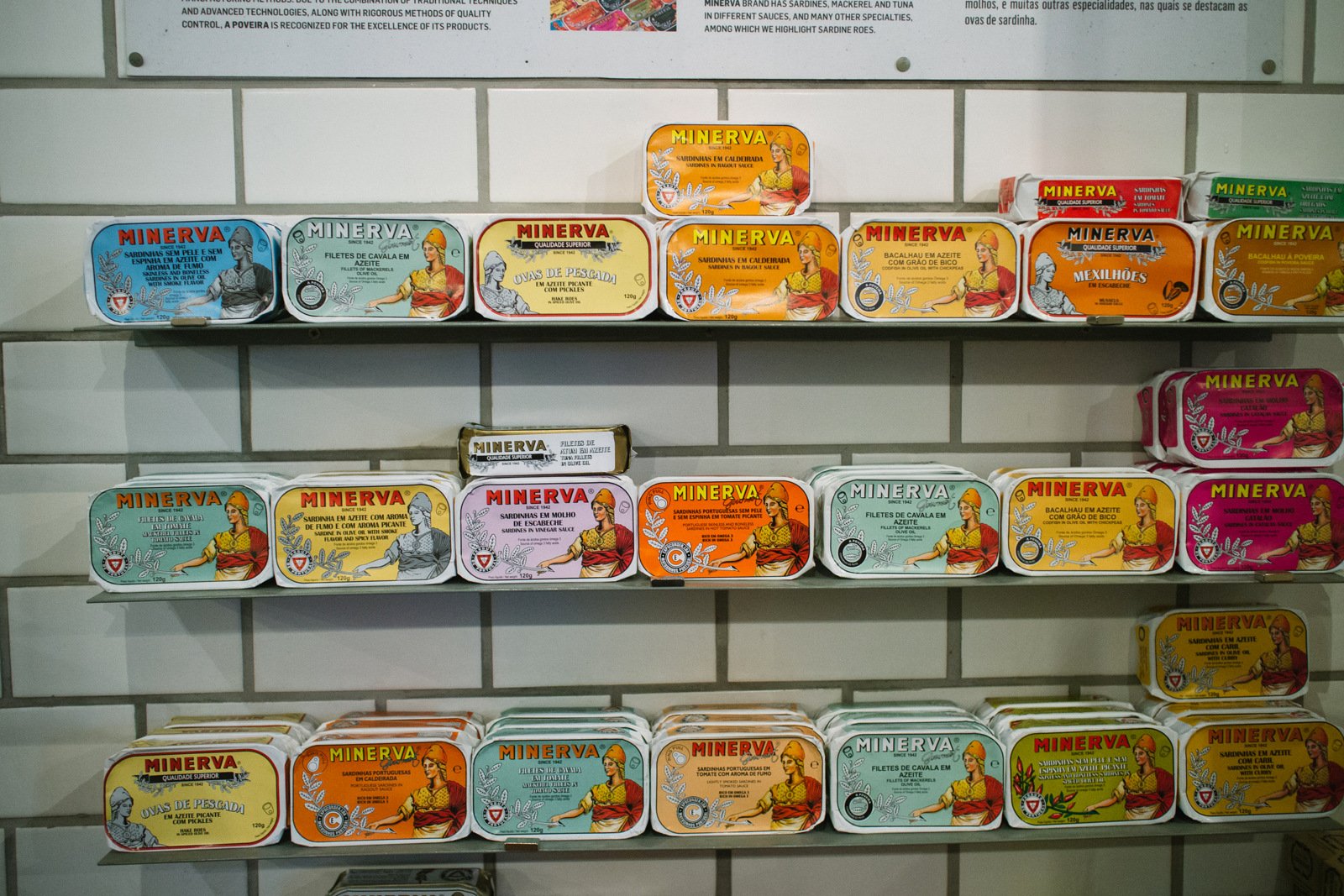 3. Sardines are the highlight of the yearly Santos Populares celebrations
Sardines are incredibly ingrained in Portuguese culture, particularly in popular festivities. The most important in Portugal is Saint Anthony's on June 13 where the largest festival in Portugal takes place in the capital of Lisbon. The smell of grilled sardines fills the streets of Bairro Alto and other areas, with people bringing tables outside, sharing other delicacies, playing music, and drinking beer.
But the celebration is not just for that one day! The whole of June is the month of Santos Populares, with parties all over the country. In Lisbon, it is mostly on June 12, while in Porto, it's on June 23 when Sao Joao is celebrated. Regardless of where you are in the country this month, expect sardines to be the main staple.
4. Sardines are extremely healthy
Are sardines healthy? Yes! While not all Portuguese foods are super healthy – like the francesinha, this isn't the case for sardines. Sardines are filled with tons of nutrients that can be hard to find elsewhere.
They are a source of omega-3 fatty acids, nearly 15% of your daily recommended vitamin B2, almost 25% of your recommended daily niacin, and are filled with vitamin B12.
These nutrients aren't just some meaningless part of your diet. They help improve the nervous system, boost metabolism, and improve cognitive function.
If you're feeling a little less "healthy," The Francesinha
5. The ceramic art of sardines is a part of Portuguese culture
Sardines are also quite literally Portuguese art. The 19th-century Portuguese artist Rafael Bordalo Pinheiro is famous for creating ceramics of this Portuguese symbol, the sardine. His company is still in operation selling these, and other generation artists have created illustrations and ceramics with the sardine. You will find several versions in ceramic shops all over the country, especially in the Silver Coast town of Caldas da Rainha, Bordallo Pinheiro's place of origin.
6. Portuguese expressions often mention sardines
The Portuguese language is highly impacted by cultural symbols, including the precious sardine. The iconic fado singer Amalia Rodrigues would even mention sardines in her songs, highlighting their cultural significance.
But it goes further than that! A lot of Portuguese expressions mention sardines. Keep in mind that when translated, many Portuguese expressions make absolutely no sense. They are not meant to be translated at all, but we will do so for the sake of knowledge.
"A mulher e a sardinha querem-se pequenina" – translates to "a woman and a sardine are meant to be small". This alludes to the fact that smaller sardines are thought to be more delicious and that Portuguese women were said to be short. The "small" is not about size or weight at all.
Another famous expression that speaks to the Portuguese "glass half empty" mentality is "cada um puxa a brasa à sua sardinha." This expression translates to "each one pushes the coal to their own sardine," meaning people only look out for their own interests.
7. The Fantastic World Of Portuguese Sardines is a unique experience
Known as O Mundo Fantastico das Sardinhas, this place takes the Portuguese love for sardines to another level. With stores all over Portugal, the Fantastic World of Sardines takes you on a journey of the world of canned sardines. This place almost feels circus-themed in the best way possible. Filled with colors, lights, and canned sardines decorating its interior, it is bound to attract everyone, especially children.
On top of that, you can purchase canned sardines of all types. From spicy sardine cans to your regular ones, there's a can for everyone's taste. You can also find sardine cans named "1927" that have been canned in the way they used to, decades ago.