The capital of the Autonomous Region of the Azores since 1546 and the largest municipality in the archipelago, Ponta Delgada is one of the most visited cities in the Azores. With over 60,000 inhabitants in three parishes that comprise the historical city, Ponta Delgada screams history and culture. Home to the University of the Azores and the City Gates, many of the historical buildings have been around for centuries.
Ponta Delgada is located on Sao Miguel Island. The island was discovered between 1427 and 1431, after the island of Santa Maria. It was initially settled in 1440 by Portuguese people from the regions of Estremadura, Algarve, and Alentejo. The island was later home to various groups including Moors, Jews, and French foreigners. Today, Sao Miguel is one of the most visited islands in the Azorean archipelago. The island offers so much versatility and activity for all, such as diving, hiking, and more.
What to do in Ponta Delgada: 5 Things To Do in Ponta Delgada
1. Explore the city center
The city center of Ponta Delgada is full of history and culture which you can explore on foot. Ponta Delgada is known for its historic churches and unique cobbled streets filled with traditional Azorean restaurants. An area to not miss is Avenida Infante D. Henrique, a seaside promenade that runs from a military fortress to Calheta. The path has the classic Portuguese black and white cobblestoned floors. Look for the City Gates or Portas da Cidade, this monument represents how the capital is like the entrance gates of the Azores. These gates were built in the 18th century and are located in the old city harbor, the first line of defense of the island at the time.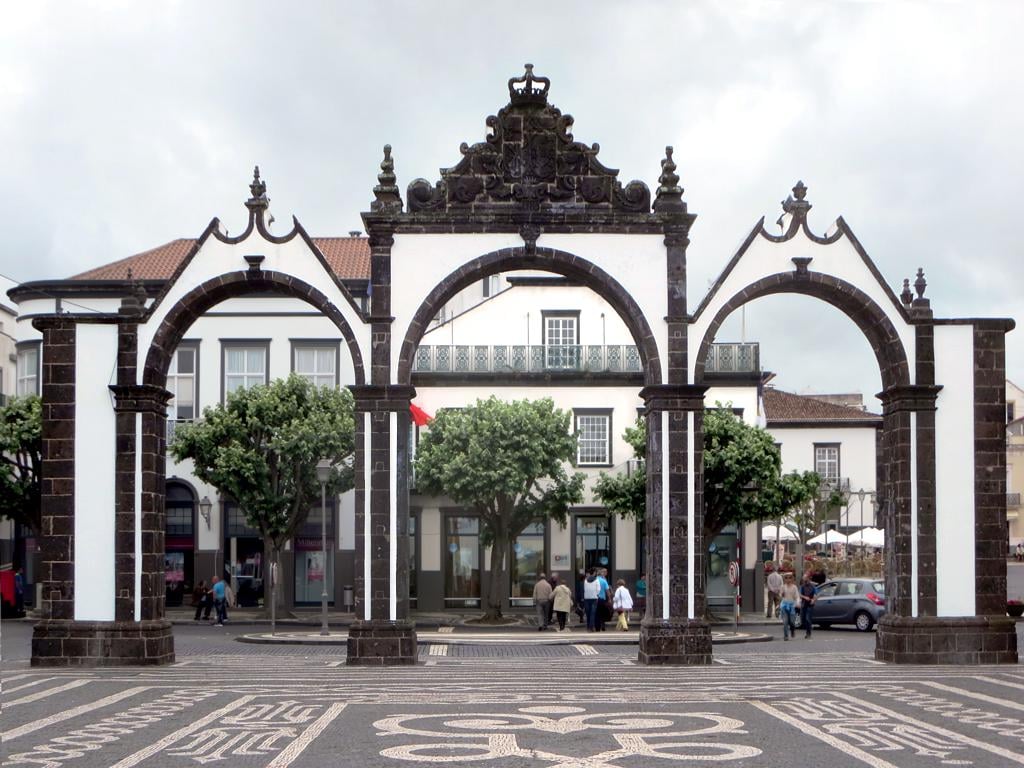 2. Travel to Sete Cidades
A 40-minute drive from Ponta Delgada, Sete Cidades is a municipality in São Miguel and probably the most famous place to visit on the island. Visit the Lagoa das Sete Cidades, a large lake divided by a bridge into two parts: one green and one blue. This is probably the most popular lagoon in the whole of the Azores archipelago. Head to the Vista do Rei viewpoint where you can enjoy the best view of the lagoon. The Lagoa das Sete Cidades is the perfect spot for kayaking. Even though Sete Cidades is known for this particular lake, there are over 11 lakes in the municipality that you observe from miradouros (viewpoints).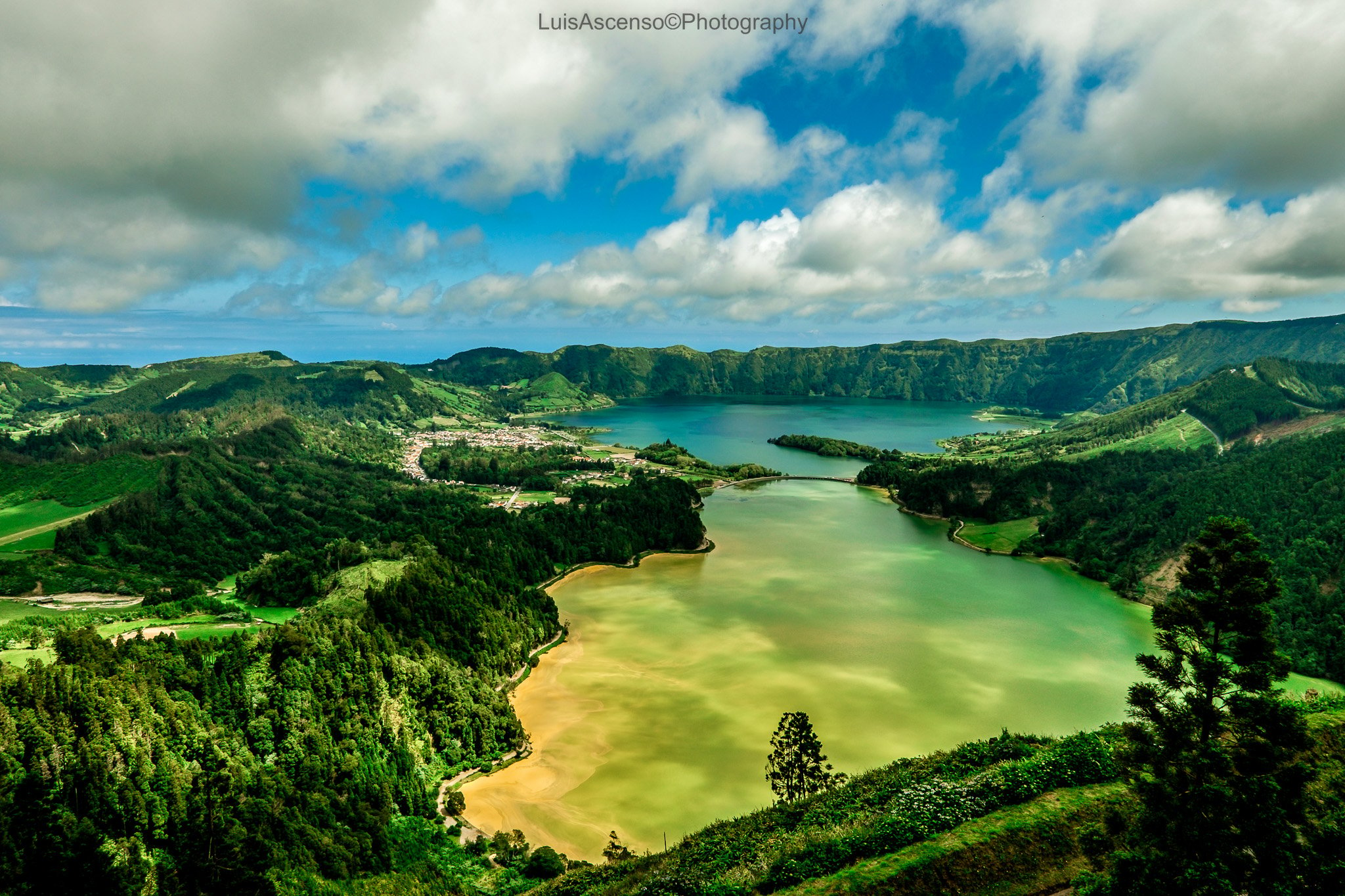 3. Eat a meat stew cooked by a volcano
In the eastern part of São Miguel, you should visit the Furnas where you can see two boiling caldeiras in action and swim in hot spring pools. There are over thirty geysers around the Furnas village. These are essentially bubbling, steaming caldeiras that smell of sulfur. Temperatures range from 70ºC to 100ºC, which is perfect for cooking. You need to try a Cozido das Furnas here. This is similar to the classic Portuguese cozido, a meat stew with cabbage, carrots, potatoes, blood sausage, pork, and beef. But this is no regular stew – it's cooked by a volcano. This dish is placed in a metal pot and buried in volcanic soil to be slow-cooked by the natural heat of the caldeiras. Another thing to do in Furnas is to visit the 200-year-old Parque Terra Nostra. Here you can swim in a popular orange geothermal swimming pool that's 35ºC.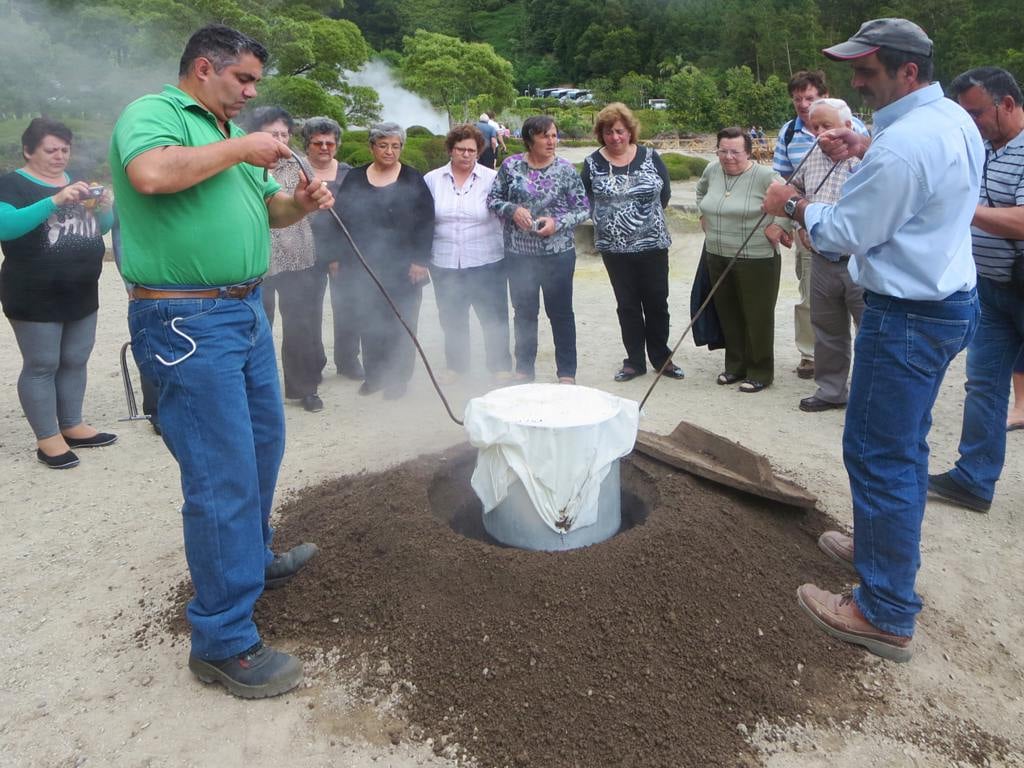 If you're a big foodie, book this food tour in Ponta Delgada where you will get to explore the city's unique cuisine with an experienced local guide. The tour is three hours and along with traveling through the main historic points in the city, you will sample local specialties at markets and eateries like Mercado da Graca, O Principe dos Queijos, and more. You will get to try a variety of Azorean products such as meats, jams, fruit, as well as complimentary drinks. The guide will teach you about the culture and traditions of the food on the island, making it a more unique experience than just visiting a nice restaurant.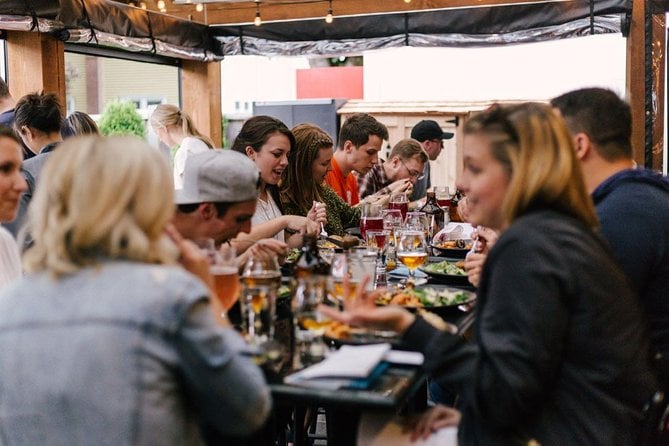 The Azores is one of the best places in the world to spot whales of different species. Embark on a 2.5-hour excursion to discover the magical whales, dolphins, and other sea life animals in their natural habitat. In a Zodiac RIB boat with a skipper and wildlife guide, you will get to spot these and learn about their behavioral, migration, and communication patterns. The boat approaches the animals so you can spot them, without getting too close so as to not disturb them. The boat tour also includes a tour around the Princess Ring Islet of Vila Franca do Campo, where you will get an up close look at the volcano. The tour price includes insurance and a life vest and is usually in English.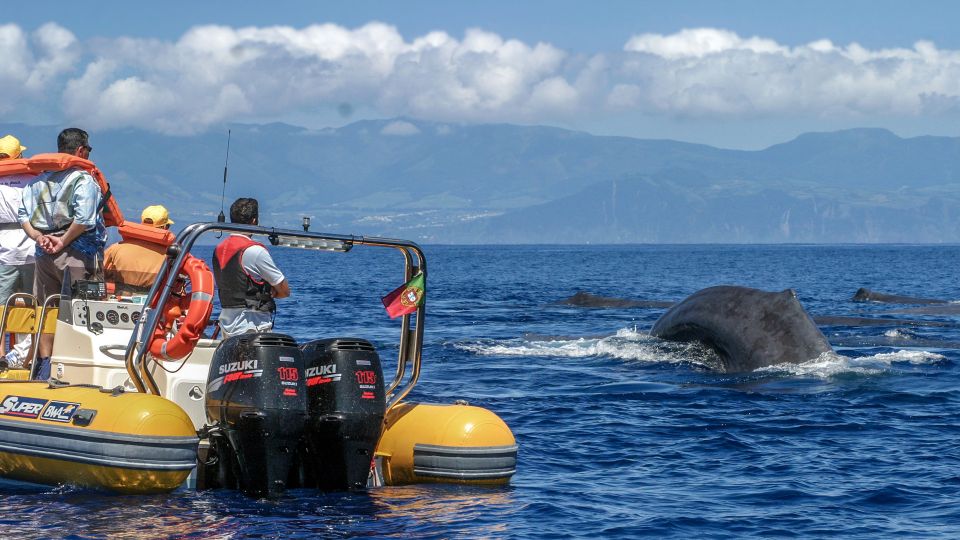 Book whale-watching experience
3 Best Restaurants in Ponta Delgada: Where to eat in Ponta Delgada?
1. Restaurante da Associação Agrícola de São Miguel
A 15-minute drive from the center of Ponta Delgada, this restaurant was founded by a society of local producers and is one of the most popular on the island of Sao Miguel. This place is known for its beef steak prepared with local beef. You can choose to have it accompanied by a sauce, the best being the pepper or cream sauce. You should also sample their selection of regional wines. You can have a meal for around €15 per person.
2. A Tasca
Located in the center of Ponta Delgada, this restaurant's name literally means tavern. The white and blue exterior provides an authentic Azorean experience. Make sure to book a table beforehand as this place can get quite full, especially on weekends. We recommend their octopus with roasted potatoes and their tuna steak. A meal here costs €15.
3. Casa da Rosa
Casa da Rosa in the center of Ponta Delgada has a relaxed and comfy environment. Located next to Alcides, this place has live music and features Portuguese food, as well as international dishes. It is very affordable and you can also get some vegetarian options here. You can have a meal here for €15.
Transportation: How can you get around Ponta Delgada?
If you are planning to stay within the historic center of Porta Delgada, you can discover the center on foot or on public transport. The bus system is designed for the locals, not tourists looking to get to sights. However, the buses are quite cheap as tickets costs between €0.30 to €3.
However, if you are visiting the city, you will probably want to discover the whole island of Sao Miguel. The island is quite large so the best way to get to remote locations is by renting a car. In fact, this is the best way to visit any island in the Azores. You can pick up a rental car from the airport and return it when you are flying back. We recommend renting a car in advance because especially in the summer months, these run out fast.
5 Best Places to Stay in Ponta Delgada: Where to stay in Ponta Delgada?
A top-rated property in Ponta Delgada, Marina Lounge Hostel is located in the heart of the city, close to the marina. The hostel offers both private rooms and dormitories, fitting everyone's needs and budget. All units have access to clean bathrooms and some even have a furnished terrace with views of the historic center. A large communal kitchen is available where guests can cook and share meals. Alternatively, some of the best restaurants on the island are only a few steps away. The hostel also features a comfortable shared lounge with a TV, sofas, and various board games for entertainment. You can get a private room here for €65 a night.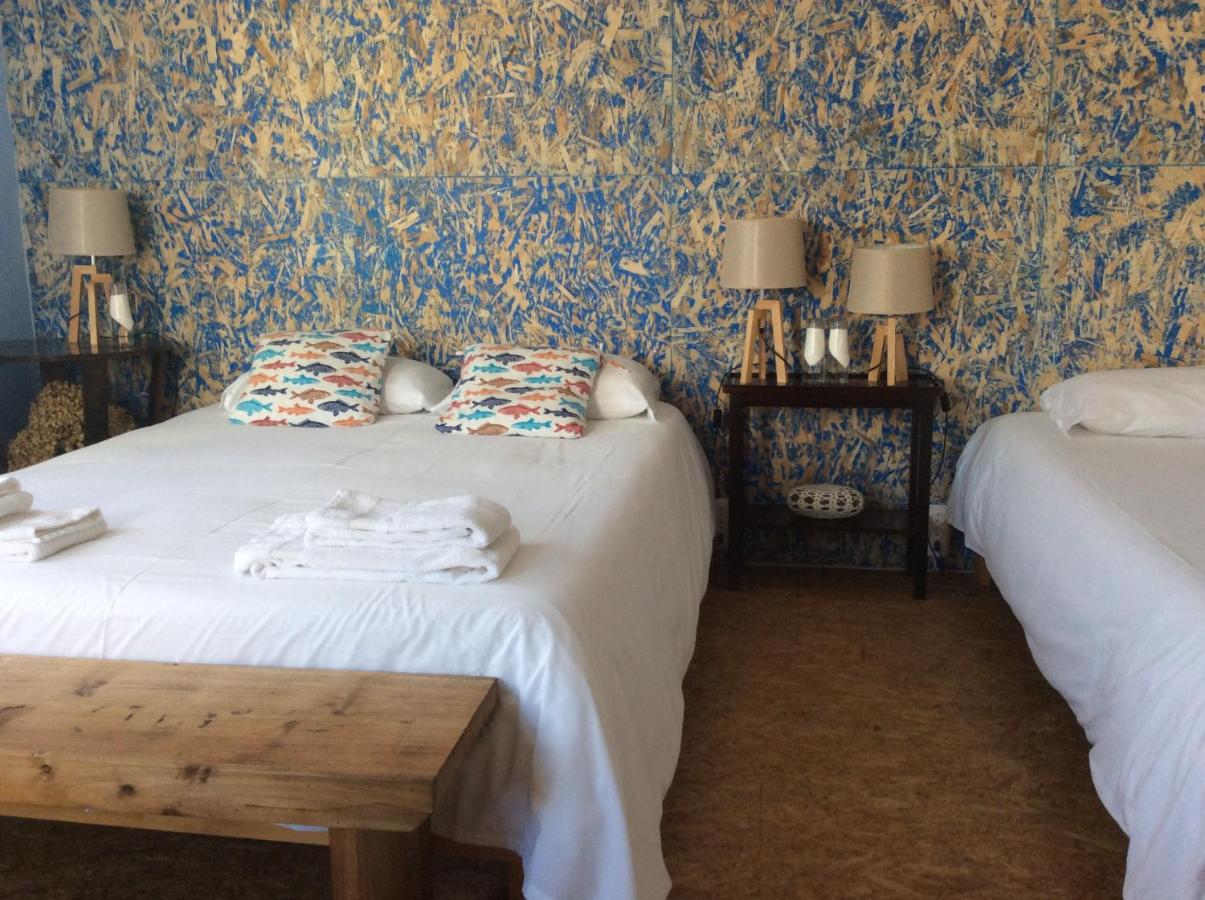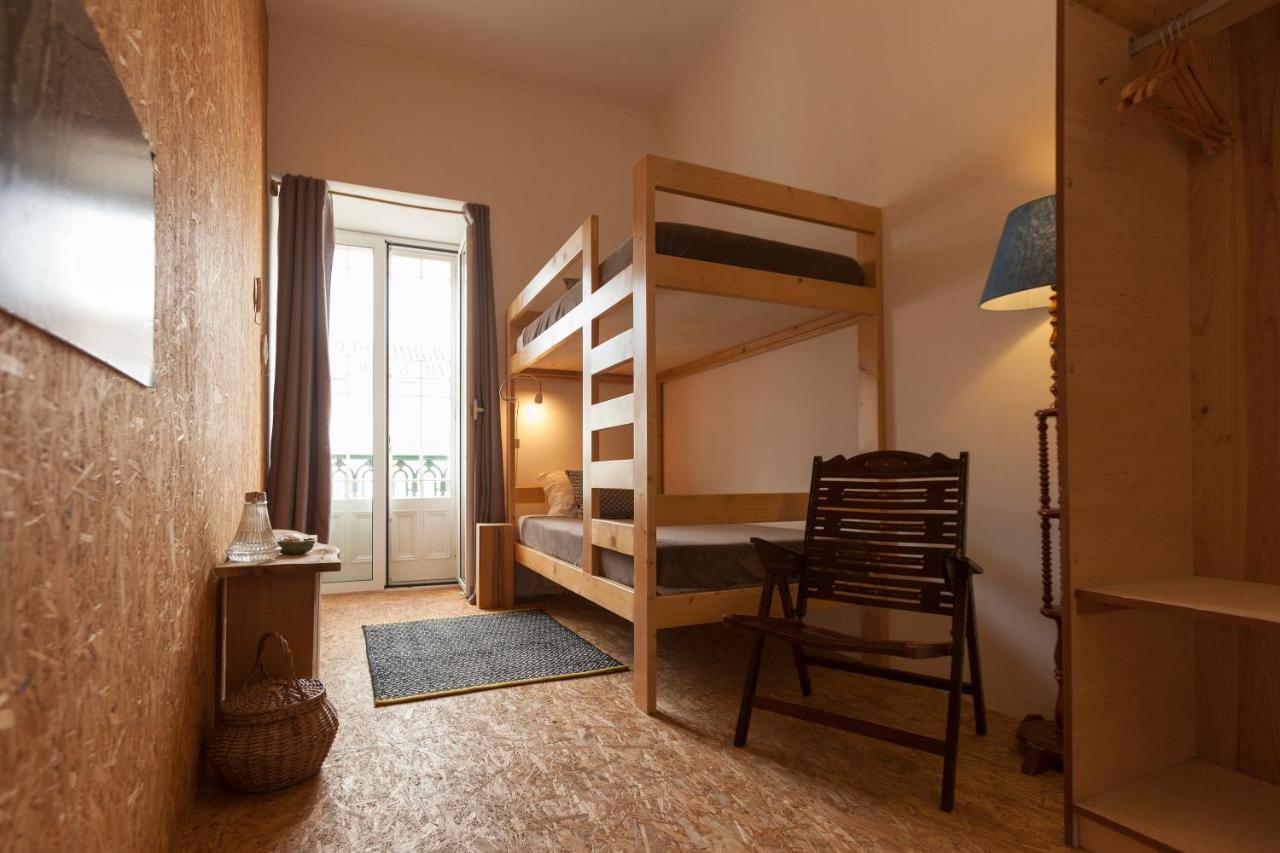 A 15-minute drive from Ponta Delgada, White Exclusive Suites & Vilas is located in Lagoa and features a restaurant, an outdoor pool, and a garden. A 10-minute walk from the beach and some of the best restaurants on the island, the units at this place feature balconies with views of the ocean. Providing a luxurious experience, you can get a room here for around €200 a night.
Herdade do Ananas is an eco-friendly accommodation option in Ponta Delgada. Herdade do Ananás is known for its great customer service and for providing a luxurious experience. This place features a garden and a shared lounge. The rooms offer a modern feel and feature a desk and a flat-screen TV. You can get a room here for around €150 a night.
A 5-minute walk from the University of the Azores in Ponta Delgada, Hotel Colegio is a 4-star hotel in a 19-century building. The hotel has a swimming pool and restaurant serving regional cuisine from locally grown ingredients. The guestrooms preserve the style of the building, which used to be a school and musical conservatory, with a modern twist. The hotel serves a delicious buffet breakfast. You can get a room here for around €120 a night.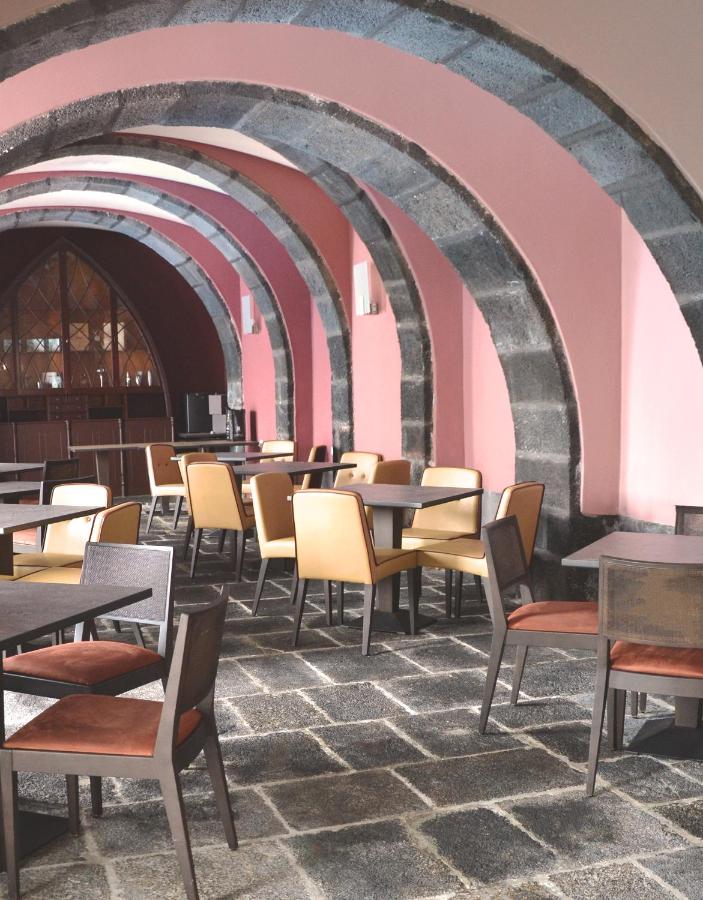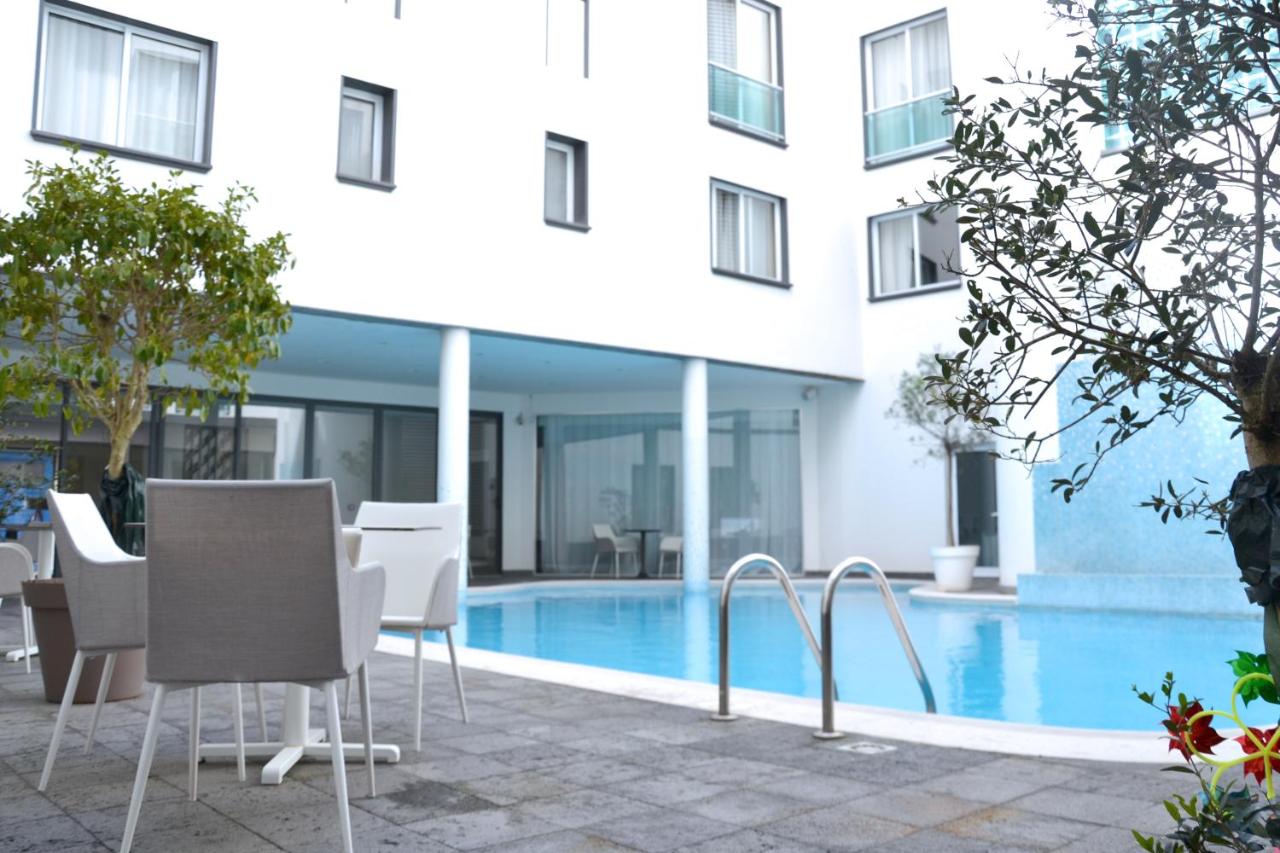 Located between Ponta Delgada and Ribeira Grande, Quinta dos Bravos has a 3000 square meter garden and an outdoor swimming pool. You are less than 20 minutes away from Ponta Delgada. Guests can enjoy several activities near the property such as exploring the hiking trails and golfing at the Batalha Golf Course. You can get a room here for around €90 a night.