Porto tends to get more rain than Lisbon and other cities further south. However, this doesn't keep millions of tourists from coming to visit Porto all year round. During the low season, not only will you get more affordable prices, but there are still loads of activities to enjoy, even on rainy days. If you are in Porto on a rainy day, here are 7 things to do in Porto.
1. Enjoy a wine tasting in Porto
What better way to shelter from the rain than with some wine to warm you up? A Port wine tasting is an incredibly traditional activity. Port wine is a Portuguese fortified wine produced in the Douro Valley. This wine is a sweet red wine that often pairs perfectly with dessert.
It's important to know where to go as with Port wine, you must focus on quality over quantity. We recommend booking this experience where along with a Port wine tasting, you will get to enjoy an intimate acoustic performance of traditional Fado in the center of Porto.
You can also find great wine tastings in Vila Nova de Gaia, across the Dom Luis Bridge from Porto, over the Douro river. Caves Ferreira in Vila Nova de Gaia is one of the best places for a port tasting.
Founded by a family of winemakers in 1751, Caves Ferreira is the only wine company from Porto that has always remained Portuguese throughout its history.
While you're in Vila Nova de Gaia, make sure to ride the Gaia cable car at sunset to get a view of the Douro river and Porto.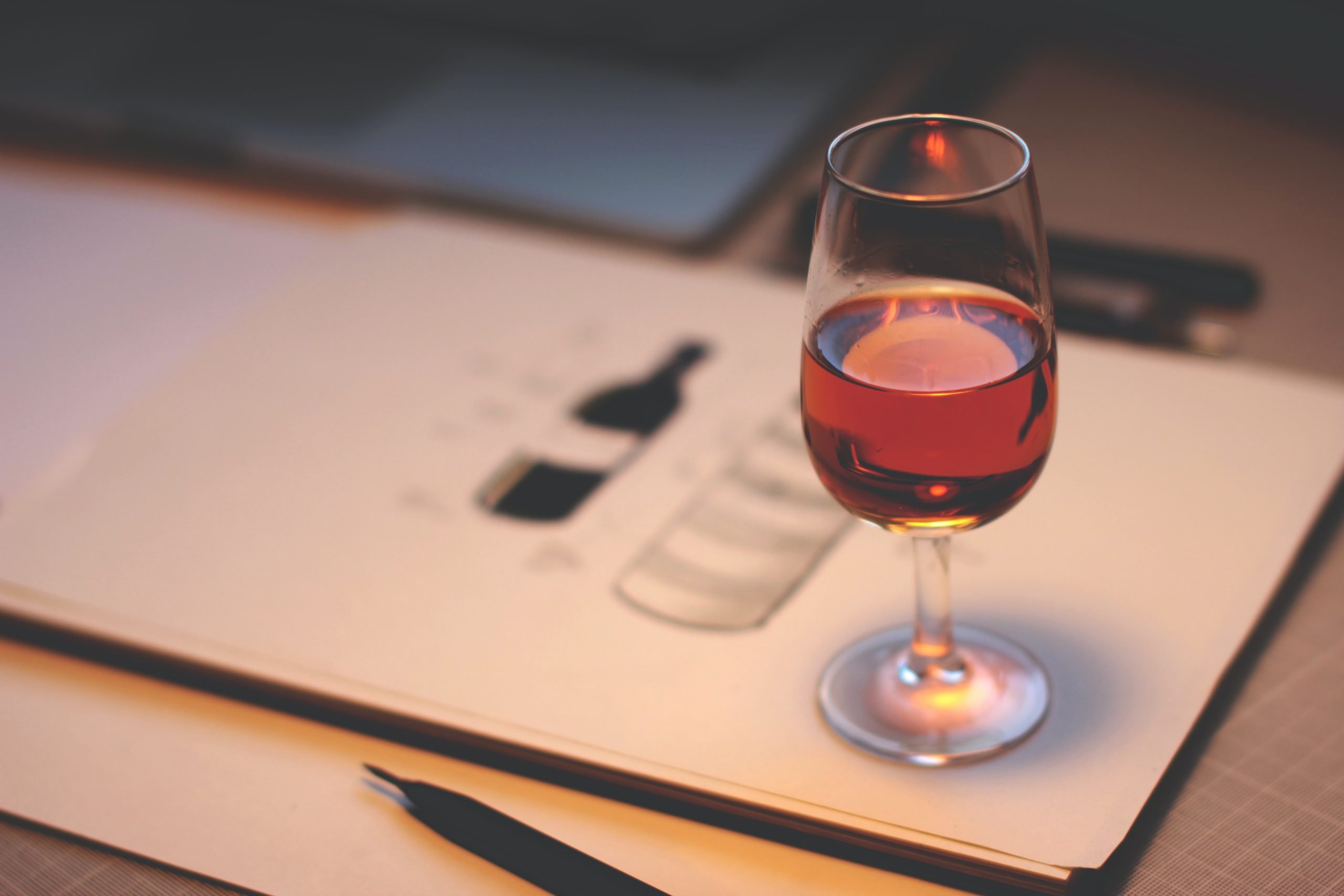 2. Explore the Lello bookstore, one of the most beautiful in the world
Lello bookstore has been recognized as one of the most beautiful and oldest bookstores in the world. Founded in 1906, it is an integral part of Porto's historical heritage. While many once believed JK Rowling wrote the Harry Potter series here, this myth has been busted. However, it does hold an undeniable Harry Potter-like appearance.
The bookstore's exterior has Neo-Gothic and Art Noveau elements and the two-story interior reflects Art Deco elements. The ample staircase and the stained glass window on the ceiling take center stage.
The entrance to the bookstore is no longer free as of 4,000 daily visits, less than 5% would purchase a book. Today, there is a small €5 fee to enter Lello.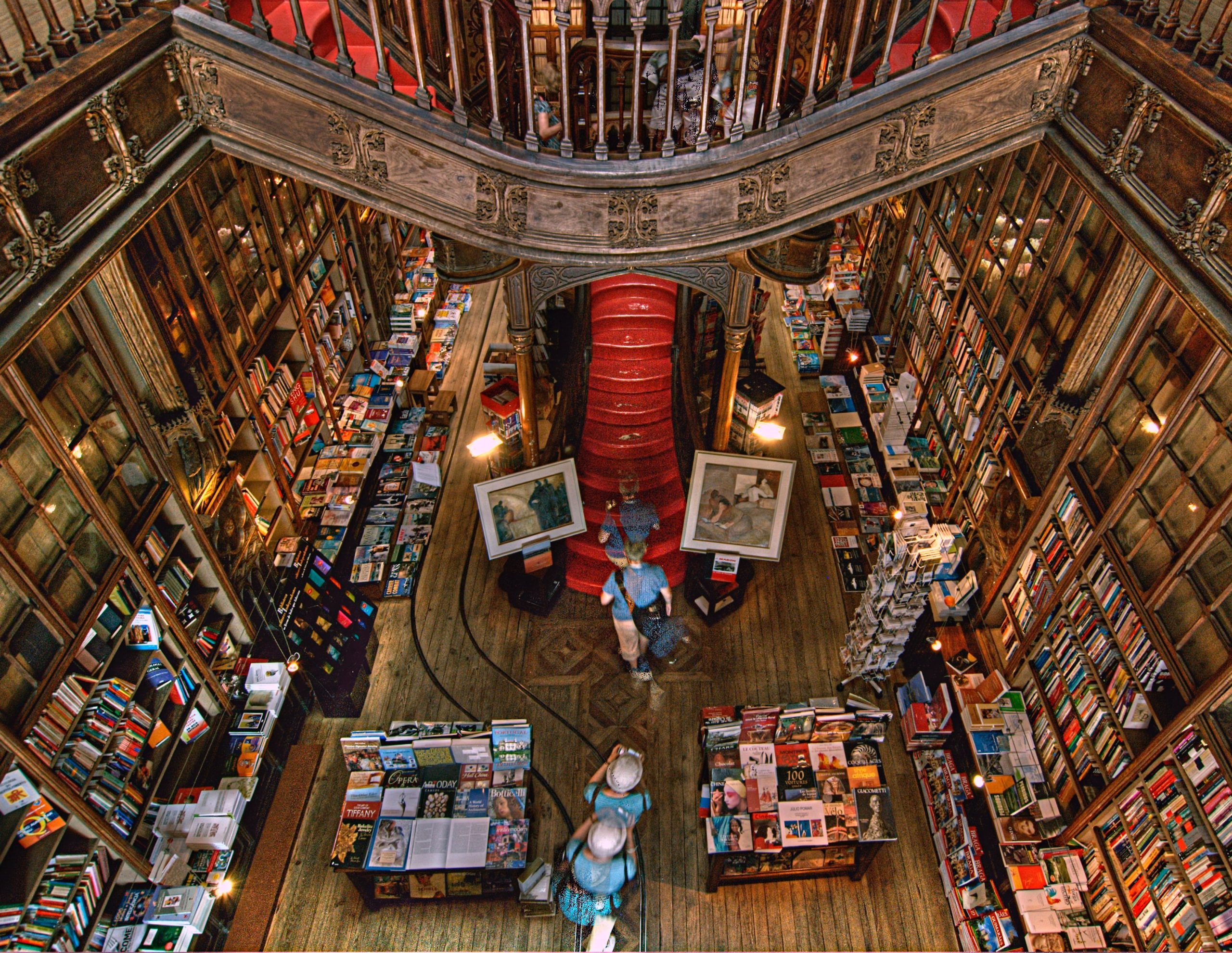 3. Photograph the Casa da Musica
If you are a music or architecture lover, you must head to Casa da Musica. Designed by the architect Rem Koolhaas, Casa da Musica is an iconic concert hall in the historical center of Porto built in 2005.
Casa da Musica hosts exciting events with concerts by the Symphony Orchestra and more, from every music genre. If you are lucky enough to find a ticket for a concert on a rainy day, this is the perfect activity.
You can also get a tour of the inside of Casa da Musica. Alternatively, you can also enjoy a meal at the restaurant on the top floor, providing a view of the center.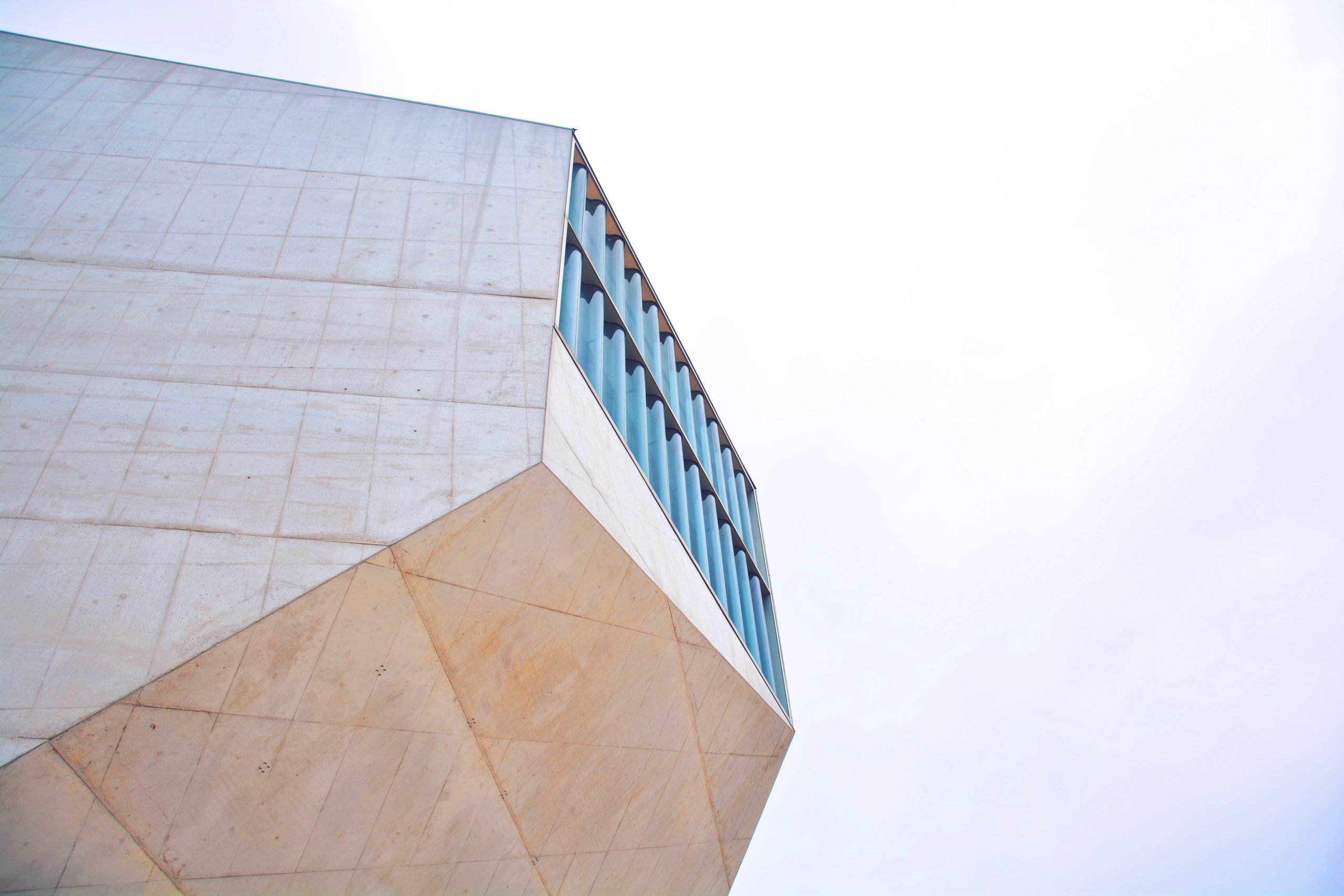 4. Take a tour of Palacio da Bolsa
If you have had the time to walk around Porto, we're sure the Palacio da Bolsa did not go unnoticed. This remarkable building was built in the nineteenth century by Porto's Commercial Association and initially worked as a stock exchange.
Located in the historical center of Porto, a World Heritage Site by UNESCO, today it's open to the public and hosts important visitors, such as Queen Elizabeth II in 1957.
We recommend taking a tour of the inside of the palace. You will get to see furniture by the architect José Marques da Silva and sculptures by the famous sculptor Teixeira Lopes.
The most famous room is the "Arab Room" built between 1862 and 1880 and decorated in the Moorish Revival style. Today, this room is used as a hall for prestigious visitors to Porto like heads of state.
Buy an entry ticket to visit the place for €10.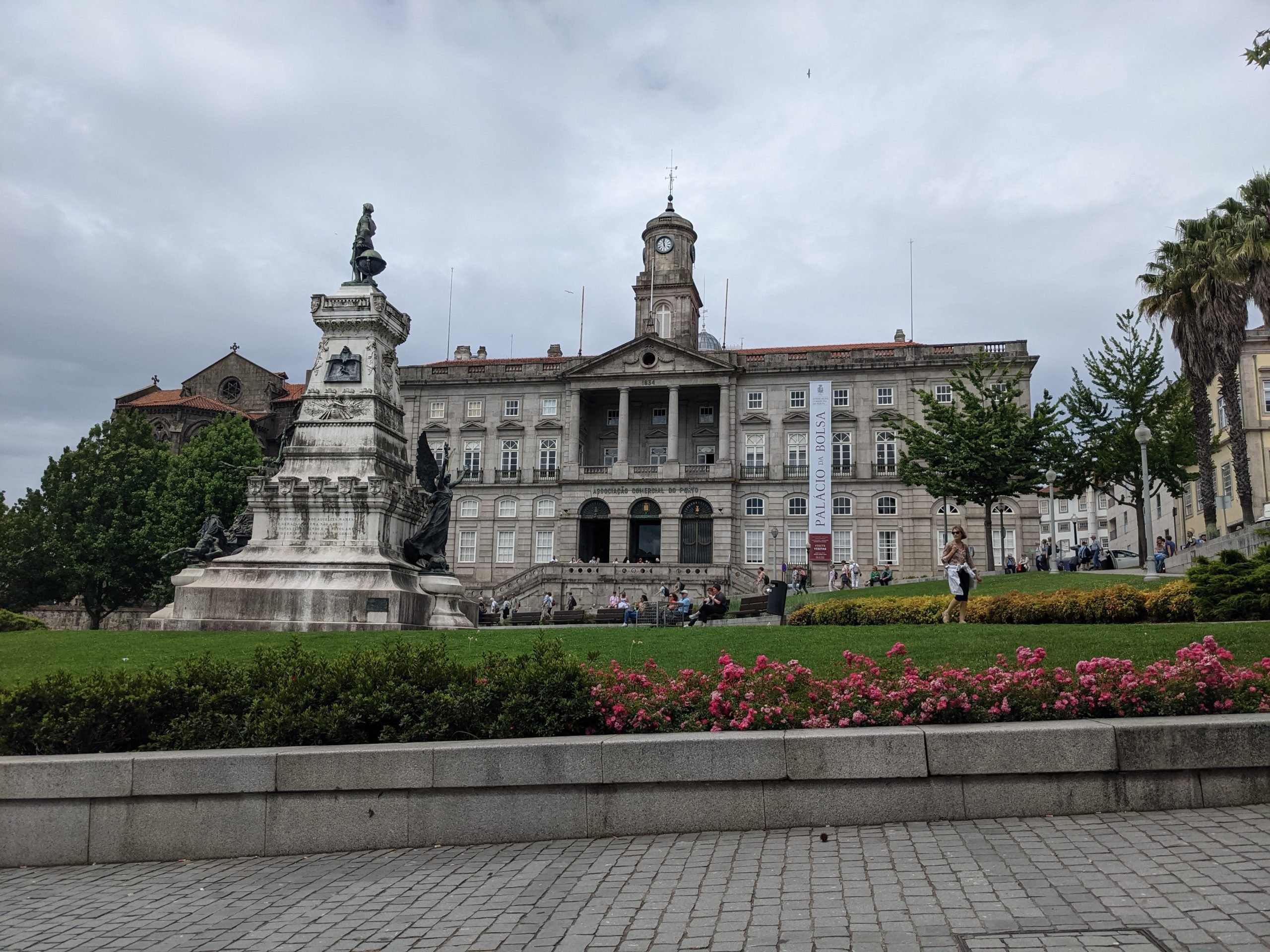 Buy tickets to the Palacio da Bolsa
5. Take a tuk tuk tour of Porto
A rainy day doesn't mean you need to be stuck indoors. Instead, a tuk tuk tour allows you to explore most parts of the city and see the best sights, without getting wet by the rain.
For a fun and sustainable option, we recommend this private tour of Porto on an electric tuk tuk. You will get to explore the historic center of Porto, ride through the hills, and see the best attractions. You will visit the Sao Bento Railway Station, Porto Cathedral, Livraria Lello, and more.
With an electric tuk tuk, you will actually get to hear your guide's comments as it is an almost silent vehicle! This way, you will learn everything you need to know about Porto from a local's perspective.
6. Find the best Porto restaurants
A full tummy is set to distract you from the bad weather. A visit to Porto is a culinary experience in itself, with more affordable prices than in Lisbon. Porto has meals for everyone's taste: traditional food, vegan meals, as well as luxury dining for those looking for an experience.
However, there a few dishes that are must-tries if you want to experience typical Portuense food. The "Francesinha" is a dish that icludes ham, sausage, and steak sandwich with loads of melted cheese and a fried egg on top, and spiced tomato and beer sauce. It's served with french fries.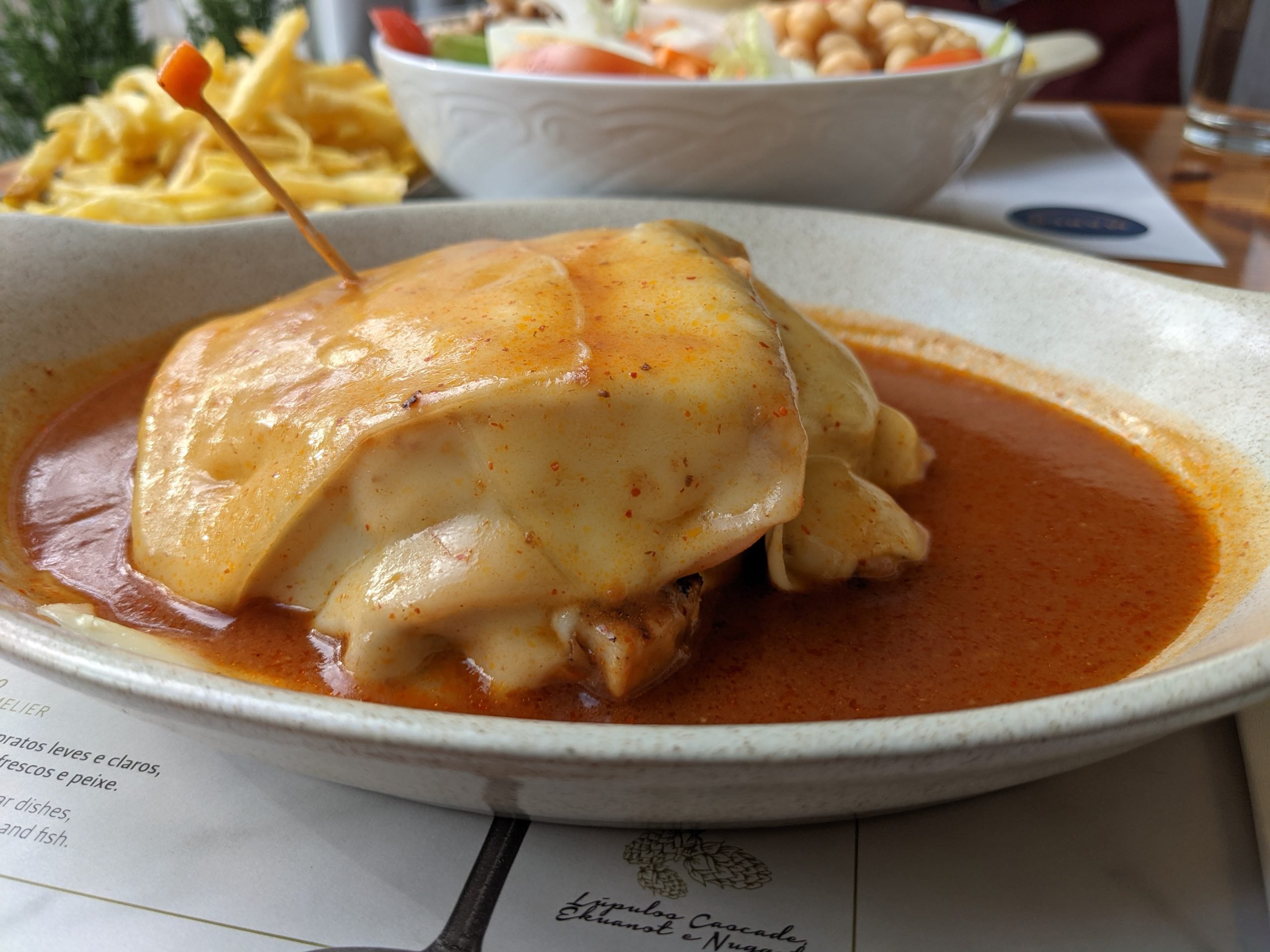 Another traditional dish is the "tripas à moda do Porto", a heavy meat-based dish, with beans, carrots, steak, veal, and pork stomach. People have been eating this in Porto for hundreds of years.
For those with a sweet tooth, try the almond tart that is typical of Douro, as this region cultivates most of the country's almonds. The tart has almonds, sugar, butter, and milk.
If you are looking for the best restaurants in Porto, here are our favorite spots:
Casa Guedes
Tasquinha Ze Povinho
Antiqvvm
Taberna Santo Antonio
Enoteca 17.56
Restaurante Chama
7. Discover sea creatures at Sea Life
Sea Life Porto is another great way to shelter from the rain without missing out, perfect for families and people of all ages. Sea Life has over 30 displays and 3,000 sea creatures. This place has an underwater tunnel you can walk through and observe the sea life.
You will also get to watch free educational talks, feeding demonstrations, and find out about the programs to conserve marine life.
If you want a surreal experience, book the VIP Turtle Feeding, where you can go backstage and feed Mariza, the green turtle.