During the Christmas season, the streets of Lisbon are lit up with Christmas lights, people gather at the best bakeries to buy Bolo Rei (King's Cake), and families spend precious time together.
As a historically Catholic country, Christmas is probably the most popular holiday in Portugal. However, the emphasis given to this holiday goes beyond religion and has mostly become cultural.
Unlike many other European countries, Christmas in Lisbon is not a snowy one. Winter temperatures are quite mild. Even in the coldest month of January, temperatures range between 8° and 15°C (46-59°F).
Due to its importance, during the month of December, the capital of Lisbon has plenty of activities to celebrate Christmas. Let's take a look at
1. Visit Wonderland Lisboa
Our favorite Christmas activity in Lisbon is Wonderland Lisbon. If you've been to London, this is basically a smaller Winter Wonderland version, the perfect spot for a Christmas fanatic.
Wonderland Lisboa opens on December 1 until January 2 in Parque Eduardo VII in the center of Lisbon for its 7th edition.
You will find a quaint Christmas market, a large Ferris wheel with warm cabins, an ice skating ring, and more.
At the market, you can find clothes, regional products, accessories, and more. There are a bunch of Portuguese food stalls, as well as international cuisine. Kids can take photos with Santa!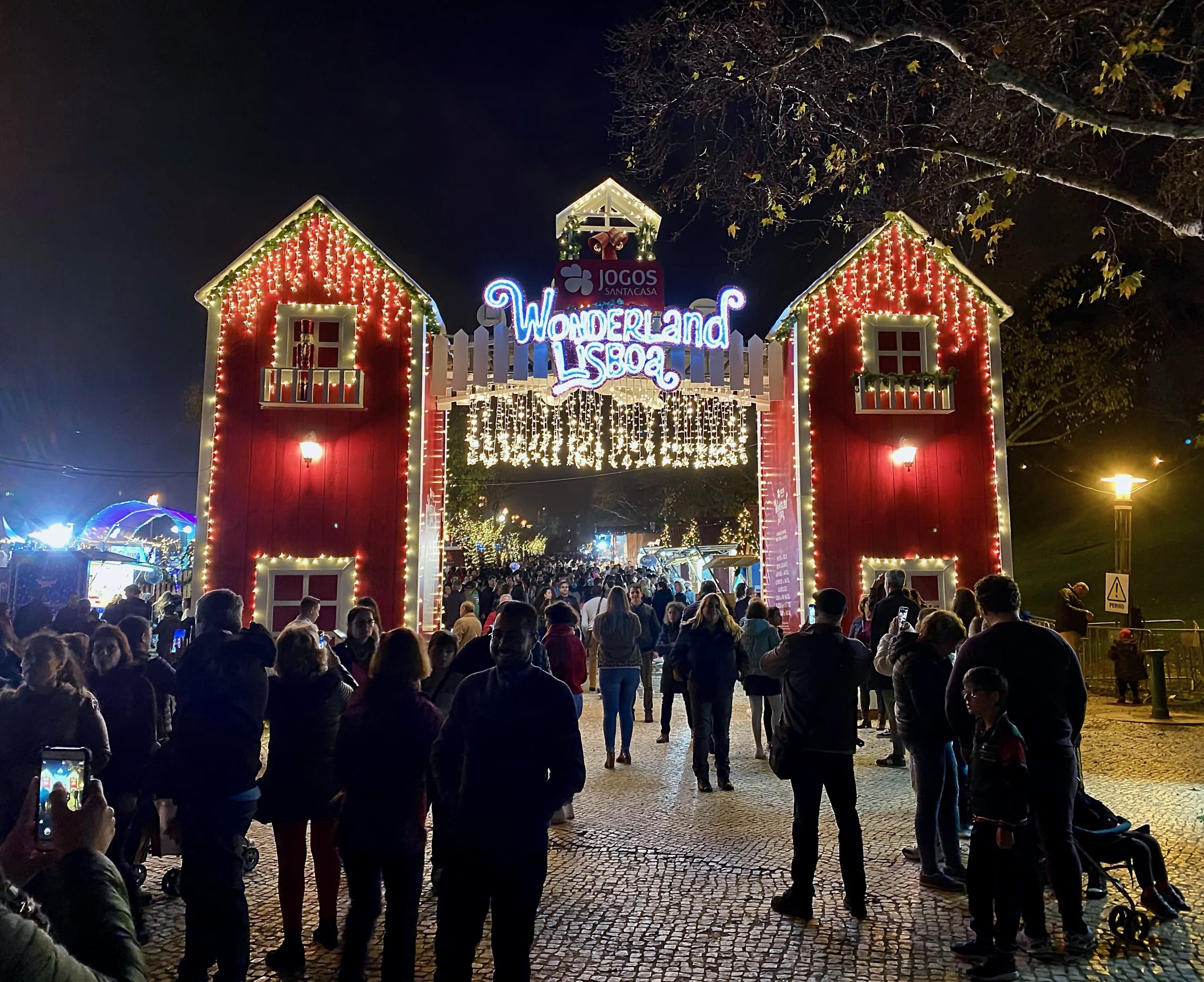 2. Cirque du Soleil Crystal
A cirque du Soleil meets ice skating performance is coming to Lisbon this Christmas season. Starting December 22 until January 1 in Altice Arena, Cirque du Soleil Crystal is a new and unique experience that is set to sell out.
World-class ice skaters and acrobats will be challenging the laws of gravity with outstanding acrobatics. This is rumored to blow the minds of those lucky enough to grab a ticket and caters to all ages.
A first-time show, Cirque du Soleil Crystal, is directed by Shana Carroll and Sebastien Soldevilla.
3. Christmas lights in Rossio & Terreiro do Paco
Lisbon streets fill up with colorful lights during the Christmas season, starting at the end of November. The most important locations of Lisbon light up with incredible illuminations. A great Christmas activity is to head to the best spots and capture some beautiful photos.
Our two favorite places for Christmas lights in Lisbon are the emblematic Terreiro do Paco and Rossio. Along with gorgeous lights, Rossio also features a quaint Christmas Market.
In Terreiro do Paco, you will see one of the largest Christmas trees in Europe that lights up in early December. The lighting of this tree is an incredible event, with fireworks lighting up the sky.
4. Try Portuguese Christmas desserts
During Christmas time, Portuguese bakeries and cafes are filled with traditional Portuguese desserts that are enjoyed during the season. At the end of the day, Christmas in Portugal is about food and family, as well as enjoying these together! We recommend heating to the best places in Lisbon, such as Manteigaria, A Padaria Portuguesa, Alfama Doce, and more.
Here are the best Christmas desserts from Portugal you cannot miss:
Bolo Rei: A fluffy cake filled with fruits and nuts traditionally eaten on Christmas Day (December 25) and Kings Day (January 6).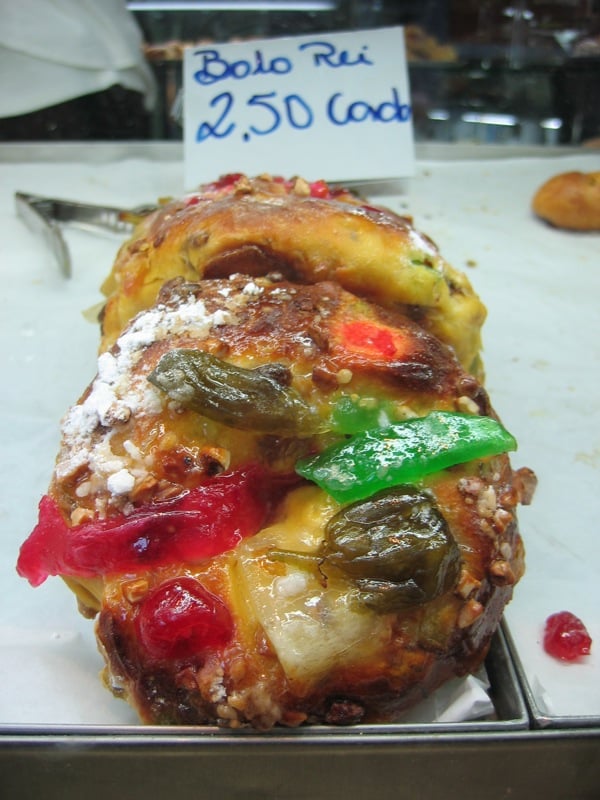 Arroz Doce: This "sweet rice" recipe is made with rice slow cooked in sweet milk and topped with cinnamon.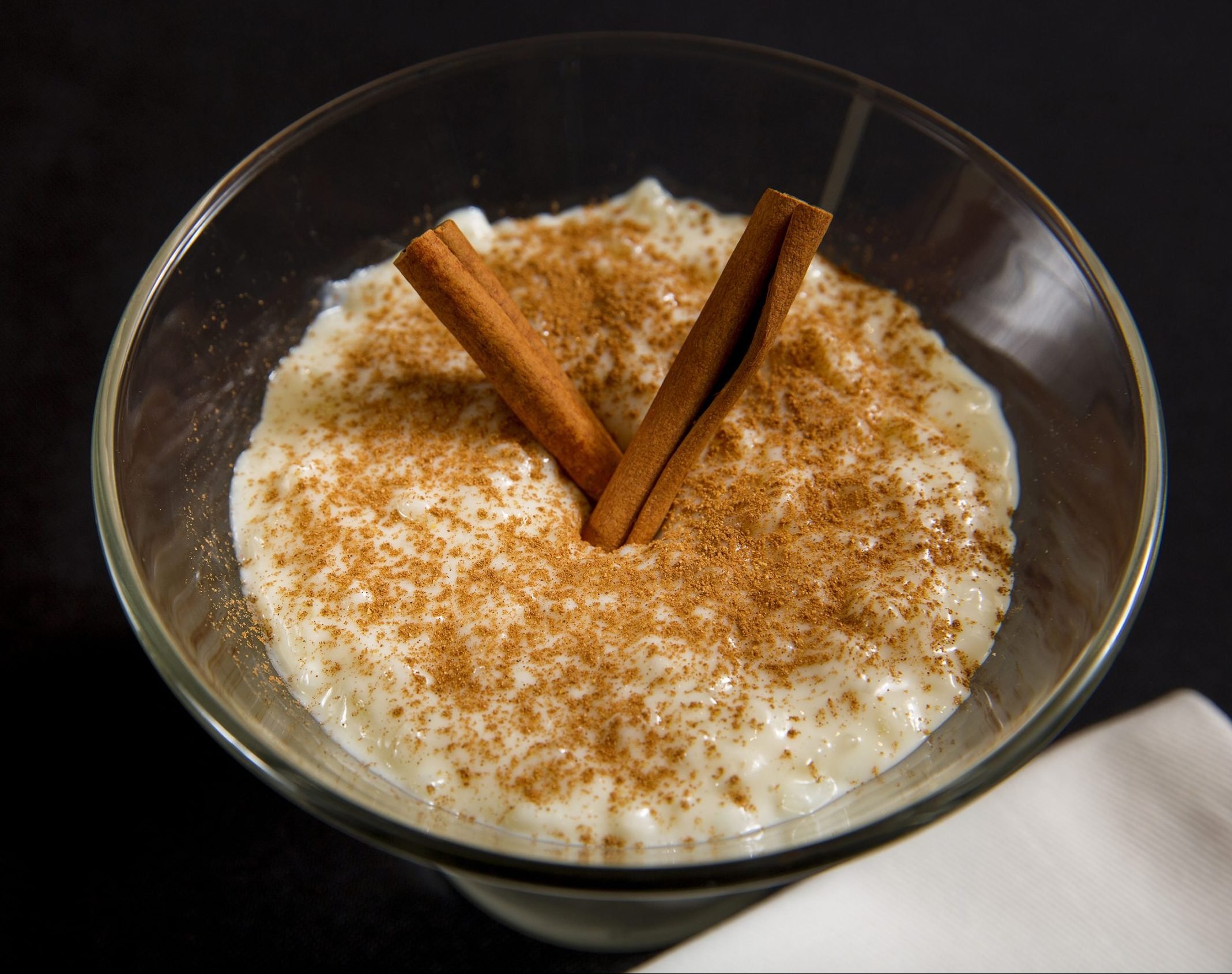 Rabanadas: Similar to French toast, the Portuguese rabanadas are fried bread coated with sugar and cinnamon.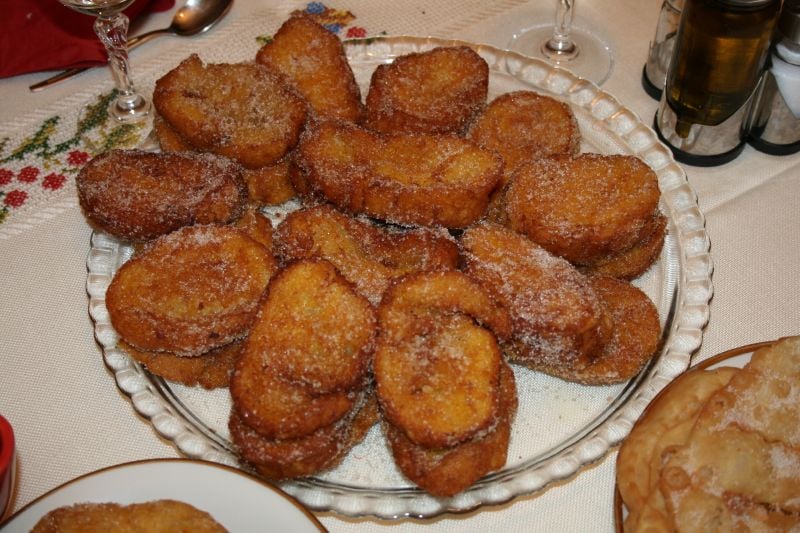 Pão de Ló: This Portuguese dessert is a humid cake with egg yolks. Some are made drier, and others are covered with sugar for an added flavor.
Sonhos: Meaning "dreams" in Portuguese, sonhos are deep-fried pastry balls covered with sugar and cinnamon.
5. Campo Pequeno Christmas Market
Wonderland Lisboa is not the only Christmas Market worth visiting in Lisbon. Located in Campo Pequeno, known as a bullfighting ring from the 19th century, the Mercado de Natal do Campo Pequeno is on between November 30 and December 4.
This market is more catered to adults, allowing you to find the perfect Christmas gift! There are around 90 stalls selling objects, decorations, arts & crafts, toys, tapestries, and a lot more.
After the original market, from 7 to 11 December Campo Pequeno also hosts a lifestyle and gourmet market, which is worth a visit.
6. Night out on December 24
In Portugal, Christmas Night is often more important than the day of December 25. On the 24th, families gather for dinner and open presents at night, oftentimes at midnight. However, there's another Christmas Night tradition many who are new to Portugal do not know about.
After dinner and opening presents, young people often have a night out in a club. It might seem weird as this is a traditional holiday, but nightlife is also a part of Portuguese culture. Young people head to a club between 1 to 2 am in Lisbon.
This night is a busy one in Lisbon clubs, one of the hardest to get into, so dress accordingly. No need to overdo it, people in Portugal do not go out in heels and dresses, but a nice outfit is recommended. Sneakers are allowed!
One of the best clubs in Lisbon for this night out is Lux Fragil. Founded in 1991 in Santa Apolonia, Lux Fragil is one of the most exclusive clubs in Lisbon and is renowned in Europe for its selection of electronic music DJs. Other clubs include Ministerium, Kremlin, Lust in Rio, and more.
7. Traditional Christmas lunch on December 25
On December 25, Christmas Day, families once again get together for lunch. This day is often more laid back, with many families even eating out at a restaurant instead of celebrating the festivities at home.
If you are in Lisbon on December 25, we definitely recommend experiencing this Christmas tradition. Many restaurants will have Christmas menus, so you know exactly what to expect beforehand. However, do not forget to book a table in advance!
The most common meal for Christmas lunch tends to be roasted lamb and goatling, while the codfish is reserved for the night before.
Here are our favorite restaurants for Christmas day lunch in Lisbon:
Rocco
Delfina-Cantina Portuguesa
A Cozinha do Miguel
Sao Bernardo
Sacramento do Chiado
O Nobre