The most recently formed island in the Azores archipelago, Pico, is known as the Hawaii of the Azores. The island's exotic vegetation and black soil provide an astonishing contrast to the blue ocean that surrounds it.
It is the second-largest island and is 46 kilometers long. Due to its volcanic soils, Pico is known as the Black Island. However, there haven't been volcanic eruptions in over 300 years.
While other Azorean islands might have less to do, Pico remains a relaxing destination with plenty of activities to enjoy. Let's take a look at the 6 best things to do in Pico, Azores.
Pico, The Black Island of Azores
1. Swim in the natural pools of Pico
A natural pool in Pico is quite a different experience than swimming on a regular beach. There are barely any sandy beaches in Pico. Rather, there are plenty of stunning natural ocean pools that provide a unique experience. Many of these have picnic tables and showers.
If you want to experience the pools like a local, you'll need to know some secret spots. We recommend the Poço da Maré do Verdugo, Ponta do Admoiro, Lajes do Pico Natural and São Roque do Pico pools.
Be mindful that these pools often do not have a lifeguard, and the occasional waves cannot often make these dangerous.
2. Discover the flavors of Pico wine
To the surprise of many, the island of Pico actually has some of the best wine in Portugal due to its vineyards. These vineyards are a UNESCO World Heritage Site that are extremely unique.
Instead of the common fields of vines, Pico vines are located in small squares with black basalt stone walls around them. This way, the vines are protected from the wind, especially wind that brings salt from the ocean.
The two main regions to find larger vineyards are Paisagem da Cultura da Vinha da Ilha do Pico and São Mateus. You should book a wine tasting where you also get to visit a vineyard.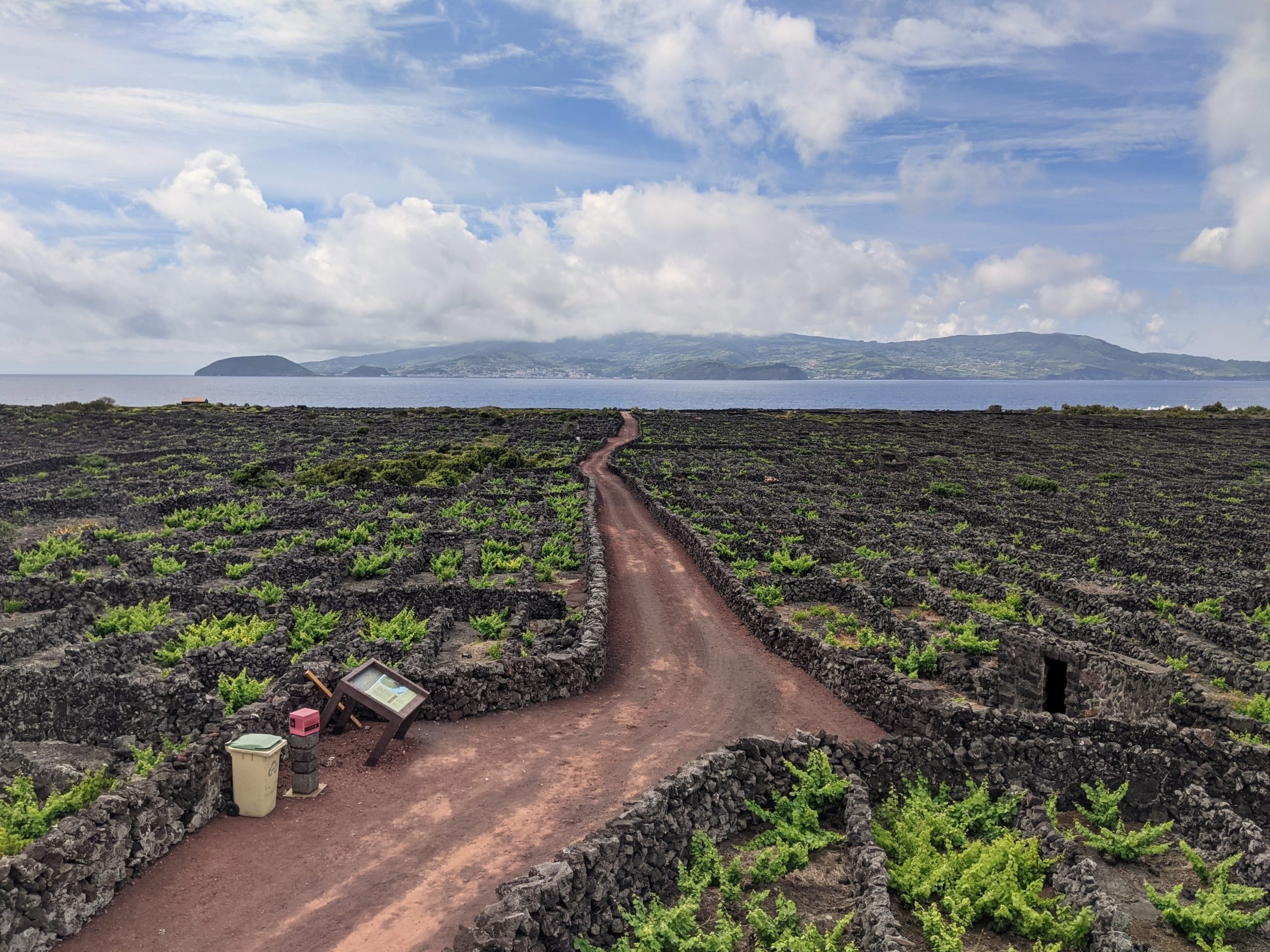 3. Hike the highest mountain in Portugal
This one is for the brave ones. Mount Pico is the highest mountain in all of Portugal. It stands tall at 2,351 meters. Reaching the peak is one of the most rewarding experiences. You will be surrounded by clouds and a fulfilling view.
The hike is six to eight hours long and four kilometers long (don't let the latter fool you). Due to the rocky terrain and steepness, this is a very tough hike, particularly the way down.
For your own safety, you should hike with a Certified Pico Mountain guide. Do not attempt to climb Pico without a guide if you have no experience. This is extremely dangerous.
If climbing Mount Pico is too intimidating, there are plenty of other hiking trails on the islands. Our favorites are caminho das Lagoas (22 KM, 7 hours), Calheta do Nesquim (8.6 KM, 2h30), and Prainha do Norte (7.8 KM, 2h30).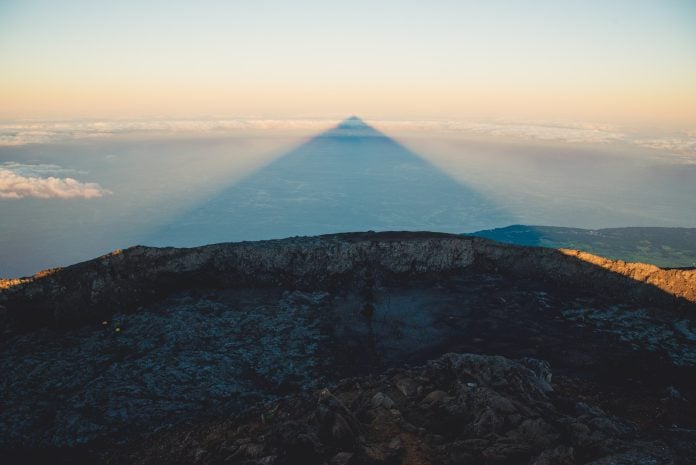 Book Pico Hike w/ Professional Guide
4. Spot some whales and dolphins
Pico island was for decades a hub for whale hunting, an activity that was a large part of the island's culture and economy. However, fortunately, in the 80s, this practice was banned.
Since then, Pico island has been known for the conservation and research of marine life. Instead of whale hunting, ethical whale watching has become a large part of the island's culture.
To spot some whales (and dolphins) you need to book a guided tour. Over twenty different species of whales live in the Azores, making it one of the best places in the world for whale-watching.
The best season for whale-watching in Pico is between April to October, even though you can usually see them all year.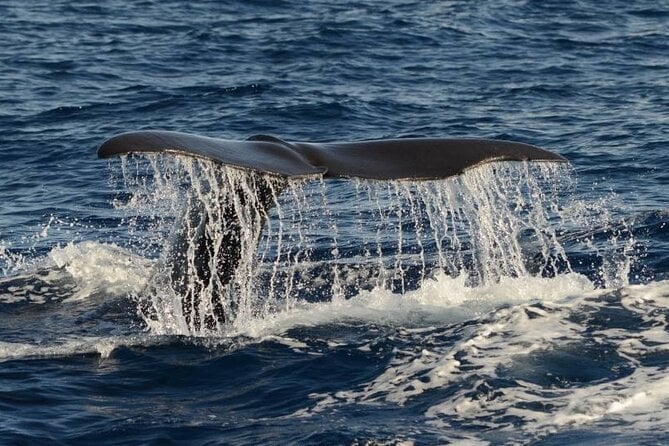 Book Whale & Dolphin Watching on Pico Island
5. Look for the beautiful churches
The churches in Pico always tell a story about the island. The best part – they are free to visit. Many have been rebuilt after sustaining earthquake damage. A lot of the Pico churches are also made of local black basalt volcanic stone, representing the island's traditions.
One of our favorite churches on the island is the Church of Santa Maria Madalena. This 19th-century church is the largest in Pico and features beautiful Portuguese tiles.
Each tile portrays the daily lives of the locals on the island. Other great churches in Pico are Santa Barbara Church and Sao Goncalo Convent.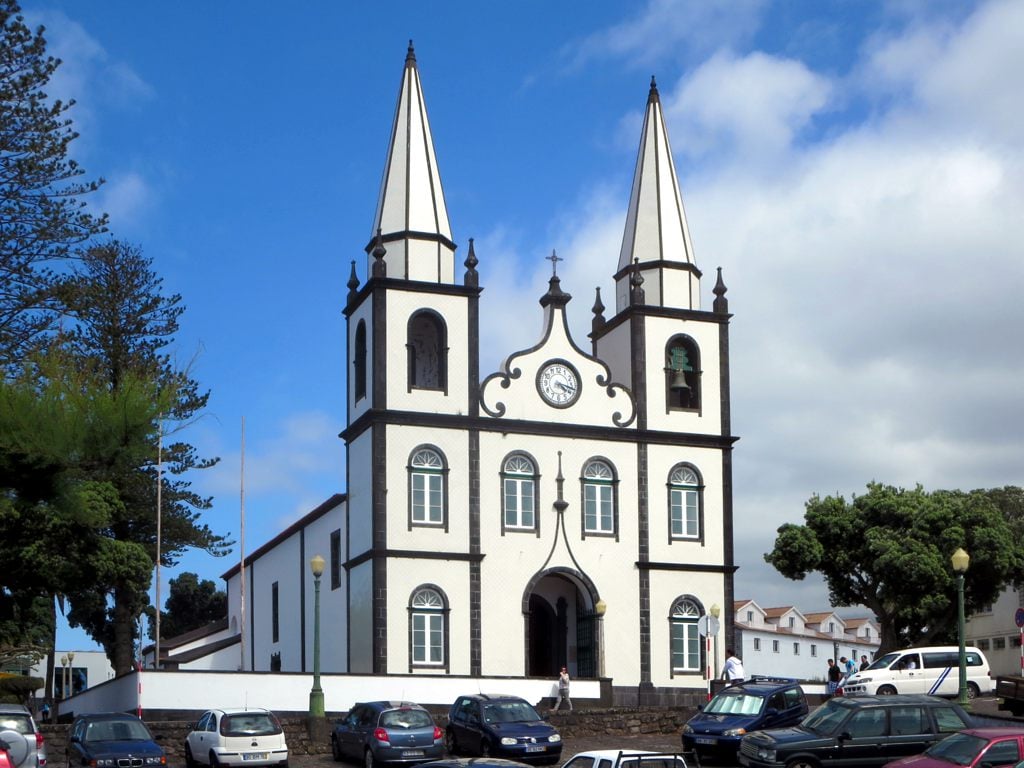 6. Day trip to Sao Jorge
Pico is a part of the Triangle Islands with Faial and Sao Jorge. If you have time, we recommend visiting both. However, our favorite is Sao Jorge if you are short on time.
You can travel from Pico (Madalena) to Sao Jorge (Calheta) on a 2-hour ferry that costs around €10. We also suggest renting a car to be able to travel freely around the island.
Sao Jorge is known as the brown island of the Azores, as it features over 40 fajas. Fajas are small plains located at sea level created by lava flows.
Many of these fajas in Sao Jorge are small villages where locals live, as well as areas with natural pools. We recommend visiting Faja da Caldeira de Santo Cristo and Faja do Ouvidor.
Another must-see in Sao Jorge is Cafe Nunes, a coffee plantation in Faja dos Vimes. This place is owned by an Azorean family since 1997 who are coffee experts. You will get to try some of the best Azorean coffee.
However, fun fact, the coffee beans don't grow in the Azores originally. The first coffee beans were allegedly brought in by someone in the late 18th century from Brazil.