A UNESCO World Biosphere Reserve, Graciosa is an island on the Azores archipelago with only around 4,000 locals but so much to explore.
Graciosa is known as the white island due to the unique white characteristics in Pedras Brancas (White Stones) and Serra Branca (White Hills). Its closes neighbor is São Jorge, making it a great spot for island hopping larger islands, as well.
Let's take a look at the 7 best things to do in Graciosa for your next Azorean getaway.
1. Visit the dramatic Caldeira da Graciosa
Classified as a Regional Natural Monument, the Graciosa caldeira is a large volcanic crater that is also the second-largest forest area on the island. This nature spot is not a small one. It has a diameter of 4.4 kilometers and an altitude of 405 meters. The crater includes caves that are tourist attractions, such as the Furna da Maria Encantada (Cave of Enchanted Mary), and the Furna do Enxofre (Sulphur Cave).
2. Hike the shortest trail in all of the Azores
Perfect for a quick stroll, the shortest trail in the Azores (PR03 GRA) starts in the center of the village of Luz and ends at the gorgeous Baia da Folga. The hike is around 2 KM and only takes one hour. You will get to see seaside goldenrods, African tamarisks, and endemic fescue.
Graciosa has three more hiking trails that are worth a shot: Great Route of Graciosa (40 KM, 14h), Serra Branca – Praia (8.7 KM, 2h30m), and Volta à Caldeira – Furna do Enxofre (10.8 KM, 3h).
Only hike on "official" trails that are taken care of by the Azores Tourism Broad. These are properly maintained and signed with hiking markers throughout so people do not get lost.
3. Enjoy some good old-fashioned water sports
Graciosa is really well known for water sports. From diving, sailing, kayaking, and even fishing, tourists can enjoy Graciosa from the sea in a unique activity.
We recommend diving as Graciosa is one of the best places in Europe for the sport, with waters that have over 25 meters of visibility.
The water temperatures are also quite warm, in comparison to other islands, at around 20 degrees Celsius. There are a lot of diverse fauna and sealife species on the island, from sharks, tunas, and shrimps.
You can also see the black coral that is only found in some locations on the island. For windsurfing, head to the bays of Santa Cruz and Praia.
4. Take a dip in the relaxing thermal baths
You cannot go to Graciosa without stopping at the natural pools of Carapacho, essentially nature's spa. These natural swimming pools give you a view of the ocean and neighboring islands.
This spot also includes thermal baths, a pool with warm water at 40ºC that is rich in bicarbonate and magnesium salts. These have been used by the locals since the 1700s to treat diseases. The baths now function as a spa and have jet showers and jacuzzies. The spa is open between May and September and costs €1 for 30 minutes.
Known as the Brown Island of the Azores, São Jorge, is a volcanic island that features astonishing views of Pico and Faial island, as well as green landscapes and a dark blue ocean. From Graciosa, you can get a 2h30 ferry to São Jorge that costs around €10.
We recommend exploring the Fajãs, small plains located at sea level, which were once created by lava flows. Our favorite fajã is Fajã do Ouvidor, one that the locals go to the most. It's home to the Poça Simão Dias, the most amazing swimming hole on the island. The water is clear, and you can even jump from low rocks.
You should also visit the coffee plantation in Fajã dos Vimes. You can try the locally grown coffee at Cafe Nunes, owned by a family who opened the cafe at the plantation in 1997.
For a well-rounded experience, book this van tour that takes you to the coffee plantations, a cheese tasting, a 16th-century church, as well as the Poça Simão Dias. The tour costs €110 and includes lunch.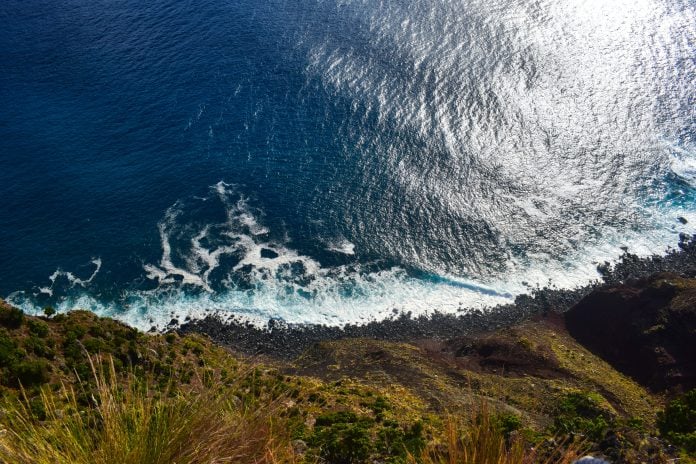 Terceira is an active volcanic island in the Azores that also has many extinct volcanoes. The name Terceira means "third", as this island was the third to be discovered in the Azores in the 15th century. It is the second most inhabited island of the Azores, with around 60,000 people living there.
The historic center and capital of the island is called Angra do Heroísmo. It was founded in 1534 and was the first place in the Azores to be classified as a city. It was made a World Heritage Site by UNESCO in 1983.
We recommend booking this half-day city tour, where you will get to see the capital's main attractions with a tour guide for €35, including the historic center.
Another great activity is Algar do Carvão, an extinct volcano in Terceira that anyone can visit. A force of nature, it has some of the largest silica stalactites in the world. The volcano is 150 feet deep, and its size is remarkable. If you would like the full experience book a tour with a guide here for €45.
Terceira is a hiking hotspot, with 10 excellent trails suitable for any nature lover. Our favorite hike is the Mistérios Negros, a 5 km hike of fewer than 3 hours.