Visting Lisbon without seeing a Fado show is like going to Rome without visiting the Colosseum. Fado is a traditional music style that became known in the old neighborhoods of Lisbon such as Alfama. This style of music was sung in taverns, beginning in the 19th century and is now a UNESCO-listed musical genre.
The most famous Fado singer is Lisbon born Amália Rodrigues, one of the largest names in fado, becoming known all over the world in the 1950s. Today, tourists can discover the world of Fado in various areas of Lisbon, but the best "fado houses" are located in Alfama and Chiado.
Here are the 5 best Fado shows in Lisbon, many that include actual tours of the Fado neighborhood of Alfama for a full experience.
With over a decade of experience, Fado in Chiado was one of the first places to host a daily live traditional fado show, accompanied by a guitar and viola, with two singers, a feminine and masculine voice for a full Portuguese experience.
The show is a little less than an hour in the Chiado district and you will get to experience the melancholic vibes of the traditional musical genre of fado. Book this ticket to skip the line to this iconic cultural experience. Drinks are not included in the ticket price, but we recommend ordering a classic Port wine.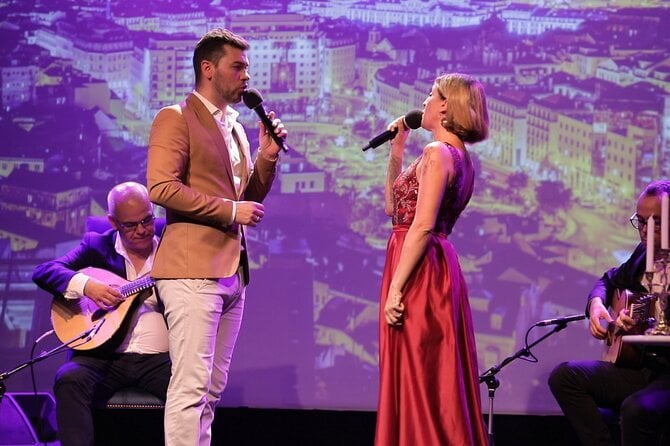 There is no better way to discover the world of Fado than exploring the neighborhood of Alfama, where the genre originated. This tour allows you to explore Alfama on a guided walking tour, as well as the quaint neighborhood of Mouraria. You will get to discover all about the Fado genre, as well as listen to the melodies of Fado at a traditional Fado house.
You won't be left hungry either. This tour includes a typical dinner in Alfama, where you will also learn about the local habits and cuisine of the city's oldest neighborhood.

Learn about the history of Fado and its origins with an expert guide, meeting at the iconic Rossio square. The guide will tell you all about the root of "saudade" in the music genre to get you in the mood before listening to the authentic music genre.
This tour then includes entrance to a traditional Frado show with one drink without waiting in long lines to enter.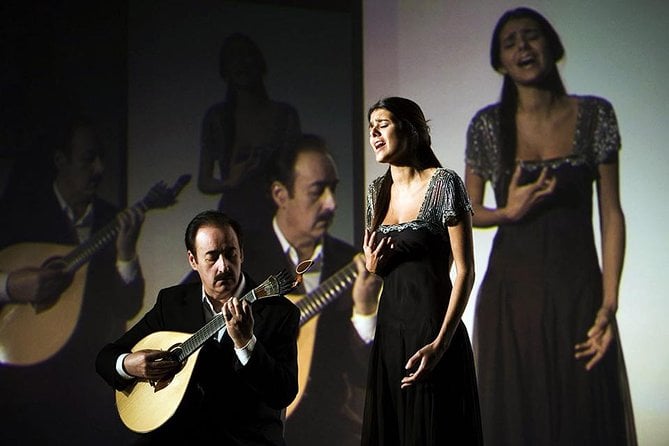 For a romantic evening out, book this sunset walking tour of Lisbon, culminating in a Fado show with dinner. Explore the cobblestones of Alfama as the sun begins to dwindle, learning about the neighborhood and its cultural heritage. Your guide will also offer you the traditional ginjinha liqour while you enjoy the views from a panoramic setting,
After the sun goes down, enjoy a 3-course Portuguese feast at a traditional Portuguese restaurant while enjoying a beautiful performance of Fado.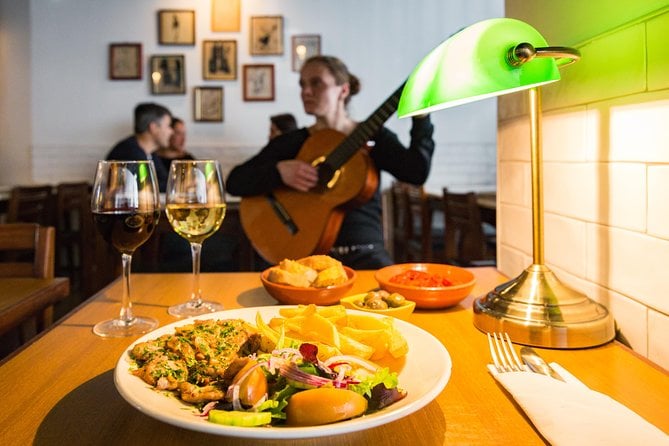 If you are looking for something a bit different, this is the Fado experience for you. Unlike the traditional fado show, this experience takes you on a 4-hour walking tour of Lisbon, serenaded by a Fado signer.
You will get to stop at picturesque streets with a guide for historical explanations. However, what makes it unique is that as you move to public squares and local taverns, a Fado singer that will follow you will perform moving Fado songs. You will also get to sample delicious Portuguese delicacies like chourico and caldo verde.